If you use an iPhone or Apple watch, you may have looked for other ways to charge your device. After all, using traditional cords in small spaces can be quite frustrating. But investing in a good iPhone stand or dock charger comes as an ideal option to charge up and use your phone in a smart way.
So if you're looking for the best iPhone dock charger, we have provided 15 top products below.
1. Aerb Bamboo Wood iPhone Charging Dock
At first glance, this iPhone charging dock has an elegant look as it sports a unique design. It's made from bamboo wood while sporting a natural and clean design that will blend with the interior decor in your home or office.
You can use this Aerb product to charge iPhone models from 5 to 7 Plus. It also has features that enable its use with all types of Apple watches. Overall, it has a design that fits a large selection of Apple devices, thereby saving you the stress of purchasing different docks.
Do you need an iPhone charging stand that's easy to use? Well, the Aerb Bamboo wood dock does not require any assembly. To use it, bring it out of the box and connect your device. It even has lightweight features, thereby making it easy to move from one room to another.
This stand is very affordable. So if you want to get the best dock for iPhone, consider adding this product to your shopping list.
2. Anker Wireless iPhone Charger Stand
This Anker Wireless Charger can support wireless charging in suitable devices. It even uses its onboard fan to prevent overheated units.
It boasts of two coils that allow you to browse or watch videos at a preferred angle, especially when plugged in. You can use its FACE ID feature under this condition.
Charging your device with a regular cable might take time to get full. But if you use this Powerwave 7.5 stand, its chipset promises quick refill for all iPhone models from 8 to 11. It also has smart features which offer the required charge for your smartphone.
You can get the charger in two different colors - black and white. Also, it does not slip when placed on a desk due to its high-quality TPU coating.
3. Belkin Powerhouse iPhone Charge Dock
The Belkin Powerhouse Dock can charge up both iPhone and Apple watch at the same time. With this device, your desk will have less tangled wires and unsightly chargers.
You can purchase the dock in black or white, with both having features that are suitable for almost all cases on the market. This charger dock is lightweight, so it's easy to move from one room to another. It also stands as one of the best iPhone chargers which can fit perfectly into a small bag.
4. CHGeek Bamboo Wireless iPhone Charger
This iPhone stand consists of premium bamboo, thereby making it an environmentally friendly option. The material also offers the device the strength to hold several items at the same time. When it comes to aesthetics, the perfectly crafted box will blend with your interior decor.
Since the charging station offers smart technology, your devices will have protection from excess recharge and high voltage. To enjoy this feature, remember to turn on the switch at the back of the unit.
If you need a solution for wires littering your small space, check this product out as it hides this cable. It also features multiple USB ports that charge most Apple products such as iPhones, Apple Watches, iPads, and AirPods. You can also use these ports for Andriod devices.
An inbuilt fan keeps the unit well ventilated, thereby protecting the device from overheating. With little bucks, you can enjoy the exciting features on this dock or use it as an excellent gift for your loved ones.
5. PRESS PLAY iPhone Charging Dock
Unlike other Charging docks on our list, you can charge four items at the same time with the Press Play. These devices include Apple watches, iPhones, and iPads. If you want to top up the batteries on other devices, use the USB ports on the backend of the dock.
The Press Play dock has an adjustable lighting port that can charge most iPhone devices. It also boasts of a strong base which offers great stability on the desk or a flat surface.
The case has an aluminum body with several color variations that will suit your smartphone. Color options include rose gold, black, silver, and black.
If you're looking for the best iPhone charging dock with speaker, invest in the model as it comes with a Bluetooth speaker for ambient sounds.
6. Elago M2 iPhone Dock
This high-quality iPhone modern stand from Elago offers an enjoyable time while using your iPhone on your desk. It is well-built with solid aluminum material that can withstand knocks and falls. Its body has champagne gold color, which makes a stand look attractive when placed on any horizontal flat surface.
On the market, this is one of the best iPhone stands due to its great compatibilities for all smartphones. With that said, it is suitable not only for iPhone but also for Galaxy, tablets, and smaller smartphones.
It is quite easy to remove your phone from the Elago M2 or move it on the table as it is incredibly light. The stand has a design angle that makes it comfortable to watch movies, receive incoming video calls on your iPhone. Also, The Cable management at the back will keep your cord well-organized when your iPhone is plugged in.
7. OLEBR 3-in-1 iPhone Charging Stand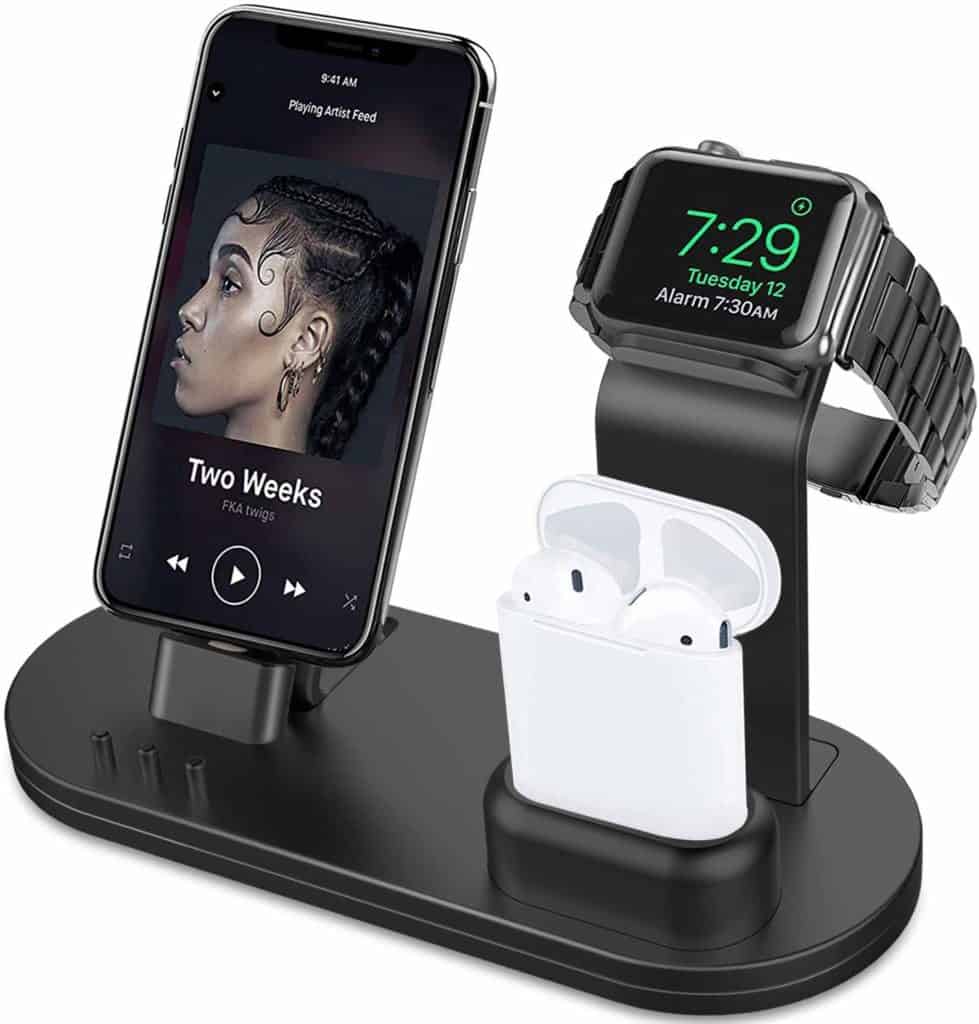 If you need a minimalist version of the best iPhone charger, this OLEBR unit will meet your expectations. With its silicone tray, it holds the plug-in devices in place, thereby protecting them from scratches.
For the edges of the iPhone, the stand boasts of an "Innovative three pebble design" that allows horizontal placement. At this position, you can watch movies or use FaceID on your device.
Before using the stand, you should assemble the unit. As expected, the process does not require special skills. With just a few steps, the unit becomes ready for use.
The dock works well with conventional iPhone cables and AmazonBasic models. Like most mentions on this list, you can use this item to charge Apple Watches, Airpods, and iPhones.
Do you need to charge multiple devices at the same time? The OLEB stand can perform this task in an organized and efficient manner.
8. YoFeW iPhone Charging Stand
Tired of stepping on wires of plugged-in devices? If yes, this charging stand comes as a perfect solution. It has an Apple Watch dock, Airpod stand, and an iPhone holder. Using these features, you can organize your devices neatly.
Like most products on our best iPhone dock charger list, this item has a build that promises durability. Made from sturdy metal, it can withstand numerous uses under any condition. The stand also has a non-slip pad that allows it to stay secured on any surface.
Unlike some models, the YoFew charging stand has TPU coating and anti-scratch rubber to keep your devices from scratches. The device position at angle 60° will allow you to Facetime easily when your phone is plugged in.
The manufacturers of this stand offer lifetime technical support. You can also reach their customer support at any time of the day.
9. Lightning Apple iPhone Dock
If you want an iPhone charging dock that looks simple rather than fancy, you should consider this product from Apple. As you should know, Apple has a good reputation when it comes to quality, and this iPhone Lightning dock is no exception. It is also compatible with all iPhones and iPods, and it has enough to charge your phone without falling over.
This elegance piece made of aluminum comes with built-in lightning connectors and lightning port you can use to power up the dock. What's even better is that it features a headphone Jack which allows you to play music while your iPhone is plugged in.
Unlike others on our list, there is no cable included in the box, but you can use the one that came with your phone to power it up. Overall, this Apple iPhone dock charger looks simple and attractive sitting on the desk or a nightstand.
10. Yootech iPhone Wireless Charger
This device comes with impressive features that make it one of the best iPhone charging dock on the market. For one, it has 3 charging modes for different phones, including the latest iPhones, Samsung, and QI-enabled devices.
The dock features a Green LED indicator, which keeps you inform when your phone is well connected. Also, the indicating light turnoff after 16s once your phone starts charging, making it a sleep-friendly device.
With this wireless charger dock, you can adjust your phone in any direction during the charging process. This provides you with a better way to enjoy your phone while watching a movie or carrying out other functions. It also has a wider charging area than most charging docks on the market.
Overall, this is an ideal option for those looking for the best iPhone charging station that can power up different phones at a go.
11. Elevation iPhone Dock 4
If you want a stylish way to charge your device without tangled cables, this product comes as an ideal option. It comes in black or silver while boasting of stainless steel accents. Built with medical-grade silicone, it offers a sturdy look that can withstand regular use.
Do you need a dock charger stand you can use without removing your phone case? Then you will love the Elevation Dock as it has fits cases with 3mm bottoms. It also supports the battery cases on these devices.
When you place this Apple iPhone dock charger on your desk or coffee table, it won't fall off. Such stability boils down to its Nano pad bottom that uses air suction to remain on smooth surfaces.
Out of the box, the dock comes with premium braided cable. This feature prevents you from spending extra cash on getting a replacement.
12. Native Union iPhone Dock
In terms of robustness, few accessories can rival this Native Union product. It has a body made from high-quality silicone and aluminum or marble. Overall, the Native Union Dock can endure repeated uses under any condition and avoid accidental falls.
This charging dock boasts of simple elegance. If you choose the silicone variant, it offers a body color of midnight blue and gold, stone, and slate. For the marble option, you can choose black or white.
Easy to use as all you need is to insert the cable into the dock, allowing the rear end at the back. It also works with smartphones that have cases and covers.
The Native Union Dock can charge a wide range of Apple devices, including Apple phones, keypads, and remote control. It is also compatible with most iPads in the market.
13. Beacoo Wireless iPhone Charger
If you're looking for a 3-in-1 iPhone charging stand, the Beacoo wireless charger is the best bet for you. This device has a high wattage of 10W that can charge up a completely drain iPhone to its maximum within minutes. With such a feature, you won't have to wait long hours for your phone to get full.
The Beacoo features a smart adjustable that allows you to adjust the angle of the stand easily. Having said this, you will enjoy the best visual experience when watching a video or receiving an incoming video call.
One of the features that make it a 3 in one charging dock is its solid Apple stand. Hence, if you have an Apple watch, you can place it on the provided watch stand to free your wrist and still read the time easily.
Another exciting feature is its Advanced designed case-friendly dock that can perfectly fit your airpods in a classy way. The best part is that you don't need to turn off the case dock when to charge the airpods.
Overall, this Beacoo wireless charger stands as one of the best docks for iPhone and Apple watch. What's even better is that it is compatible with most versions of the iwatch series and latest galaxy phones.
14. Lamicall iPhone Stand
Made from black aluminum alloy and sports clean edges that will make any iPhone user love the gadget. Although the dock has a robust build, it comes with portable features for smooth movement.
Its impressive design keeps your device steady for Facetime calls, while it has rubber cushions that prevent the device from accidental falls. For the plugged-in cell phone, the stand offers rubber pads for protection against potential damage.
To use the Lamicall iPhone Stand, you have to pass your charging cable through a suitable space on the unit. This keeps your work desk free from unsightly wires.
From its impressive features, you'd expect this iPhone charging dock to have a hefty price tag, but it's quite affordable.
15. NEXGADGET iPhone Dock
It'd be fair to describe this device as a worthy rival to the best iPhone dock on the market due to its impressive specs. For one, it protects your device from physical damage via a rubber touch surface. It also uses smart technology that prevents overheating or excess charges.
The design on the Nexgadget charging station allows you to use FaceID and watch movies during a recharge. It performs this function via its portrait and landscape mode options. Since it is a lightweight dock, you can move the device to a preferred spot quickly.
The charging dock will not take up any space on your desk. Instead, it helps organize messy cables while blending with your office or home furniture.
The dock can charge most variants of the iPhone, starting from the latest models. It also supports charging for Apple watches, Airpods, and the Apple Watch. With this product, your items will experience quick but safe charging.
At a reasonable price, it stands as the perfect product for the budget-conscious consumer. Looking at its specs, it also stands as an ideal gift to friends and loved ones.
*We are a participant in the Amazon Services LLC Associates Program, an affiliate advertising program designed to provide a means for sites to earn advertising fees by linking to Amazon.com.