Polyester is an artificial synthetic fiber derived from petroleum products. And you may have to look for shrinking your polyester fabric once in a while.
But contracting or retracting the actual size isn't exactly simple for everyone.
But DIY enthusiasts still manage to narrow down several options. Better catch the ways to learn how to shrink polyester without spending money.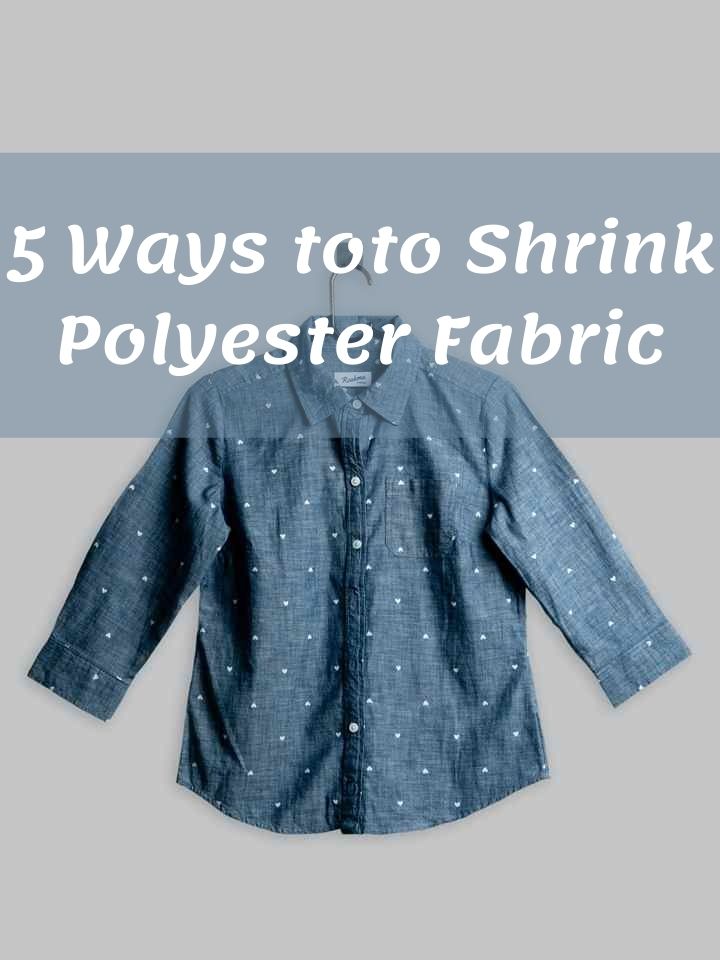 Why Do Clothes Shrink When You Wash Them?
Why Shrinking Polyester is Necessary?
Obviously, the first question regarding the DIY solution concerns the necessity. And there are good reasons to learn how to shrink polyester by yourself.
Recycling Old Clothes – Polyester is one durable fabric to last decades with care. Also, your investment in polyester clothes seems good with recycling. You can reset the size of old clothing to fit yourself or someone else.
Proper Physical Fitting – Not every purchased clothing suits your comfort or style. And that's where you don't have to throw away a beautiful fabric. Treating the cloth with contraction can certainly make it match tastes.
Extent of Polyester Shrinkage
The concerned synthetic fabric is available in every house in clothing. Lots of excellent characteristics make it one preferable choice for all-season uses.
However, one particular spec checks its immunity to undergo shrinkage. Pure polyester can barely change its size over usually changing temperatures.
Still, you need to change the size for different reasons after purchase. That's where you're to rely on heat for a controlled shrinkage in polyester fabric.
Not to mention, polyester blends are much easier to shrink. The incorporated material can tolerate considerable retraction in the changing process.
Maintaining proper heat level is indeed the prerequisite to contract synthetics. You can't afford to recover the damage caused by extreme heat.
It's time to learn the methods to shrink polyester right at home.
Boiling Water Shrinkage
It's more like a fundamental-level method to attend polyester shrinkage. And there are two different ways of using boiled water on the fabric. However, you must have a large pan to keep the clothes submerged in either process.
(Source – Talita Ferraz)
Advantages/Benefits
Easy checking for shrinkage.
Consumption of less power.
Watery heat induces shrinks.
Pretty simple to implement.
Drawbacks/Limitation
Much boiling is dangerous.
Timing is difficult to gauge.
Extremely warm to handle.
No control over shrinkage.
First, wash the garments using the everyday cleansing instructions. Boil a large pot full of water right on the stove. Add the washed yet still wet garments directly to the pot water.
You need to continue boiling for nearly an hour. Almost all the standard fabrics should settle within the intended time. Reasonably thicker/thinner garments will take more/less time.
Alternatively, you can simply add the garments to a pot containing boiled water. Continue boiling for 10 extra minutes to drain the water. Leave the clothing to cool down for drying.
Standard Dryer Shrinkage
Dryer is one common device in almost every household for regular uses. And it remains one effective tool to shrink polyester right at home. You can rely on the tool to treat pure (100%) polyester as well as polyester blends.
Advantages/Benefits
Incredibly simple to operate.
Variable shrinkage amounts.
Suitable for almost anything.
No expertise/skill necessary.
Drawbacks/Limitation
Heavy shrinkage possibilities.
Future wrinkling of polyester.
Power consumption is high.
Not for large-scale shrinkage.
Even hand-washed garments can infuse dryer-imparted shrinkage well enough. Amount of applied heat for a specific time decides the actual extent of contraction.
Choosing a hotter setting will deliver moderate to maximum shrinkage. Meanwhile, a lower setting should get you minimal as well as a reduced amount of retraction.
Clothes Iron Shrinkage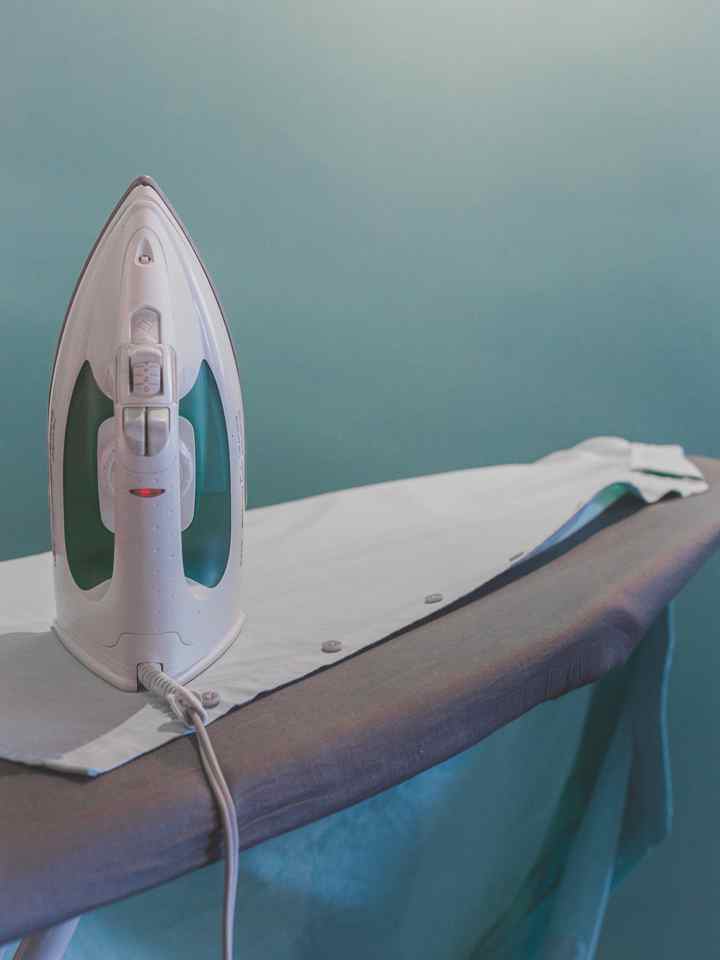 Is there anybody who actually doesn't need to iron the clothes regularly or occasionally? Anyone to own a subtle ironing unit should try shrinking polyester by himself/herself. It's indeed a primary method of attending the righteous amount of shrinkage.
Advantages/Benefits
Extremely simple to operate.
Variation in cloth contraction.
Easy to check the shrinkage.
Complete control of heating.
Drawbacks/Limitation
Somewhat time-consuming.
Polyester melting may occur.
Not to shrink wet polyester.
High press can cause issues.
The method involves elaborate prepping of your garment before ironing. You must wash the clothes at the highest heat level, either by hand or machine.
Don't forget to turn the garment inside out to prevent the color from fading. No need to dry the washed clothes by natural or artificial means right away.
Simply put the still-wet fabric on the ironing board to set the iron to low-medium heat. Use a pressing cloth to protect the ironing surface from moist burns.
Continue the ironing to dry the polyester completely to attend the contraction. Always skip the steam setting to retain the overall usability of clothes.
Steady Clothesline Shrinkage
Polycotton is considerably simpler to shrink in comparison to pure synthetic. And the method tends to work rather well on high cotton contents. Likewise, you should check the process only for a minimal amount of retraction.
Advantages/Benefits
No necessity for any detergent.
Simple hot wash requirement.
All-natural drying for shrinkage.
Precise amount of contraction.
Drawbacks/Limitation
Natural drying is compulsory.
Almost minimalistic shrinkage.
Not for pure (100%) polyester.
Longer dry-time requirement.
You're to wash the intended fabric in a higher heat setting than normal time. However, no need to induce excessive heat like pure synthetics.
Keep the clothes inside out to retain its original color from the exterior. Machine washing offers better results in comparison to handwash.
No detergent is necessary unless the fabric is dirty, requiring a cleanup. Hang the fabric on a clothesline after cleanup will initiate shrinkage.
Washing Machine Shrinkage
Most of the families possess washing machines to treat the dirty clothes. Of course, you can utilize the device to induce a controlled amount of contraction. Different heat settings make the device a great option for shrinking polyester.
Advantages/Benefits
Wider range of heat settings.
Notably fast fabric shrinkage.
Additional contracting option.
Suitable for 100% polyester.
Drawbacks/Limitation
High power consumption.
Not for polyester blends.
Too shrinkage on too heat.
Difficulty in gauging levels.
Polyester isn't exactly heat-tolerant & you ought to check the amount of shrinkage. Highest heat letting should give you an enormous contraction for sure.
Again, no need to use any laundry detergent unless the fabric remains dirty. Just turn on the machine to set the preferred heat setting for intended shrinkage.
Choose a low to moderate setting to achieve a somewhat controlled shrinkage. However, a medium setting can get you more than a minor/slight contraction.
Besides, the drying method also decides the final amount of polyester retraction. Clothesline air dry will incorporate less amount than a hot setting dryer.
Different Types of Polyester Shrinkage
Are you having trouble determining the extent of fabric shrinkage? Of course, the matter remains variable with your requirement for the task. Still, you should consider the following thumb rules to achieve controlled shrinkage.
a) Minimal Polyester Shrinkage
A simple hand wash or washing machine action will set the trick. Standard air dying or the use of a dryer will do the rest. The process works incredibly great for polyester blended with cotton.
b) Moderate Polyester Shrinkage
Higher heat temperature should settle considerable shrinkage for pure polyester. You better avoid the process for precious synthetic blends. Also, it can impart extra polyester shrinkage.
c) Maximum Polyester Shrinkage
Extreme heat is essential to address synthetic's high shrinkage resistance. It's indeed the ultimate way to contract 100% polyester. Additional ironing can induce further fabric retraction.
Prevention of Discoloration or Fading
Polyester or synthetics are reasonably more resistant to discoloration. Still, wet fiber tends to initiate color bleeding through the released dye. And eventual fading takes place with losing vibrancy, depth.
High heat literally boosts the fading effect, especially for blends. You need to add ½ cup of white vinegar while washing the clothes. The liquid should prevent the dye loosening effect from the other side.
Additional Tips on Shrinking Polyester
Better treat the dirty polyester separately to avoid using detergents.
Put the washed fabric in a laundry bag, especially for the dryer method.
Closely observe the shrinkage amount in case of the iron or dryer process.
Limit the maximum heat setting to 81°C or 178°F on dryer shrinkage.
Don't attempt too long or frequent shrinkage methodology on clothing.
Keep the limitations of individual methods in mind before application.
Make sure the intended device can produce necessary shrinking heat.
Check for additional care to shrink any pure 100% polyester garment.
Gradually increase the heat setting to contract cotton blended fabric.
Try to settle for air (natural) drying instead of artificial garment drying.
How to Care for Shrunk Polyester?
You're to follow specific measures even after attending the perfect polyester size. The actions will ensure to keep the shrunk synthetic comfortable, vibrant & usable.
Don't forget to turn the cloth from inside out on every washing session, no matter what. Always check the permanent press setting to clean the fabric in a washing machine.
You may consider using a liquid fabric softener while cleaning the polyester/synthetic. It should eliminate static cling almost immediately to retain the clothing endurance.
Final Words
Shrinking polyester is one delicate method to involves careful processing of the fabric. You just need to ensure everything remains in proper order to achieve the outcome. And that's where you can easily reset the fiber size to refit/recycle the fabric.