For today's tutorial, I'd like to share a compilation of DIY Garage Door Screen projects. This compilation showcases nine simple and easy-to-build garage door screen projects that you can create by yourself. You don't need to be an expert in building to follow these detailed steps and build a garage door screen. Building a garage door screen is a great weekend project for the backyard. It allows you to enjoy your backyard, whether you're using it for grilling or entertaining.
We're all familiar with the screen door. It keeps out bugs, and sometimes (in my case), it prevents the dogs from running straight into the street. The screen is usually attached to the side of your house or garage, but not always. Here are 9 ways to build a DIY garage door screen.
1. How To Make Garage Door Screen
Usually, a garage doesn't have doors, but when we look deep into it, there should be a screen or simple door keeping the garage safe from bugs or other flies or animals. If you agree with me, you should follow this guide to learn how to DIY a garage screen door with a zipper. The door is simple and easy to put together, and the zipper makes it so accessible since it is built from a fiberglass screen. It would be best to get a roll of the fiberglass screen, you might not need the whole roll, but it's better to buy in bulk.
2. DIY Garage Screen Doors
Here is a great plan that shows you how to build a garage screen door using wood, a screen, and some power tools. You don't have to make this exact garage screen door, which is just an idea. You can modify it and add what you feel will improve your garage screen door. The wood is used to frame the screen to prevent it from unnecessary cracks. However, it would be best to be extra careful while working with wood and power tools. Take precautions!
3. Garage Door Screen DIY
Aside from keeping the garage out of bugs or flies, a garage screen door can also be a shade roll-up system. The roll-up system can be with or without a pulley. Let's see how you can go about this fantastic pull system.
First, you need to hang the screen to the door already, then place the eye screws at some strategic places, as mentioned in this video tutorial. After that, screw four cord holders to the ceiling by the sides of the screen. The materials required include eye screws, cord holder, cords, screw, and pulley. You can find out more about the garage screen door by clicking below.
4. How To Install A Garage Door Screen
If you want something more exciting and classy, you should follow this video tutorial to learn how to upgrade garage screen doors. The total time required for installing this garage door screen is approximately 24 hours, and the process starts with moving all your machines and equipment out of the way.
You don't want to bump into them while working! The next step is to measure the width and length of the garage entrance so that you will have explicit knowledge of the dimension, making cutting easier. The list of materials and tools used was provided in a link in the video's description box.
5. Garage Door Screen With Zipper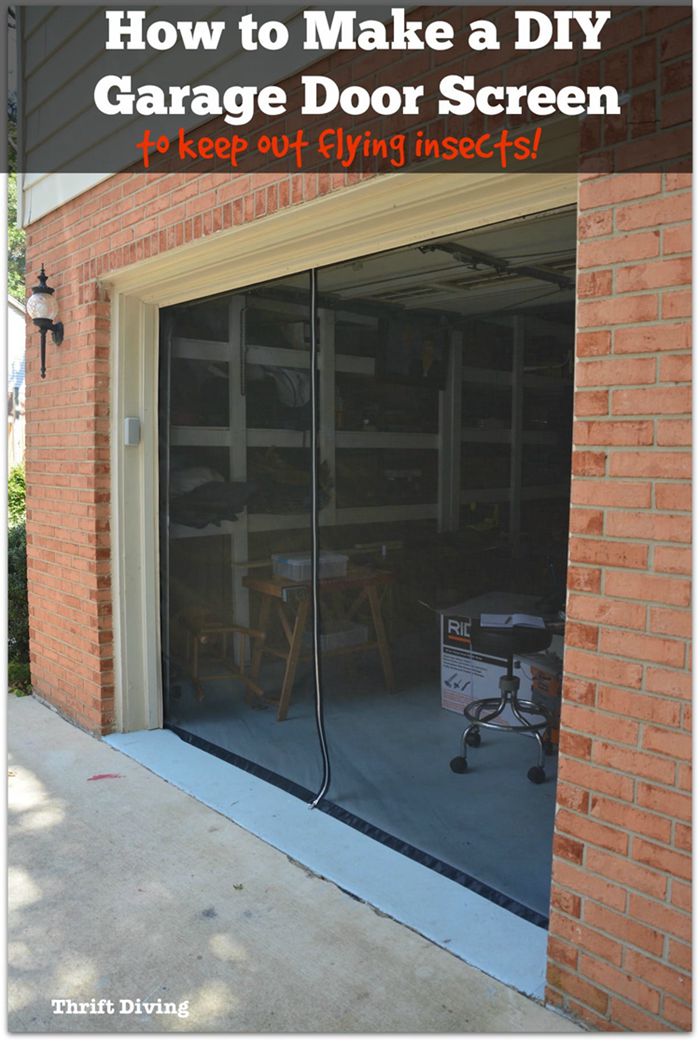 The beautiful benefit of being a DIY creative is that you can make anything work your way with just a simple craft. You don't have to spend so much on buying because you can make them. Thus a garage door screen with a zipper is made from a roll of fiberglass screen, aluminum extra long heavy duty zipper, velcro brand fastener, sewing machine, measuring tape, and satin blanket binding. You can find more details about the garage screen door with a zipper here! thriftdiving
6. DIY Garage Door Screen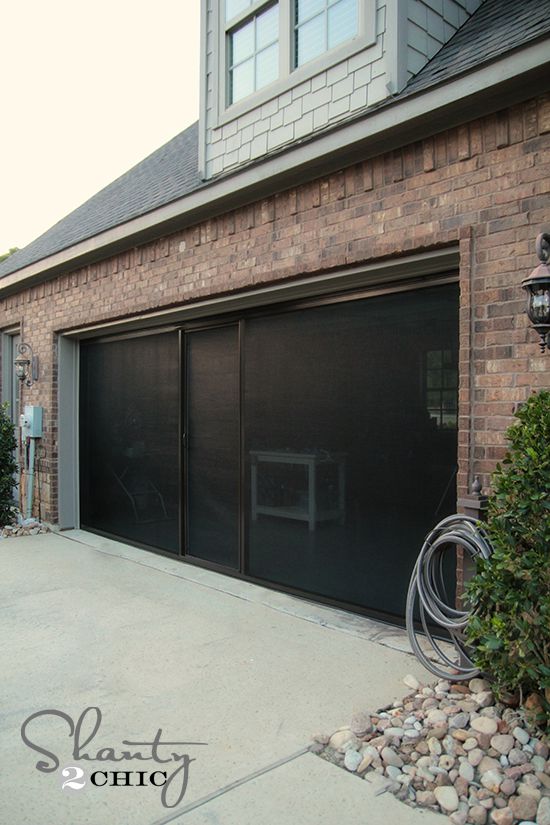 Have you heard about lifestyle screens before? If not, follow this guide to know about the excellent screen. It opens and closes quickly without giving you any trouble. Another essential feature of the lifestyle screen is that it is retractable.
It works hand in hand with your garage door, once you open your garage door, you can lower the screen, and you're good to go. However, the lifestyle screen can be installed by professionals. The link to get a professional is on this guide. shanty-2-chic
7. How To Install Magnetic Screen Door
Diaries and Akilah will show you how to install this screen door in their garage with magnetic closure! They had a heavy wooden door on before, but they need a more transparent door that can allow airflow while keeping the bugs out. And there's no other option that matches this preference than a screen door.
They find it very easy to install the screen because it comes with tie straps. They attached two rolls of velcros to the top and sides of the entrance before installing the screen. They use the tie strap to fasten the screen to the entrance.
8. Retractable Screen Door For Garage
Check out this retractable screen door! It can be made for your garage or any other entrance. Let's see how to put up the fantastic screen door; the first thing you need is to build a frame for it and prime it, as done in this video.
After that, paint the frame white and allow it to dry. Then, prepare the screen door and paint it white as well. Allow it to dry and install it to the frame. You will need a couple of power tools and materials. You can check all the lists of materials, tools, and equipment needed in Lagos.
9. Garage Rope Screen Rope Pull Installation
The materials needed for installing this garage rope screen include a fiberglass screen, PVC pipe, two rolls of velcro, and rope. The velcros line the top of the entrance, and the screen is attached to it. Also, to ensure the screen is attached firmly, you can fasten the tie strap on it to the entrance (some might not have ). After that, put the PVC pipe into the bottom loop to weigh the screen.
Conclusion
A garage can often serve as a workshop, but the garage is not fully designed to be a workshop. Therefore, to effectively turn your garage into a workshop, you need a door screen to cover up your workshop. Aside from this, there are many other reasons why you will need a door screen on your garage; it keeps the area private and free of bugs and flies.
So, if you're thinking of having a door screen by your garage entrance, the process has been made easier with all these steps by step instructions that can help you figure out the build faster.