Are you going camping or doing some work back in your yard or your garden, and you don't want to rush into the house to clean up? Or would you like to install a portable sink in every corridor of your home and field? Check out our list of 15 DIY portable sink projects. Building your own portable camping and picnic sink is easy! Whether you're camping, tailgating, or picnicking, a portable sink is a valuable resource.
Here, you will learn how to make beautiful sinks. Some are strictly for outdoor use, and some for indoor use. The steps in making them are easy to follow, it might take your time, but it will be worth it in the end. Looking to save money and get creative? Here's a do-it-yourself portable sink you can make with items you probably already have lying around your house!
1. DIY Portable Sink
Have you ever had to go camping or move to a new house? You pretty much packed everything you needed and zoomed off, right? Or let's say you packed everything you could, except for the kitchen sink. Not to worry, you can now DIY your very own portable sink and take it with you wherever you go, whenever. So, come on. What are you waiting for?
2. How To Build A Portable Sink
Have you ever wished you could dislodge your kitchen sink and elope with it? Well, you don't have to. You can just build a portable one, and it's pretty easy too. All you need is some metal for the frame, the sink bowl itself, cutting and measuring equipment, and voila, you are on your way to building your very own portable sink. This DIY life hack will make your life a whole lot easier. Trust me.
3.Portable Sink Build
This homemade DIY portable sink is a lifesaver and can come in handy for camps, cookouts, and outdoor events. It's also efficient for a convenient movable option compared to the traditional stationary one. So hey, wouldn't you want to learn how to DIY a portable sink? Come on, let's get to it.
4. DIY Camp Sink
This right here is the perfect DIY camp sink. It's lightweight and only requires a 5-gallon bucket and a PVC, as well as the faucets. It can be used anywhere and everywhere, especially off water grids. However, this option requires you to pump, which you can accomplish by using a solar panel or a battery pack. How cool is that? Do you want to know how to DIY this 5-gallon camp sink? It's easy. Follow the instructions in the video.
5. Portable Handwashing Station
This article right here is a step-by-step tutorial on how to construct and DIY your very own portable handwashing station using recycled and reusable materials and readily available hardware. The cost of materials is less than $10 (US); the construction time is approximately four hours, using ordinary hand and power tools. Follow the instructions in this tutorial to the teeth, and you'll be a pro in no time. instructables
6. How To Build A Portable Sink
Have you ever googled "how to build a portable sink?". Well, here's your answer. This tutorial offers you a step-by-step guide on building and DIYing your portable sink. The good news is, this portable sink can stay outside all year long - it's amazingly durable.
Come on, let us get into it. instructables
7. Portable Sink For Truck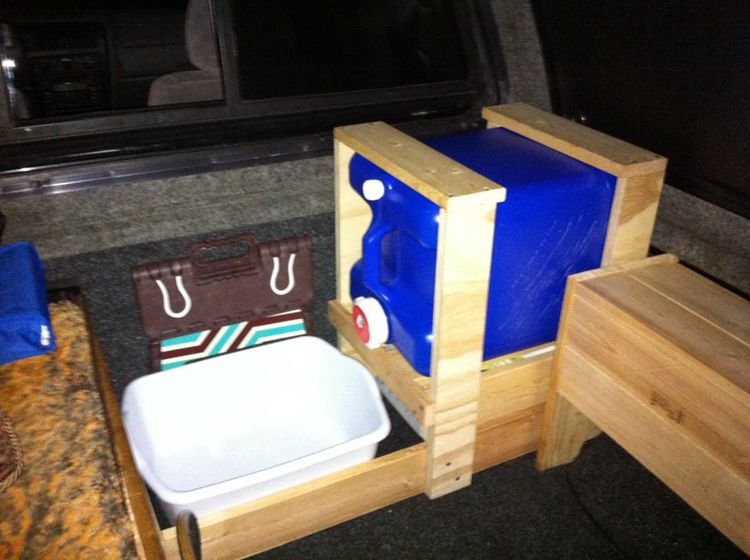 Are you always on the road taking trips to different destinations? Do you practically live in your truck? Then you will want to learn this DIY portable sink for the truck hack. This article presents a step-by-step guide on how to build this portable sink. All you'll need is some reclaimed wood, screws, and a 7-gallon water jug or whatever size you want. Are you ready to do this? Let's go. instructables
8. Portable Toilet Top Sink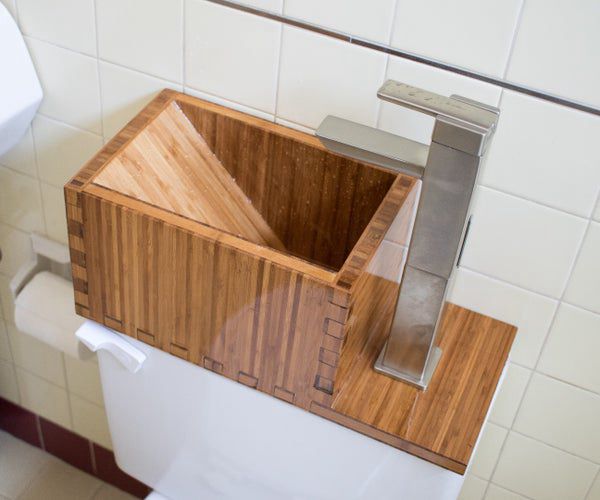 Talk about creativity and innovation and you have it here. A single toilet flush uses about  13.5 Liters of water. This portable toilet top sink project beautifully re-routs the water that fills the toilet tank through a hand washing sink, filling the tank with greywater for the next flush and saving the water you would have used to wash your hands separately.
It is a creative and effective way to save water in style and elegance. This idea has been in existence in Japan for over 30 years and counting. Want to learn how to DIY your portable toilet top sink now? Instructables
9. Plastic Hand Wash Sink
Who thought you could have your handwash sink in plastic? Well, whoever came up with that idea, thought of you. You can now DIY your very own plastic hand wash sink and PVC sink stand. It's all easy. Check it out here.
10. Portable Sink DIY
This video gives you step-by-step instructions on how to DIY a portable cold and hot water sink. It's something to have in your salon, so let's get watching and building.
11. Cheap Camper Sink
This cheap and affordable campervan sink is to die for. It's easy to build and comes in real handy. All you'll need is a bar sink, flexible pipes, a 5-gallon bucket, two desert patrol water jugs, a marine foot pump, copper pipe faucet, bulkhead fitting, hose bib, and finally, a garden hose.
12. DIY Kitchen Sink For Camping
This is arguably the perfect DIY kitchen sink for camping. If you love to go camping regularly too, then you've got to learn this DIY skill. This video shows you how.
13. Portable Kitchen Sink
Always wanted to do the dishes anywhere or somewhere in the backyard? Well, what you need is a portable kitchen sink. It's easy to build, easy to carry, and durable. Do you want one? Here's a better idea; watch this video and learn to make your very own portable kitchen sink.
14. DIY Camp Sink
Hey camp lovers! Gather round. Ever thought of making a DIY camp sink to make your camping trips more stress-free and fun? Now's your chance. Learn to build your DIY camp sink right here, right now. What do you need? A couple of buckets, a 12-volt faucet, some pipes, a 12-volt battery, or an alternative power source, and voila, you're good to go.
15. How To Make Portable Sink For Camping
Campers and travelholics face the challenge of not having a proper kitchen sink, carrying about dozens of water bottles, and going hysterical trying to pour water out of them. All you need to do is learn how to make a portable sink for camping to solve all of your problems. The best part is they are insanely cheap and easily DIYable. A portable kitchen sink can make your camping trip way more fun and memorable than it might have been otherwise.
Conclusion
These days keeping clean is everything. It can be hard to find a place to wash your hands when you work in the field, and rental companies can't keep up with the demand for hand wash stations. So there you have it! I hope you found these 15 DIY portable sink ideas helpful. Now you can take your kitchen and the sink with you wherever you go. They're easy to make, durable, and cost-effective. Now you can have fun camping and relax without worrying about a portable water sink.