An ironing board is an essential household item for those who have clothes to iron or to leave hanging on the wall after ironing. The ironing board ensures that your clothes look well and feel smooth. What could be better to have in your house than a way to get wrinkles out of your clothes? Nothing! With an ironing board, you can remove those annoying wrinkles before you go out and meet with friends, or for that special occasion like a wedding.
There are a lot of things that DIY (do-it-yourself) stands for; from improving your home to making your own clothes. Now, we will be delving into the wonderful world of DIY Ironing Board. If you're looking for the best DIY Ironing Board then you've come to the right place. In this guide, you will learn exactly how to build your own ironing board from scratch. This can be done with simple tools and commonly available resources.
1. How To Make An Ironing Board
Ironing is an essential part of laundry; once you finish drying, you need to press the clothes to make them more attractive. Thus, here is an excellent idea of how to make your ironing board with some basic materials such as wooden boards, cotton fabrics, and foam.
2. Make Your Own Ironing Board For Cheaps
If your concern is storage space, you will need to check this cheap ironing board/table doubles up as a storage shelf. The ironing board/table is very tall and gives space for three shelving steps. Before you can assemble the ironing board, the first thing you need to do is to wire the shelvings.
3. How To Build An Ironing Table
Imagine being able to fold your ironing table after each ironing process! I know that's amazing as it saves you a lot of storage space. The table was made from an angular metal bracket, while the board was made from quilt fabric and cotton.
4. DIY Ironing Board For Kids
If not anything, the design of this wooden ironing board/table makes it exceptional. It is made from wood, though. The tabletop has an arrow-like end and a square at the other. The crisscross leg makes it more impressive.
5. How To Make A Small Ironing Board
Making an ironing board is not as easy to find where you can use it; of course, you can use the ironing board everywhere. This board is very portable, and it can fit the top of your dryer, tabletops, or kitchen table. And if you quilt! You will find the plywood version more appealing and valuable. applegreencottage
6. DIY Ironing Board
If you're setting up a sewing workshop, one of the virtual spaces/equipment to have is an iron and an ironing board. You can buy the iron, but when you make the ironing board yourself, you have the opportunity to customize it as you like. Using a plywood sheet, fluffy polyester batting, and a staple gun, you can put this ironing board together in less than an hour. closetcorepatterns
7. Table Top Ironing Board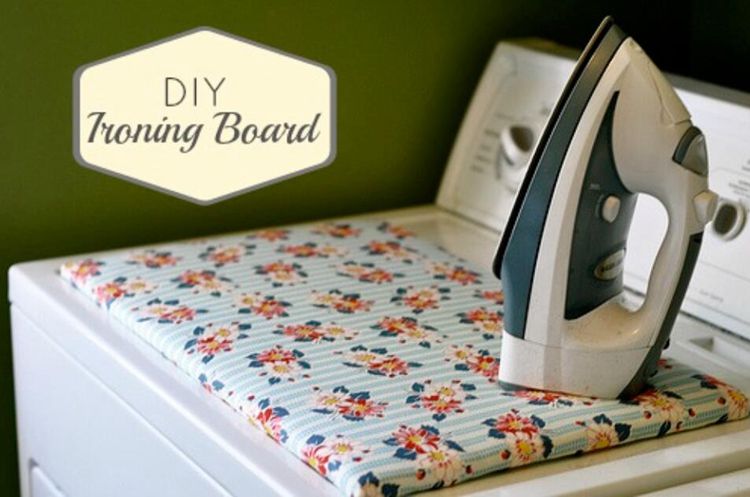 After doing your laundry, you probably take your laundry out for ironing. This small and unique ironing board can make this activity easier for you. What about ironing your clothes right on top of the washing machine/dryer? I know that sounds cool. craftionary
8. How To Make A Portable Ironing Board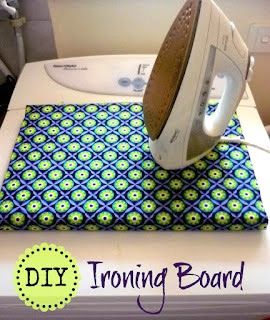 You only need three materials for this cute little ironing board; a wooden board as a base, a towel or quilt batting as the cushion for the ironing board, and a thick fabric as the cover for the ironing board. The only tool needed is a staple gun to hold the material and the quilt to the wooden board. wikihow
9. DIY Ironing Boards Tutorial
Here is a great tutorial that will teach you how to make different ironing boards. It is also applicable if you want to make plenty of ironing boards to maximize the supplies across all the ironing boards. All you need include light wooden boards of different sizes, you can easily cut them from pieces of plywood, and some fabrics.
10. How To Make An Ironing Board
See here how to make a fantastic ironing board using pieces of wood, cotton fabric, and foam. Having a basic knowledge of sewing is not required as you will not need any sewing equipment. All you need to do is follow this guide and you'll make your ironing board with ease.
11. DIY Ironing Board For Quilting
The main reason why you need a 100% cotton fabric as a quilt instead of polyester is that polyester is not resistant to heat and with this can easily melt under high heat. Aside from the bottom fabric, the next thing is how to assemble the materials.
12. DIY Large Ironing Board
Do you need a large ironing board? Here is a great plan to show you how to DIY a large ironing board that will not cost you a fortune. The most critical materials needed for this are large wood pieces and a large yard of fabrics.
13. Ironing Board Tutorial Ikea Hack
See how to set up an ironing board/table that doubles up as a storage box. You can get the table from IKEA for $149.00. The table serves as the base for the ironing board. Once you set up the table, the next thing to do is cover the tabletop with all sorts of fabric needed for the ironing board. customstyle
14. DIY Pressing Board
The materials you use on your ironing board will determine its level of effectiveness or efficiency. Please don't use a squishy foam cover that will make it almost impossible to have an assembled surface for your pressing. Such ironing boards made with this kind of material will not be effective when searching and pressing fabric. leahday
15. DIY Ironing Board Build
The ironing board is essential in every sewing quilting workshop; every product needs to pass through the ironing board before being sold out or used. The quilt is one of the most used cushion types for an ironing board. venace
16. Ironing Board Cover Sew
Before you can think of getting a new ironing board, it's either your existing board is old or you don't have it at all. All you need to do is get some cotton fabrics, foams, and a foldable aluminum table. Check out this fantastic ironing made with foldable legs. theseamanmom
17. Homemade Mounted Ironing Board
The two leading power equipment required for this mounted ironing board is a table saw and a miter saw. These two tools make cutting the wood pieces easier. You can check other materials and tools from the link below.
18. Mini Ironing Board DIY
See how to make a mini ironing board using some materials you have around. It would be best to have a lightweight wooden board, cotton fabrics, foams, quilt, cutting board, scissors, and a staple gun. The design doesn't require sewing!
19. How To Make Amish Ironing Board
Here is an excellent plan to make a DIY ironing board that can work as a storage box and a sitting stool altogether. Every part of this multipurpose ironing board is made from wood. The assembly is completed with a staple gun and screws.
20. Wall Mounted Ironing Board $20
Do you know you can make a solid and heat-resistant ironing board for as low as $20? Here is a guide that will show you how to go about it. Another fantastic feature of this ironing board is that it is walk mounted, which means you don't need to worry about space.
21. Table Top Ironing Board
A staple gun is an excellent tool for attaching a piece of fabric to a wooden board. The staple gun is straightforward to use as it doesn't require any basic knowledge or take time. You need to cover the wooden board with the fabric and staple it at the other end. lilblueboo
22. Ironing Board Cover DIY
When you're conscious of your space or have a limited area around the house or workshop, the best thing to do is to minimize the room by making a foldable ironing board/table; check out the simple process required to put this fantastic ironing board together. abeautifulmess
23. DIY Oversized Ironing Board
You need premium wood for this oversized ironing board; though you can use sheets of plywood instead, the plywood needs to be very thick. Aside from the wood, it would be best to pad the ironing board with different fabrics and foams.
24. DIY Tabletop Ironing Board
One fantastic feature of every effective ironing board is its ability to resist high heat/melting. So, to make your ironing board resistant to this, you need to add the required layers of fabrics between the wooden board and the top material.
25. How To Make An Ironing Board
When you love ironing, you will want to personalize everything that comes with it—like, having a separate ironing board or having a separate room for this. This ironing board is very amazing as it is made from a piece of wood, cotton fabric, and foam.
Conclusion
With all the creativity exhibited in the above ironing board guide, I'm sure you'll be willing to try out an ironing board yourself.
The ironing board is a piece of essential equipment for laundry, and if you don't have an ironing room, you will need to have an ironing board somewhere around your house for ironing.