If you're considering a DIY shower cap, you may be asking yourself why would I make my own… After all, they are cheap and readily available in the stores. Well, you saw those other caps being sold at the store and asked yourself, "I wonder if I can make one…." Well, now you can! You can find everything you need around your home to get started. Time to make your first DIY shower cap project!
A DIY shower cap can help keep your hair completely dry while in the shower; it doesn't matter how long you spend singing your favorite songs in the shower. And if your old shower cap's elastic band gave up after using it for a few years, here I present to you a couple of DIY shower cap ideas with a fun style and very functional design! If you are sick and tired of losing your hair in the shower, then this tutorial is for you. You'll be a master at making simple shower caps so you won't lose any more hair.
1. How To Sew A Shower Cap
A shower cap is a piece of clothing that protects your hair from getting wet while in the shower. You need to have the basic knowledge of sewing for you to be able to handle this piece of craft. However, if you pay attention to the details in this video, you will be able to cut and sew the cap without prior knowledge of sewing. To make the shower cap feel full, you need fusible interfacing to line the fabric.
2. How To Make A Shower Cap With Plastic Bag
To make an effective shower cap, you need a fabric resistant to water. Then, a plastic bag is highly resistant to moisture, making it the best material for the shower cap. Let's see how you can turn the plastic bag into a shower cap; you'll need an elastic band, needle, and thread alongside the plastic sheet. Now Fold the plastic sheet according to the demonstration in this video and cut.
3. DIY Shower Cap
The main reason why you need to line your shower cap is that the lining makes the cap look sturdy and fit on the head. Other materials required for the shower cap include an elastic band, scissors, tape measure, clips, and waterproof fabric. You can check out the cutting and sewing process at the link below.
4. Homemade Shower Cap
Here is another plastic bag shower cap! Here, you need to cut two circle pieces from the plastic bag; one for the central part and the lining. You don't need a sewing machine; all you need is thread and needle to stitch elastic bands to the circumference of the circles.
5. Sew A Shower Cap In 10 Minutes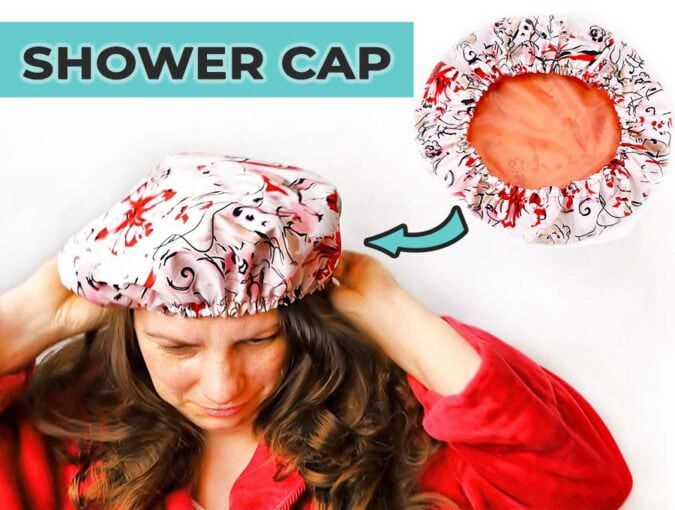 One thing about making your shower cap by yourself is that you can customize it into something you like. The Size of the shower cap depends on the type of hair you have, or you have made.  Girls will need a thin layer for the shower cap for short hair. hellosewing
6. How To Make A Shower Cap
While growing up, a lot of people admire this piece of clothing. But they can get weak quickly and can get wet at any time. Here is a great solution: make a fantastic waterproof shower cap by following the concept used in this guide. mellysews
7. Quick Homemade Shower Cap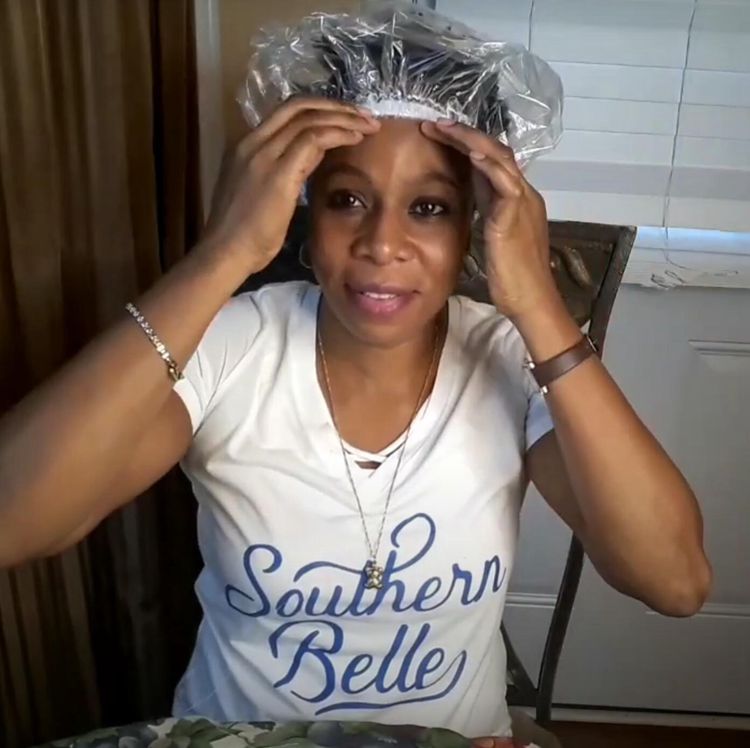 This quick homemade shower cap will fit any kind of hairstyle that is beautiful. You can make it from any fabric, and the size depends on the type of head that wants to water it. Once you understand the concept used in this guide, you can use any other type of shower cap. leaf.tv
8. Waterproof Fabric Shower Cap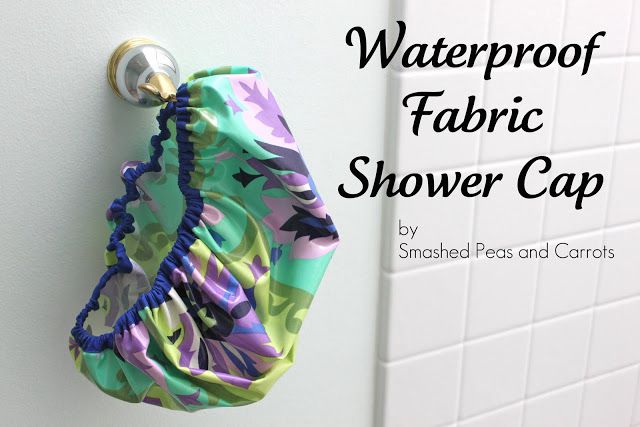 Check out this shower cap made from waterproof fabric!  You can use cotton fabric which is not waterproof, but you need to cover the cotton cap with a vinyl sheet to make it waterproof. smashedpeasandcarrots
9. Shower Cap From Shower Curtain
Are you tired of buying shower caps every time? Then, you need to try out this strong shower cap made from a shower curtain. As you know, the shower curtain is waterproof; this will give you the certainty that this shower cap is going to last longer than the others you've been buying. After getting the materials required as listed in this guide, the first thing you need to do is to fold the curtain into four and cut out a big circle.
10. How To Make Shower Cap At Home
Check out this fantastic shower cap made from a thin polyester sheet. Get a square-size thin poly and fold it into two. Then, cut a semi-circle from one corner of the poly sheet. Now open up the semi-circle and fold one edge of the circle twice. After this, stitch the folded edge with a needle and thread. Now, repeat this till all the edges of the circle are stitched.
11. DIY Shower Cap
Making a shower cap from a plastic bag is no longer news as the craft is fast becoming a beautiful trend! There are different ways to turn your plastic bags to shower caps; one of them is demonstrated in this guide. Get a plastic bag and fold it nicely, then cut off the top and bottom of the bag. Unfold the bag and use nail polish to design it. Now, take a needle and thread and stitch up one bag opening.
12. DIY Shower Cap Tutorial
Imagine having two different colors on a single shower cap! That you can choose to wear the side you want at any time. To do this, you need two different waterproof fabric colors for both sides of the cap. Cut a circle from each fabric and ensure the circles are of the same size. While measuring the circle, ensure there is an additional one-inch seam allowance to have enough space for stitching.
13. Shower Cap With Optional Ribbon Rosette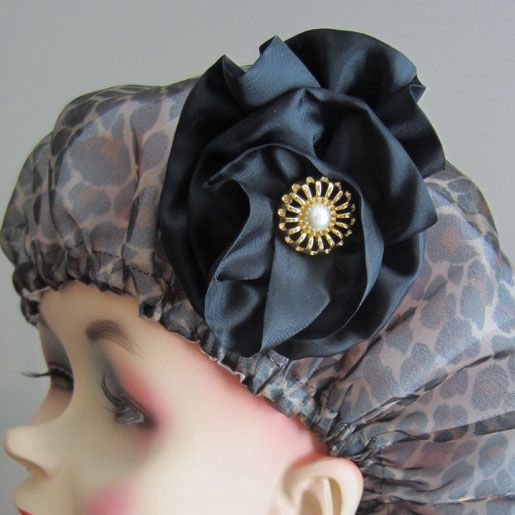 See here a beautiful shower cap with a ribbon rosette on one side. The ribbon rosette makes the cap look really impressive. The first thing you need to do is get some fabrics such as ripstop nylon fabric and sheer polyester chiffon. Other materials you need include an elastic, hand sewing machine, rotary cutter, string, pin back, and a small button. weallsew
14. How To Make A DIY Shower Cap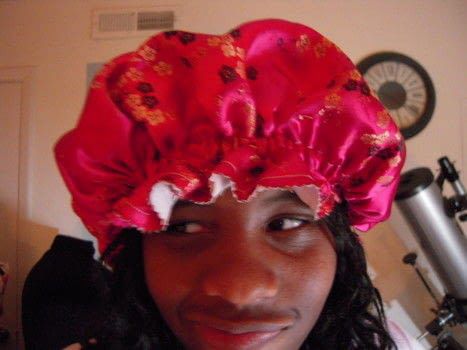 If you want to design your shower cap further, you might need a lace for binding the edges. The main materials required for the shower cap is satin fabric, a plastic bag, and an elastic band. All you need to do is cut and sew the satin fabric into a cup, cover it with plastic, and at the lace to the edges. cutoutandkeep
15. Simple Shower Cap
If you want to make a super cheap shower cap, gather some old materials from your house. This shower cap is made from old plastic bags, iron sticks, and rubber bands. You will need to select some bags of some thickness so that the cap will fit well on your head. You can check this link below to learn more about the process of turning the plastic bag into a shower cap. instructables
16. 5 Minutes Shower Cap DIY
Do you need a shower cap? Do you have 5 minutes? If yes, then you are good to go.  Get a plastic bag, hair band, and small thread. Attach the small thread to the hairband to form a big ring. If you're using a plastic bag with handles, cut off the handle. If otherwise, make the person wear the bag and maneuver the bag, as demonstrated in this video.
17. How To Make A Shower Cap At Home
Here is a super simple shower cap you can make at your home within a couple of minutes. The design uses a fleece fabric covered with a plastic back. The reason for the plastic bag is to resist the cap from water; as you know, You can soak that fleece fabric quickly. Cut two pieces of a circle from the fleece fabric and stitch up the edges together. This will give you the two sides of the cap; then, cut a circle from the plastic bag and attach it to the cap.
18. DIY Satin Lined Shower Cap
Aside from the satin used to line this shower cap, you need a pellon vinyl fuse matte to make the cal waterproof. After gathering the required materials for the shower cap, the next thing is to determine the pattern you want your shower cap to have and the size.
19. DIY Shower Caps For Natural Hair
As you know, natural hair can be gigantic, most times it's hard to squeeze the hair into a small shower cap. Or maybe, when you make a big hair, you might find it challenging to squeeze all of that into a tiny shower cap. Here is a video guide that will efficiently show you how to use a small shower cap with any hairstyle.
20. Homemade Shower Cap
Check out this homemade shower cap made from a plastic bag, scissors, thread, needle, and elastic band. With these few basic sewing materials, you will be able to DIY a shower cap yourself without any prior knowledge of sewing.
Conclusion
Many people like to dance or sway here and there while in the shower, and that is absolutely a good energy when you're in a good mood. Perhaps, you can swing as much as you want once you know your hair is safe from water. To make this very simple, these are 20 different guides on making a homemade shower cap.