Wanna build a DIY Leg press? Read on! While most of us agree that exercising is a great way to keep our bodies fit, finding exercise equipment that is effective and safe to use can be pretty tough. Especially if you began that new budget! The good news? Well, you can make your equipment. Leg presses are great for exercising your leg and building resistance. However, you want to be sure the one you're using won't affect any part of your body. The easiest way to ensure this is to make yours yourself.
Leg presses are great because they help you build resistance in your legs and lower body without putting a strain on your upper body. It offers extra support by allowing you to position your legs and back correctly while you work out. It also helps you achieve proper posturing for your back which is a plus. It's also great for reducing injury risks and strains. It's also great because you can perform many variations and thus train different muscle groups. It also helps your balance and stamina by strengthening your legs.
If you want those quadriceps stronger and want to build up your butt. Then leg presses are highly recommended. Plus, they are so easy to get into! This article shows you 15 different Leg Press DIY projects you can do. I hope you love them!
1. DIY Leg Press Machine
If you're on a budget but would still love to have a DIY Leg press machine, then this project will rock your boat! It costs only about 150 dollars to make and is quite simple to build. Also, because it's made from bolts and batten screws, it can easily be disassembled when not in use. If you have prior building skills, making this should be a piece of cake for you, so get right with it! Not only would you have great equipment when you're done, but you'll also be able to build more muscular calves and get a host of other fitness benefits.
.
2. DIY Leg Press
Why go to the gym when you can bring the gym to you? Build your leg press plus hack squat combo machine with this detailed DIY project. This project is fun to replicate and helps you achieve your fitness goals. Instead of buying overpriced leg press equipment or having to go to the gym every time to use them, build yours and enjoy the comfort of being able to exercise every time.
3. DIY Leg Press Machine
One advantage of making your gym equipment yourself, especially if you have prior building skills, is that you know it's safe to use. Build your Leg press machine with little or no hassles with this easy-to-follow DIY. The result is truly unique when you're done. If you need a leg press and are unwilling to buy one, dive in right now! If you've been to take the weight off your back as you exercise, then you should try out regular leg presses.
4. Leg Press Machine Under $100
Build your garage gym leg press equipment from gymnastic rings and heavy resistance tubes! If you don't have a garage gym in place already, you may need to buy a few supplies, and then you're set to replicate this DIY. It's easy to follow through and contains lots of tips on building and using it safely. This is an excellent project if you love garage gym ideas.
5. Homemade Leg Press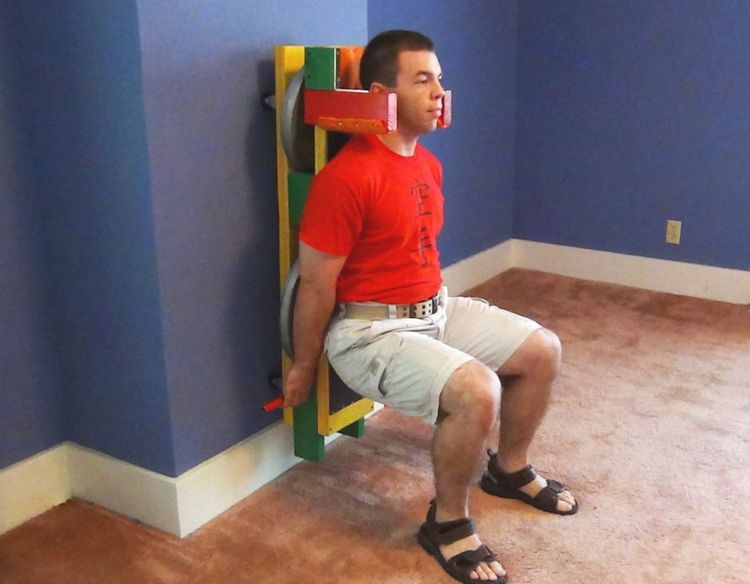 For just $36, this homemade leg press equipment could be yours. Say goodbye to overpriced and dangerous-looking leg press equipment! This equipment is excellent for protecting your neck while you work your legs. It's made out of creeper and a few other good-quality materials. This DIY contains comprehensive steps on how to assemble yours. Instructables
6. Homemade Leg Press Machine
While a lot more places are opening up and restrictions are reducing, you don't want to be at the mercy of the gym. Now, with this DIY project, you can make a Leg press machine for use at home. It's simple to make and won't also take up so much time. Remember to protect yourself while you build this project.
7. DIY Leg Press Plate
Yaay, for another scrap pile DIY project! If you have scraps lying around in your garage, then this DIY might just be perfect for you. It's easy to make and will cost practically nothing if you have suitable scraps or something close. The end product is effective, safe to use, and pretty versatile.
8. Homemade Leg Press
Building your homemade leg press doesn't have to be difficult, that's what this DIY project proves. With just the right supplies and some patience, you can build your leg press machine that would serve you for a long time. This way you can focus on working your legs and strengthening those muscles without harming yourself in any way.
9. DIY Leg Press For Power
Design and build your DIY leg press for a power rack under $200. This leg press machine is built to be much more sturdy and is pretty effective too. This leg press machine will help build resistance for your legs and will serve you for way longer because of the quality of materials used.
10. Homemade Vertical Leg Press
Are you hunting for new cost-effective ways to make your leg press machine that will be valuable and yet not break the bank? Then this DIY Leg Press machine project is for you. It's easy to build if you have prior building skills and don't require spending so much. Once you're done, you'll have gym equipment that enables you to work on your legs anytime you want
11. DIY Leg Press
Make your durable DIY leg press equipment for just $198. Most of the materials used in this DIY are made of steel, making them much sturdier. After making these, you don't have to worry about making leg press equipment for a long time. So go grab some steel bars, bell barrings, and some other supplies and get to work!
12. Wooden Leg Press DIY
Woodwork enthusiasts would love this one! If the idea of working with steel makes you cringe, then build your leg press with this simple to make wooden Leg Press equipment. This can be constructed easily and doesn't require an expert either. If you've been looking for ways to keep fit and still save money, this wooden Leg press equipment will help you smash both goals
13. DIY Leg Press
Are you feeling confident about building your leg press equipment from scratch? This DIY will help you achieve that. Why go to the gym when you can just build your customized leg press equipment? This DIY project will guide you through the process and contains valuable tips to get optimum results.
14. DIY Leg Press Machine
Not a fan of power tools? Or you're looking for leg press equipment that's creative and yet still does the work? Then you might want to try out this cool, easy-to-make DIY. This is one DIY you'll enjoy building. It's also sturdy and helpful for training those muscles you want to train. Ditch the overpriced machines and make this instead.
If you've wanted killer legs forever, this is the time to go for them. Leg presses can be the right option if you don't have so much time but would love to exercise your legs for more defined-looking legs.
15. DIY Leg Press
Learn how to do a leg press with this DIY. This is a great exercise to incorporate into your routine. Make sure to use safe Leg Press equipment and build your resistance gradually. Have fun with this leg press DIY and keep those muscles firmer and tighter. However, take caution that you don't attempt to move too much weight or lock your knees.
Conclusion
Leg presses are great if you burn some fat and are too weak to squat. Squatting can take quite a while to get used to and are usually hard on your lower body, but leg presses are great because they are easier to do. Even beginners can do leg presses and still get excellent results.
However, if you've been exercising for a while, you can do high repetition leg presses. These will help exercise your legs, heart, and even blood vessels. It's advisable for everyone, beginners looking to start working out and advanced fitness enthusiasts looking to incorporate other leg exercises into their workout.