Mirrors add light and dimension to any room, but they're notoriously expensive. The solution? Make your own floor mirror and save a bundle. This step-by-step tutorial tells you exactly what you'll need (including hardware and tools) and how long it will take to put together your very own DIY floor mirror. If your bedroom lacks a full-length mirror, you could buy one, but that would be so boring. Our favorite option? Build your own floor mirror. This DIY project is easier than it looks, and will add a personal touch to any space in your home.
This article consists of 25 DIY floor mirror projects with diverse designs. You might even have a hard time choosing from the list, all the floor mirrors are so beautiful. The making process isn't overly complicated, you should be able to build one without much stress or having to spend too much on materials.
1. DIY Large Floor Mirror Frame
In this video tutorial, you will learn how to DIY a large floor mirror frame. The idea is super simple to put together! You will need some wood pieces (2"×8"×8' and 2"×3"×8'), wood stain, and one sheet of plywood. Cut the wood pieces, stain them and you're good to go.
2. DIY Modern Framed Floor Mirror
This modern framed floor mirror is made out of 2/4" angle steel bar which is 8" thick. If the length of the angle steel matches the length of your wall, you're good to go. All You need to do is to sand the angle steel with grit sandpaper paper to remove any rust on it. After this, use acetone to clean it thoroughly.
3. DIY Parisian Golden Mirror
You will need four essential supplies to turn this regular mirror into a Persian golden mirror! The supplies are metallic spray paint, masking tape, a hot glue gun (with a glue stick), and a centerpiece. Once you have all these supplies, you're good to go.
4. How To Make A Large Floor Mirror Frame
Malika gives explicit instructions on how to DIY this large floor mirror frame. The list of the materials she used was given in the video. The materials include Plywood pieces, hardwood pieces, and gorilla glue. You will need some basic tools to put the materials together. Check out the link below for the list of tools.
5. Large Floor Leaner Mirror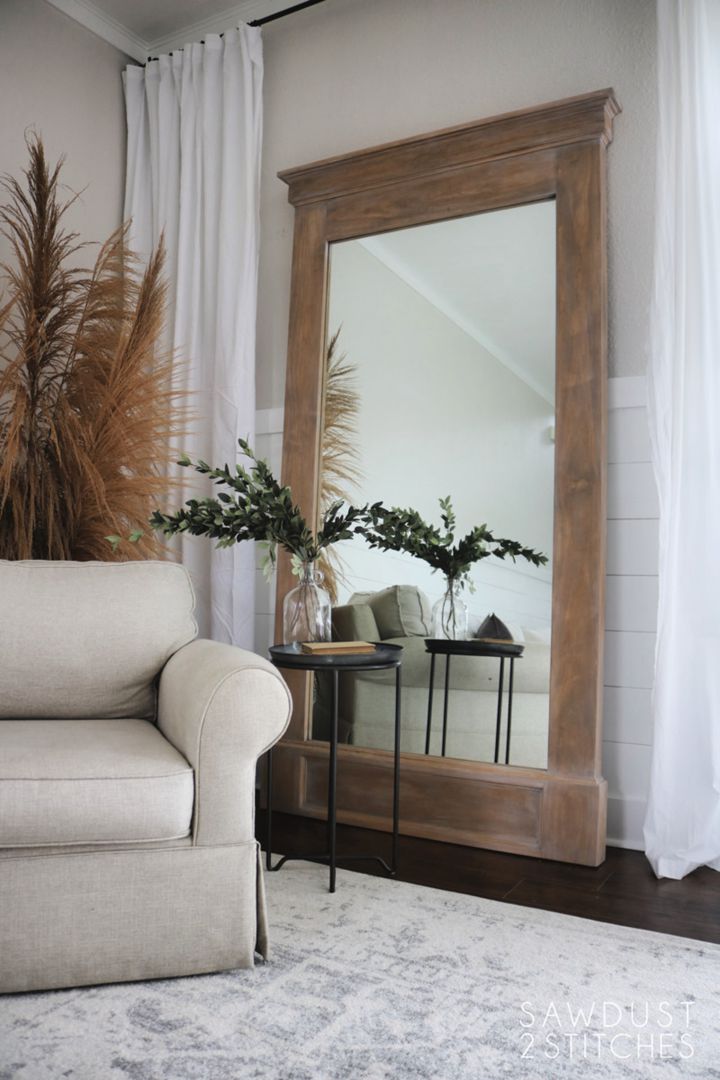 See here how to make a large floor leaner mirror! It is very simple to put together. The materials needed include wood pieces, wood screws, glue, drill, table saw, clamps, and tape measure. You can check out this guide by clicking the link below for the full tutorial. sawdust2stitches
6. DIY Modern Floor Mirror
Choosing the right materials for this modern floor mirror can not be underrated because it will determine how well your mirror will turn out later. ¾" thick pieces of hard plywood will work well for the frame.  If your mirror has been attached somewhere before, you need to be careful when removing the mirror to avoid cracks on it. annamaegroves
7. DIY Leaning Framed Floor Mirror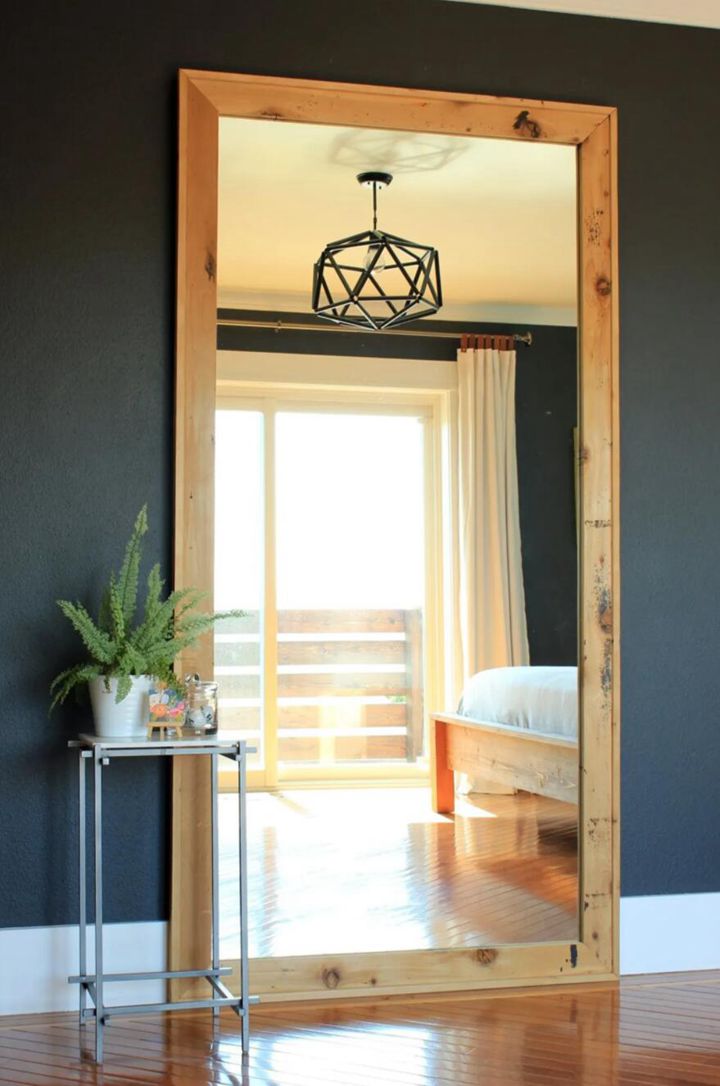 The cost of this leaning framed floor mirror depends on the size of the mirror. If you're using a full-length mirror, that means the cost will be twice that of a regular-length mirror. The skill level required is moderate and it can be completed in less than three hours. apartmenttherapy
8. DIY Floor Mirror Under $30
With just $30 and upcycling some old materials, you can make this elegant framed mirror. Here are the materials you need: a cheap mirror, a large piece of wood (an old tabletop will work better), and trim pieces that size the width and length of the tabletop. jennakateathome
9. Large Glam Floor Mirror
Another name for this glam floor mirror should be elegance! This is beautiful, if your watchword is class, you follow this guide. Another beautiful thing about the floor mirror is that the frame is 3D!
10. DIY Full-Length Mirror Frame
The first thing you need to do to make this mirror frame is to measure the dimension of the mirror. Then, use the dimension to cut plywood pieces for the frame. These are some of the tools needed: circular saw, speed square, miter saw, and tape measure.
11. DIY Full-Length Mirror
The materials needed for this full-length mirror include frameless mirror, plywood, mirror adhesive, reclaimed wood pieces, liquid nail fuse, glue gun, measuring tools, pencil, electric saw, and Minwax wood stain. (optional).
12. DIY Large Floor Mirror
In this video tutorial, you will learn how to use cereal boxes to make a large floor mirror frame. Since the cereal boxes are items you've already had in your house, the project is inexpensive.
13. Floor Length Mirror Tutorial
Adding a frame to your full-length mirror says something about its uniqueness and your class. You need wooden planks for the frame, thus, precut wooden boards will work better. Other materials needed include mirror clips, wood glue, staple gun, and walnut wood stain. You can use any wood stain you prefer if you don't like walnuts. sawdustsisters
14. DIY Modern Floating Mirror
All you need to do to have these modern floating mirrors is to gather all the materials and tools listed in this guide. Then, rip down the wooden board to pieces according to the measurement. After that, you can use the trimmed wood pieces to frame the mirror and you're good to go. You can check the link below for more details. woodshopdiaries
15. Easy Full-Length Floor Mirror
With tools such as a Kreg pocket hole jig, Kreg track saw, drill/driver, miter saw, screws, and a tape measure, you will be able to put some heavy-duty plywood pieces together to frame a full-length mirror. The frame is leaning against the wall and it looks beautiful. rogueengineer
16. DIY Floor Mirror
There was no exact plan for this design in the first place, but it turned out beautifully well. Therefore, you are free to modify the design to satisfy your preference. All the materials you need include wood pieces, wood glue, clamps, and a paintbrush. lizmarieblog
17. Light Up Floor Mirror
Daisy Maria did a great job in putting this light-up floor mirror together. The mirror is big and it was got from Walmart at $70-$80. The other second material needed aside from the mirror is a pack of LED lights. The LED lights came with an adapter, LED light strips, an alcohol pad. The alcohol pad is used to clean the spot where you want to fix the light strips to.
18. Glam Floor Mirror DIY
Do you know you can DIY that fancy mirror you saw at the store the other day? All you need to do is to replicate the design of the fancy mirror in cheaper and simpler techniques. In this guide, you will learn how to design such a glam mirror using some basic materials like foam poster boards, acrylic crystal, diamond ribbon, e6000 glue, glue gun, and x-acto knife or any other thing you can use to cut.
19. Diamond Tufted Leaned Mirror
The first thing you need to do when you're making this tufted leaned mirror is to add spray adhesive to the frame of the mirror. Then, attach foam boards all around the frame. Once that is done, cover the foam boards with batting and hold them down with a staple gun, repeat this process when attaching the fabric to the batting.
20. DIY Door Mirror To Large Floor Mirror
The materials required for this large floor mirror include spray adhesive, door mirror, staple gun, wood piece, ruler, LED lights, and fabric of any kind. The LED lights are optional, you can decide not to include them in your design. Anyway, you have your beautiful large floor mirror.
21. Leaning Floor Mirror DIY
If all you want is classy and elegant, this leaning floor wall should be in your possession. The first thing you need to do is to sketch up the design of the mirror frame on a sheet of paper. Once you have the sketched design, the building process will be easier. designeddecor
22. DIY Plywood Floor Mirror
Are you looking for ways to add some extra storage space to your room? Here is a practical way around what you want. Get a heavy-duty piece of plywood board, full-length mirror, and mirror clips. The storage part of this is done by attaching some scrap plywood to one side of the board. Themerrythought
23. Stilted Floor Mirror DIY
The actual design of this floor mirror is Scandinavian design, but the design was modified a little bit by changing the color to coral Colors. The other materials needed include spray paint, a door mirror, duct tape, and two unfinished handrails. francoisetmoi
24. DIY Faux Brass Mirror
If you've seen a Persian hall decorated with floor-to-ceiling glass adorned with brass, then you would understand the trend of this faux brass mirror. Here are some materials required for the brass mirror; wooden decals, oval/rectangular frame mirror, brass- gold spray paint, newspaper, utility knife, and wood glue. decoist
25. DIY Free Standing Mirror
Here are all the parts you need for this freestanding mirror; two vertical leg pieces, two horizontal pieces, four pieces to make up the frame of the mirror, and one light piece that ties the legs together and gives it a perfect spot to attach the whole stand to the wall.
Conclusion
Floor Mirror is an elegant addition to the beauty of your room and they give you a full view of yourself at a go. The floor mirror becomes more beautiful and presentable when it is framed. There are a lot of ways you can frame your floor Mirror, most of these beautiful ways are explained above.