26 Grey Bathroom Ideas That Will Leave You Stunned!
These grey bathroom ideas will demonstrate all the attractive shades of grey in their full glory!
Grey Bathrooms Are Inevitably Modern!
Yes!
That is so true! Grey is a color that executes modern contemporary vibes in full action.
If you are someone who loves grey bathrooms and is appealed towards modern contemporary architecture, then continue scrolling through!
Because these grey bathroom ideas will leave you stunned!
1. Food For The Soul
Let the light pour into your bathroom by large windows and see the nurturing and calm effect it will impart! Stacking up some plants will help you reconnect with nature during hot showers and the grey hues from the paint will make you feel at luxury!
2. Grey Balance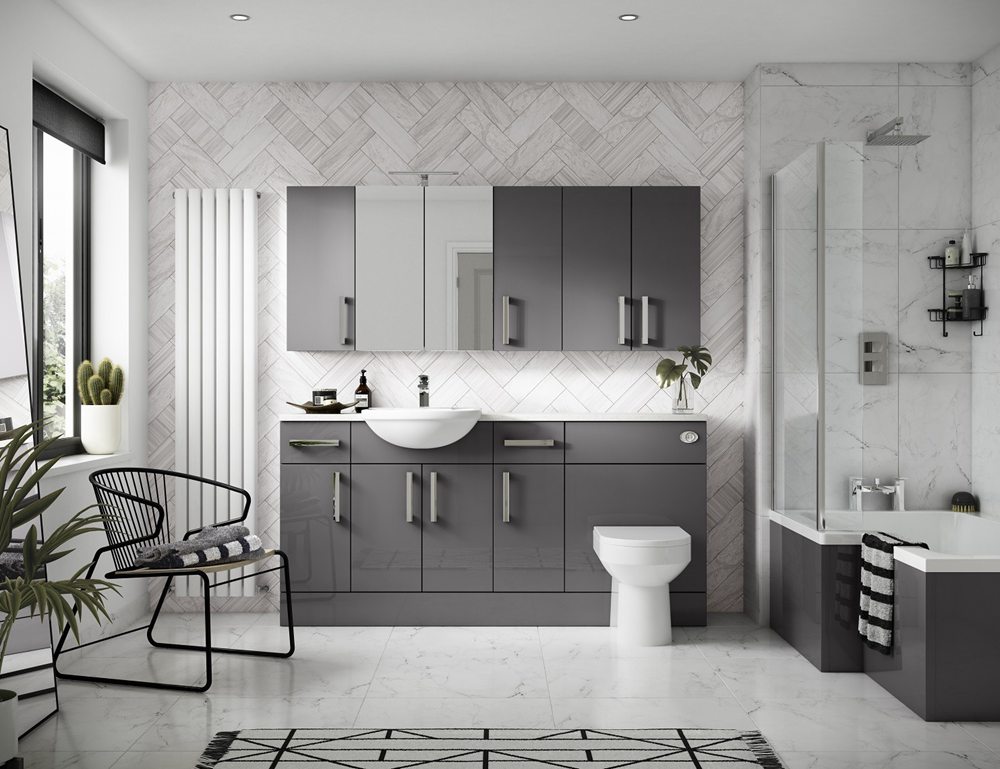 This is an excellent demonstration of a modern contemporary grey bathroom. Everything from the framework of the chair to the print of the rug is portraying perfect contrast. The textured brick wallpaper highlights the stunning vanity area that comprises a set of reflective grey cabinets, one of which harbors a mirror! And the shower area is absolutely divine.
3. Picture Perfect
The light grey wallpaper and flooring illuminate the mood of this gorgeous bathroom and is aided by the large ceiling light in the shower area. The bathroom cabinets and vanity area are ever so delectable, thanks to the unique architecture of the brownish-grey oakwood! The idea to put a set of candle jars beside the shower area is great for an aromatherapy session or a romantic evening.
4. Architectural Radiance
The simplest bathroom furniture can also prove to be the sleekest one in its category! Especially in this case. The use of plain matte grey cabinets and washbasin in this bathroom is what makes it unique. The grey undertones are balanced by the generous amount of light flooding the entire bathroom with gleeful radiance. Also, notice the star themed grey frame above the toilet and also the use of sheer grey vinyl flooring. Stools are a great way of arranging a small sitting in your bathroom or just to stack up some towels!
5. A Hint Of Blue
Grey bathrooms with blue hues are all about enhancing the definition of your bathroom. The reflective matte tiles are in perfect harmony with the glossiness of the chic rectangular vanity. Since this is a spacious bathroom, a leather couch is introduced in case you want to spend a relaxing time reading a magazine while your shower steams up! Mirrored cabinets are an interesting emerging trend!
6. Aura Grande
Pebbled flooring to cater to your bathtub is the next level of modern design and luxury. Everything in this bathroom is commendable, from the spotlight arrangement to the use of frosted glass windows. The abstract grey paint and the textured wall, both add more to the style of this bathroom whilst giving out boujee vibes!
7. Zooming In
It is always the smaller details that gather to form a larger impact than anticipated! Grey bathroom doors with french style panels and knobs are a great way of giving your bathroom a hybrid and expensive personality! A vanity coupled with grey drawers and golden knobs is another great way to amplify the beauty of your bathroom. And of course, old-style faucets and small flower arrangements can make a huge difference as well!
8. Elegance Galore!
Geometric bathtubs are the new thing! They can automatically make your bathroom look twice as pleasing. You should also combine it with some geometrically aesthetic shower heads and hardware to give further life to this aesthetic duo. Arranging some vases and flowers will add a fresh touch to the vibe!
9. The Paparazzi Is Watching You!
If you are somebody who is obsessed with disco balls and party themes, then this bathroom idea is for you! There is nothing more astonishing than a chandelier in the shower area to make you feel grand and royal at all times!
10. A Designer's Palette
Slanted ceilings are such a mood! They will give you closer views of the sky while you shower! There is nothing more relaxing than an aesthetically pleasing bathroom after a hard day at work. The use of the diamond chandelier adds to the luxurious component of this gorgeous grey bathroom.
11. The Grid
Grid style tiles and wallpapers can make your bathroom look stunning, only if you know how to choose the right one. Glossy ones, like the one in this bathroom, are the best! And if you decide to insert some spotlights within the shower area of your bathroom, then it will become top-notch with reference to style and aesthetics!
12. The Country Style!
No need for a large budget because this grey bathroom idea tells us that the simplest of things are the most fulfilling. Simply line up your favorite linens and towels and do not forget to arrange your favorite candle stands or jars! A tray to hold your bathing essentials will further add to the wholesome feeling!
13. Romance In Grey
A modern selection of furniture will definitely end you up in a fine bathroom space! The textural component of this grey bathroom is given off by the rectangular tiles, which are illuminated by the seeping of light through the window. A glass bordered shower area adds to the extravagance component and makes the bathroom look ever so luxurious.
14)  The Grey Hallway
A corridor could also be used to set up a small bathroom area with a lengthwise vanity, just like it is shown in this bathroom! The view into the lush trees will refresh you after a hectic day at work. The shower areas are cleverly inserted into the corners of the corridor. A great way to connect everything together!
15. Executive Class
Boujee and 5 star restaurants have the most impressive bathrooms that make you want to stay there forever! You can make yours look similar! The easiest way to do that is to incorporate a long vanity area with double basins. Keep the theme grey with dim but impressive lighting, so that the environment does not become overwhelmingly bright.
16. Greys And Woods
Grey paint is very well contrasted by wood! In this bathroom, you can see that an entire wall is dedicated to a wooden wallpaper or panel. To enhance the blend, a wooden framed mirror is inserted. This combination gives respect to both the grey and wooden textures ever so elegantly!
17. Craving For Custom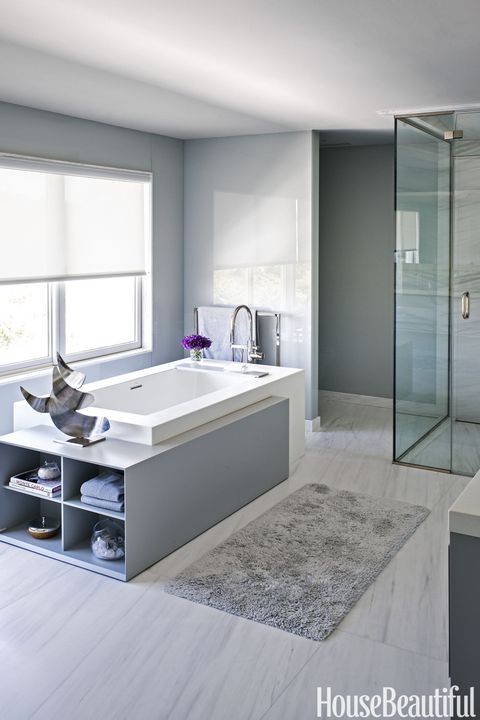 This is an excellent example of what a custom or designer bathroom looks like. The bathtub is the first to catch the eye, with its unique insertion of a low-laid shelf that can incorporate your shower and washing essentials. A plush rug is a great ending to a good shower, just dry yourself off while pampering your feet to the softness of the fur!
18. Time To Glow!
Grey bathrooms are almost always luxurious looking masterpieces. What you can do to amplify them is to insert a LED strip light behind your mirror! It will not only enhance the reflectiveness of the grey components but also give your bathroom a futuristic look!
19. The Lamp Post
A double framed mirror and lamp post lights will make your grey bathroom look so cozy! Combining it with a patterned marble vanity will simply make it look a class apart!
20. Clever Combinations
What can be more convenient than your bathroom and fitness room in a conjunctive arrangement? You can line up your fitness essentials and machines in one area and the shower area can be set up right next to it so that you can wave goodbye to all that stink and sweat right after your cardio session!
21. The Scenic View
Nest tables are not just for your living rooms, but also your bathrooms! They can give a more cozy look to your bathroom and you will enjoy spending more time in it, especially during showers. A circular rug in the middle is perfect for you to rest your feet or simply dry yourself off!
22. Fantasy World
Instead of opting for a traditional vanity with cabinets, why not just go for a wall insertion for your bathroom hardware. It will save a lot of space whilst contributing to uniqueness and style! Circular mirrors will go great with this idea. A bathtub tray to stack all your shower essentials will add more to the completeness of your gorgeous grey bathroom!
23. Circus Mirrors
Who knew what a great influence a wallpaper could have upon the aura of a grey bathroom! This geometric style wallpaper is reflecting style and grooviness at the same time!
24. Alluringly Blissful!
A bathroom trolly is a must for those who really want to have a fulfilling bathroom experience. No matter how big or small your bathroom is, a bathroom trolly is one of those things that can easily be introduced!
25. From Dusk Till Dawn
This bathroom is elevated by the use of an excellent choice of grey marble wall tiles and cylindrical hanging lights that add a lot of grace to this grey bathroom!
26. Black And Bold
An easy way to make your bathroom stand out is by the use of matte or glossy black noir faucets and showerheads! They make a huge impact on the entire aura of your bathroom!