These beach bathroom ideas will remind you of breathtaking ocean waves and refreshing sea breezes!
The Concept Behind Beach Bathrooms!
Beach bathrooms take us into the world of blue oceans and exotic shores!
They are refreshing and resonate with our previous trips to areas that have soothing water bodies.
Bathing or showering whilst looking at serene shades of blue can relieve you of your stresses and convert all negative energies into calming vibes.
This is why we bring to you a gorgeous collection of beach bathroom ideas that will make you reconsider your bathroom makeover ideas!
These ideas are easily implementable and can be sought into budget-friendly alternatives.
1. The Patina Greens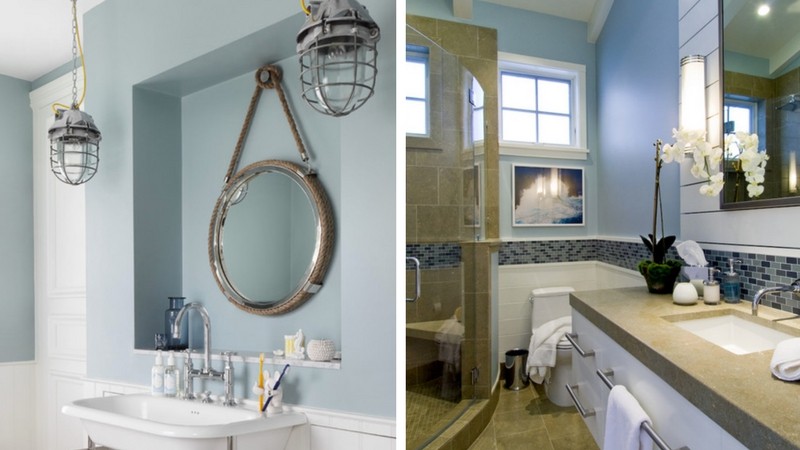 Patina Green is an exquisite shade of blue that has a green undertone. This bathroom has a clean blend of Turkish blues and Patina greens. Circular shaped mirrors and grid lights add an exciting component to this beach bathroom!
2. Rustic Waves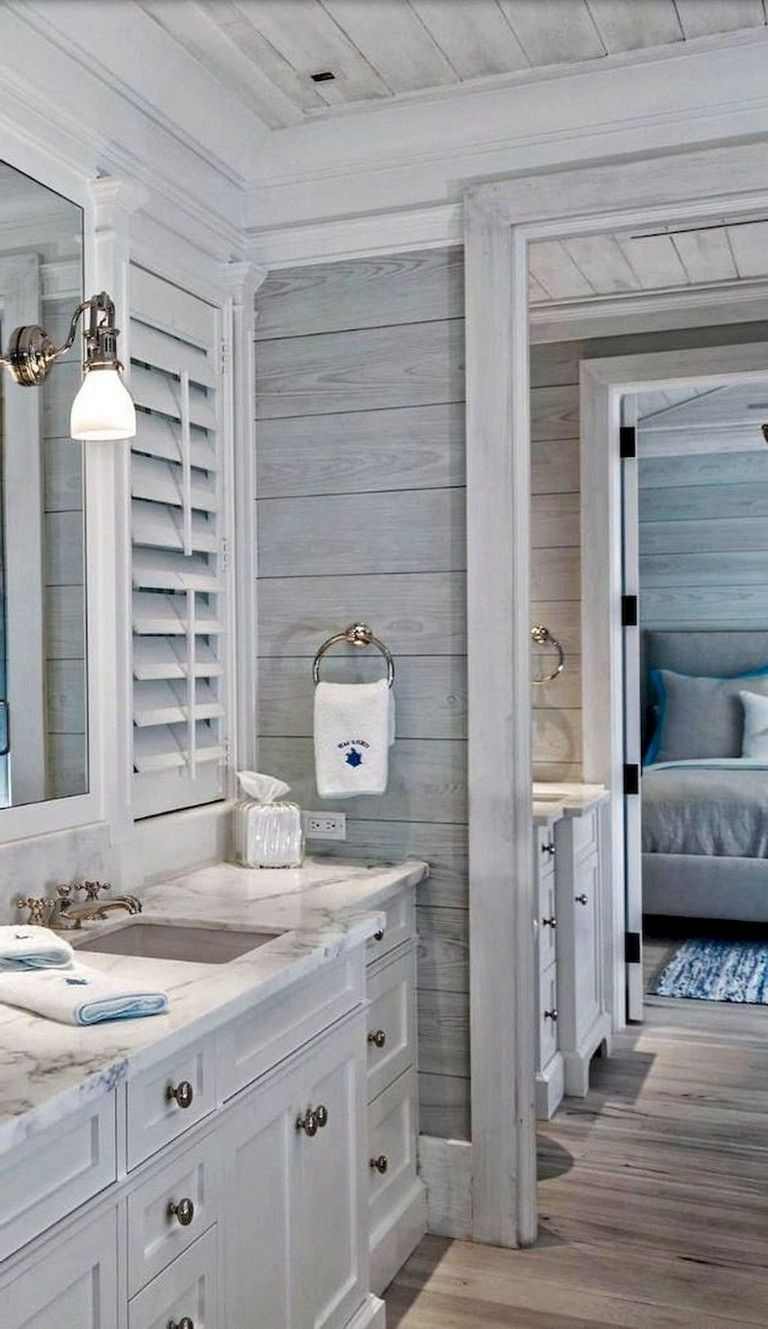 Even grey bathrooms can have beachy vibes. This gorgeous bathroom is very well-lit and the use of grey wood panels adds a fresh and pleasantly rustic component. The windows have wooden shutters which makes it distinct from traditional windows. The creamy marble vanity and the elegant light attached to the mirror creates an element of healthy illumination!
3. Shells On Shelves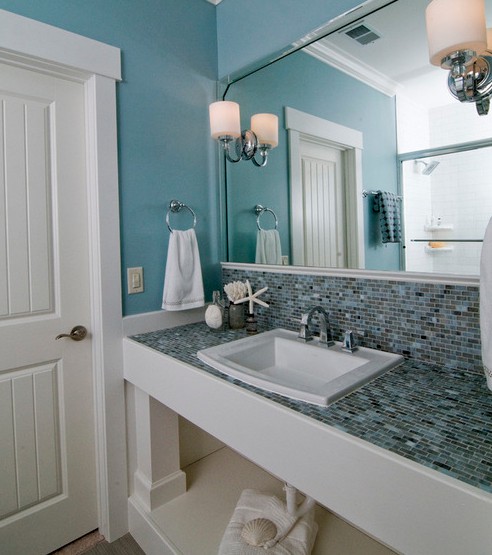 Sometimes all it takes to create a beachy mood in a bathroom is some cool aquatic paint and a couple of seashells! If you wish to go the extra mile then you can arrange either a set of blue tiles for your vanity or a blue vanity cabinet. A white component is necessary to neutralize the subtle blues and impart radiance which can easily be relayed in the form of white doors or white shelves!
4. The Bell Jar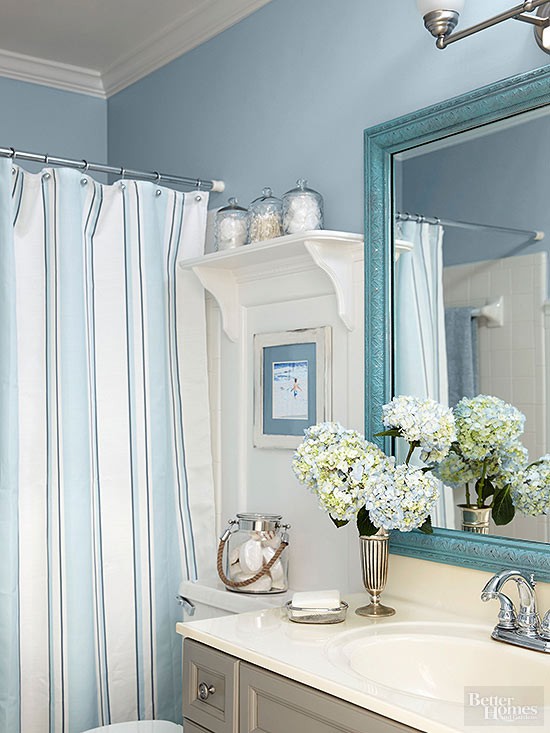 Let us start with the most exciting idea: bell jars!
Crystal clear jars in various shapes and sizes are a creative way to make your bathroom look like a beach bathroom. You can either fill them up with some blue fields or even a couple of seashells. Arranging some blooming faux flowers in a gold vase will add a refreshing touch to your beach bathroom!
5. Pirate's Treasure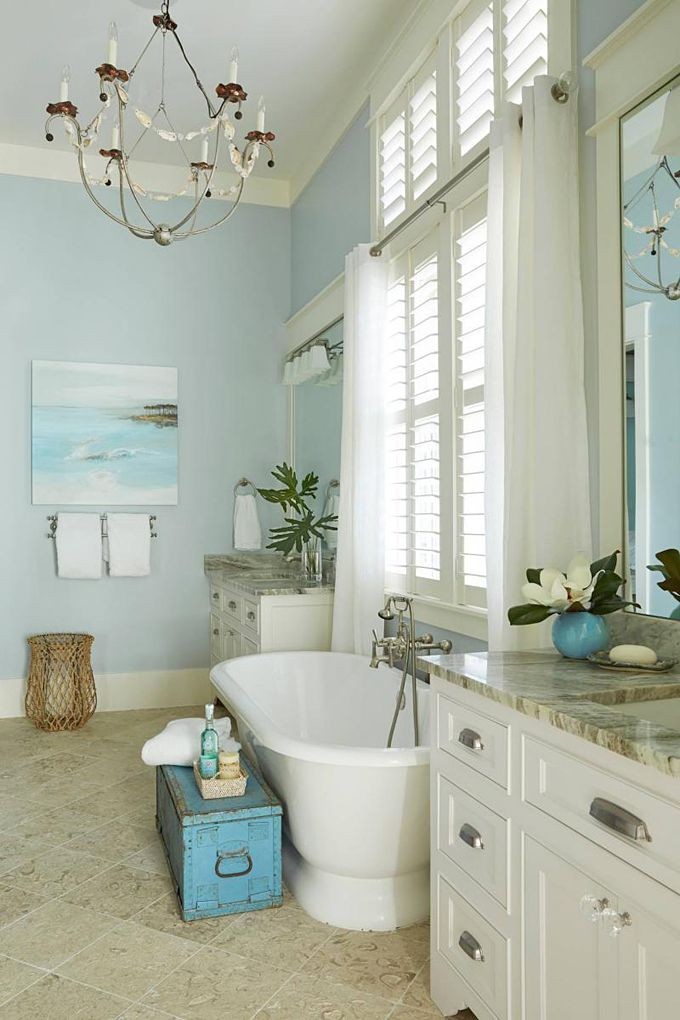 Instead of going for bathroom trolleys, you can use a rustic pirate box to put in your bathroom essentials. It looks so exotic! You can also add a chandelier for a touch of grand splendor to your beachy bathroom. Adding some pictures of beaches and waves will reinforce the beach theme. Golden hollow dustbins or baskets are also very trending when it comes to beach bathroom themes!
6. Destination Neverland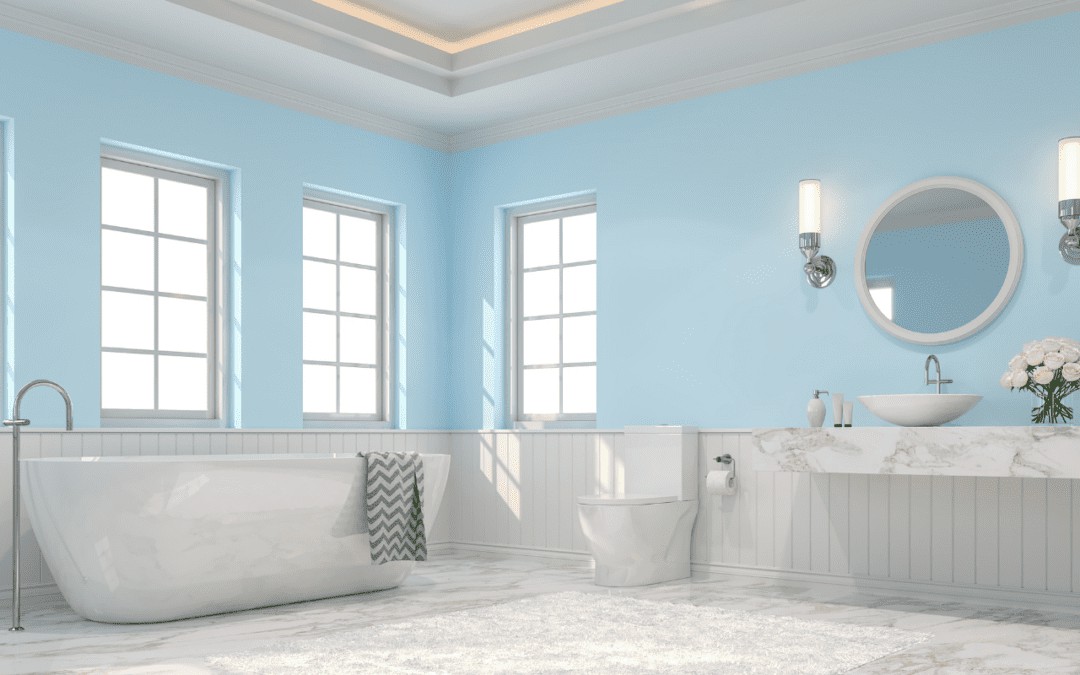 Make use of large windows by splashing some baby blue paint onto your walls. It so often happens that blues can become overwhelming and gloomy, but baby blues are illuminated by large windows and look so bright! This gorgeous bathroom has all-white hardware with speckles of textured marbles on the vanity. Adding some florals will add a fresh component! The idea of a faux ceiling seals the deal!
7. Woven Thoughts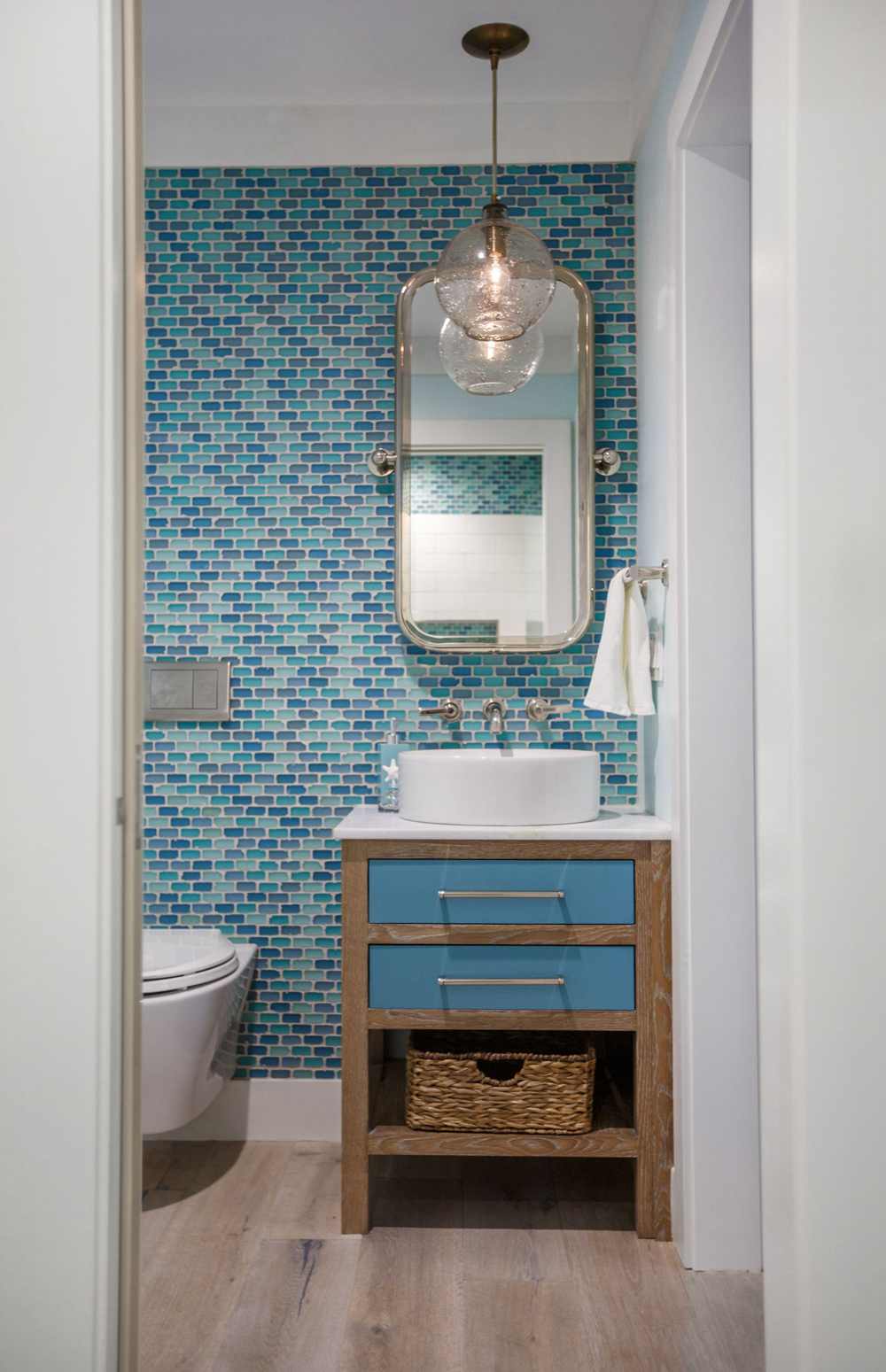 When playing around with blues for a beach themed bathroom, make sure to pay heed to the bathroom lighting! This crystal ball lighting will go perfectly with your beachy bathroom vibes. Investing in a good mirror is also very important for the sake of style and grace!
8. Greater Ideas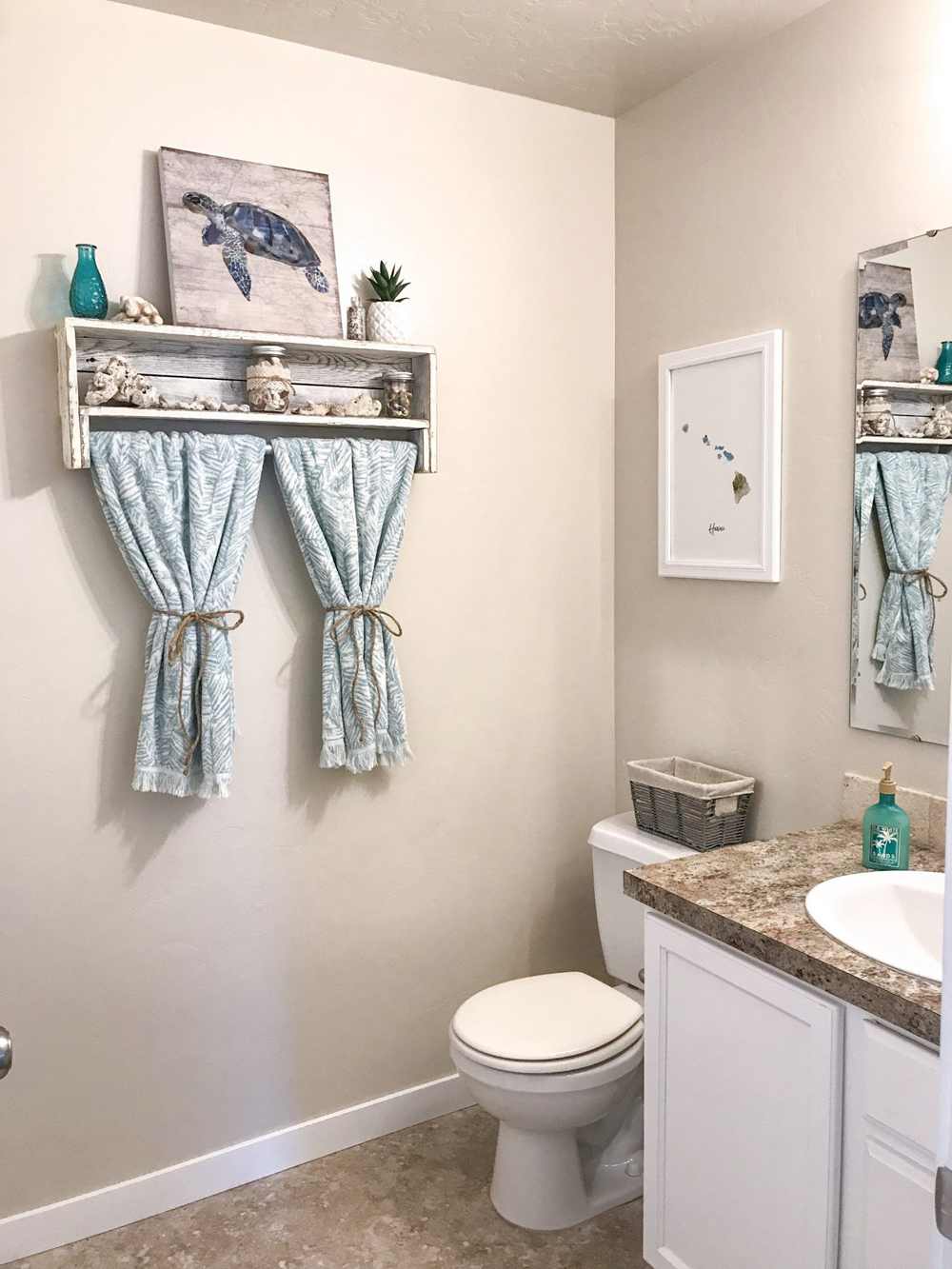 Great ideas thrive off of smaller ones! In this bathroom, we can see that a column of the shelf is attached with a towel pole. A collection of beach essentials is stacked on the shelf and above! A few cute frames also do the trick!
9. Hanging Fishes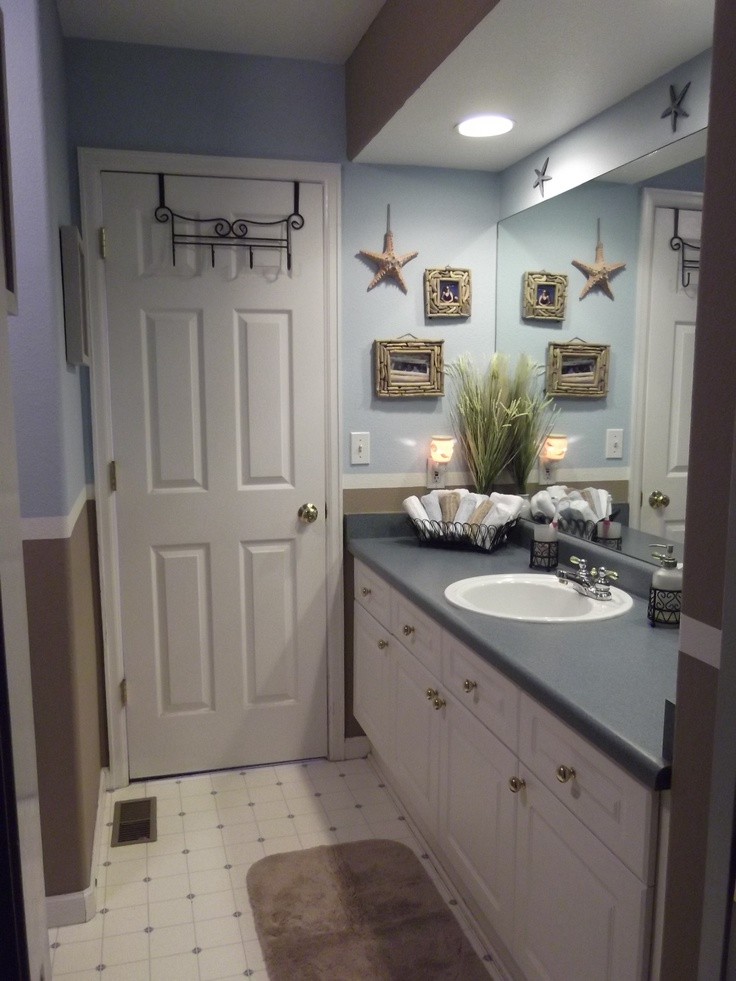 Once you have opted for your favorite shade of teal or blue, then reach out for some woven frames and starfish hangings! Grab a cute towel container to display your finest towel roll collection!
See also: Bathroom Door Ideas
10. Gulf Marina!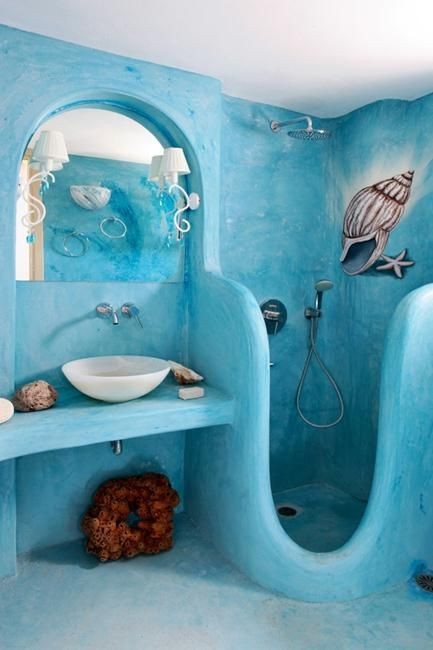 If you think you harbor an inner artist, then you can easily recreate this beach bathroom look! All you will be needing is some Middle Sky Blue paint and an artistic palette to paint a shell or mermaid tail! Go for white delicate lighting and sink bowls that remind you of seashells. A coral reef will then only be a door away!
11. Elegant Pearls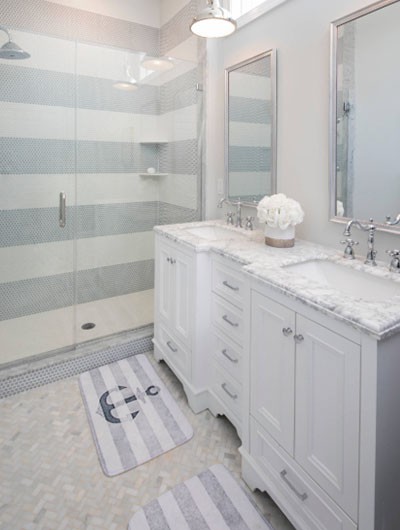 Spice it up with some anchor print floor mats and striped paint in the shower area! You can also add some artisan floral arrangements to give your beach bathroom a refreshing vibe!
12. Tempting Teals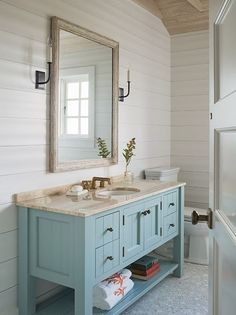 How appealing is this cool teal vanity cabinet? The rustic mirror borders and roof will surely remind you of one of those beach huts that are situated right next to the sea or ocean!
Something out of the movies!
13. Jade Obsessions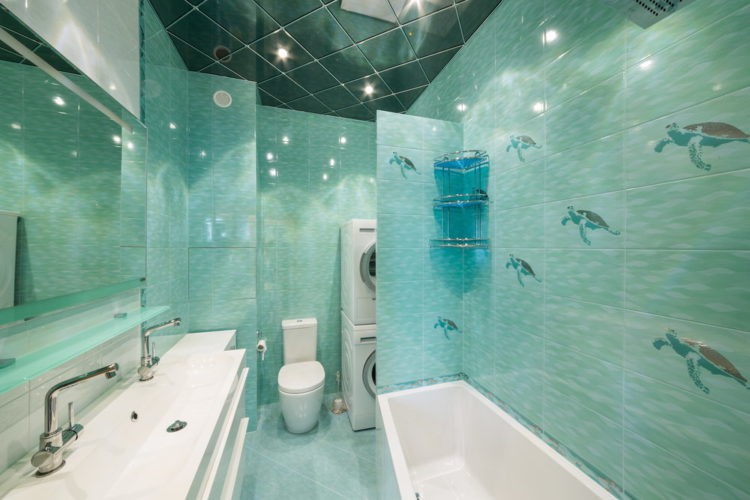 Make the ocean life come alive by the use of fish print tiles or wallpapers. Customize the ceiling in a unique pattern; this ceiling has a glossy green diamond-shaped embossment. Stacking up a range of spotlights so that the greens do not shadow the bathroom completely!
14. A Transparent Luster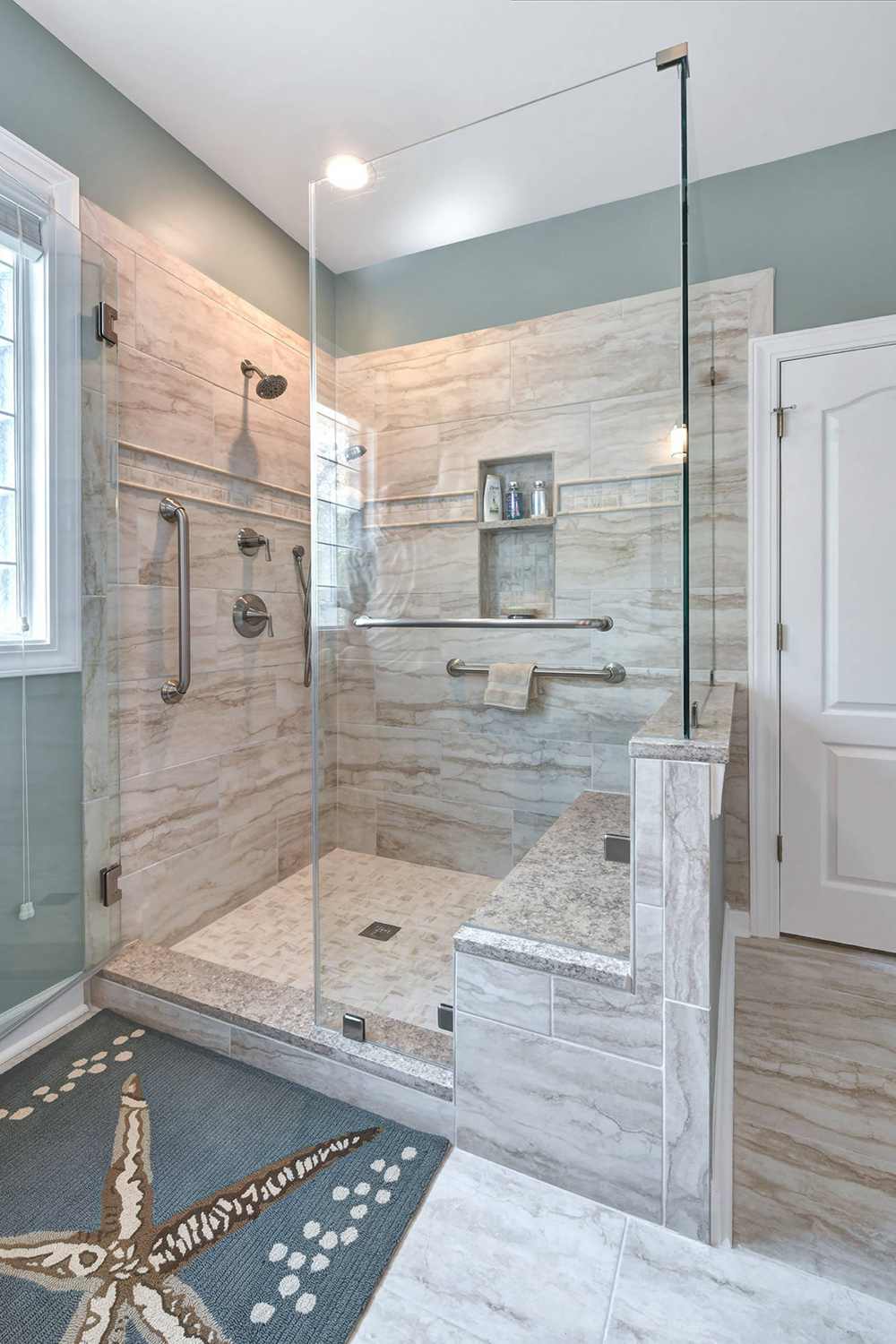 Guarding your shower area with a set of glass panels will give it an exquisite and revolutionary look. This beach bathroom has used a covering of wood-like vinyl instead of traditional bathroom tiles, which gives it the ultimate exotic beach effect. Not to forget the starfish printed floor mat that will help you dry off right after a cool shower in the summers!
15. Whimsical Rediscoveries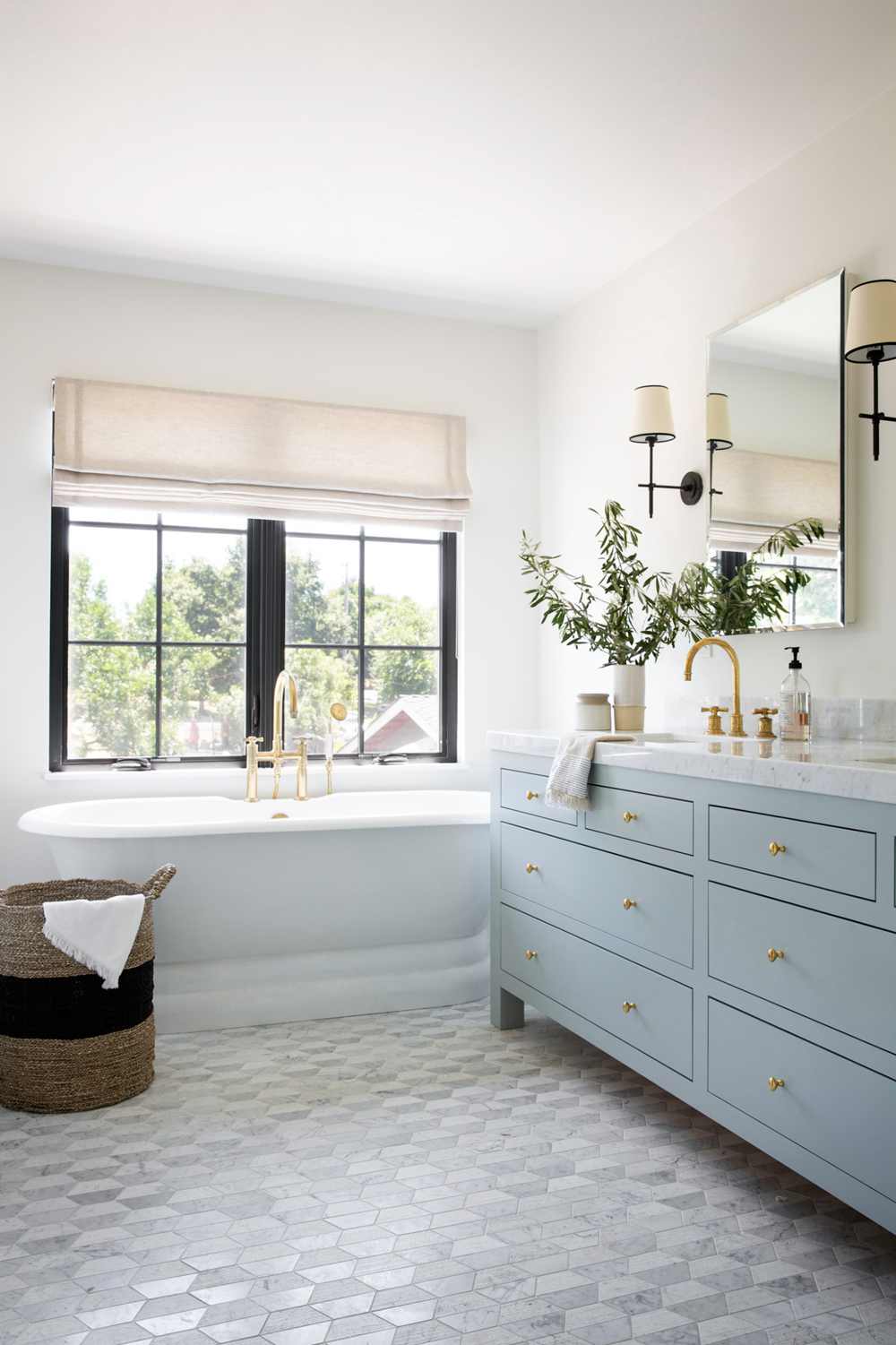 This elegant bathroom is making exceptionally good use of those french windows, it is not only giving an Italian flavor but is also flooding the bathroom with radiant natural light. The use of a teal cabinet and borderless mirrors adds more to the dimension of this beach-inspired bathroom that has an elegant touch to it! Instead of traditional curtains, you can go for release blinds for a modern touch!
16. A Basket Affair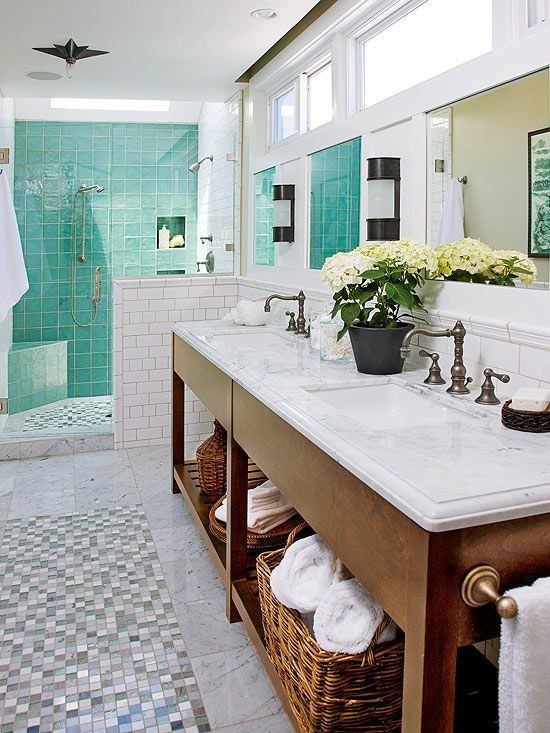 If you have a two-tier vanity then it is a perfect opportunity for you to stack up some hand-made baskets to display your favorite bathroom essentials with a sense of style!
17. Something Is Fishy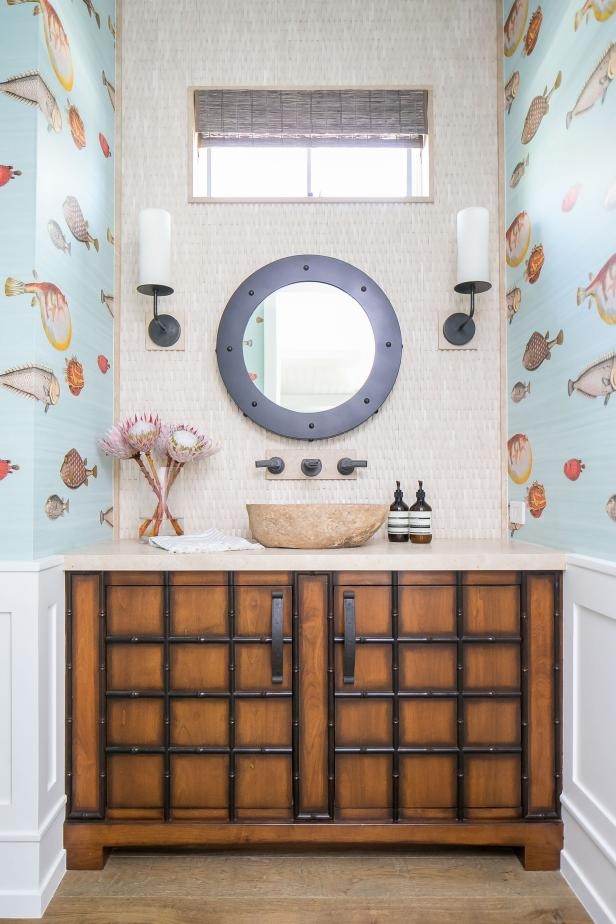 At times it only takes a wallpaper to speak through you. This is but a small bathroom yet has so much style to exhibit. The Barnhouse style vanity cabinet and the earthy sink bowl has so much to express! The faucets in matte black are also a very fine selection of bathroom hardware!
18. Float Away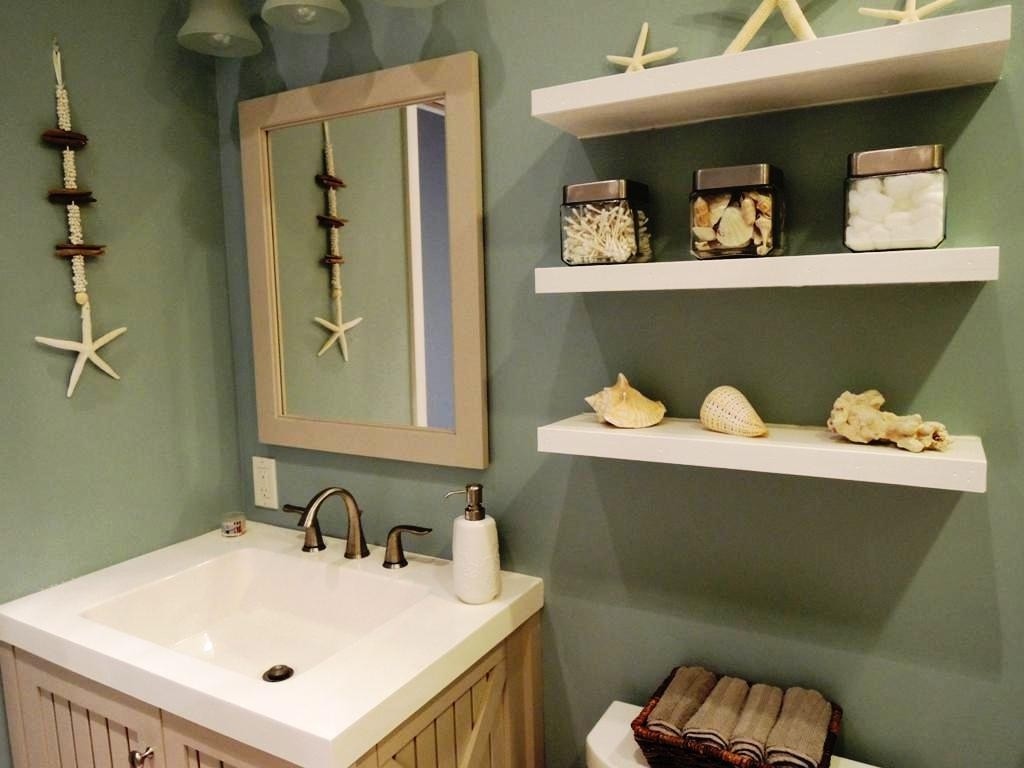 Floating shelves are ever so space-saving and give a particularly unique look to beach inspired bathrooms! You can display a few jars filled with seashells or clams to send off beachy vibes to any visitor. You can also couple this with some beach-inspired wall hangings to add completeness to the theme!
19. The Beach Hut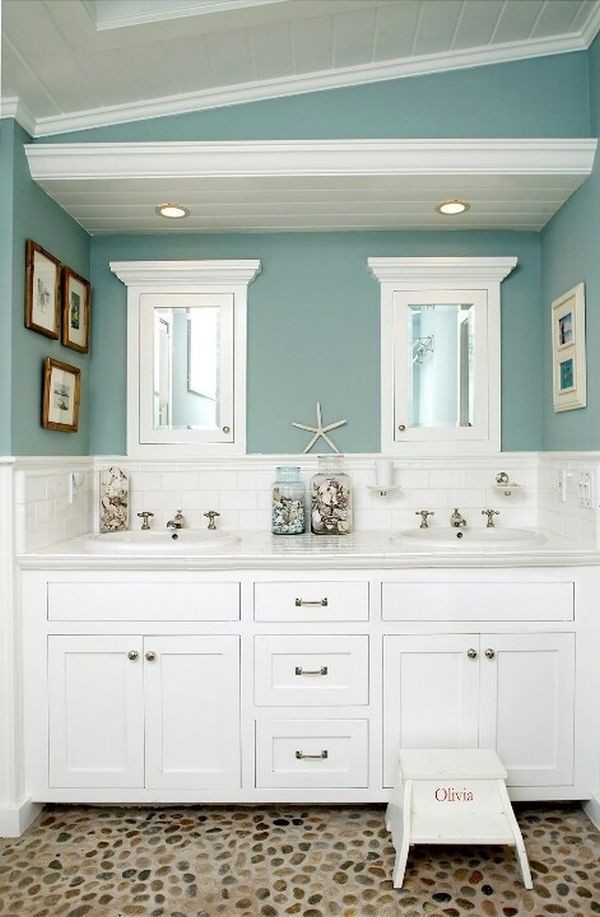 Cabinet mirrors have always been a trend and to use them in beach-inspired bathrooms is a great idea. A mint or turquoise shaped paint with white bathroom hardware will be sure to make the bathroom look aquatic!
20. Squishy Squids
The most attractive part about this bathroom is the sink bowl and those gorgeous brass faucets that have such a lustrous shine to them! The King Blue color of the paint brings out the beach vibe in this well-lit and radiant bathroom!
21. Oval Frenzies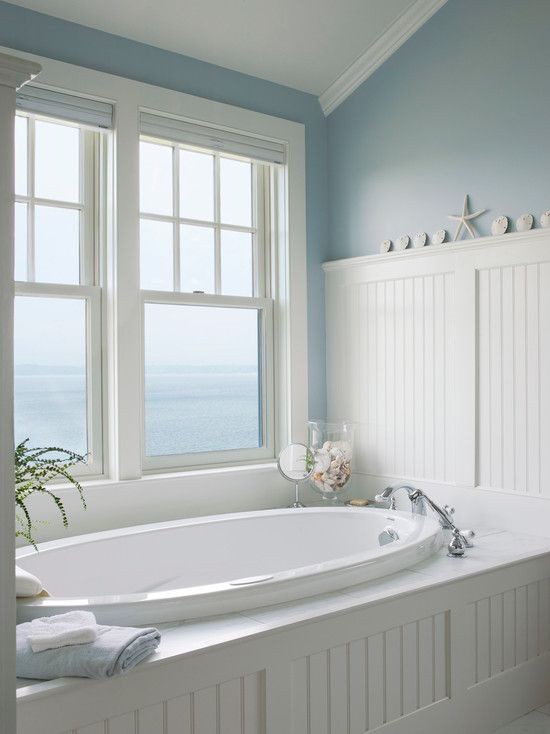 An oval-shaped bathtub beside a grand window is perfect for unwinding after a hard day at work. The turquoise hues in this bathroom bring out the beachy vibe whereas that collection of jars makes it even more elegant!
22. The Illusionist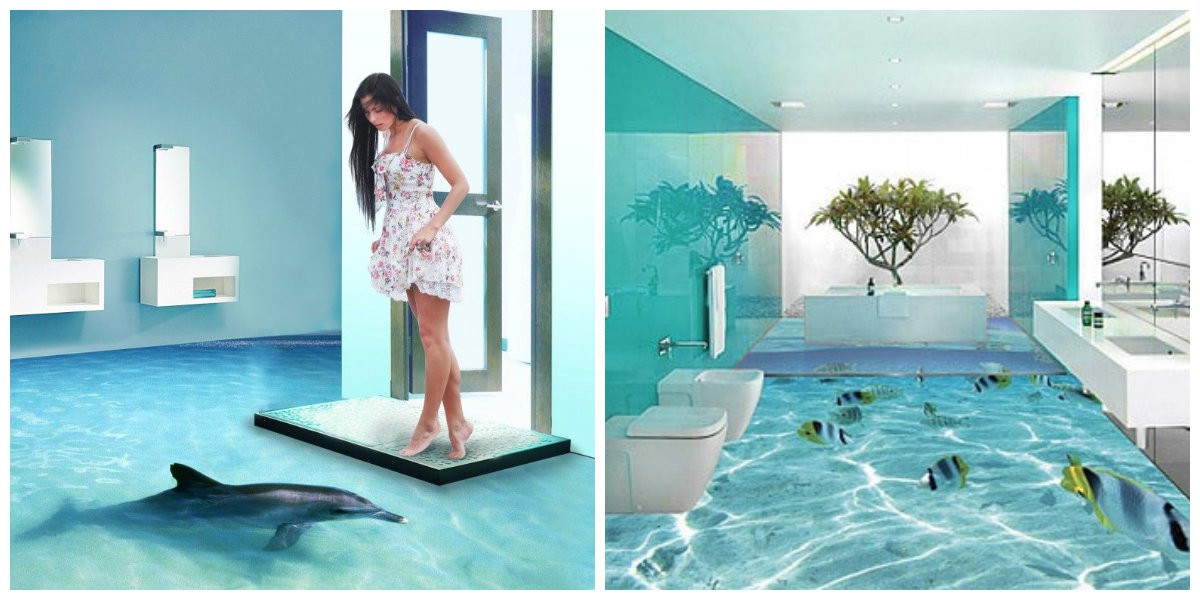 This beach-inspired bathroom is all about the unique flooring! You can choose some reflective water tiles to mimic the look.
23. Geometric Patterns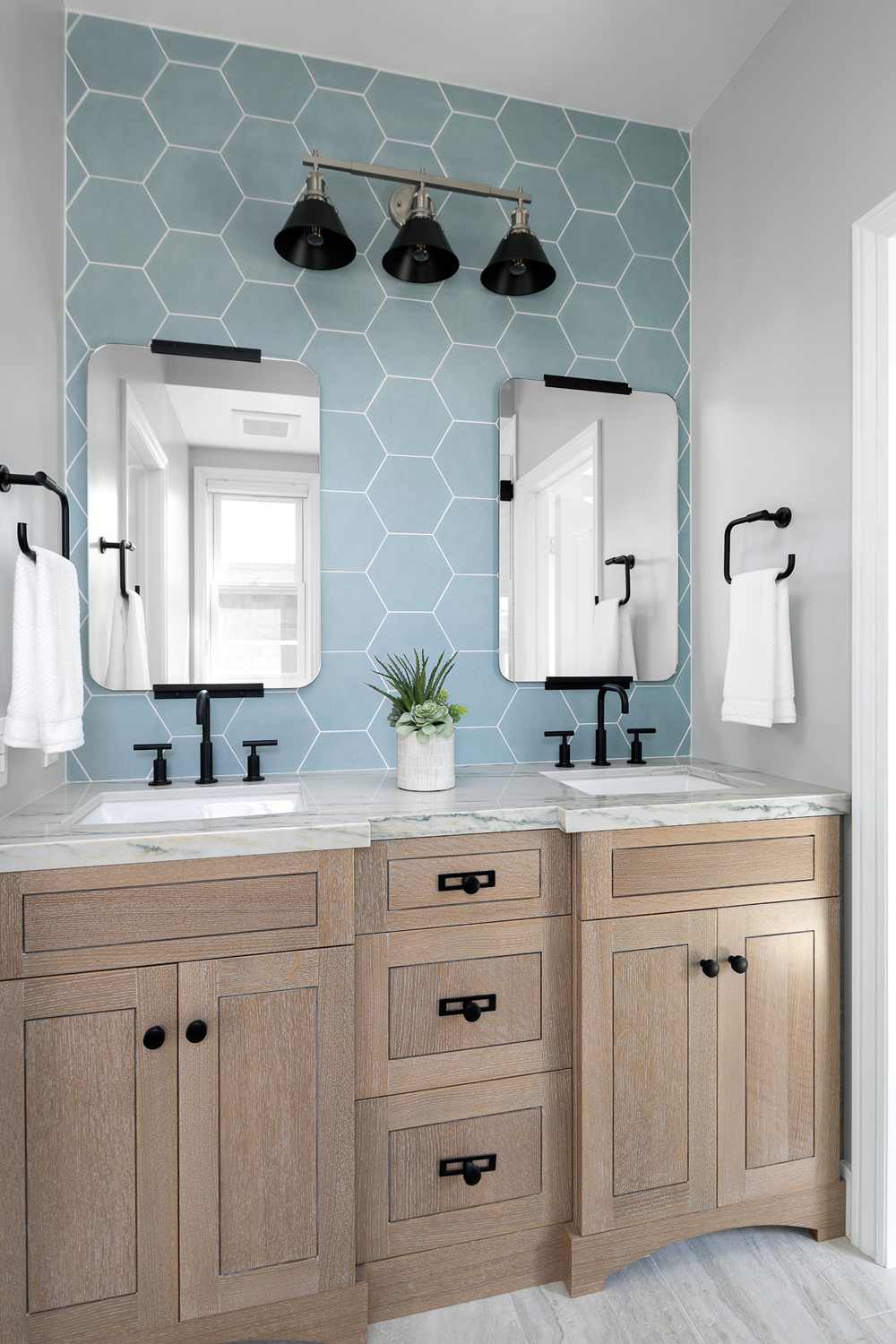 The hexagonal-shaped teal wall tiles not only add a beachy effect bit are very aesthetically pleasing. The semi-matte trio lights perfectly complement the subtle blue hues of this bathroom. They also complement the faucets that are ever so sleek and impressive!
24. Salty Ocean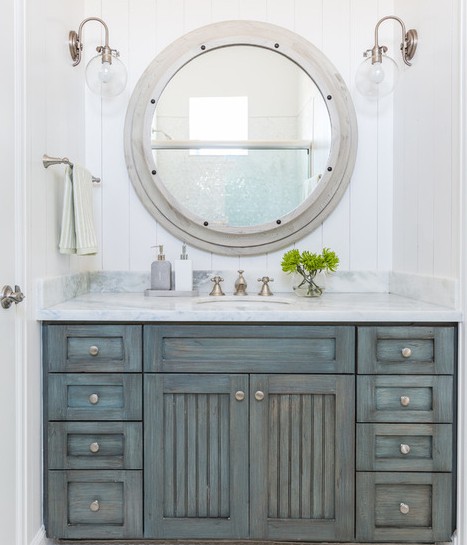 The rusticity from the vanity cabinet and the mirror borders is earthy and imparts such fresh vibes! The crystal ball lights are perfect for the subtle color scheme that is executed by this beach bathroom!
25. Starfish Extravaganza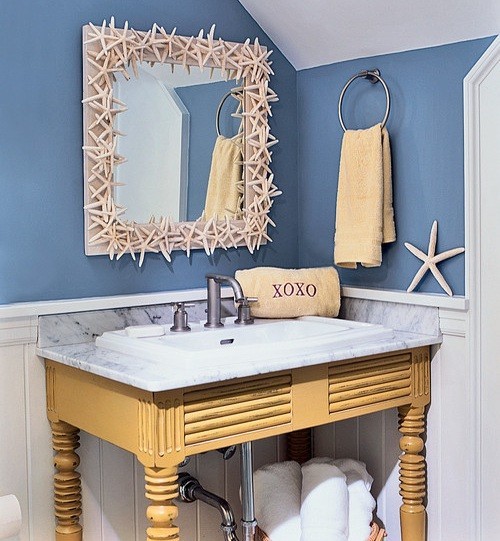 If you have some starfish sequins or characters, you can easily DIY your beach mirror. The cool blue paint elevates the beachy effect and the use of an old fashioned vanity desk is a great idea to send off a hint of rustic!
26. Stylishly Unorthodox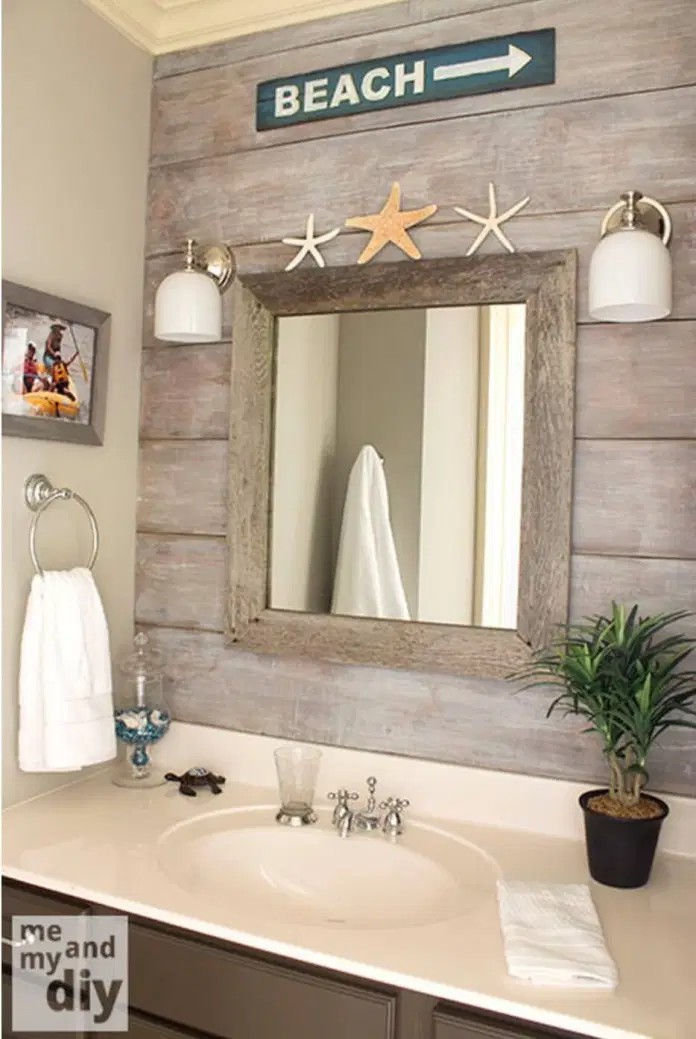 Instead of traditional wall tiles, you can go for dull grey wood panels that dramatically elevate the mood of this beach bathroom! The mirror borders are accompanied by the same rusticity as that of the wooden cedar panels!
27. Intricate Borders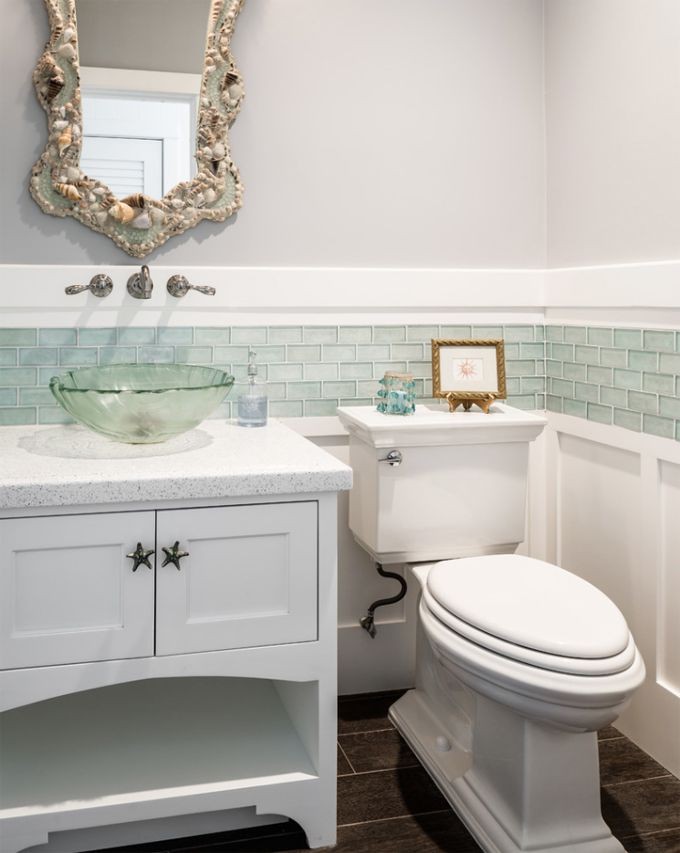 A mirror as gorgeous as this one may be hard to find! The light green tiles and the star-shaped cabinet knobs look ever so delectable and beachy! Instead of a blue shade, the designer opted for a lilac shade and it is still giving off very beach inspired vibes!
28. Make It French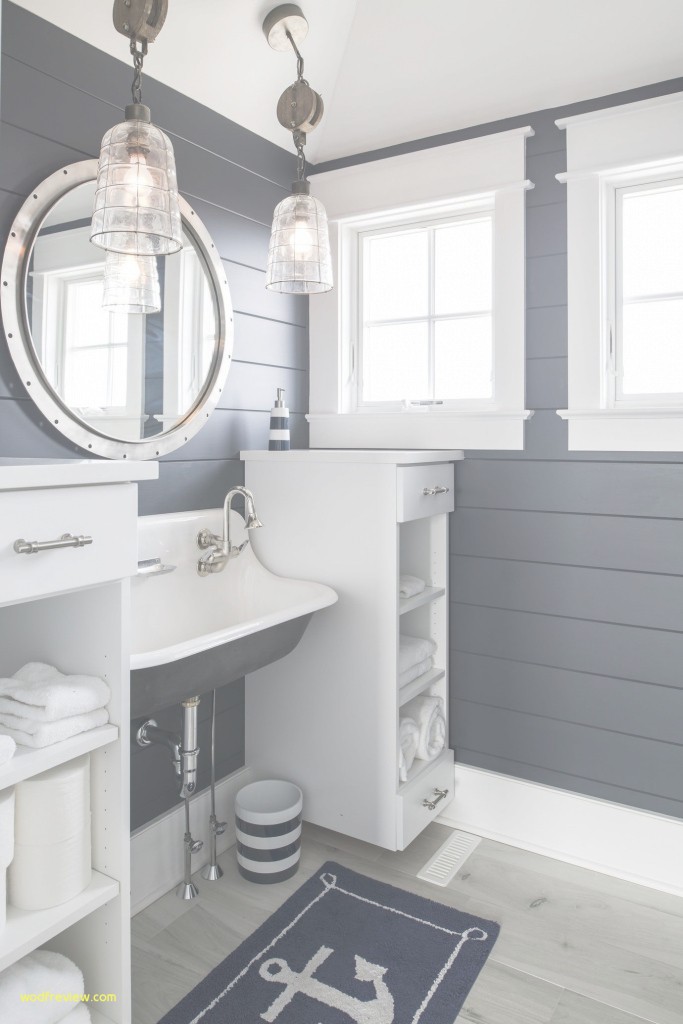 French windows go great with cedar panels and grey undertones. The use of grid lights adds a trendy look to this beach bathroom. This bathroom is exuberantly well-lit which is very much necessary for beachy bathrooms with grey undertones!