These basement bathroom ideas are derived from the state of the art designs that will leave you surprised.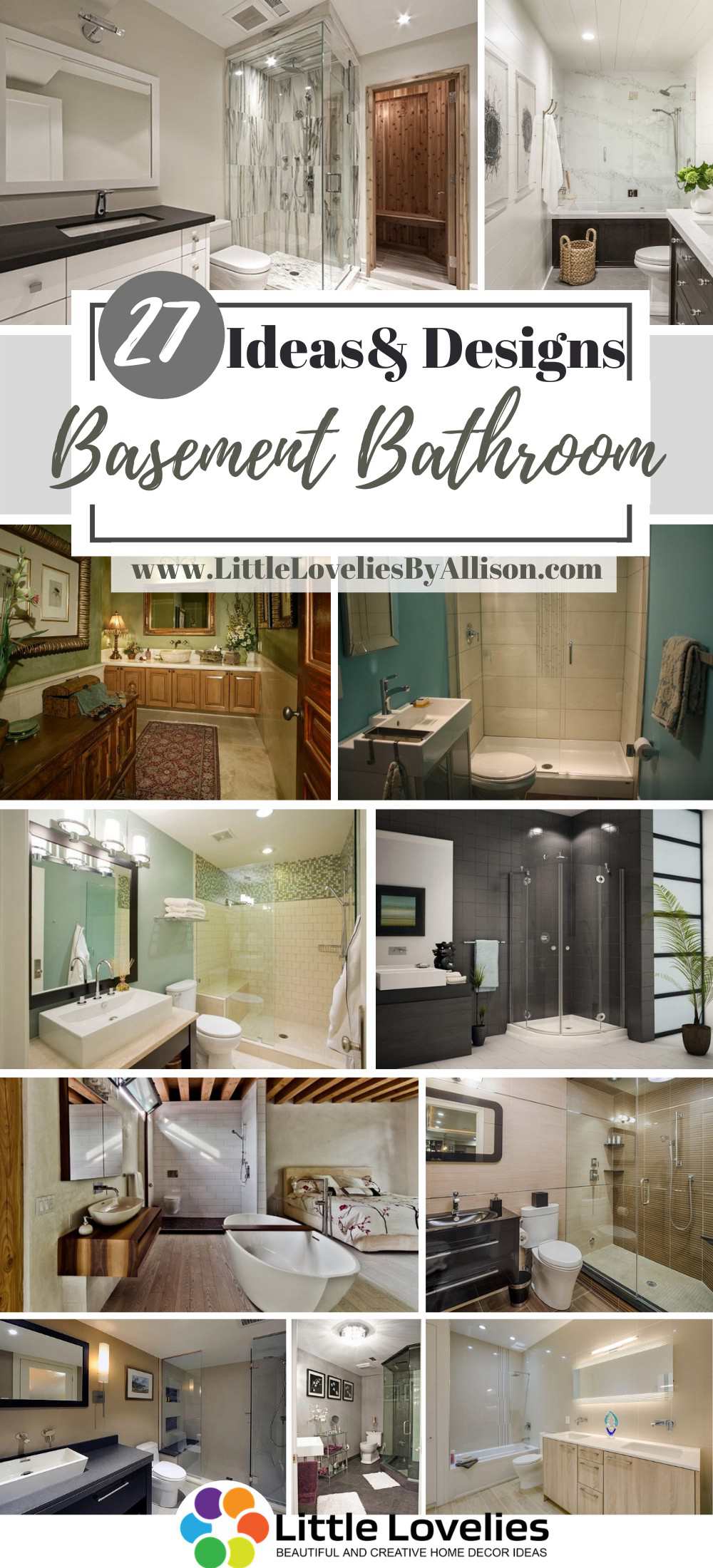 Why Focus On Basement Bathrooms?
The only problem with basement bathrooms is the lack of ventilation and lighting.
This collectively caters to a dull and gloomy looking bathroom that nobody prefers using.
Bathrooms are areas for relaxing and unwinding after a tiring day at work, so you might as well spend a dime or two making it look worthwhile!
1.  Intricate Balance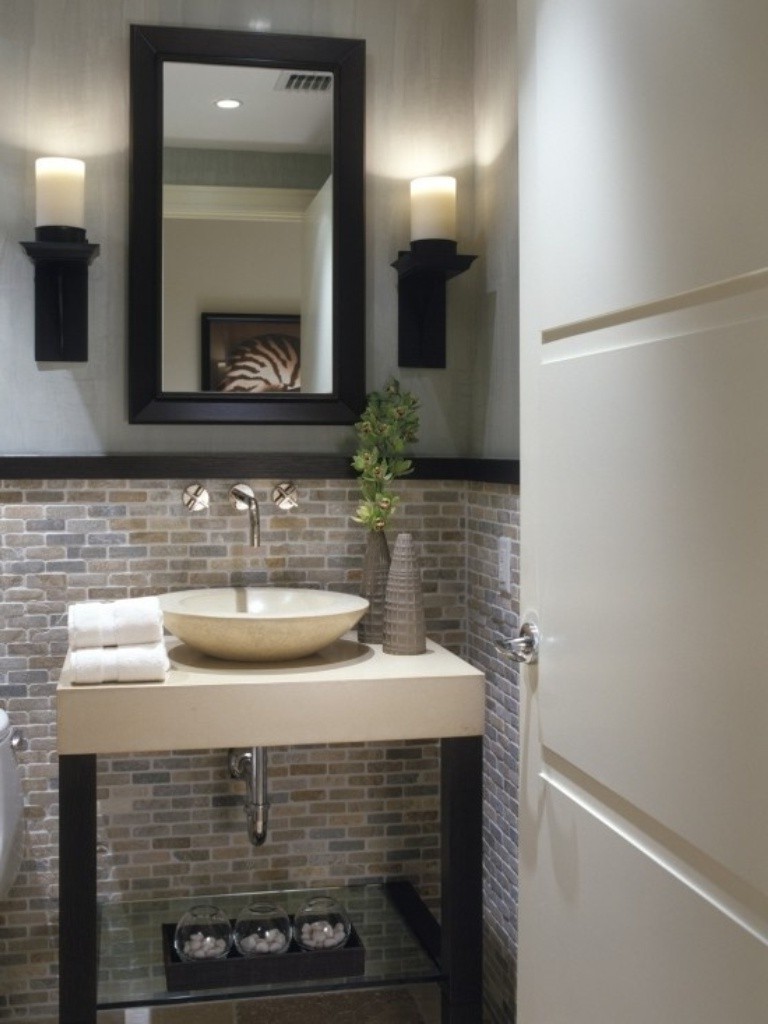 Even though this bathroom does not have much space, it is demonstrating strings of sheer elegance by the clever use of exquisite bathroom accessories. The vanity is just the perfect size whereas the bathroom mirror and lighting are keen to display harmonious synchrony. Not to forget the perfect balance of warm-toned lighting!
2. Astonishing Neutrals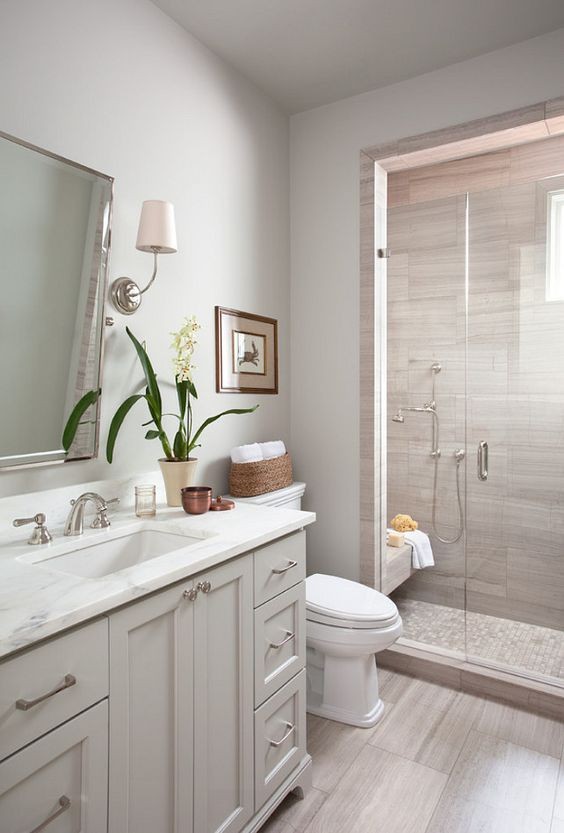 Remember how we discussed the right amount of lighting necessary for a basement bathroom? The one in this picture is demonstrating the perfect example! An all-white themed bathroom is an excellent idea to automatically enhance the illumination of a basement bathroom without spending too much money on the lighting!
3. Peachy Cravings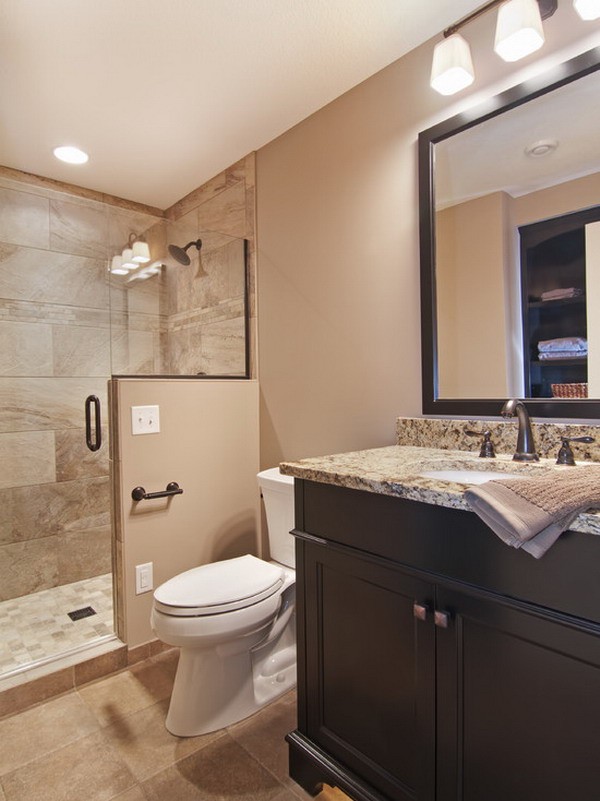 So what if you do not have a wide window to let light seep through! It is always a good idea to play around with light but warm-toned colors to elevate the mood of the bathroom. This one is a peachy beige tone is doing just the trick in combination with the lighting scheme. The dark brown furniture tones down the remaining hues.
4. The Glass Affair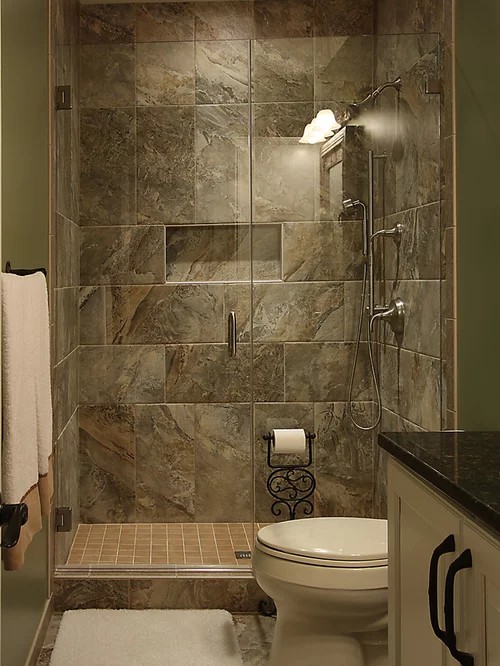 Glass is a very reflective component and can harbor and radiate more light than conventional opaque doors. Just couple it up with the right texture of tiles, like the luxurious lemon green stone tiles used in the shower area.
5. A Complete Package!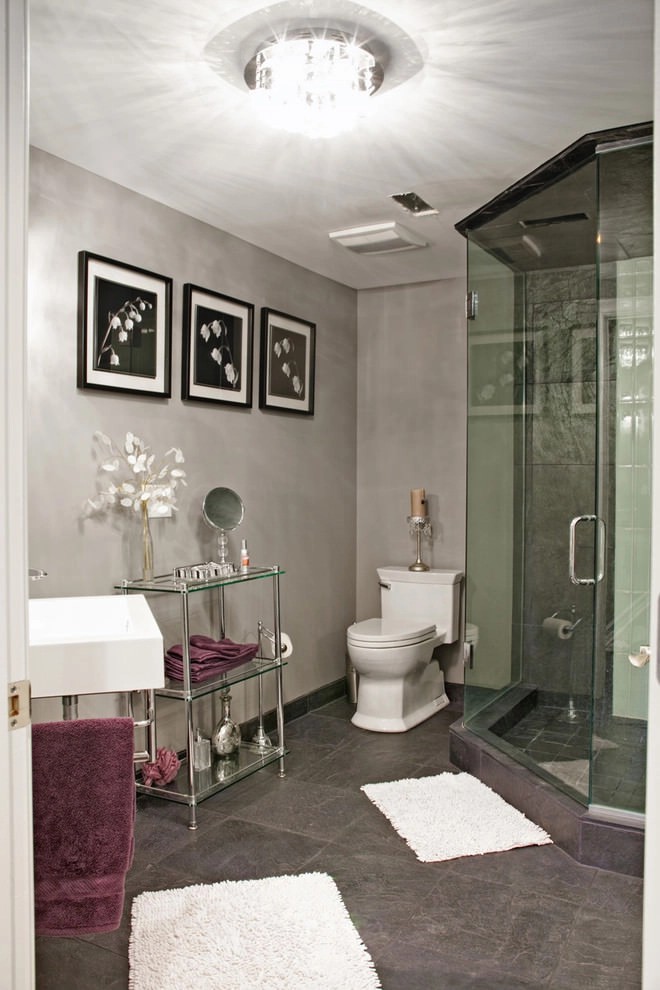 You can set up your dressing area inside your bathroom space if it is large enough of course. That also means you have the liberty to incorporate a wide variety of accessories such as picture frames and a customized vanity!
6. Luscious & Lavish
A bathroom as serene as lively as this one can put anybody's mood in a blessed state! The matte greyish-green cabinets impart a world-class touch while the intricate choice of floor tiles make this bathroom look unique. The addition of poles to hang towels is a good idea. The use of candles is also a great way to treat yourself to an aromatherapy session!
7. Squeaky Clean!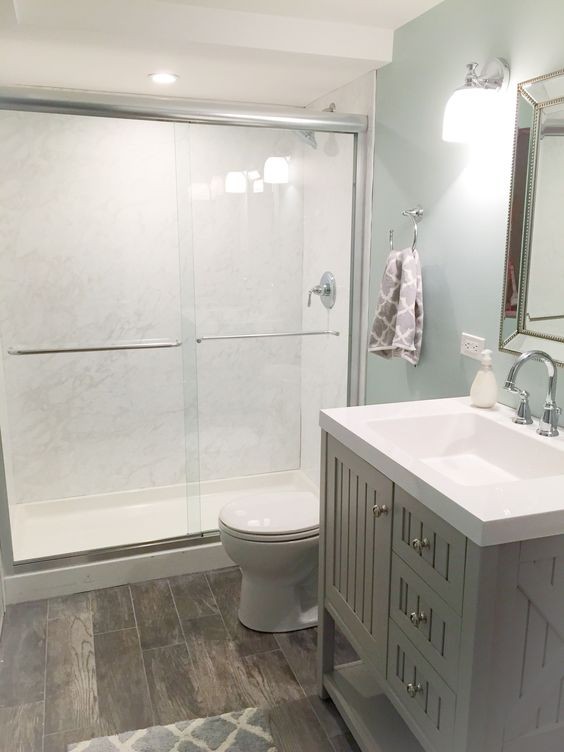 Sometimes less is more and this bathroom portrays evidence for that! A modern contemporary style cabinet with a porcelain white washbasin is all you need to give your bathroom a calming touch. The use of bright cool-toned lights also elevates the mood of this bathroom.
8. At The Disco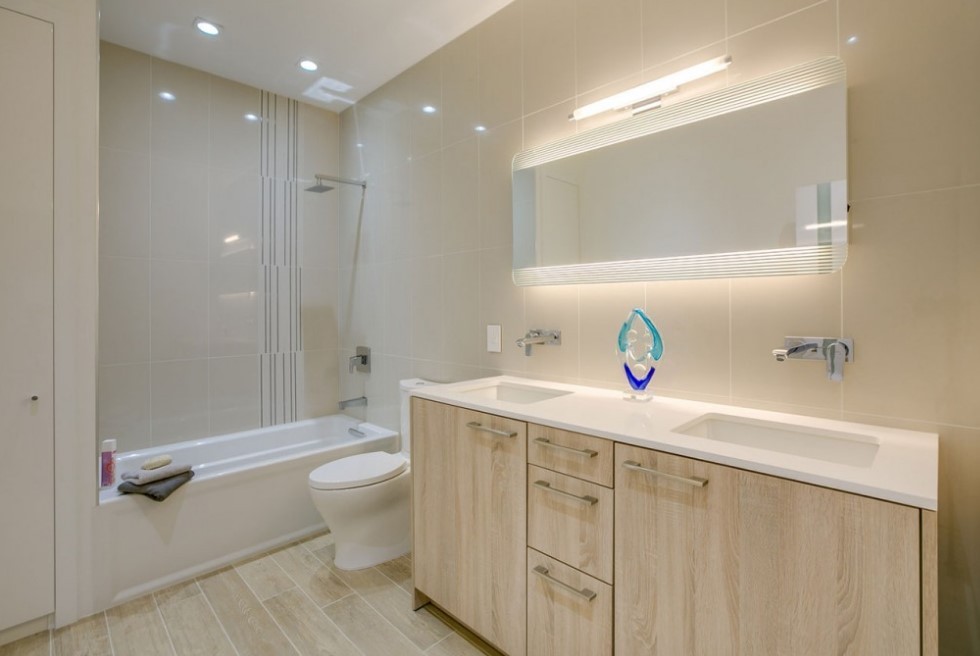 A good lighting scheme can give you the ultimate vibe to make your bathroom look like a show stopper! The wide mirror is supported by really cool LED lights that give this bathroom a futuristic look. Spotlights are also placed in the shower area to make each shower a fulfilling experience.
9. Grand & Luxurious
This bathroom has a whole console cum vanity! Not only will this make daily styling and morning routines easier but will also make good use of the excessive space in your bathroom. It is also accompanied by a large oval mirror with wooden rims to impart a grand and royal look!
10. Intricately Grunge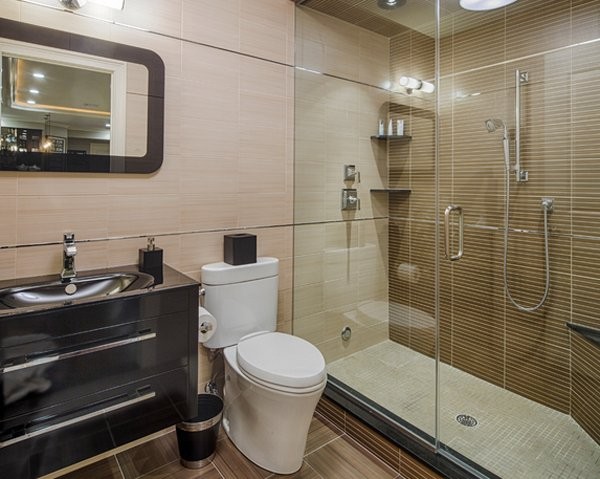 Brown cheque tiles coupled with black cosmic vanities is such an exemplary duo. The uniquely shaped mirror adds more to the personality of this customized bathroom. Also, notice the use of color-coordinated bathroom accessories on the vanity!
11. Shower In Luxury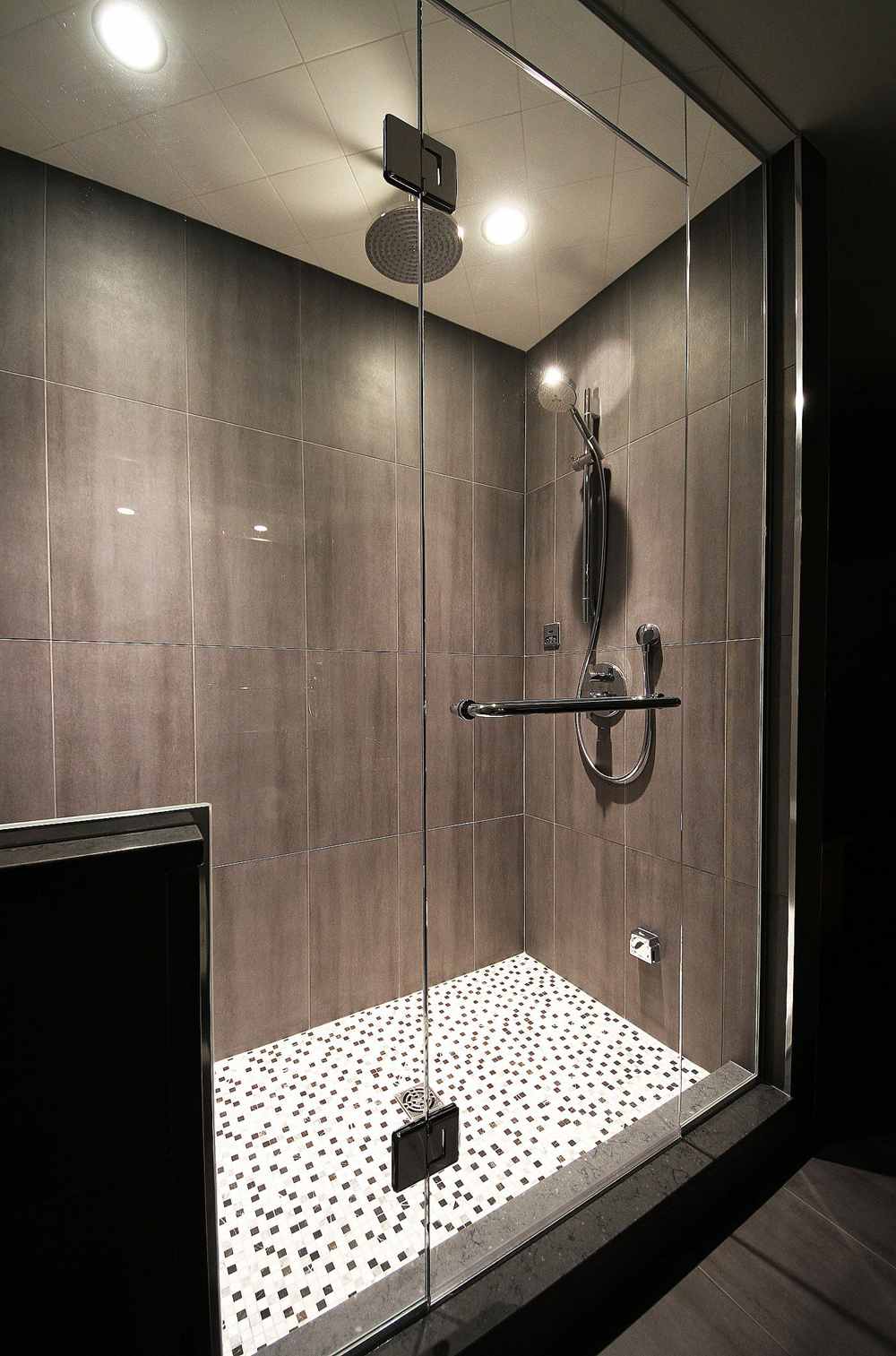 A great shower area can serve eternal bliss. The use of mirror doors and elegant dotted tiles make this shower area so inviting. But what makes it worth the appreciation is the use of the perfect amount of lighting that makes everything from the shower heads and remaining bathroom hardware shine through!
See also: DIY Toilet Paper
12. But Make It French
French-style windows are such a delight! And if they are coupled with a warm-toned theme like this one, then there is nothing more to debate on! The wooden vinyl tiles and the peachy-beige colored paint gives it a calming and serene vibe. The stack of red towels gives it a romantic pop of color.
13. A Marvellous Union!
Imagine having a mood as bright as the lighting in this bathroom! The mirror is dotted with sparkling white LED lights and it seems to compliment the rest of the lighting theme. The wooden vinyl tones down the brightness whereas the choice of white bathroom hardware sinks this bathroom into an Everbright situation!
14.  Mix & Match
The shower area and the washing area have an interesting blend of delectable textures! The use of gorgeous grey marble and the dusky green tiles make this bathroom look so welcoming. It portrays a cool-toned and stunning environment that can leave any visitor impressed! The slightly warm lighting minimizes the excessive undertone of white and also imparts a unique glow!
15. Extravagant Ventures!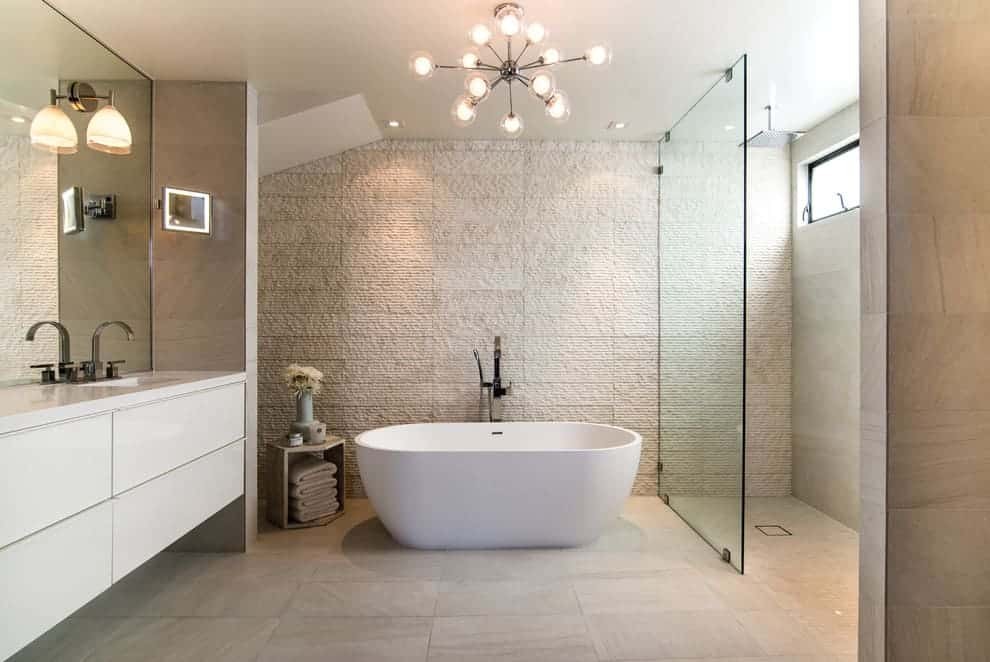 If you crave luxury, then this is it! Everything from the grand floor-based bathtub and the splendid vanity arrangement is a sight to behold! The star-themed chandelier gives it a distinctive look whilst imparting sheer and moderate rays of light. A shower area is separated by a glass pane as well.
16. Splendidly Inviting!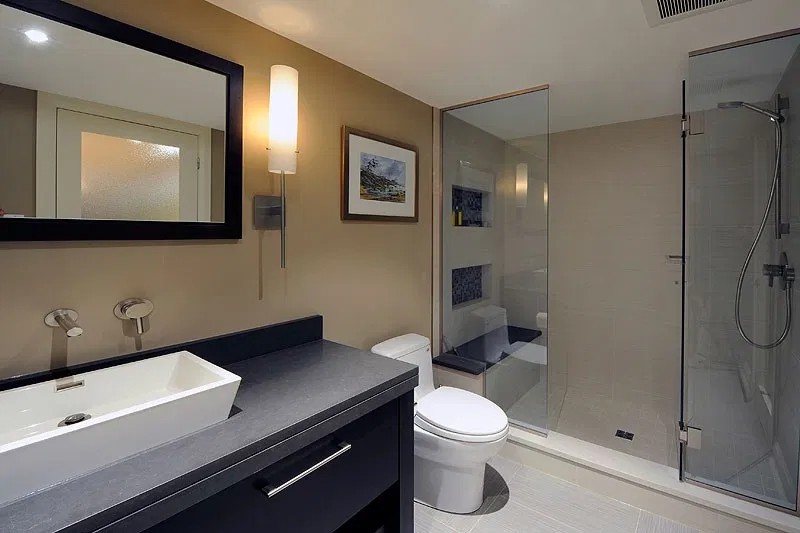 A homey and comforting bathroom is what does the trick! No need to invest in expensive items, just grab a chic washbasin and a stylish vanity and it will be sure to make a good impact. Couple it up with good and mood-reflecting lighting and you are good to go!
17. A Single Plane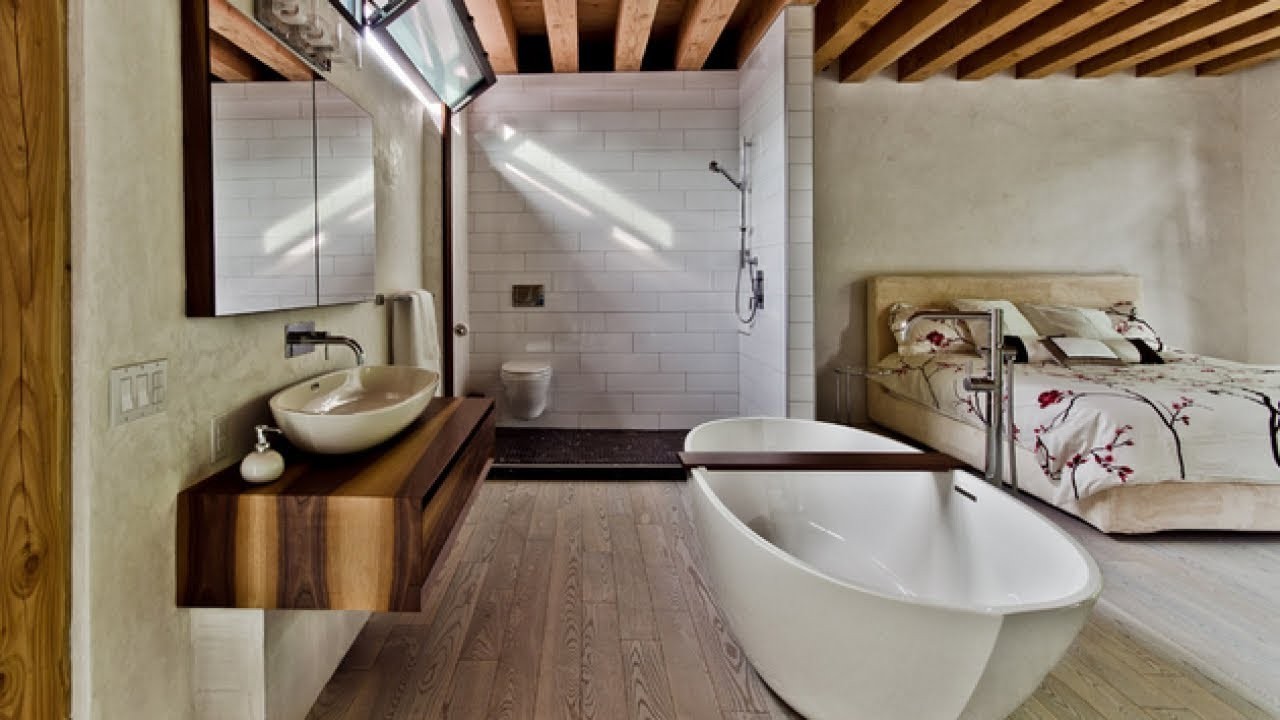 This idea is not for the faint of heart but for those who like communication and intimate contacts. A lovely bathroom with all the luxury bathing necessities shall remain connected to your bedroom space at all times. For all romantic people out there, this just might be the perfect basement bathroom idea for you!
18.  Extreme Ecstacy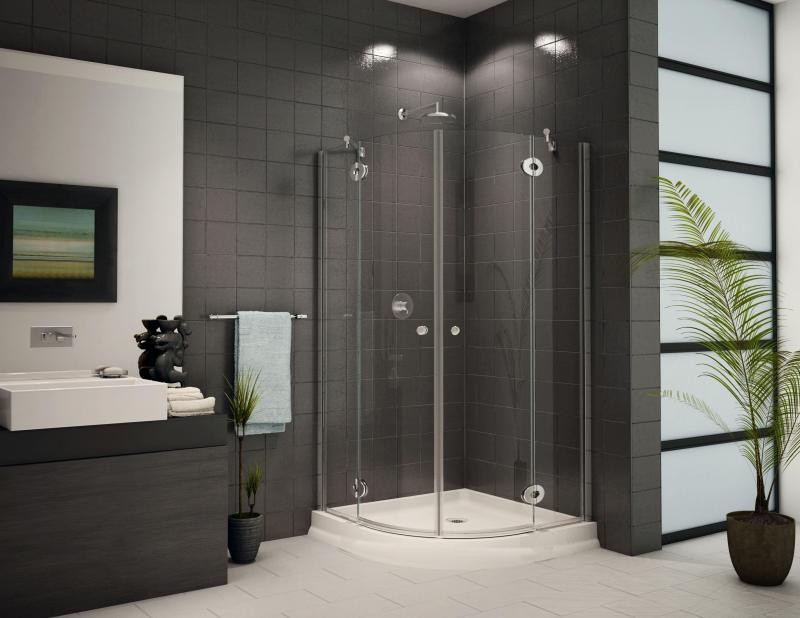 This is the ultimate modern contemporary bathroom with futuristic vibes. The demi-matte black tiles shower the bathroom with an elegant shadow whereas the contrasting wooden vanity lifts the vibe of this bathroom. The insertion of a green element is to keep the connection with nature alive! Automatic faucets and showerheads surely make this bathroom look like a peek into the future!
19. Intimately Cozy!
A small bathroom is a cozy bathroom! Separating toilet areas is one of the most sensible ways to deal with smaller basement bathrooms. A generous amount of lighting will make it look aerated and fresh. A great way to do that is by considering the use of doors that have frosted windows! The use of impressive light insertions will further enhance your small basement bathroom!
20. Disproportionately Convenient!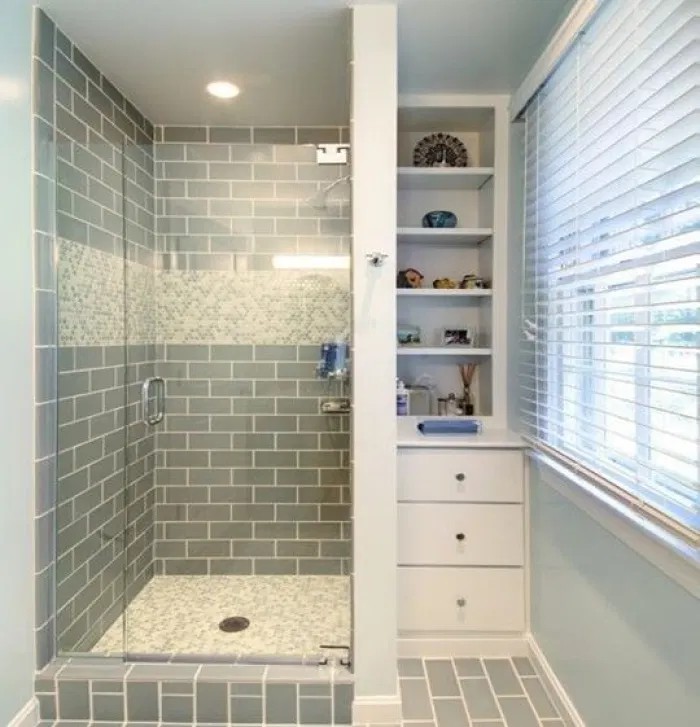 A larger shower area will always be in more demand than a larger washing area! This bathroom demonstrates the example! The shower area is beautifully separated from the washing area by a set of cunning matte grey bricks. The idea of incorporating a shelf is great so you can stack your bathroom essentials as per your liking!
21. Accessibilities Galore!
If your bathroom space is large enough, one of the best ways to make life easier for you is to incorporate the washing area along with it. This bathroom is neither too congested nor too excessively stuffed. The neat and clean glossy white bathroom hardware makes up for an excellent interior!
22. Pop Of Pastel Green!
Sometimes all it takes for a bathroom to look serene is a bit of pastel-colored paint! This pastel turquoise paint coupled with the cool-toned lighting is giving such a cool ad calm look. The glass doors add more to the dimension and reflective elements of this basement bathroom.
23. Rainy Days Ahead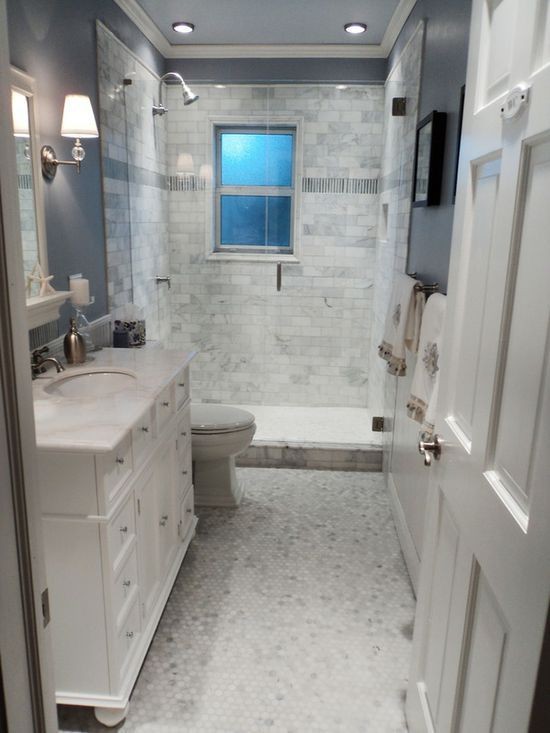 A mauve colored paint and frosted glass windows are a mood on their own! The serenely dim lighting can make your daily showers and aromatherapies an alluring experience. When using darker paint colors, you may consider to top it up with bright-colored bathroom hardware so that the darker elements do not become so overwhelming.
24.  The Hotel Room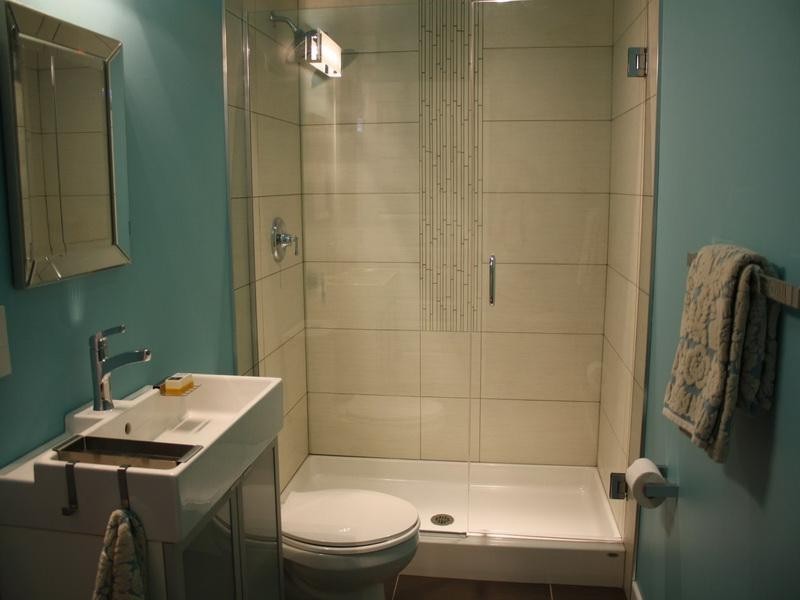 An executive hotel-room always has a bathroom that everyone is excited to use. If you wish to incorporate the same vibe into your very own bathroom then try going for chic dim lights and gorgeous bathroom hardware. Stylish glass doors with abstract patterns can make it stand out from the ordinary!
25. Spaciously Stunning!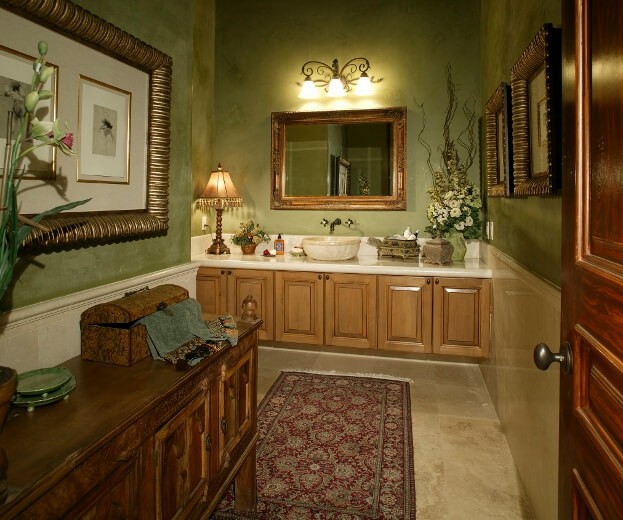 Inspired from royal victorian architecture, this bathroom is for those that crave the flavors of medieval luxury! The oakwood cabinets and the foil-gold frames give it such grand taste whereas the use of rustic green paint makes sure to send off anciently luxurious vibes.
26. An Artistic Touch
Exquisite marbles can really make your bathroom look a class apart, without you having to spend a lot of bucks! Just couple it up with a set of glass rimmed artistic frames and you are good to go!
27. Sauna Time!
If you are lucky enough to devote a room for Sauna therapy, then you will thank us for giving you the idea! Creating small Sauna rooms within your bathroom space can change your lifestyle ever so positively!