These amazing bathroom floor tile ideas will make your bathroom look twice as impressive and welcoming than ever before!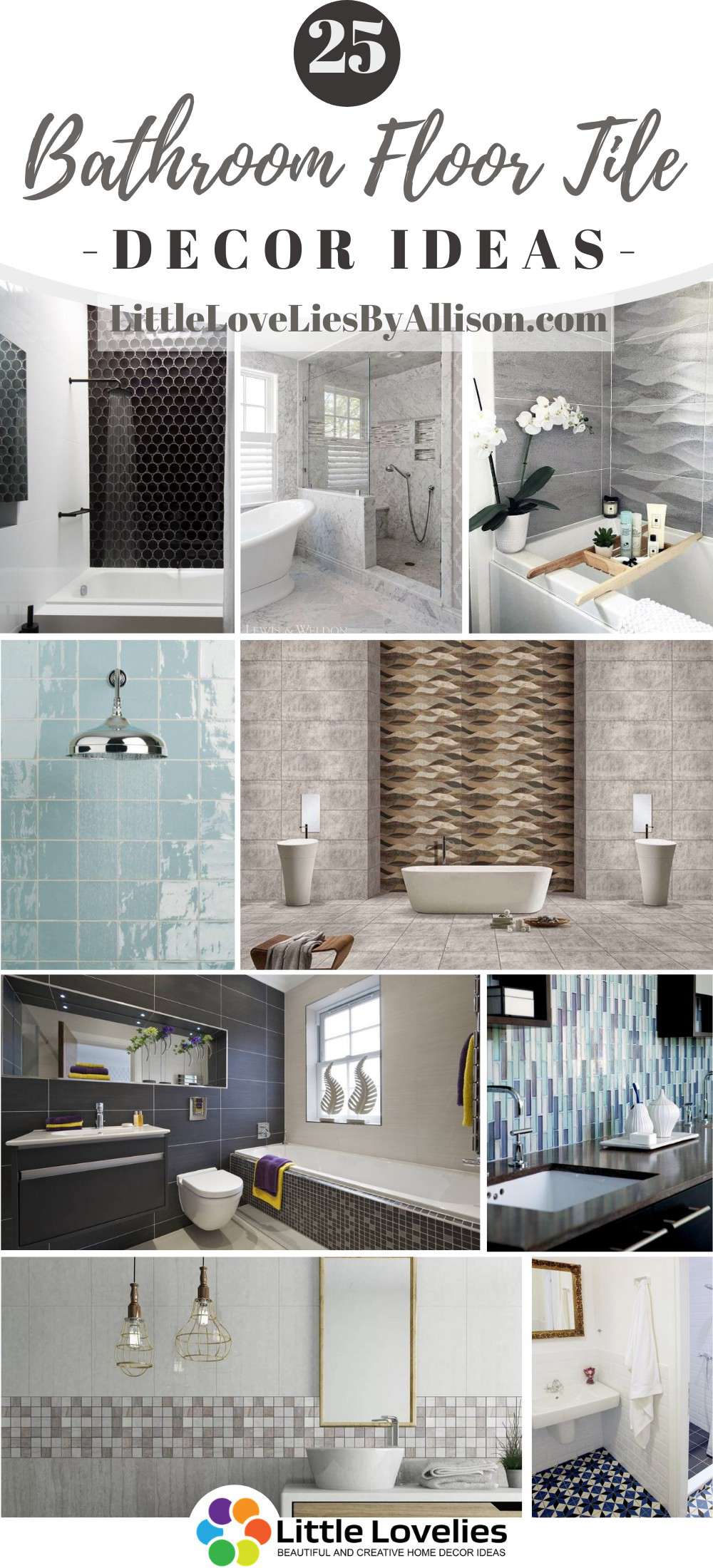 How Floor Tiles Play A Major Role In Bathrooms
Bathroom floor tiles are often underestimated!
They can influence the entire aura of the bathroom and can help impart any theme or color combination that you feel is the best!
There are so many designs you can play around with that can resonate with the vibe that you feel your bathroom should have.
In this article, we will be taking you on a whimsical journey that will put forth a large plethora of designs for bathroom tiles.
So that you can select the one that you think is the right fit for you!
1. Wispy Greys
The perfect choice for a modern contemporary bathroom that will look ever so elegant and chic, The wispy grey patterns goes hand in hand with the selection of decorative items in porcelain and ceramic. A bath-tub ladder to hold all your bathing essentials further adds to the completeness of this gorgeous bathroom.
2. Brick Walls
A touch of exquisite elegance can be imparted in the shower room is fitted with brick tiles that resemble the luxurious essence of wood. It can make your bathroom compartments distinct and the blend of unique textural components will impart a unique touch! The floor tiles also resemble bricks, but the milky beige color gives it more dimension!
3. Luxury In Marble
Grey and white marbles are a very famous choice for bathrooms because of their elegant vibes and delicate designs. An all-marble themed bathroom can be complemented with white bathroom hardware such as tubs and sinks. Adding some floral components with further elevate and freshen the entire aura of this bathroom!
4. The Middle-East Vibe
A warm or yellow-toned washroom can be executed with the help of a color scheme that has warm roots! This bathroom has a very welcoming aura because of the subtle color these light golden and beige tiles are displaying. The addition of glossy black faucets and shower fittings give it a modern touch without becoming too overwhelming!
5. Glass Reflections
An easy way to make your bathroom uniformed and well-contrasted is to match at least one wall with the same tiles as the ones you placed on the floor. This bathroom has a phantom green tile arrangement with abstract textures amidst glass doors. Not only does it make the bathroom look more interesting but also gives it a hint of subtle luxury!
6. Black Soul
Black showerheads aren't easy to play with. The use of these glossy round pattern tiles in the shower area gives it a grunge yet impressive look! The black showerheads further add to the synchrony whereas the use of porcelain and pearlescent white bathtubs and alternative wall tiles gives this whole bathroom quite a lot of definition!
7. Rustic Vibes
This impressive bathroom has a separate showering area. The glass doors are met by a continuous array of textured grey tiles. There is also a medley of brick-like tiles on one of the walls which adds more to the texture spectrum. The warm lighting plays a keen role in highlighting the uniqueness of these cool-toned tiles and also gives it an inviting touch.
8. A Brim Of Cherry Red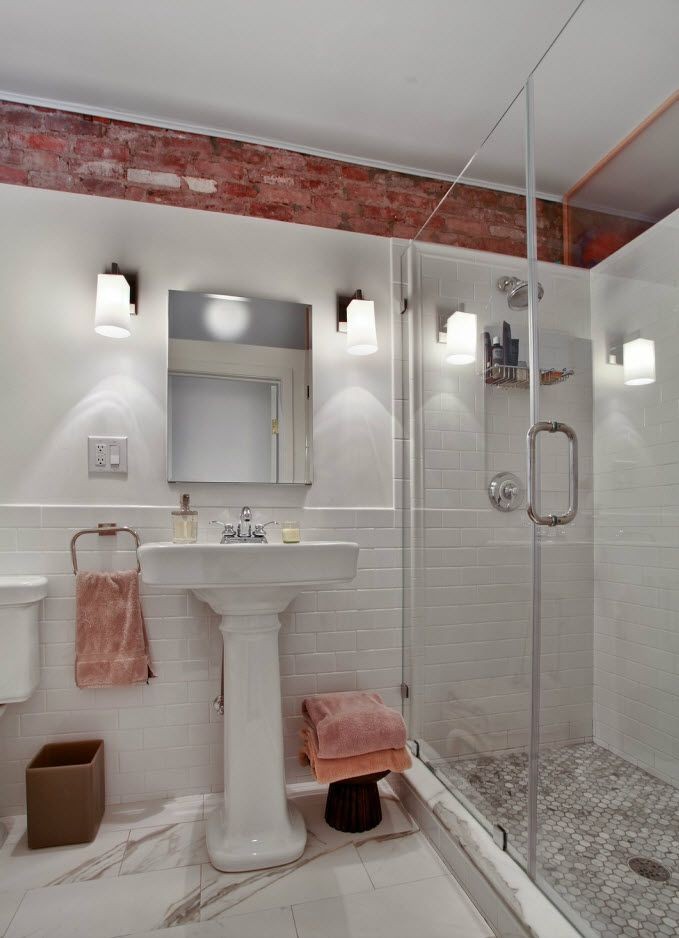 Another way to make your bathroom look unique is to mix and match your plain and ordinary tiles with something colorful and vibrant. This bathroom is imparting very plain yet chic vibes, all due to the soft lighting and that rim of cherry red brick-tiles which enhance the definition of this bathroom. This is a very budget-friendly method and can make your bathroom look popping!
9. Soft Monochromes
Alternatively, a set of monochromatic tiles can be lifted by the use of exquisite and luxurious hardware. The bowl shape of this porcelain washbasin on top of the contrasting vanity is what does the trick. The addition of these hollow metal framework lights makes this bathroom look almost designer! It is topped up with a plain length mirror with wooden frames.
10. Boho Or Aztec
Give your bathroom a festive vibe by playing around with fun patterns and intriguing color schemes! This bathroom is so plain but has a lot to say because of those uniquely selected floor tiles. The shower area is demarcated by matte tiles in the color of midnight blue. To add more definition, a gold-rimmed mirror is placed atop the washbasin to contrast with the pearlescent hue of whites!
11. Elegant Vinyl
There is a lot that is going on in this bathroom and everything is intricately balanced. The large bathroom space is utilized by a Chester piece that serves as a vanity. The amazing octagonal-shaped mirrors give a chic look and of course, the subtle vinyl-like wood flooring gives an interesting illusion of elegance.
12.  Little Mermaid
This is a small bathroom space that has made an interesting impact on the vibe of this bathroom. The tiles depict the shape of a mermaid in the shower area. The shower area is also demarcated from the rest of the bathroom by the transition from blue to warm beige.
13. Dark Chocolate
Instead of going for regular tiles, you could always go for plank tiles! These come in a variety of shapes and sizes, not to forget the amazing texture they have. This bathroom has such a comforting feeling to it. The interplay of white porcelain hardware with the wooden components seems to be uplifting and can make bathing experience of tranquility!
14.  Bohemian Rhapsody
Give your bathroom a trendy and fun look by opting for boho themed tiles. These come in so many colors and designs that will put you in a fix! These tiles are so attractive and can also lighten up the entire environment of your bathroom space without becoming too overwhelming! This bathroom looks ever so elegant and calming by the pour-in of natural light and exquisite placement of that marble vanity.
15. Damp Blessings
An interesting texture in tiles is the one that can be seen in this bathroom. These tiles look water brushed and glossy no matter how dry it gets! They have a glistening impact on the bathroom at all times!
16. Geometrical Frenzies With Hexagons
Aesthetically pleasing patterns are mostly geometric and symmetrical, just like the ones used in this bathroom. The hexagonal tiles are reinforced by the gold-rimmed hexagonal mirror. The excellent use of golden faucets and refreshing plants makes this bathroom look lavish!
17. The Not So Mundane
Sometimes it is all about picking the simplest tile but making it look absolutely stunning by the interplay of different components. The black-bordered white tiles play the role of enhancing definition while the minimalistic vanity and street-lamp light hung on top make this bathroom look a class apart!
18. Simply Precious
A bathroom as simple as this one can be elevated by the use of luscious marble tiles. These are simple but contrast so well with the ongoing minimalistic theme of this bathroom. The milky beige paint compliments the glossy texture of the marble tiles. A towel rack beside the bathtub makes this bathroom look whole.
19. Modern By Default
Semi-matte black tiles coupled with bright light spotlights are a great way to make your bathroom look futuristic and impressive. Contrasting the tiles with your floating vanity will further enhance the modern contemporary vibes!
20. Caramel Popcorn
Abstract style grid tiles can also be put to good use if tampered with the right sort of lighting. The warmth of the caramel-colored tiles is enhanced by the yellow lighting that is scattered generously throughout the bathroom!
21. A Study In Pink
Brick tiles are the new thing, and playing around with fun pastel pinks will add more to the trendiness of your bathrooms. The gorgeous geometric bathroom mirror is giving exquisite reflections whereas the vintage themed cabinets and hangings give it a modern yet rustic look!
22.  My Relaxing Space
If your bathroom space is large, you might consider playing around with alternative patterns of tiles like the one displayed in this grand bathroom. The floating low-set vanity is giving chic and contemporary vibes.
23. The Flavor Of Aqua
Blues can become too dull when used in bathrooms that are not well-lit. The color scheme of shades of blue in this bathroom is uplifted by the generous amount of lighting executed. The addition of porcelain bathroom sets that resemble sea-shells add more to the aquatic vibe!
24. Rediscovering Natural Melodies
There is nothing more satisfying than a bathroom that lets you keep close contact with nature by giving you a scenic view! The generous lighting is being meddled with by the glass doors in the shower area, but in an interesting manner, such that it adds more to the radiance of this bathroom!
25. Take Me To Infinity
One of the most impressive bathroom designs to date, that is reinforced by the addition of luxurious tiles demonstrating intricate abstract patterns! All the monochromes are uplifted by the orange-beige color play being demonstrated by the wall tiles!