Today, wishing wells make pretty additions to the garden. They are also used at bridal showers and weddings, where guests are encouraged to leave money and wish in the wishing well for the happy couple. It's not necessary to be a master carpenter to make a wishing well.
We have put together this list containing 25 DIY wishing well plans, some are ideal for wedding occasions while some aren't, I'm sure you'll make the right pick on what to build based on your needs.
1. Cheap DIY Wishing Well
This project is inexpensive, simple in design, and can be completed on a weekend. You can create your very own stunning fire feature for all of your outdoor events and more.
2. How To Build A Wishing Well
From nothing to something even if it's nothing more than a wishing well, at least it's something. In summary of this, cut wood, glue, nail, paint, definitely a roof, and every other thing in the video.
3. DIY Wood Wishing Well
Just in your backyard you can create this four-foot wood wishing well around your home and you can do that with these few supplies; twelve fence boards, six 2 by 4s, nails, screws, and a large dowel rod.
4. How To Build A Wishing Well
A wishing well is a nice woodworking project for your yard especially if you're looking for something neat and with a great appearance. If you want to learn how to build a good working wishing well, I recommend you pay utmost attention to the instructions shown in this video.
5. How To Build A Wishing Well From Bricks
A lush landscape and garden provide a place of solace you can retreat to after a long hard day. You may also have garden statues or a trickling fountain to add to the ambiance. Put the final touch on your sanctuary with a wishing well built from bricks. Instead of filling the well with water to catch your coins, fill this well with potting soil to plant your favorite perennial flowers.
6. How To Build A Wishing Well Planter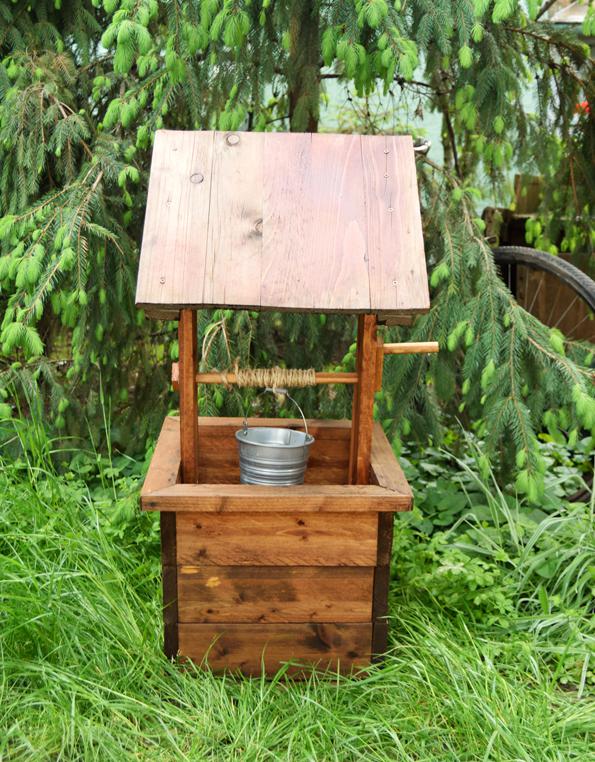 This step-by-step woodworking project is about wishing well planter plans. I recommend you invest in the best materials you could afford. Therefore you should buy weather-resistant lumber, such as pine or cedar. Always take accurate measurements before adjusting the size of the components to the proper size.
7. How To Make A Wishing Well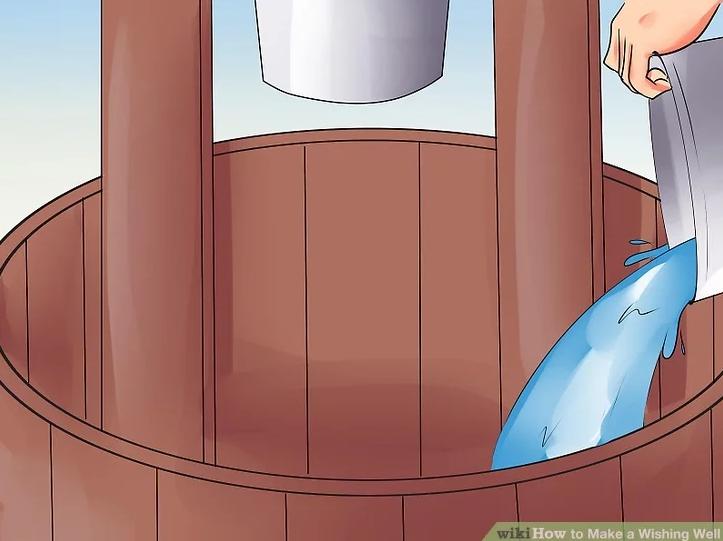 It's not necessary to be a master carpenter to make a wishing well, the steps are quite basic yet detailed enough to help you make one. This article features three major steps in this project. First by making the well base, then attaching the roof, and finally adding a bucket. With that, you can pay attention to inner details and your wishing well is ready.
8. DIY Wood Pallet Wishing Well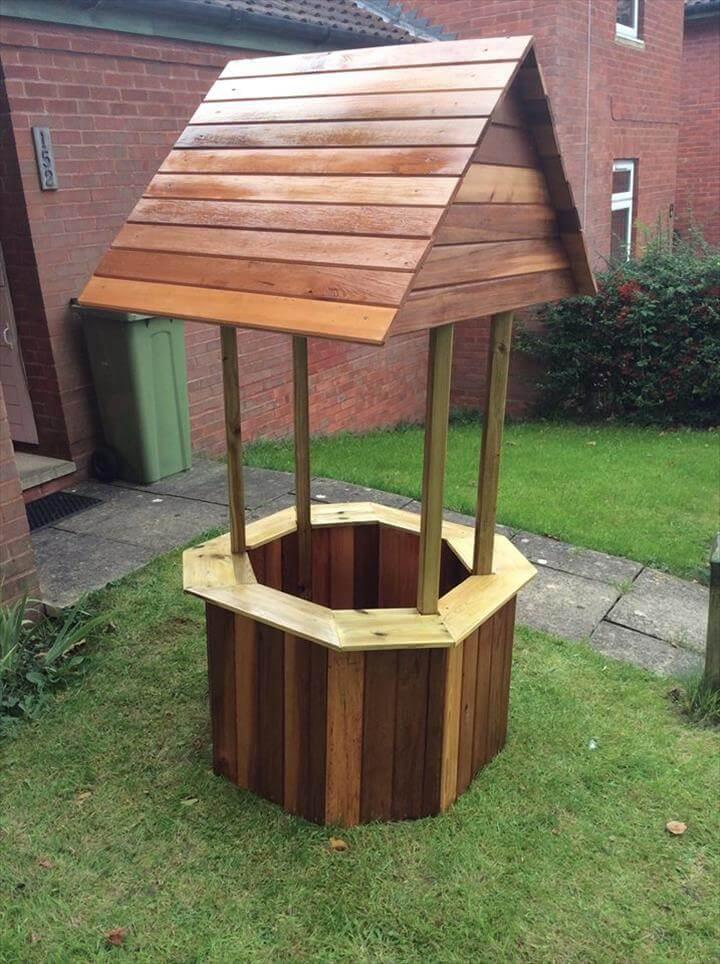 The wishing well has a hexagonal base structure that has been attained from pallet lengths and has been awarded a boundary all around. The A-frame roof and the hexagonal base have been stained in chocolaty shades which brings out the natural and rustic merits of pallet wood with more accent and charm.
9. DIY Wishing Well Planter
This is super beautiful and colorful. It's a simple wishing well planter where you can easily grow your plants or flowers. This is made using plastic bottles which are spray-painted and unused tires also.
10. DIY Wishing Well Using Pallet Wood
If you want to give a mysterious effect to your garden space then this DIY wood pallet wishing well is what you need to install to any visually attractive location of your garden! Comes with recycled aluminum to give a fanciful wishing well!
11. Pallet Wood Wishing Well DIY
However, it is pretty simple and cost-efficient to gain this wishing well, all you need to do is plan the pallet planks to gain this beautiful shape which can be obtained by involving yourself physically in the process of pallet wood dismantling! Do get pallets and do try out this fanciful pallet wishing well to create a divine and whimsical look of your garden
12. How To Build A Wishing Well
There are great stories written on wishing wells and kids really get attracted to them so it would also be an addition to your garden that your kids will cherish.
13. DIY Wishing Well Plans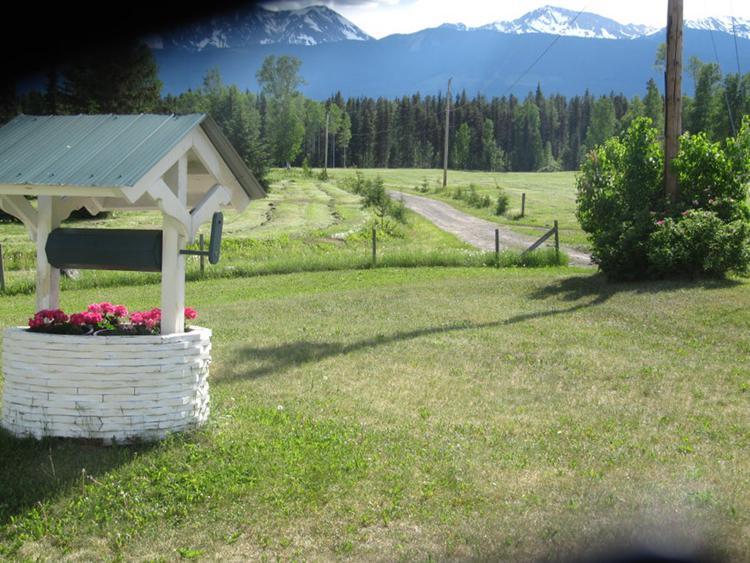 If you have an old wishing well that's rotting out, you can decide to rebuild it. There were 192 pieces and 768 screws in the base alone and the horizontal pieces held the rain which caused the creator's well to rot and it was completely redesigned. So what you do is to mill an old cedar log and fabricate all of the parts yourself and you'll be very happy with the outcome.
14. Wishing Well Burn Barrel DIY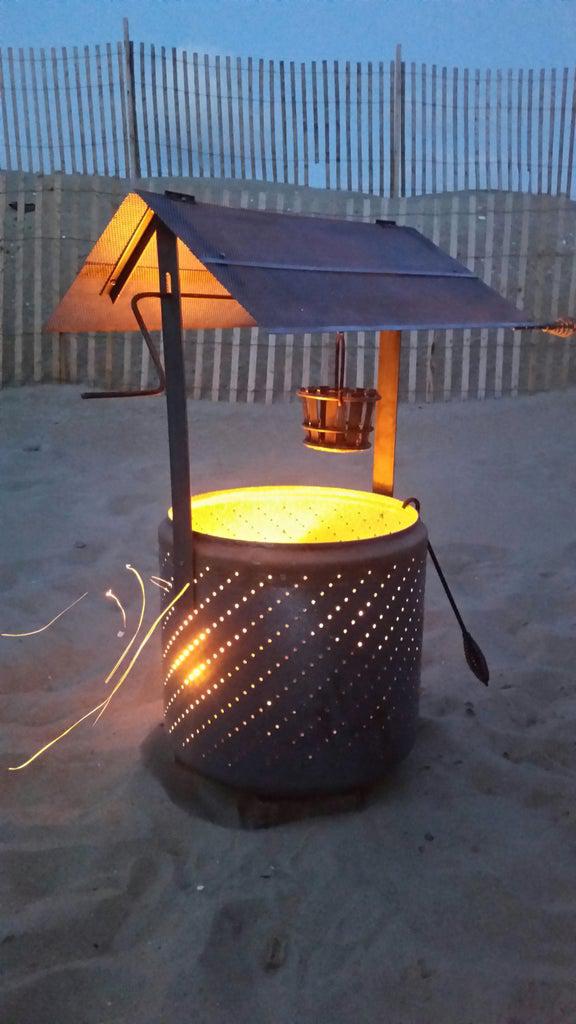 This design is functional both in the ability to contain a fire as well as being able to help cook simple meals. The metal basket is intended to be filled with foil-wrapped food like meat and veggies. The bucket can then be lowered into the fire like a traditional water bucket, cooked, then reeled back up for retrieval!
15. How To Make A Simple Wishing Well
The creator decided to take all of his scraps and make a wishing well to hide a sewer cleanout in his side yard. By following these six basic steps, your wishing well can be built in no distant time. Firstly you need to spend quite some time gathering wood, then build a frame, add slats, make the roof, and voila.
16. $20 Wishing Well Planter
This planter looks awesome and it won't cost you so much to build this. After gathering these materials: Table Saw, Miter Saw, Jig Saw, Drill, and Cedar fence posts. Cut the wood and assemble the base, attach side rails, make the roof, make the lever, cut out the base and apply the finish. Finally, attach the plant.
17. How To Build A Wishing Well
This planter looks awesome and it only cost a little to make!!!! You can gift this to your mom on Mother's Day. While growing you must have them in your yard and can decide that it will make a great gift for her or your loved one. They will totally love it and will want more. This project was super easy and you could do it all with limited tools if you wanted to.
18. DIY Small Wishing Well Planter
Right about now, you're going to create a small wishing well that is portable enough for your garden. Pallet wood will serve justice to this awesome build and you can stain and paint to give a great finish.
19. How To Build A Brick Wishing Well
This project is a fun project that walks you through the step-by-step process of building a brick wishing well. Alongside the instructions are pictures as well.
20. DIY Wishing Well Plans
It is awesome to magnify the look of your garden and plans for decorations may vary from garden to garden as every individual or garden lover has their own taste!
21. 6FT Wishing Well Plans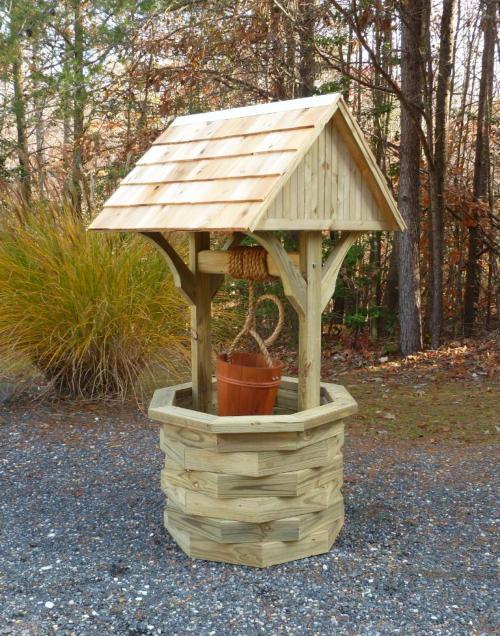 This 6 ft. tall wishing well features a cedar shingle roof, rope, and hanging bucket. With a few woodworking tools and some intermediate skills, you can build this wishing well to show off to your friends and neighbors.
22. DIY Wishing Well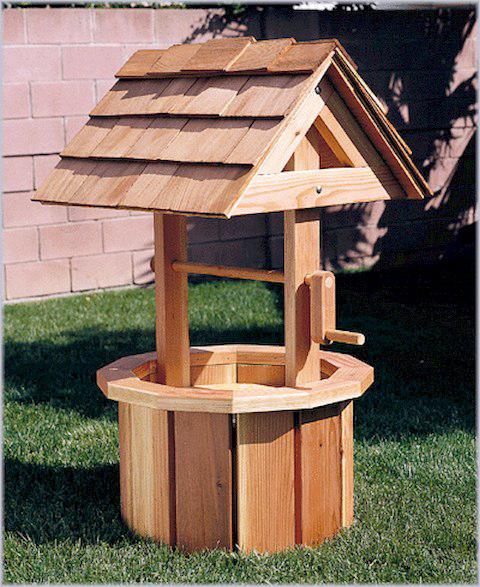 This may not be explicit but it provides a creative idea for creating your wishing well. You need to understand that all wood is pressure treated or hardwood for outdoor durability. So start off with the instructor's guide and expect an incredible outcome.
23. DIY Wishing Well Planter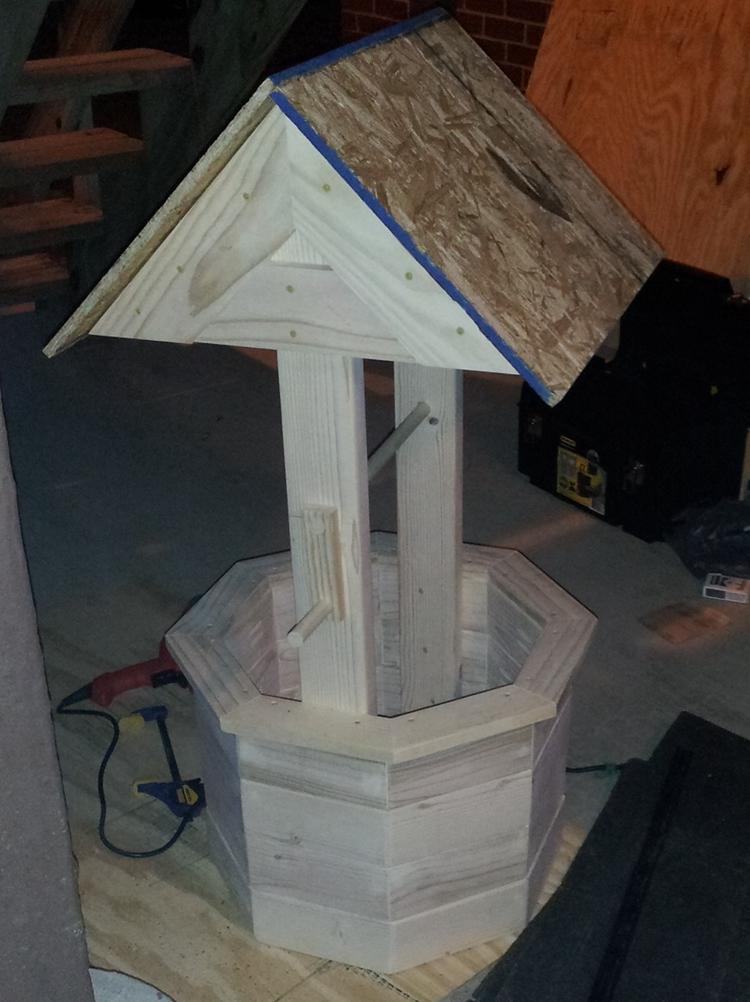 With everything, it measures 44.5 inches high. The well measures 21 inches across and 15 inches high. The roof measures 22.75 inches by 23.75 inches. With an intermediate skill level, anyone can handle this project and I really hope y'all like it.
24. How To Build A Wooden Wishing Well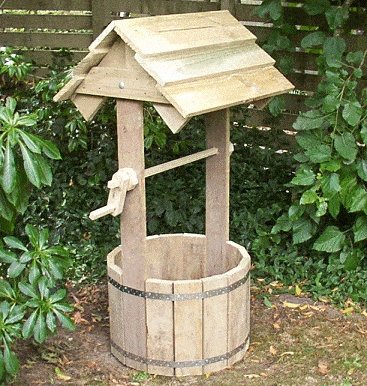 This medium-size wishing well stands approximately 1400mm (4′-8″) high and 600mm (2ft) wide. It is a cross between a small planter and a full-size wishing well and can be used either as a planter box or a garden ornament. This wishing well is a lot of fun to build and doesn't break the bank.
25. How To Make A Garden Wishing Well
In this video, the creator made use of old tires, you could get them at an auto mechanic workshop or somewhere else. The roof was made of sticks, which were painted. For more details, you can watch the video and make yours.
Conclusion
Thus far, wishing wells are fun to build, you can make them for your backyard or probably even make them as a gift to a family friend or family member. Enjoy the process.