A DIY Gantry crane just like its name implies is a crane built at the top of a gantry, if you are confused about what a gantry is, A gantry in this context is a bridge-like overhead structure with a platform supporting equipment such as a crane, TV signals or cameras.
They are made up of two A-frames, upright beams, and one cross beam made from aluminum to provide strength, durability, and a lightweight structure. Full gantry or semi-gantry cranes are commonly being used for heavy fabrication applications, or in some types of outdoor yards like rail yards, shipping and container yards, steelyards, and scrap yards. They are also quite popular for cement and precast applications for areas where they are forming and curing slab concrete.
I sourced the best DIY tutorials and guidelines to help you construct a DIY gantry crane, so here are 15 awesome DIY gantry crane tutorials.
1. Build Your Own Gantry Crane
Get a full tutorial on how to make a mobile gantry crane that can serve any purpose. From the things you need, to why you need them, to how to get them, make use of them ideally, this is an ideal DIY tutorial for anyone looking to make a gantry crane. It is pretty easy and is lightweight as you can see from the video tutorial. Materials can be gotten from any store and are cheap to purchase also.
2. Homemade Gantry Crane
Would it not be great if you could make a gantry crane out of wood? A unique stay-away from the conventional metal gantry cranes. The best part is they can last longer and work effectively. It is affordable and a good way to make perfect use of your leisure time. It can be made at home, so there is a need to be worried about location and all that. Some of the materials and supplies needed for this DIY project are lumber: 2x 2"x10"x8 and 11x 2"x 6"x 10', chain fall hoist, casters, screws, and manual labor.
3. 5 Ton Gantry Crane
Here is how to successfully make a 5-ton gantry crane with help from this DIY video tutorial. They are completely mobile as they have wheels attached to them, also they are portable and can be detached part by parts by removing the bolts. They are a DIY project made with a budget of about $930 which is a lot less than getting one from where they are sold. Some of the less prominent materials used in constructing them are painting grinding wheels or welding wire.
4. Homemade Mobile Gantry Crane
In this DIY video tutorial, you get to learn how to construct a homemade mobile gantry crane with some basic materials and tools. It starts with effective planning, like drafting in CAD, some static stimulation with the ability of 2-Ton loads, all this planning makes it easier to construct a gantry crane more effectively and faster. They are made from wood and metal, which makes them more durable.
5. Building A Gantry Crane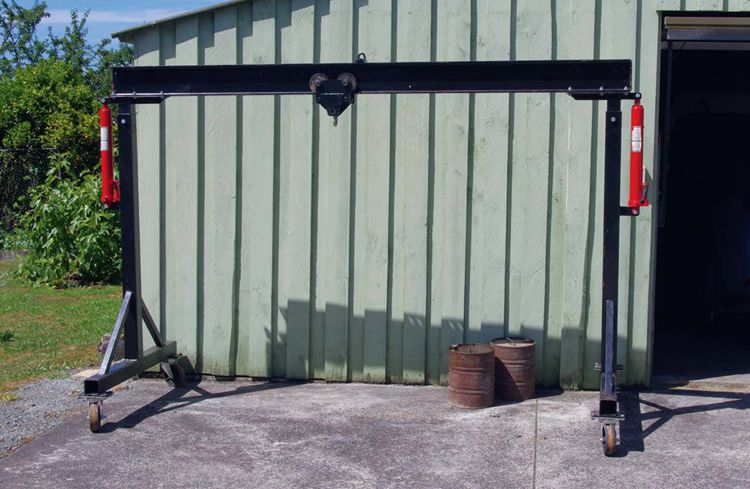 Moving things in and out of a workshop or garage, especially one harboring lots of heavy metals and woods, is always a Herculean task. The best way to go about this is through the building of a gantry crane. They can be made mobile with wheels and can lift any type of weight conveniently. Made from wood and metal and some plastic railings, they are strong, durable, and effective. One of the best inventions for any machinery worker.  the-shed
6. Overhead Mobile Gantry Crane
Lifting heavy-duty objects or normal objects can endanger our health, we could sustain back injuries or defame our posture. So, making an overhead mobile gantry crane such as the one shown above in the picture would not be such a bad idea, it saves you the stress of lifting objects from ground level or moving things to and fro. It can be made on a weekend, with affordable and not difficult to get materials. instructables
7. DIY Garage Gantry
In this DIY video tutorial, you learn how to make a garage gantry secured with a chain hoist. It makes the project experience a safe and practical one to achieve, some of the materials include; ISOtunes Bluetooth hearing protection, Triton super jaws, Bessey clamps, woodpecker 851 square, metal marking pencil, cutoff saw, Lincoln power Mig 260, welding wood, welding, and grinding wood, welding jacket, welding gloves, trolley, cordless grinder, and of course chain hoist.
8. Portable Gantry Crane
Here is how to make a gantry crane, is portable enough to be carried anywhere, and still large enough to carry any weight of materials. In this DIY video tutorial, you get to learn how to make a portable gantry crane with a lifting of a 1941 Monarch 14C x 30 lathes, weighing up to 4000 to 4500 pounds.
9. Gantry Crane Build
Owning a shop with varieties of heavy and large objects can be a task, especially when you have to lift them around to different places. Well, you can now learn how to build a DIY shop gantry crane that helps you minimize the stress of lifting heavy objects around your store or shop. Is that not wonderful?!
10. DIY Workshop Crane
Constructing a DIY workshop gantry crane could not get easier, of course, these things are super helpful in a lot of ways around the workshop, lifting and moving heavy objects around easily. The material and tools to make them include universal beam, 105 x 45, steel box section- 50mm x 50mm x 3mm, steel box section- 40mm x 40mm x 3mm, steel plate-5mm, 125mm locking castor's, Hammerite smooth blue direct to metal paint, DOM stainless tube- 19mm, steel tube- 12mm, M16 bolt and Nylock- x2, M8 all thread + Nylock- x2, M20 bolt, and Nylock- x1, M12 screw + Nylock- x10, washers for the above object, 50kg bull lever block, R-Tech TIG 202 AC DC, R-Tech P30C plasma cutter.
11. Gantry Crane With Hoist
Another interesting DIY video tutorial on how to make Gantry cranes with a crane hoist. They are perfect and handy for lifting objects like automobile engines and truck beds. The steps and processes in this DIY tutorial are totally safe and practical.
12. DIY Mobile Gantry Crane
In this DIY video tutorial, there are quite a few things and processes to learn, but it is made simple and very understandable. After following this mobile gantry DIY video tutorial, you should be able to carry out the process of making one for yourself that can lift a maximum weight of about 1100lbs/500kg.
13. Gantry Crane DIY
If you own a lathe, work with engines, and workshop tools here is a DIY tutorial you should really check out. These things are very heavy and it is not healthy to carry them with our bare hands to avoid them, technology and the DIY world have made it a lot easier. So here is how to make a gantry crane for your work now.
14. Mobile Gantry Crane Build
Learn how to build a mobile gantry crane with a lot of fun features like an adjustable height beam. It is designed to help you move objects without straining yourself or having to need too much manpower. It does take a lot of work to build, but it is worth it as you would come to observe when you are finally done constructing.
15. Tall Wooden Gantry Crane
A fantastically, well-designed wooden gantry crane, it is also long enough to lift things to higher places. It is not as hard, or as expensive as you would expect it to be. Over some weekends, either you alone or with some friends could try making one yourself and see how much it helps reduce the workload at home, workshop, or anywhere it intended to be
Conclusion
A Gantry crane, like every other heavyweight material, costs a lot of money to buy, and might sometimes not fit the purpose for which it is bought, which in turn is a waste of hard-earned money, so it is always advisable to do it yourself. First of all, you get to save more money, secondly, you have an idea of what exactly you want and can be constructed to suit your preference, then lastly, it is a good form of creativity and craftsmanship application.