Traditionally windmills were used on farms to pump water or grind grain. Today's windmills or wind turbines can use the wind's energy to generate electricity.
A windmill on a farm only makes a small amount of electricity. To make enough electricity to serve lots of people, utility companies build wind farms with a large number of wind turbines.
In this article, we have listed 25 DIY windmill ideas, some of which include toys that your kids can play with. So, without further ado, let's check out the list!
1. DIY Wind Turbine
A beautiful windmill that could also be made as a toy for a beautiful child out there, your kid, niece, nephew, or siblings. You can make this piece of art using just plastic bottles. They turn out great and they work well. Give this a try now.
2. How To Make Paper Windmill
Quite sure you might be itchy to try out this nice but simple project. Note that the measurements here are both in inches and centimeters. You've been given an amazing desktop decor idea and DIY back-to-school paper craft project. This could go a long way in enhancing your kid's knowledge and craft skills.
3. DIY Paper Windmill
I promise you're not on the wrong side, you're right on track. So in this video, you'll learn how to make a paper windmill using a 15 X 15 paper sheet, gum, pencil, ruler, bendable straw, and thumbtack. By following the steps you rest assured of having this result.
4. Homemade Wind Turbine For $32
With your Motor reel and garden windmill that can be purchased at the store or yard sales, you can make this wind turbine. You must space in your garden or choose a spot where you want your turbine to be originally. So get these materials and match them up and assemble the parts.
5. DIY Knex Windmill
In all, understand how to build this windmill. This windmill is made or built out of K'nex, almost similar to what you do in your Lego building. That's just how this works, so follow the ten steps provided and then replicate the idea and have your windmill.
6. DIY PVC Windmill
This is a wind-powered turbine that shows you that you can make power by using the wind. This is made using PVC and is easy to build in a day. Hence, before building may take place, ensure to make these materials available: (5) 1" PVC 90° Fittings, (3) 1" PVC T Fittings, (5 ft) 1" PVC Pipe, (1) 1" PVC Coupler, (1) Motor 500 (Pitsco), and others.
7. Electricity Producing Wind Turbine DIY
This is not one of those long stories, but you can go through this article and see how this windmill was made with a not so expensive store-bought turbine, but with a home-built one that cost hardly anything. If you have some fabricating skills and some electronic know-how, you can build one too.
8. How To Make A Windmill For Kids
Make your own windmill at home or in the classroom from paper cups and a straw. All you need are a few simple supplies to get started, supplies such as 2 small paper cups, Bendable straw, Toothpick, Scissors, 4 pennies, and Tape. We love fun, hands-on STEM projects for kids!
9. Paper Windmill DIY
Do you want to learn how to entice kids? Well, I bring you solutions to solve that problem. By making this super beautiful or rather lovely and colorful paper windmill, trust any kid would love you for this. Good thing is, it's not a difficult project, within some minutes you're done with this.
10. How To Make Wind Turbine Generator
If your mind has been prepared to do this then you can. Although this might seem to be more demanding considering its complexities and technicalities. Probably you may need to have some level of skill to pull this through. That notwithstanding, there's room for learning but be cautious.
11. Mini Wind Turbine
In this video, you will come to see and understand how to make a commercial wind turbine, how it works, and how much power it can output. Thereafter, a 3D print will be made on a mini wind turbine and will be tested to figure out whether it makes sense to DIY this particular design. Let's get started!
12. DIY Working Wind Turbine From Cardboard
By using cardboard, you'll see in this video how it is possible to also create a windmill out of that piece. And not just a windmill, by using the cardboard also you'll create a mini house or home with its windmill by the side. Kids can get involved in this craft.
13. DIY Wind Turbine
Making a wind-powered generator from scrap materials helps keep those materials out of the local dump.  Most of the items you need can be found in your local hardware store, your own garage, or from one of the "Freecycle" groups in your area.
14. DIY Small Wind Turbine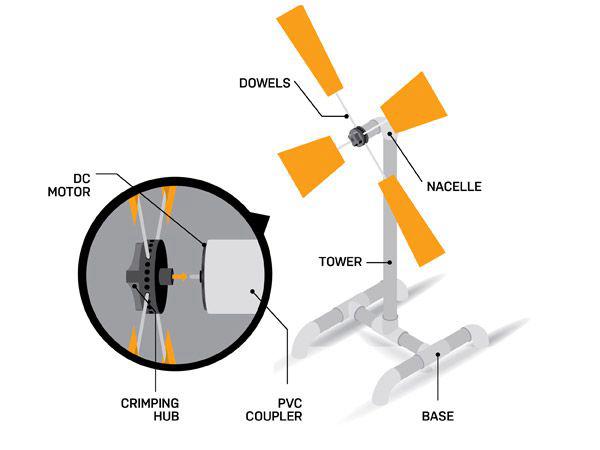 With these materials; Five 1-inch-dia. PVC 90-degree fittings, Three 1-inch-dia. PVC tee fittings, One 1-inch-dia. PVC coupler, Six 1-inch-dia. PVC 6-inch-long pipes, One 1-inch-dia. PVC 24-inch-long pipe, One 1-inch-dia. PVC 2-inch-long pipe, Two alligator clips, Poster Board for blades, 20-inch box fan or other wind sources, Duct tape, Hot glue/glue gun, Wire cutters, Drill. Learn how to capture the airstream's gusting force with this rugged miniature PVC turbine.
15. How To Make A Windmill
Make a windmill model at home and hold an engineering study with children! With a printable template, building your own toy windmill is a quick and easy STEM activity. You can gather the children and get started with this project.
16. Paper Windmill Craft For Kids
This craft step by step on how to make a paper windmill that spins around is a favorite fun and easy summer craft for kids. These will make great toys to take outside too, as well as to the beach. Instead of just plain paper, use a picture or some design that will look cool when turning in the wind! Now you can make your own and add any design you wish!
17. DIY Wind Turbine
Are you ready for some welding activities? If yes, let's proceed with this and see how we can have our own DIY wind turbine. This is no child's play as some technicalities are involved in this work process. Ensure to adhere to safety guidelines while carrying out this project.
18. How To Make Wind Turbine Generator
A lot of items can be used to make a windmill, choose what suits you and stick to that. In this video learn how to make a kind of electric wind turbine generator using a ceiling fan also. It may interest you to know. Quench your quest for knowledge by following the video through.
19. How To Build An Off-Grid Wind Turbine
Over here is how to build an off-grid wind turbine using steel. Some people may find it difficult working with steel as regards being able to cut it to their sizes. But that can be done by an expert to avoid unnecessary accidents.
20. DIY Wind Turbine Generator For Home
Using the blades of an old standing fan or table fan is another easier method of having a windmill in your home. It's a cheaper approach too.
21. How To Make A Windmill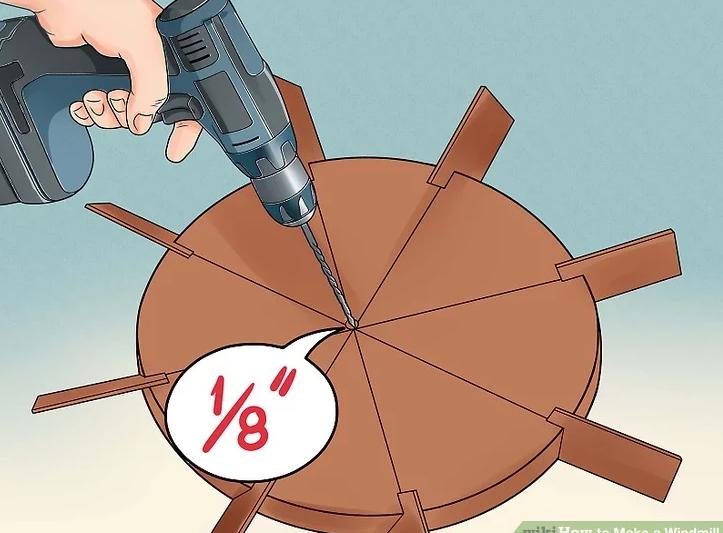 This is a great woodworking project and this isn't just for professional carpenters. With an intermediate skill level, you can build either of both windmill styles depicted in this article.
22. DIY Paper Windmill
Paper windmills, or pinwheels, make great tabletop decorations for outdoor parties or even at the beach. The needed supplies are not much and won't cost you a fortune so just get Paper in 2 shades, Decorative stickers, a Flat-ended map pin or push pin, Short length of thin dowelling. Cut to size, fold diagonally and follow the other steps to achieve this.
23. DIY Wooden Windmill Base
To further proceed with this project, some of the things needed to be in place include a circular saw, drill, super jaws, jigsaw, speed square, clamps, and countersink bit.
24. DIY Garden Windmill
This windmill is really kinda cool as they're able to light up a string of  LEDs when turning either day or night.
25. How To Make Wind Turbine Generator At Home
This is a special and unique way of creating a wind turbine generator. It looks awesome and it works great as well.
Conclusion
These exploratory projects teach engineering and modeling and make it age- and skill-appropriate. Windmills are fascinating machines, both aesthetically and technologically. For centuries, they have been used for converting energy from the wind into useful work – grinding, lifting, pumping, and, nowadays, generating electricity.