You're beautiful! That's what your mirror shouts back at you, the moment you look into it and smile. For you to look more beautiful, you need to make your mirror beautiful too. There's no need to buy a really expensive mirror when you can make one for yourself without having to rob a bank.
Check out these 36 DIY mirror ideas that can be made with little or no cost. You might have a hard time choosing because all the ideas in this article are overly beautiful. Are you ready for some DIY fun? Let's begin!
1. DIY Crushed Glass Mirror
When you mix two different colors and sizes of crushed glass, you get a more glittering result. This glass mirror is framed by a mixture of two crushed glasses. Here is the simple step to get the glittering glass mirror; Coat the frame of the glass and allow it to dry. Apply epoxy to the coated frame and sprinkle the mixed crushed glass on it.
2. DIY Sunburst Mirror
There are many ways to create a sunburst mirror. Here, the instructor used different sizes of straws to produce the sunburst effect. Other materials needed include spray paint, a glue gun, sticks, and a mirror.
3. How To Make Sunburst Mirror
Here is another sunburst mirror you can DIY. This is made from bamboo sticks. Here are some steps to get it done; Get circular cardboard and draw three circles to the center at 2", 3", and 3.5" respectively using a compass. Dissect the circle and add glue to it. After this, start attaching the bamboo stick using the circles as baselines.
4. DIY Modern Framed Mirror
The first step in making this modern framed full-length mirror is to prepare the metal slides, then move to the wood top and bottom. It is very easy and inexpensive.
5. DIY Gem Mirror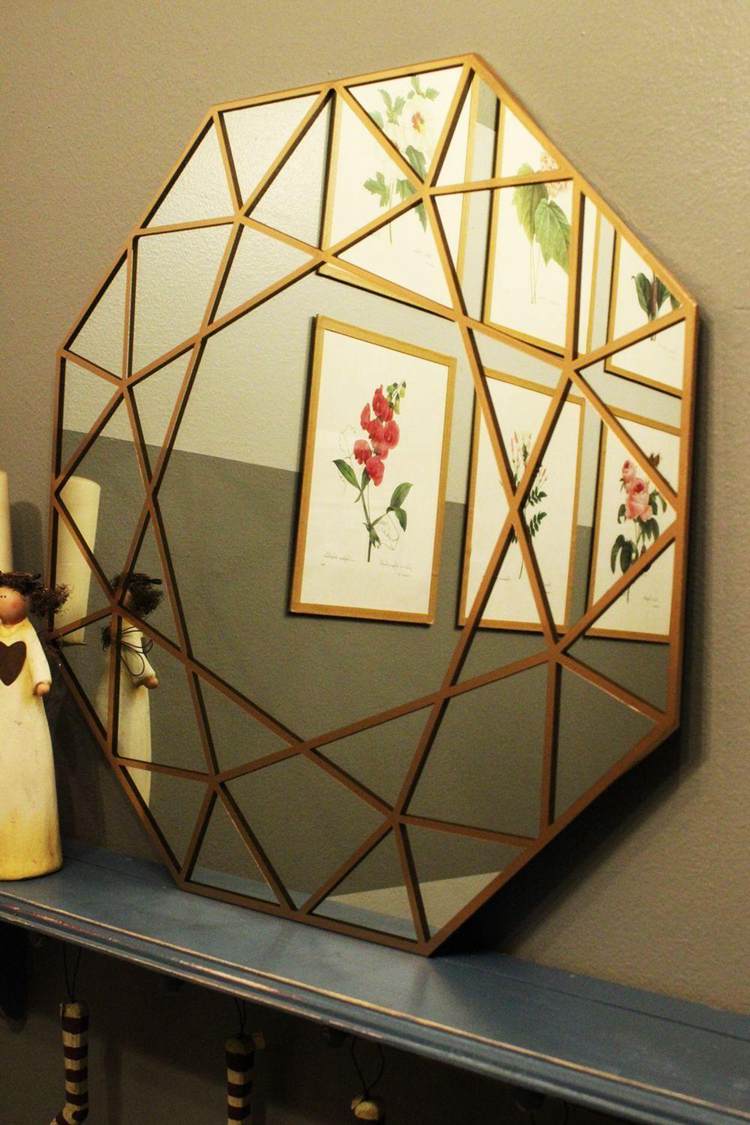 How about creating a gem mirror by yourself! You don't need to have experience in glass cutting before you can lay your hands on this. It is quite inexpensive and adorable.
You will need a long list of materials to make this. But out of all the materials, the type of marker you will use on the mirror is very important because it must be an easily washable marker.
6. DIY Pottery Barn Mirror
Before starting anything on this beautiful pottery barn mirror, you need to know the size of the mirror you want to make and thus will give the dimension of the mirror. Click the link below to read further about the steps.
7. Easy Tiffany Mirror DIY
Mirrors are just so beautiful and adorable that a room without one is incomplete. This great Tiffany mirror is exactly what you need to beautify your room. It This project is upcycled from an old glass lamp that has been thrown away.
8. DIY Wooden Eye Mirror
One thing is having a mirror, another thing is having an adorable and clear mirror. This wooden eye mirror is so simple and adorable. I love it!
You only need a few materials and your mirror will be hanging beautifully. The material includes a wood-framed mirror, wooden dowels, gold rings, super glue, drill bits, and a saw to cut the dowels.
9. DIY Large Floor Mirror
Do you have some braiding cardboards you want to throw out? Bring them out, let's design a mirror with them. This large floor mirror is designed by cutting some braid cardboard into small triangular pieces and joining those pieces together to form small triangular boxes.
10. DIY Large Mirror
In this time-lapse video, the instructor recreates the Famous Lucia's mirror, but with a few changes. While working on the mirror, make sure the surface is covered to avoid any damage or stain.
11. DIY Glam Mirror
You will be needing quite a large number of materials for this project, and the mirror is adorable. Glam! Among the materials needed include yardstick, x-acto knife, full-length mirror, glue gun, tape, foam poster boards, diamond ribbon, and acrylic crystals.
12. How To Make A DIY Smart Mirror
The best thing about a mirror is that it can be customized into anything. This smart mirror is made out of a picture frame. The creator extends the frame to accommodate the computer that will be fixed to it.
13. DIY Coved Mirror
This mirror was upcycled from an old pine paneling and reclaimed mahogany deck balusters.
This guide provides detailed steps on how to transform these two materials into this beautifully-looking covered mirror.
14. IKEA Infinity Mirror DIY
Infinity mirrors are just so awesome! The materials needed for this infinity mirror include an IKEA ribba frame, LEDs, mirror film, mirror, wire, LED driver, and 5V adapter.
15. How To Make An Infinity Mirror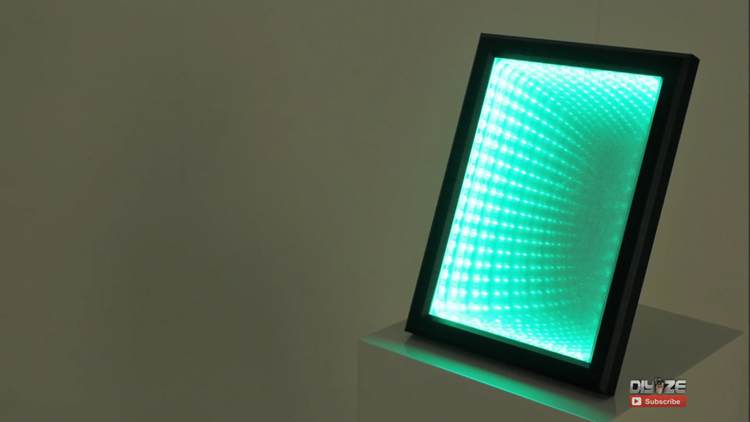 Here is another infinity mirror idea made from an A4 size picture frame, an A4 size mirror, LEDs, and mirrored film. Make sure that the film is mirrored on one side and can be seen through the other side.
16. DIY Magic Mirror
One thing that I like about magic mirrors is the ability to digitally display all sorts of things programmed into them on a glass surface. The system is built on Raspberry Pi zero, though the normal Raspberry Pi would work.
17. DIY Smart Mirror
Do you wish to have your time, calendar, weather forecast, etc displayed in a magical form? This smart mirror can give you all of this and more. The first thing you need to build this is a raspberry pi. Then a TV or old computer monitor, pi power cable, two-way mirror, and pi case.
18. How To Make A DIY Smart Mirror
This smart mirror has a built-in hidden system and has powerful stereo speakers that allow you to watch videos and perform other smart tasks.
Here are the materials needed for the smart mirror; a Mini speaker, mini amplifier, screen, display adapter, and you can use a laptop screen as well. Try this DIY today and start shaving in front of your mirror without it steaming up!
19. DIY Crystal Wall Mirror
One thing I like about crystal wall mirrors is that they're clear and so adorable. In this video, you will learn how to make a large crystal wall mirror using light wood as its frame and a customized candle holder modeled in the same way. Both projects are very simple and straightforward, all you need to do is understand the steps.
20. DIY Wood Sunburst Mirror
Who doesn't need a mirror to see how beautiful they are every now and then. The affirmation is so cool! The sunburst effect of this mirror was shaped using popsicle sticks. It's very easy and beautiful. You don't need to decorate the sticks further once you use different tones of popsicle sticks.
21. DIY Expanding Foam Mirror
One thing that makes this expanding foam mirror amazing is the ability to establish an illusion of depth. Here is how to make this expanding mirror; Get a polyurethane expanding foam and a mirror. Shake the can of foam vigorously and start shoving it to the edge of the mirror. Leave it to dry and add a coat of paint to it.
22. DIY Driftwood Mirror
Would you agree with me if I say there is no bad DIY idea? You can only have failed ideas and failed ideas can be brought into life again with a new set of ideas to restructure it. This DIY driftwood mirror is a restructured idea of a failed DIY idea and it comes out perfectly well. Read further on how to frame a mirror with driftwood by clicking the link below.
23. DIY Copper Edged Mirror
What do you think about this copper-edged mirror? It will be a greater addition to your room or bathroom. Even though the essential materials for this mirror are copper wire and an unframed mirror, you still need other basic materials to make the project come to life. The other materials include a tube cutter, leather cord, pliers, and copper clamp pipe fittings.
24. DIY Plywood Floor Mirror
Do you need an additional storage place in your room? If yes, this plywood floor mirror is what you're looking for. It is made from maple plywood, unframed mirror, drill, jigsaw, and other materials listed in this guide. The first step after getting the materials is to determine the dimension of the mirror and cut the plywood to size.
25. How To Make Tufted Mirror From Cardboard
You know cardboard boxes are amazing and flexible, you can turn them into anything you like. Here is another magic item made from cardboard boxes. Everything you need to build this tufted mirror is explained explicitly in the video below.
26. Dollar Tree DIY Glam Mirror
Round mirrors are beginning to gain popularity because they are round and adorable. And since they can be modified into anything, you have the chance to use anything to decorate them; they'll look just adorable.
In this video, the creator used clear acrylic gems, craft sticks, and beads to decorate the round mirror.
27. DIY Vanity Mirror With Lights
The size of this vanity mirror is 36" ×24" and can be built for as low as a hundred and fifty dollars. Somehow, it's not very cheap, but not as expensive as buying a commercial adorned mirror.
Another thing that makes it amazing is the installation of light around it.
28. DIY Mirror Cabinet
I like the idea of this cabinet mirror because you don't have to dress up and be walking all around to look into the mirror, just close the cabinet door and you have your mirror.
29. DIY Cloud Mirror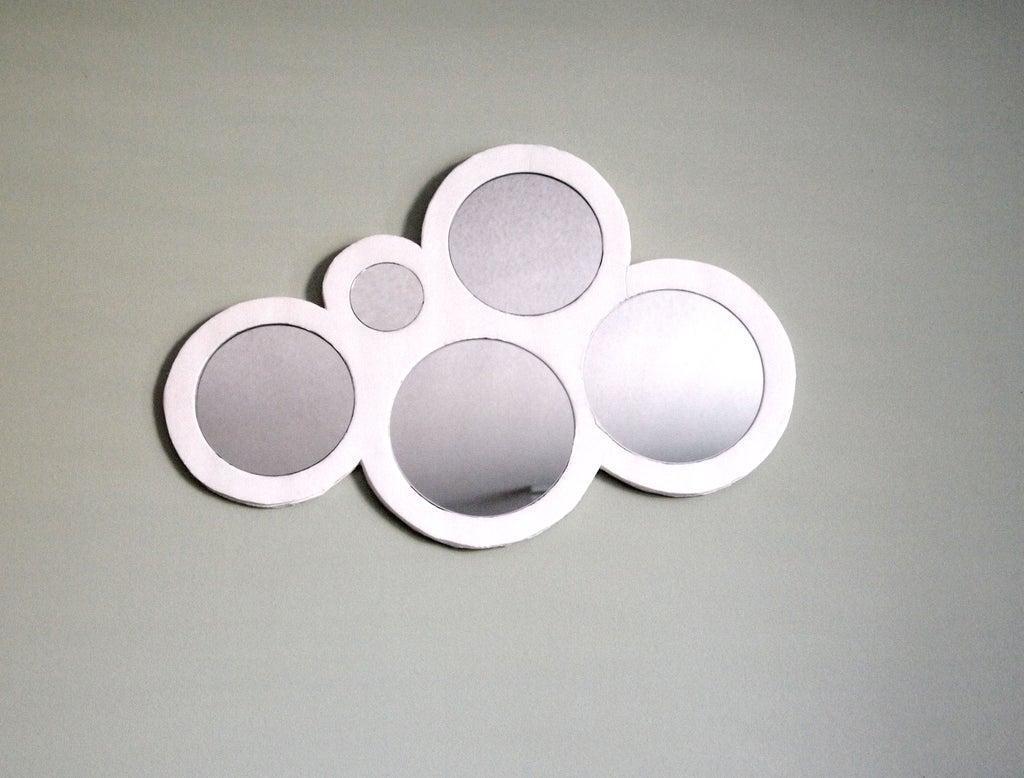 Mere looking at the picture of this mirror, you'll see how simple it is. You need only two materials and both cost only $10. The materials are foam boards and dollar store mirrors.
The first step you need to take is to get the materials, gather your tools and create the clouds using the foam boards.
30. DIY Spoon Mirror
This spoon mirror is made from 200 plastic spoons.
The first step you need to take is to cut all the handles of the spoons. Then, the next step is to mix the color. After mixing the color add a coat to the spoon and allow it to dry before spraying the second coat.
While the spoons are drying, go ahead and start preparing the mirror backing.
31. DIY Tetris Mirror
This mirror was inspired by the Tetris video game. I know you've heard about the game before. The creator used an illustrator to establish the design for the mirror. The illustrator used is RazorLAB and it provides an explicit explanation on how to assemble your designs for laser cutting.
32. DIY Sunburst 8899u8aaàa
For this sunburst mirror, you only need three materials. The materials are a round mirror, epoxy, and metal cable. In this guide, you will learn how to turn these three basic materials into an adorable sunburst mirror.
33. DIY Rhinestone Vanity Mirror
This vanity mirror is made from mirror, crystal mesh, and Rhinestone applique. Click the link below to watch the detailed tutorial on how to make this mirror.
34. DIY Foam Mirror
In creating this expanding foam mirror, you have two distinct steps. First, get a full-length mirror and two bottles of polyurethane expanding foam ( two bottles because of the length of the mirror). Then, the last step is to shove the expanding foam around the edge of the mirror and allow it to dry.
35. DIY Large Grid Mirror
The first thing to do is to create a backing for the mirror. And the creator tries as much as possible to cut down costs by using all sorts of scrap wood to make the backing. She provides the full list of the materials used in the description box of this video.
36. DIY Mirror Wall
I'm always happy when I find a DIY that doesn't require any power tools. The project will certainly be simple and cheap. The first step is to measure and mark the wall, how large you want the square to be.
Conclusion
There you have it! 36 amazing DIY mirror ideas to choose from. Feel free to go through the list again if you are having a hard time choosing your preferred DIY mirror. Thanks for stopping by, if this article has been helpful, do us a favour by sharing it across social media platforms for your friends and family to see.