A DIY horse shelter, also called a horse stable, is a place or building where livestock, most horses, are kept and reared. The building is divided into different, separate stalls to accommodate various animals and livestock. Today, there are so many horse shelters or stables widely used. An example is an American-style barn, a large barn with a door at each end, and either or both individual stalls inside or free-standing stables with top and bottom-opening doors.
Horse shelters can be made using a wide range of building materials, involving bricks or stones, wood, and steel. It all depends on climate conditions, availability of building materials, the significance of the materials to a historical period in some cases, and cultural styles of architecture.
A horse shelter can be built into a large or small size to house a few animals or be used at agricultural shows and rack tracks to house hundreds of animals and livestock, in this case, horses.
Why is a horse shelter necessary? Horses need to be sheltered and protected from heavy climatic elements like snow, hail, rain, extreme heat, or cold. This weather enables them to maintain optimum health and safety, despite their exposed body type. It also improves your ability to train, ride, and enjoy competing with your horse.
I figured making a compilation of some creative DIY techniques on making your horse shelter yourself will save you some unwanted costs and help you create a more proper horse shelter to fit your horse specialties. So, check out these 15 DIY Horse shelter projects.
1. Horse Shelter Plans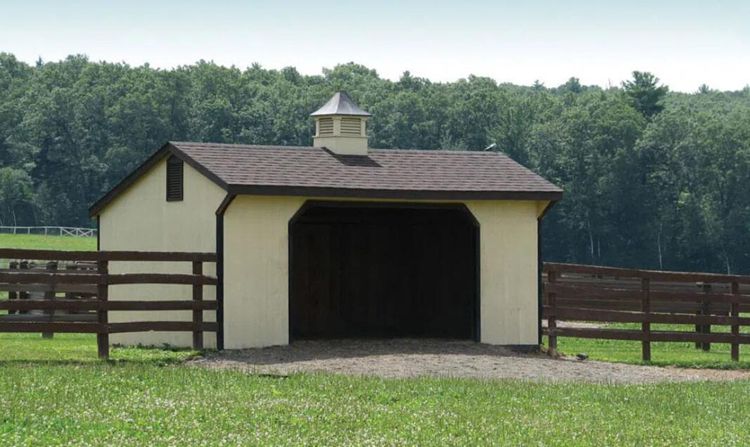 Learn how to make a 10x14 horse shelter or run-in shed with this well-explained DIY tutorial guide for you. It is a part-series that gives details on the planning that goes into making a horse shelter, the materials used, each process and steps to make it, and also what to expect as your result once you are done. myoutdoorplans
2. How To Build A Horse Shelter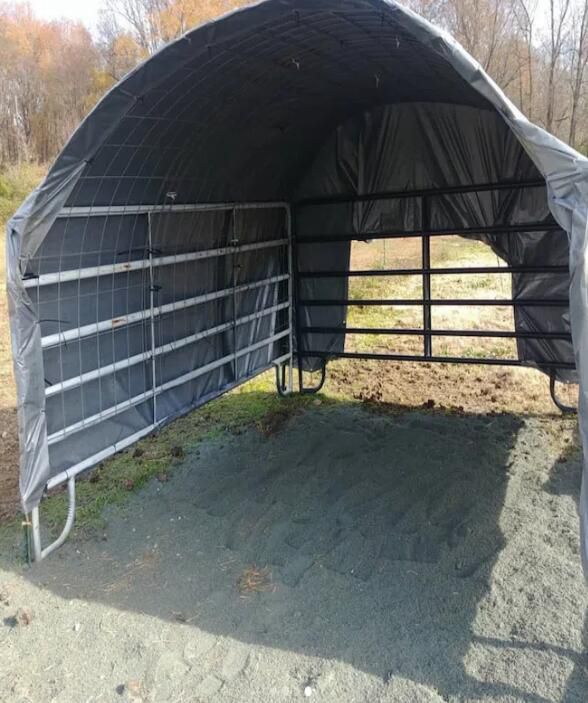 Making a horse shelter can be so expensive these days, the cost of getting materials and making them can run into thousands, but as well, you would know that horse shelters are vital for your horse, they use them to shy away from heavy wind, sun, heat and annoying insects like bugs and house-flies.
Well, there is an excellent solution to that worry as you can now make simple, cheap horse shelters that are just as effective. You would need basic materials like four t-posts, three corral panels, three cattle panels, one large, heavy-duty tarp, and zip ties. I hope you enjoy doing this project. cowgirlmagazine
3. DIY Run In Shed For Horse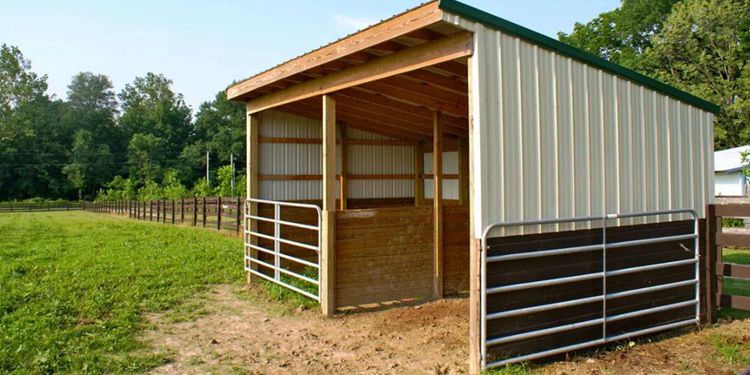 You and your whole family can decide to save yourselves some cost running into thousands when you make a run-in shed or horse shelter together, rather than buying them. It is not as difficult to make as you would think. The materials used in making this are simple basic materials you can get at any handy wood and hardware store. Plus, if everyone works well following this DIY tutorial guide, it would only take a weekend to make. cowgirlmagazine
4. DIY Horse Run-In Shelters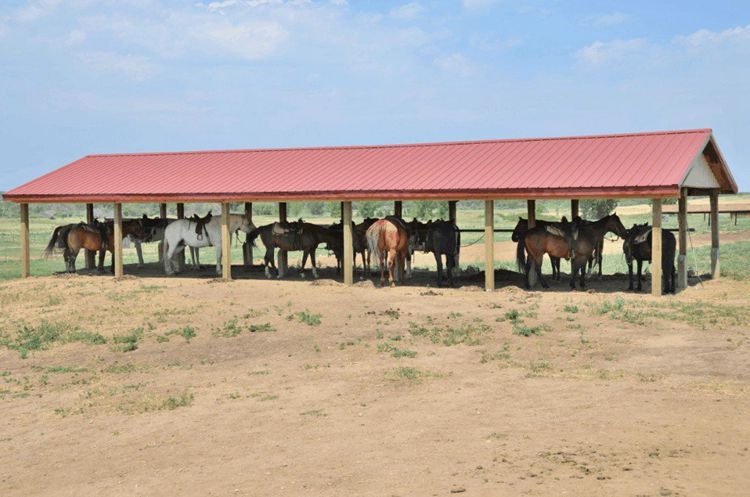 Check out this fantastic DIY tutorial guide. It shows a well-tabulated list of various things you might need to know about horses and horse shelters, things like their importance of improving your horse's well-being. It also has different building formats and how to make each of them. It is a fully loaded DIY tutorial guide. besthorserider
5. Barn Shelter For Horses
You can learn how to make a horse shelter or cattle barns for your horses and cattle, respectively. There is not much work involved, and the materials are pretty common to find, they are 5lbs 3" screws for treated wood, 30 rafter clips, one 7-12" white steel roof panel, 7-8' red steel side panel, 8-10' red steel panels, four bottom trim steel, 6 J trim, 4 Gable-end steel, 25 bags of concrete, five concrete anchors, rebars and sleeves, 10 lbs steel panel screws, 45 hurricane clips, 20' steel gutter and downspout, 20' foam strips to seal roofs and a few others.
6. Field Shelter For Horses
This DIY video tutorial would be great for your next fun DIY project. It is a field shelter for your horse's comfort and protection. It also contains a water protractor to provide your horse with a steady water supply. It is a great project, I can assure you.
7. DIY Horse Stall
Learn how to creatively construct a DIY horse shelter or stall for your horse. In this DIY tutorial, you can make this possible with all the step-by-step instructions and a virtual tour guide to the inner workings of a perfectly working horse shelter.
8. Horse Field Shelter
Learn how to make a horse field shelter for you and your friends. With this DIY tutorial video, you would learn how to measure out parts for your horse shelters conveniently, how to source the basic materials needed for this project, and how to create them via all the well-simplified processes shown in this video tutorial. Your fellow cowboy friends would appreciate you more after this.
9. How To Build A Simple Horse Barn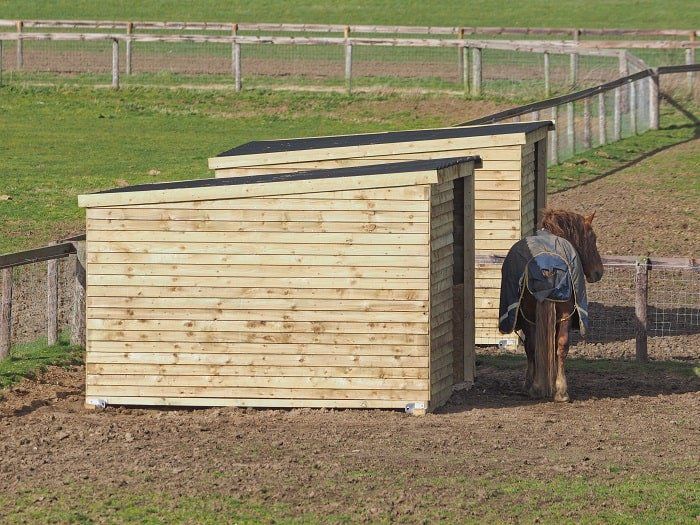 No matter how elaborate you intend to design and create your horse shelter, you must always take into cognizance that all a cover really needs to be is a place where your horse or other livestock can run in during bad weather and be safe, also where they can feed comfortably and store tacks. You would learn how to create something as simple and efficient as this with this DIY tutorial and a list of its basic materials. wikihow
10. How To Build A Horse Shelter On A Budget
Horses can be unique, loving friends and pets if you know how to treat them right, but treating them right can be expensive and stressful as they require a lot of premium attention and facilities to be maintained, such as the horse shelter facility.
So, to make a relatively low budget horse shelter that works ideally requires very little hard work and materials; materials involved are 4'x4' pressure treated posts, 3-¾ inch plywood sheets that are painted, 3-52"x16' cattle panels, 12'x16' heavy duty tarp, one box of 2-inch screws, a box of fence staples, 30-11" UV black cable ties, 100-8" UV black cable ties, paint and a paintbrush, etc. diycraftscreativeideas
11. Horse Shelter Made With Pallets
Put a roof on top of your horse's head with standard household supplies. Your horse pet deserves a good life and protection from dangerous things like bad weather and insects that can be detrimental to its well-being.
This would require you to get a horse shelter. Still, of course, they are too expensive, so if you are not busy, you can check out this fantastic DIY video tutorial and learn how to make a DIY horse shelter with pallets, hog panels, t-posts, and an agricultural grade tarp—cheap, quality horse shelter for your horse pet.
12. Building A Horse Shelter
Build a horse shelter from start to finish and learn how to manipulate making a perfect square side for your horse shelter with the DIY video tutorial. It is a well-detailed episode-by-episode video tutorial to explain each process clearly. It is also a massive low-budget project, so you do not have to be scared of spending a lot of money to achieve this one. Finally, following this DIY project to make your DIY horse shelter is usually perfect and efficient.
13. 10x24 Horse Shelter
Build your large 10 x 24 horse shelter from the convenience of your home for your ranch. They look fantastic and have inner feeding tunnels for your horse to feed on. To put the icing on this cake, they are moveable as they are made with a skid underneath so you can keep them at any position in your ranch you feel safer with at a particular time. Cool right?!
14. Horse Barn Idea
Follow through this fantastic, adequately explained DIY video tutorial for concise and educative involving the making of a barn. It is an excellent DIY tutorial where you would learn the costs of building your horse barn or shelter, the cost of materials, where it is best to get them, how to use them for their purposes, each process involved in the construction, and how to make use of them. It is worth your time.
15. Homemade Steel Loafing Horse Shed
In a couple of days, while following each guideline in this DIY tutorial, you should be able to fully understand and create a horse shelter or run-in shed from scratch with a homemade steel loaf. They are more robust, more durable, and pliable. The creative process does not require much skill at all.
Conclusion
Making a horse shelter doesn't require you to be a construction expert. A barn is a perfect place for a horse shelter but even if you do not have the luxury of having one, you can still build one. The biggest challenge for anyone wanting to make their own horse shelter would be finding free wood pallets because it is expensive to buy new ones. Regardless, we have some amazing projects that don't require pallets. Check them out and start the building process.