How do you make a chinchilla cage? There are two ways. You could either buy a ready-made chinchilla cage or build your own DIY chinchilla cage. Either way, you'll have to take some basic preparations first, choose the right materials or supplies, and then put it together. If you are looking to build a chinchilla cage to house your furry little friend, this article will be useful for you. Here, you will learn how to make a DIY chinchilla cage that is both safe and comfortable. I anticipate you will find the setup process easy to follow after going through this article.
First and foremost, it is important that you choose the right setup for your chinchilla. Chinchillas are shy, timid creatures that require a lot of attention. When creating and installing your DIY chinchilla cage, it is vital that there are many places for your chinchilla to hide in order to feel safe and secure. They do not like being out in the open. Without further ado, let's move on to the tutorials that will teach you how to build a DIY chinchilla cage.
1. Building A Chinchilla Enclosure
So a quick run to a hardware store will get you ready to make this amazing chinchilla cage with ease. The materials you need are some wire cages, wood board, and a few woodworking tools to get the job done.
The creator added some shredded paper, an exercise wheel if you have any, a small pot planter if any, and a few other supplies. The making process is seamlessly easy to follow, all you have to do, for now, is check the link below and learn more.
2. DIY Chinchilla Cage
Are you looking to make a simple, large, well-organized chinchilla cage? Here is a guide that will show you how the creator started this chinchilla journey. You'll need wood, wire mesh if you want to build the cage without the frames, a water bottle, and lots more. This cage is basically made up of wood and a few wire mesh used to keep air circulation going. The project is easy to build, and you'll need to have at least a basic knowledge of woodworking projects.
3. DIY Customizable Chinchilla Cage
Check out this remarkable, and customizable chinchilla cage. It's cost-effective, and super flexible, one of the most flexible cages on this DIY guide. You'll need wood, plywood bottom, zip ties, flying saucer spinner, wire mesh, tubes,  Dryer vent, and litter pans. The cost is under $300, which seems fair enough given the kind of customizable chinchilla cage this guide is offering. Check the link to learn more right away.
4. Chinchilla Cage Idea
Have you seen this video guide? A chinchilla cage with glass is awesome right? I bet you're thinking about how you could make that, well it's pretty easy. All you need are the materials and tools used, the step-by-step instructions from the creator, and a sharp instinct if you're a good woodworker. Check the link to learn more. If you have a family with kids that play a lot, you should not make a chinchilla cage with glass, given the risk of breaking and injury afterward.
5. How To Build A Custom Chinchilla Cage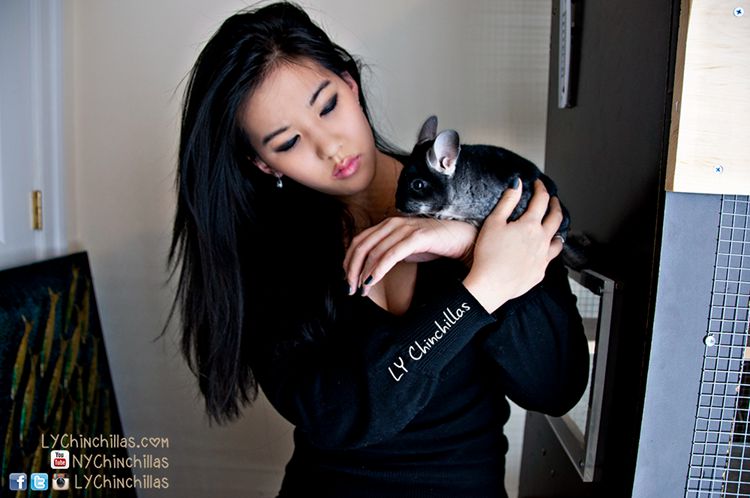 You need to check out this amazing guide and learn how to make a custom chinchilla cage effortlessly. The making process is quick and easy to follow, all you'll need are a few supplies like; an old wardrobe unit, hole saw, jigsaw, drill, drill bits, and a few other basic woodworking tools. Check the link to learn more. This cage is pretty large and can be used by someone with lots of chinchillas and the space to install it in. lychinchillas
6. DIY Huge Chinchilla Cage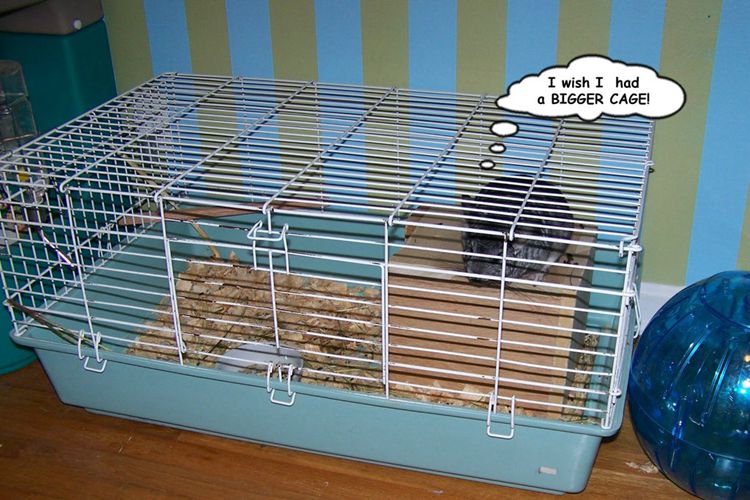 In need of a large chinchilla cage? Here is an easy-going guide that will help you make one effortlessly. You'll need pine lumber, treated lumber boards, chicken wire, plywood, and other woodworking supplies. You can keep about two chinchillas in this cage and they will comfortably survive in there. This project is quite cheap, the creator spent $14 on supplies, and you'll need to go through six easy steps. Check the link to learn more. instructables
7. How To Set Up A Chinchilla Cage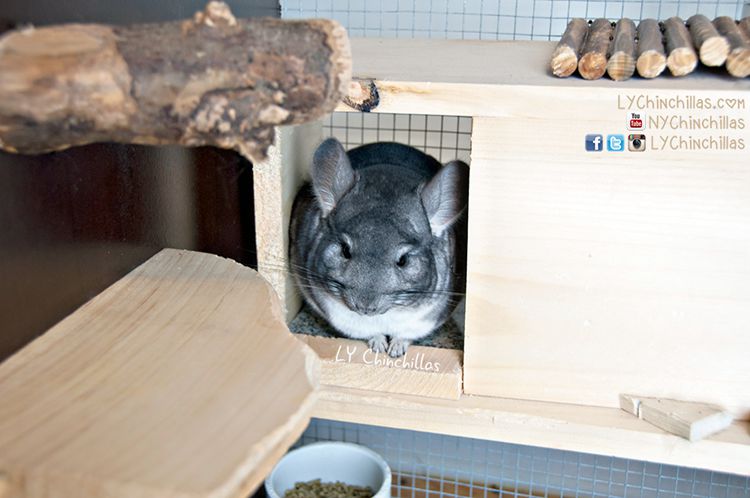 To be able to set up this remarkable chinchilla cage from scratch, you'll need the right supplies to take you there. First, you'll need a wire cage of 4x4x3 feet,  the wire grids, plexiglass,  shredded paper, wood board, a water bottle for the purpose of being a stopper, a steel exercise wheel, and lots more.
You can add some plants, hay, or treats as decoration to keep the cage comfy at all times. The excellent thing about this guide is that it offers 3 unique methods that you can apply from one guide to make a simple chinchilla cage. Check the link to learn more. wikihow
8. Building Chinchilla Cages
Do you keep a lot of chinchillas at home? Then you definitely need a lot of chinchilla cages. What better way to make a chinchilla cage than to do it all in one. This large chinchilla cage frame has about 15 cages in it. It's movable on caster wheels, and easily accessible.
This project is meant for farmers with an interest in rearing chinchillas. This project is quite expensive,  the materials will cost under $400, and you will have to invest a lot of time to finish the project once you've started. You'll need shelf units, tile boards, aluminum flashing door guards, hotwire, and lots more. Check the link to learn more about the dimensions. sunsetchinchillas
9. Chinchilla Cage Tour DIY
This is a properly constructed chinchilla cage, easy-going and simple to make. You'll need a few accessories to make the cage more comfortable for your chinchilla. You can add an exercise wheel, a water bottle, hay, and every other function used by the creator. Check the link to learn more. Making a cage has never been this fun, it's super easy for beginners to assemble with ease.
10. Best Chinchilla Cage Build Project
The creator of this video tutorial guide used a single cage unit, it was quite expensive,  depending on the store you have around you. It's pretty easy to set up, but it doesn't have much room In it for any decorative accessories. It's quite small for someone with lots of chinchillas to take care of. Through the link, check the description below the video to learn more.
11. Setting Up A Naturalistic Chinchilla Cage
This video guide started with the creator pouring potting compost on the floor of the cage she already had at home.  This guide is more focused on how you can. Set up the accessories and important supplies for the cage, and not the actual building of the cage front scratch.  It's still a great guide,  but if this isn't what you're looking for, check the next guide right away. Although this guide is more about the setup inside the cage, it's quite an amazing setup, giving the cage a more naturalistic feel. Check the link to learn more, just in case it suits your needs.
12. DIY Cage For Chinchilla
Here is a metal cage for your chinchilla.   super easy to make and can be done in a few easy steps. This video guide is focused on showing you how it was made from start to finish. You'll need a welding kit for the metal square pipes of different dimensions and a few clamps. In addition, you'll also need square metal pipes and a few other items. The making process requires someone with fair knowledge of welding and metalworking projects.
13. How To Build A Chinchilla Cage
The creator of this video guide bought a simple metal chinchilla cage off Amazon and decided to make a short instructional video on how to assemble the cage perfectly for your chinchilla. This is one of the simplest guides on this DIY guide because all you have to do is watch the video and follow the creator through the making process, easy as pie. Check the link to learn more.
14. How To Make Ledges For Chinchilla Cage
Here is a simple guide for those with no woodworking skills like the creator,  you can totally try out this guide and it will work for you. You'll need wood boards, bolts, washers, wingnuts, and lots more. These tools are for the ledge of the cage, when moving to the interior,  you'll talk about colors and wood that will be cut into smaller bits. This is one of the most easy-going instructional video guides, it will be a shame not to try this project out.
15. Chinchilla Cage Makeover
This last chinchilla cage makeover is super unique, one of a kind, and should be a must-do for everyone. It's not a difficult task at all, as long as you have the required materials and tools ready, you're good to go. It's a metal chinchilla cage with wheels. It's light and easy to move from one location to another. This cage can take up to two chinchillas comfortably. If you're interested in giving this video tutorial a shot, hit the link and learn more now.
Conclusion
I hope you have found the right cage design and size for your chinchilla(s). This DIY guide is full of interesting and working cage ideas, so it's a bit challenging picking a guide. Well, that's the beauty of it, every guide is empowered with the right steps to help you get the job done, so get to work. Thanks for stopping by, for now; see ya!