Having a luxury home is exciting, the same way it's exciting to these tiny pretty guinea piggies. Once you decide to pick a guinea pig as a pet, you'd want to go all out for it, like giving it all your attention. This involves getting it a fancy, thoughtful house with toys and space to run around. The size of your Guinea pig cage will depend on the number of guinea pigs you got.
Are you thinking of buying a guinea pig cage? If you love extra and hate boring, purchasing a guinea pig cage is not a good idea. Besides being unnecessarily expensive, their designs are usually small, ugly, and boring. And the price wouldn't be so friendly when you get an excellent cage you love. So, what's the best thing to do? You should build a simple custom guinea pig cage. Building your cage shouldn't scare you. All you need is time, determination, and a tutorial to follow.
We have sourced 45 beautiful DIY guinea pig cage plans you can work on easily. Don't be scared to make a few adjustments to the DIY plans to fit your needs. With all the necessary materials, you can build any DIY fancy and sophisticated guinea pig cage. All you need to do is to follow the instructions in the tutorial. This way, you don't have to spend so much money, and you can build a comfortable home for your pet and a beautiful pet cage to fit into the aesthetics of your home.
1. Center Table with Guinea Pig Cage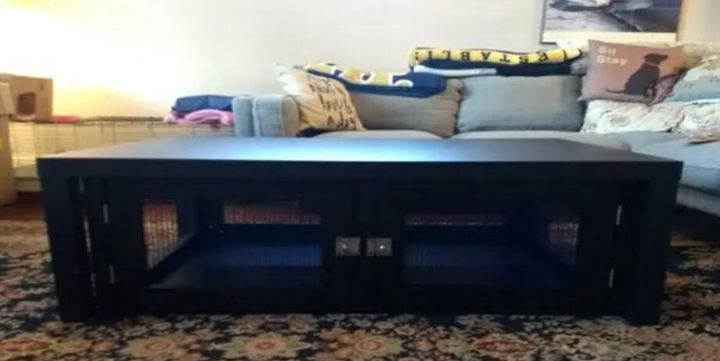 This is the perfect game changer if you do not have enough space at home. You can convert the space under your center table into a guinea pig cage, and this tutorial will teach you how to turn the area under your coffee table into a cage. Carefully go through the instructions, prepare your materials, and start building.
2. Beginner-Friendly Guinea Pig Cage Plan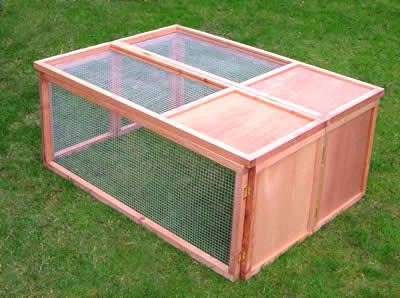 This cage is an outdoor run without any flooring. During the summer period, you can take it outside, and during the winter period, you can take it indoors. For this project, you will need wire netting, nails, wood frames, and plywood.
3. Cuddle-coddle Guinea Pig Cage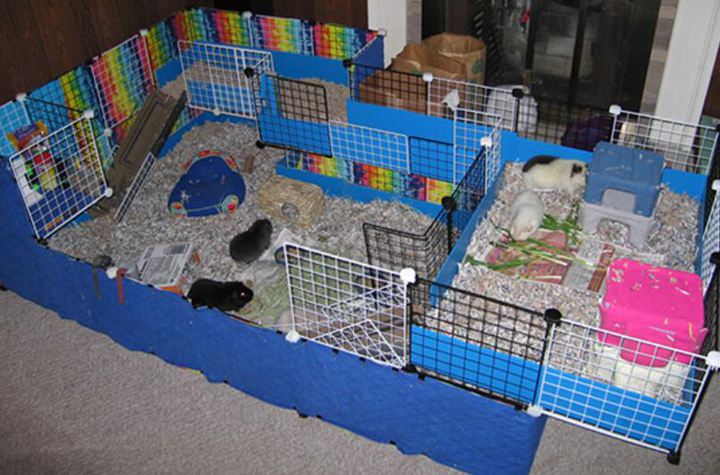 If you have more than one cute piggy, you can decide to make this C & C cage without spending much. This cage by Pet Rodent Care can house more than two piggies with enough space to run and play around. The maximum amount you should accommodate here is 4-5 piggies. The good thing about C & C projects is that it allows you to become creative without requiring special skills. You do not have to build precisely the cage you see in this picture; instead, you can get ideas from it.
4. Guinea Pig Pool Cage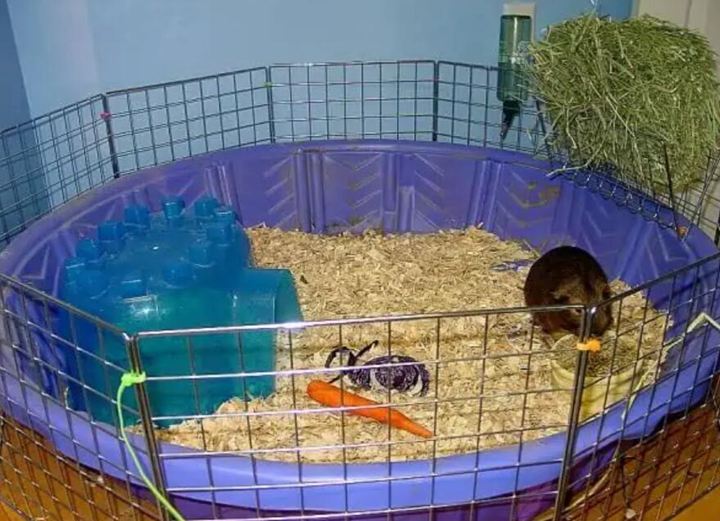 This project doesn't require much. You have the primary material needed if you have a kid's swimming pool already. Create a barrier around the pool using the square grid cubes to prevent your pet from jumping out. Lastly, attach a hay rack, water bottle, and other eatables the guinea pig would enjoy.
5. Simple Plywood Guinea Pig Hutch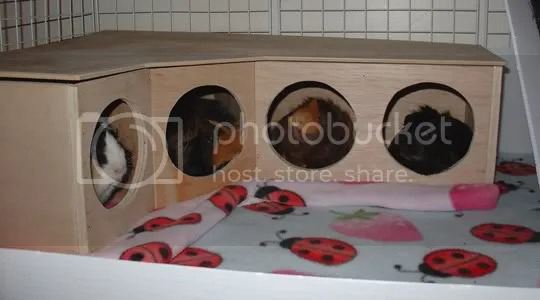 The designer made this piggy condo to fit four piggies. Follow the instructions in this tutorial carefully to build your piggy condo. This condo will be placed inside your cage or run. The condo is like their bedroom, where the pet sleeps after playing hard in their run.
6. Basic Guinea Pig Cage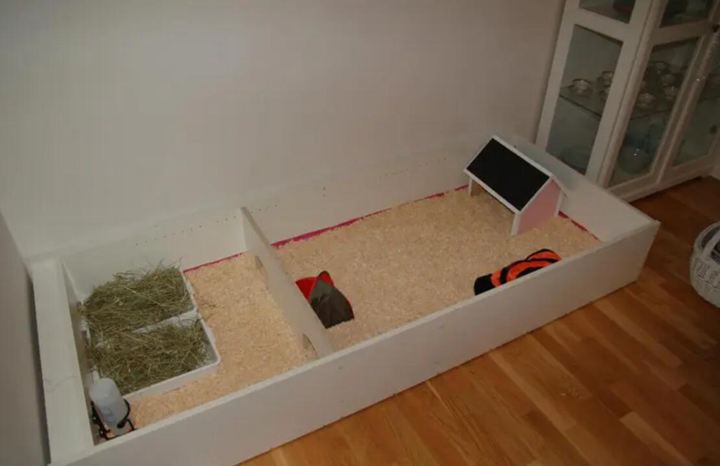 The design for this cage is very basic and yet, so classy. Also, anyone in love with this elegant design can embark on this project. All you need is to get wood of a certain width (depending on the height you want). Then a few nailing at each corner and some materials to place inside the cage like a condo, water bottle, and hay container.
7. Cardboard Guinea Pig Cage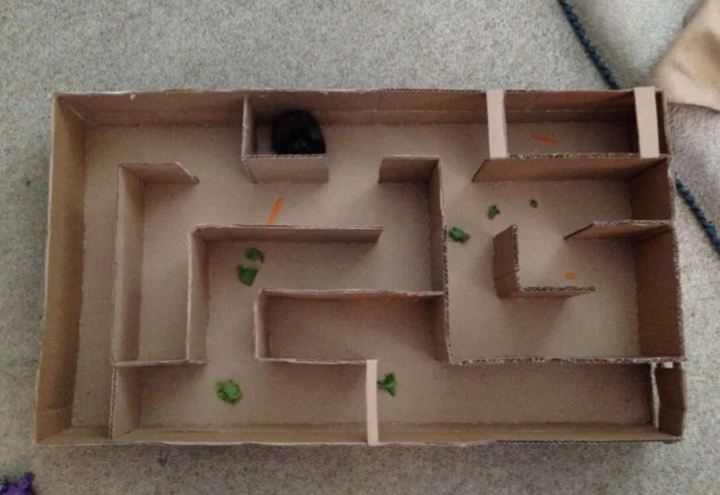 Are you looking for a super easy and temporary cage for your pet in the meantime? You can try this cardboard design. You are expected to have an idea of the pattern you wish to create. The next stage is to cut out pieces and start gluing them into place, and you're done. Your kids will love to work on this one. No tutorial is available.
8. Guinea Pig Plywood Cage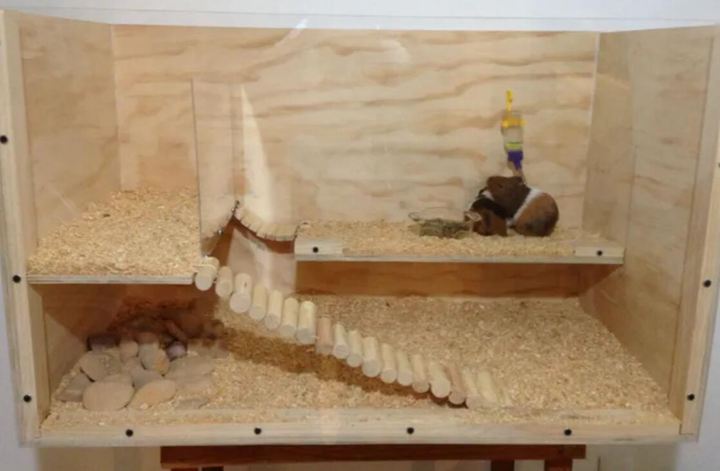 This cage is another simple project, aside from the mesh-type cage, for people with minimal woodwork skills. I also have to add that this isn't costly at all. Get plywood and cut then into three rectangular-shaped boards. The length and breadth of the boards will depend on the cage size you want. The opposite boards should be equal; hence, get plexiglass similar to the opposite plywood. After nailing all the corners, as seen in the picture, your pet cage is ready. Remember to make your ladder too!
9. Elevated Cardboard Guinea Pig House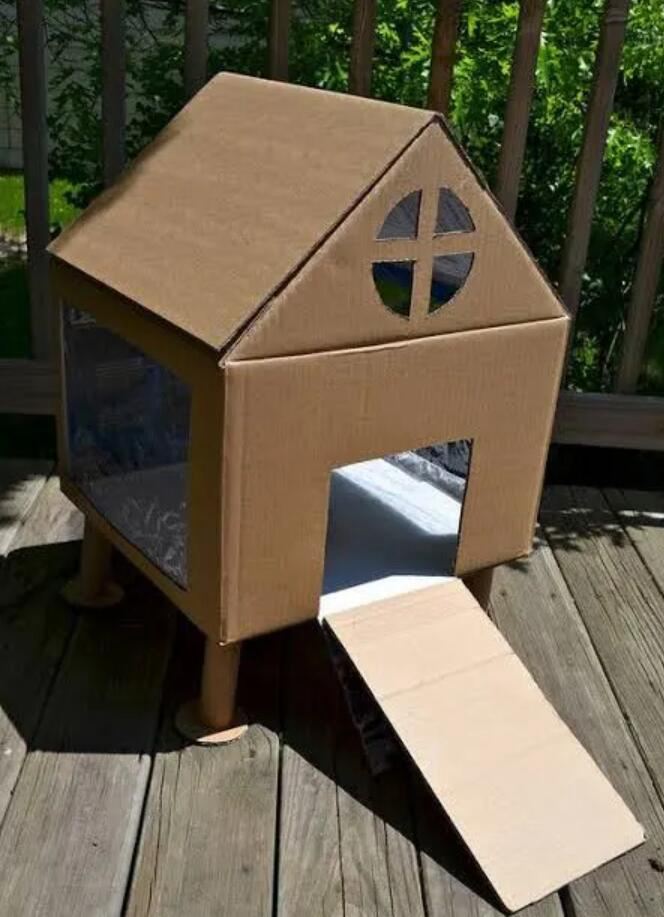 Here is another cardboard design you can try out for your guinea pigs. Get cardboard, draw all the sides and carve them out. Finally, use a hot gun or glue to join all pieces together. There you have a small piggy house to place in its cage.
10. Spacious Guinea Pig Cage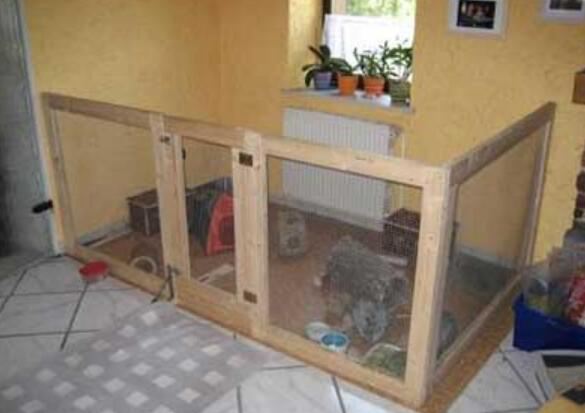 Here, the designer took a corner of the house, added a mesh-type boundary, and his cage was ready.
11. Guinea Pig Penthouse
Follow the instructions carefully listed on Instructable.com to build this guinea pig penthouse.
12. Cheap Guinea Pig Run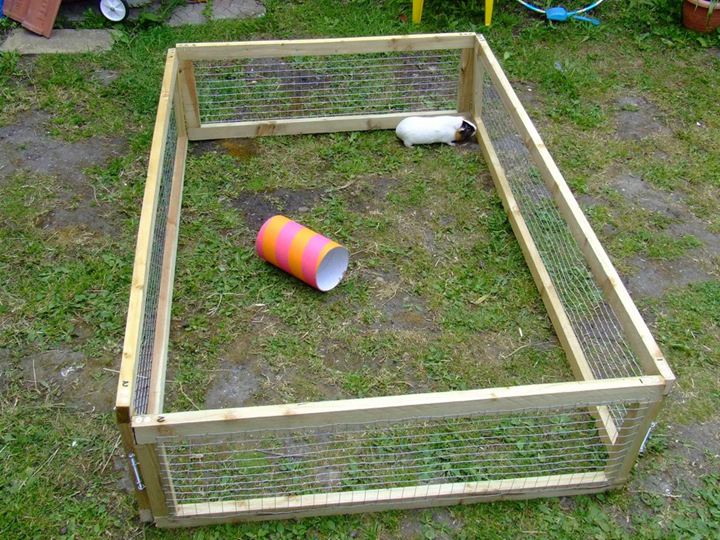 Do you want to try this out? This enclosure is perfect for the summer. Also, this cage will come in handy whenever you feel like taking your pet outside with you, any time of the day. You can place this enclosure close to you with your piggy while concentrating on other things without fear of getting lost. This is an easy project for any novice at carpentry, and if you're a pro, you can make a collapsible type.
13. Plastic Guinea Pig Cage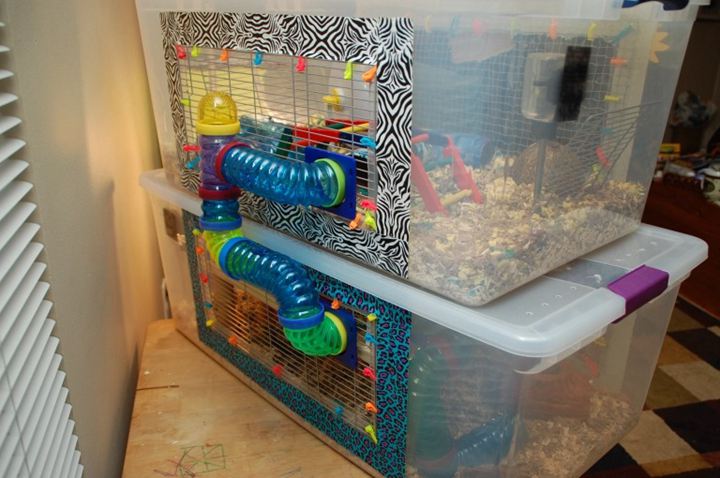 No wood is needed here, so if you want to take a break from wooden projects, you can try this out. Did I also mention that this project doesn't even cost much? Check your kitchen or laundry to see if you can find any old plastic containers. You can try this DIY from Hammy Happenings when you lay your hands on one. It doesnt cost much to make, and other materials needed are grid mesh, tapes, zip ties, and other cheap materials you can easily get at a dollar store.
14. Large and Sophisticated Guinea Pig Cage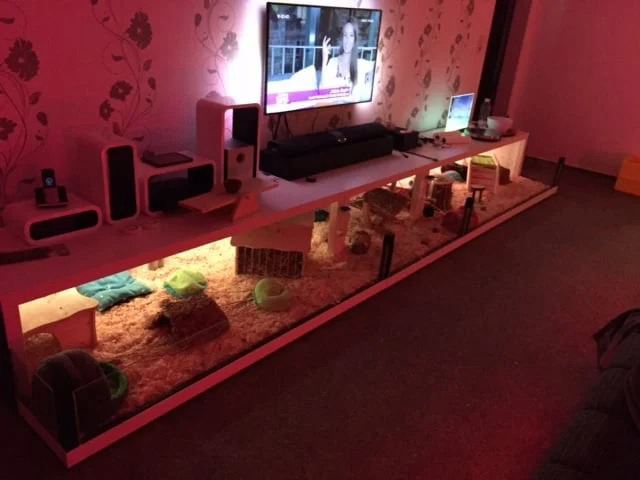 This project requires a certain level of carpentry skills. It's large, highly sophisticated, and fits perfectly into your living room decor. Get ready to receive a lot of compliments as it will be the center of attraction whenever you have anyone over. You can find the tutorial for this project here. Lastly, your pet will be happy to have such a wonderful, high-end home.
15. Double Story Cage Plan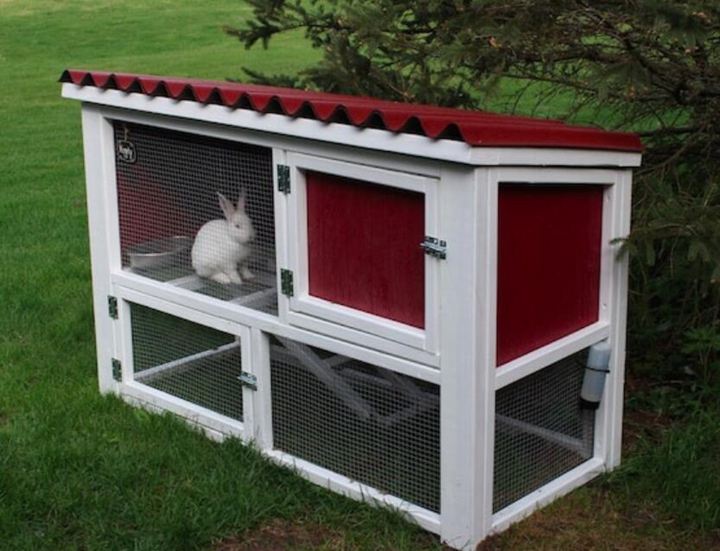 This beautiful two-story cage was initially designed to be a rabbit cage but can also serve as a guinea pig hutch. The cage has a run below where it can play during the daytime. All materials required for this project are listed in the DIY tutorial, alongside the steps and instructions for easy understanding.
16. Spacious C & C Cage Plan
This spacious C & C cage is easy to make and comes with a large run. The design style will help you manage your space because you can store pet supplies under the cage. You should replicate this style if you have enough room. After building, you can sit back and watch your guinea pig run up and down with excitement, not being cramped for space. Get the tutorial here.
17. Decorated Wood Cage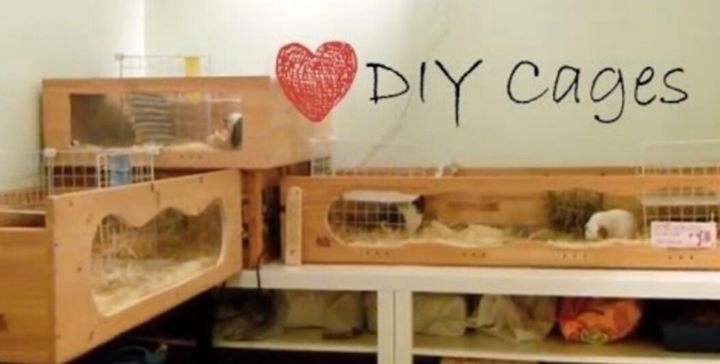 The video from Pets Palace TV took us on a detailed tour of their DIY cages. This tutorial will enlighten you on what you'll need when creating a wood cage for your guinea pig. This cage is stunning, and you can decide to adopt the wavy-curvy cut-out design. You will also need essential supplies to make your guinea pig more comfortable, like toys, square grid cubes, a water bottle, a hay rack, etc.
18. Luxurious Guinea Pig Cage Plan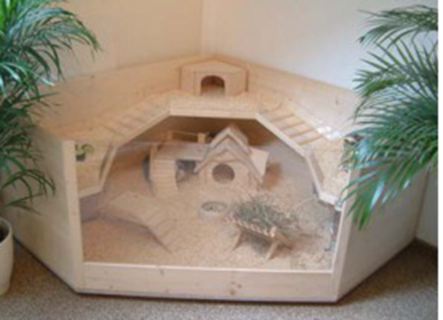 Are you a professional craftsman? This particular design takes a lot of skill to make. These transparent Plexiglas railing also serve as a door for this design. This is because the Plexiglas plate is removable and gives you access to the animal. It also enables you to have access to the cage for easy cleaning.
19. 2-Level Cage Plan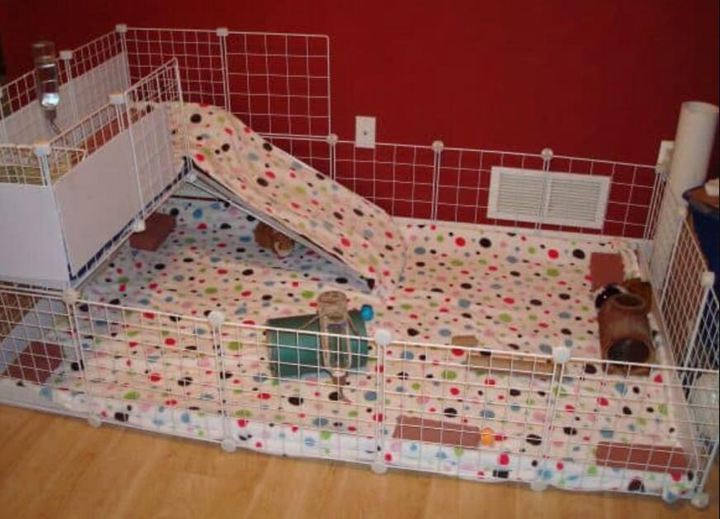 This is another design you can make using coroplast and grid cubes. This cage has an upper level with a ladder for the pet to run up and down. Don't worry if your pet is not adventurous enough to run up and down the ladder. It will learn with time, and you can try dropping food at the upper level as bait. Also, if you are worried about your guinea pigs jumping out of the cage, you can set your heart at rest because they won't. However, If they eventually do jump through when they get older, you can add another level to it.
20. C & C Cage with Blankets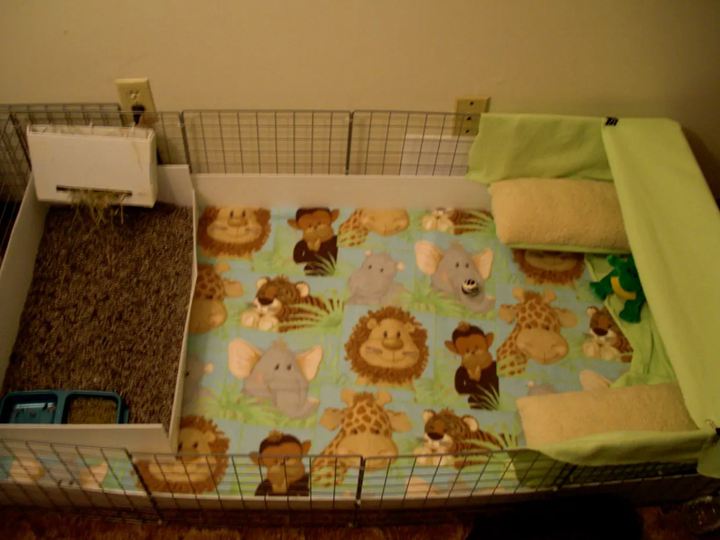 This cage is a 2 X 4 feet cage made out of coroplast and grid cube squares. This design doesn't require any particular skill. A beginner who loves to get crafty can try this out. Pet Helpful has put together the steps to follow to achieve this guinea pig cage. You can add blankets and toys to make your guinea pig more comfortable. Use coroplast to make a smaller base where you could drop its food for it.
21. Carton Cage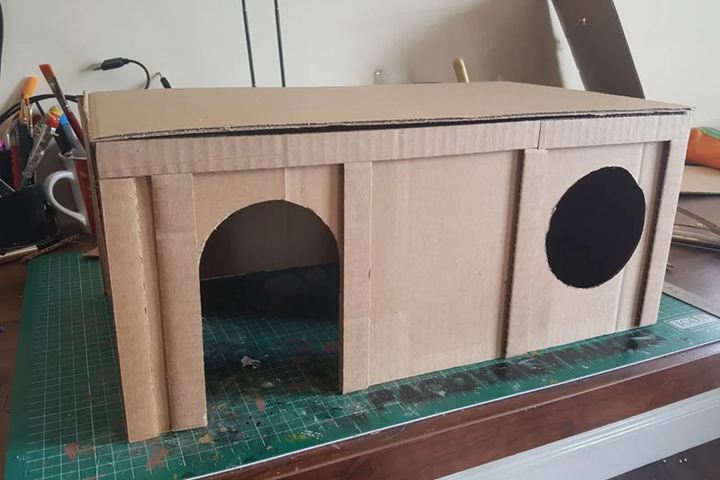 To create this, detailed instruction is available on instructables.com, which is easy to understand and follow. You will need enough cardboard, a knife, and glue. This cage is for two guinea pigs, so if you have more than two, you can follow the same principle to make more. Also, you can use the same understanding to create more room.
22. Wooden Plank Enclosure Cage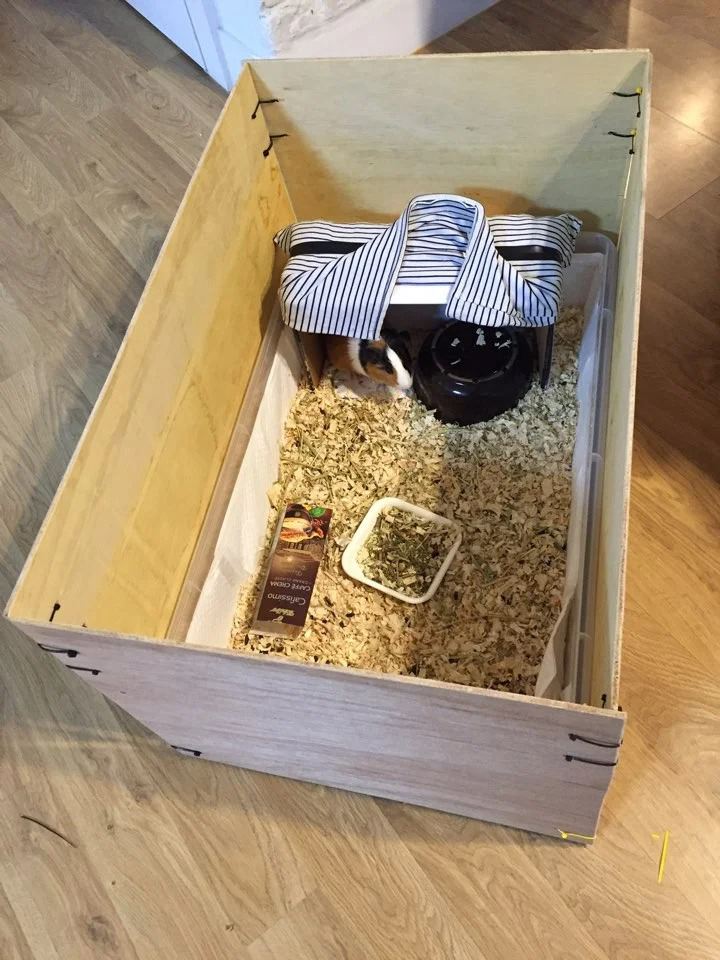 If you don't want to do much, then this guinea pig cage from Instructables is something you should consider. This enclosure is cheap to build because it doesnt require many resources. This enclosure can be expanded when needed, especially when you want to create more space for it to run and play around without it breaking out.
23. $20 Guinea Pig House
You do not need excellent carpentry skills, just a few basics, and you will be able to accomplish this guinea pig house. This project cost roughly $20 at the time the designer made it. The house is lightweight and sturdy and can be carried around easily. This house also features a run on the roof area of the house.
24. Small Wooden White Cage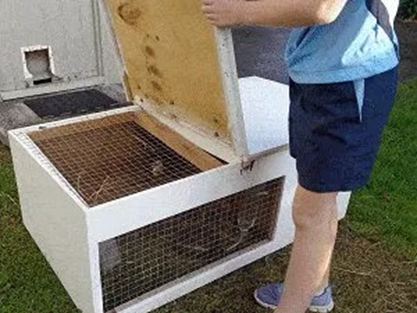 This outside cage is perfect for placing guinea pigs on the green grass during summer since they like to eat fresh grass. This cage has no floor, and it is moveable. Therefore, you get to take the cage indoors during winter. If you want to make something like this, you can follow the plan in this tutorial.
25. Double-Story Guinea Pig Cage
This wooden cage can house 2-4 tiny guinea pigs. This is possible because the designer made good use of the available space when he decided to make a double-story cage. Now, the guinea pigs have enough room to live happily and comfortably.
26. Shelf-Like Guinea Pig Cage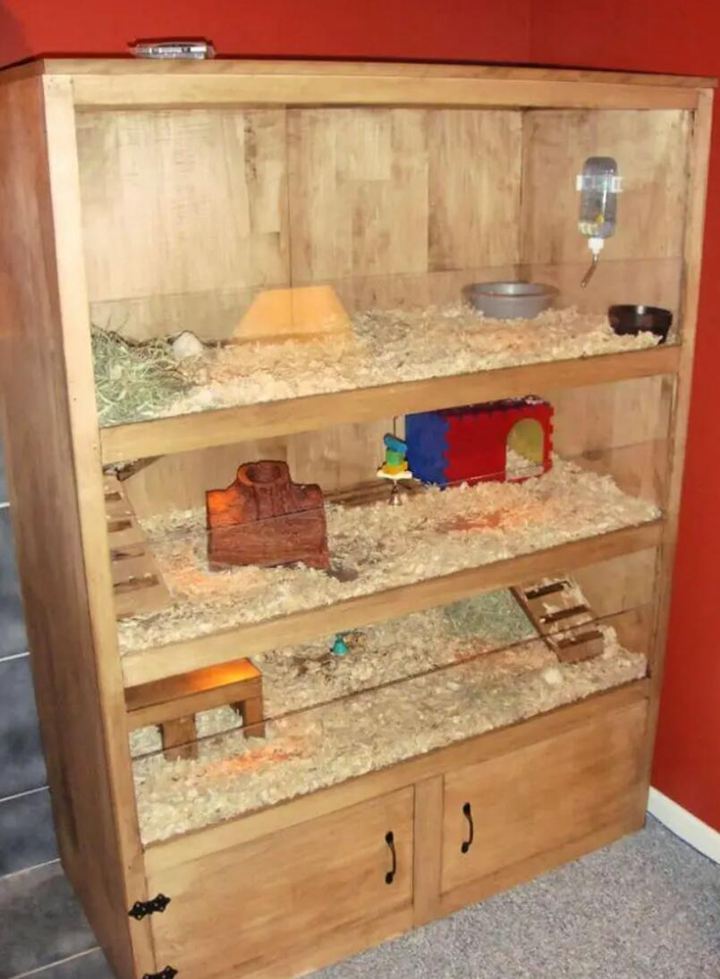 This shelf-like guinea pig cage features three levels with ladders and a Plexiglas front. You can decide to place two guinea pigs at each level. The bottom shelf with wooden doors can be a storage section for pet supplies. This is a functional design, so if you have an old bookshelf or dresser, you can repurpose it into this beautiful guinea pig cage.
27. Dollhouse Cage
This is another beautiful guinea pig cage made using a dollhouse. If your kids have overgrown their dollhouse, it is the perfect time to convert the dollhouse into a cage for their adorable pet. Add flooring to make the floor comfortable and open up holes that your PVC pipes can fit through perfectly. This PVC pipe will serve as a pathway to access other rooms. Finally, use chicken wire or mesh to create a door to cover the open area.
28. Simple Three Layer Dresser Guinea Pig Cage
This cage was made from an old dresser. You do not need to start from scratch, you only have to look for an old dresser you are not using or any dresser you find in a garage sale. Install floors depending on the level you want your dresser to be, and use flexible drain pipes to connect one level to the other. The last thing will be to make a door for the cage using chicken wire to prevent the pet from breaking out of its cage. This tutorial from Instructables.com will show you all the steps and procedures they took to complete this task successfully.
29. A Guinea Pig Mansion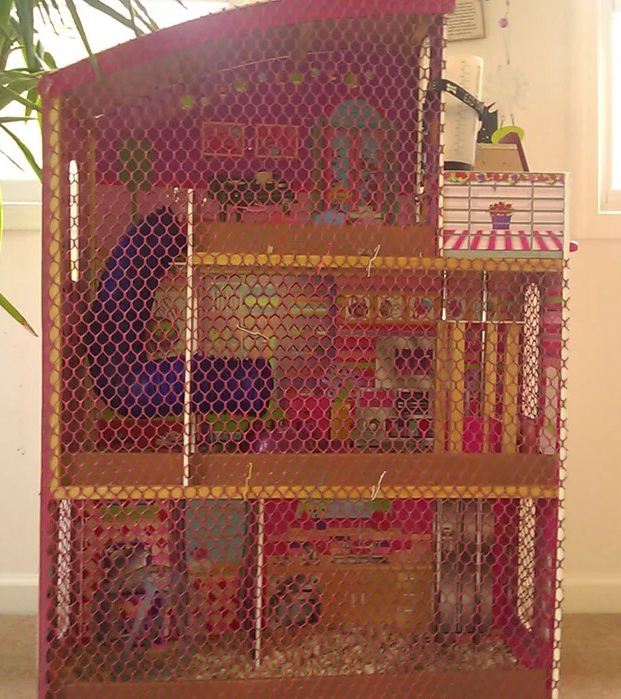 Do you want to build this sort of mansion for your pet? It really must be lucky to own this big house. The designer used her child's dollhouse to make a home for the guinea pig since she had outgrown it. The designer found all materials she used for this project in the house. She didn't have to spend a dime! This can be you too. Go check out the tutorial at Instructable Living.
30. Guinea Pig Cage By Pampered Piggies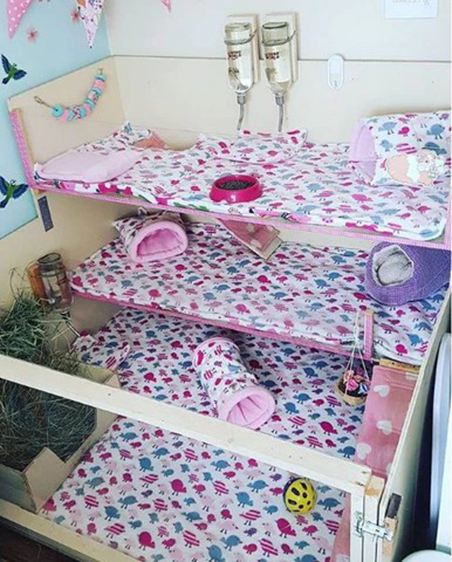 This shelf-like cage has a bottom dimension of 135cm X 121cm, while the other level measures 135cm X 55cm. The cage can house five guinea pigs comfortably. Do you want to try this plan? Check the tutorial for the steps to follow. Pampered Piggies took the time to list the materials you need and the links to where you can get them.
31. Outdoor Cage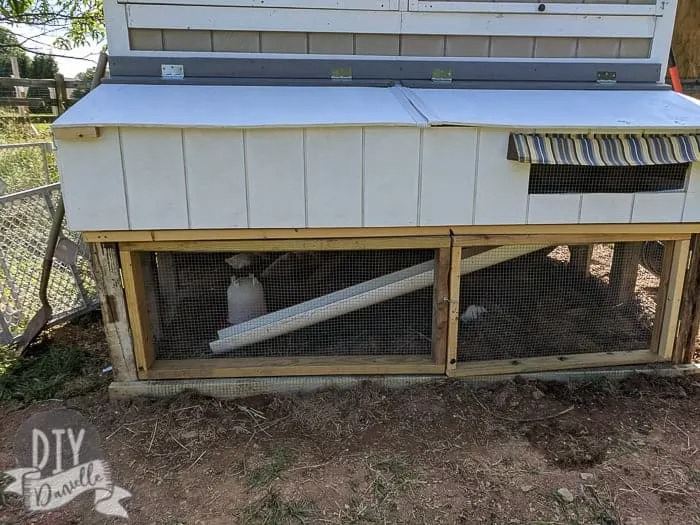 This outdoor cage is by DIY Danielle. There are many reasons why you may decide to go with an outdoor cage. While you are at it, you have to consider all the safety precautions that will keep your pet safe and happy. Make sure to close any gap or hole to keep it from roaming off or prevent predators from coming in.
32. Adorable Guinea Pig Shed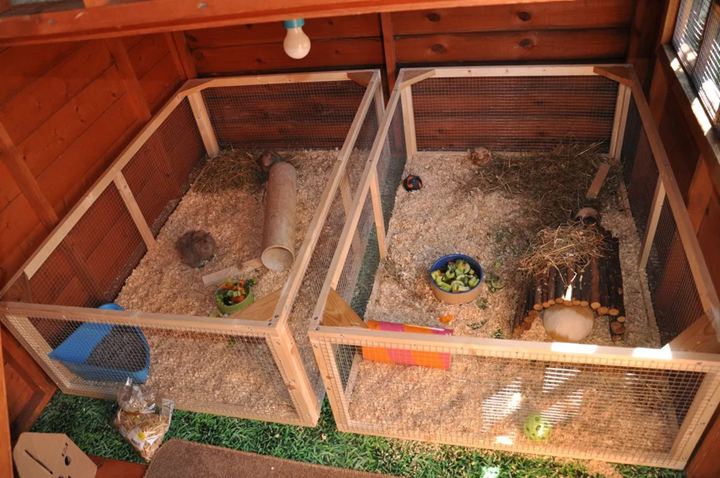 Here is another DIY guinea pig cage from Instructables. This cage is easy to build and doesn't cost much. The cage is also easy to clean and well-ventilated to prevent bacteria from spreading throughout the cage and harming your pet.
33. Guinea Pig Cage with Extension
This cage is excellent and comes with an extended run. Here the guinea pig can run around and play. If you are new to woodwork, you can take up this project since the instructions are pretty easy to follow. Also, if you're used to some woodworking tools, this project will take you a few hours. That's how easy it is to build this.
34. Grand Red Guinea Pig Cage
The size of this guinea pig cage is 2m X 3m X 1.3m, and the materials we need for this are wooden bars, boards, plywood, PVC panels, and paint. You can get the how-to create this cage tutorial with clear instructions from Instructables.com. This project took five days, but if you have help from adults, it will take you less to complete.
35. Beautiful and Easy C & C Cage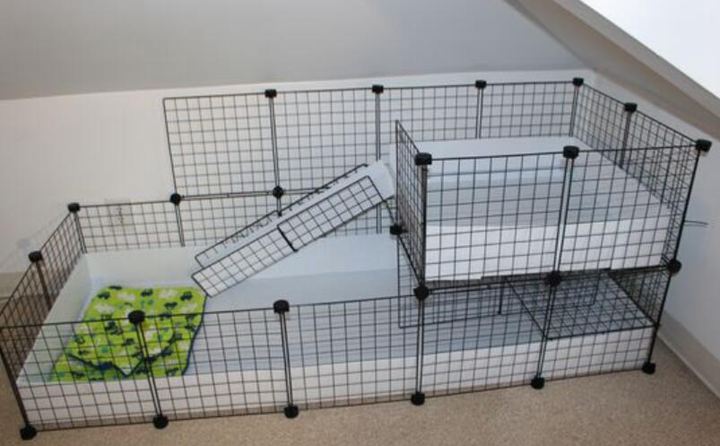 Here is the tutorial on building this C & C cage for your pet. It does not require any wood or drilling; hence, it's a perfect choice if you don't need a wooden cage. You can also watch this video for a better understanding.
36. Cool Dresser Guinea Pig Cage
It's time to recycle that old dresser of yours. You don't have to run around looking for the perfect cage for your guinea pig when you have the masterpiece under your roof. Get into action by recycling this old dresser into a guinea pig cage.
37. Lovable Guinea Pig Cage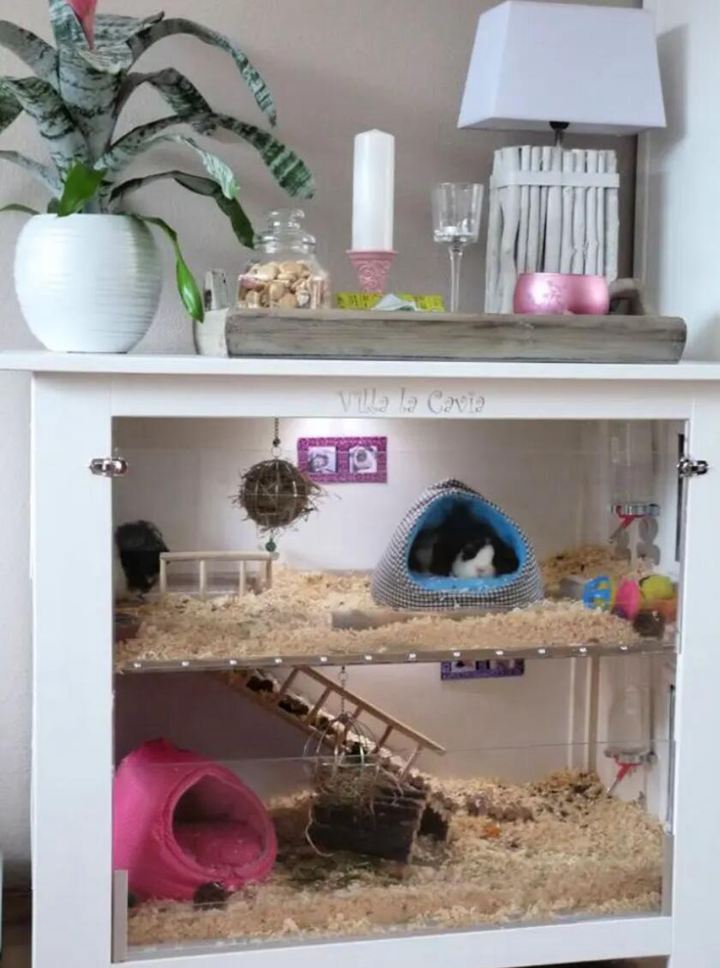 You will agree that this beauty here will really make your pet happy. This white guinea pig cage matches the home decorations perfectly well, and inside the cage looks so comfortable with all the decorations, especially the sleeping bags.
38. Guinea Cage with Ladder and Bench
This cage looks so fun and offers enough space. It is an elevated cage; hence, you can use the space below to store pet supplies.
39. Simple Guinea Cage Made with Chicken Wire
Join your wood frames to make this, then use a staple gun to attach the chicken wire to the edges. You can follow the instructions in this similar tutorial if you don't know where to start.
40. Box Guinea Cage
This tutorial from Instructable Living teaches you how to make this 2-in-one resourceful cage. This cage is elevated in such a way that the top part is the cage that houses two piggies comfortably, and the down position is a storage cabinet. You can work on this with your kids during their playtime or holidays.
41. Fancy Guinea House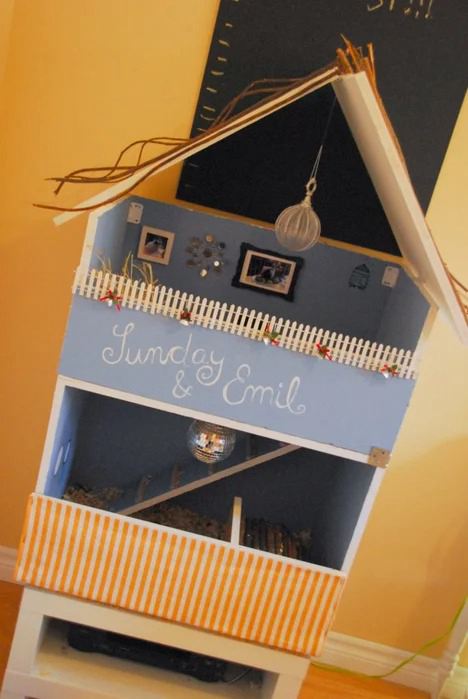 This DIY cage from Instructable Living is a mini luxurious homemade for Sunday and Emil. The designers of this cage put together detailed instructions with pictures, so anyone who loves it can replicate it. You can find most of the materials used in this project in your home already. Once you have everything ready, it will take you 30 mins or less to assemble this beautiful piece.
42. Iron Guinea Pig Cage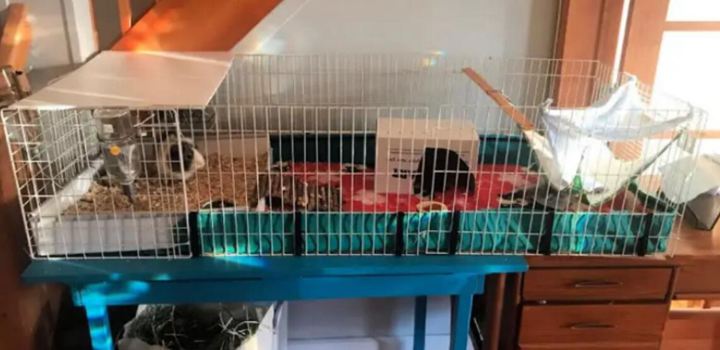 If you still have issues with how to set up C & C cages, then this video tutorial can help you out.
43. Wood Guinea Pig Cage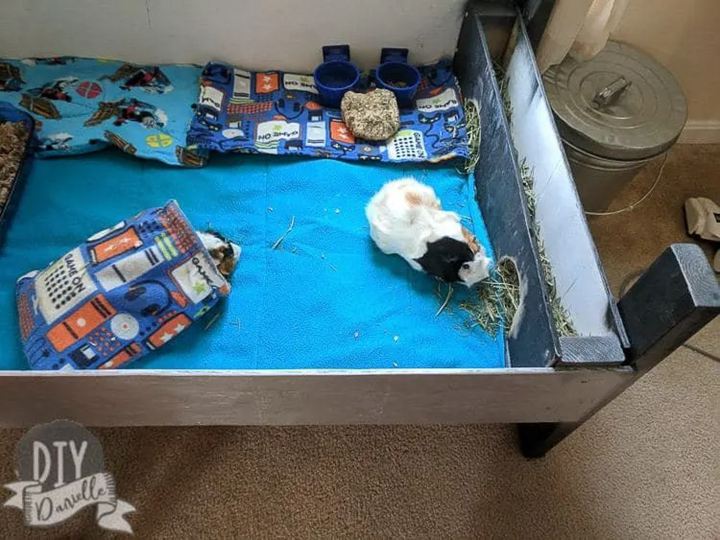 Do you have scrap wood lying around? Then you can make this super easy cage that can house two piggies. The designer of this project doesn't have professional experience in woodworking. In fact, the designer is an amateur woodworker. This means you can stop giving yourself the excuse of not having much experience in taking up this project. All you need is determination and all the necessary materials, of course...LOL. DIY Danielle will guide you on making this off-the-ground guinea pig cage.
44. Two-Level Guinea Pig Cage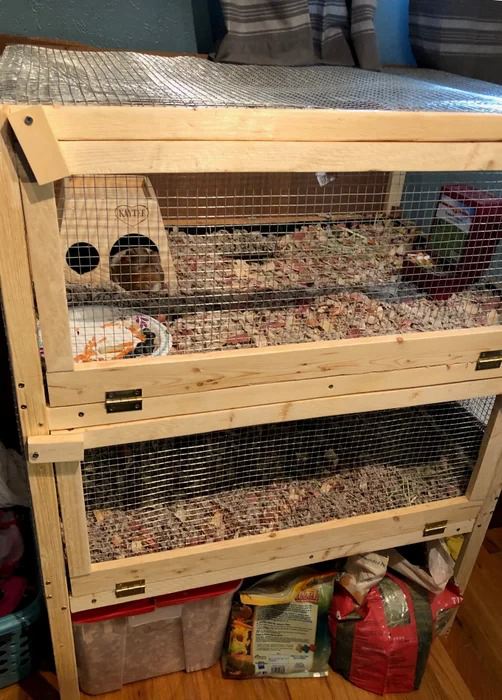 Suppose you have a few woodworking skills, like working with a saw to cut your wood into desired pieces. And you're also familiar with using power drills, nail guns, or staple guns for joining your wood. Then you should try out this two-story guinea pig cage by instructables.com. This tutorial will guide you on the lengths and dimensions you need to cut your wood into. It also teaches how to make the floor for the cage, the door, and the joining of the wood.
45. C and C Style Guinea Pig Cage
This might look a bit like a high-end design, and you might be wondering if you can pull this off. The answer to this is Yes. You have to follow the instructions laid out by Craft Me Happy. You can adjust the dimensions if you wish to make a smaller or larger cage. Meanwhile, all resources used here are cheap and easy to get.
Conclusion
The main idea behind this DIY, is to bring cheaper and easier options to you. Before choosing a project, look through the materials required and try to get all of them available before starting. This step shouldn't be overlooked because it is the common cause of always having a half-completed project.