Pig pens can be a great addition to your backyard. However, if you build your own pig pen, you can surely enjoy some money-saving benefits. A simple DIY pig pen may cost you around $250 to $500 at most, compared to the readymade ones that run from $1,200 to $3,000 or more. Imagine how much more savings you can get from building it yourself than buying it from the market. If you love building stuff, this article is going to give you an idea of how to do it.
Building a pig pen is quite a task. Especially if you do not have much experience building pens. Besides, pens built by amateurs usually fall apart after some time. That's why it's important to understand that the success of your pen will depend upon many factors like your abilities, tools, and materials which you use, etc… This article will show you a couple of ways to go about building a pig pen.
1. DIY Simple Pig Pen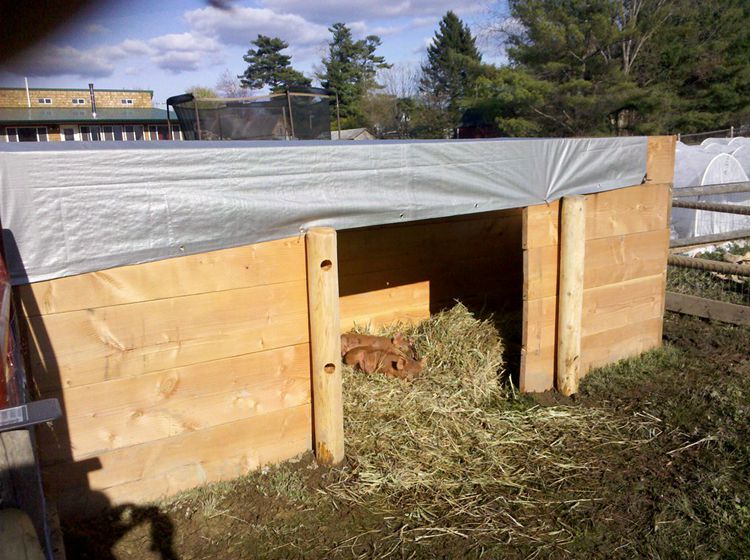 Check out this simple pig pen built with bamboo and wooden sticks. The plan is very simple and doesn't require much workforce and cost. The first and challenging part is securing the perimeter of the pen. This is challenging because there is no foundation; all you need is to dig holes around the edge and install some Bamboo to secure the perimeter. After that, at the cross beams to the poles. Now, it's time to install the foot gate and latch post. thehomesteadingboards
2. Mini Pig Pen Build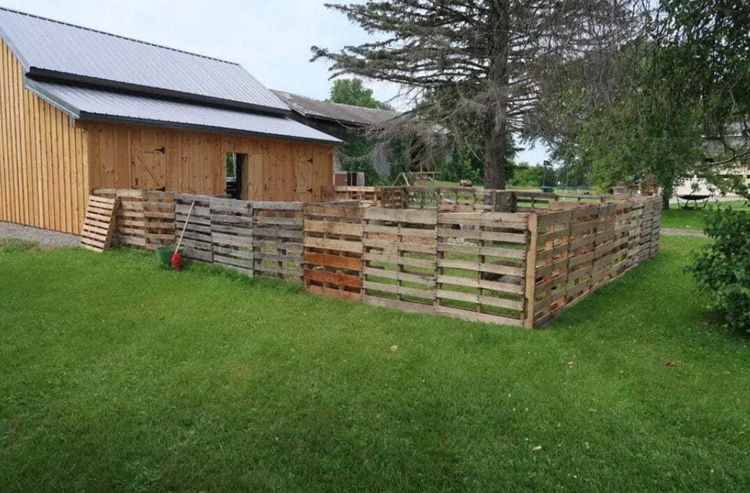 With good creativity and time, pallets wood is an all-around functional material in any DIY wood project. If you're wondering how to turn your pikes of pallet wood into something unique and important like a pigpen, this guides us all you need to sort your curiosity. Unlike other pallet wood DIY that requires you to disassemble the pallets and use the pickets individually, here, you can use the pallets as it is. This will make the fence sturdy and strong, but you will need a lot of pallets. thefrugalfarmgirl
3. DIY Simple Pig Pen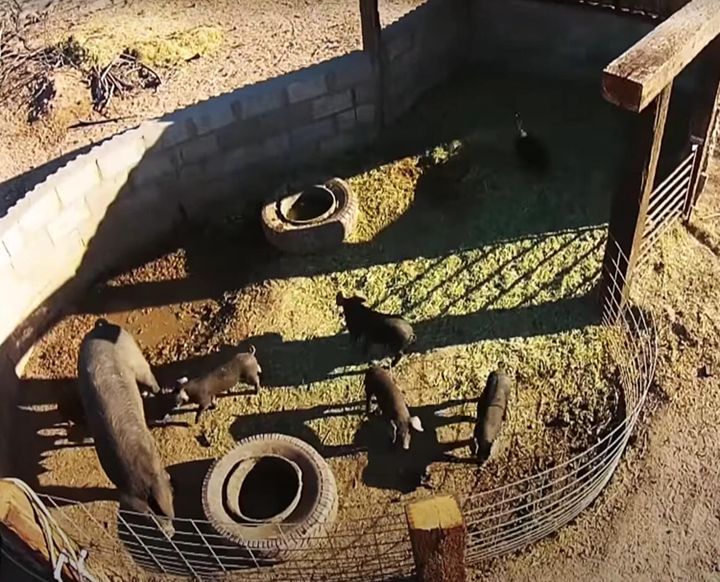 Here's another tutorial with a unique and straightforward approach to building a pigpen. This project should take 3-4 days to complete if you spend at least 3-4 hours in everyday with the build. You will need lumber, concrete, and a couple of other materials and tools. The pig pen can house a good number of pigs; you can make yours smaller or bigger, all you need to do is adjust the numbers. homesteadlifestyle
4. How To Build A Pig Pen
Here is an amazing plan for a low-budget pig pen! The pen can be built using pieces of wood and hog fencing. The dimension of the pen is 16×8. The design is very durable and provides your pigs with a comfortable environment for growing. Another amazing feature of the pig pen is that it has an efficient waste-free feeding trough and automatic water outlet.
5. How To Build African Pig Pen
Practicing pig farming in Africa is a great business but the cost of setting up the farming is most of the time very huge and scares people away from it. To make pig farming easier for you, here is a guide that will analyze the cost and effective methods required to start with pig farming (especially, owning a durable pig pen). One of the most crucial things to take care of is an efficient water source. Because water is very essential for pigs.
6. How To Build A Pig Pen
Building a pig pen from scratch can be exhausting when it is done alone. If you want to get the pen done fast, you need assistance with the project. The first thing you need to do is determine the pigpen's dimension. Then, dig holes around the perimeter and drive in poles on the four corners. After that, you can start working on the walls.
7. DIY Pig Pen
All you need for this DIY pig pen include hog panels, T posts, T post driver, galvanized tie wire, and hammer. The t post will be used for the actual fencing. You will need some dance clips to attach the hog panels to the fence. For the corners of the pen, you need the galvanized tie wire to secure them tightly.
8. Pig Pen Setup
If you're just starting with pig farming or you're looking for more efficient ways to take care of your pig, this video tutorial will help you with everything you're looking for! The setup of the pigpen was amazing, fast, and has enough space that can accommodate a certain number of pigs. However, the pig pen looks mucky and nasty but that's what the pigs love. It might be unsanitary, but the pigs might not like it if the whole place is cleaned up. I think it's the nature of the pigs.
9. DIY Modern Pig House
With modernization, everything becomes easier and amazing. This pig house has a lot of features that qualify it to be a modernized pig house; among the features is the iron gate, separate rooms for different activities, a water source that runs into the house, and a bath. Imagine your pigs bathing! I know that's hilarious, but it is amazing and healthy. Also, the reason for an iron gate is because the pigs can eat up the wooden gate commonly used for the house. And always ensure any gate/door in the pig house opens outward.
10. DIY Pig Pen Build With Automatic Water
The wood and bamboo used for this pigpen are covered with metal so that the pigs will not chew them up. You need to cover the pen with a roof, preferably a metal roofing sheet to keep the house warm. Always ensure the roof's back is sloped while the front is regular ( to direct the rain).
11. Twin Pig Pen DIY
Once you understand the concept behind one of the pig pens, you will be able to build the other with ease. The design started from excavating the walls, footings, and columns. Then, concreting the footings, columns, and pedestals. After that is the installation and concreting of the four walls. You can concrete all the floors and then install steel guards in the concrete walls.
12. No Smell Pig Pen Build
Here is a simple plan for a backyard piggery! The piggery is built in such a way that there are no flies nor any smell. It is very clean! With a clean environment, your pigs will grow healthy and strong. However, there is one disadvantage if you build your piggery structure with concrete because it is too cold and this won't allow the pigs to get water after eating. With this, they accumulate fat and their weight reduces.
But in this guide, the floor is covered with sawdust, which keeps their body warm and they get thirsty. Once this happens, they get water after eating and this will produce beacons which will increase their weight.
13. How To Make No Smell Pig Pen
As seen in this video tutorial, you need to lay the foundation of the pigpen as though you're laying the foundation of a normal house! It is always good to have a plan of what you want to build at hand. This will give you insight into how to lay the foundation.
After the foundation, lay some bricks and seal them in place with a mixture of cement and concrete. Once you get to your desired height, leave the walls to dry and start looking for ideas on how to cover the floor. You can choose to plaster the floor with cement then cover it with other materials like sawdust to keep it warm.
14. How To Build A Hog Pen
A hog pen is a simple building that provides your pigs with a roof over their heads and protects them from rain and cold. This hog pen idea is a simple one. And the materials required include hog fencing, OSB sheets, 2×4s, and 4 metal poles.
When you have all these materials and others listed in this video, the next thing you need to do is to start drawing the plan of what you want to build. It is totally fine if you want to use the same plan as the instructor in this video, but you can modify it if you feel the other way round.
15. How To Make A Low Budget Pig Pen
A wooden pen is among the low-budget pig pens you can make and this is because wood is very accessible. You can find them lying about in your home, workshop, or areas. For this amazing pigpen, you need two kinds of wood; for the sidewalls, you need bamboo and wood. For the floor, you need stone chips, sand, and cement. However, to keep the floor warm and safe for the pigs you need additional layers of materials that will cover the surface of the cement. See the link below to know more about the low-budget pigpen.
Conclusion
Are you looking into venturing into pig farming? Or you've started the business but don't know how to go about the cost of a pig pen! Here are 15 DIY amazing pig pen guides that will teach you how to build a pig pen by yourself with basic materials.
The cost of building the pig pen listed in this article is affordable compared to hiring experts to build the pen for you. The cost is low because there is no labor cost, and you can buy the cheapest materials you find to build the pen.