Finding a good goat hay feeder plan is quite a task. Have you ever considered building your own goat hay feeder? If not, perhaps you should consider doing so. The main reason is that it's much simpler than you might think and doesn't cost all that much either. The hay feeders you can buy at a store are beautiful, but they vary in shape, size, and price. On the other hand, if you like to spend your time creating a project yourself, then you should try building a goat hay feeder.
It can be quite difficult to know what to do with your goats and how to take care of them. The amount of time, money and energy you put into them needs to be worth it. I have collected various building plans for goat hay feeders by other people in order to help you decide what you want for your goats and if you are able to build it.
1. Cheap Hay Feeder For Goats
Hay is the most likely feed for a goat, but due to the goat's increasing demand for food, they rush on the feed and make a mess of it. To avoid this situation, you need a hay feeder to help your goats have an organized and less wasteful mode of feeding.
2. DIY Goat Hay Feeder
Goats tend not to eat from dirt or anything that is dirty, yet they thrash most of their feeds and waste 50% of the feed at times. This ultimate goat hay feeder is going to put an end to such a level of wastage. It is made from wood and hog fencing.
3. Building A Goat Feeder That Works
See here how to build a goat hay feeder that actually works! There are many designs of hay feeders but at the end of the day, most of them are not very effective. But this particular plan will be effective and functional. The first thing you need to do to put this together is to cut some wooden board into pieces and then cut it down to the length needed for the feeder.
4. DIY Goat Hay Feeder
The materials needed for this hay feeder include wood /metal, screws, steeples, and welded wires. This guide also. provide a list of all the cuttings needed for the feeder. You can click the link below to access the list of materials and cutting.
5. How To Build A Hay Feeder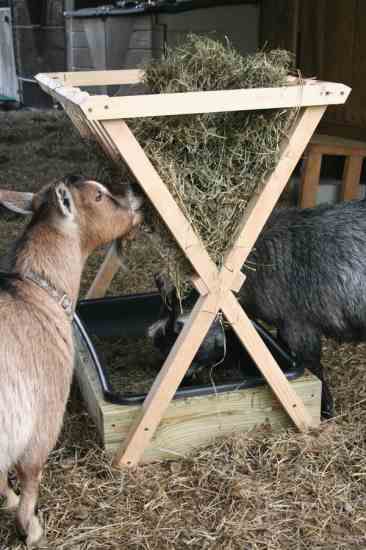 This guide breaks the process of making a hay feeder into three sections. The first section is how to prepare a hayrack, the second is a hunk feeder, and the last is the foundation. with those three sections, you can have your hay feeder. It is very easy and cheap to make. grit
6. Wall-Mounted Goat Hay Feeder
You need to check out this wall-mounted goat hay feeder!  It is made out of pallet wood! One pallet is enough but must have gaps to allow the goat to feed. Other materials you need aside from the pallet include wood screw, cordless drill, hammer, and some scrap wood. roughandtumblefarmhouse
7. Hay Feeder Rack Plans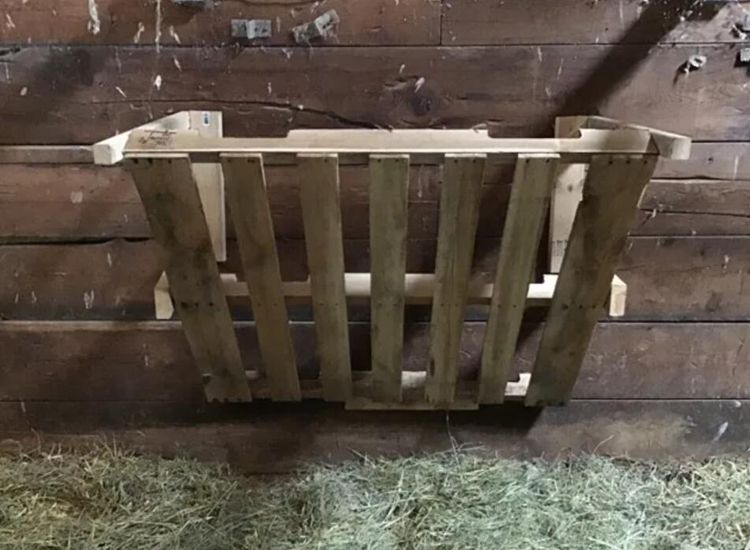 Hay feeders should be an essential part of farming equipment, as it enables hay to be accessible for your livestock all the time.  Let's see how to DIY this amazing hay feeder for your farm! First, build a steel frame for the feeder as shown in this guide, then you can start welding all the other parts to it. kurraglenindustries
8. Hay Feeder For Goats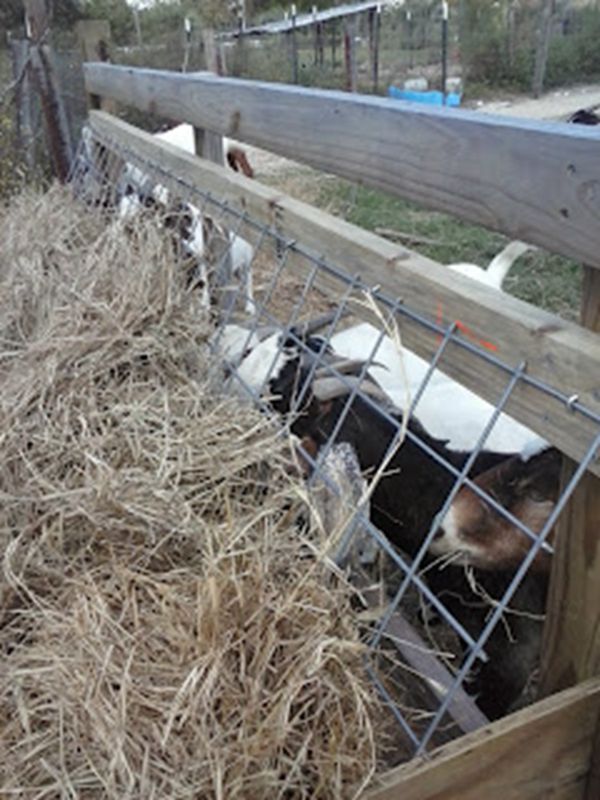 Are you looking for a wonderful plan for a hay feeder? Here is one made out of pieces of wood, wire netting, screws, and some other hardware. It's high time to stop wasting, gather the Materials, and read this guide to get started. challengedsurvival
9. No Waste DIY Hay Feeder
See this DIY no waste hay feeder made from IBTC totes! All you need to do is to get the tote and remove some of the corner support,  cut through the bottom, and fold it up a little bit. Let's see if we can have a hay feeder after these simple steps.
10. DIY Goat Hay Feeder Plans
Making DIY allows you to customize any project by size or by style. This amazing plan for a hay feeder is very effective but you can modify the design and size if it doesn't suit your preference very well.
11. Building A Goat Hay Feeder
The materials needed for this mounted goat hay feeder include wood pieces, plywood sheet, wood screws, wood glue, tape measure, miter saw/circular saw, and table saw. Once you have all these materials, check out the steps required to put them together from the link below.
12. Cheap Goat Hay Feeder
Here is a wonderful way to modify your hay feeder if you notice the one you had on before is not effective. One of the factors you need to consider is the height and possibility of the goats climbing over the feeder. If there is any possibility, your feeder might not be as effective as you want it to be.
13. Hay Feeder DIY
You can make this hay feeder for less than $30! If you want to be sure, you should be on this guide to see how to go about it. Get a futon frame, disassemble the frame and turn it 180°, then reattach it. Attach a U-bolt to the frame and build a box underneath it that will hold the hay. pauleyalpacacompany
14. Wall-Mounted Hay Feeder
A wall mount hay feeder! Amazing, I just say! The wall-mounted hay feeder is very portable and doesn't require so many materials and tools to put it up. All you need is some pieces of wood, netting, and some screws. midcountyjournal
15. DIY Square Bale Goat Hay Feeder Plans
Have you made a hay feeder for your goats yet? If not, you should follow this guide and learn how to DIY a standard square bale goat hay feeder.  It is made from studs, hardware,  plastic culvert pipe, cordless drill, skill saw, and some other materials and tools. The total cost for all the materials used is $25. Very affordable right! homesteadlifestyle
16. Hay Feeder
This double-sided feeder is perfect for a standard sheep or goat hay feeder. The double-sided design is perfect because goats tend to hog overfeed and chase others away. Another reason is that it is placed under a hay chute. 5acresandadream
17. No Waste Hay Feeder For Goats
See here how to build a hay feeder with a roof. The outdoor plan is so simple and inexpensive to put together.  The design is ideal if you're thinking of moving your hay feeder to the pasture! You can see the link below for more details.
18. DIY Garbage Hay Feeder
You need to try out this hay feeder made from a garbage can! Two things that make this project amazing are that the garbage can has wheels that aid movement. This means that the stack of hay dropped down by the goats will not have to pile up in one spot. You can always change the position easily. Another thing is that the garbage can is inexpensive.
19. Round Bale Feeder For Goats
Goats are fond of climbing overfeeding, messing up the precious hays, and throwing them all around the place. But with this round bale feeder, you can be assured of minimal hay wastage from the goats. Find out more details in the video above.
20. Building A Wall Mounted Hay Feeder
Nigerian dwarf goats are a well-known species of goat and have the wasteful trait of feeding like all other goats. Thus, if you're planning on keeping this species of goat, you need a proper plan for a hay feeder. This plan is perfect as it is wall-mounted and all they need to do is to go there, feed, and leave the remaining hay in it.
21. No Waste Goat Hay Feeder
Here is a great plan that shows you how to DIY a goat hay feeder. It's time to stop your goat's wasteful mode of feeding. It is made from pieces of wood, some screws, wood glue, and roofings. You can click the link below for further details.
22. How To Build A Hay Feeder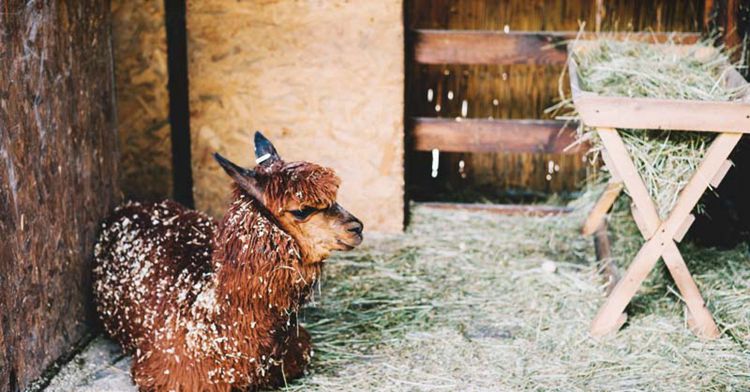 If you're tired of seeing your goats waste precious hay, the only thing you can do is to build a hay feeder for them. The feeder will keep the hay in a place and the goat can access the hay from the opening on the feeder. morningchores
23. DIY Goat Hay Feeder Plans
You can. make this goat hay feeder using some 2×4 wood pieces and some hog panels. Cut the 2×4s into pieces as stated in this video and put them together using wood screws and glue to form a frame. Once you have the frame, cut and attach the hog panels and you're good to go.
24. Goat Feeder DIY
Do you want to see your goat feed without being wasteful? Then you need to build a separate hay feeder for them! This design I made specifically for small goats. There is a sizable space on all sides of the feeder that allows the goats to put their head through and eat inside the feeder without poking their heads around.
25. DIY Goat Hay Feeder
Using a pair of pliers and a 2×4 welded fence wire, you can make a goat hay feeder. One thing about these pliers is that you need to ensure that it has a  little groove deep down for cutting wires and also that the pliers have longer handles. The hay feeder is super simple and inexpensive to make.
Conclusion
It is well known that goats won't eat anything dirty, but due to their unquenchable thirst for feed, they tend to rush overfeed and pour a substantial amount of it away, and since they won't eat dirt, all the hay that fell while they're rushing has gone to waste. On what account!!
Therefore to avoid wastage, you need a hay feeder to rescue you from your ever-hungry goat.
Goats tend to waste their hay and make a mess of everything. To stop this wastage and