A grill station is just another way to add to your outdoor experience and enjoy your evening with friends and family. As you know I'm very keen on helping you fish out the best of the best DIY projects. I've brought to you these 20 DIY grill stations to make your choice.
In this guide, you will learn how to build 20 different types of grill stations which are varied in size, shape, cost, and complexity.
1. DIY Outdoor Kitchen Built-in Grill Station
Do you want to increase your outdoor experience? Check out this DIY outdoor kitchen with a built-in grill station. It's a very big project and requires a lot of time, materials, and tools. Though it's a bit complicated, this video tutorial simplifies it and makes it easier.
2. DIY BBQ Grill Station
This BBQ grill station is a massive outdoor project that requires a manufactured high-quality aluminum frame that comes with a custom size. It's a very big project that requires a whole lot of time and the cost is very high. Check out the video to learn how the DIY BBQ grill station is installed.
3. DIY Weber Grill Cart BBQ Station
This Weber grill cart or BBQ station has a simple structure and can be put together within an hour. The materials required for the project include 2×4, 2×6,2×2 pieces of wood, steel wool, outdoor poly, high-temperature paint, Weber grill, Rockwell sander, DeWalt drills, and jigsaw.
4. How To Build A Grill Station With Concrete Countertops
This grill station has an extraordinary feature that makes it super duper functional and beautiful. It has a concrete countertop, stainless steel with a heavy-duty grill, push-button battery-powered electric igniter.
The majority of the structure is made from a 1" square steel tube cut by an angle grinder. And use a speed square to draw lines around the steel tube to make the measurement and cutting accuracy.
5. How To Make A Stainless Steel Grill Station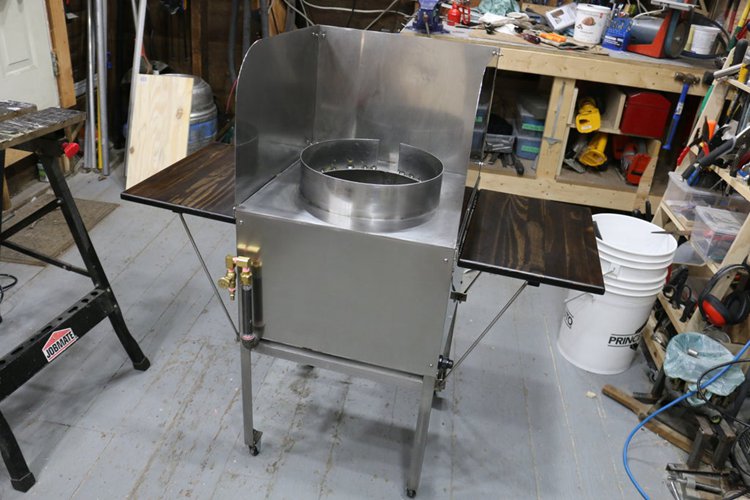 The materials required for this stainless steel grill station include stainless flat bar stock, stainless angle stock, gauge stainless steel sheet metal, stainless bolt and nuts, stainless rod, stainless steel welding rod, casters, iron pipe, iron pipe fittings, high-pressure propane regulator, bandsaw, drill, center punch, screwdriver,  speed square, sandpaper, drill bits, vice grips, and clamps.
6. DIY Outdoor Grill Station
This is a low-cost grill station and it is built from scrap material like drums from a washing machine, iron board stand, angle profile, holder for the heater, grate for stone, screws, nuts, and washer.
Here are the steps involved in the building :
First, prepare the drum. Remove the plastic from it and cut it into half using an angle cutter. Then prepare the elements of the water heater.
7. DIY Kettle Grill Station
This grill station is made by merging two types of grills, a kettle grill, and a Weber grill. Here is how to blend them; remove the legs from the kettle grill. Remove the grill from the other grill as well. Once this is done, fix brackets to the stand of the other grill and drill holes on them. Use the holes as a template to drill holes on the brackets attached to the kettle. Fix the kettle to the stand of the other grill and you're good to go.
8. DIY Rocket Grill Station
This is a simple way of making a grill station from salvaged materials. It provides you with the chance to cook without using fossil fuel. Read through this guide to learn more about the process of blending different materials into making this rocket grill station.
9. Building A Brick Charcoal Grill
How do you build a brick charcoal grill? This portable charcoal grill is amazing. It has a concrete base and a body built from layers of bricks. It has two chambers, a narrow space, and a wide chamber where the stainless grill will be installed.
It has no complicated process and it doesn't take much time. Check out further details from the link below.
10. How To Make A Brick Charcoal Grill
Do you know you can design your charcoal grill as a stove at the same time? This video is about how to blend a grill into your charcoal stove.
It's a simple process, laying bricks to build a wall with three sections. Prepare the burner in the first and last chamber then leave the middle for the grill.
Once the project is done, fill the two burners with small firewood and light them up. Once they are burning into red charcoal, pack them and put them at the bottom of the grill. It is as simple as that.
11. Blackstone Grill Station Build
This Blackstone grill station is built mainly from wood, screws, glue, and wood stain. The steps required are very straightforward.
Get some lumber and cut them into pieces to build a heavy-duty table. Make the tabletop to be a U shape where the front will be able to fit into a grill surface.
12. DIY Grill Station
There are different kinds of grill stations you can make by yourself. Though this depends on what you want and what you learn from.
Thus video includes numerous types of amazing grill stations that are highly functional and of low cost. There are those with high-cost and complicated steps too. The choice is yours to choose according to your desire and pocket.
13. DIY Outdoor Grill Station
From the picture above, you can see the simplicity of the grill station and it's quite amazing. If you're like me who is a sucker of simple and cool, then this outdoor grill should interest you. It is made basically from wood. Click the link below to learn more.
14. How To Build A Grilling Island
The first thing you need to do before this beautiful grill station becomes yours is to take accurate measurements of what you want to build. After this, you move to the construction of the frame and corners. Then, assemble each part and you're good to go.
15. DIY Outdoor Grill Station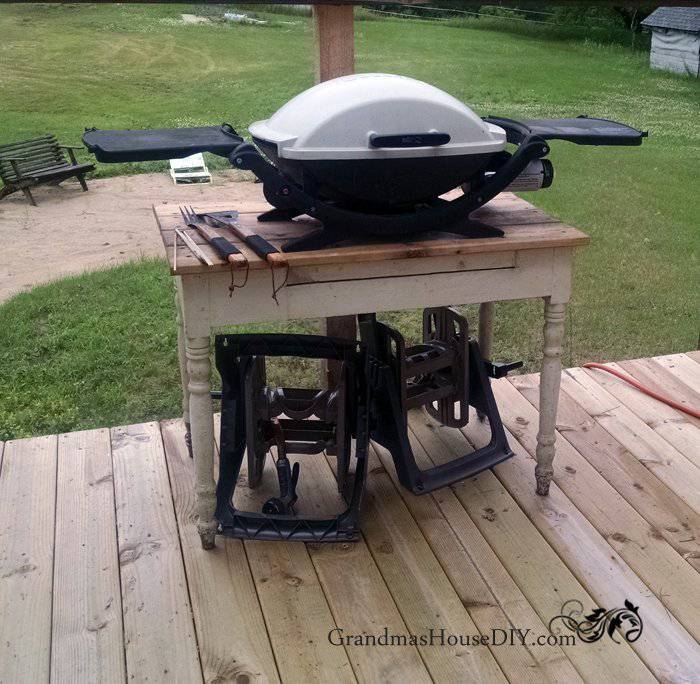 Do you want to know how to build an outdoor grill station? Here is the best guide for you. First things first, you need to gather materials and tools that will be required to build this. Then, you start from the wooden table; cut the lumber into pieces, and assemble them.
16. DIY Grill Station
The materials needed for this project cost about 600 US dollars, this is very minimal compared to the cost of buying a commercial grill station. The first thing you need to do is to gather the materials and start the frame assembly almost immediately.
17. BBQ Grilling Station Plans
If you need more space on your grill station, lie you need more space for plate, storage space, shelving, etc. This is the best grill station plan that can help you with what you need.
It was designed to be made out of two sheets of plywood, ¾"  plywood sheet, and ½" plywood sheet. The ½" sheet makes up the drawer and the extra storage shelving while the ¾" sheet is for the main body frame.
18. DIY Grill Cart
This DIY grill cart is made from lumber, metal, and caster. The lumber made up the main body of the grill cart and it was assembled using screws and glue. The four corners of the wooden frame were covered with metal brackets. The brackets were attached to the wood with screws through pre-drilled holes.
The caster will allow the easy movement of the cart from one point to another. It uses four caster wheels.
19. How To Build A DIY Grill Cart
This amazing multipurpose grill cart is made from untreated white pine. However, if you want to use this as an outdoor table, you need not use untreated pine because it is not resistant to moisture, you can use treated, redwood or cedar wood.
The instructor simplifies the process as light as possible and gives detailed procedures and materials used.
20. DIY Grilling Station
To build this DIY grill station, the materials required include wood panel, wood pieces, 2ft rope, 2 fence staples, standard hooks, screws, alphabet stickers, wood stain, wire cutter, white spray paint, bottle opener, picture wire, hammer, glue gun, and lighter.
It's not very easy to build but this video can make it less strenuous. Watch the video and start building.
Conclusion
There you have it! 20 DIY grill stations that are fully functional and super amazing. Feel free to use the comment section if you have any questions or contributions regarding this article. Thanks for stopping by!