Do you want to create electricity with natural sources? Here is a great DIY that will teach you how to make a wind turbine with ease. This is normally a project for wind turbine expert technicians, but with the guides on the list below, you'll be able to make any kind of wind turbine with several materials, and it will be functional and productive.
We have listed 25 DIY wind turbine projects in this article, all you need to do is pick a project and start the building process. Ready? Let's begin.
1. DIY Electric Wind Turbine Generator
In this video guide, you'll be making a 220v electric wind turbine generator, you will need a small propane tank, a metal sheet, a welding kit, an electric hand saw, a drill, and a few other supplies. This is not a woodworking project although the tools involved are quite similar to one. The rest of the steps are super easy to follow, and I can assure you that this wind turbine works.
2. DIY Vertical Axis Wind Turbine
With this video tutorial guide, you'll be able to make a successful vertical axis wind turbine, the creator used a motor from an old hoverboard, this seems to work out just fine, he also worked to get a speed of 7m/s, and a power of 150 watts for the wind turbine.
The making process of this vertical axis wind turbine is a simple one, it can be done by basically anyone with the right information and materials at their disposal.
3. DIY Wind Turbine
In this video guide, the creator successfully created a generator that can source an entire house. The creator's first attempt on this project failed pretty badly, now he's back again with a different technique and a bigger wind turbine construction.
4. Easiest Wind Turbine Build
This is indeed the easiest wind turbine to build. If you check the link to see the description of this video to learn about the materials used for this project, you'll understand just how easy it is to make this wind turbine.
5. DIY Wind Turbine
In this project the wind is totally free, naturally occurring, but the turbine will cost you a lot. You'll start the project by digging a pretty deep hole on the designated area that you intend to mount the 29 feet tall wooden frame. You'll also need the turbine kits that will come on top of the wooden frame. It's a simple project.
6. Wind Turbine Build
This is a lightweight, small-scale wind turbine, you'll need a few materials or get started, things like a wooden base, a 5-inch dowel, piano wire, thin foam, DC motor, and a few other supplies. This project is quick and easy to make.
7. Homemade Wind Turbine
Here is a simple homemade wind turbine that costs £50 to make for the materials. It's an inexpensive wind turbine that requires a few plywoods, MDF boards, and a few other woodworking tools.
8. DIY Wind Turbine
This guide is pretty inexpensive, you just need $176 to be able to procure the materials for this project. The creator used some battery connectors, pipe flanges, a 16 gauge wire, PVC pipe, and several other supplies.
9. Powerful DIY Wind Turbine Using PVC
Here, you're going to use PVC piping to fix up a powerful wind turbine. You'll need a PVC blade and an old printer motor which will drive the entire mechanism. This wind turbine stands at 12 feet from the ground level, and it generates 12V DC for an average wind velocity.
10. Mini Wind Turbine DIY
The creator of this guide didn't go into much detail about how he made this mini wind turbine, rather he explained and demonstrated the setup of a wind turbine that he bought online at a fair price. So, check the description below the video to learn more about where he got the turbine.
11. Vertical Axis Wind Turbine DIY
This is an amazing and creative way of making a wind turbine with ease. The creator used 2 bicycle rims, a dynamo, and a tripod. This vertical axis wind turbine is great, cheap, and easy to make.
12. How To Make Wind Turbine Generator
Do you want to create clean energy using a wind turbine generator? Here's how. This video guide will direct and instruct you and how to go about it. You'll need a small motor, some bolts, nuts, washers, plastic blades from a standing fan, and a few more supplies.
13. How To Build A Wind Turbine
This is a simple wind turbine that will produce clean and renewable electrical energy. First, you need to monitor your area to get the average wind speed to determine how effective your wind turbine will be. The creator used an AC motor as his generator.
14. DIY Wind Turbine
This wind turbine is still in its experimental stage but it's still a great wind turbine idea that uses 2 Ametek 30 motors, a few PVC pipes, some wires, and lots more. The making process is quick and easy to complete, and you won't have to spend much on getting the materials needed.
15. DIY Wind Generator
This wind generator is easy to build, you'll just need a good motor to power it up, the creator of this guide used a low RPM DC motor that cost just $20 and a few other components.
16. Small Wind Turbine Build
This is a small wind turbine, it's not small because of the size of the looks, it's small because of the motor used as the generator to power the entire mechanism. This is a simple DIY project, perfect for beginners to try out and perfect their skills and probably make a bigger and better wind turbine in the future.
17. DIY Wind Turbine
This is a simple video guide that requires a few simple materials to be able to produce a great wind turbine, you'll need a Dynamo, cycle freewheel, and a cycle chain. This is an inexpensive project with a simple making process.
18. How To Make A Wind Turbine Generator At Home
This is a great wind turbine that generates 4200 watts of power from the wind turbine made in this video guide. Do you like the sound of that? Then start gathering your materials to get to work. Check the link for more info.
19. DIY Wind Turbine With Office Chair And Washing Machine Parts
So, instead of spending so much on buying or paying someone to make a wind turbine for you, with an office chair, and a few electrical parts from a washing machine you can comfortably make a satisfactory wind turbine for your home.
20. DIY Homemade Wind Turbine For $32
With just $32 at your disposal, you can make this budget-friendly homemade wind turbine. So, all you need is a motor, a windmill, and a few other components while this video will give you directions on how to set it up
21. DIY Wind Turbine
Here is another amazing wind turbine, it's super easy to make and it requires a lot of supplies. You'll need a wooden hub, a car battery of 12v, a car alternator that will serve as a generator, a pulley system in place of a gearbox, an 1.8 meters high tower, and an orientation system bearing and tail.
22. Wind Turbine DIY
This is a great wind turbine that stands 16 feet off the ground. The creator used a simple magnetic motor that was taken from a treadmill, with a 4 feet long blade. If you eventually build all the parts of this wind turbine, you'll need assistance to mount it.
23. Small Wind Turbine Generator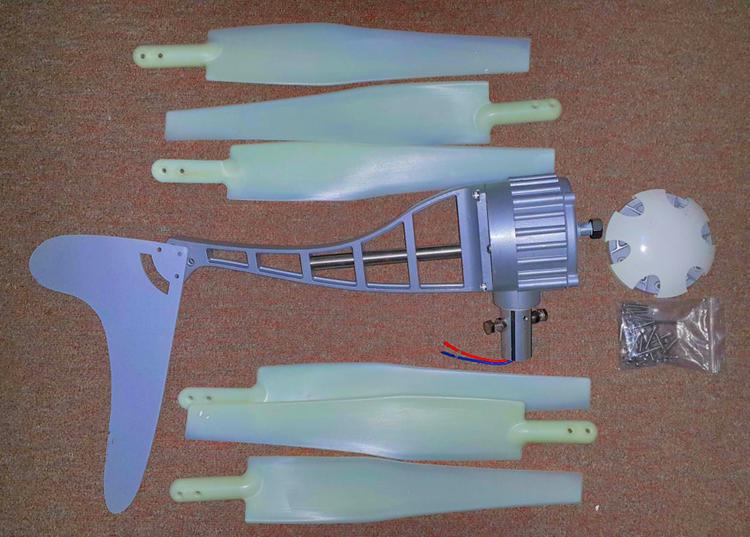 This is a pretty small wind turbine that will require an experienced electrical engineer to be able to set up the component for the generator from scratch without making mistakes, and also set up the rectifier and other important components of this mechanism effortlessly.
24. 7 Foot Axial Flux Wind Turbine
Here is a 7-foot tall axial flux wind turbine. It's made with several super expensive components, check the guide to learn more but keep in mind that this project costs $1000 in the materials alone.
25. DIY Wind Turbine Generator For Home
Tired of running out of power, and you wished you had your source of electricity no matter how small? Here is a suitable video guide that will fix that problem for you. You'll start by getting an AC fan, a motor from an old printer or any other machine you have, and a few other parts as stated in the video.
Conclusion
There you have it, with over 20 guides on this list you can be sure to have one or two that will suit your needs and budget and you can now make that wind turbine that has been on your mind all along. Thanks for stopping by, best of luck to you, cheers.