There's a great satisfaction that comes after stacking up your firewood in a nicely built storage. Firewood storages are a great way to organize pieces of firewood that you have. In this article, we have put together 20 amazingly outstanding DIY firewood storage projects for you.
You will find firewood storages for outdoor and also indoor use. The choice is completely up to you as to which one to build. Some projects are easy and can be done in no time, while others might take a lot of hard work and time to complete. Have fun browsing through these amazing plans.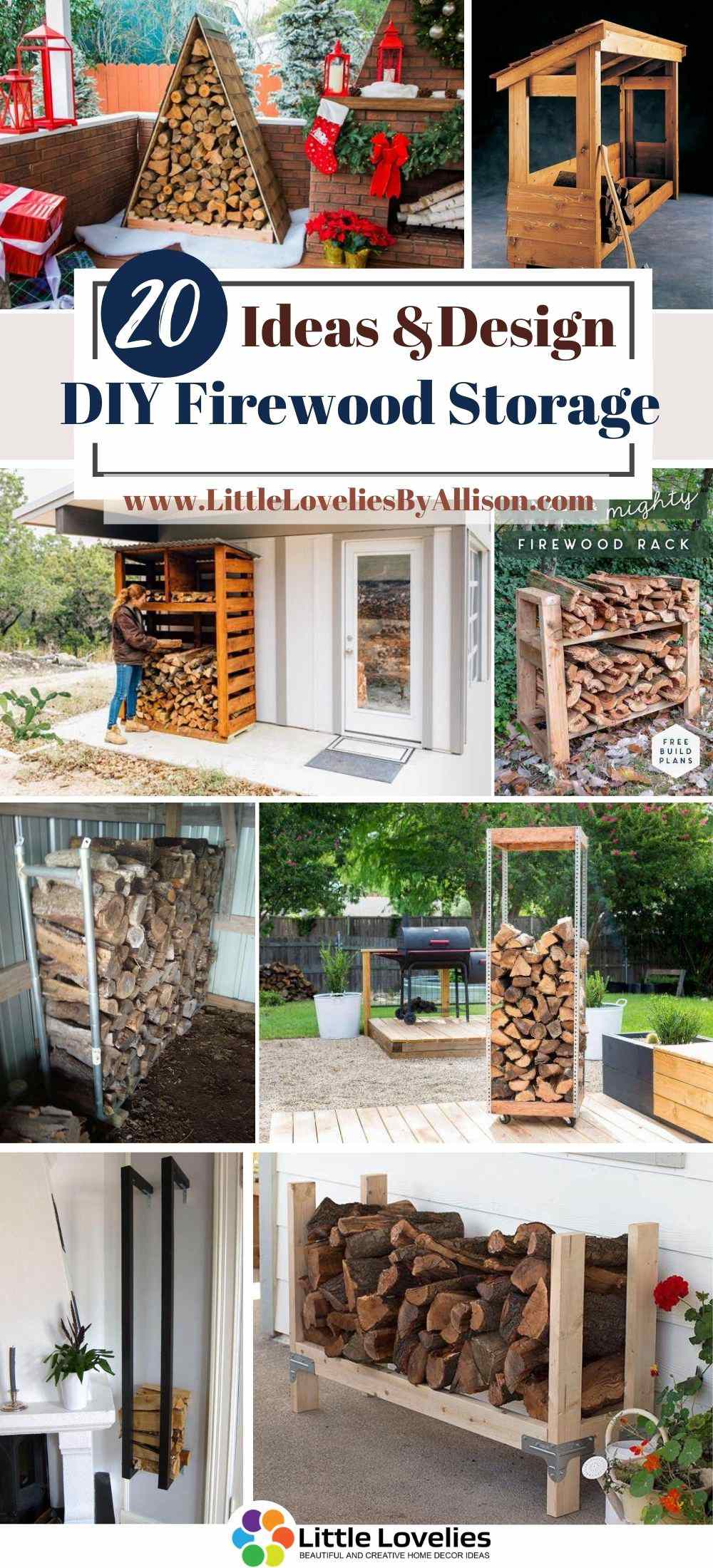 1. DIY Simple Firewood Storage
To build this simple firewood storage, you need plans to work with and the creator has made one for you, so you can check the description below the video and get the plans. Here are a few materials that you'll need, a miter saw, wood glue, screws, and a nail gun. The making process is easy but not so quick. It took 1 day and a few hours to get this simple firewood storage ready. This wood storage also has an aluminum-zinc on top of it to protect the woods from rain and other elements.
DIY Covered Firewood Rack
If you have a wood stove at home then, you need wood to power it and as such you also need firewood storage to keep, and protect your wood from elements. You need a sketch of the firewood plans to make this project work. Once you have gotten the plans ready, start cutting your wood. This time-lapse video shows you how to do this with ease. It also has a covering to protect the wood from getting wet and soft and render the wood unfit for use.
3. No Tools Firewood Rack DIY
This firewood rack required no tools, no screws, no cutting, just mounting. You need concrete blocks for the base, and then, long 4x4 studs and some 2x4 that stands upright and goes into the cinder blocks for balance. This project is also cheap and can be done by anyone. The only downside is that it doesn't have a roof to protect the wood. This is also for outdoor use.
4. Wall-Mounted Firewood Rack DIY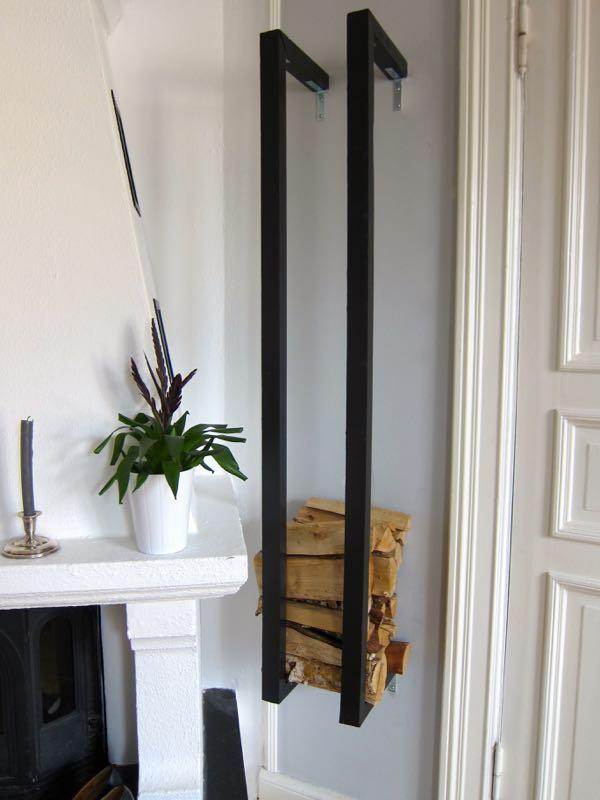 This is an amazing modern way of building a firewood rack, it's specifically for indoor use and can easily be done by anyone, no high-level skill required. All you need are wood and brackets. The wood will be of equal, 2 long pieces, and then you will cut 2 small pieces and attach them to the ends of the long pieces of long wood. Then attach them to the brackets and mount them on the wall. You can also paint the wood with any wood finisher or wood paint of any color before mounting.
5. DIY Firewood Rack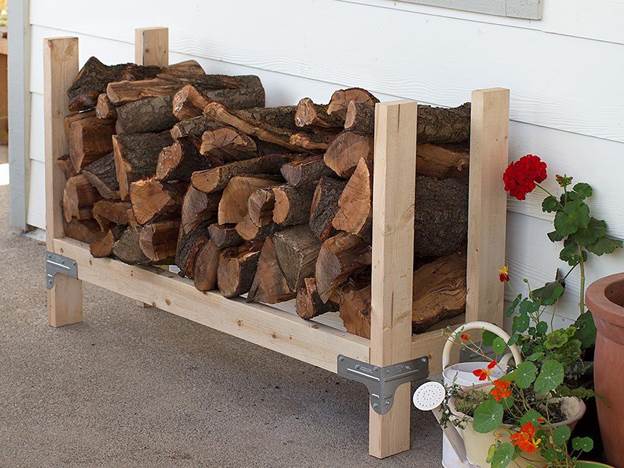 Here is another simple firewood rack that is easy to build. In preparation for this task, fill all the wood that you'll use with wood filler, and allow it to dry, sand the wood with 120 grit sander, clean to remove sanded residue, then use a wood primer or conditioner. This wood rack is meant for outdoor purposes only.
6. How To Build A Firewood Rack With Roof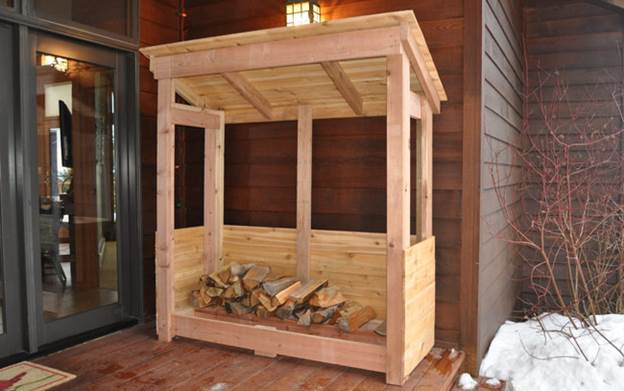 For this guide, you won't be using an aluminum-zinc for the roofing but wood. Wood is used all through the task, from the base to the sides and then the top. This firewood rack is spacious and can take a lot of wood at once.
7. No Tools Firewood Rack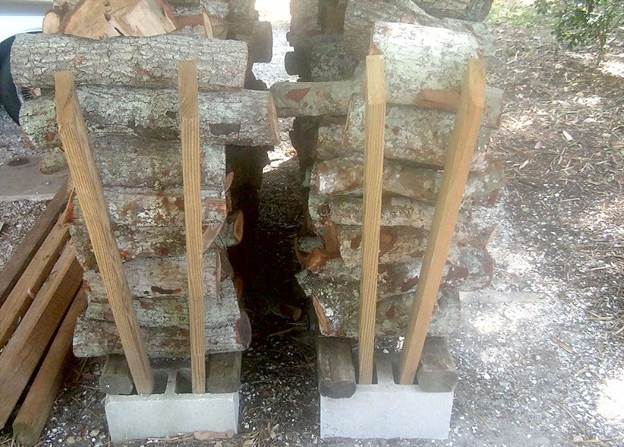 There are cheap ways to build firewood racks and this is one of the ways. There are two major materials used for this project, concrete blocks, and wood. The materials cost about $20 which is cheap. Although with this method, if rain falls, not only the wood will get soaked but the concrete blocks as well will get soaked and over time start to disintegrate and wear off.
8. Firewood Shed Plans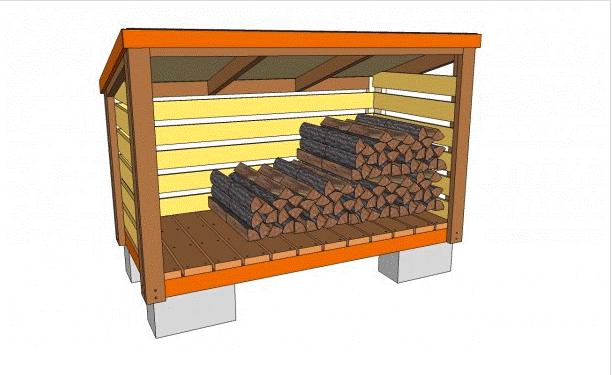 Here in this guide, you will get a lot of plans to use to build any kind of firewood shed you want. There are about 8 plans available and a few of them are quite expensive. The rest are cheap and can easily be done with wood and concrete blocks. For this particular project, you'll need concrete blocks laid on the ground, then some wood frames at the bottom and some Wood frames at the sides, and wood boards to cover the top.
9. DIY Wood Shed Plans
Here's another guide that offers a lot of wood plans but just one was explained and done by the creator. The creator made a firewood shed with four 8x4s and 15 6 foot cedar fence Pickets. The steps are easy to work with and you will spend about 2 hours on this project once you have your materials ready.
10. How To Build A Firewood Shed
If you have a large space outside your house, you can easily construct a firewood shed that will be large, wide, and deep enough to accommodate as many woods as possible. It was made more expensive and elaborate than intended. This woodshed is movable but not portable, meaning that few people can move this shed from one spot to another.
11. DIY Indoor Firewood Rack
The creator started this guide by cutting some pine 2x2 to length. After all the necessary cuts were made, after that, he assembled the pieces and made a small modern indoor firewood rack. It's quite small and won't take a lot of firewood. If you're looking for something bigger then try the next or previous guides.
12. DIY Firewood Storage Rack With Roof
This is one of the largest firewood racks on this list. The shed is super wide and tall and can accommodate a lot of wood. Some deck boards were used for the rooftop to protect the wood from the elements. This is an outdoor firewood shed. It is strong and can stand for a long period.
13. How To Make A Log Rack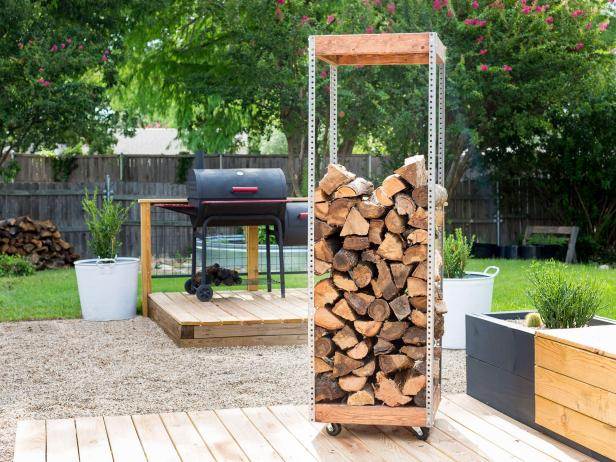 This is a cool firewood rack for the wood logs. This is very portable and movable. It has wheels in the bottom that make it easy for just one person to push it from one location to another. This way you can take it indoors when you want to go to bed and bring it back outside in the morning. It also has a roof that can protect it from the weather if left outside. Here are the few materials you need, some pine boards, wood putty, sandpaper, stain or sealer, swivel, and stationary casters, and much more.
14. How To Build A Firewood Shack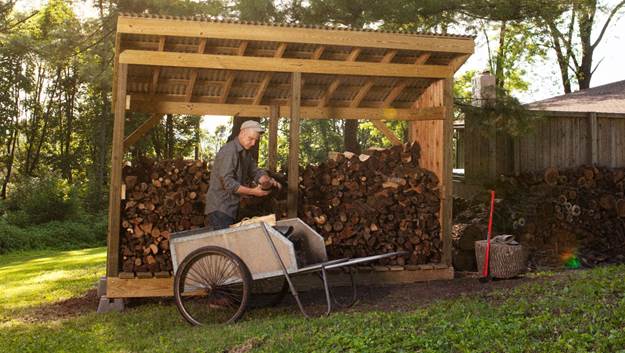 These projects are quite expensive, here are the tools and how much they cost, a drill and driver kit for $154, a 48 inch level for $29, a circular saw, for $62, a wide chisel, and a rasp. First, draw a plan on paper, this guide will show you how to get that done. Then check the link to proceed and procure the rest of the materials for the task and start building. This firewood shack, although it's expensive, is very durable and easy to build.
15. DIY Small And Mighty Firewood Rack
Here is a firewood rack that you'll call small but mighty meaning that it's small but can still accommodate a lot of wood logs. It is also portable and movable. This guide offers a step-by-step making process that makes the job a whole lot easier than ever. You need a miter saw, wood glue, screws, and a drill or driver. This will cost you about $50.
16. DIY Steel Firewood Rack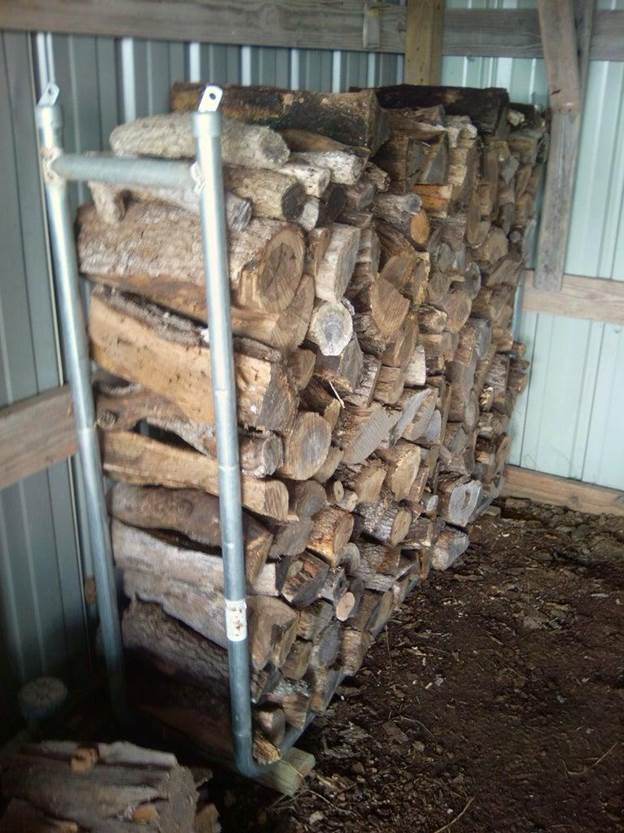 Try this method and make a firewood rack using leg bases from a trampoline, straight leg sections, fence line pipe, flat washers, lag acres, and treated landscape timber. The first step starts with knocking the braces, welding them to the base, and the upper part of the rack, attach the timber to the base of the rack, and use the driver to screw the leg base in firmly.
17. DIY Outdoor Firewood Storage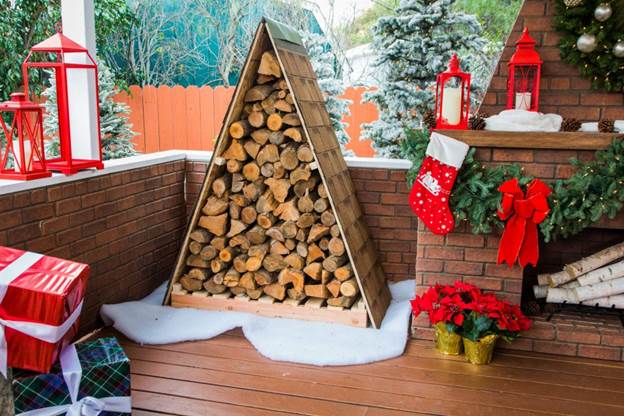 Here is how you can make this simple outdoor firewood storage stylishly that it is. First, you need half pallets, hinges, flashing, roofing shingles, staple gun, power drill, wood screws, and a heavy-duty double-sided tape. Check the link to see the measurements and dimensions for cutting the wood. This firewood storage can also be used for indoor purposes because of how stylish it is, to beautify your home if you add some decorations on it. The way it was built, no roof is needed, the design created a roof on its own.
18. How To Build A Simple Firewood Rack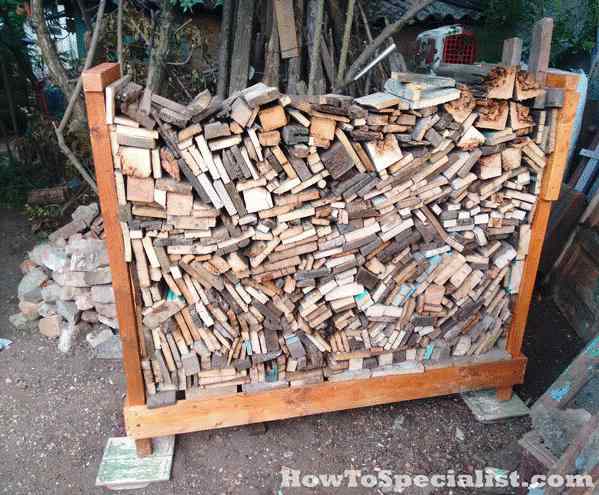 Building a firewood rack of this magnitude, you need a plan. Check the link to see the plan, measurements, and dimensions of the wood the creator used. Once you get that done, start building the frame, then the legs, and finally the sides. This project will take one full day, so be prepared to spend your time on this till the job is done.
19. How To Build A Firewood Shelter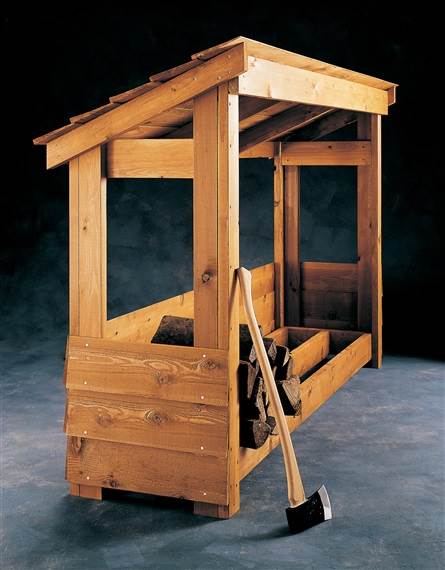 Take a look at another firewood shed that looks like a mini house. It has a wooden roof, strong thick wood boards used for the sides, and strong cedar planks for the base. This firewood shelter looks like a permanent shelter for your logs, but it's free-standing so therefore, it can be moved. This project will consume one whole day of cutting, screwing, and assembling. You also don't need a high-level woodworking skill to do the job, any knowledge you have can be used to make this task happen with ease.
20. DIY Outdoor Firewood Rack
The materials used for this project will cost you a lot unless you have most of them already at home. You need DeWalt cordless jigsaw, miter saw and stand plan, battery-operated nail, triton track saw, infinity table and miter saw blade, tuftex roofing materials, general finishes stain, and a time bond III wood glue. All these items are needed for his job, if you can't purchase them, then try another guide on this list. Once you have those supplies, the steps are a walk in the park, super easy for anyone with beginner's level to build.