In this article, we have compiled a list of 19 DIY fireplace designs that you can make from the comfort of your home. All of the projects in this article are quite unique, you have to deal with choosing the fireplace that would fit your style.
Making a DIY fireplace is not as hard as it may seem. With a few tools, materials, and proper guidance at your disposal, you would build a stunning fireplace for your home.

1. DIY Fireplace On A Budget
If you are looking for an easy way to build a fireplace on a budget? Then, this guide is great for you. First, you will start with using PVC moldings, and to give it that mirror look, the creator covered all of them with mirror reflective papers. Then, you need a thinner PVC for the trim design on the fireplace. You also need a good amount of mod lodge to hold the crushed mirror glass. The great of the steps are super easy to do for anyone with a beginner skill level.
2. DIY Faux Fireplace From Cardboard
If you're not so interested in a real fireplace but just want your home to have that fireplace look, you can easily make a fireplace with cardboard and it will look so real. Here are a few things you'll need to achieve that, an old TV box, a utility knife, a tape measure, a hot glue gun, duct tape, and a few other materials. This project is also time-consuming and might seem stressful, but hang in there and you'll get it done.
3. How To Build A DIY Fireplace Surround
Now, you are building a fireplace surround and not necessarily the fireplace itself. If you have a fireplace already you can decide I change the surround and make it look new and improved. You are going to learn how to build a basic frame for a fireplace surrounded by an electric insert. The steps are easy and simple to follow. Check the video tutorial to see more about the materials used.
4. DIY Electric Fireplace

This step-by-step guide will show you how to build this effortlessly and skillfully. You need a good oak mantle for this project, this can go for about $75, you also need an electric fireplace which the creator got for about $205. The next thing will be to make a wooden frame for the electric fireplace screen. When it fits, mount it and finish up with the remaining steps that are simple to follow.
Click for more details
5. DIY Faux Fireplace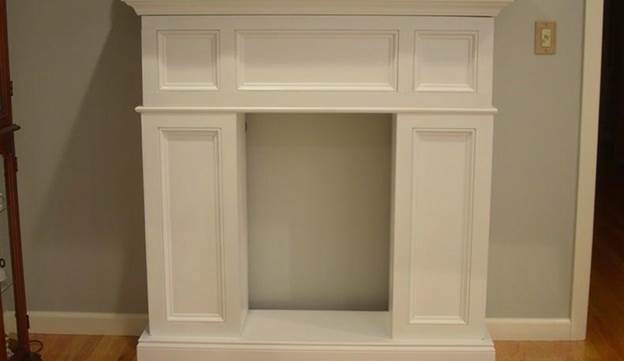 This faux fireplace is one of the most elegant fireplaces you can build, it is made from 2 ½" sheets of plywood. The greatest of the materials needed are hinges, wood glue, baseboards, base caps, door slides, clamps, miter saw, paint, and a few other essential items. This project is super easy to build from scratch so as long as you follow the steps correctly, you're good to go.
6. DIY Outdoor Fireplace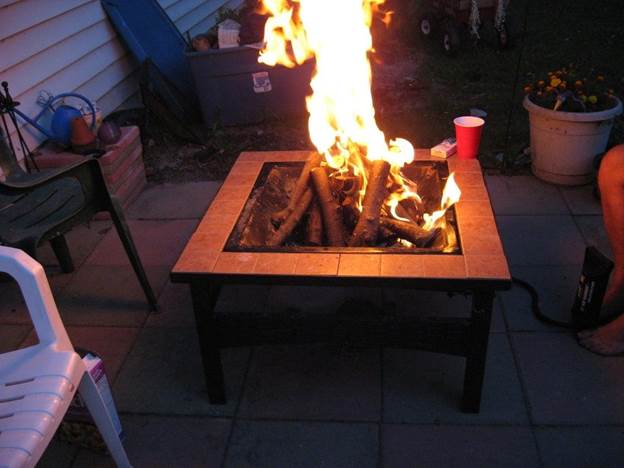 Here's a gorgeous outdoor fireplace that you can make at home with a few important materials like a pan. The pan is one of the most important parts of the project because with it you can have your outdoor patio fireplace. You will make holes on the base of the pan, these holes are for the air tubes and iron pipes that will be connected to it. You will need to weld the pipe to the pan firmly. Then connect a $3 air mattress pump, gotten from Walmart, pump it a few times and the fire will come out and burn the wood or small pieces of tree trunks that you'll place inside the pan.
7. DIY Faux Fireplace
Take a look at another faux fireplace that you can make using wood. This project started with the creator making the frame for the fireplace, then attach the frame, after it's made to a set of plywood panels, use an adhesive to hold them firm. You can customize the fireplace using tiles, paint, and other elements that you may have at home already. The task is quick and easy if you are focused on the guide.
8. DIY Fireplace Coffee Table
This task is not easy, you will need to have some advanced skill level to make this fireplace coffee table happen. Here are some tools you need to work with and give it a try. You need a wood tap and die kit, clamps, random orbital sander, drill press, table saw, circular saw, and more. Those tools are for the woodworking process. For the tabletops, you need hardwood, dowels, and a few other essential items that can't be substituted for anything else.
9. How To Install Glass Fireplace Doors
This guide will only show you how to install doors for your fireplace, this means that you already have a fireplace at home and you need doors to protect and preserve it. You need to first attach the frame to the side of the fireplace. Then attach the doors. You can get the doors for about $300 to $1,500 and the project will take you up to 2 hours to complete. This is easy for beginners but carefulness is advised, the doors are made of glass and they can scratch if you're not careful, also the frames are heavy.
10. DIY Faux Fireplace With Storage
This amazing faux fireplace is built using two sheets of plywood. This time-lapse video tutorial will give you detailed and step-by-step instructions on how to build this fireplace effortlessly. The tools used can be seen in the tutorial as the creator works. The great thing about this fireplace is also that it has hidden storage.
11. DIY Fireplace Build
This time-lapse video tutorial will show you how to build a fireplace from scratch. The first step is to make some marks on the wall that you desire your fireplace to stand. There is a link in the description of this video to show you where you can get the tools I'm about to mention. You need a diamond blade, oscillating tool, nail gun, sander, drill and driver, and a few other essential supplies.
12. DIY Christmas Fireplace
If you are just looking for something small and great, not a real fireplace, just something that looks like a fireplace that can add beauty to your home, then this video tutorial is great for you. With just $10 you can make this at home with ease. The steps are easy to follow and the tools are easy to come by.
13. How To Build A Portable Fireplace
This is a decoration idea, it's super easy to build and very portable. It's also an amazing freestanding faux fireplace. Here are some of the supplies the creator got, smart tiles, fireplace electric log insert, screws, and a few others. With screws, you ain't need to drill any holes anymore.
14. How To Make An Outdoor Gas Fireplace
Here's an amazing outdoor fireplace that runs on gas. This might be risky, that's why it's outdoor and not indoor. Although, it's safe due to the way it was built by the creator. You need a gas fireplace burner and pan, propane kit, and fireplace glass. The steps are super easy and simple to build. Concrete was also used and built for the tabletop of the fireplace.
15. DIY Fireplace
The fireplace is a time-consuming task. The first step will deal with procuring the materials you need for this task, they are quite easy and cheap to find. Here are some tools you need, tape measure, spade shovel, edging shovel, marking paint, hand tamp, take, and levels. Your next step will be to mark and dig and follow the remaining steps till you have your fireplace ready.
16. How To Build A Fireplace
You can build a fireplace with just concrete and wood. The other supplies to make the fireplace work efficiently. Items Like ceramic fuel pipe to control the smoke, a grate for the ash, fireclay, and a few other essential supplies.
17. DIY Cardboard Fireplace
Use cardboard to build an impressive fireplace that isn't real, don't try to light a real fire, that will be catastrophic. You will have to use battery-operated candles or LED lights. This makes it safer and still gives your home that real fireplace look. The making process is as simple as ever and also inexpensive.
18. How To Build A Faux Fireplace
This task might cost you quite a lot. The creator got a ready-made mantel front from craigslist for just $100. You also need a scrapper, finishing bucket, finishing nails, 3 plywood sheets, and a few other supplies. The remaining steps are easy to follow.
19. DIY Fireplace Makeover
If you want to build a fireplace surround like the one done by the creator in this guide you need an MDF wood, plywood, Ryobi nail gun, caulk, liquid nails, paint, kilz primer. With these tools handy, the job will be seamlessly easy and simple for you.