This article is geared towards cat lovers. We have compiled a list of 18 DIY cat shelves that you can build for your cat in your home. You can decide to make it minimal or go overboard, the choice is yours.
Most of the projects listed in this article are easy to build and won't require any expertise. Go through our compiled list and make your pick.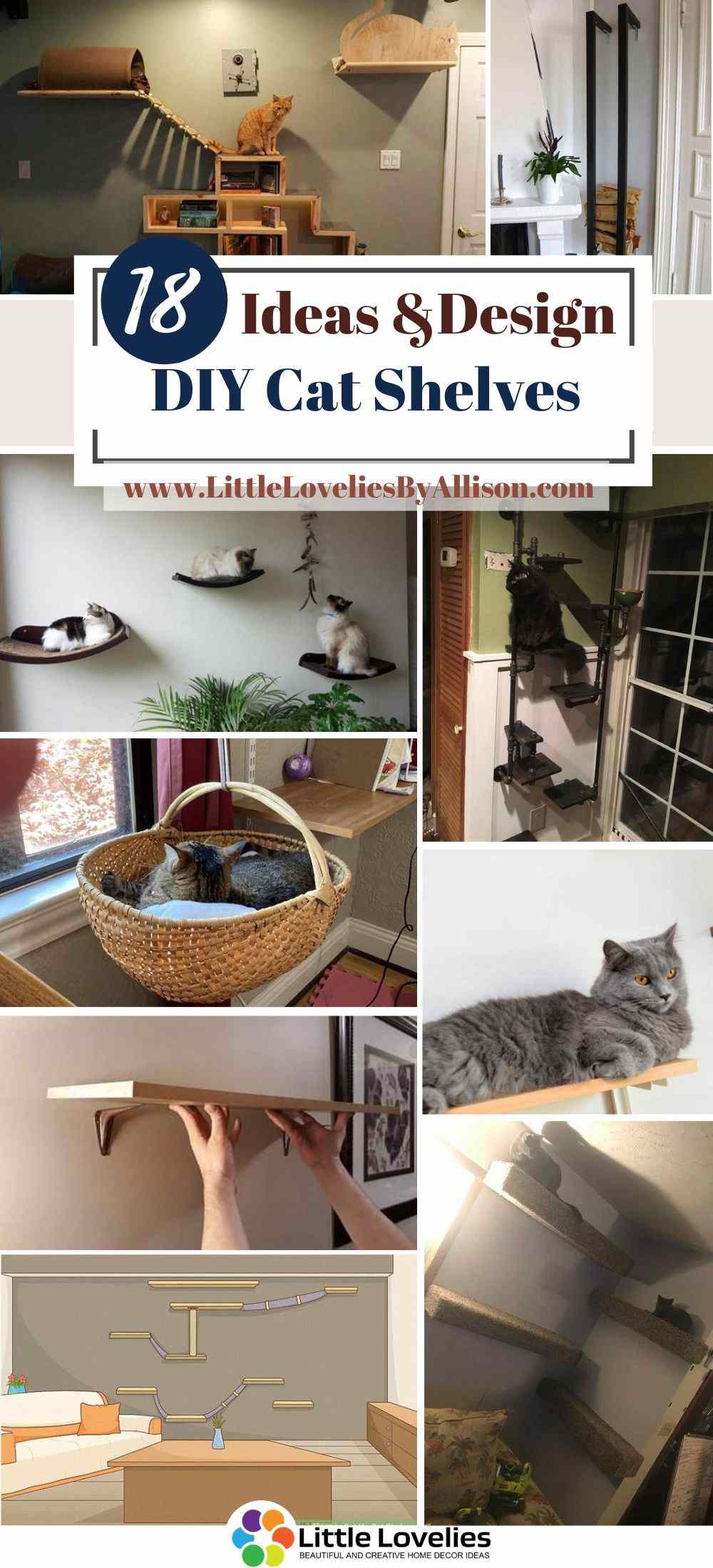 1. DIY Cat Shelf
Here's an interesting cat shelf or cat wall perch, it was quite easy to make and it took only about 2 hours. The materials needed for this project are, PVC pipes, PVC pipe caps, sisal rope, a hot glue gun, and a 2-inch large screw. For the measurements you can choose any measurements you want, the creator had some random measure depending on how long it wanted the perch to be from the wall.
2. How To Make A Cat Shelf
So, for this guide, you'll need a heavy-duty stapler, finishing nails, a jigsaw, nails, wood glue, stain, or anything that you can use to finish your wood. You're also going to need brackets, to hand the wooden shelf when it's done. The process is super easy and fun to make.
3. DIY Wall Mounted Cat Shelves
In this time-lapse video tutorial, the creator started by staining the wood with a rust-oleum wood stain. Note that the woods were already cut to their desired size as the video began. After staining, cut any carpet you want to use to your desired size, attach that carpet to the shelves, then finally, attach the shelves to the wall and you're good to go.
4. Making Cat Shelves
The video started with the creator cutting out the wood he wanted to use and smoothing sharp corners of the word with a router, then the next step was staining the wood. Shelf brackets were used to mount the wooden shelf pieces after staining. Then, try to center the shelves on the brackets so that they don't fall off or anything worse. The great thing about this cat shelf is that it doesn't take up much space at all, you might not notice the shelves unless your cat is on them.
5. Floating Cat Shelves DIY
If you need a durable floating cat shelf, and you go to any store you won't see the right one that will fit into your space, it might either be too small or too large. The creator of this guide made his cat shelf from old shoe rack materials. So, you need stud plywood, softwood shelf boards, and straight metal brackets. The first step requires cutting and gluing, the rest of the steps come easy to you after engaging in the first one correctly.
6. DIY Cat Wall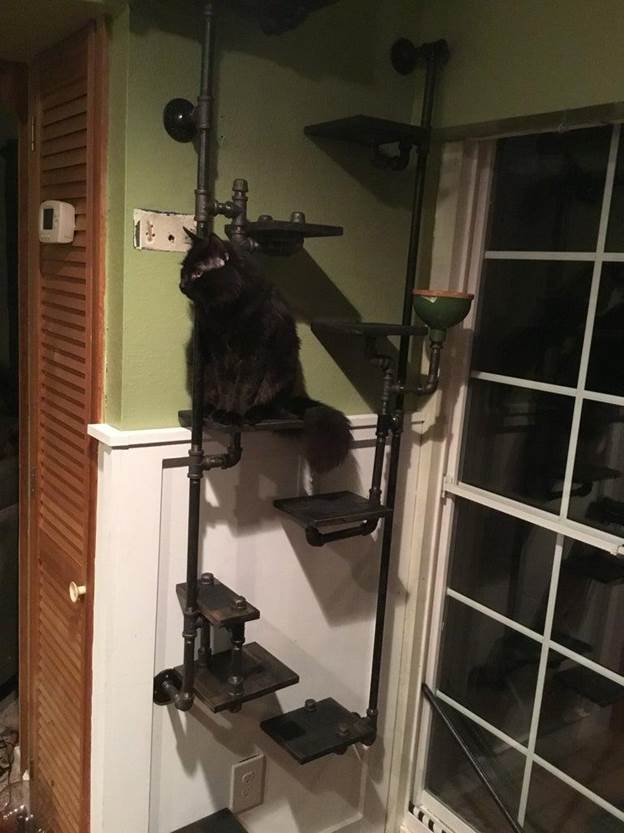 If you're not a fan of wood, you can use pipes, like this guide, the creator used gas pipes. You can find this at any of your favorite hardware stores. You need pipes and couplings. The pipe was selected because it's cheaper than getting a galvanized pipe. The steps are pretty easy and doable.
7. How To Make DIY Cat Shelves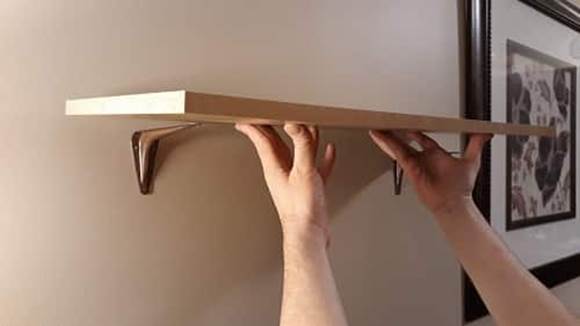 Here's a simple cat shelf that you can make in minutes. All you need is a wooden board that is at least ½ inches thick, you also need some heavy-duty wall anchors, sturdy 'L' brackets, fabric to cover the wooden boards, and a few other supplies. The creator gave a step-by-step guide on how to create this cat shelf and it's effortlessly easy.
8. How To Set Up Cat Shelves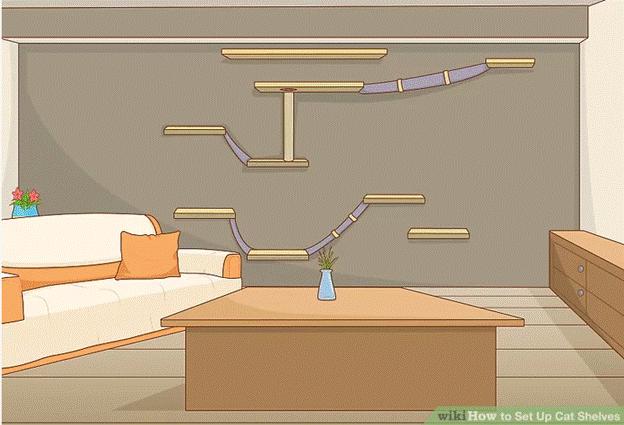 You might already have a cat shelf at home, maybe one you bought or built, and you're just searching for the right and better way to set it up, well now you can. With this guide, you can set up your cat shelf in the best and most unique way possible. To do this task for your cat, choose a nice location at home, someplace your cat spends more time at, determine the height, and make a quick sketch of how the shelves would look like. After everything, start selecting and cutting the wood to create your shelf.
9. How To Build Cat Shelves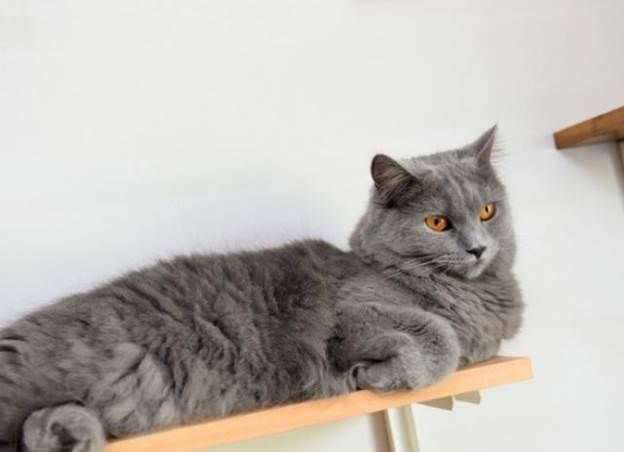 To get this done, you need scrap wood, maybe from any old furniture around, a staple gun, some brackets that will match your wood, a level, soft fabric to cover the shelf, and a few other materials. You don't need any woodworking skills to perform this task, it's super easy and durable.
10. DIY Cat Tree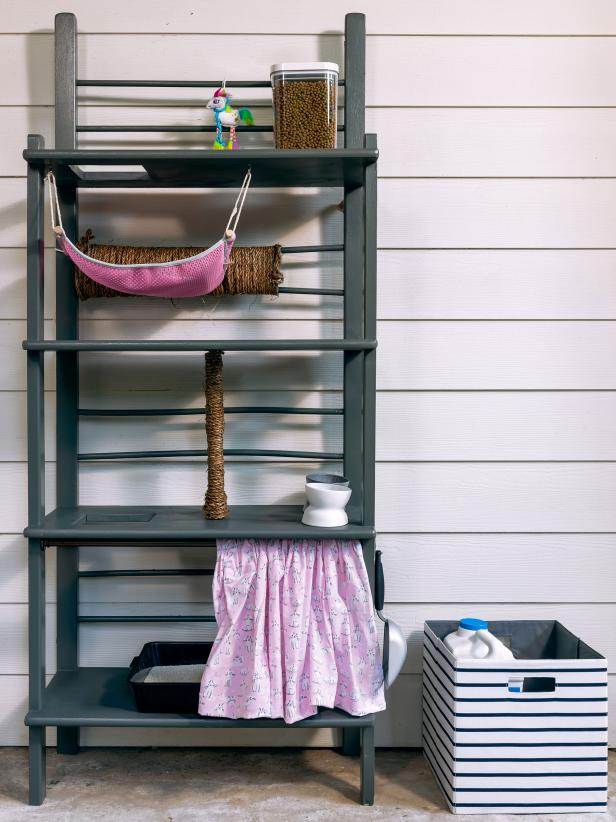 If you don't have space at home or you don't want to start making holes on your wall to mount a shelf, you can easily use any bookshelf at home, turn it into a cat tree and make a car shelf or perch by the side. It makes the job a lot easier and saves money on the cost of wood, brackets, and all other materials that you would have procured. Here are a few materials you need to buy, some scrap boards, drop cloth, Manila rope, lint-free rags, fabric, tension rods, hot glue gun, and much more.
11. DIY Cat Shelves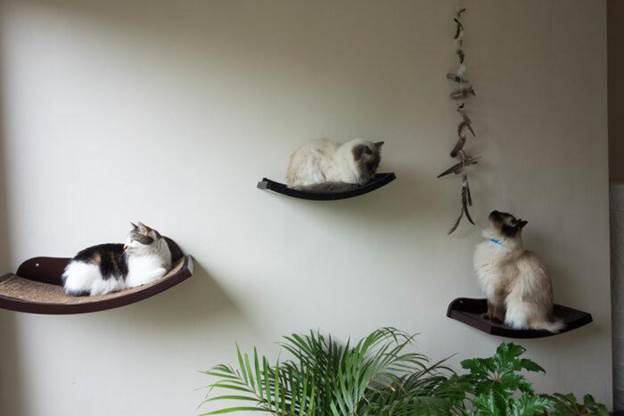 This is a unique cat shelf, but first, you need to choose the kind of car shelf you want. This guide does not have a list of var shelves available, so you need to check any site where you can have several ideas on wooden cat shelves. Once you've made your choice, proceed to buy the cat shelf and materials you'll need to install it. The steps were explained vividly, so you have nothing to worry about.
12. How To Make A Floating Cat Shelf
First, you're going to start this project with some 2x4s, make the necessary cuts to the 2x4 and other woods like pine boards, plywood, and a few other kinds of wood. After the woodworking process, use a stuff finder to assist you as you place the board and drill hole to mount it on the wall.
13. DIY Low Budget Cat Shelves
You don't need to spend so much when you use this guide to build an exquisite cat shelf. For this task, you need a glue gun, screws, rope, and some old cardboard boxes, and don't forget to add some woods too. So first, the creator took the cardboard and cut it into the required shape and then used the glue gun to glue it together. Use the carpet fabric to cover the wood. The mounting process is super easy and fun.
14. DIY Cat Tree
If you need a large cat shelf and tree, you've come looking in the right place. This video tutorial will show you how to build big cat shelves with plywood. The creator used some expensive and sophisticated tools to build his cat shelves, if you don't have this told or the means to get these rolls, this task will be a problem for you. Furthermore, the guide is easy to follow, although very time-consuming.
15. DIY Wall Shelves For Cats
Although this is a time-lapse video it's also very informative and instructive, the making process is straightforward. Here are the few materials you need to start this task. You need wood brackets, hot glue, rope, a few wood boards, and screws. The wood and brackets were installed before it was mounted on the wall, the wood must also be thick enough to carry the weight of the cat.
16. DIY Cat Shelf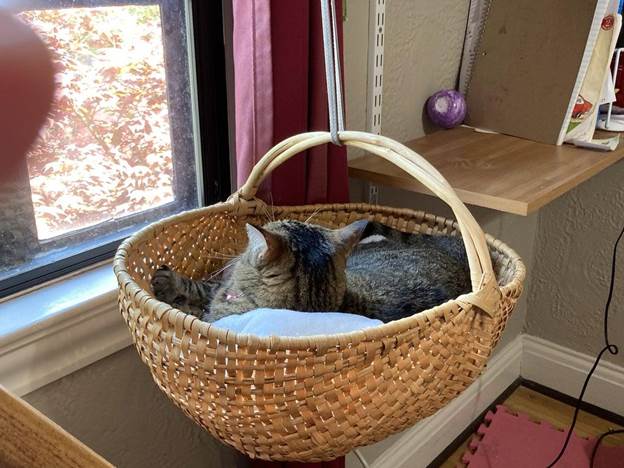 Here's one that might interest you. You don't need drilling, screwing, cutting, or any of that, all you need is a basket that can accommodate your cat, two stripes that are 2 feet long and ½ inches wide, strong rope, a curtain rod, a light blanket, and finally an in-and-out route. This route will make it easy for your cat to access the shelf without being disturbed.
17. Floating Cat Shelves DIY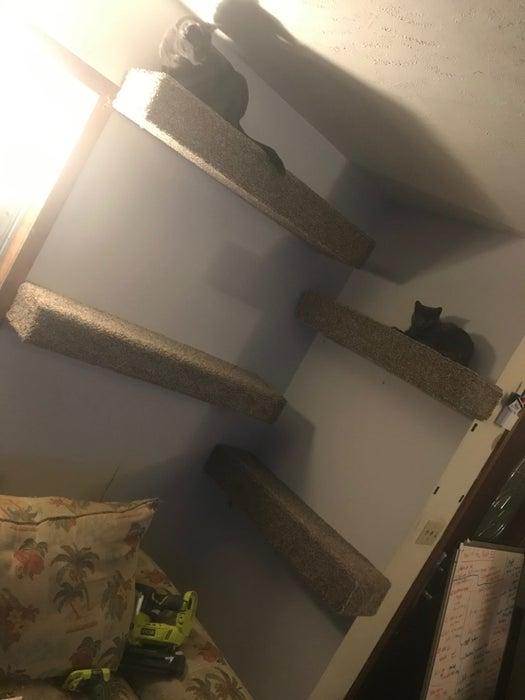 So, we are back to more drilling and cutting. With this guide, you will need plywood, check the link to see the dimensions of the wood and measurements for cutting. You'll also need staples, brand nails, and carpet. For the tools, you'll need a finishing nailer, a drill, staple gun, framing square, and lots more. With just 8 simple steps your cat shelf should be ready for your cat to hang out in.
18. DIY Cat Adventure And Escape Wall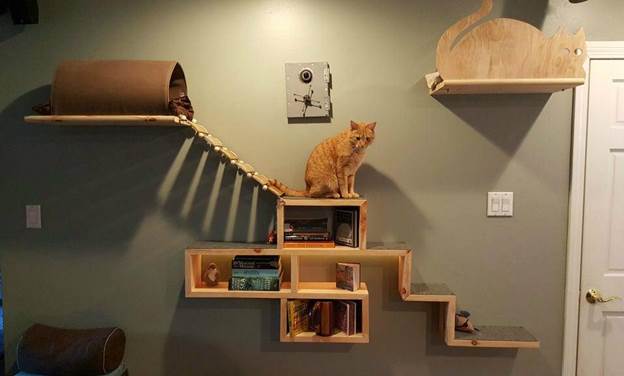 The first and important step.is to draw out the building plans on paper. This will help you have something you can always look back at, in case you miss a step or forget something along the way, and also help keep the idea fresh in your head no matter how long you spend working on the task. This project can be done with just $100 and some of the materials might already be at your home. You need birch plywood, some biscuit joints, brackets, a strip of poplar, and a few other supplies. Check the link to see the dimensions and measurements of the materials mentioned.