Have you been looking for the best way to build a cat tree but couldn't find the right DIY project? We have got you covered. Our selections are based on a whole lot of important factors. From easy to hard projects, we have them all listed below.
In this article, we have put together 25 DIY cat tree projects and we are certain that your cat will love them. All the projects listed in this article are cost-saving. You would have a great time building this for your cat.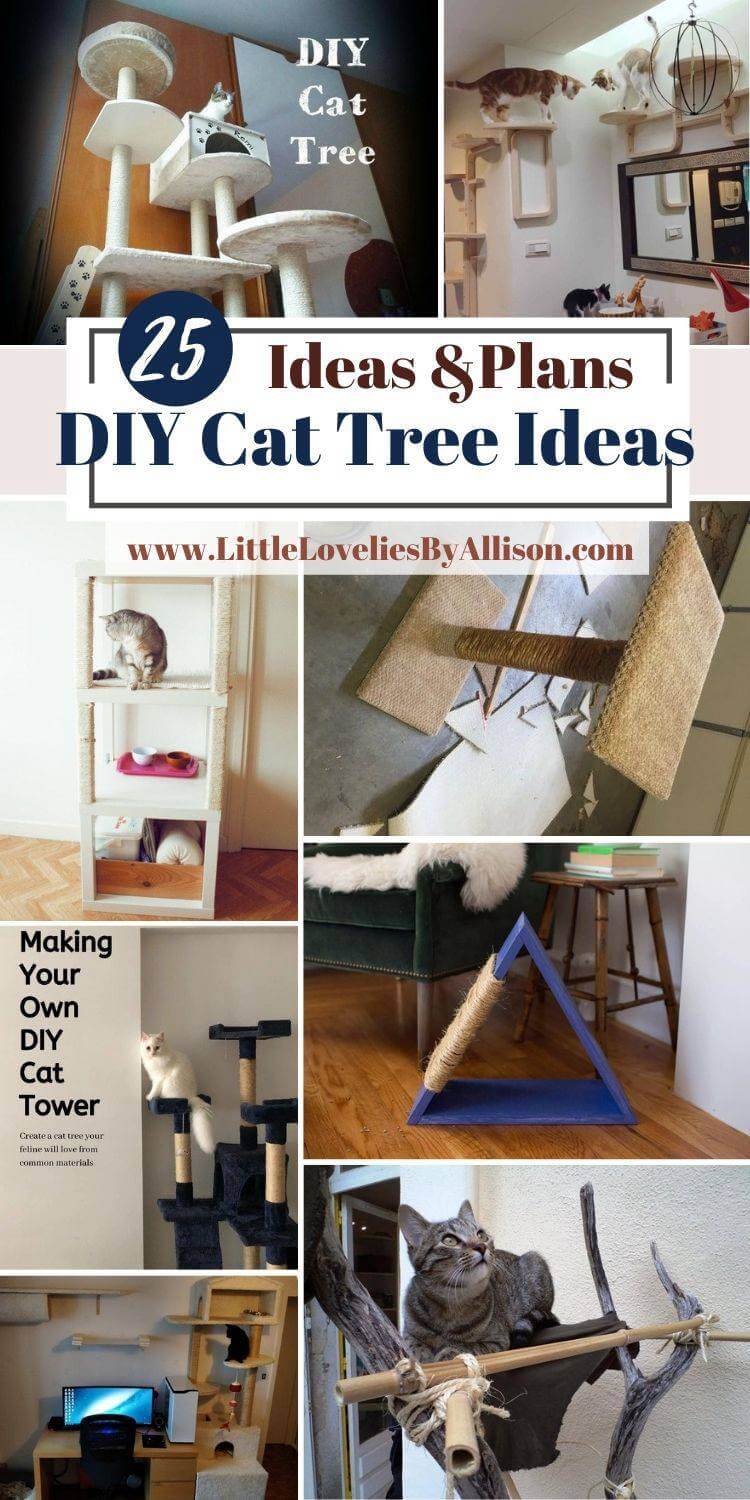 1. How To Build A DIY Cat Tree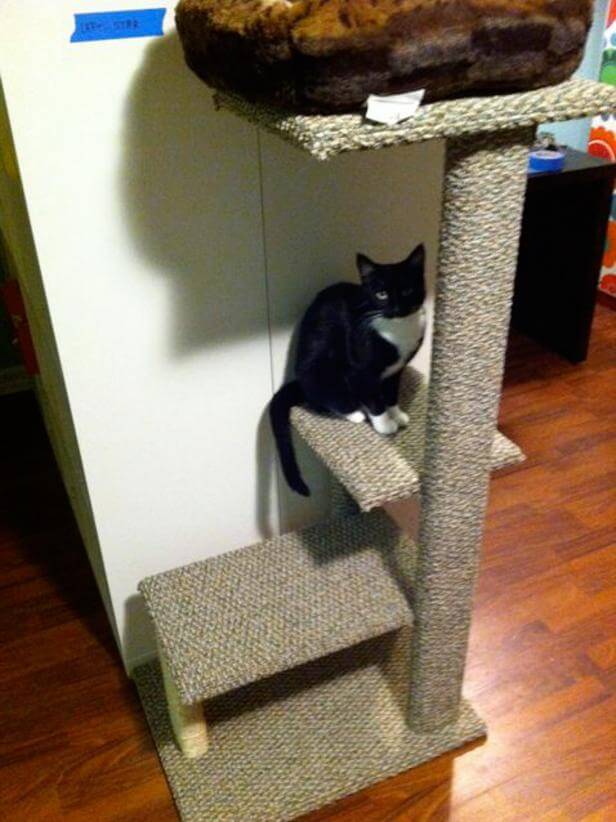 A circular saw, drill, pocket-hole jig, ½" stapler, utility knife, 50-ft. sisal rope, 1 yard x 12 ft. chemical-free carpet, 2" screws, (1) 2x4 x 8' board, 2'x4' x ½" plywood, particle board. Wrap carpet and sisal on individual pieces before assembling together and let your cats out.
2. DIY Cat Tree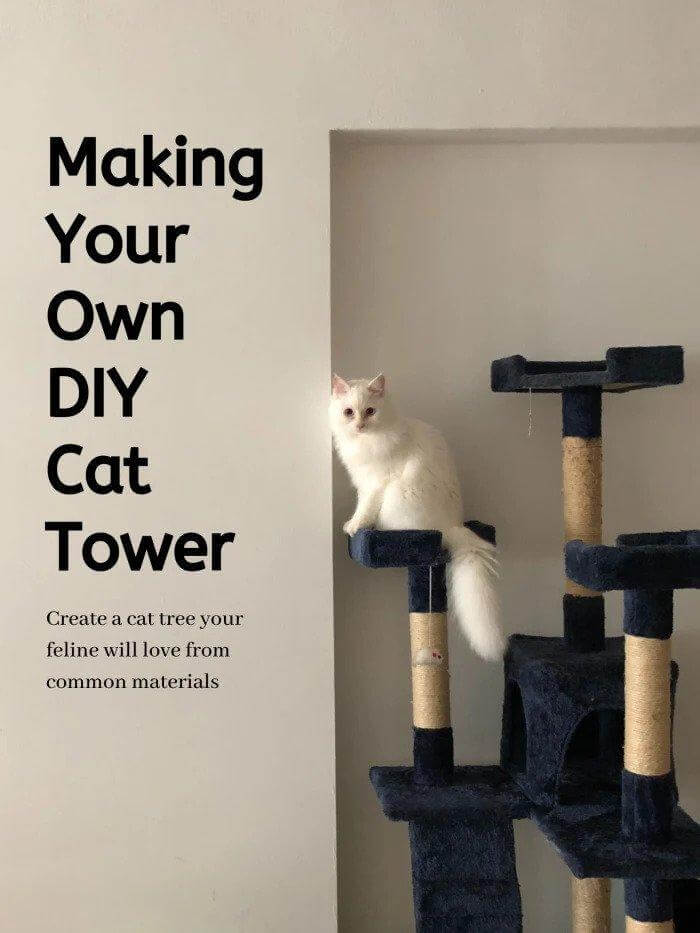 The following supplies should be made available; 2 centimeter-thick MDF or blockboard,
Thick plywood board, Untreated landscape posts, Natural carpet, Posts and sisal rope, Safe cup hooks, Multi-purpose, thick, long screws. Before construction upholster stages with carpet and wind post with sisal rope. Once that is done assemble your tower.
3. How To Make A Cat Tree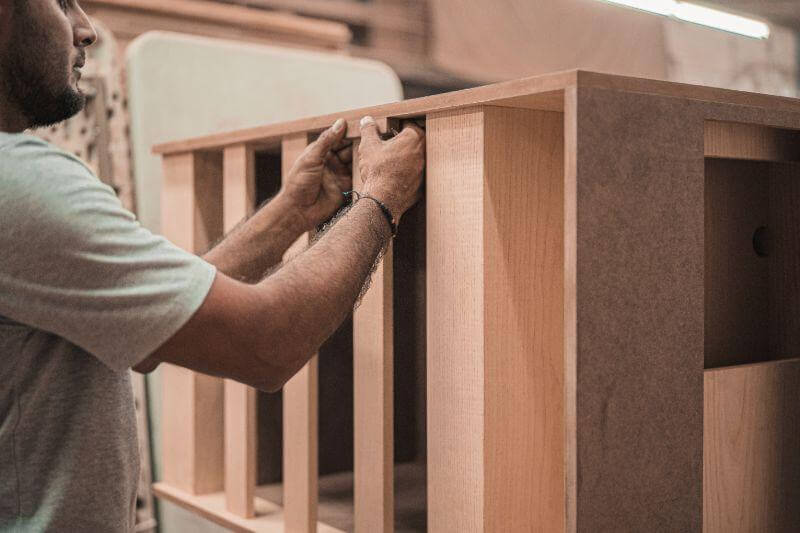 Before commencing this DIY ensure your carpentry skill is intact and the materials needed are available: Drill and wood screws, Nails and hammers, Table and hand saws, A utility knife and some carpet, Adhesive such as wood glue, Electric stapler and wood/plywood. Upholster base and other necessary parts before installation.
See also: 24 DIY Cat Bed
4. DIY Cat Tree With IKEA Hack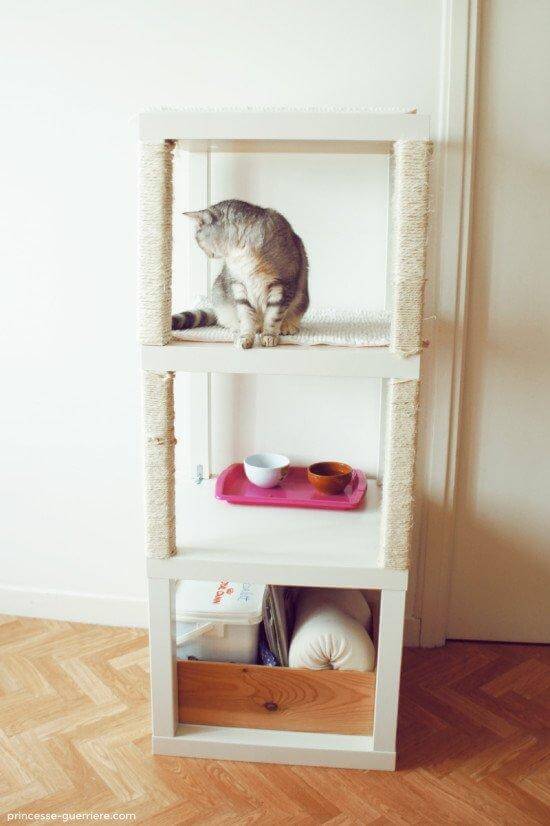 This is an easy DIY made with an Ikea lack table. No much stress is required here, just get 4 Ikea Lack tables, 12 brackets chair, 24 screws, A screwdriver,  Sisal and Ikea Mat Bathroom. Overlap and secure 3 tables of 4, using brackets, chairs and screws, wrap the Sisal twine around the feet of the table with glue, and use the mat bathroom to make the tree more comfortable. That's it !
5. How To Build A Cat Tree
Build a solid base, wrap vertical support with rope, add platforms and accessorize and your cat tree is ready. Take note of the following equipment in use; carpet, rope, fabric, utility knife, tape measure, wood glue, plywood board, hot glue gun and concrete form tube.
6. Ultimate DIY Cat Tree
With ½" plywood, cardboard tubes, jigsaw, drill & drill bits, staple gun, brad nailer, twine, hot glue gun, screw and epoxy, you can begin construction and upholstering to get your desired cat tree.
7. Cat Tree Build DIY
This project is more upcycling. Cans/tins, fluffy fabric, twine, t-shirt, ladder and wood. Glue tins to form a four sided post for the base, then make a longer post and wrap up with rope to conceal the can. Cover platforms with fabric.
8. DIY Cat Tree Using Real Branches
Get real branches of a tree and mount them up in a perfect position in your home. Add posts in between two branches then create stages at every step on the branch as high as it suits you or your cat.
9. DIY Cat Tree IKEA Hack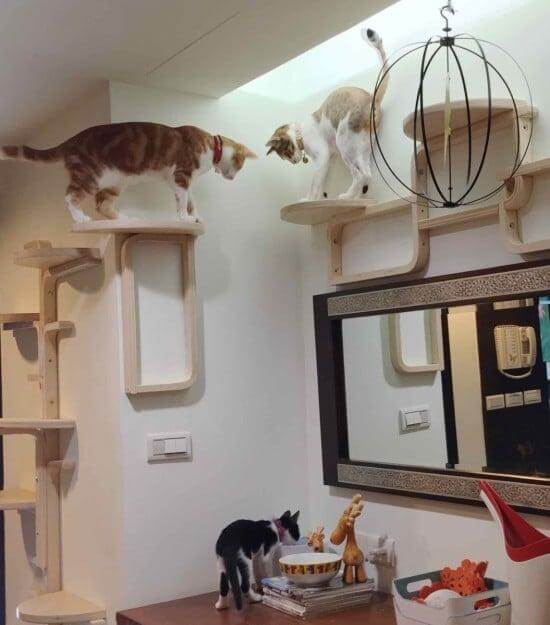 This might be a little bit tasking if you have no woodwork experience. This beautiful cat tree is made using Frosta stools, with your design pattern in mind style as desired and uses double sided tape and silicone to attach to the wall.
10. How To Make A Cat Tree From Home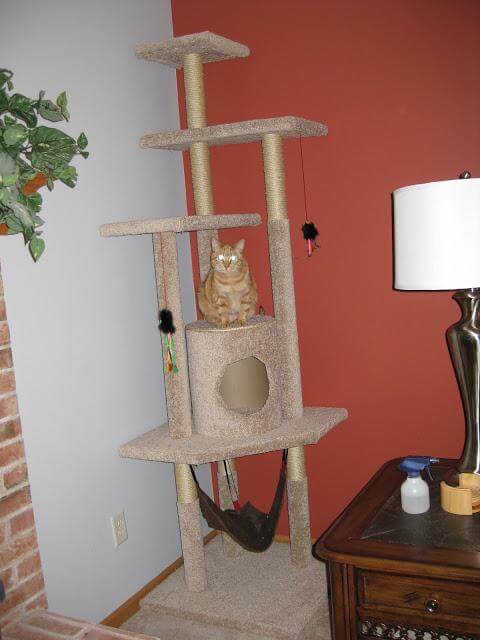 What we have here is a beautiful cat tree made out of PVC pipes wrapped in sisal rope and wooden base/platforms upholstered with carpet. The following materials were used to achieve this tree; 12 inch concrete form, 2 x 6 foot ¾" plywood boards(3), 16 ½ft of junk 2x4s, 16 ½ ft of 8" PVC pipes, sisal rope, 60 ft of carpet, 5 Long lag bolts, 6 Lag bolts with large torx head, 1 foot of fabric for cat hammock, Lots of glue sticks and staples.
See also: 14 DIY Cat Fountain Plans
11. Cat Tree DIY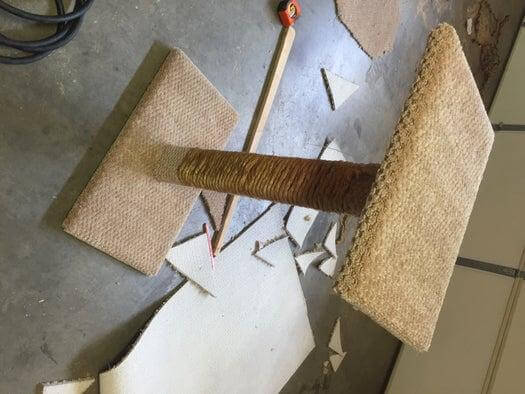 Cut your wood to suit your measurement, two bases and a post. Attach post to floor base then use staple to secure carpet to base. Wind your rope around the post from top to bottom then fix in top base and carpet it. You're done!
12. DIY Cat Tree Near Desktop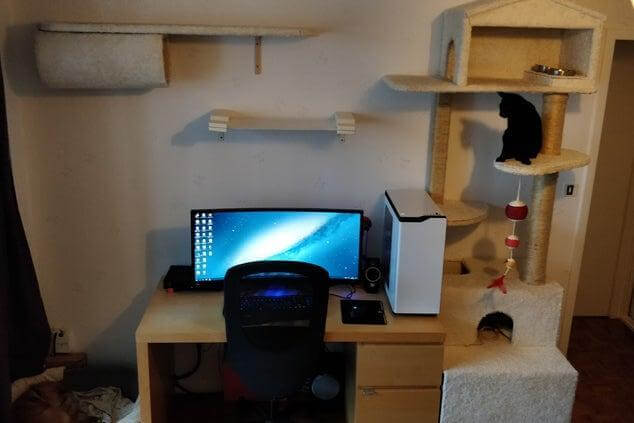 This cat tree is built as more or like a cat home with compartments. Construct the bottom house and top house. Wrap your PVC tube with sisal rope and carpet the cat house and base as well. This keeps your cats closer while busy with your desktop. Gather these materials to begin; Wood (all size, all shape), Sisal rope, PVC tube, Hose clamps, Angle brackets, Flexible fences, Carpet flooring, Staples, Hinges, Screws.
13. DIY Cat Tower
Make use of drill, handsaw, rope, hammer, screws, hook, straight edge, paint, dining mat, pencil, glue gun and wood. Having the right measurements, you can spray paint your structure then add rope to post for scratching post, wrap the platforms and your cat tree is ready!
14. How To Make Cat Tree From Cardboard
Simple but tactical cat tree made out of cardboard, constructed and put together to fit your cat specification. This is not too sturdy so might not take more than one cat.
15. $14 Cat Tree
For an inexpensive cat tree, not made with wood also you may want to try this DIY for your cat. 12 foam poster board, water based spray glue, low temp. Glue gun, and knives are needed to achieve this.
16. Amazing Cat Tree Build Idea DIY
Attach two base discs cut off plywood to a sturdy tree branch by drilling with lag screws. Add beautifully carved out wooden platforms to sit on the tree, then you can add rope to some parts to prevent wearing off of the tree by continuous cat scratching.
17. The Survivalist Cat Tree DIY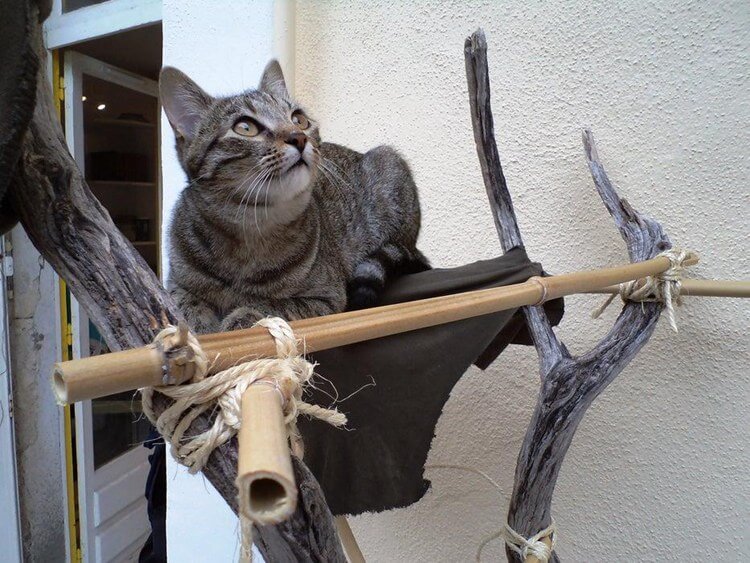 Take a branch off a tree and remove leaves or use branches of a dead tree. Position right in front of your house, attach bamboo on top to create a platform. Weave net inside,add live of cloth to soften the platform and voila your outdoor style is set!
18. DIY Multi-Level Cat Tree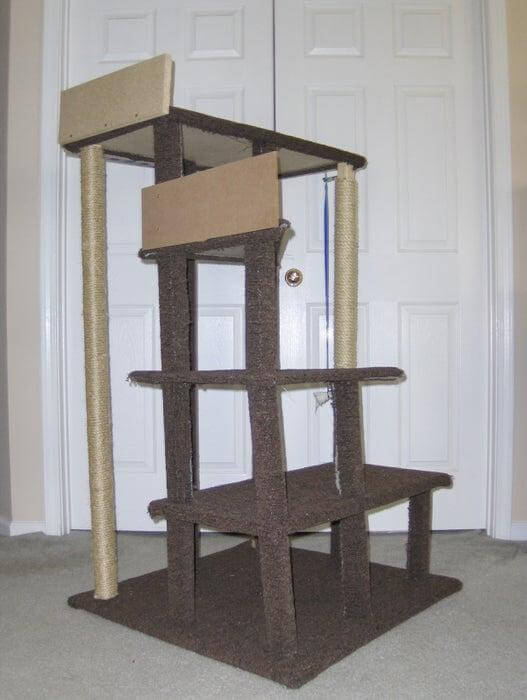 1 - 4ft x 8ft x ¾" Particle board for base and two rectangular levels, 1 - 2ft x 4 ft x ¼" MDF board, 4 - 2" x 2" x 8ft boards for the posts, Sisal rope, 1 - 3ft x 12ft piece of carpet, 2 - cans of spray adhesive,  9 - 2" or 2 ½" long dowel screws, 18 - 2" wood screws, Tape measure, Electric drill & drill bits, Utility knife, Circular saw, Pliers. Prepare board and post then wrap rope on post and carpet boards. Assemble your tower together.
19. DIY Star Trek Cat Tree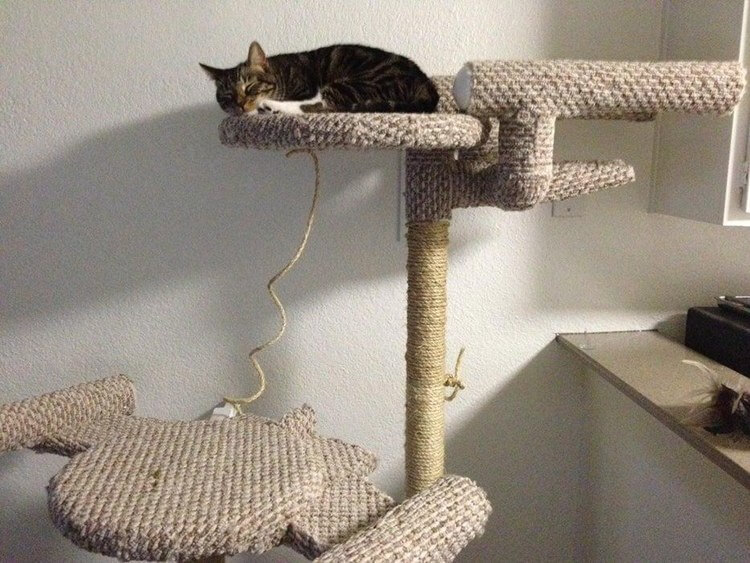 9' & 5' pvc pipe, 2' x 3' plywood board, 15" & 18" pine round panels, 1' x 3' plywood board, 8 round caps, 4 flat caps, 3 T-connectors, 1 X-connector, 2 elbow connectors, 2 straight connectors, 15 2" length bolts  >> needs to go through both wooden parts of the Bird of Prey, 18 nuts, carpet, 250ft sisal rope, pipe adhesive, utility knife, handsaw, staple gun, drill, ratchet wrench, scissors. After purchasing these, construct and cover with rope and carpet where necessary.
20. DIY Cat Tree House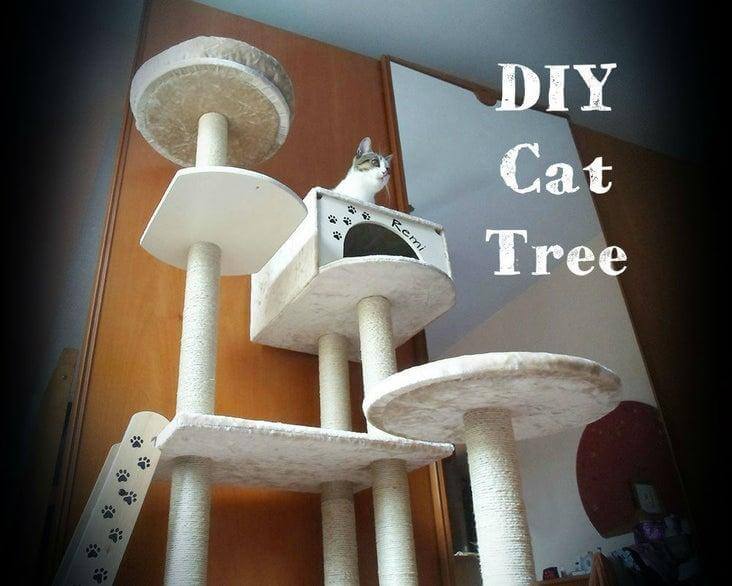 After getting different sizes of wood, thick cardboard tubes, 4 curtain wooden rods -diameter: 3cm (1.18 inches), fabric -  velvet/plush, 12 screws, thin nails, staples and staple gun, lots of twine, black acrylic paint, paint brush, hot glue, white glue, cutter, drill with hole cutter and forstner bit, screwdriver and jigsaw. Wind twine around tubes and upholster fabric on platforms then install your cat home.
21. How To Make The Ultimate Cat Tree
This is an amazing and unique floating cat tree. It follows a swift flow on the wall just like how branches sprout on a tree. A post by a corner can be carpeted as well as the floating base on the wall.
See also: 18 DIY Cat Shelves
22. DIY Cat Castle
A unique cat tree with glass legs. Join glass together to form posts and wind up with ropes (not completely), glue post to base. Carpet base as well. Make do with glass jars for legs, gorilla glue, rope, fiber boards, wood screws, drill, paint, rafter square and tape measure.
23. DIY Cat Tree Out Of Wooden Crates
This is a simple DIY cat tree made with wooden crates that are designed to suit your taste. Just get your crates, pillow, blankets, flat board, rope, drill, screws, wood glue, staple gun, wood stain all ready.
24. DIY Cat Tree Build
This is a big wooden triangular cat tree built quite high. A platform is made at the top and upholstered with thin foam and fabric to make it soft and comfortable for the cat. Rope is run along some sides of the wood to serve as a scratching post.
25. How To A DIY Cat Tree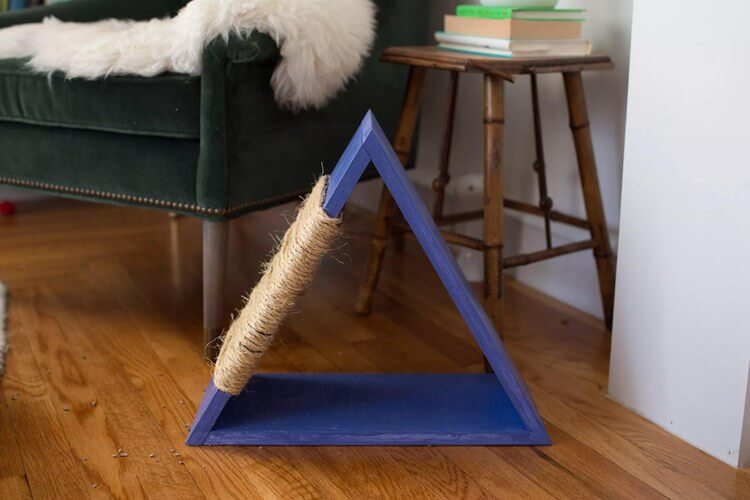 18-inch pre-primed boards, mitered at a 30 degree angle, 1 ⅝-inch trim head screws, ¼-inch wood plugs, Rope, Paint, U-fastener, Tools, Drill, Rubber mallet, Paintbrush, Hot glue gun.
Construct your boards together then add up the rope and that's it.
Conclusion
Did you find a preferred DIY cat tree? Yes? I told you that you would! No? Check again, and this time, show your cat the images, he or she might be sweet enough to choose. Thanks for stopping by, I hope you had a great time reading this article. Just before you leave, please share this content with your friends or family members who are cat owners.