Have you ever thought of installing a fire pit on your patio? The good news is that you can do it yourself. If you love trying out new projects on your own, then this could be a great project you can indulge in.
Whether your backyard or patio is made of grass or concrete, there's a perfect fire pit design to fit into any style. After successfully building a fire pit, you can invite your family and friends to hang out with you enjoying s'mores while warming yourselves. It's a nice place to relax and unwind, and even after the summer season, your fire pit will still serve alot of purposes, like providing an aesthetic view for your patio or backyard. And also, cooking on the fire pit - you know, there is always something about food cooked outside, they taste better!
This article gathered 85+ DIY fire pits you can build easily that don't require an advanced skill. We also won't fail to mention that all the materials and supplies for this project are inexpensive and easily accessible. Hence, if you are interested in building your fire pit, you'll find an option that fits your budget requirement.
85+ Affordable DIY Fire Pits Ideas You Can Easily Build
These fire pits are categorized into four types- circular, tabletop, square, and other decorative fire pits. Therefore, when choosing whichever one is suitable for you, you'll be able to know the kind you're going for.
Round Fire Pits
1. Concrete Tree Rings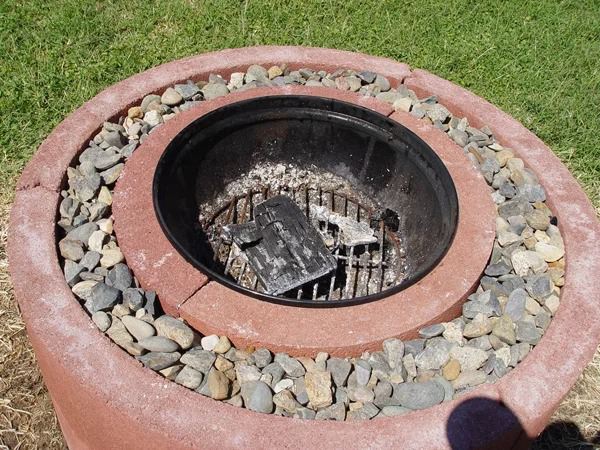 This is a perfect fire pit if you're still not sure where you want to place your fire pit. It's not permanent, so you can still move it about until you get the best spot. Learn how to make this.
2. Stack Stone Fire Pit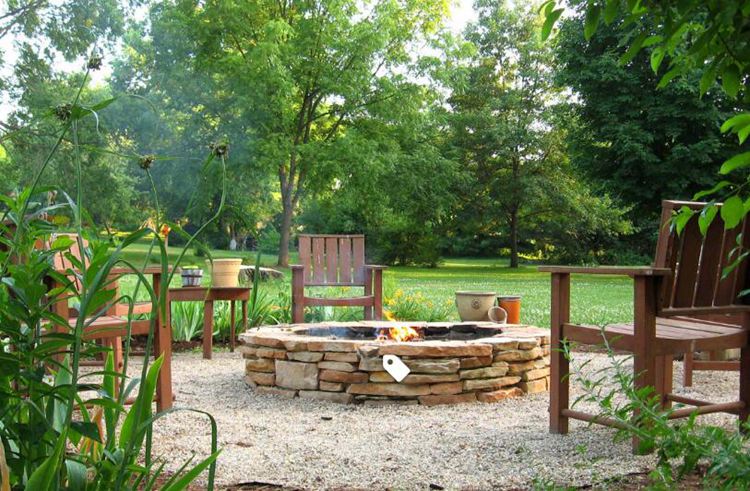 The trick in building this beautiful stacked stone is to select the flattest stones for the bottom. Then, you can start stacking them up little by little. If you like your arrangement, you can then secure it with mortar. Continue this till you get the stone to the level you want.
3. Fancy Brick Fire Pit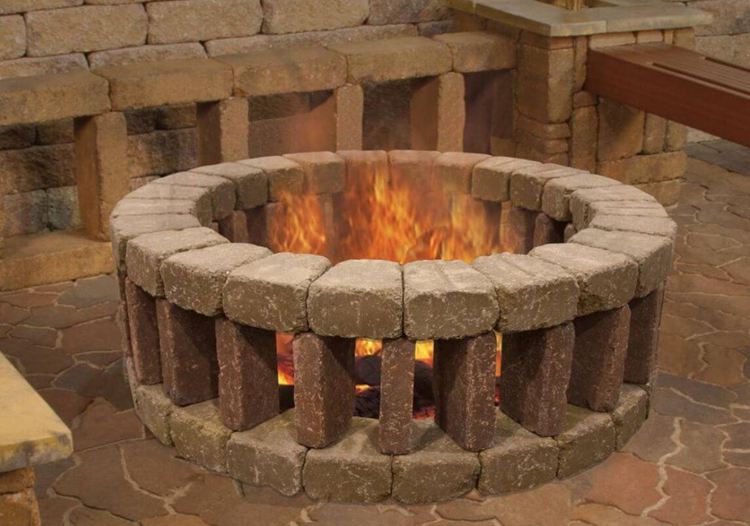 Tutorial Source Unknown
If you can lay your hands on this type of block, you can decide to place them this way, creating a mot-so-common round firepit.
4. Decorative Fire Pit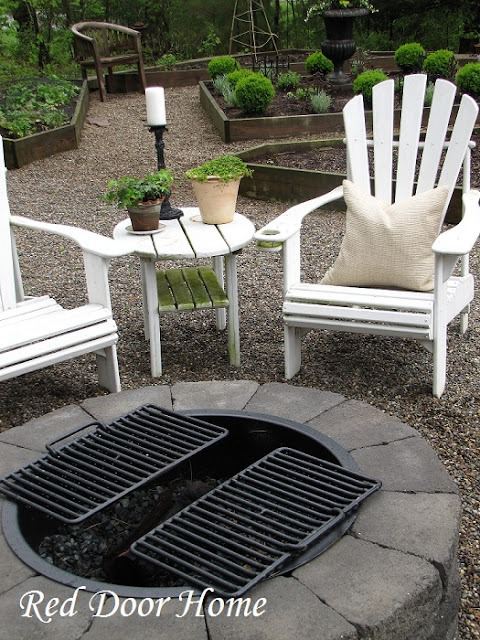 As sophisticated as this fire pit may look, it's straightforward to build. You only need a metal ring, block, and small rocks. Follow this process to create yours.
5. Truck Wheel Fire Pits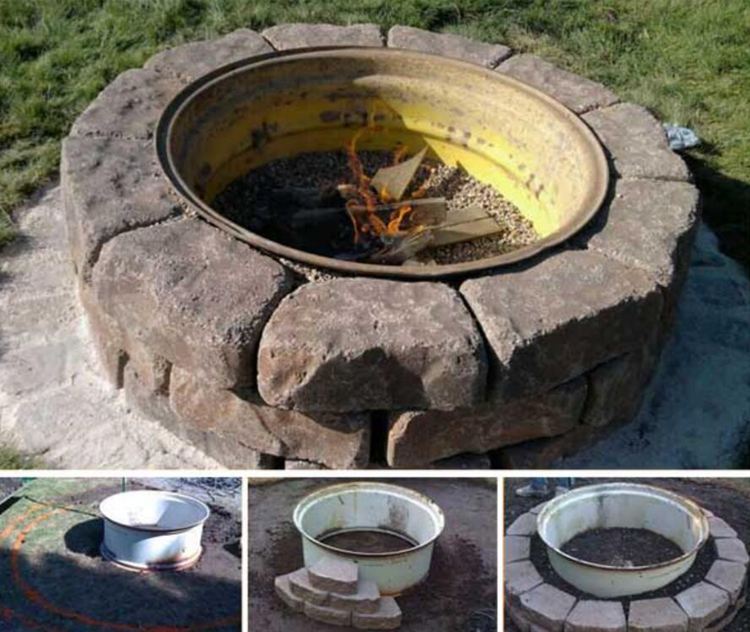 If you have a truck wheel, use that to create this. Very simple and inexpensive because you do not need to purchase a metal wheel. Source.
6. Country Cottage Fire Pit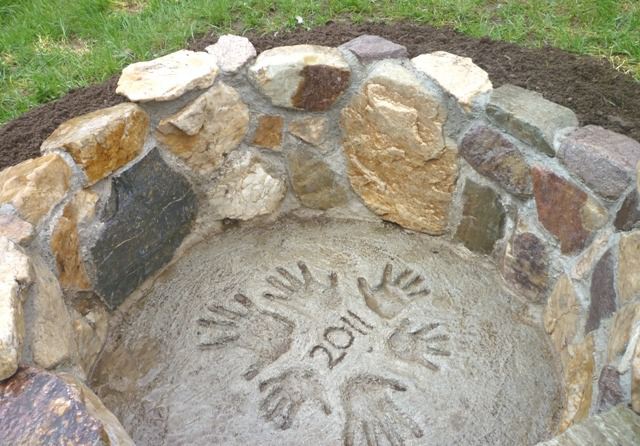 This beautiful firepit costs $8. So, you could place your budget a little over that in case of an increase in the price of some materials. Sharpe Creations used mortar to create this fire pit, but you could also use cement or any construction adhesive. Source.
7. Flat Stone Firepit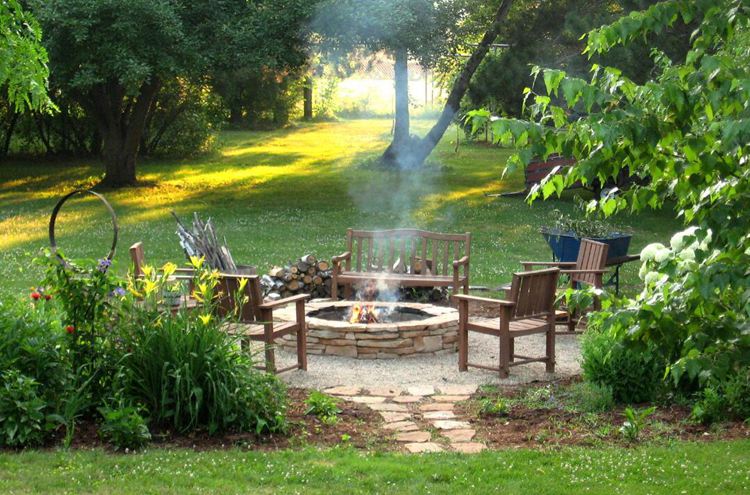 This is a beautiful sit-out to come home to relax and unwind while also being surrounded by nature. If you have this much space and love this setting, you can recreate this and start enjoying your evenings out here. Source.
8. Fancy Stone Fire Pit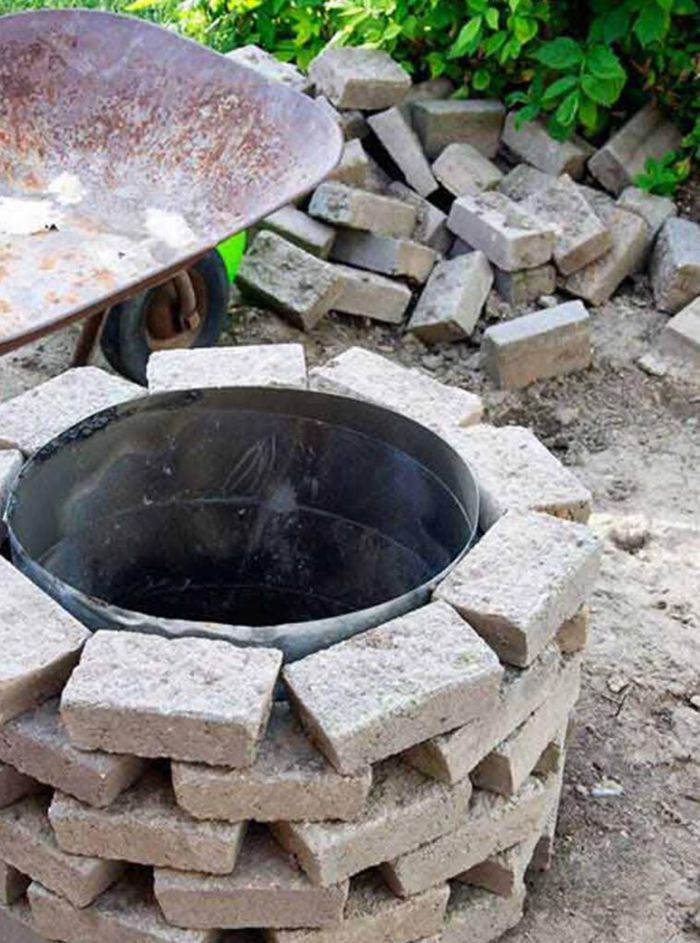 Tutorial Source Unknown
The creativity behind this fire pit is the way the blocks are stacked. You can always deviate from the usual design and try to customize your firepit.
9. Flat Stone Fire Pit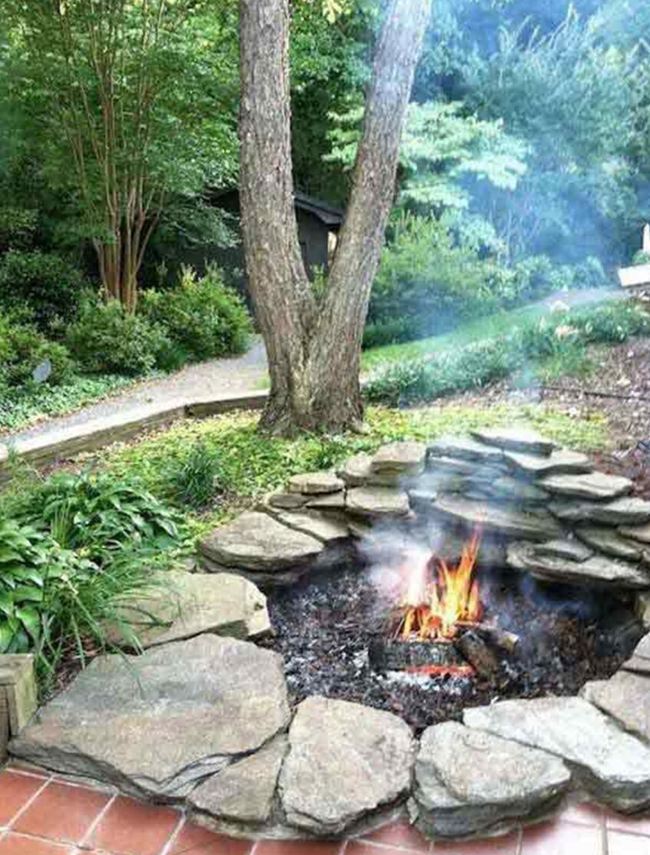 This fire pit requires no metal ring, bricks, or concrete. All you need to do is dig a shallow hole and stark your flat stones around it. You can start burning your wood and relax close to your DIY fire pit. Source.
10. Simple Natural Stone Fire Pit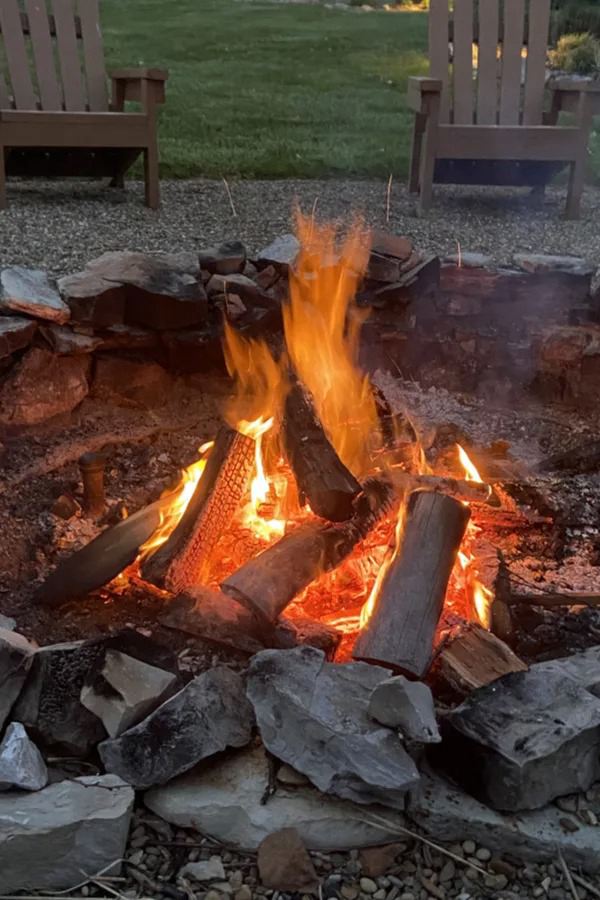 If you have natural rocks around you, make use of them. No need for concrete blocks or bricks. Mark out a spot where you want to place the fire pit. With a shovel, make a shallow pit. The next step is to arrange the stones around the pit. Simple steps to follow.
11. Simple Stone Pit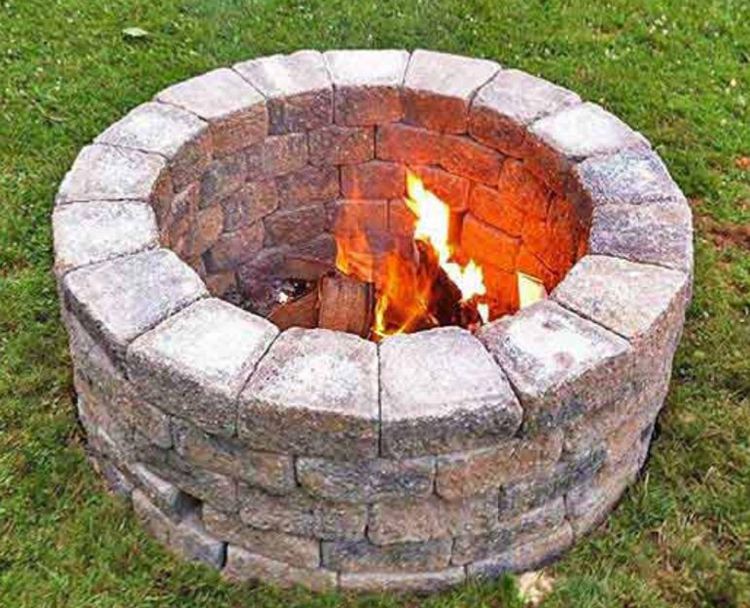 To build this, you'll need over 86 pavers. You can buy extra pavers, so you don't run out of blocks. This pit has five layers; you can decide to make yours the same or less than five. Learn how to make one from hgtv.com
12. Simple Block Fire Pit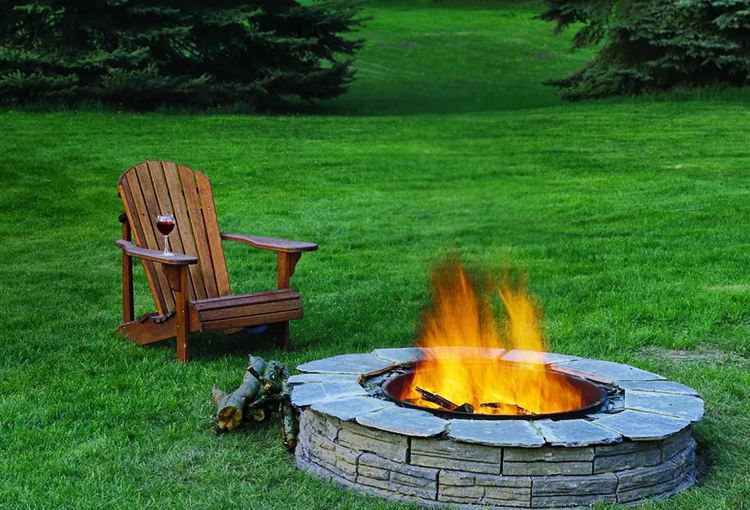 Learn how to build this fire pit from thisoldhouse.com.
13. Fire Pit By the Corner of Your Backyard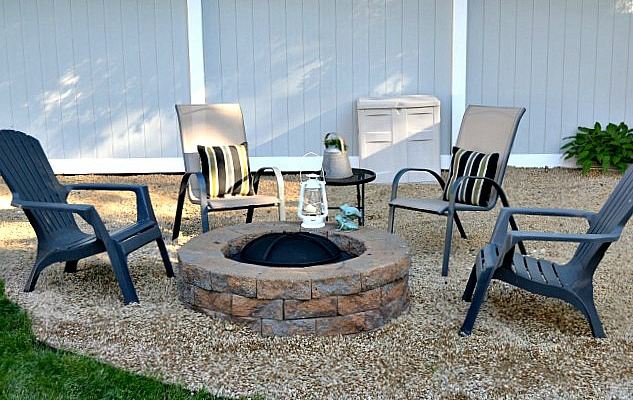 Make this beautiful round concrete firepit, but dont just stop there. To make it look more modern, you can decide to beautifully separate the grass area from the firepit by flooring the area of the firepit. Tutorial.
14. Building Both Patio and Fire Pit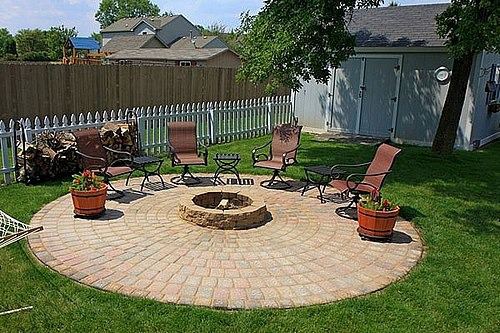 Follow this step-by-step process by Countryfarm Lifestyles to build a patio and fire pit in your backyard. You're about to have a nice relaxing spot for the cold seasons.
15. Fire Pit With Fireplace Glass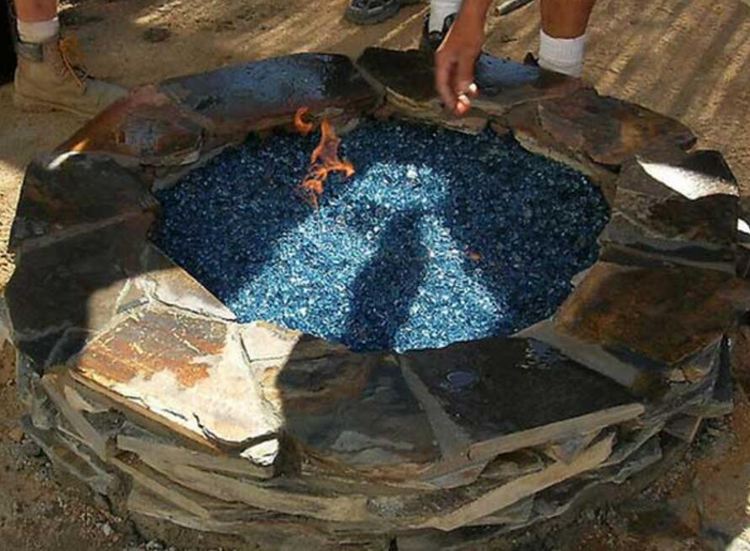 Tutorial Source Unknown
16. Half Wall Fire Pit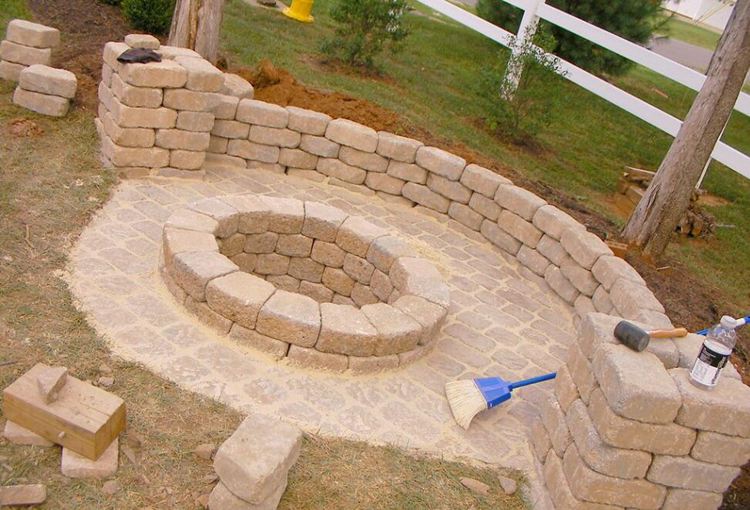 This beautiful fire pit idea doesn't only have an extra stone paving around the fire pit but also a half wall. This is creative and beautiful, but at the same time, it is created for additional protection. Source.
17. Brick pit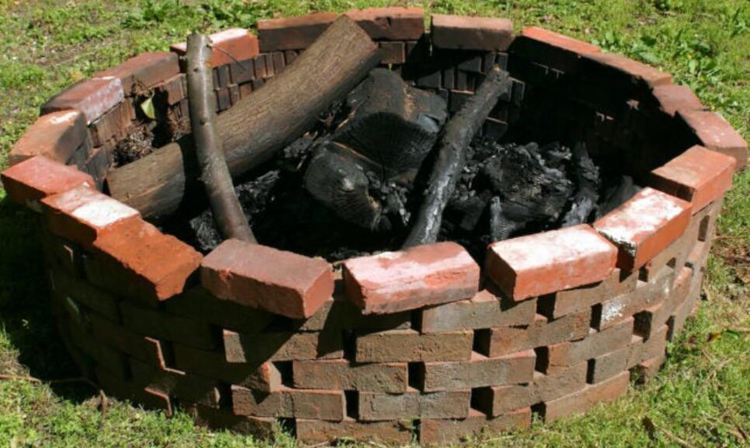 Source Unknown
This is a simple DIY pit; you can get up and running in no time. Simply build this by stacking up bricks to your desired height -No mortar! No concrete!
18. Cinder Block Pit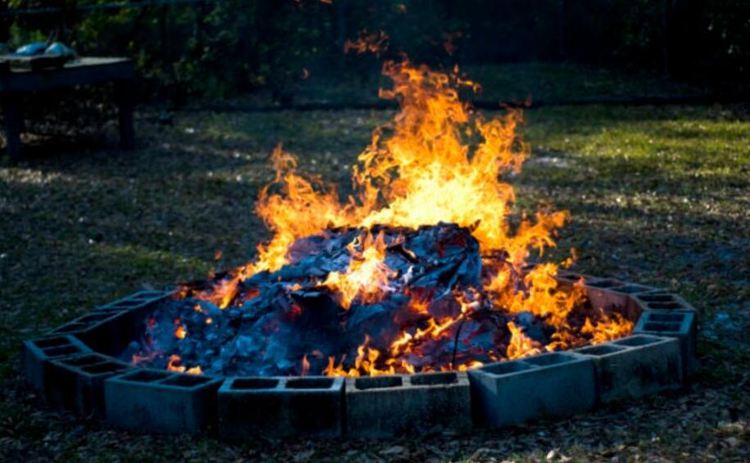 No Tutorial Source
Arrange the one layer of block circularly to create this DIY fire pit. You can add an extra block layer and secure it with cement to change things a bit.
19. Fire Pit Using Nicolock Pavers
No Tutorial Source
This beautiful classic firepit will create the perfect ambiance for your backyard.
20. Easy Fire Pit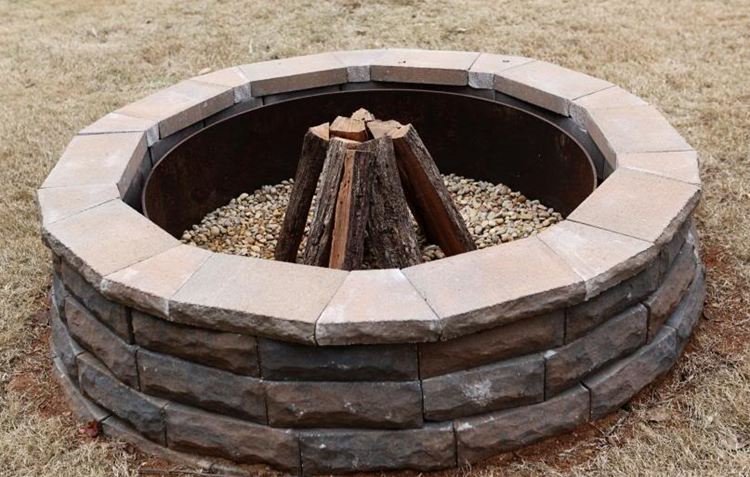 Blocks, cap block (for the final level), metal ring, drainage gravel, & construction adhesive are the materials you need to have before you begin work. Tutorial from Bower Power
21. Classic Circular Fire Pit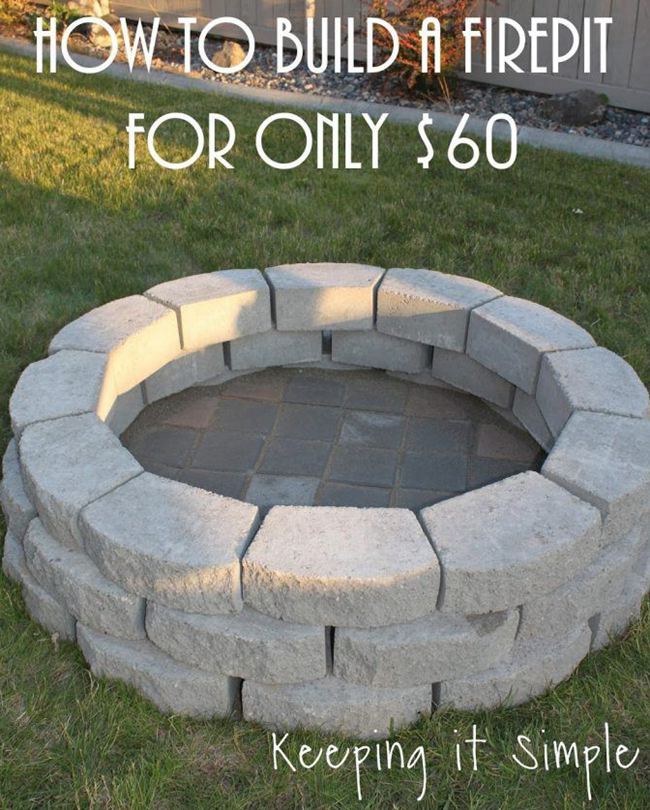 This simple pit design is different from some previous pit designs because it requires no digging. If you're looking for a DIY fire pit that does not require you to dig out your lawn, then here you have it. Tutorial.
22. $80 Fire Pit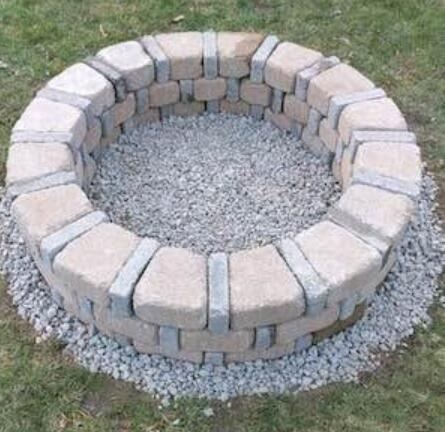 If you want to make this fire pit, you need gravel/ river rocks, two different block designs, and other basic tools. This way, your firepit will be upgraded from the basic to an advanced pit. Follow this step to create your cozy space with this firepit.
23. One Hour Fire Pit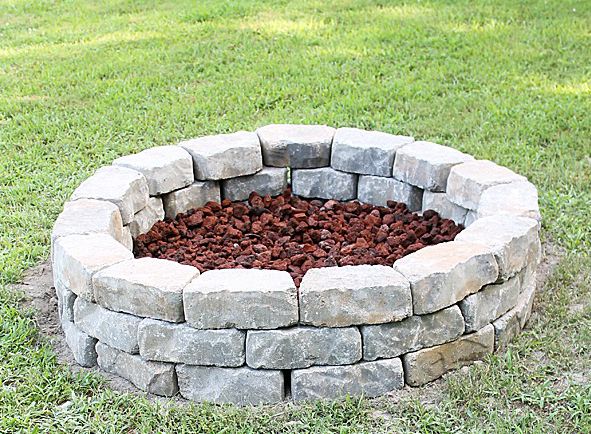 The Shabby Creek Cottage was able to build this in one hour. so can you too! The supplies she gathered for this project were stones, lava rock, and a shovel.
24. Inexpensive Stone Fire Pit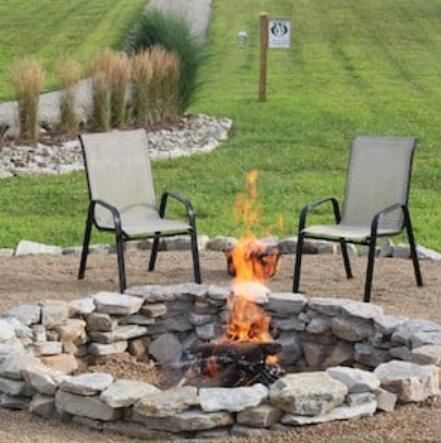 This is a very simple fire pit with two seats for two. This firepit can be completed in three hours. Here are the guidelines and steps to follow.
25. Retaining Wall Fire Pit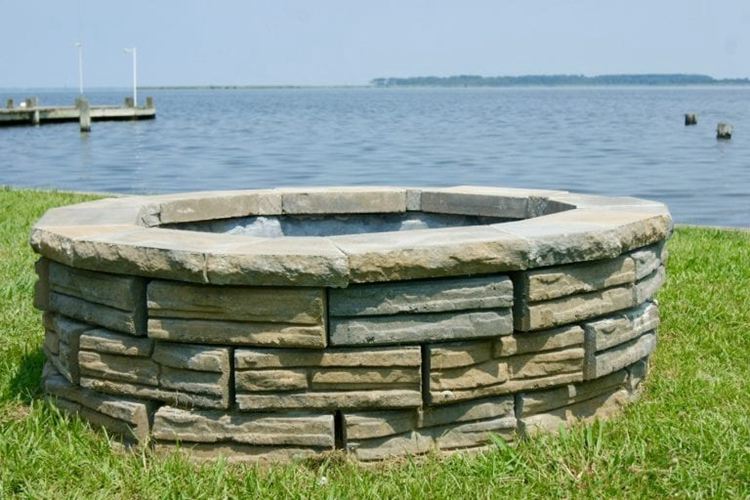 Learn to build this retaining wall fire pit from remodelaholic.com
26. A Four-Step Fire Pit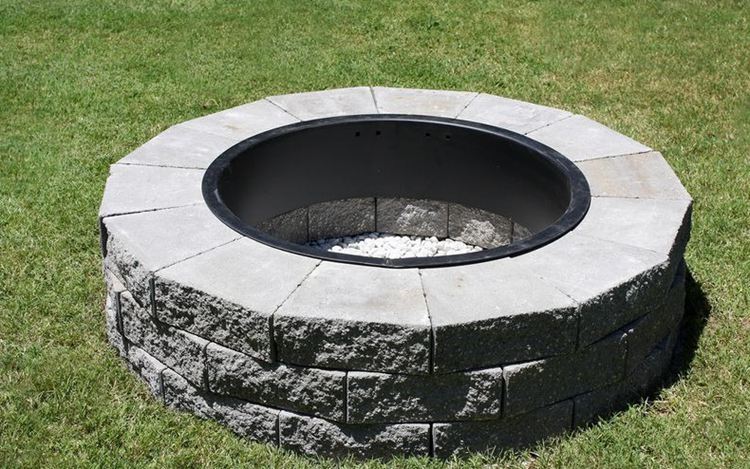 Learn how to erect this beautiful fire pit in four easy steps from abeautifulmess.com.
27. Landscape Wall Pit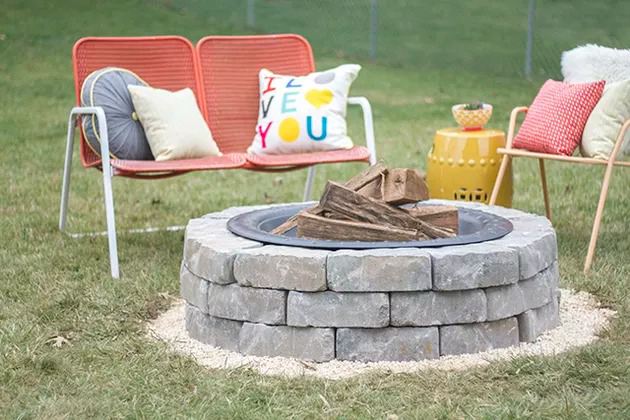 Prep the soil by leveling the soil, adding sand and gravel, then begin building your wall. You will find out that building your DIY fire pit is not as difficult as you think. All you need is to purchase the materials and then bring out a day for the work. Follow this step-by-step guide when you're ready.
28. A $100 Fire Pit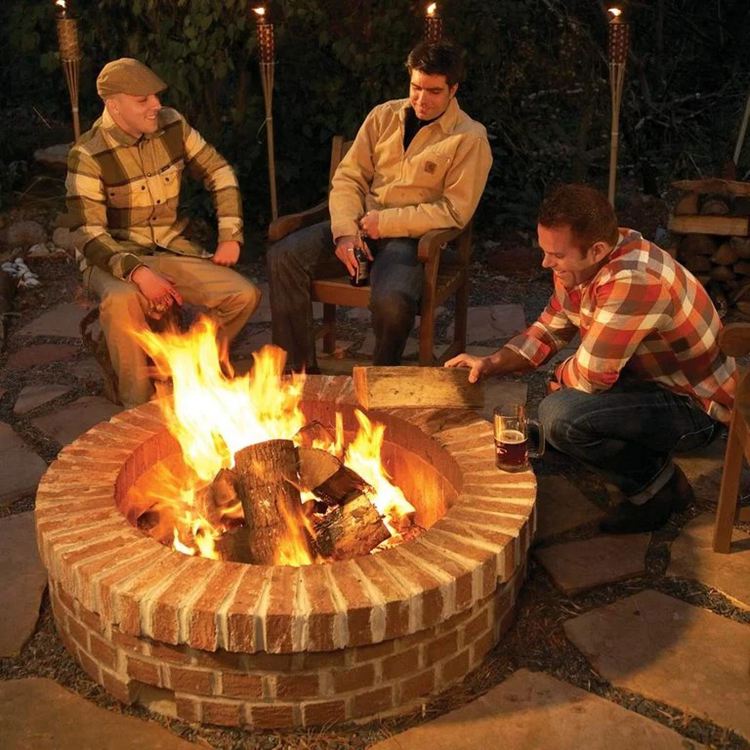 Tutorial from familyhandyman.com.
29. Cheap Fire Pit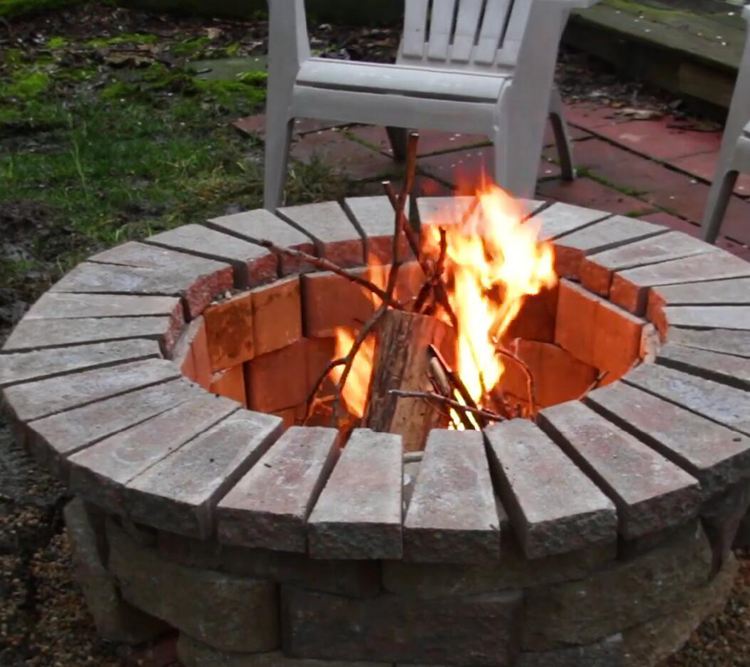 Learn to create this firepit for your backyard.
30. Multi-Level Fire Pit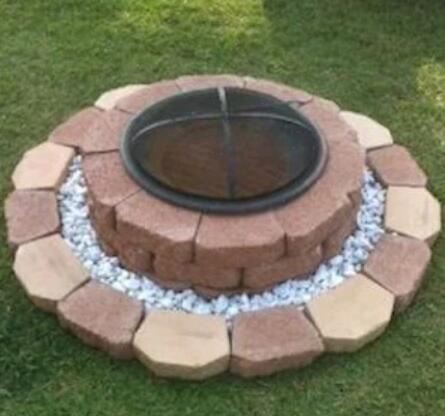 Tutorial Sorce Unknown
If you want to make this, it's the same step as the previous fire pits. First, mark out the circular space you want for your fire pit. Prep the soil and start arranging your stones. Before stacking the stones for the inner circle, place your inner fire bowl and arrange the inner stones around it. Once you have completed the first layer, take the bowl out and stack the other two-three layers. Secure the stones with construction adhesive, then pour in river rocks. Finally, you put back your fire bowl, and you're all done.
31. $125 Fire Pit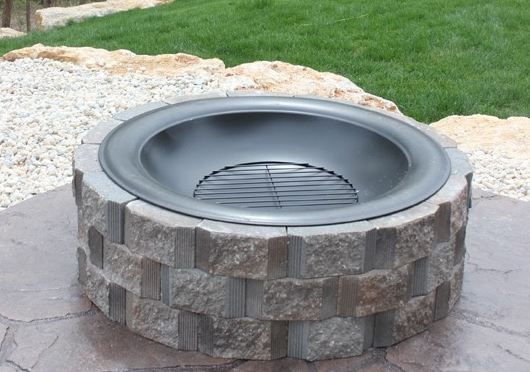 Learn how to create this one-hour fire pit. Get your supplies ready, build the firewall and insert your fire bowl. That's how easy it can get.
32. Backyard Fire Pit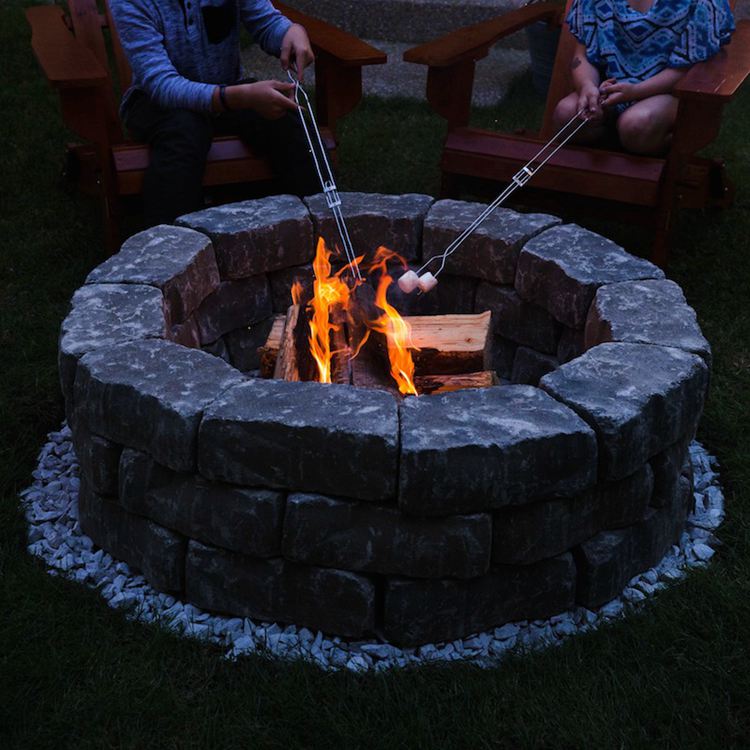 Learn how to make this simple inexpensive fire pit from Zillow.
33. $30 Fire Pit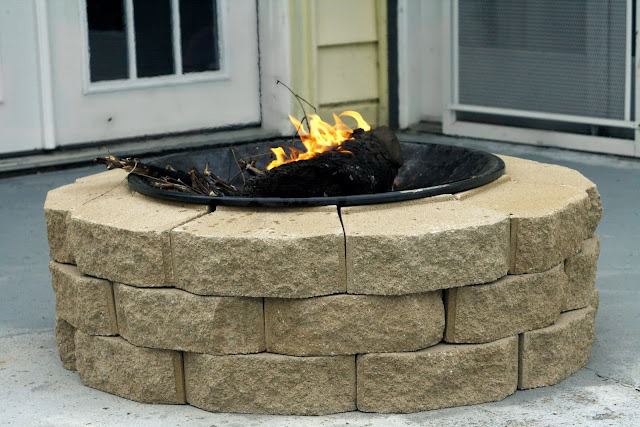 Follow instructions from alwayschaginglife.blogspot.com on how to make this 30 bucks firepit. Therefore, you should budget a little bit higher than that in case the price of materials rises.
34. 10-Steps Fire Pit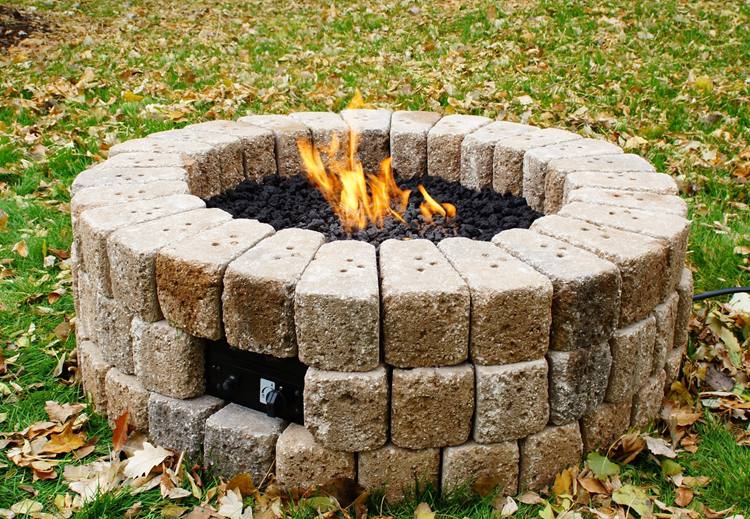 This gas fire pit is classy for those who don't need a wood-burning firepit. Follow the instructions to get your gas fire pit ready.
35. $127 Decorative Fire Pit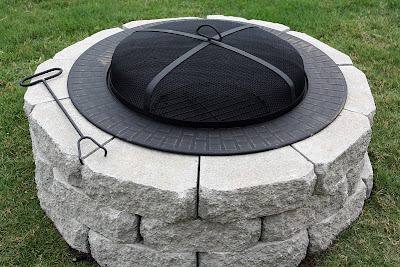 Follow this tutorial from Mummys Kitchen and learn how to build this fire pit on a budget.
36. Circular Pit with Octagon Deck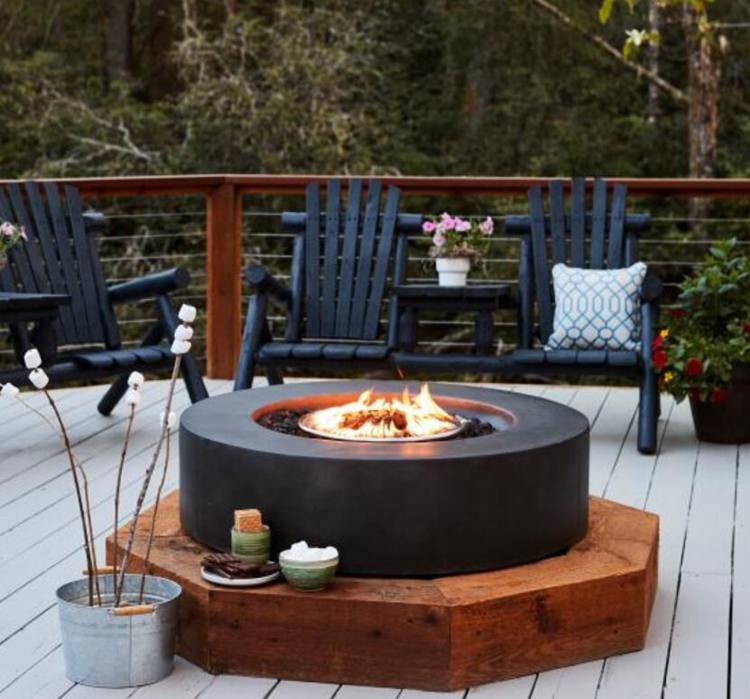 Tutorial Source Unknown
37. Fire Pit and Table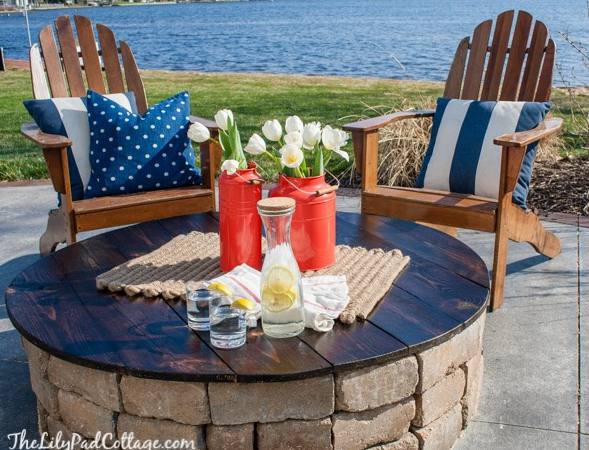 This is a two-purpose firepit. It's a table by day and a fire pit by night. This is really a great choice if you have small children, to prevent them from jumping in and playing with soot.
38. Stone Fire Pit with Square Sitting Area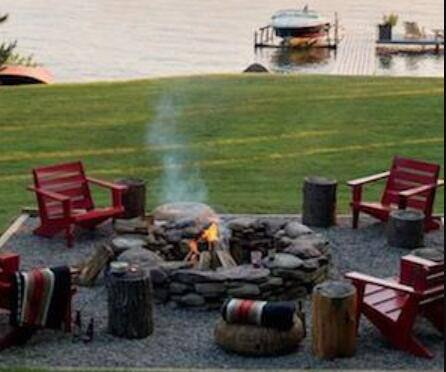 Tutorial Source Unknown
This square sitting area idea matches the firepit built. You can try recreating this, and adding tree stumps if you have one.
39. Woodden Swing around Fire Pit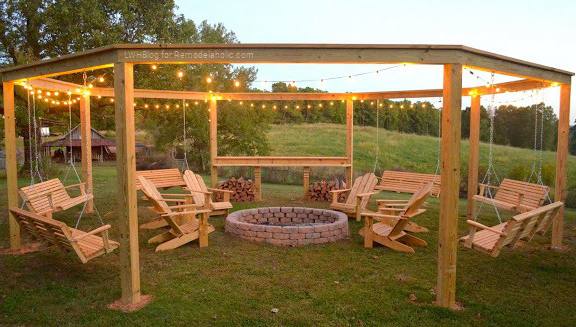 This fire pit with a swing sitting area is a very nice option and you can build yours too. Therefore, if you are ready to go all out for your backyard not minding the cost, this is a perfect option for you. Follow the step-by-step process to achieve this.
40. The "Camp Rosen" Fire Pit

If you love the backwood vibes this fire pit brings, then you should create this stacked stone fire pit and benches made with tree stumps—tutorial from ourfairylandhomegarden.com.
41. Cheap Fire Pit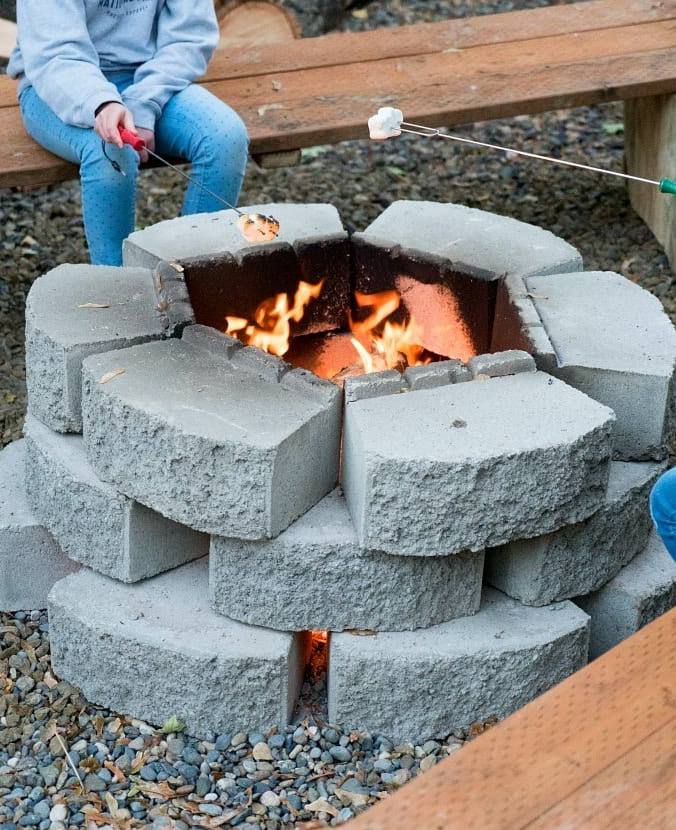 Here is how you create this firepit for your backyard project.
In-Ground Firepits
42. Rustic Fire Pit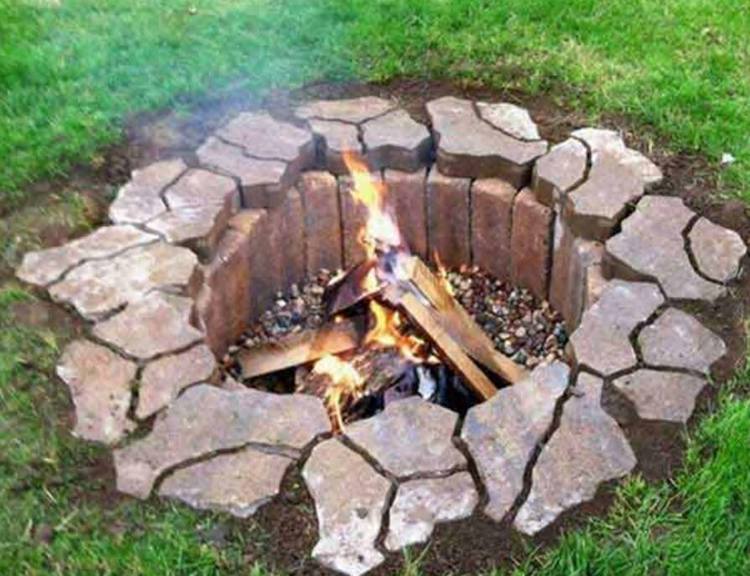 Tutorial Source Unknown
43. In-the-ground Fire Pit with Patio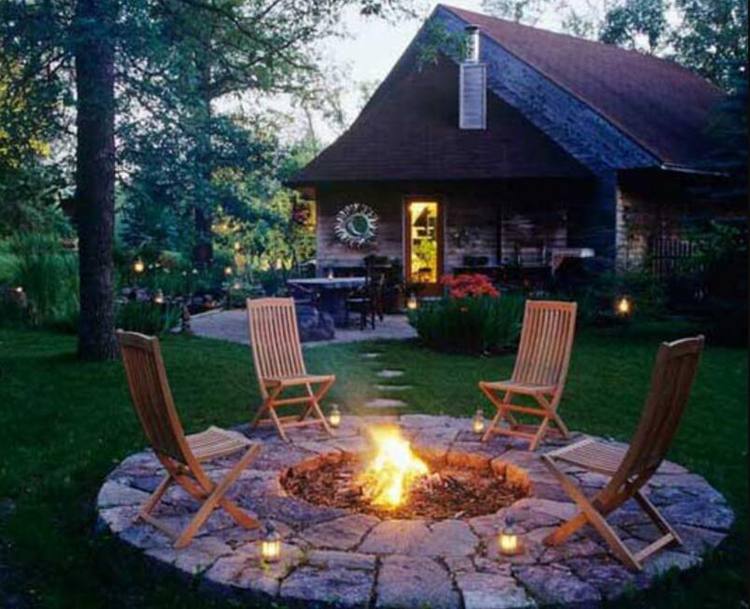 Tutorial Source Unknown
44. In-the-ground Brick Fire Pit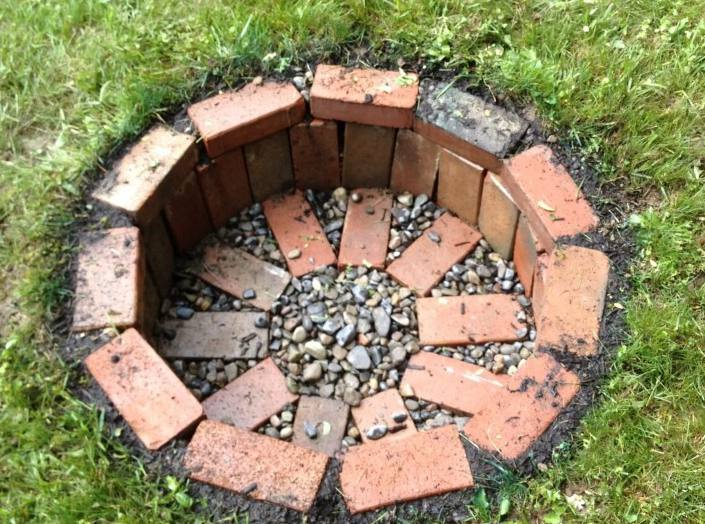 This fire pit was made to have a rustic cottage look. It requires 40 bricks or pavers and landscaping stones. Here is a step-by-step tutorial to follow.
45. Slightly-Angled Fire Pit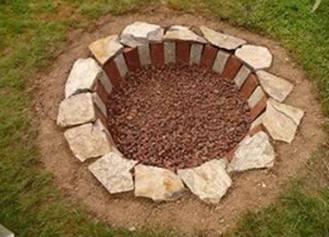 Do you want to try this one out? All you have to do is dig 12" deep, slightly angled, and start placing your bricks amd flat rocks. Tutorial on how to build the slightly angled fire pit
46. Easy Fire Pit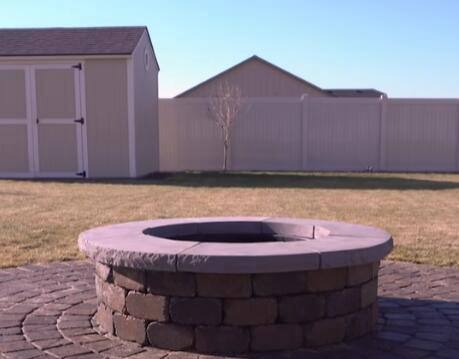 No Tutorial Source
This is another simple in-ground fire pit with a patio. You can also style yours with comfortable plastic chairs like what you see in the picture. This tutorial can teach you how to get started.
47. Garden Fire Pit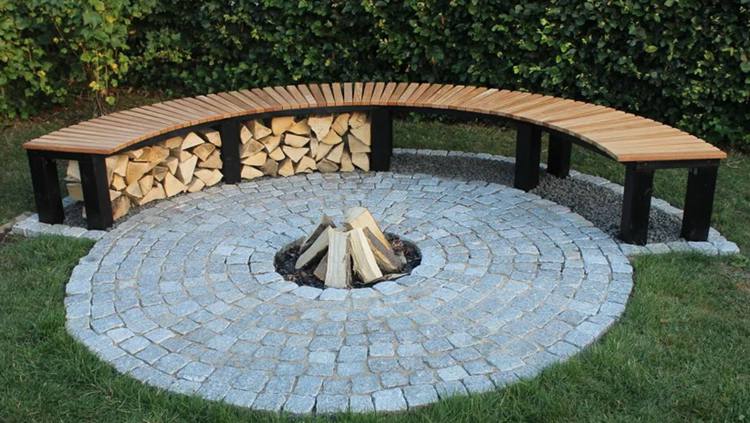 Easy step-by-step tutorial to build this garden firepit with a bench.
48. BlueStone Fire Pit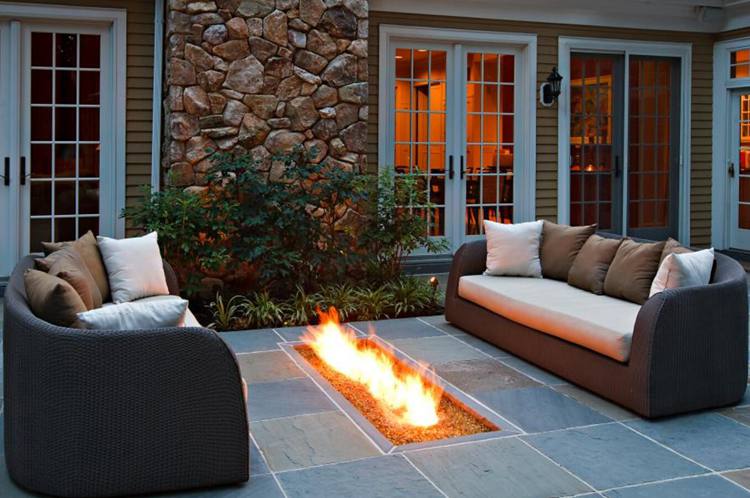 Here is how you make this smokeless fire pit.
Tabletop Fire Pit
49. Fire Pit By Dun Lumber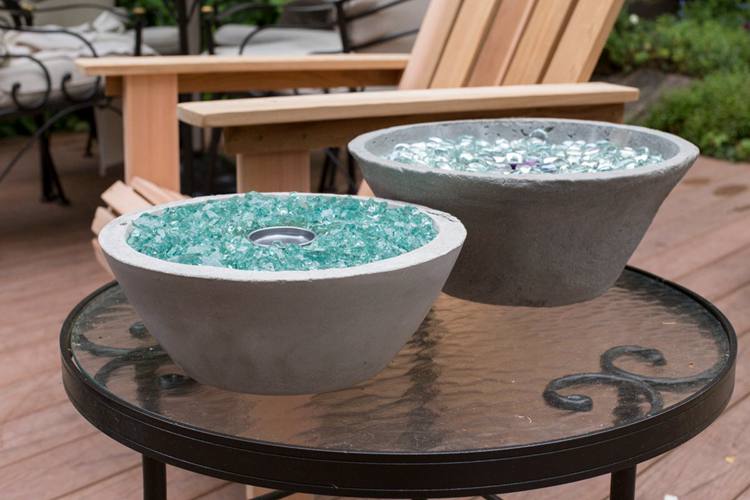 To make a fire glass fire pit, start with molding the fire bowl, add lava rock, create a space for the flame, and finally add the fire pit. For more information, join Dun Lumber in creating this tabletop fire pit.
50. Faux Fire Pit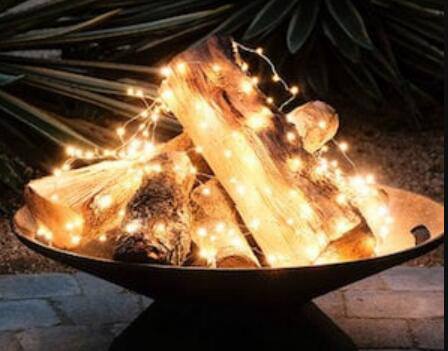 Tutorial Source Unknown
No natural fire is involved, just add wood to any metal pan and place your electric lights on it.
51. Table-top Transparent Fire Pit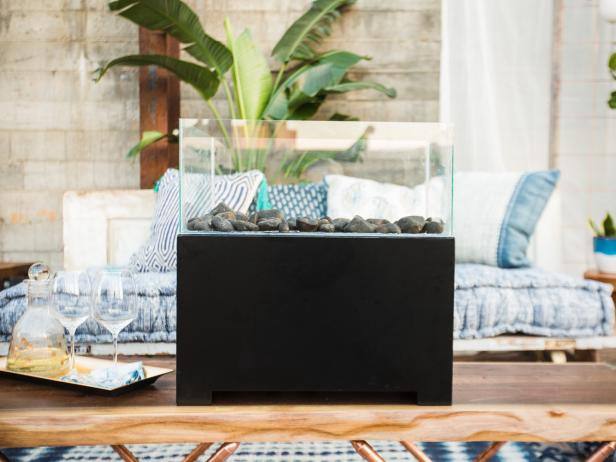 We still got you covered if you think you don't have enough space to erect a fire pit. We understand, fam! That's why you could try out this modern DIY firepit. Follow this detailed tutorial on how to make this firepit.
52. Beautiful Concrete Firebowl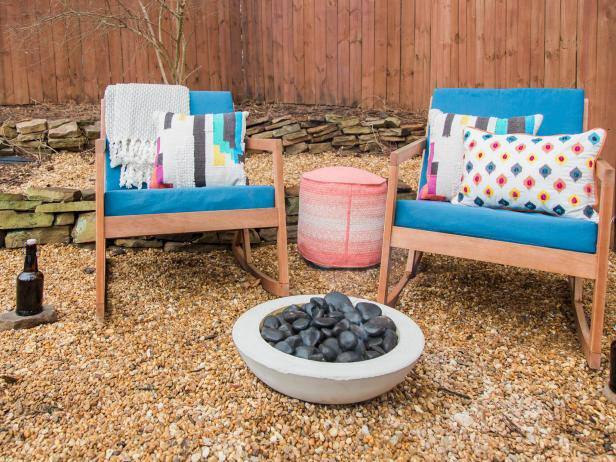 Does this firepit catch your attention? It's pretty simple to make; all it takes is one afternoon to make yours using this detailed DIY tutorial. Get two bowls ready depending on your preferred size of the fire bowl, concrete mix, and river stones. Yes, it's that simple!
53. Tabletop Fire Bowl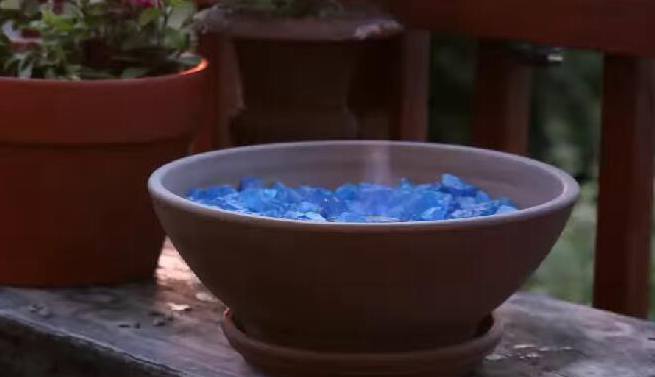 Here is a tutorial on how to make this tabletop. Learn how to make this from Today's Creative Life.
Square-Shaped Fire Pit
54. Modern Looking Fire Pit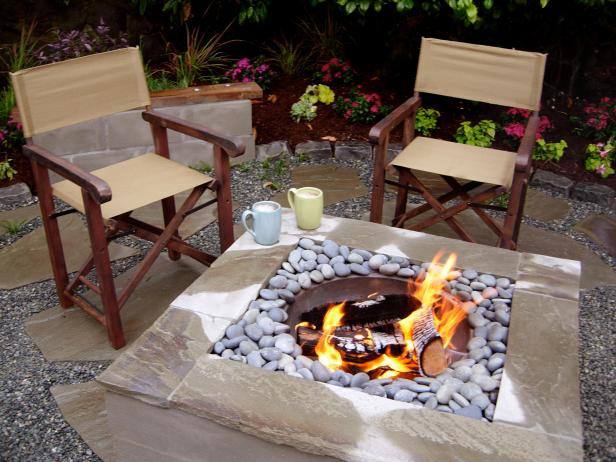 First, if you love this and want to make it for your backyard, it's pretty easy. Build the square concrete form first, insert a round metal fire bowl in it and fill the outside of the bowl with beautiful sea rocks. Here are the steps to follow.
55. Eye Catching Fire Pit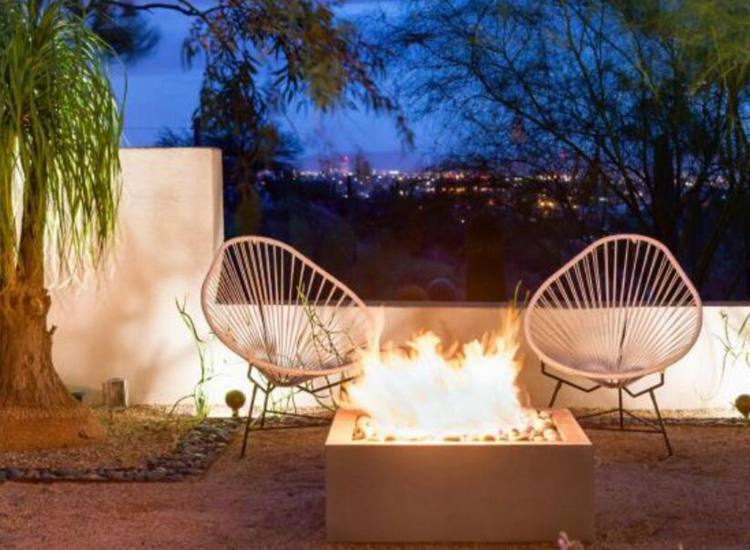 No Tutorial Source
You have to follow the same basic principle involved in other square fire pits, this project should take you a few hours to complete. The cushions and comfortable chair are a great way to style your fire pit.
56. Wide Slab Fire Pit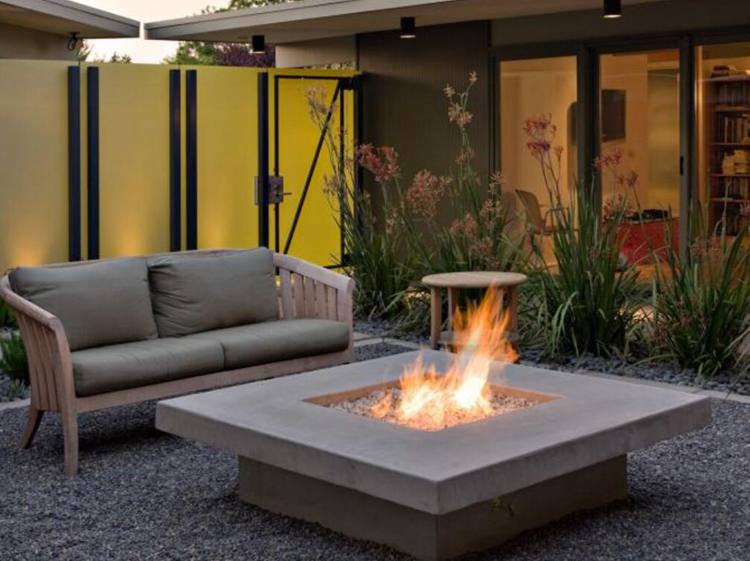 Tutorial Source Unknown
This fire pit is designed with a wide slab and fits into a backyard covered with stones. Will you like to try this style out?
57. Charcoal Fire Pit
Tutorial Source Unknown
This charcoal fire pit is nice and will be a perfect fit for your home. Styling it with these cushion chairs is a great fit for your fire pit.
58. Cinder Block Fire Pit
Tutorial Source Unknown
This cinder block fire pit will offer a great style to your backyard, it should cost around $50. You will need about 25-26 blocks to make this square fire pit with lava rocks at the center.
59. Stone Fire Pit
This is how you will build your stone fire pit.
60. Giant Square Fire Pit
Tutorial Source Unknown
61. Carole Knits' Square Fire Pit
This was made with cement blocks, crushed stones, and rectangular pavers. Learn how to make yours from caroleknits.net.
62. $250 Concrete Fire Pit
Check out this tutorial from HomeMade Modern.
63. Benches with Fire Pit
This fire pit and bench sitting area is an excellent concept. If you want to create something like this, follow the tutorial to learn more. Follow these steps to create yours.
64. Stonehenge Bricks
The square fire pit bricks are stacked like dominoes with space between each block. After stacking them upwards, stack the final layer on top of the vertical brick in a horizontal position, then lock them in place. The result you'll get is this elegant firepit.
Other Fire pits
65. Burning Bowl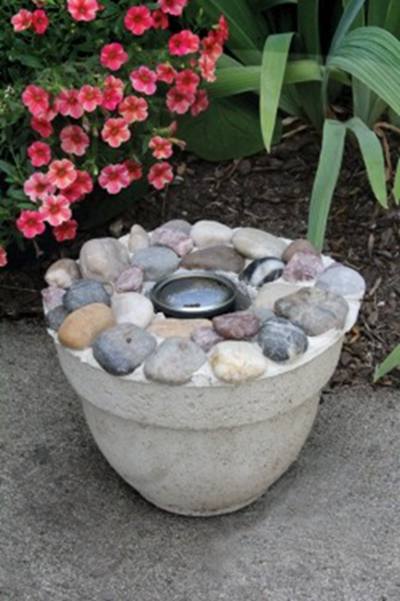 This is another easy and beautiful firepit. Here are the materials used and how to make this DIY fire pit.
66. Washer Drum Fire Pit
Have you ever come across a scrap washing machine drum somewhere? It's time to go back and pick up that old treasure because you're about to transform it into a backyard firepit.
67. Gas Fire Pit Table
What to learn how to build this? It's so easy and requires five simple steps to get ready. Learn how to build a gas fire pit.
68. Adirondack Fire Pit
This beautiful multipurpose hexagon firepit is a good alternative if you don't have space in your backyard. It can serve different functions, when this firepit is not in use, it can serve as a coffee table and footstool. Learn how to make yours from scratch.
69. Stone And Metal Fire Pit
Tutorial Source Unknown
Do you like this firepit style? You can try this idea. If you have boulders around, you can recreate this fire pit style.
70. Whiskey Barrel Fire Pit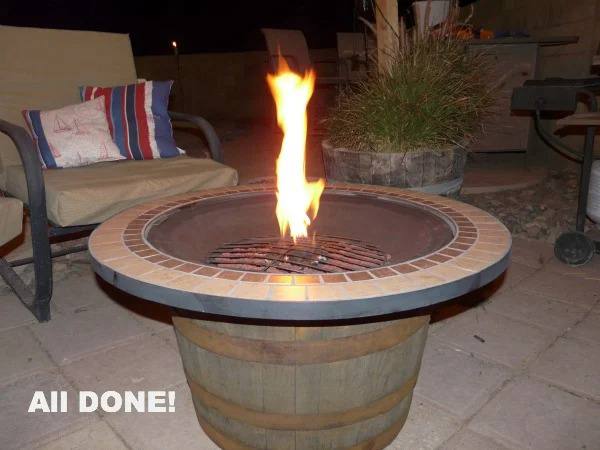 Do you have a whiskey barrel, or are you in love with this whiskey fire pit? Then, here are all the supplies you need and the steps to create yours.
71. Old Tire Rims Pire Pit
Get two old tire rims, and weld them together to make a fire pit for your backyard. Here is more information about the DIY old tire rims firepit.
72. Gabion Fire Pit
Tutorial Source Unknown
This is another easy firepit to make and the stones are heat-resistant, making this firepit very durable.
73. Metal Bucket Fire Pit
Tutorial Source Unknown
To create this country look firepit, you only need a heat-resistant metal bucket. Look for a perfect location and spot that is safe for the heat. For instance, place it on gravel like the picture we have above. Ensure that the metal bucket is very secure inside the wooden box of small rocks.
74. Vertical Drum Fire Pit
No Tutorial Source Available
To create this easy fire pit, create a vertical drum for holding fire with metal grating. To make, wrap the metal grating into a circle, and secure it with bolts. Then fix it into your concrete and stone base.
75. Flower Pot Fire Pit
This tutorial will teach you how to make this beautiful flower fire pit. Since this is a gel fuel fire pit, you'll need gel fuel, a metal planter with a lid, metal mesh, rocks, glass frames, and some silicone.
76. Stacked Brick Fire Pit
This design is really great because the high-end wall will prevent the wind from interfering with the fire. Source.
77. Self-Feeding Fire Pit
No Tutorial Source Available
This fire pit doesnt need any manpower. It is an entertaining fire pit where you can sit all evening watching the firewood roll down on its own. You will require a tire rim and then, use a rod to construct the firewood holder - there, you get your firepit!
78. Rustic Wheelbarrow Fire Pit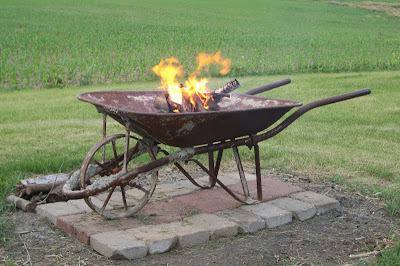 If you have an old wheelbarrow lying somewhere that you're trying to dispose of, please hold that thought. You should transform it into a fire pit just like Miss Effie's Diary did to the wheelbarrow she bought from a garage sale for $5.
79. Shopping Cart Fire Pit

Here, we have another chip fire pit where you don't have to spend over $80+. All you need to spend on this is within the range of $15-$30.
80. Rustic Fire Pit Patio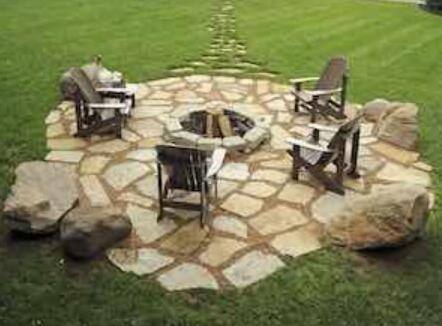 Learn from hometalk.com how to create this fire pit and patio with flagstones. You can also add these large rocks to give it an exciting look if you have any.
81. Fire Pit with Gravel Sitting Area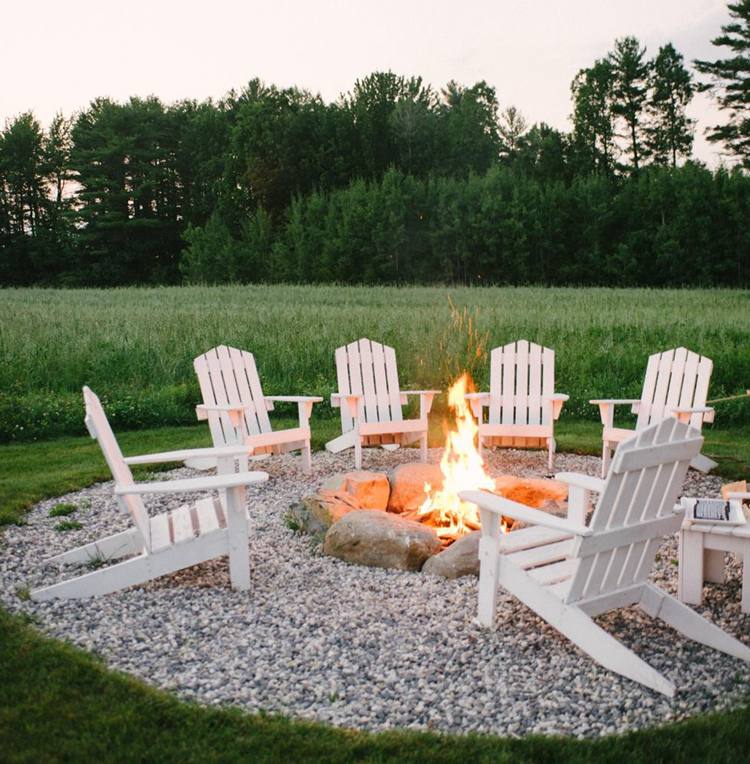 If you have boulders around you, you could try putting 6-8 boulders into use and create this easy firepit. Also, map out a circular area around it where you would place your relaxing chairs. Try decorating this space by preparing the soil and pouring beautiful gravel. Source.
82. Patio Fire Pit
If you have a metal table, you can convert it into a fire pit. Follow each step to create your own fire pit patio where you can relax comfortably with your friends.
83. Metal Fire Pit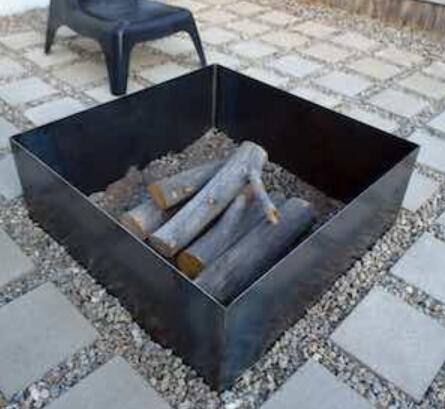 No Tutorial Source
If you have such a metal cage, you can convert it into a fire pit and if you don't, you can simply wield one together. Pour rocks at the bottom and your metal fire pit is ready.
84. Pizza-Like Fire Pit
Tutorial Source Unknown
This is another style of fire pit you can try out.
85. Triangular Fire Pit
No Tutorial Source Available
This is a beautiful different concept out of the norm. You can decide to arrange your pavers in a triangular form to achieve this instead of a circular or square form.
Conclusion
We believe you've gone through the fire pits idea and found the perfect fit for your patio's style.
Before you begin your fire pit construction, check if the concrete or brick is okay for building firepits. This is to prevent cracking or shattering when exposed to high heat for a long time. However, if you go ahead with non-fire resistant concrete, try to purchase a fireproof lava rock/river rock and pour it at the bottom layer of the concrete pit. This will serve as an insulator.
Remember to comment on your experience and how this post helped you achieve your dream firepit project.