How about a DIY evil queen costume? The evil queen is one of the most iconic and menacing villains from Disney world. She's a meek character in the classic Disney animation 'Snow White and the seven dwarfs. The evil queen is known to be gorgeous and known for her obsession to be the most beautiful woman in the kingdom.
Snow-white (her stepdaughter) taints this mission, and she assumes the position of a witch to serve snow whit a poisoned apple.
A full evil queen costume comprises of the purple dress, black heels, black headpiece, hood, gloves, cape, and the crown. However, if you don't want everything exactly, you can customize the costume to fit what you like. Check out different styles of evil queen costumes below.
1. How to Make an Evil Queen Cape Blanket
Check out this evil Queen Cape blanket. It is made from white fleece, black fleece, interface fleece, hot glue gun, button, and sparky fleece. Take the black thread and cut a semi-circle from the top. Cut the white yarn in the trapezium shape and attach two interface layers to it to make it thick. Stitch a button to one side of the semi-circle tip to the black fleece and secure it with tacky go fleece from the back.
2. Evil Queen DIY Costume
Evil queen always dresses in weird colors; red, purple, and black. Get your old gown and use it as the cutting guide.  Lay the dress on the black fabric, fold it in half to give one side of the dress. Cut through the edges of the dress, and you have your evil Queen dress cut out. Now, what remains is for you to decorate the dress with another color. Also, cut the cape from the red fabric.
3. The Evil Queen Makeup Tutorial
Start by applying primer to the top eyelid to the eyebrow and the lower lash line. Get a shadow sheet and stick one piece behind your eye to prevent fallout as you apply different colors on your eyelid.
Once you're done with the eyelid, attach the long eyelashes with lashes glue. With this, all that remains is your face; apply to make up on it and look like an absolute evil Queen.  You can make your headpiece with black beads if you can't get the original headpiece.
4. DIY Evil Queen Crown
See here how to make a simple evil Queen crown. It looks adorable and cheap. Get a good glitter foam and fold it into two. Cut out a zigzag pattern on it (as they do in this video). Put a half ruby on the center of the crown and attach gold trim around it. Then, cover all the edges of the crown with gold embellishments as well. Now, what is left is to join both ends of the crown, and you're good to go.
5. Evil Queen Costume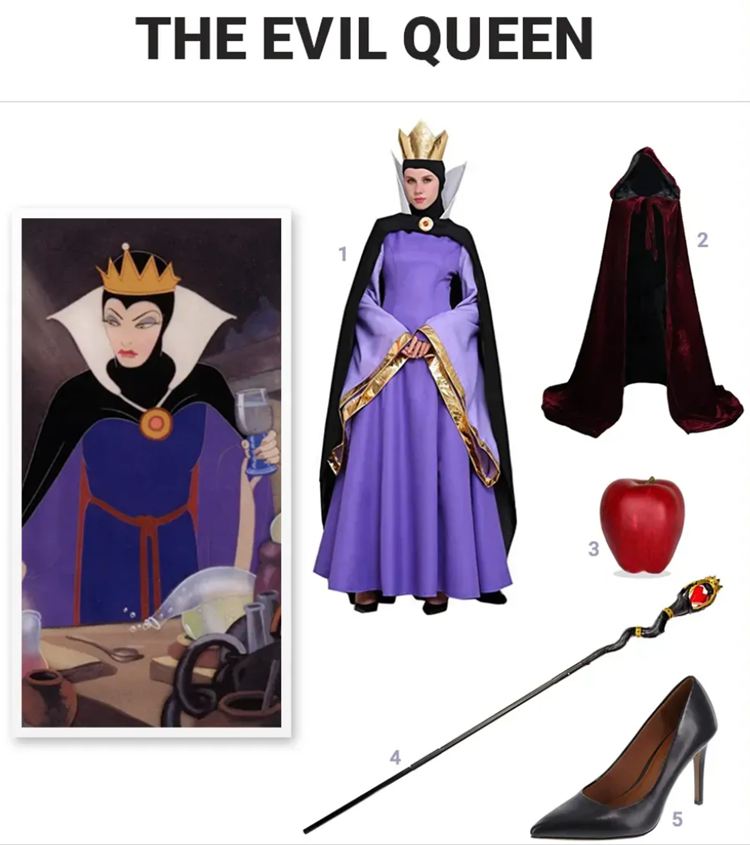 To completely dress like an evil Queen, you need a purple dress with a long draping sleeve, black heels, the wicked queen staff, red apple, crown, headpiece, and black cape. Check out other things you need and how to put them together.
6. DIY Evil Costume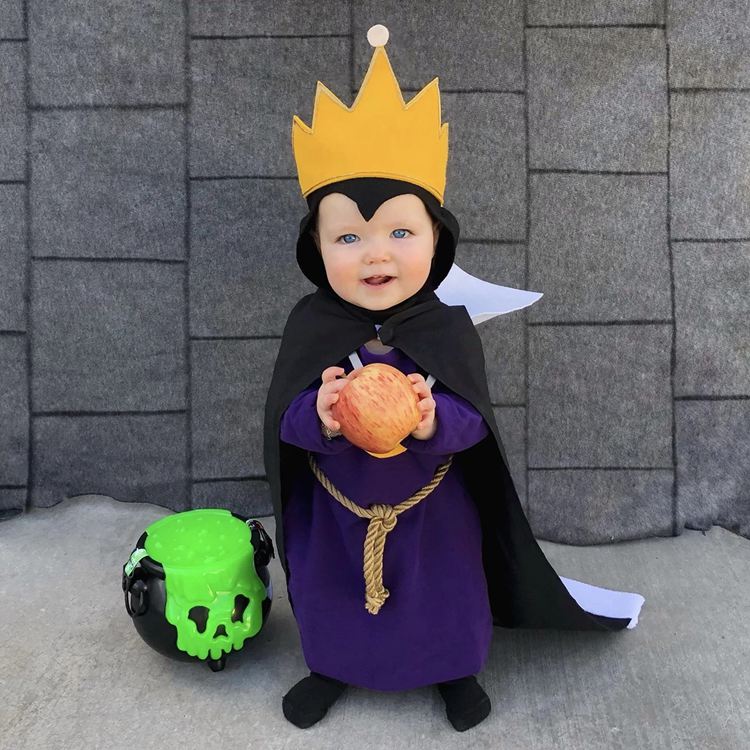 Here is what you need to make an evil queen costume for your baby; One purple kid dress, yellow felt, black felt, black fabric, white felt, white fur, goldish brown rope, gold glitter glue, red felt, gray felt.
Cut the crown from the yellow felt and assemble it with gold glitter glue. Take the red, yellow, and grey felt and make a necklace out of them. For the headpiece, like the black felt with the white fir and shape the headpiece with it.
7. DIY Evil Queen Costume
See this all-black evil Queen costume! It looks adorable. It would be best if you have a black dress, a turtle neck to go under the dress, a black elastic band corset, Spanx leggings, a cape, a gold paper crown, an apple (real or fake), and booties. For the makeup, you can use any face paint you like to complete it.
8. The Evil Queen Petticoat Tutorial
This dress is inspired by the evil queen from the Snow white movie. Her dress looks exceptional, and everything manages to stay in place. Suppose you want a dress as such. Concentrate on this video tutorial.
The skirt is an A-line with two tiers of gathering flair. Here are what you need; grosgrain ribbon, black cotton broadcloth, all-purpose thread, interfacing, hooks, bars, and Guterman top stitch heavy-duty thread.
9. How To Make A DIY Evil Queen Costume
This evil Queen costume is made with purple fabric and gold trim design it. It looks adorable, and you can make one for your daughter during Halloween. The cape was made from black fabric and red fabric. The black is the inner peace of the cape and red cloth on top of it. The long neckpiece was made from sheets of white paper.
10. DIY Maleficent And Evil Queen Costume
In this video, Roop and Shoni shared their costume for Halloween and what they needed to put the outfit together. The video also shows them how they stitch the fabrics together to get a Maleficent and evil queens costume. If you've watched Maleficent, you will know how adorable the outfit looks.
11. The Evil Queen Gloves And Hood Tutorial
This video tutorial teaches us how to make evil queens undershirts, gloves, and hoods. Here are what you need; a Numi shirt, stretch velvet, ballet elastic, all-purpose thread, zippers, fusible interfacing, pinking shears, gloves, and cotton broadcloth for lining. After gathering all these materials, the next step is to prepare the undershirt; then, move to gloves and the hood.
12. The Evil Queen Makeup Tutorial
If you don't want to apply much makeup, this simple makeup is enough for the evil queen costume. Once you have the eyebrow, eye shadow, and red lips, you're good to go.
13. DIY Evil Queen Crown
An evil queen costume is never complete without the cruel queen crown. Learn how to make this evil queen Creon using cardstock paper.  Cut two strips of black cardstock and join each end together to give a circle. Create a template for the spikes that will be on the ring. Cut them out and use PVA glue to attach them to the crown.
14. How To Dress As Queen Grimhilde
You don't need to use the exact color of the evil queen cosplay costume to get it right. You can use any dark color you like; black will always be an alternative. Buy the fabric and give it to your seamstress and let her finish work on the dress. If you can make the dress yourself, that is fantastic!
15. DIY Evil Queen Makeup + Hair Tutorial
The evil queen makeup is essential if you want a wicked queen costume. The makeup gives you the look of the evil queen. If you don't want the exact evil queen makeup, you can walk around it and have what you want.
16. DIY Evil Queen Halloween Makeup
This evil Queen makeup looks beautiful!  The highlight of the makeup is the black headpiece, purple eyelid, white face, and red lips. You can draw the headpiece with a black primer, the white look with white primer, and some other contour accessories.
First, use orange lipstick on it for the red to come out very well for the lip. The purple eyelid and black brow look stunning as well. It is straightforward to do all of this once you watch the video and understand each makeup phase.
17. Realistic Evil Witch Makeup Tutorial
This evil Queen Makeup looks realistic as the highlights come out superb, the red lips of the old wrinkled witch, the dramatic eyebrow, the cheek, the jaw, and the face in general. You can start by applying the foundation if you don't want your face to dry off. Check out other steps below.
18. Easy Evil Queen Makeup
Once you are done making your evil queen costume, you're halfway there! The next thing is to apply makeup to your face. Get your makeup kit and glam your look beautifully. You can add a little glitter to the eyeshadow to make it exceptional.
19. Evil Queen Snowwhite Makeup
Since you will be drawing a new eyebrow that suits the evil queen, you need to conceal your eyebrow with kryolan mastix spirit gum, then apply camouflage kryolan makeup on it. Blend the edges and add the powder to it.
Conclusion
We have come to the end of this article, all of the compilations are pretty much easy to DIY, you might have to go through them again, and pick one that matches your style. Also, if you have a daughter, feel free to DIY one for her.