This cartoon has been able to give pleasure to a lot of children and even adults because of its witty nature. If you want to dress like a Scooby doo or his gang members for Halloween or cosplay, there are quite a couple of ideas to try out.
In this article, I have put together DIY scooby doo costume projects that will most definitely inspire you to dress up like scooby doo or his gang members. Some of them are even pretty cheap to make.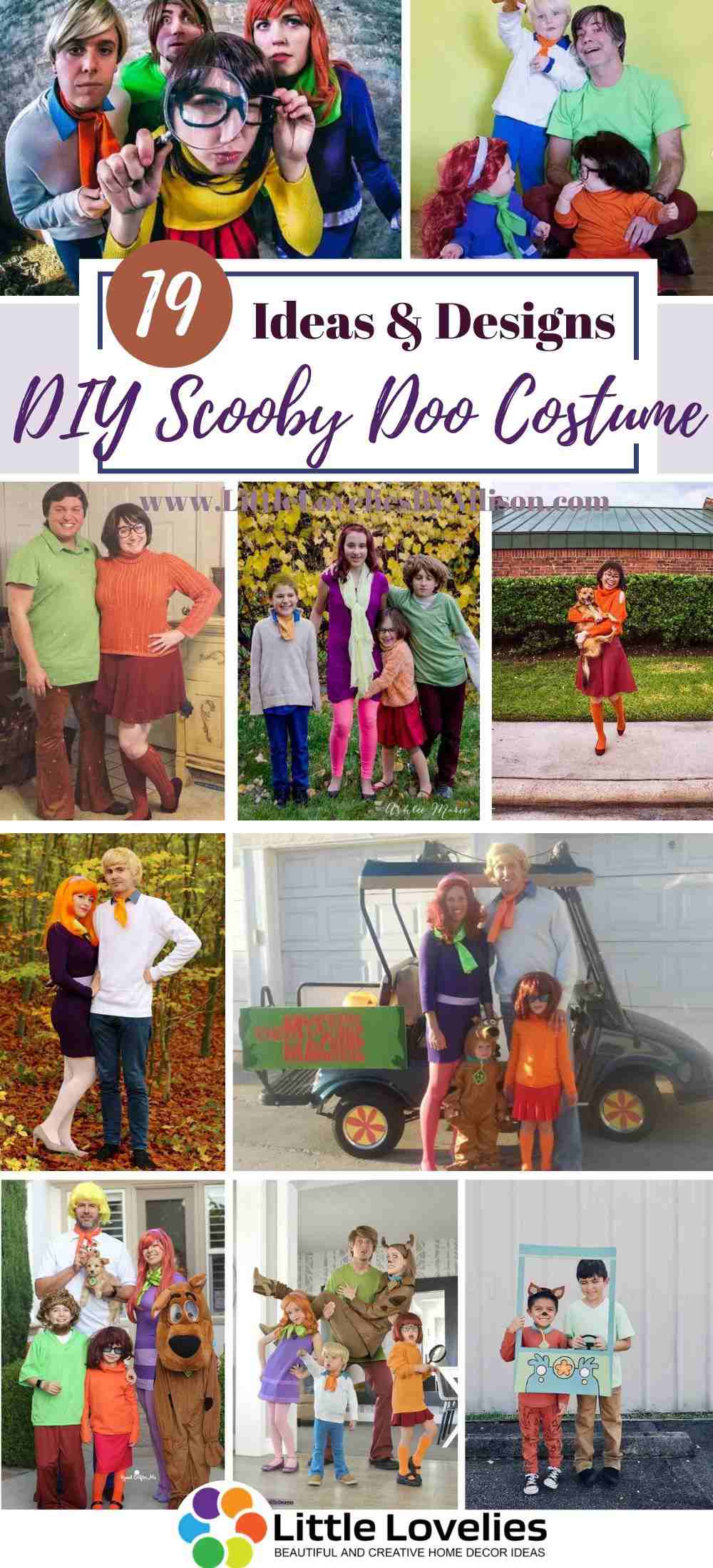 1. DIY Scooby Doo And Shaggy Costume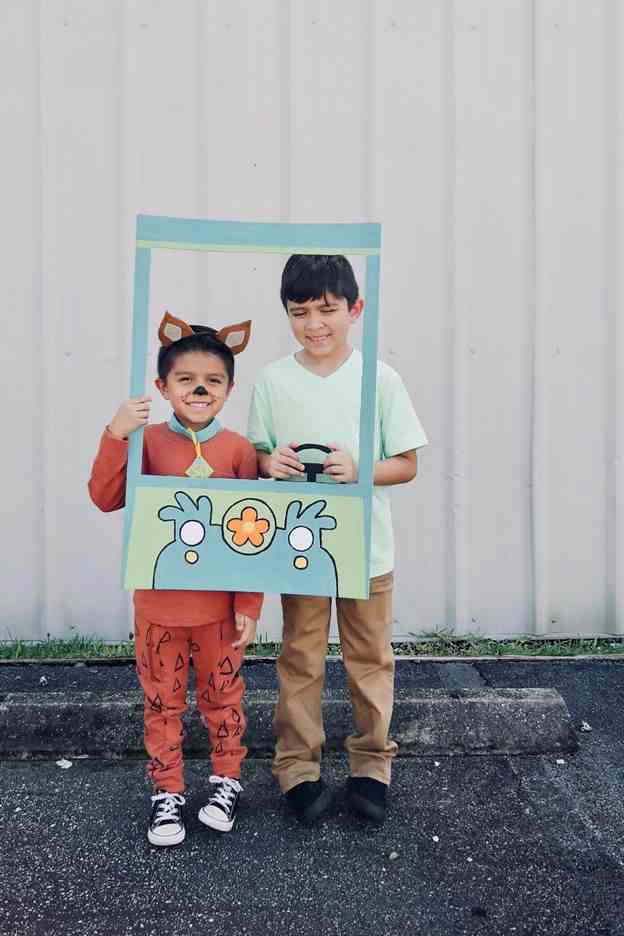 Scooby doo and shaggy were partners and close buddies. You can twin this costume with your best friend. This costume goes with a paper photo booth with bright designs while you make the costume with pajamas and paint. The ears are made of felt. You can cut the first layer to be slightly smaller than the other layer then glue the smaller one on the bigger one. The nose is painted black to look like Scooby's and he has freckles around the nose.
2. No-Sew DIY Scooby Doo Baby Costume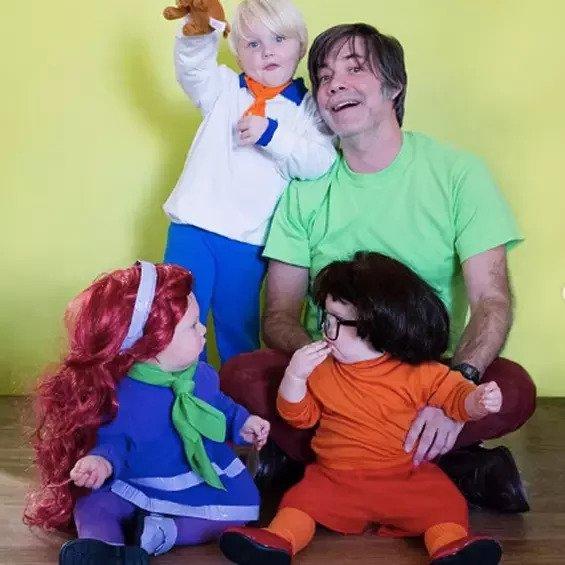 It will be really lovely to recreate this for your child. You don't need to sew any piece of the costume. You will need a blue long-sleeved dress, an orange zip footie, a white long-sleeved elastic tee, a blue short-sleeved polo, and a baby cozy jogger. For Fred, use an orange fabric on the collar, and use a green one for Daphne and black frame glasses and wig for Velma.
3. DIY Scooby Doo Dog And Owner Costume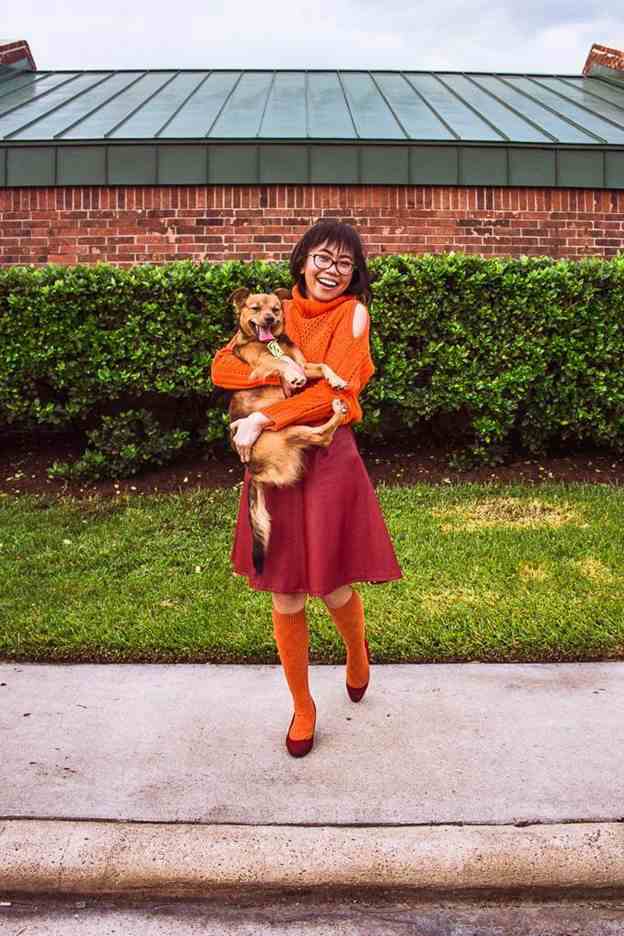 Your dog can also join the party with a costume. You will need a sweater, shirt, socks, shoe, and glasses to play Scooby. Everything except the glasses should be orange. You need to get a blue dog tag for your dog. There are several options that you can easily pick from.
4. DIY Scooby Doo Family Costume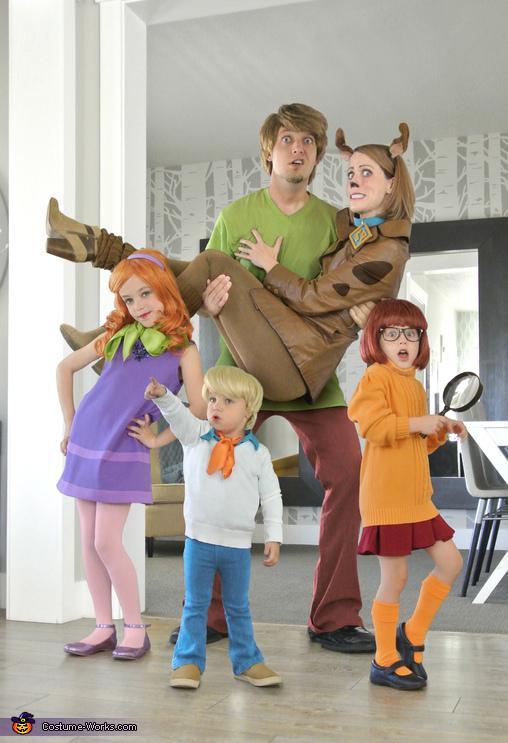 You can have a full family of Scooby doo characters. For Scooby, get a brown jacket and paint spots on it. You can add other parts too. Shaggy and Fred you need oversized shoes and wigs. For Daphne, you can paint light purple stripes on a purple gown and get an orange sweater for Velma.
5. DIY Scooby Doo Costumes For Adults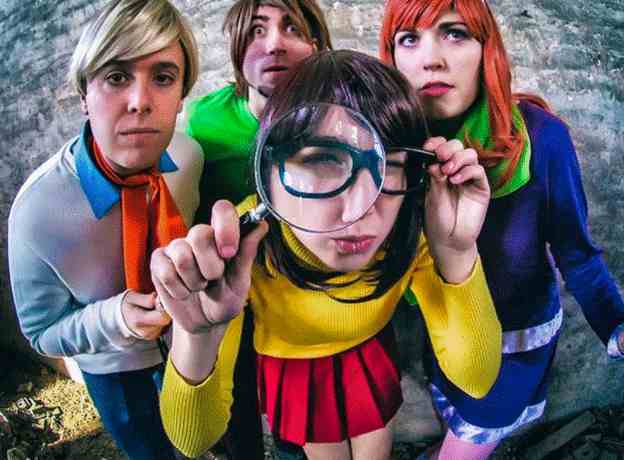 This is ideal for a group of friends who are looking for a last-minute DIY scooby doo costume. In this guide, you will get the complete set of all character's costumes. Simply pick the character you want to dress up as and then get the attire recommended.
6. DIY Scooby Doo Costume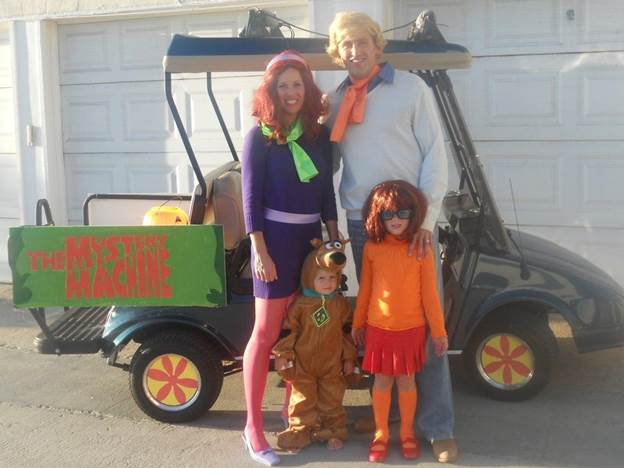 A family of 4 can comfortably rock the DIY Scooby doo costume. The mom dresses like
Daphne and the dad like Fred. Velma and Shaggy could be any of the kids. Shaggy wears a brown overall. While Velma wears an orange top on an orange flare skirt.
7. DIY Scooby Doo Family Costume
Instead of using a totally purple gown, you can attach pink leggings to it for Daphne. Shaggy uses a green short sleeve over a cream long sleeve shirt. Velma uses orange knee-length socks and a sweater on a red skirt while Fred uses a blue collared polo shirt.
8. DIY Scooby Doo And Shaggy Couple Costume
You can recreate a Scooby doo and Fred's costume. For the ears of Scooby, sketch out on brown felt and glue the pieces together. Make a tag by sketching the pattern as well then get a strap for the collar. Attach some patches of brown onto a light brown shirt.
9. Scooby-Doo Costume Tutorial
Get a green cotton fabric and wrap around the neck for measurements. Cut and sew. For Daphne, you can get some shoes from the thrift store and use purple fabric paint to make it last longer. Fred uses a white long sleeve and an orange scarf made just like Daphne.
10. DIY Scooby Doo Group Costume
The entire Scooby doo gang can get their costumes with a simple tutorial. There are quite a couple of ideas that fit well. Daphne will need a purple dress and light purple fabric for strips. You can turn a plain white tee to blue for Fred. Velma's orange socks can be painted with a dye.
11. No-Sew DIY Daphne Costume
If you are not good at using a machine then you can still do this DIY Scooby doo costume easily. This is for Daphne and it can serve for Halloween. Carve out the design you want for your purple using a pattern. Cut out the shape and the necessary extras then glue it. Paint the sleeves and lower skirt area in strips a light shade of purple. Get a scarf and paint the shoe purple.
12. Daphne Scooby Doo Halloween Makeup
Daphne's costume begins with a little bit of foundation before the brows. This looks a bit reddish but it is still cool. Conceal the under eyes properly then fix up the eye shadow. The colors there are green and purple and a bit of glitter. The lips are having a pinky shade on it. It's quite cool.
13. Velma Dinkley Scooby Doo Costume
If you need a really amazing costume for Halloween then you got this covered. Velma's costume is easy to create. Velma should have some natural bushy brows so while fixing that, you can add some extras in front. She loves to be natural so you can use a brown eye shadow. Make some freckles on the cheeks to make her look a little nerdy.
14. DIY Scooby Doo Gang Family Costume
An entire family can create a cute DIY Scooby doo costume for Halloween. Everyone takes their character and dresses like them. A little scrappy doo hat can be created alongside. You can get the costumes online and make the crochet hat easily by yourself. Just use a knitting pin and some rolls of wool.
15. DIY Shaggy And Velma Costume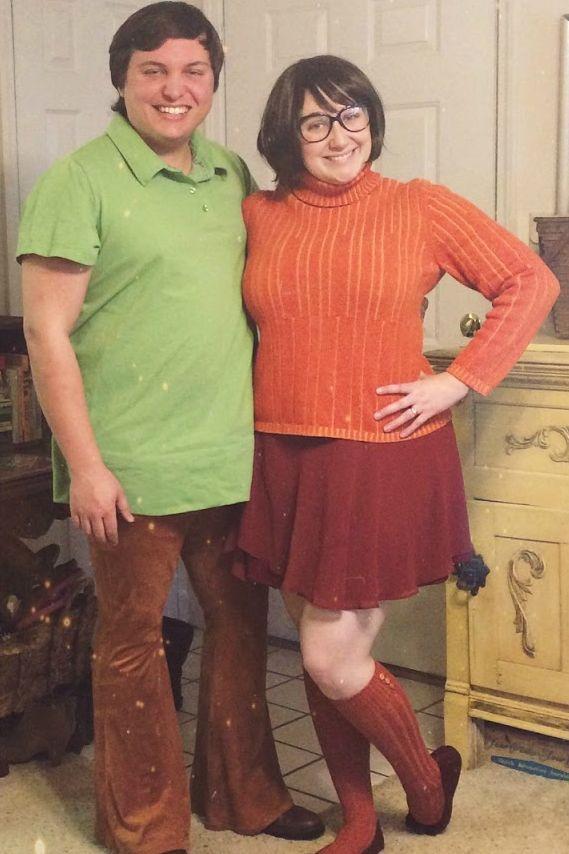 In this DIY Scooby doo costume, Velma needs an orange sweater, red skirt, orange knee socks, red shoes, framed glasses, and brown wigs while Shaggy uses brown pants, oversize shoes, and hair. Each of these items that make up the DIY Scooby doo costume can be found at home or in the store.
16. DIY Daphne And Fred Scooby Doo Costume
This is really easy to recreate. Daphne's costume has different shades of purple, she also has a cute brown shoe on. She also rocks an orange fringe hair that makes the purple pop. On the other hand, Fred looks good with a white long sleeved shirt and an orange scarf around his neck. His blue jeans and oversized black shoes add to his looks.  The orange makes the costume so bright.
17. DIY Velma Dinkley Costume Tutorial
You can recreate a Velma costume and makeup. She is pretty simple and loves to wear glasses on orange clothes. Make the brows, eye shadow, and blush simple enough. When you are done with the makeup, use an orange turtleneck sweater and orange socks. You can get a black fringe wig to use for this costume too. Don't forget your glasses.
18. DIY Scooby Doo Daphne And Velma Makeup Tutorial
Apart from the costume, the makeup is also important too. Begin with the brows and make them brown then take purple shadow to the lids of the eye. Take a shimmery white and blend in there. Use eyeliner and fake lashes. Then tie a band on the orange hair. All this is done for Daphne. For Velma, she loves being natural. Fill the eyebrows with brown. Use a peach eye shadow. Add freckles to the nose.
19. Last Minute DIY Daphne Costume
If you want to make a Daphne costume only then you can learn it easily. You need brown linen, green scrap, and a purple men's tee. Cut the shirt to be a short sleeve. Paint the shoes to look like Daphne's after cutting off the shape that she has on the top of her shoe then wrap a green scarf around your neck.