It's Christmas Weekend and if you don't have anything to wear at the office Holiday Party, you can make a DIY Christmas shirt and wear it tonight. Don't stress, we got you covered with instructions on how to get a DIY Christmas shirt done in an hour. You'll be showing off your creative side while wearing something hip as well as creative. This will up your chances of scoring some serious points with that cute guy or girl in accounting.
It's the most wonderful time of the year, and it's time to show your holiday spirit with a DIY Christmas shirt. We have some inspiration for a few of our favorite Christmas crafts so you can make them for yourself, friends, and family ahead of the holidays. Check out these amazing Christmas Shirt ideas below and choose your favorite. There's a shirt for everyone, both adults and kids.
1. DIY Snowflake Shirt
Here is how to make a snowflake shirt: cut off the neck, hands, and bottom of the shirt you want to use. Attach a snowflake pattern on the chest of the shirt with tape. Then, paint the snowflakes with either fabric paint or acrylic paint. Allow it to dry, and you have your shirt.
2. DIY Christmas T-shirt
Always ensure to put cardboard inside the shirt if you're going to paint or glue something to the shirt. This will prevent the back of the shirt from being affected by the paint or glue. The first design described in this video uses poms to create a Santa cap.
3. DIY Buffalo Check Christmas Shirt
To make this buffalo check Christmas shirt, you need a sweater ( you can pick any color or design of the shirt you want) and some iron-on fabric sheet. The whole design cost only $10.
4. 3 DIY Christmas Shirts
The first design in this video is a baby's feet imprint. All you need to do is to use paint on the feet of your little one and imprint it on the shirt. This is really cute; you need to try it out.
5. Christmas Tree Shirt For Kids
Are you looking for a simple yet beautiful design for your kid's shirt for Christmas? If yes, you should follow this guide to learn how to make this Christmas tree shirt using glitters. fantasticfunandlearning
6. DIY Santa Top
The materials required for this little Santa top include a long red shirt, faux fur strip, sewing machine, thread, scissors, and measuring tape. Follow this guide for step-by-step instructions on how to put the materials together. upstyledaily
7. DIY Christmas Shirt For Kids
If you have some basic knowledge of crafting, you will find this craft easy to do. You need to design a Christmas tree as an image and add lots of mod podge to the back of the image to allow easy transferring. Click the link below for more information. modpodgerocksblog
8. DIY Handprint Christmas Shirt
Handprint designs are always excellent homemade crafts for everyone. One fantastic thing about the art is that it doesn't require sewing. This design was made from some kids' hands and feet. growingupgabel
9. DIY Ugly Christmas Sweaters
Different Christmas shirts are discussed in this guide; the first is a bell puppy dotted sweater. The sweater turned out beautifully, though made from a white sweater and red jingle bells. You can check other designs from the video link below.
10. Christmas Shirt Sublimation Printing
Have you tried sublimation printing before? If not, here is a great way to get your hands dirty with it. You need first to design the pattern with your computer, and after then, the printing step continues.
11. DIY Christmas T-Shirt
If you want a perfect Christmas tree t-shirt, you should follow the procedure used in this guide. It involves measuring and planning every stroke that goes into drawing the tree before sewing it. The first and most crucial step for this is to get a piece of paper, compass, and pencil and draw out the outline of the tree.
12. Christmas Spiral Shirt Design
The hardest part of this shirt design is forming the spiral. It would be best if you were very patient to make sure the spiral forms very well. Once you have the spiral, the next thing is to carefully bond the shape and add green and red watercolor to different sides of the loop.
13. Tacky Christmas Shirt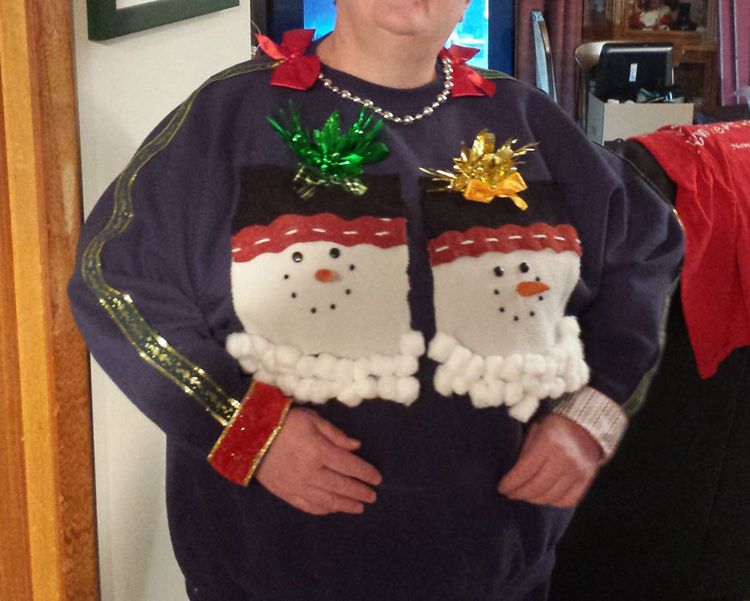 You can make a tacky Christmas shirt for your old t-shirt! To transform a t-shirt into a tacky Christmas shirt, all you need to do is glue some accessories/Christmas decorations to it. However, ensure to get a piece of cardboard. Put the cardboard inside this shirt, which will prevent the back of the shirt from gluing. instructables
14. Animated Christmas Hearth Shirt
Aside from the many materials required for an ugly shirt, there is nothing more ugly about the sweater; it is beautiful and unique. See the link below for further details about the ugly Christmas shirt or sweater. instructables
15. Ugly Christmas T-shirt
An ugly Christmas shirt is in itself a fantastic craft you can try your hands on. All you need for this ugly shirt include Wiggly eyes, gift tag, bow, cousin fun pack, stocking, and Snowman ornaments. You can use the gift tag to create a Christmas-inspired chain with a hot glue gun around the shirts. Attach the how to the bottom side of the shirt. However, if you want to
rearrange your materials differently, you have all the shirts to yourself. instructables
16. DIY Christmas Shirt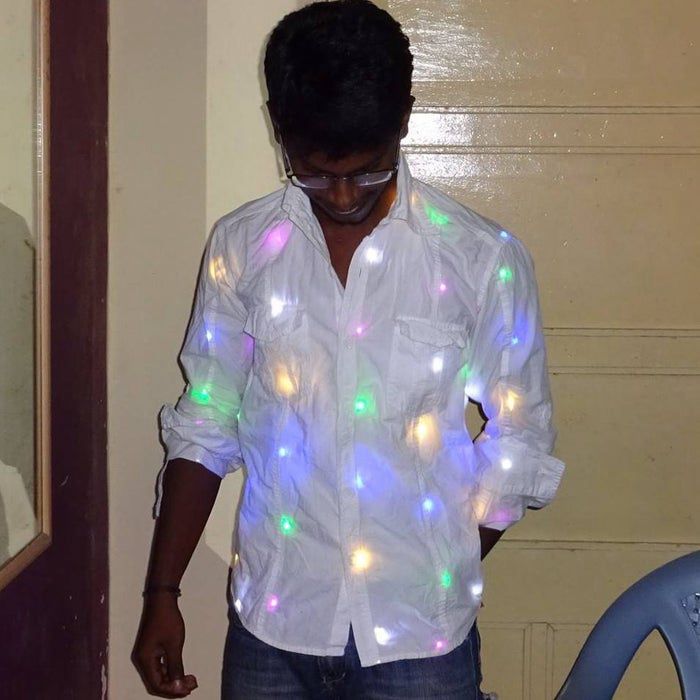 If you're looking for a fun project to embark on this Christmas, here is an instructable that will show you how to make a Christmas shirt that is sensitive to humans. The shirt has a sensor installed in it that detects people's presence. The shirt is so unique and beautiful. instructables
17. Tie Dye Christmas Shirt
A tie and dye Christmas shirt will be excellent for the occasion. The design made in this guide is a Christmas tree. However, you can decide to make any other design aside from this. Follow this guide to learn more about the tie and dye techniques.
18. Fast DIY Christmas Shirt
See how to make a quick and easy DIY Christmas shirt from a white t-shirt, washable marker, Christmas stockings, and fabric glue. Follow this guide to see how the instructor put all the materials together and got the desired shirt.
19. DIY Shirt For Christmas
Here is a great style inspiration for a Christmas shirt. The design uses glitters to decorate a shirt. Two different glitters were chosen; one sky blue and one red. All you need to do is remove the inscription on the glitters and attach them to the shirt you want to use. It is so excellent, simple, and fast.
20. Christmas Glitter T-shirt
Here is another glitter design t-shirt. Get all the t-shirts you want to use ready, then get your computer and design a unicorn head on it. Then, you can print it out with your Cricut machine. It is effortless and straightforward. See the link below to know how to attach the design to the shirts.
21. Matching Family Christmas Shirt
Imagine wearing the same shirt on Christmas with your family! Well, that would be amazingly beautiful and fun-filled. You like the sound of that, right! Grab your Silhouette machine and some iron-on heat vinyl for the design. Check out the further process from the link below. simplymadefun
22. DIY Christmas Shirt With Cricut
On your Cricut machine, there is something called Cricut design space. This space is software that has different design patterns, and it makes designing easier. Once you have this on your Cricut machine, all you need is a redshirt for Santa, a green shirt for an elf, a brown shirt for a gingerbread man, and a white shirt for the snowman. Aside from the shirts, another essential material is iron-on vinyl of different colors, as listed in this guide. clarkscondensed
23. Painted Christmas Shirt DIY For Kids
You can choose to design an already made shirt or make a new shirt entirely. If you're creating a new shirt, all you need are fabric paint, paintbrush, masking tape, and cookie-cutter. But if you're making a new shirt, you will need to get a good fabric for the shirt. The cookie-cutter will allow you to shape the pattern for the painting. kidsactivitiesblog
24. DIY Christmas Shirt For Kids
If you're looking for a dress design for your little kid, you can check this beautiful Christmas shirt out and remake it for your kids. This shirt was made with Cricut design space. A Cricut design space is a software that comes with your Cricut machine. All you need to do is get the design pattern from the Cricut space and print it on a sheet of paper. Ensure you put a piece of cardboard between the shirt when transferring the printed design to avoid bleeding. smallstuffcounts
25. DIY Christmas Shirt
This Holly berry shirt is a great style inspiration for your Christmas shirt. Although the sweater used is white, you can use any other light-colored shirt and the red and green flower to it. It will be a fun-filled Christmas with this; try it and see! todayscreativelife
Conclusion
If you're looking for a fun project to try your hands on this during Christmas, a Christmas shirt will be a perfect option. Check the above guides for different great ideas on how to style your Christmas shirts.
There are different shirt design inspirations among the 25 DIY Christmas shirt ideas listed above. Some don't even require money or so much time. All you need to have is the will to try it out, and voila! You should have your Christmas shorts ready in no time. Check out the fantastic designs and have fun.