Are you ready to get crafty????
Maybe you're preparing ahead of October 31, or your kids are having an occasion at school and want to rock pirate costumes.
Arrrrrgh! You may have been preparing so many things that you've forgotten about your pirate costumes till the last minute. Don't panic; we covered you with our easy last-minute pirate costumes. Before you say, 'I might have done all these before ', remember there are a thousand ways to make pirate costumes. Whether you're a fan of the Captain Jack Sparrow costume or you want something more stylish, our DIY pirate costumes will not drive you wrong, and you probably got all the materials you need to make them!
For that reason, we've compiled 75 DIY amazing costume ideas. From those you can rock when it's not Halloween to group pirates' Halloween costumes. To cut a long story short, we've something for everyone, even toddlers, lol!
With the right accessories like a bandana, sword, and eye patch, you can make most of the pirate's costume ideas here.  Now enough of all these stories; let the creative flow start!

1. DIY Classic Pirate Costume
Okay, this simple yet classic pirate costume tops our list! With black pants and a while a bit oversized shirts, this costume is almost done! Cut off an old red t-shirt and make a sash belt and a bandana. You can shop for the rest of the items online.
2. DIY Captain Hook Kid's Costume
It's time for a family something (winks)! This family rock Captain Hook's costume and they look breathtaking. You can make it too. It only requires basic sewing skills. For the kid's red jacket, you can use an adult-sized sweatshirt. Let's see how you'll look with Captain Hooks.
3. DIY Captain Hook's No-Sew Custom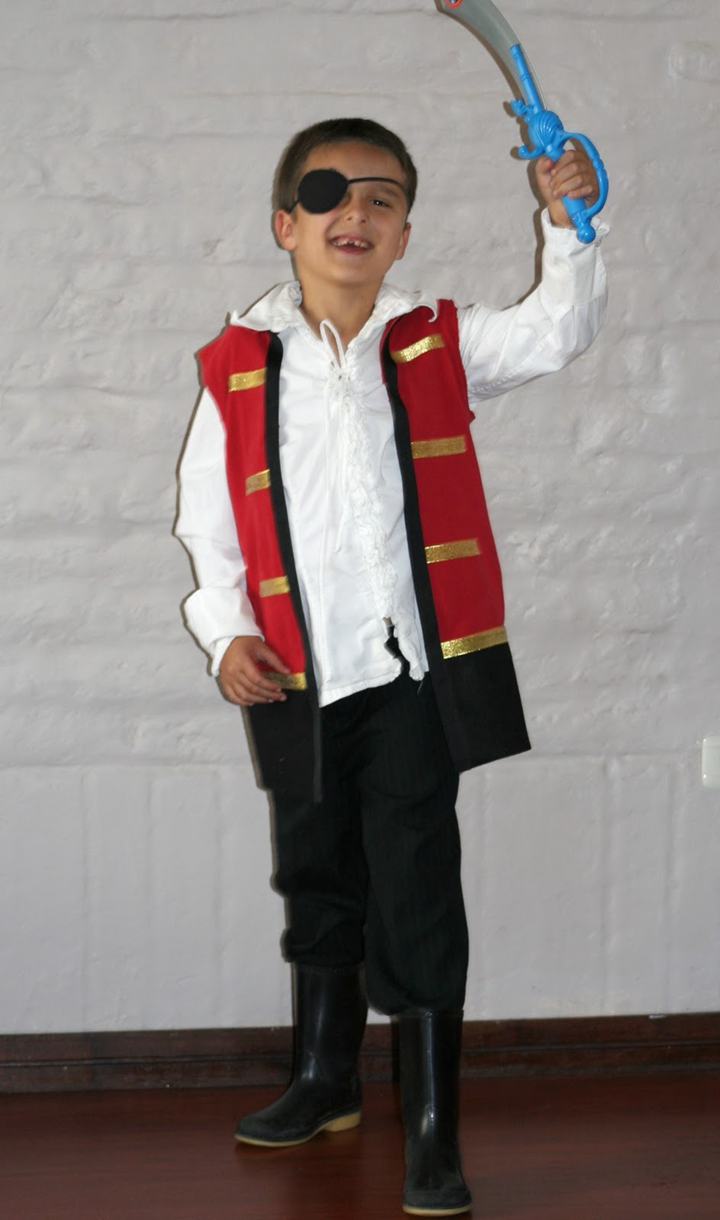 Captain Hook with this one again! Here's a jacket cleverly made from an adult-sized red t-shirt. You can make one for yourself or your kids and match or with a white button-down shirt, tall boots, black pants, and of course, an eye patch! Here's how.
4. DIY Peter Pan Family Costume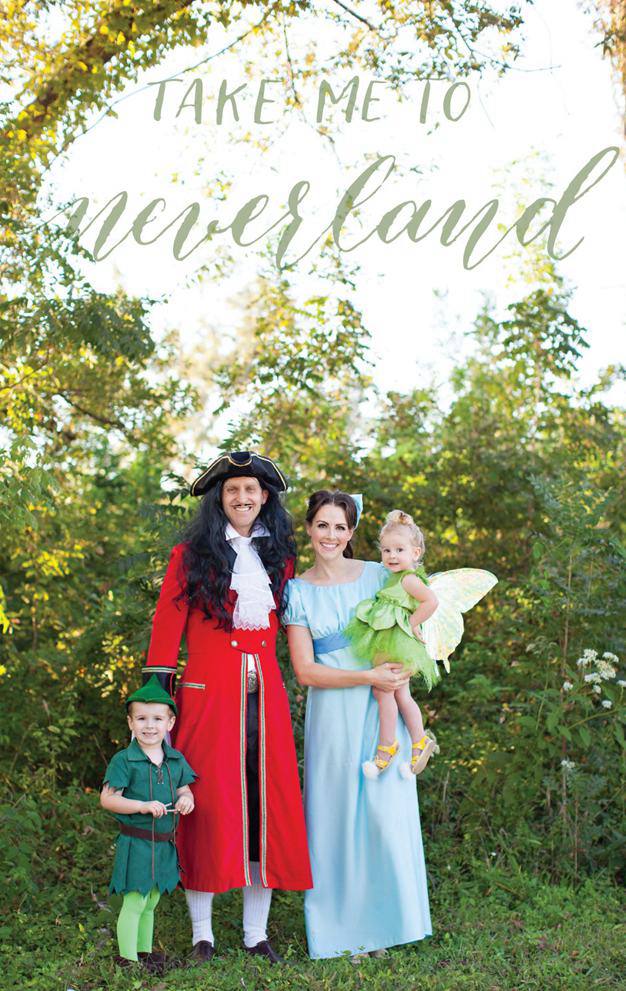 If you want to dress as a pirate together with your family or friends, this Peter Pan group theme is a perfect idea. The captain Hook coat is made using a simple pattern with some sewing skills. Don't fret if you can't sew; you can order a coat online. Don't forget to rock your Pirates cap!
5. DIY Striped Dress and Pirates Hairstyle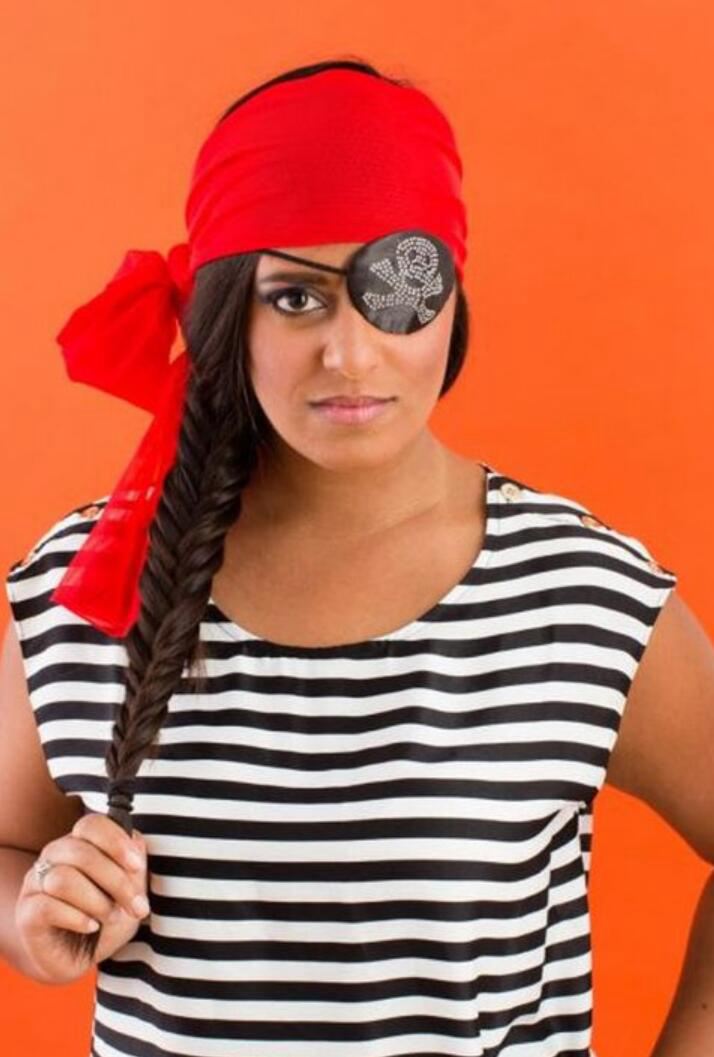 You might want to show up dressed like a Pirate at that party, but you're too engaged to make preparation. Here's a simple costume for you. All you need is a red bandana, an eye patch, and a wide-neck white and black stripe shirt. Style your pirate locks, and you're good to go!
6. DIY Kid's Bandana Skirt Pirate Costume
We promised to keep all the costumes simple! This kid's bandana skirt, a white top, a bandana, and a pair of sandals are all you need to make your little one happy during Halloween. Good news? Your kid can continue to wear the outfit after Halloween or the occasion!
7. DIY No Sew Pirates Costume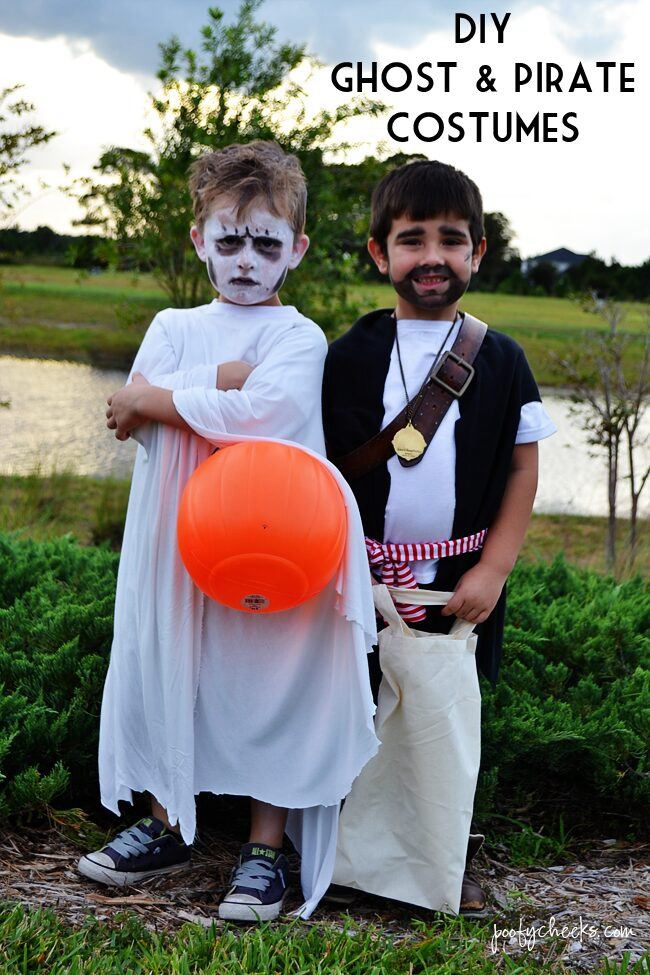 If your hindrance to wearing pirates costumes lacks sewing skills, here's a better option! The jacket is a jersey fabric with holes cut for the arm, while the pants are an old pair of sweatpants cut off.
8. DIY Stay Comfy Pirates Costume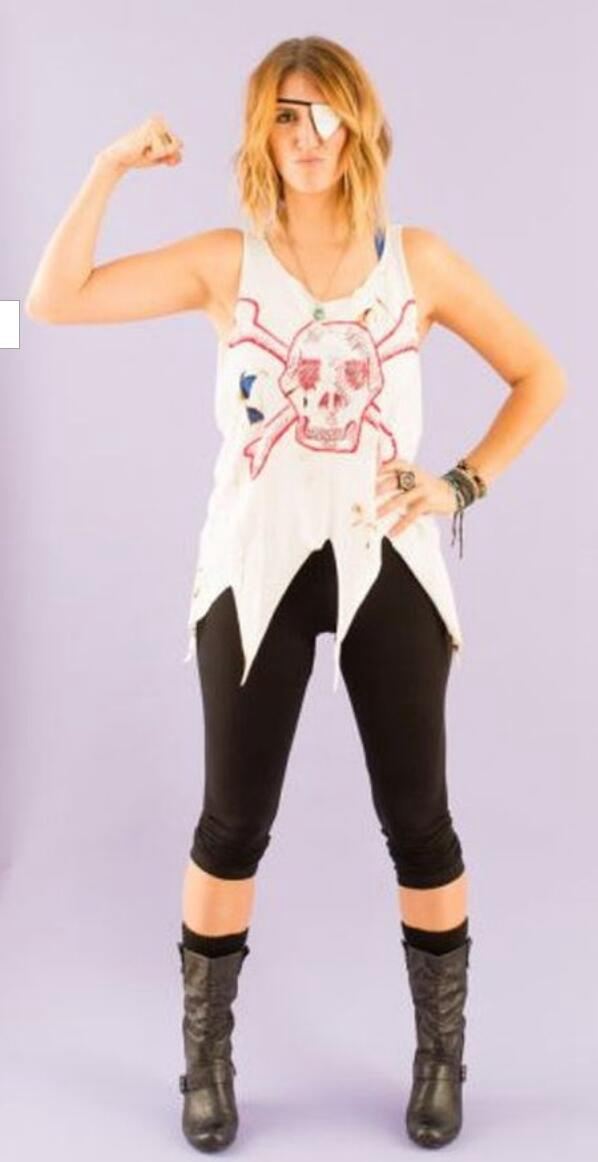 This outfit proves that a Pirates costume doesn't have to be heavy! If you're looking for something simple and comfy, this pair of leggings, cut t-shirt, and long boots is a perfect go!
9. Easy Fashionable Pirates Costume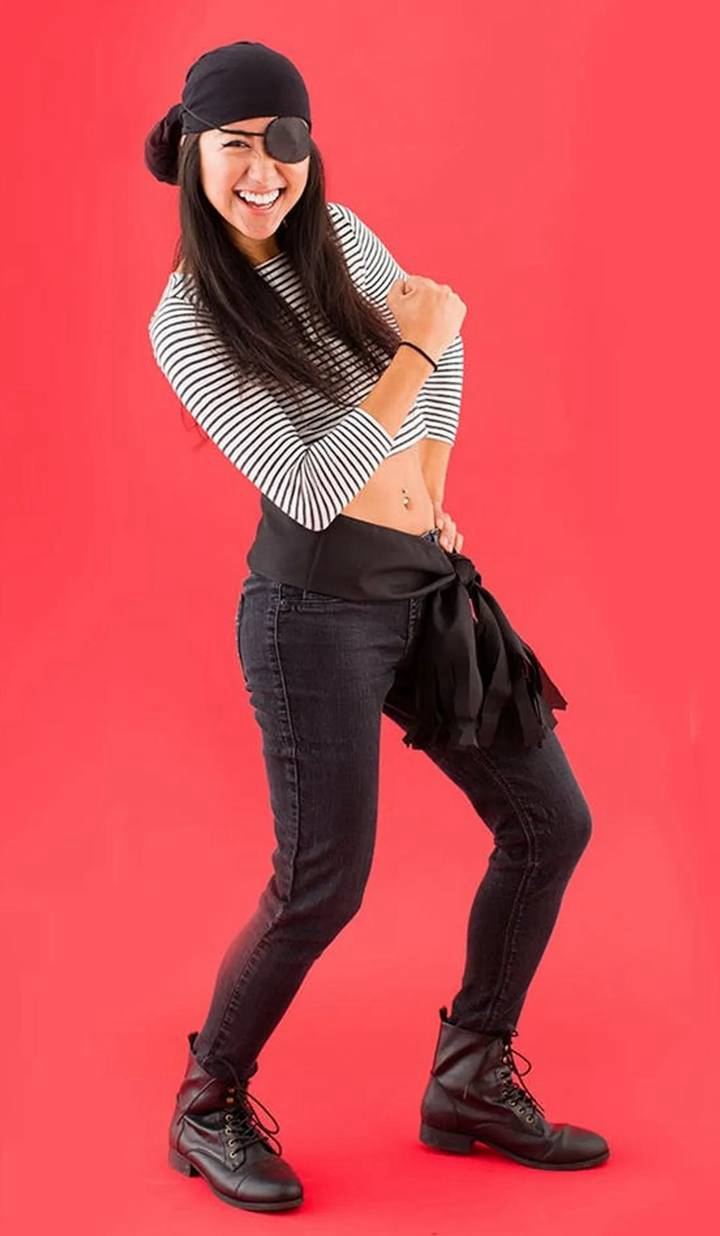 I call this Super simple! Everything is in your closet, from stripped long-hand shirts to long dark pants and boots. Pirate up your outfit with a bandana and an eye patch.
10. DIY Couple Pirates Costumes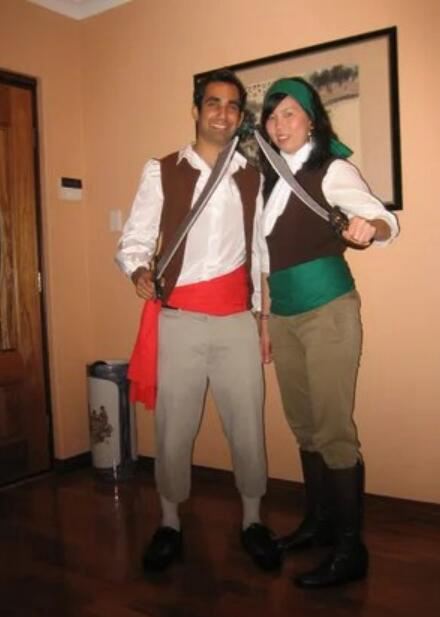 Suppose you're looking for a simple DIY pirate outfit for you and your partner. Here's an idea! White button-down shirts, brown coats, long pants, a cloth tied around the waist, and a real pirate sword! Check online for the tutorial.
11. Jack Sparrow and Elizabeth Swann Costume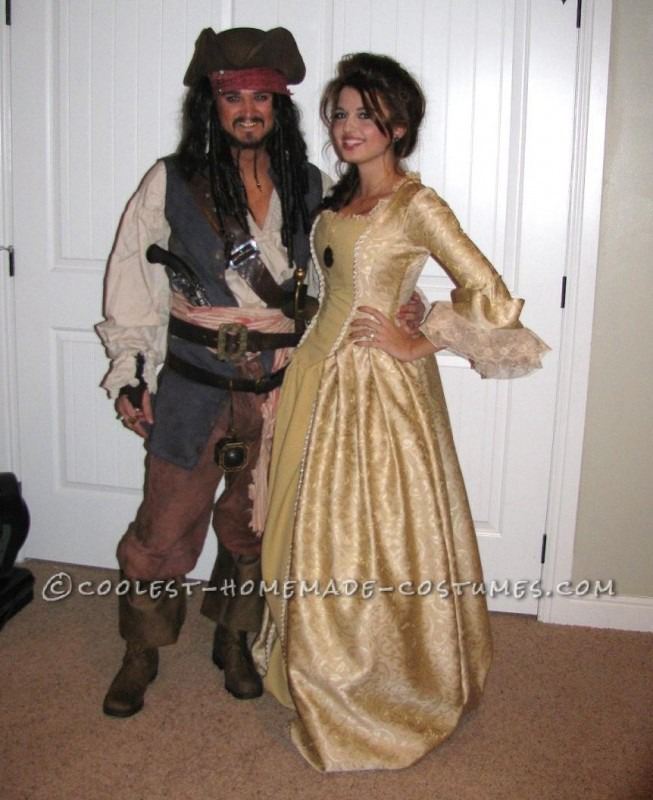 Another couple something! If you and your partner are invited to a Halloween party where you know everyone's going creative, here's an option for you! Let you and your partner be Jack Sparrow and Elizabeth Swann from the Pirates of the Caribbean.
12. DIY Pirate and Parrot Couple Costume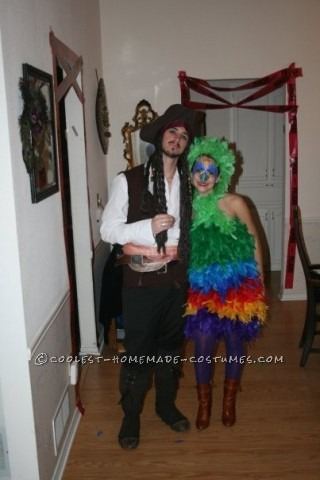 You can't separate a pirate from its parrot the way you can't separate true lovers! I recommend this amazing costume for you and your partner next time you go to a pirate party. I promise you'll have a fun time making the outfit.
13. DIY Mommy Pirate Baby Parrot Costume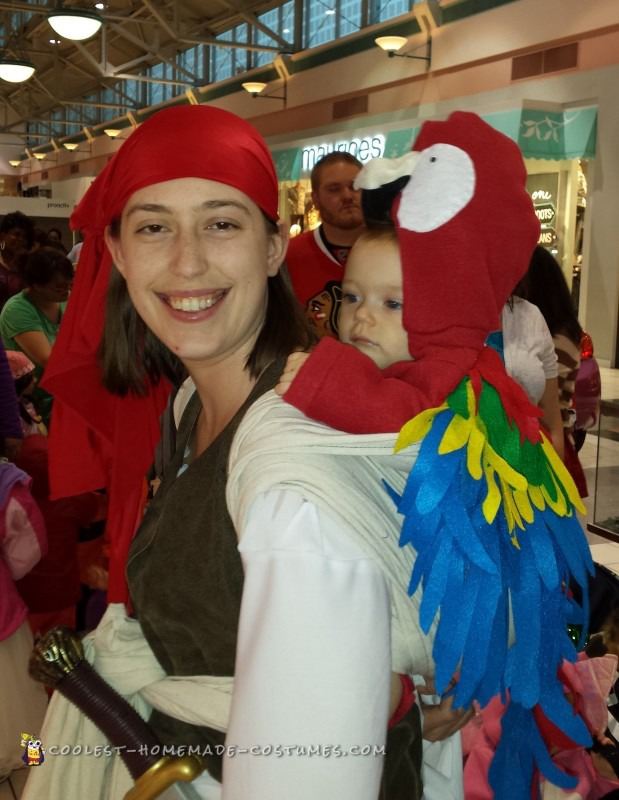 If you're a mom, try out this costume and see how everyone will admire it. You'll make the parrot outfit for your child using different colored materials while you rock an oversize shirt, a large bandana, a pair of jeans trousers, and DIY long boots. Oh, and don't forget to buy a plastic sword!
14. DIY Toddler Pirate Costume with Pirates Ship Buggy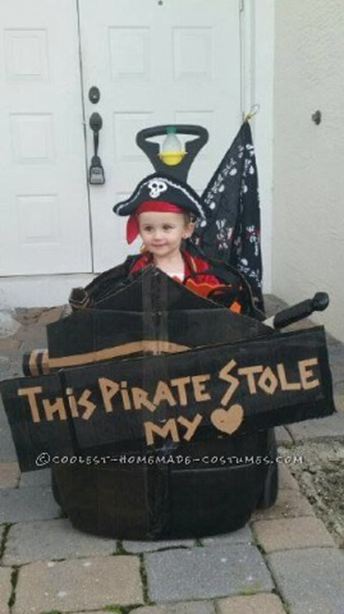 Your toddler can't be left out during Halloween! Dress up your child as a full pirate with a cap, a plastic sword, and boots. If possible, get an eye patch for them. Then come down and make this buggy pirate ship for them.
15. DIY Cool Captain Sparrow Costume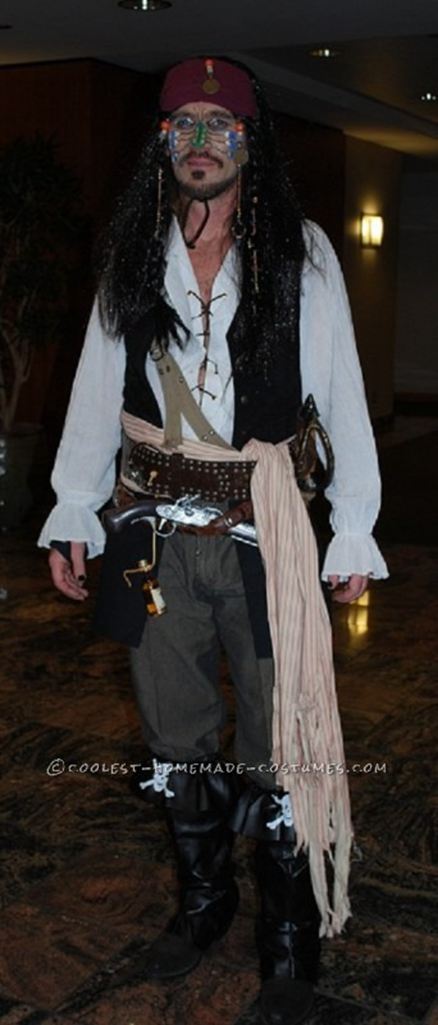 Do you remember that scene where Captain Sparrow was on an Island and the chief of a native village? That's what we're recreating here! You can visit the nearest store to get the shirt, boots, vests, and belts. As for the pirate's accessories, you can get them in Display and Costume.
16. DIY Kid with Ship Pirate Costume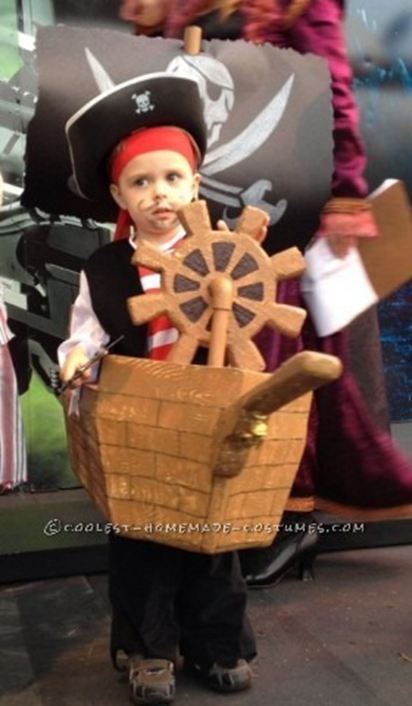 An amazing pirate wearable ship costume for your little one. This is a lightweight ship made from foam and cardboard. To complete the pirate ensemble, a little mustache and goatee were drawn on the kid's face with a marker.
17. Simple Group Pirates Costume
If your squad is invited to a pirate party and you want to keep it simple yet eye-catching, here's a costume for you. Just some striped shirts with cut edges, jagged pants, a pirates cap, tattoo, beads, and your team are ready to go! N.B: Unknown source
18. DIY Pirate Zombie Costume
You can give your little one this 'rise from the grave look' by making small adjustments to some scrap of old clothes. Your daughter will need a toy eye patch and some splash of fake theatrical blood to complete the Zombie look
19. Amazing Toddler Pirates Costume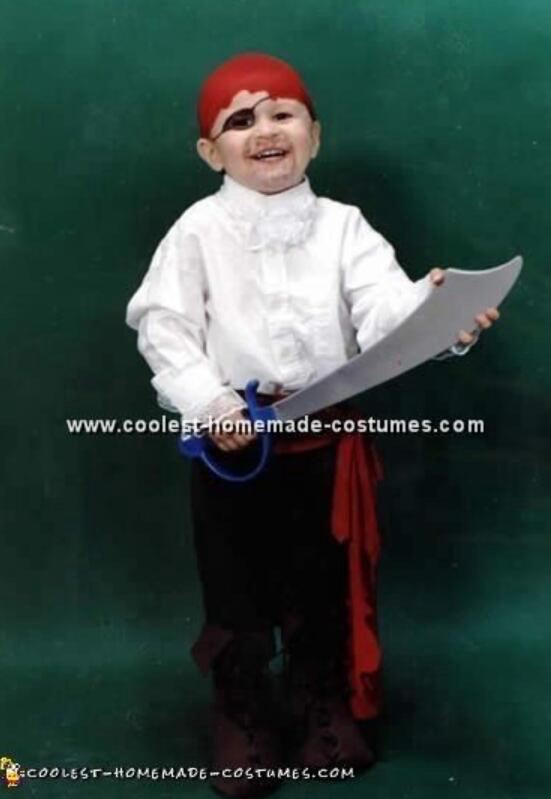 Your little one will be glad to rock this outfit during Halloween or Pirates Party. You'll need an oversized boys' shirt, a pajamas bottom, boots, and stretchy red material for a bandana. Then you'll need eyeliner to make a fake eye patch and a plastic sword to complete the pirate look. Unknown tutorial source.
20. DIY Pirate Couple Costume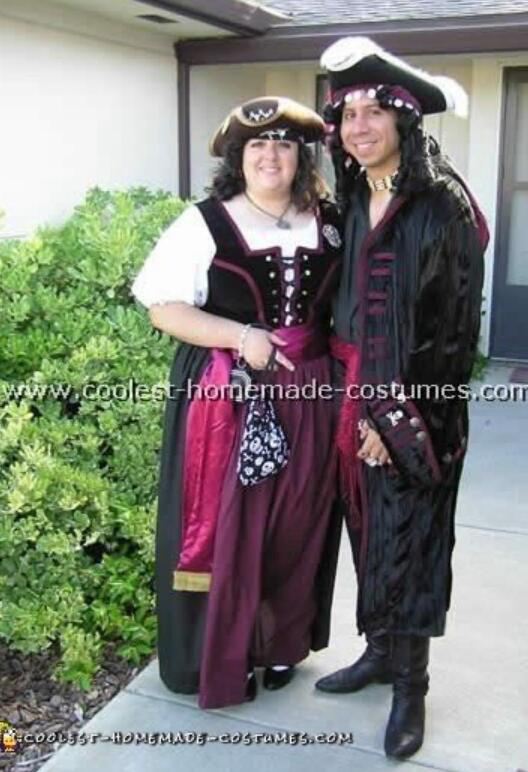 These couples love to dress as pirates, and they make this amazing costume. They said it took them a week to complete each costume, but I think it's worth the energy! Tutorial source unknown.
21. DIY Baby Pirates Costumes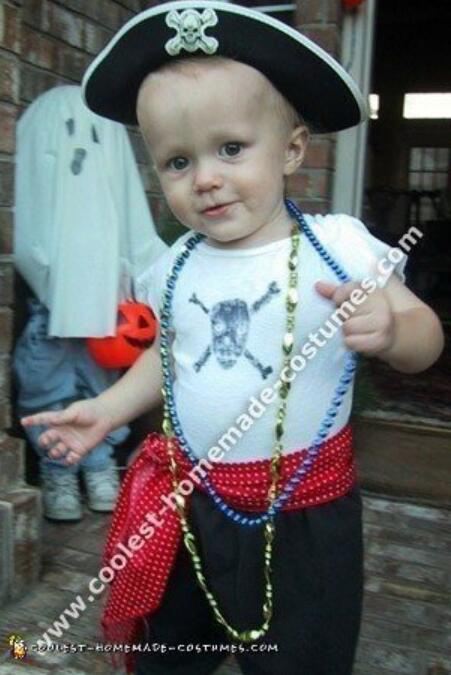 If you got a last-minute invite to a pirate party and want to take your kid, then this simple costume is what you will make for them. You'll need a white shirt on which you'll make a skull and crossbones design. Then you'll need black sweatpants, a long red scarf, a pirate cap, and some beads.
22. DIY Kids Pirate Costume
You can give your kid a classic pirate look with this outfit, but you'll need to buy some of the accessories in a store. The person who made this said she didn't spend more than $12 to give her child this pirate look.
23. Simple DIY Pirates Costume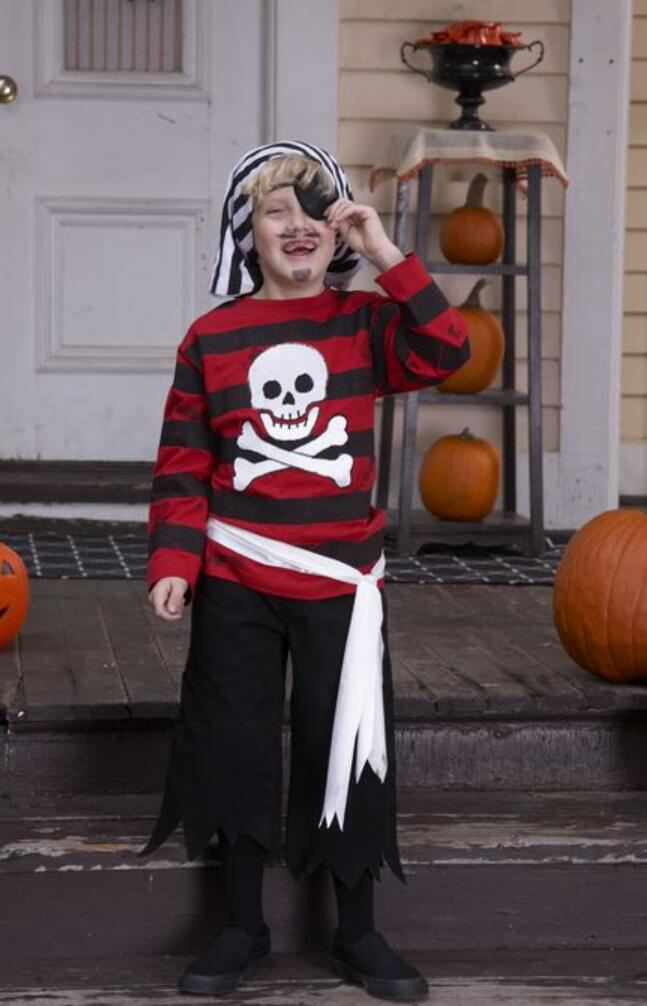 Here's another one for your kid! Get a red and black stripe t-shirt with the skull and crossbones design. You can cut an old cloth to make the bandana and the waist tight. You'll also have to cut large-size trousers and get an eye patch.
24. Lady's Pirate Costume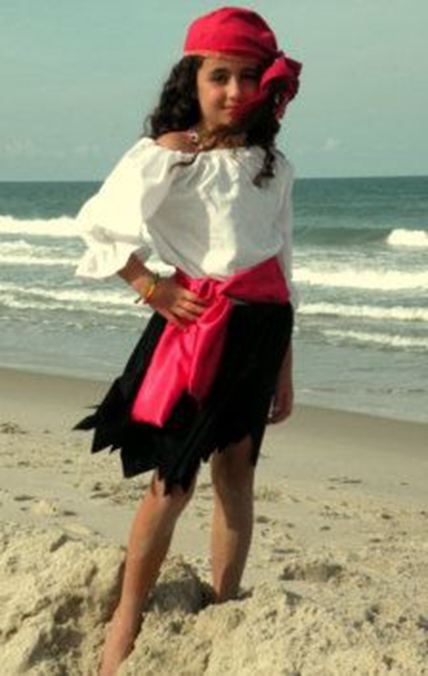 You're visiting the beach, and you want to have a pirate look? Here's an idea. A bit oversized shirt, a short skirt cut from the bottom, and a cloth tied around the waist with a bandana complete the look.
25. Simple Lady's Pirate Costume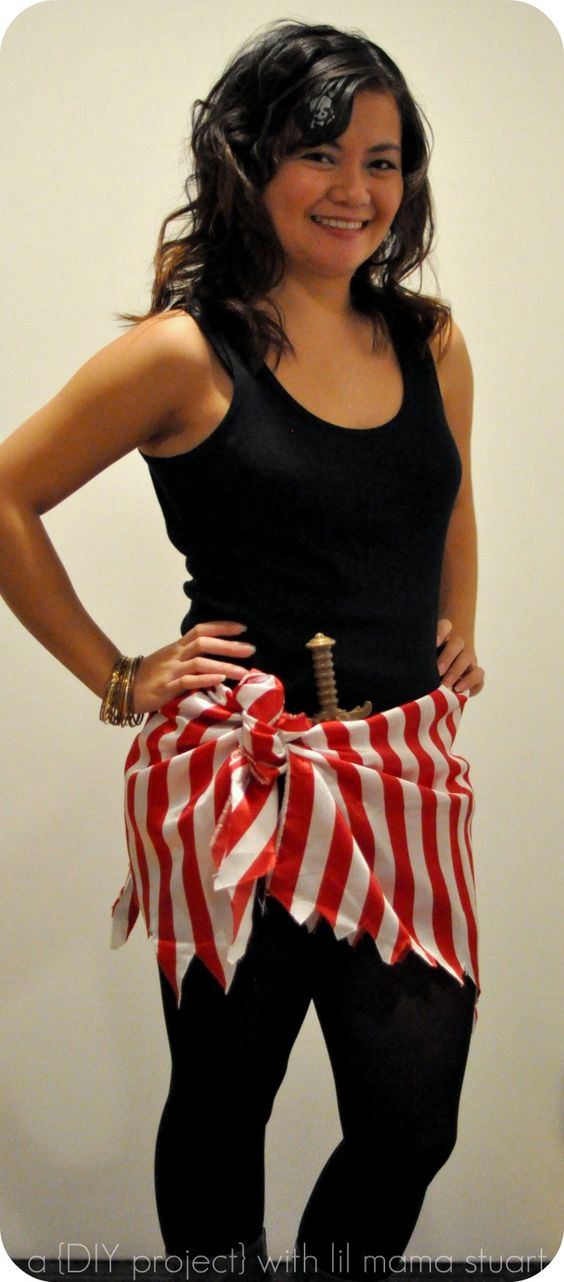 You can't find something simpler! With a black vest, tight sweatpants, strip cloth tied around the waist, and a plastic sword, this lady kills it.
26. Couple Pirates Costume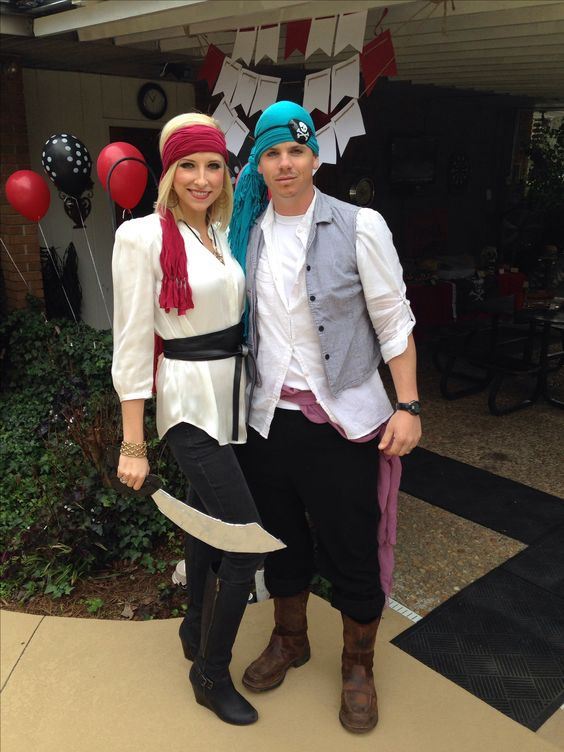 White Shirts with black sweat pants, a bandana, a coat, and a plastic sword are all you need for this excellent pirate costume for a duo.
27. DIY Classic Lady Pirates Costume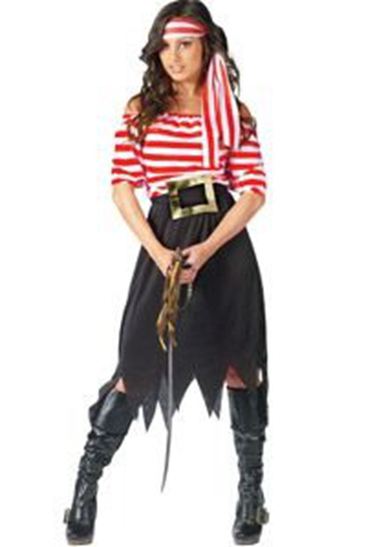 All you need is a Cut skirt, stripping shirt and bandana, long boots, and a sword to look good and feel great as a female pirate.
28. DIY Easy Ladies Pirate Costume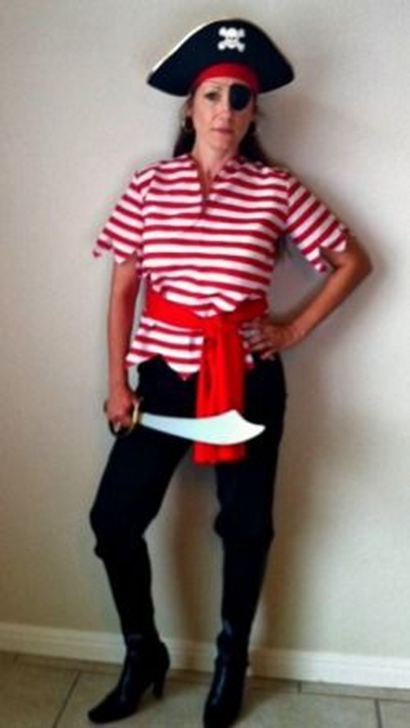 Pull out a stripped shirt from your closet and a pair of long pants. Then get your pirate hat and plastic sword, and you're good to go. Check it here.
29. Beautiful Couple Pirates Costume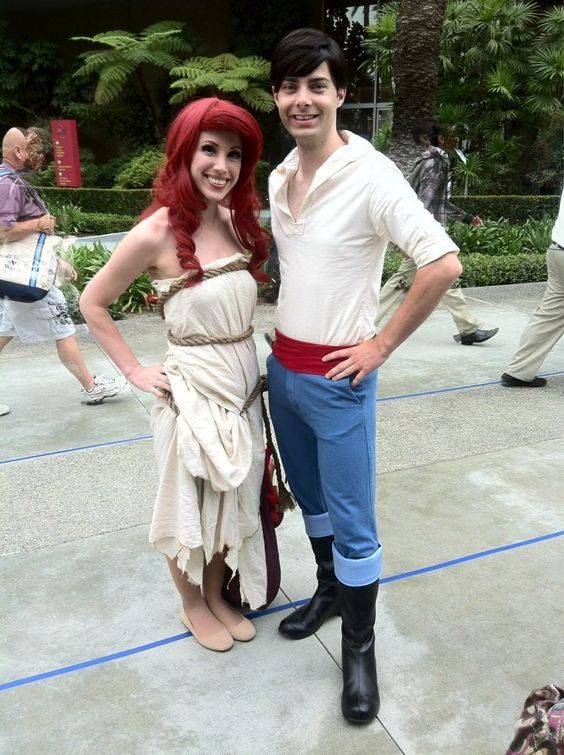 The duo Mr. and Mrs. Pirate can make a beautiful and amazing pirate costume. Get ready to get compliments as you rock this DIY outfit.
30. Jake and the Neverland Pirates Costume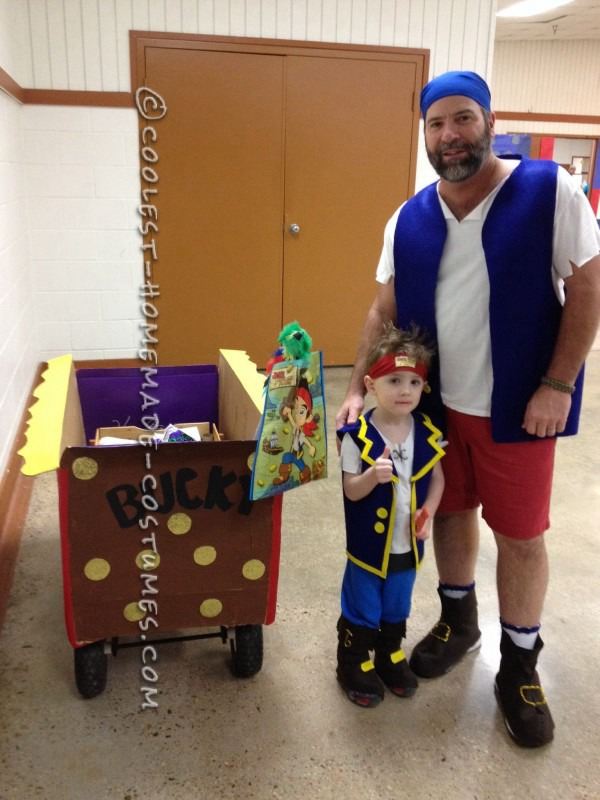 This kid wanted to be Jake on Halloween, so his parents decided to be his crew. You can decide with your partner and little one. It might look not very easy, but trust me, it's easy. Check it out here.
31. Infant Pirates Ship Stroller Costume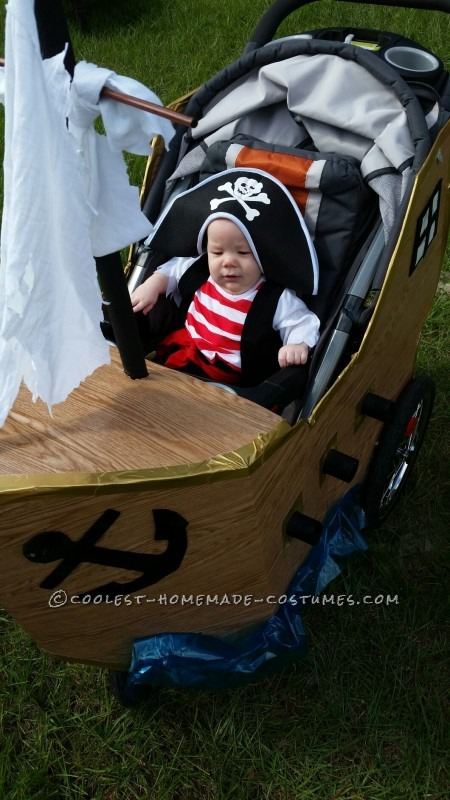 Here's the simple pirate costume for your infant. Just a shirt, black trousers, a coat, and a pirates cap. And to easily transport him, turn his stroller into a pirate ship. Your kid will look cute, and you'll get thousands of compliments!
32. The Page master Pirate Costume
The inspiration for this costume was from the movie The Pagemaster. It was completely a DIY with available materials you'll find at home or in the nearest shop.
33. Pirates Crew Costume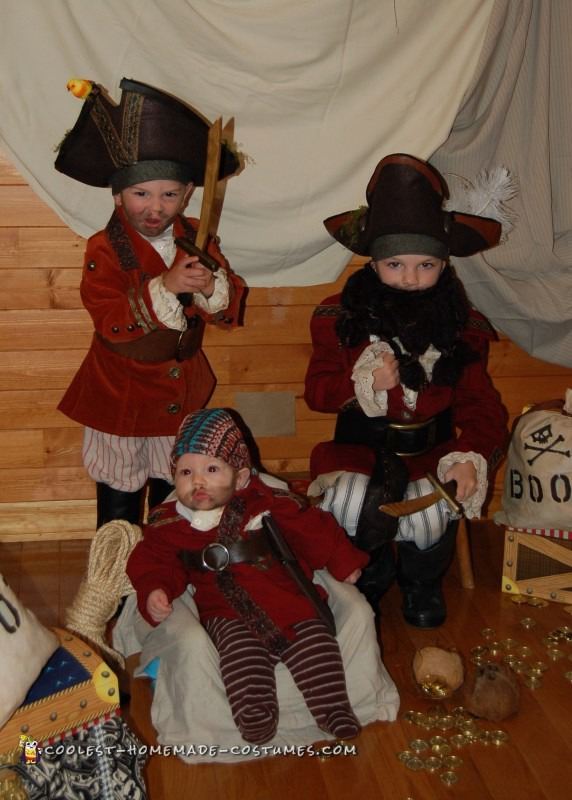 You can enact this pirate crew costume for your boys! The elder boys appeared in a red coat, a pirate hat, and a sword, while the younger boy appeared in a red coat and brown trousers.
34. The Maori Pirates Couple Costume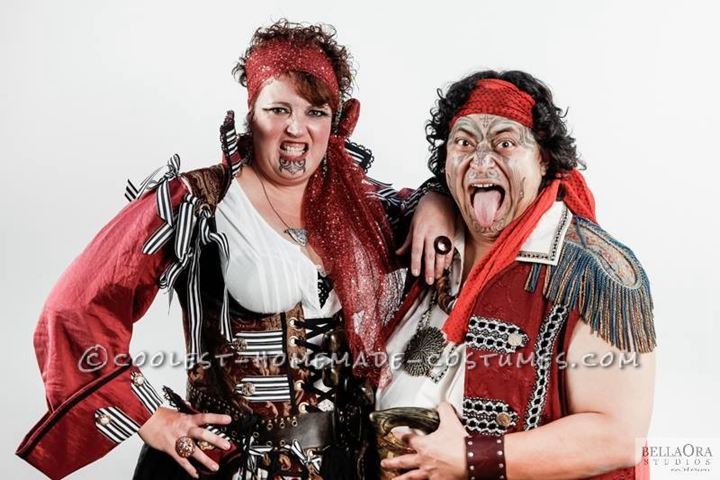 This couple blended Pirates and Maori. Yeah, the costume looks so complex, but trust me, it's very easy to make! Try it out, and you'll have a fantastic time!
35. Daughter Pirate With Her Ship Costume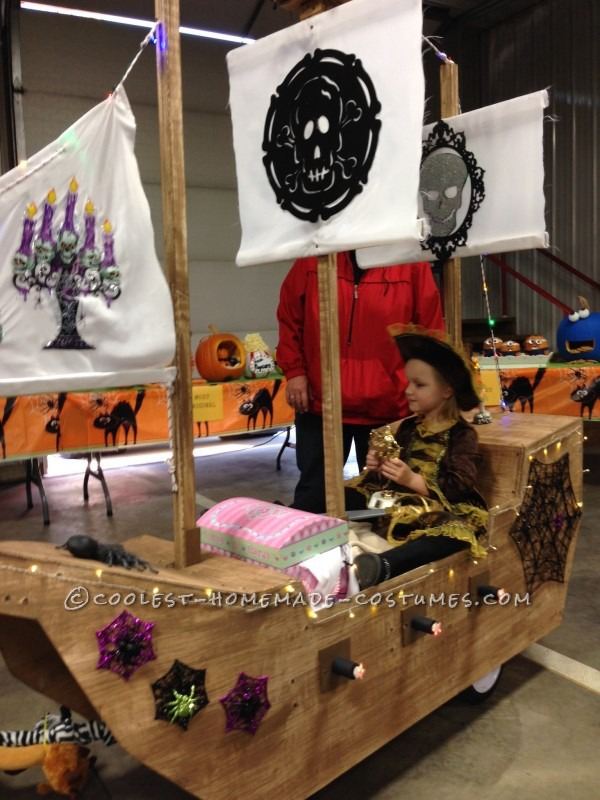 Another one for the kids! Most children love it when they rock their pirate costume and complement it with a ship. Please do this for your child and watch as she wins the best pirate trophy.
36. Kid's Pirate Costume with Wagon Ship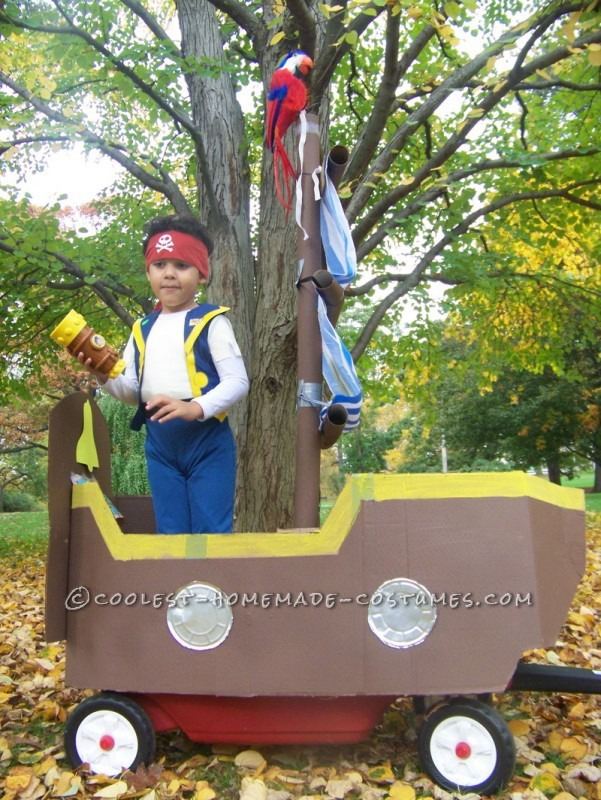 It's easy to pull up some clothes and a kid's wagon to make this amazing pirate outfit and wagon ship. Here's a step-by-step guide.
37. DIY Pirate Theme Costume
How about the whole family going in a pirate theme? Here, the mom and the two kids are dressed as pirates while the aunt comes out with a keg of rum! Check how to do it here.
38. Two Pirates and their Ship Wagon
Your two kids can dress for Halloween as two pirates with their ship wagon. You may find the shirts and trousers in your wardrobe. Get the other accessories you need and set to work.
39. Will and Ragetti Pirates of the Caribbean Costume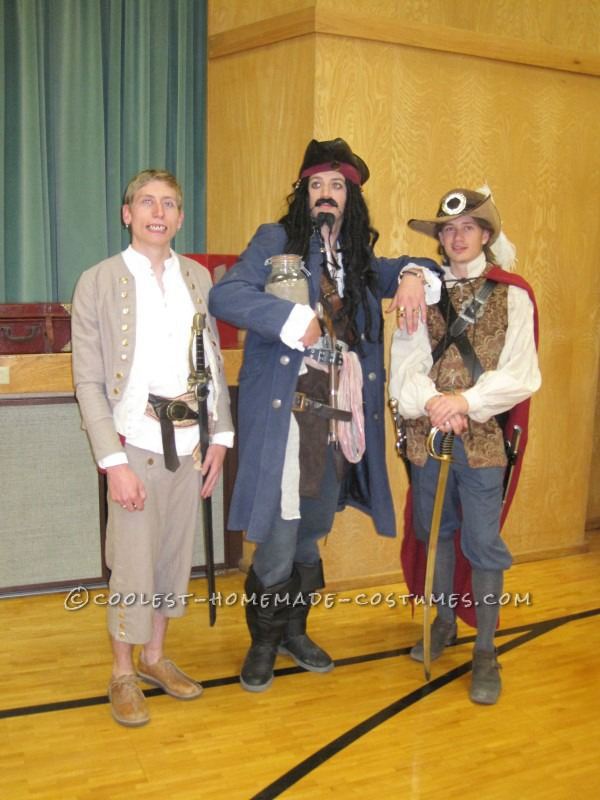 Here's another way to recreate the famous movie Pirates of the Caribbean with this great theme outfit. It's 100% homemade, and you can do it too; check here.
40. Pirates Costume with a Peg Leg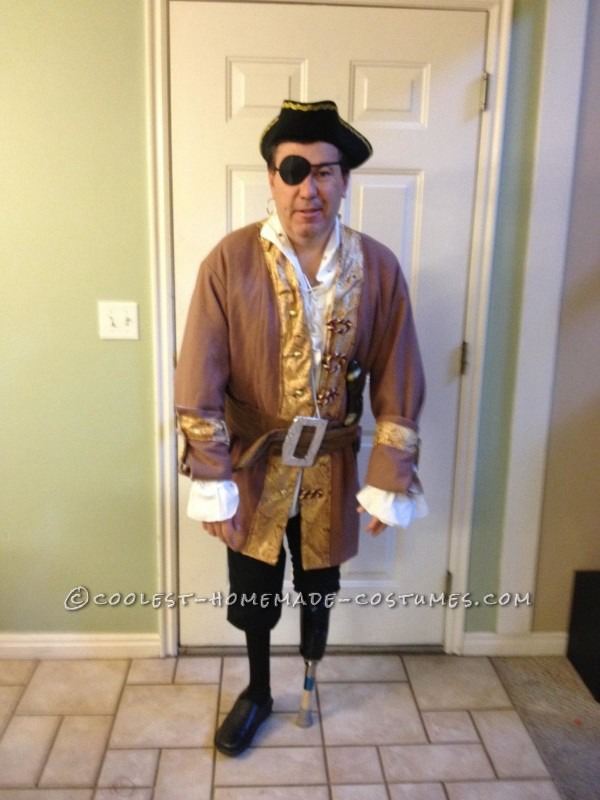 That you got your leg amputated doesn't mean you'd be left out during the next pirate's party. Here's a costume that will leave everyone wowing!
41. Scary Pirates Costume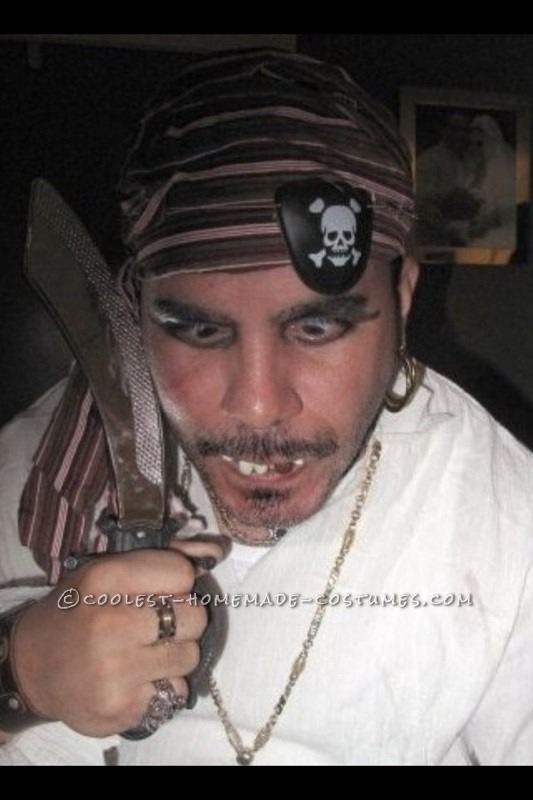 Pirates do look scary and crazy sometimes! Here's a DIY scary pirate costume for you. You'll need a fake tooth, some beads, rings, and a real sword.
42. Family of Pirates of the Caribbean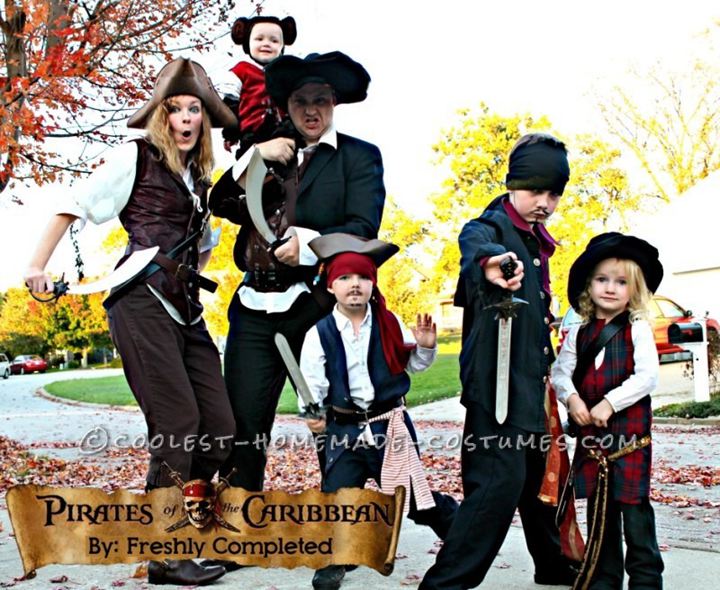 If the whole family is obsessed with Pirates of the Caribbean, why not try this costume next Halloween? Don't forget to order some pizza and watch the pirates of the Caribbean when you wear this outfit.
43. The Real Deal Jack Sparrow Costume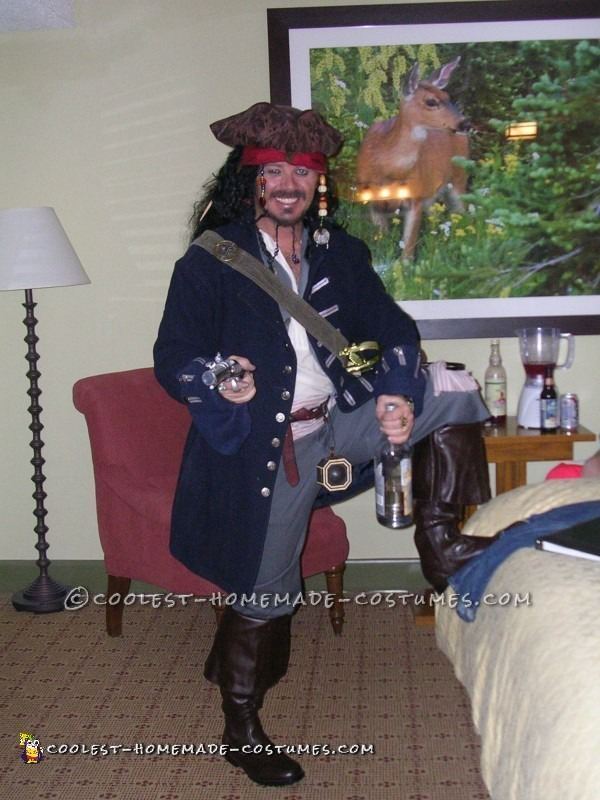 Jack Sparrow will forever be the iconic character of the Pirates of the Caribbean. This costume will take a lot of time, but trust me when you rock it; your neighbours will mistake you for Jack Sparrow. Give it a try!
44. No-Sew Homemade Pirate Group Costume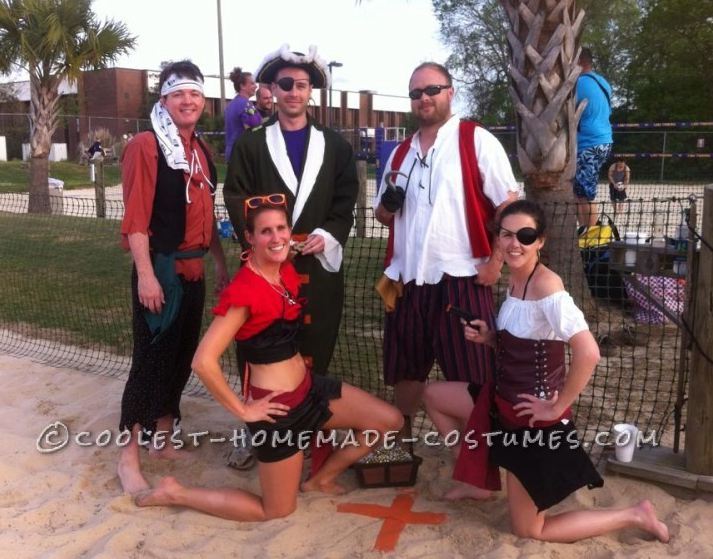 Sewing is a no to most of us. If you've given up on wearing your dream DIY pirate costume because of sewing, here's an idea. Let your squad rock this and get hundreds of compliments.
45. Minion Carrying a Pirate Costume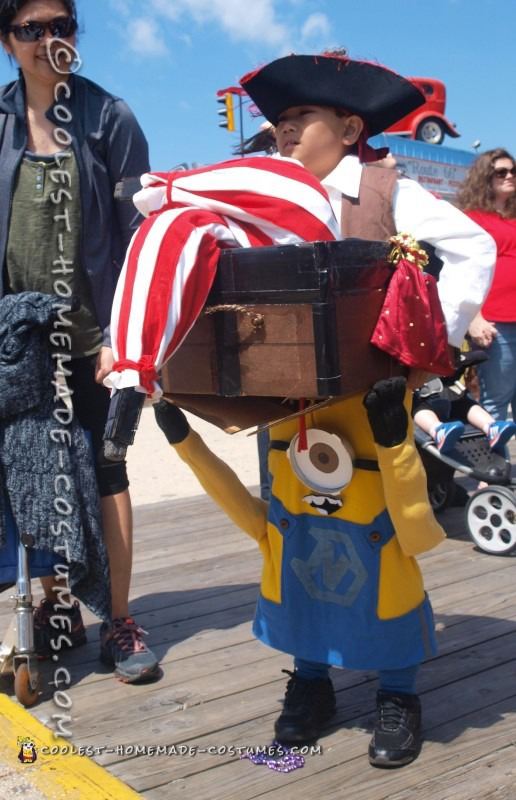 If your kid is a lover of the Minions and also wants to rock a pirate costume, this DIY costume got you covered. It's very easy; check it out here.
46. DIY Pirates Costume in 10 Minutes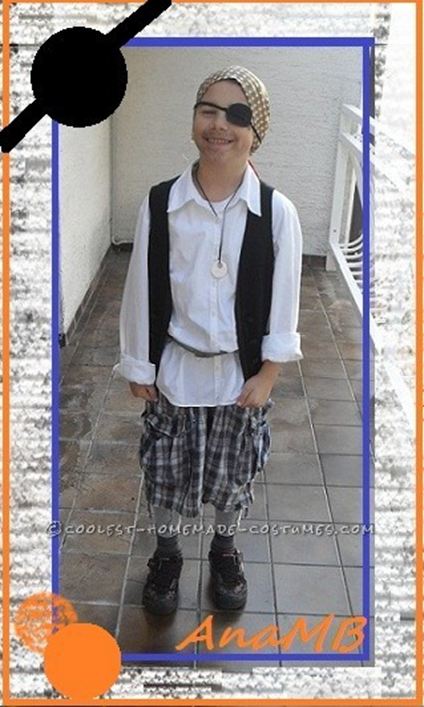 Did you receive a short notice invite to a customed party? Dress up as a pirate in less than ten minutes, and off you go!
47. DIY Pirates Costume and Ship Stroller
If you love it amazing yet cost-efficient, try this costume for your kids. It's also an easy way of transporting twins in their strollers during Halloween. Don't worry; you don't have to be a parent of twins before you can try this.
48. Funny Jack Sparrow Costume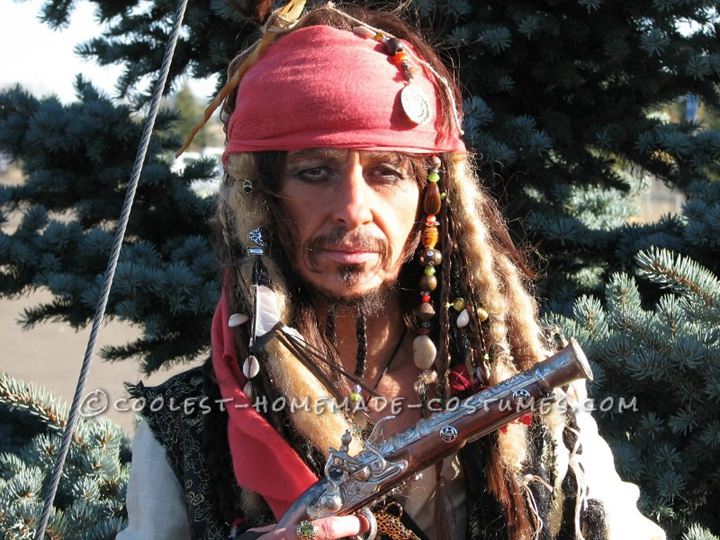 Where are the Jack Sparrow lovers? Here's another one for you! Almost everything will be found in a thrift store, but I'm afraid you'll need a slot of beads.
49. Cool Jack Sparrow Costume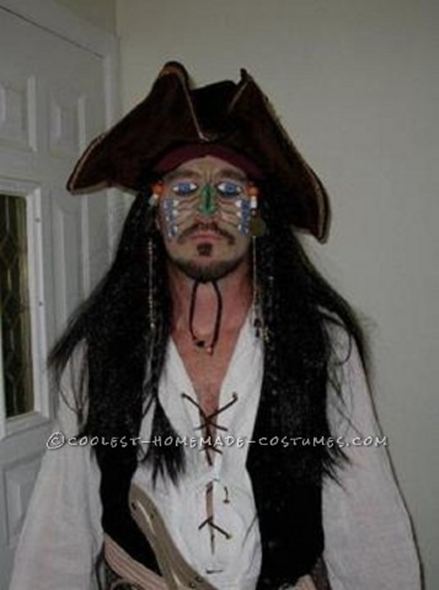 Choosing the right pirate costume can be overwhelming as thousands of ideas exist. Whichever one you choose, you'll love to make it look real and believable, and that's exactly what this person does. Check out how!
50. Simple Homemade Pirates Costume
Adorning this pirate costume can make a great appearance for Halloween or a pirate party. It will take time but trust me, it's worth it!
51. Family with Dog Pirates Costume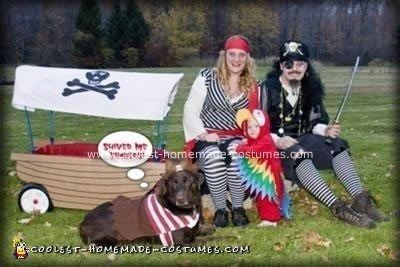 Your Hound can't be left out next Halloween. That's why we brought this cool family pirates costume. Here wifey and hubby dressed up as pirates, the little one as a parrot, and their dog Pedro is also a Pirate.
52. Captain Hook's Costume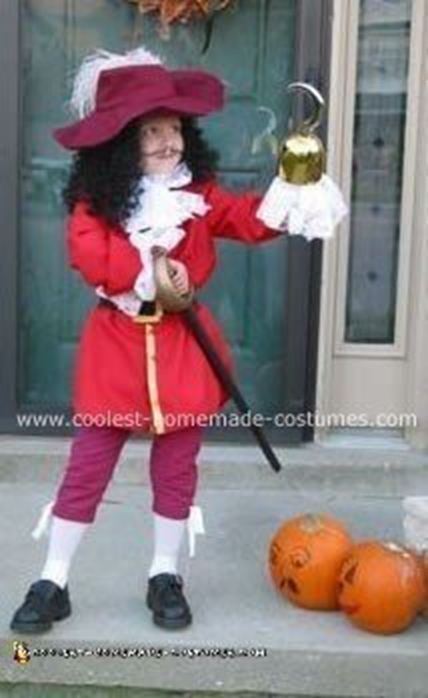 Do you remember Captain Hook from Peter Pan? That's exactly what this kid recreates on Halloween. I love the hair, the sword, and the cap. Even the pose is breathtaking. It's all DIY, and you can do it too.
53. Cool Kid's DIY Pirate Costume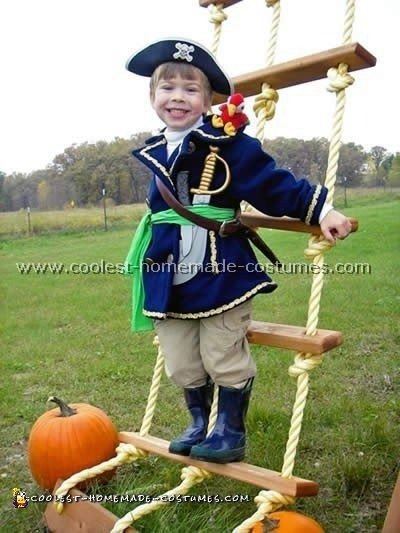 Here's another one for the kids! A toy parrot inspired the costume. It requires little sewing skills, and it's very easy to make. Can't wait to see your kid rocking it next Halloween.
54. Baby Captain Hook Halloween Pirates Costume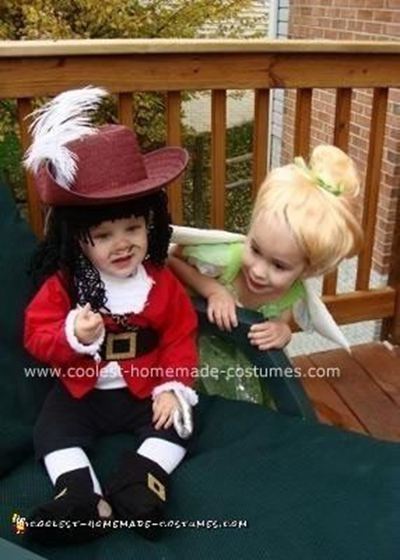 You're a lover of captain Hook, and you got an invitation to a pirate's party; why not make this homemade Captain Hook for your little one. It's very easy, and you can make it in a few days.
55. Beautiful Female Pirate Costume
This costume was based on the popular character of the movie Pirates of the Caribbean, Jack Sparrow. He's the most loved. That's why everyone's trying to recreate his costume. This lady, too, says she won't be left behind.
56. Amazing Pirates Group Costume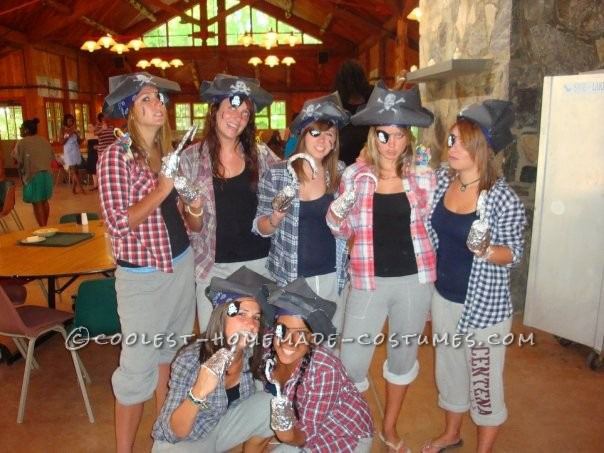 These pirates dressed simply amazingly. With just grey sweatpants, dark tops, and a striped t-shirt. They wore caps and metal hands to complete their pirate look. Your team can do it too.
57. Steampunk Pirate Captain Costume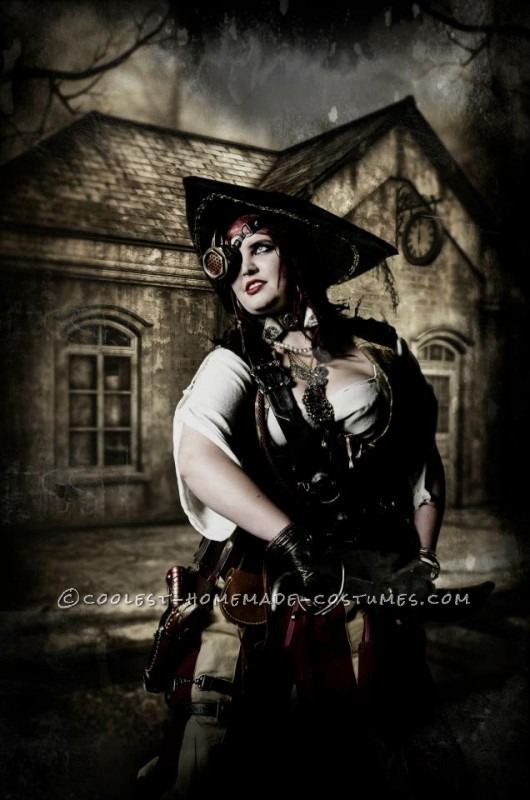 Here's one for the classy ladies! This lady recreates the Steam Punk airship pirate captain in the style of the Pirates of the Caribbean, and I've to say it looks differently beautiful! The Good news? It's all homemade, and you can do it. Check out how she does it.
58. Jake and the Neverland Family Pirates Costume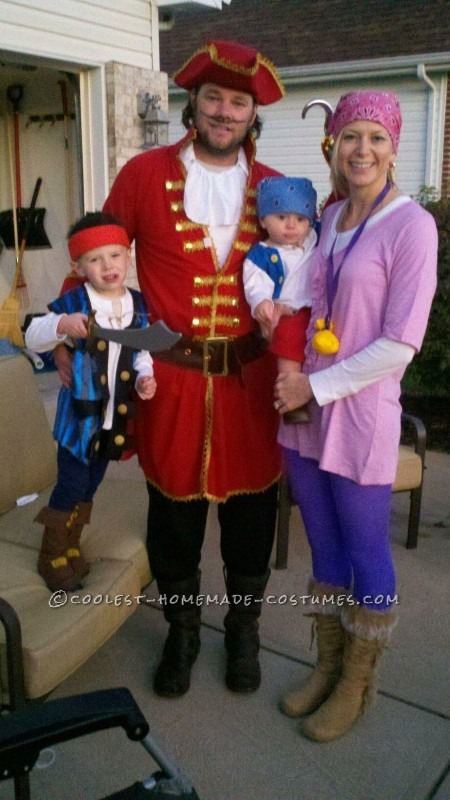 Jack and the Neverlands were enacted here. You can mistake this family for the characters of the movie. Your family too can do it. Check the steps here.
59. Sexy DIY Pirates Costume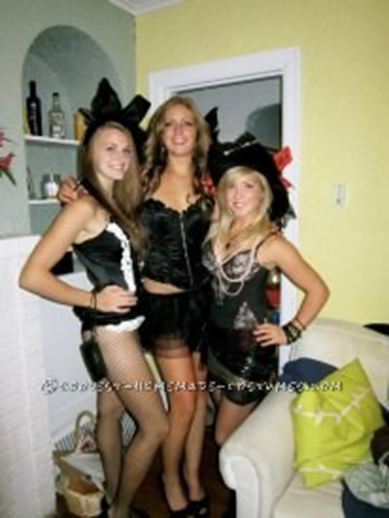 Want to dress as a pirate, but you want to keep it sexy? Here's a new idea. It was homemade and needed little sewing skills.
60. Elizabeth Swann DIY Pirates Costume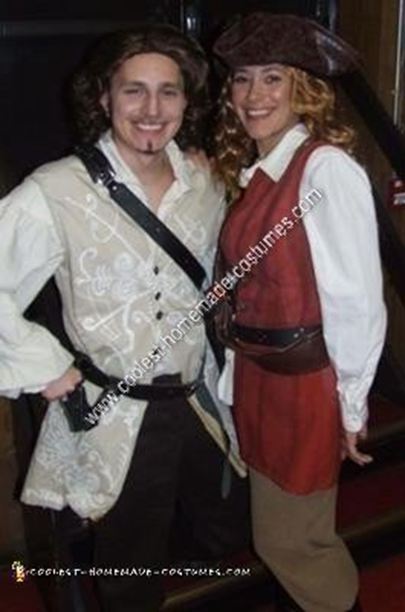 Look great and feel amazing in this pirate costume of Elizabeth Swann. Don't worry, all the materials that you'll need are handy. The jacket was made from an old tablecloth.
61. Dad and Parrot Baby Halloween Costume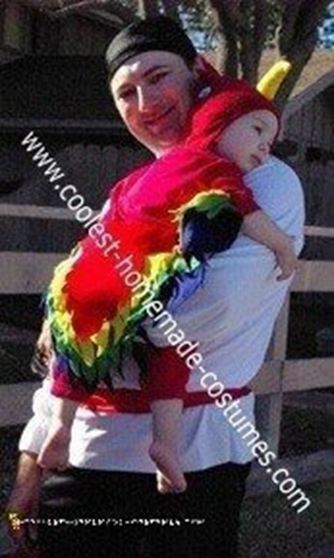 Daddy was a pirate, and the baby was a parrot. They look amazing. Check here to have that look too.
62. Rufio From Hook Pirates Costume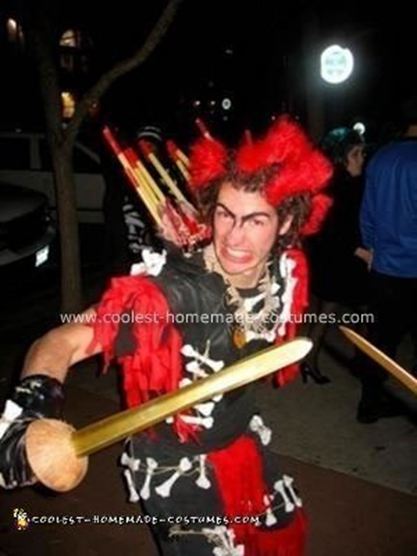 Do you want to try something more unique? Here's Rufio from Hook costume. It looks complicated, right? Don't worry; you'll get most of the materials you'll need in a thrift store.
63. Cool Homemade Pirates Costume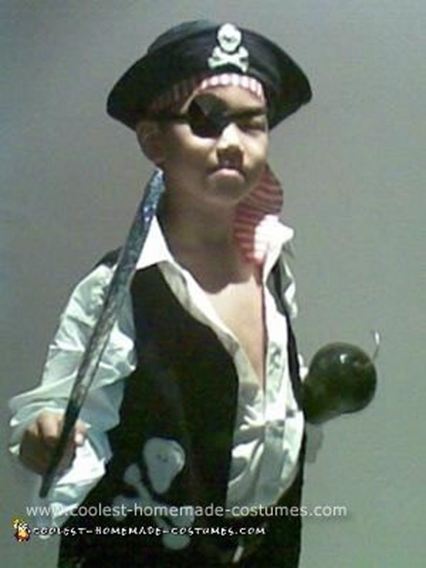 Kids can enact this as well as adults. It's quite simple to make and will make a great Halloween outfit.
64. Kid Jack Sparrow Pirates Costume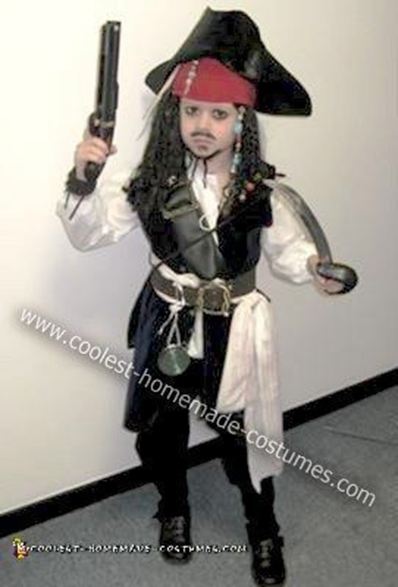 Jack Sparrow's back again on our list, but this time as a kid! This mom has done all the work for you; check out the guide here.
65. Princess Pirates Costume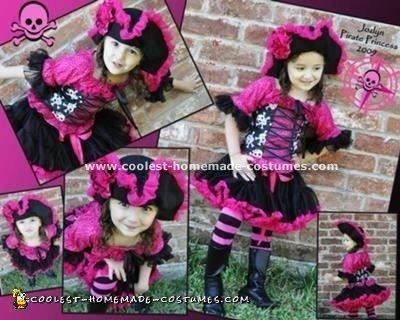 If your daughter wants to be a pirate with princess vibes, here's an idea. Try and watch how everyone will admire it.
67. Captain Hook and Tinkerbell Costume
I love a couple of things! The hubby dressed as Captain Hook while the wife came out as Tinkerbell. It's beautifully homemade!
68. Men Pirates Costume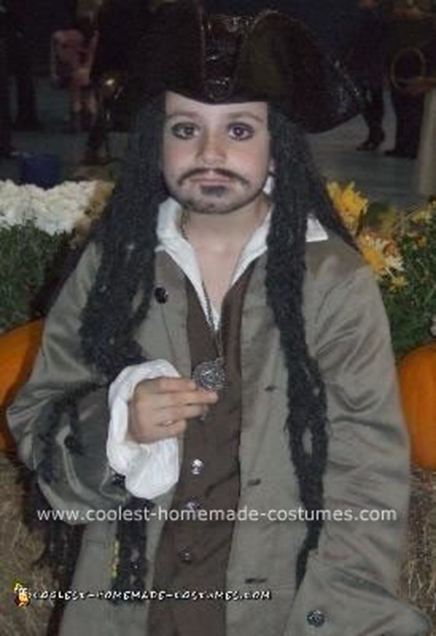 You can mistake the boy for a real pirate! Men, too, can enact this. Here's how to.
69. Pirate and Parrot Costume
What's a pirate without a parrot? An incomplete one, of course. Dress your kids as pirates and parrots using this DIY idea.
70. Homemade Pirates Costume for the Boys
Dug up your closet and try this Pirates Costume for your boys next Halloween.
71. Lady Buccaneer Pirate and Her Parrot Costume
Your two kids can recreate this Lady Buccaneer and her parrot costume. Here's a step-by-step guide.
72. Cool Lego Pirate Costume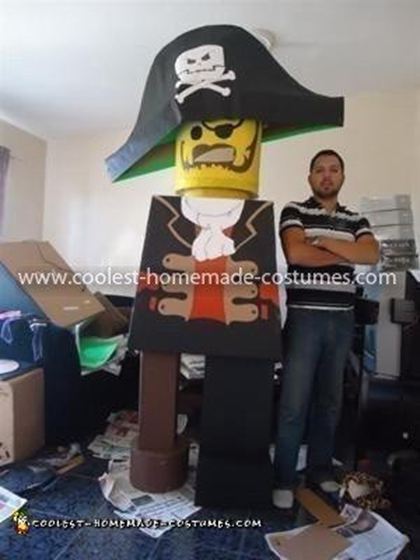 Are you a Lego lover and want to dress up as a pirate during Halloween? Why not try this.
73. DIY Lego Pirates Halloween Costume
Here's another one for the Lego lovers! It's all DIY; check how to do it here.
74. Will Turner Adult Pirates Costume
Finally, Will Turner's on the list. If that's what you're looking for, we've got you covered. Here's how to do it.
75. Kids Pirate Costume
Let's wrap up with this one. It's very simple; check it out here.
Conclusion
What's your favorite Pirates costume idea? Is it Jack Sparrow's, Will Turner's, or a Theme Pirate Costume? Whichever one you love most, try it and share it with us.