I know you are a dog lover and I can tell because you are here reading this article. In this article, we have listed 20 amazingly outstanding DIY dog bowl stand ideas made by creative folks out there. Feel free to glance through and choose your preferred dog bowl stand.
Some stands are modern and simple, others are made of concrete and wood which would be a little bit more complicated to build. However, I am sure it will be an easy task for you. Are you ready to build? Let's begin.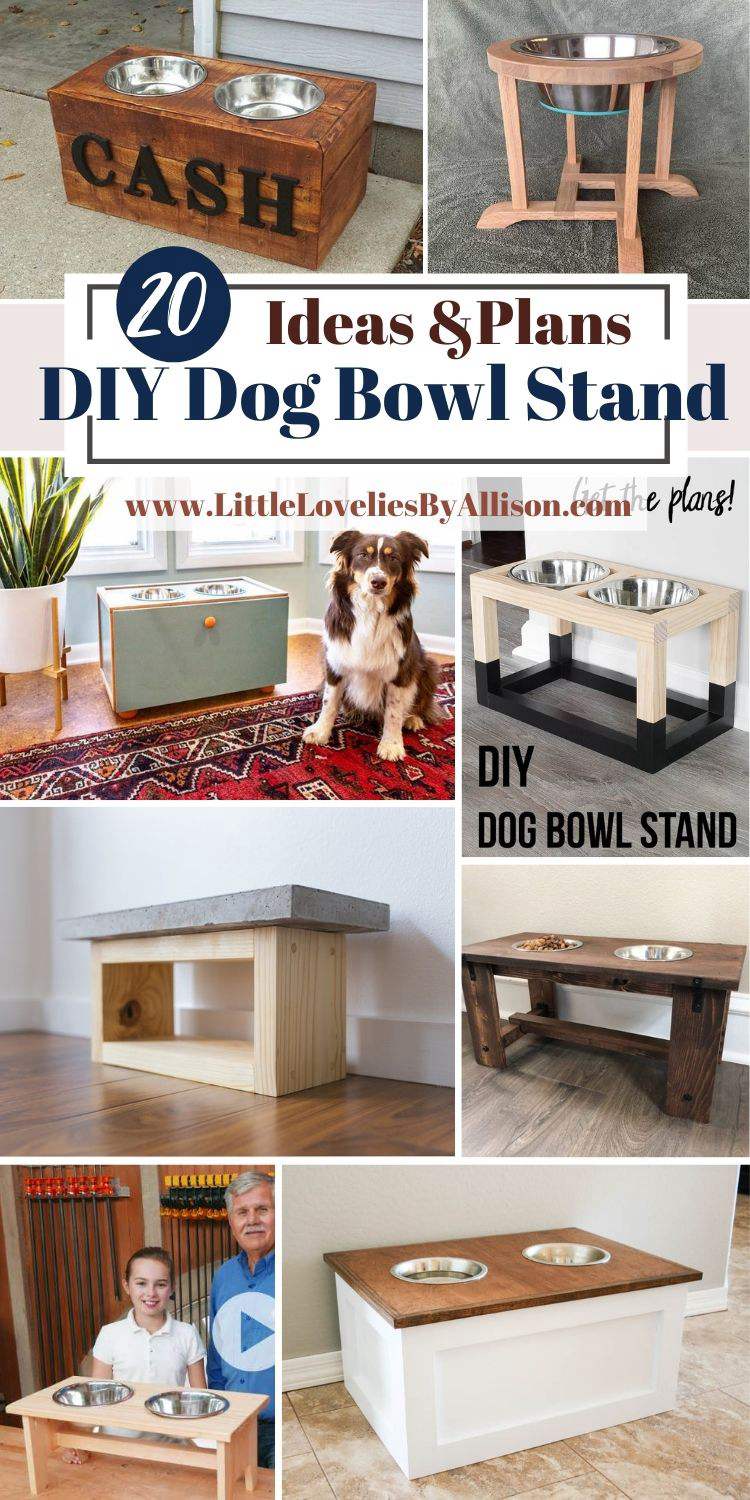 1. DIY Oak Dog Bowl Stand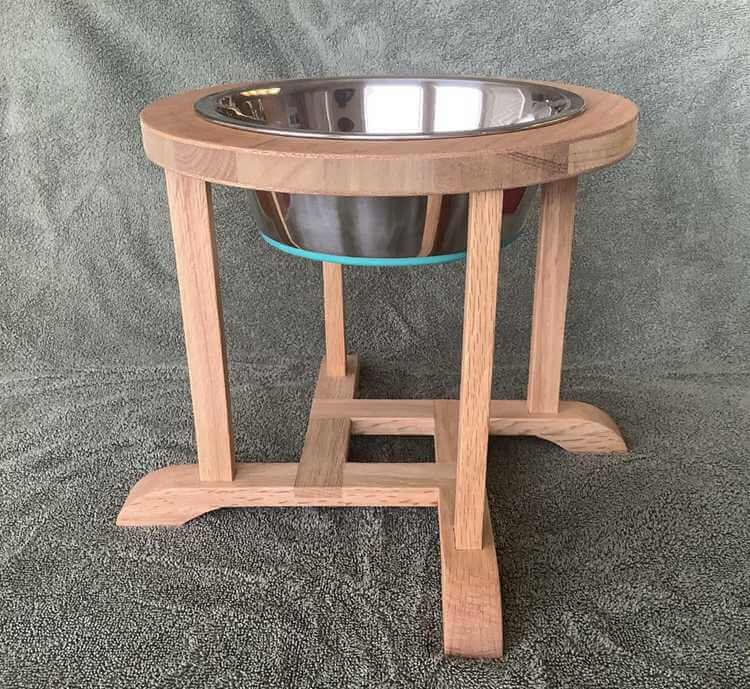 Make something of middle range to suit a middle-sized dog. So for this project, you'll work with oak ( or any hardwood), dog bowls, since we'll be making 4 stands you fabricated a jig to facilitate cutting the lap joints in the base frame, use ½ inch MDF for the jig along with 4 each 8-32 x 2-inch screws, #8 washers, #8 lock washers, and #8 wing nuts. glue and polyurethane finish. Let the size of the bowl determine the dimension, then go ahead to cut other pieces and assemble them together to have your stand.
2. DIY Pallet Wood Dog Bowl Stand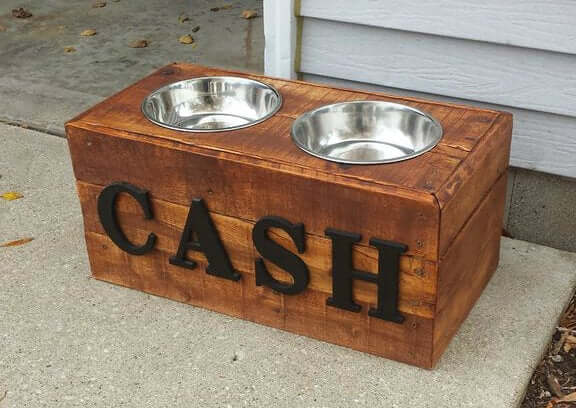 Over here is this dual pallet wood dog bowl stand, made for keeping food and water in each separate bowl. It is a simple DIY project so get the following materials and tools and get building for the love of your pet. Pallet Wood, Wood Screws, Metal Dog Bowls, Wood Glue (and optionally super glue), Stain / Polyurethane, Black Paint, Jigsaw, Miter Saw or Circular Saw, Power Drill, Sander or SandPaper and brushes.
3. DIY Concrete/Wood Dog Bowl Stand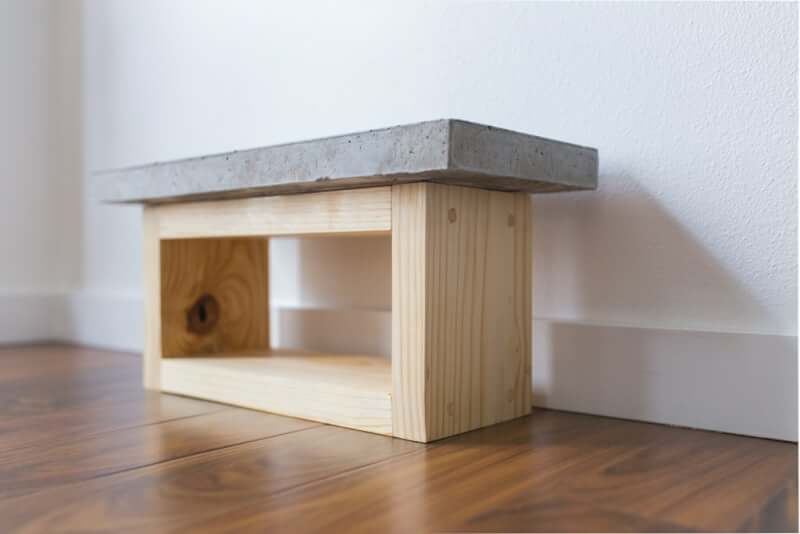 This dog bowl stand is made using wood and concrete so it just looks like a platform where you can place your dog bowl and take them off at any time you wish. Once these supplies are available, build a form and create the concrete slab. Then use wood to make the base and assemble it together. Table Saw, Circular Saw, Hot Glue Gun, Drill/Driver, Orbital Sander, Melamine Boards, Quikrete Concrete Mix, Concrete Sealer, 2/8 Boards, Wooden Dowels, Wood Glue, Matte Poly Finish.
See also: 10 DIY Dog Cone Projects
4. DIY Dog Bowl Stand
Here's a really simple wood dog bowl stand. Get bowls, pallet wood, ½" drill bit, jigsaw, sander, and paint. Cut two holes on the board just so your two bowls can fit in. Attach the legs and paint to beautify.
5. Dog Bowl Stand DIY
With a laminated pine project panel, 1 by 2s, 1 by 4s, dog bowls, drill, jigsaw, nailer, and a cool whip lid this project can be made alive. Cut the panel to size and parts, with the circle on top also. Assemble and paint to your taste.
6. Modern DIY Wood Pet Bowl Stand
In order to make this beautifully crafted bowl stand, some supplies are needed which include; pine wood, wood glue, jigsaw, sander, wood stain, and paint. Cut top and leg pieces to suit your dog size as they may vary. Cut holes on the top piece and sand. Glue the top piece together. Glue base together and assemble generally. Then paint and serve your pet.
7. DIY Dog Bowl Stand For Puppies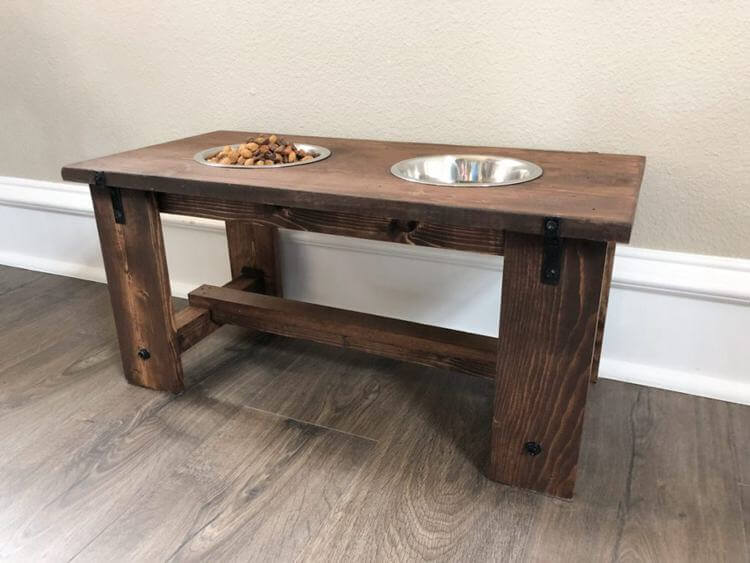 This is similar to the pallet wood dog bowl stand but this is in a bench-like form and it is made using wood also. Note that your too dimensions are always determined by your bowl size so they can fit inappropriately. Cut your wood to sizes and parts and assemble together. Drop the bowls on top and serve your pet right.
8. DIY Simple Dog Bowl Stand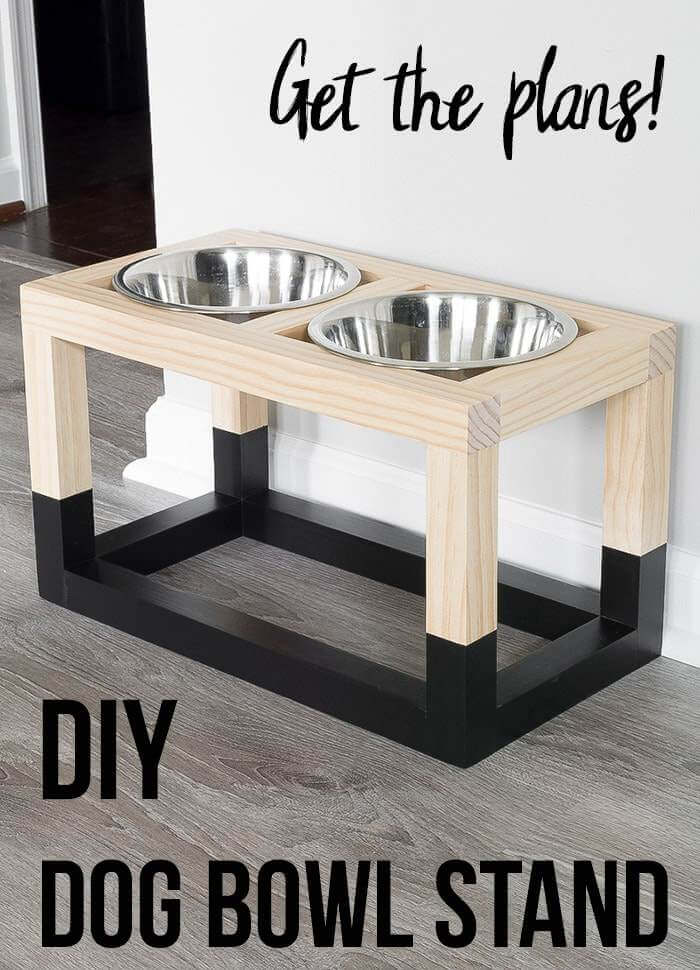 To get this done you'll need Lumber– basically, all 2×2 boards, Kreg Jig K4 but a Kreg 320 will work too, Wood glue, 2-½″ pocket hole screws, Power drill, Miter Saw, Sander, Stain/paint of your choice, Dog bowls. Cut your lumber to size and make pocket holes as well. Build the top and the bottom leg frame also. Then drop in the bowl of food and water and see if they love it or nay.
See also: 20 DIY Dog Door Projects
9. Dog Bowl Stand DIY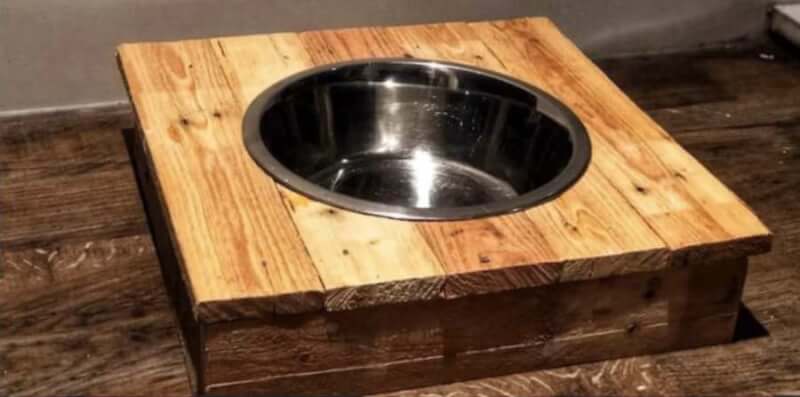 Here's a really simple, single wooden dog bowl stand. Source for these materials and tools; Three reclaimed pallets, One dog bowl, One pack of 40 oval nails, Hammer, Square, Tape Measure, Pencil. Then cut your planks and build the stand. You can add finishing touches by decorating or using pet-friendly paint.
10. DIY Dog Feeding Station
This is a really cool and amazing raised dog feeding station. It is made with a drawer for storing the food and has light installed for use during the dark. These are what you'll need to implement this project; Drawer slides, plywood, urethane, stain, pocket holes screw, white latex paint, limit screw, battery-powered light with on and off switch, drill, nail gun, table saw, palm sander, and pocket hole jig
11. How To Build A Dog Dish Stand
The design used to make this will marvel at you. Even though it is made using wood it has Its unique vented look on the base. After cutting out two circles on your wood board, construct the base and assemble together with glue, pocket holes, and drill screws.
12. How To Make A Dog Food Bowl Stand
What we have here is not a dual dog food bowl stand but a triple bowl stand. It is triple because you don't want your two dogs sticking their heads in one bowl. So you'll have two bowls for the food and one for water. Do get these and get building, Piece of wood, four legs, 3 bowls, jigsaw, skill saw, drill, polyurethane
13. DIY Dog Food Station With Storage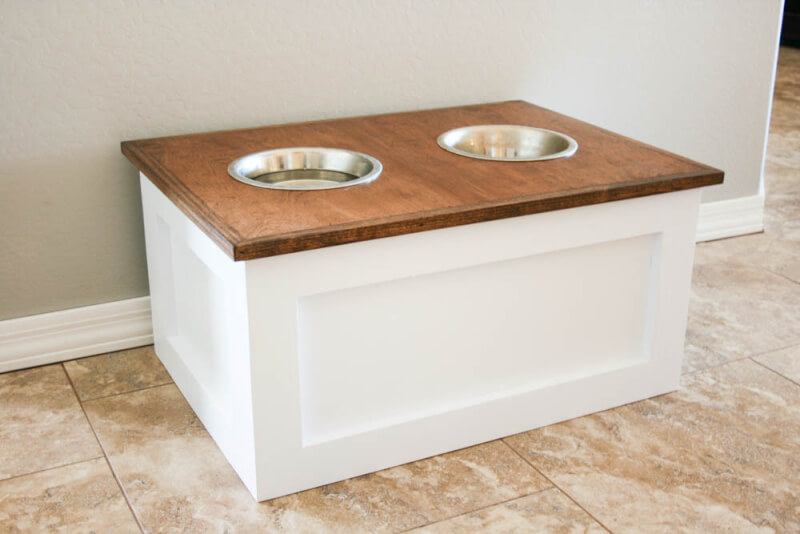 You should make this if you love your pet that much. Because this is a very beautiful food stand that serves a dual purpose. It is both a storage box for the dog food and also a food stand from where your pet feeds off from.
14. DIY Dog Bowl Holder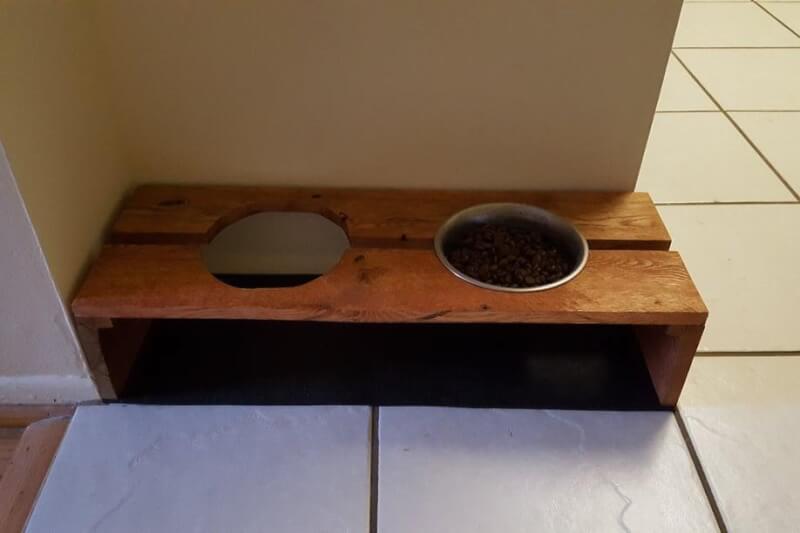 Right here is another simple dog bowl stand for your pet. With these simple steps, you can have yours too. First Cut 2 boards 25" long, make a circle outline on pallet wood, and cut with a jigsaw. Make some edge/corner supports for screws out of scrap pine and countersink the screws in. You can Condition and stain.
15. DIY Industrial Dog Bowl Stand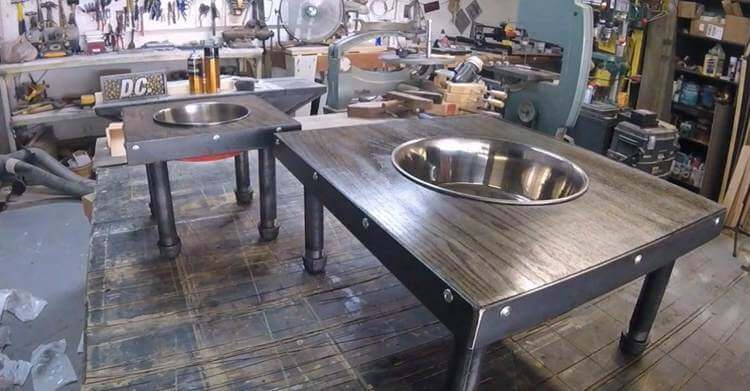 Here's a dog dish stand that looks like a table. Begin by Cutting the squares using oak plywood. Cut the circle of the dog bowl and stain your wood. cut flat metal edging and drill holes in it to screw into the wood. Screw in your edging on all four sides if you chose to use a trim. For the risers use 8 threaded pipes, 8 flanges, 8 end caps, and assemble your parts.
16. DIY Dog Feeder
This is a special custom-made dish. Square wooden dowels, wood glue, nails, hammer, stain, urethane, and bristle brush. You can as well measure the height of your dog so your stand doesn't become too elevated or under elevated. Build the frame and assemble its part. Stain with your preferred choice.
17. DIY Raised Dog Feeding Station
Here is a raised dog feeding station with drawers underneath also. This particular feeding station isn't so elevated. It still has its two bowels on top for use. The love for your pet should be enough motivation to design this.
18. DIY Dog Bowl Stand
Cut your boards to size appropriately. Cut your pieces down to size and ensure to drill pocket holes at the top and bottom of leg pieces. Assemble parts and ensure your bowl fits right in place.
19. DIY Raised Dog Food Bowl Stand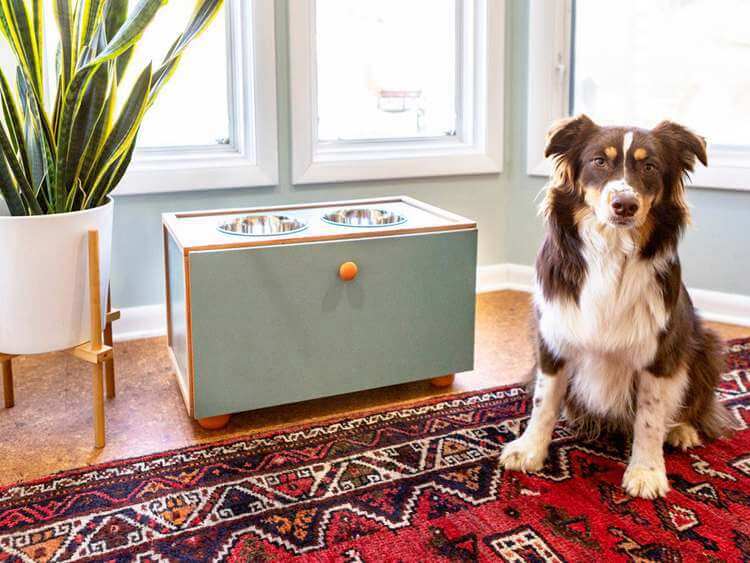 Basically, with these tools and materials, your pet can have their dish raised to suit their needs and save their necks from falling deep down in the course of eating. circular saw, jigsaw, drill with bits and drivers, (3) bar clamps 3' in length, hammer or finish nailer, compass with pencil, straight edge, (1) 4x8x½ sheet of sanded plywood, (4) 2" bun feet with mounting hardware, wooden pull knob, 18" piano hinge, (2) hinge supports, wood glue, finish nails, masking tape, paint and painting supplies.
20. How To Build A Dog Bowl Stand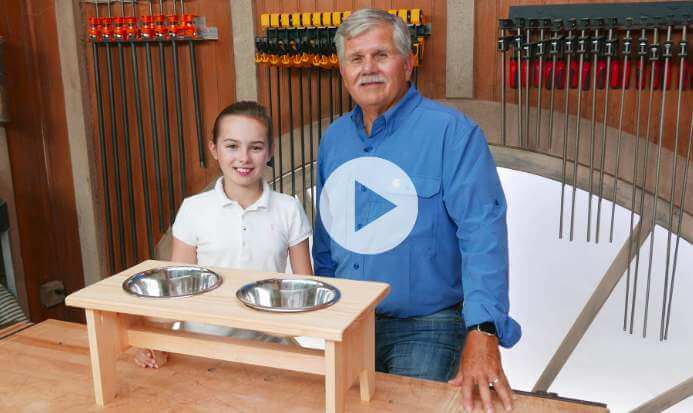 This DIY project is quick and easy, just after getting these you can build up parts and assemble them up. Food bowls, 1x10 pine, 1x12 pine, Wipe-on polyurethane, Rag, Pocket screws, miter saw, drill press, jigsaw, compass, pocket hole jig, palm sander.
Conclusion
All the DIY dog bowl stands listed in this article are beautiful, in fact, you might even have a hard time choosing from the list. We can help make suggestions for you, just reach out to us in the comments section below, and we will get back to you. Thanks for stopping by.