What if I told you that you can make your own DIY Dog Pool without spending a lot of money? The fact is, if you have the time and the will, there's nothing stopping you from building your own doggy pool. Summertime is just around the corner, which means it's the perfect time to be building a DIY Dog Pool for your furry friend to enjoy. You can easily piece one together from old plastic bins and water-safe canvas if you're short on cash.
This article can help you build a custom dog pool in one day. My German Shepherd loves to swim in the backyard pool every chance she gets. No matter how hot it is outside if I turn the hose on, she's out there soaking up the sun and having a blast. Being the DIY designer type, I wanted my dog to have her own swimming area where she could enjoy a well-deserved cool down without bothering guests. I had to build a DIY Dog Pool for her. Your canine best friend deserves this too.
1. How To Build A Dog Wading Pool
Some dogs like swimming, while others don't like it. So if you have a dog that loves swimming, you should try any of these two types of wading pools for it. The first one is built from a standard toddler kiddies pool. The second type is a kiddies pool but a little bit modified. You can check this link below to learn more about both kinds of dog wading pools.
2. Homemade Dog Exercise Pool
Check out this homemade dog pool made from a 50-gallon tank. The collection was primarily designed for exercise. The first thing you need to do while putting this together is getting the tank. Then, cut off the top of the tank ( according to the size of the pool you want). Now, get some pool noodles to frame the tip of the pool to protect the dogs from getting injured while trying to get into the pool from the scratch tips.
3. DIY Dog Pool
If you're looking for ways for your dogs to cool off during summer, then you've come the right way. It is a natural swimming pool. This swimming pool has many advantages over the custom pool made for dogs, such as kiddie pools or tanks. If there is no proper filtration system in these custom pools, you will constantly need to replace the water. But with a natural pool, it is self-cleaning.
4. Rocky Dog Pool DIY
If your dogs like swimming so much, you can try out this backyard dog pool! It is amazing. It is built mainly from rocks, concrete, water, and plaster. The first step required and seems like the most challenging part is gathering stones. You need to collect enough rocks that will complete the pool. After that, you need to mix the cement and sand; the best way is to use a concrete mixer. Frame the area you want to use by building a wall from rocks.
5. DIY Dog Pool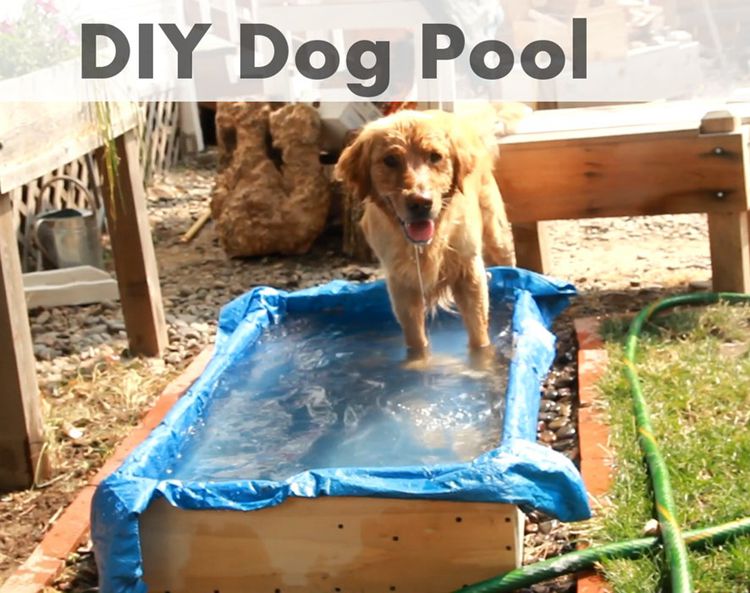 As we feel the heat as humans, so do dogs and other animals! They feel the heat, and when this happens, they want to be in a calm and refreshing place. Thus, there is no other way to get something that matches the description above; cool And refreshing, different from a pool. A dog pool doesn't cost a fortune, especially when you do it yourself.
You can make one with less than a hundred dollars. All you need is wooden boards, plastic bags, screws, and a place you want the pool to be. The plastic bag lines the wooden box to ensure maximum capacity.  instructables
6. Husky Summer Pool Build
If you live where the summer is endless, like California, you will need a pool to cool down your temperature every time, but as you're cooking the temperature, your dogs need that kind of help to cool their temperature as well.
Setting up a pool for your dogs using this guide will only take you up to 25 minutes because all you need to do is assemble the parts and fill the pool with water. You can attach a filter to it to help keep the water in good condition always.
7. DIY Dog House With Pool
This guide includes a video description of building a dog lounge, sandbox, and pool. You will need a long list of materials for all these luxuries listed above. However, all you need is an inflatable swimming pool for the dig pool. Connect your pipe to the water source and fill the inflatable swimming pool. This can be the last step of your dog house because it is the most straightforward part.
8. DIY Dog Pool Ramp
This is a more sophisticated type of pool for your dog! It looks impressive and beautiful. If your budget is not limited, this will be a perfect dog pool to try out. If you have had a pool before, all you need is a ladder to help the dogs get into the pool. You can get two pieces of 2×6 boards (depending on how long you want the ladder to be), you need a green grass rug to allow the dogs to walk on the ladder, and metal brackets to join both wooden boards together horizontally.
9. Easy Dog Pool DIY
Here is another simple dog pool you can quickly make for your dog. If you have only one dog, you can limit the size of the pool, but if you have more dogs, you can decide to expand the size. Here is the simple technique behind the pool. Gather some scrap wood and assemble a square with them. To avoid splashing water, get a large plastic bag and use it to line the square. Then, fill the square with water, and your dog pool is ready.
10. DIY Swimming Pool For Dog
Are you looking to build a fog swimming pool that won't cost you a dime? If yes, this guide is for you! The idea behind it is very simple and straightforward. All you need to do is get an enormous container, a fresh and clean water source, and open space.
Put the container at the center of the place and pipe water from the source to the container. Once the water reaches a quarter of the container, you can stop it, but you will need to add more water if your dogs are older. After adding water, call your dogs and let them swim.
Conclusion
When there is excessive heat, almost everyone wants to cool their temperature somewhere! As this happens to man, it happens to dogs too. They need a cool and fresh pool to cool off their temperature. Build a DIY dog pool for your dog and watch them have fun in it. What are you waiting for? Start building!