Is your dog spending a considerable amount of time under your bed? Are you worried that the habit is not usual? Well, pups love to sleep beside their owners and will take any chance to receive attention. If your dog chooses to sleep under your bed, it could be an act of undivided devotion.
Regardless of how sweet or thoughtful this habit may seem, some owners tend to worry and often wonder whether the pattern is harmful to their dog's health. In this post, we'll be explaining at an in-depth level whether this habit is normal or not and the reasons why your dog sleeps under your bed. Without further delay, let's dive in.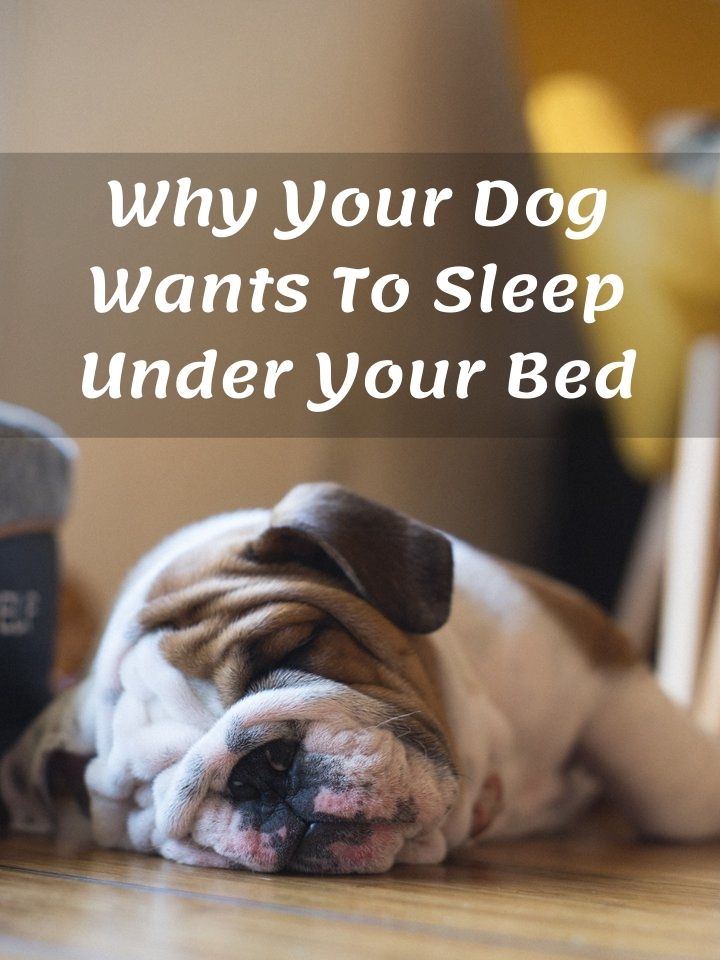 Why Dogs Sleep under the Bed
If you want to familiarize yourself with this phenomenon, keep reading to know more.
# 1: Anxiety
If your dog is dealing with an issue that's making it nervous, it will find a hiding spot instead of confronting its problems. Furthermore, the reason could be more severe than it seems. To ensure you find the underlying problem, you have to investigate the matter at an in-depth level.
Dogs can experience anxiety due to various reasons:
Bully Dogs in the neighborhood
Being mishandled by a child or an adult
Weather; Dogs may feel scared of thunderstorms
Fear of being home alone
Traveling
Abandonment
Meeting new people
If your dog has occasional anxiety fits, you need to figure out which of these reasons is causing the problem; that way, you can eliminate the issue permanently.
Most rescue dogs suffer from anxiety. Such dogs tend to be triggered easily since they dealt with past traumatic events.
If you suspect that your dog sleeps under your bed due to anxiety, it's best to consult your veterinarian since they can provide effective treatment options.
Other signs of anxiety in dogs include:
Self-injury
Denning
Panting
Drooling
Aggression
Destructive behavior
Avoiding the litter box to urinate or poop in the house
Excessive barking
Overall Verdict: It's not normal.
 # 2: Injury
If your canine friend sleeps under your bed, then perhaps, it's suffering from an injury. At times, your dog could be in agony, but since the injury is not visible, you won't be able to notice.
More so, dogs are great fakers! They prefer covering their pain; this is a survival instinct they adapted way before they were domesticated.
While in the wild, if an animal shows any signs of vulnerability, it exposes itself to danger. Studies prove that dogs can pretend to be relaxed when they're actually suffering due to an injury.
Therefore, don't beat yourself up for not noticing. Instead, you can observe various signs to determine whether your dog sleeps under your bed due to pain or not. These are:
Hiding
Snarling
Grumpiness
Growling
Sensitive to touch
Reluctant to walk
Exhibiting signs of agitation
If you are worried that your dog is suffering from an injury. You need to contact a Vet as soon as possible since they can give an accurate treatment plan.
Overall Verdict: It's not normal.
# 3: Sickness
A sick dog will sleep under your bed due to a dog's instinct to hide whenever they feel vulnerable. If your furry friend is suffering from an illness. You'll notice these signs:
Vomiting
Diarrhea
Excessive thirst and urination
Runny nose or eyes
Difficulty urinating
Vomiting
Coughing and Sneezing
Lack of appetite
Decreased energy levels
You need to contact your Vet when this happens so they can provide a precise diagnosis.
Overall Verdict: It's not normal
# 4: Dogs value privacy
At times, when your dog sleeps under your bed, it's not a cause for concern. Dogs love resting in places that are enclosed and private.
Before dogs were domesticated, they used to dig holes to find a safe, enclosed private space. This is one instinctual habit that still comes to play even though dogs aren't wild animals nowadays.
Furthermore, you might notice that the habit is slowly becoming a ritual, and your dog keeps finding new places to rest—not just under your bed. You might find your dog having daytime naps under the table, chair.
Well, it's not a problem; dogs value their personal space.
Overall Verdict: It's normal.
# 5: They are looking for hidden treasures
Dogs love saving their treats or toys for later! If your dog is constantly sleeping under your bed, they just want to guard their goodies! It's a dog thing.
Also, since they picked that specific place to stash their toys or treats, they definitely consider the area safe, and that's why they sleep under your bed.
Overall verdict: It's normal
# 6: Your Canine Friend Just Wants Your Attention
Dogs will take upon any chance they get to receive your attention, especially if they are fond of you. If your dog has been with you for years, it's just showing you devotion by sleeping under your bed.
On the other hand, if your pup is new yet sleeps under your bed, it wants to get close to you.
Allowing your dog to sleep under your bed offers it:
Safety: You'll be around all night long to protect it from harm.
Ability to be predictable: If your dog loves you, it will devote itself to you. Once you wake up to do something, it will follow you.
Comfort: Dogs love enclosed spaces. The space under your bed works as a Den.
Emotional Security: Some dogs have separation anxiety due to past traumas. Therefore, sleeping under your bed gives them the emotional security they yearn for. If your dog has separation anxiety, you can contact your Vet to recommend a dog behavioral therapist.
Overall verdict: It's both normal and abnormal.
# 7: Noise Sensitivity
Dogs are sensitive to loud noises since they have a substantial hearing and sense of smell. Loud noises can be destructive to your dog's overall well-being, making them sleep under your bed just to get away from the commotion.
More So, when the sounds are unfamiliar—they can trigger an adverse reaction. Perhaps, you haven't noticed that your dog is sensitive to sounds. It's essential to act on the issue at hand as soon as possible because if it continues for a long time, it can cause detrimental effects. Without a doubt, loud noises can affect your dog's life.
These are some of the signs you can look out for if you want to know whether your dog is negatively affected by loud noise:
Shaking
Clinginess
Urinating and Defecating indoors
Panicked running
Destructive chewing
Some owners are completely unaware that these signs are caused by loud noises and can punish their dogs for misbehaving.
If your dog is experiencing these signs after hearing loud noises such as Thunderstorms, Gunshots, traffic, bangs, and Fireworks, chances are they are sensitive to loud noises.
Some of the breeds that are sensitive to noise are:
Collies
German Shepherds
Golden retrievers.
Overall Verdict: It's not normal
How To Ensure Your Dogs Stops Sleeping Under Your Bed
If you don't want your dog to sleep under your bed, don't feel guilty. While your dog may be comfortable, it might be dealing with severe problems that have to be dealt with expeditiously.
# 1: Deal With The Issue immediately it arises
If your dog starts sleeping under your bed, don't wait until it's a habit. First, consult your vet to know whether there's an underlying issue.
Allowing your dog to sleep under your bed without investigating the cause could be detrimental to your furry friend's health. For your dog's well-being, it's best to rule out all the reasons to ensure it's nothing to worry about.
# 2: Train Your Dog
While some dog habits are hard to out-train since they occur due to natural instincts, you can try to work with your dog's brain. Eventually, they'll adjust.
So, how can you successfully train your puppy to sleep somewhere else?
Well, teach your puppy how to sleep on its bed instead and whenever it makes a positive impact, reward your canine friend with treats or toys.
If your dog is sensitive to noise, you can begin playing the noise at the lowest volume until it adjusts.
# 3: Get Rid of The Triggers
If your dog is scared of loud noises, you can provide a safe space for them to retreat to. For instance, you can cover your dog's kennel with thick blankets to create a sound barrier.
On the other hand, if your dog has separation anxiety, you can buy them toys to keep it busy.
Observing what triggers your dog's anxiety is essential. That way, you can remove the object that's agitating your canine friend.
Final Words
If your dog prefers sleeping under your bed, it's because of the reasons we highlighted. While some of the reasons are normal, others aren't, and that's why you need to investigate further to ensure your dog gets the help it needs if the problem is severe.