Undeniably, every dog deserves access to a clean and comfortable place to rest.
While some owners prefer sleeping with their dogs on their beds, it's only fair to invest in a high-quality dog bed that offers your canine friend the flexibility and privacy it needs.
Furthermore, since a dog's natural instinct is attracted to an enclosed and private place to rest, a dog bed manifests as an improvised Den in which they find safety and comfort.
But—cleaning a dog's bed is not the most straightforward task. You need to regularly clean your furry friend's area of rest since it's prone to harmful bacteria and fleas.
Furthermore, you shouldn't wait for weeks to clean your dog's bed since by the time you'll clean the bed, it will have already accumulated dirt and stains that will take so much effort to come out.
We understand how confusing and frustrating the cleaning process is. That's why we have assembled this comprehensive guide. Continue reading to know more!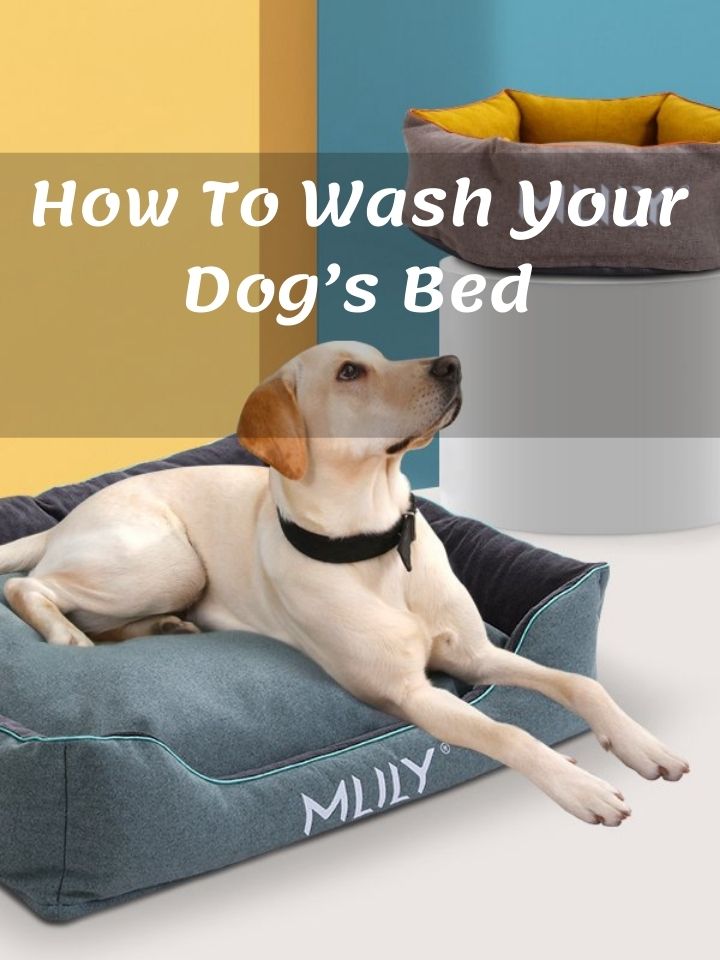 Types Of Dog Beds
Before washing your dog's bed, you need to know the type of bed it's using to clean it properly. There are two types of dog beds;
Removable Cover Beds
Dog beds without Covers
The type of dog bed your furry friend uses will determine the kind of treatment and steps you'll
have to follow while cleaning.
How To Clean Beds With Removable Covers
Most dog beds have removable covers to accumulate dirt and prevent stains from transferring to the actual bedding material. You can wash these covers in the washing machine using mild laundry detergent. Follow these tips:
#Tip 1: Vacuum the removable cover to eliminate dirt or fur.
#Tip 2: Use a mild laundry detergent that's safe for pets.
#Tip 3: To kill off the bacteria in the removable cover, wash it at the highest temperature.
#Tip 4: Add an extra cycle to ensure all the removable cover is spotless and free from dirt.
#Tip 5: Make sure the detergent is entirely washed off.
#Tip 6: Air-dry the removable bed cover.
#Tip 7: Lastly, clean the washing machine by running the washer and adding a cup or two of vinegar.
You can find the washing instructions illustrated on the tag to ensure you clean the covers properly.
However, there are removable covers that have to be hand-washed. The process is long but effective, here are the steps:
How to Hand Wash a Dog Bed
Step One: Begin by vacuuming the cover to get rid of dander, fur and other debris.
Step Two: Add warm water to a basin, measure ¼ cup of baking soda and mix it with the water in the basin. Proceed to soak the cover for 15 minutes.
Step Three: If the removable cover has stains, you can use a non-toxic stain remover. Apply the stain remover directly on the stains and use a clean towel to spot clean. While carrying out this process, be gentle to avoid damaging the removable cover.
Step Four: Rinse the cover using water. Afterward, scrub the cover using mild laundry detergent. You can use your hands or a soft brush.
Step Five: Rinse the cover once again with clean water and hang it to dry.
How To Clean A Dog Bed without a Cover
It doesn't matter whether the doggy bed has a cover or not. All that matters is ensuring it's clean for your canine friend to rest comfortably. Doggy beds accumulate dirt, bacteria, tick larvae and fleas. Therefore, deep cleaning the bed properly is essential to maintain your dog's health.
Before cleaning your dog's bed, you'll need the following:
A vacuum cleaner
Large basin
Baking Soda
A Toothbrush
Clean Towel
Soft brush
Stain remover
Mild washing detergent
The Step By Step Process
Step One: Vacuum the entire bed, both the bottom and interiors. If dog hair is stuck on the bed, you can use a brush to unravel them, eventually vacuuming them off your dog's bed.
Step Two: Before soaking the doggy bed, spot clean to get rid of the stubborn stains. If you ignore the stains for a long time, they'll get stuck on the material of the dog's bed. Start by applying the enzyme cleaner directly on the stains, use a towel to rub the stains until they come off gently.
Step Three: Soak the bed in a basin filled with warm soapy water to kill bacteria and remove the dirt on your dog's bed. Allow the bed to soak in the basin for 15 minutes. If the water turns brown, don't panic. Instead, pour the water and replace it with clean soapy water and proceed to soak the dog bed again.
Step Four: Once you are done soaking the bed, scrub the bed using baking soda to get rid of the odor, and you can also use a toothbrush instead of a soft brush on areas that are hard to reach.
Step Five: Rinse the dog bed thoroughly until you get rid of all the detergent. If the water becomes too soapy, pour the water, refill and continue rinsing until the detergent is washed off.
Step Six: Lastly, dry the dog by placing it under the Sun. You can also squeeze the dog bed to get rid of excess water, allowing it to dry faster.
Effective Hygiene Tips To ensure your Dog's bed remains clean
Your dog's health and hygiene is a non-negotiable priority. Cleaning your dog's bed regularly offers various wellness rewards. We have outlined multiple tips you can use to ensure your dog's bed remains clean for a long time.
More so, if you have trouble keeping up with your dog's routines, you can incorporate these simple tips to simplify the bed cleaning process:
Vacuum your dog's bed regularly. You can do this whenever you vacuum your floors. That way, it won't be a hassle.
Brush your dog's hair for 5 minutes a day. This allows you to get rid of loose fur or debris. It's best to brush outside to avoid cleaning up.
Ensure your dog wipes its paws before entering its bed. You can use pet wipes since they are gentle and allow your dog to smell good.
You can invest in a waterproof cover to ensure your dog's bedding is protected from stains and odor.
Occasionally place your dog's bed out in the sunlight to kill bacteria and get rid of foul smells.
Groom your dog regularly to ensure it doesn't shed much hair.
Use a freshening spray to get rid of foul odors and detangle their coats.
Sanitize your dog's bed to avoid flea larvae buildup.
Spot clean as soon as you see a stain. If you ignore the stain, it might get stuck on the fabric of the dog's bed.
Final Word
We have just highlighted how to clean your dog's bed.
Irrespective of how time-consuming it is, the results are entirely worth it! We hope our tips will ensure your pup remains healthy and happy.