Are you running out of storage? Kitchen carts are a great way to increase kitchen storage in an orderly manner. A Kitchen cart can also come in handy when you want to take your cooking outside.
In this article, I have listed 25 of the best DIY kitchen cart ideas, atleast 90% of the kitchen islands listed here are not overly space consuming.
It doesn't really matter if you have a small or large kitchen, you will surely find the perfect DIY kitchen cart idea for your kitchen.
25 Incredibly Made DIY Kitchen Cart Ideas That You Would Love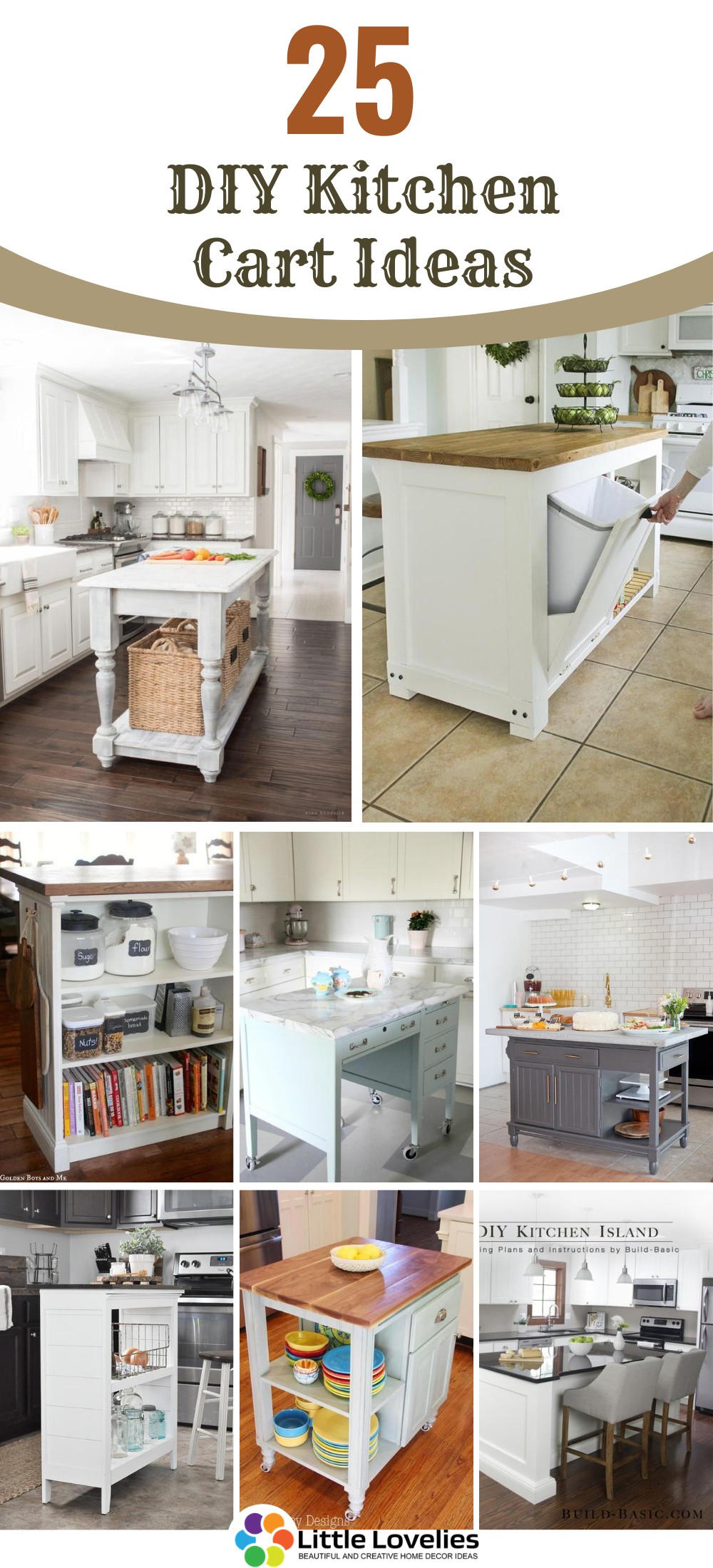 1. Rolling Kitchen Cart Idea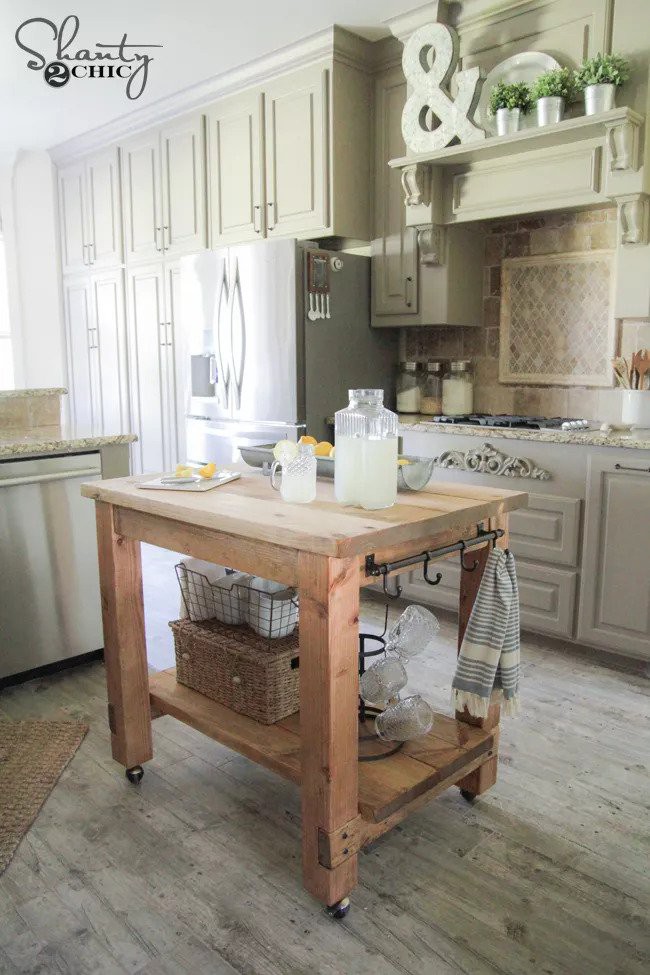 You can create this beauty for yourself in no time. This kitchen cart can fit in the smallest kitchens, it also has wheels that allow it to be moveable. There's also space to store kitchen stuff and a towel bar at the side. We highly recommend this DIY project if you have a small kitchen.
2. Ana White's Kitchen Island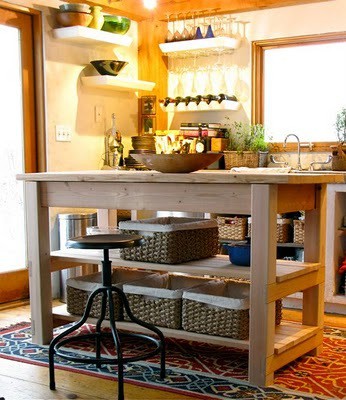 With the right plan and measurements, you too can have this amazingly outstanding kitchen cart sitting in your kitchen. Ana White made this fabulous kitchen cart, It has two lower shelves and a countertop for storage. As a perfect add-on, she placed a stool to compliment the table.
3. DIY Kitchen Island On Wheels

Unless you want to be faced with the hassle of moving your kitchen cart around with a bit of difficulty, you can opt for this kitchen island on wheels. It is small and can fit into almost any kitchen size. They are compartments for storing trays and shelves for storing items as large as a cake mixer.
Check the Idea
4. DIY Farm House Style Kitchen Island

This is by far the most simple to make kitchen cart. It has just one storage shelf and a countertop. There are a lot of things you can do with this kitchen cart.
5. Simple Kitchen Cart

Here is an amazing project from the DIY Network. Using plywood and some woodworking tools, this kitchen cart was brought to existence. If you have a small kitchen, this kitchen cart has dimensions that will most likely make it fit in your small kitchen.
6. Book Shelf Transformed To Kitchen Cart

Do you have a small bookshelf at home? This DIY tutorial will show you how you can transform an ordinary bookshelf into a fabulous kitchen cart. This amazing kitchen island is ideal if you have a small kitchen.
7. Budget-Friendly Kitchen Island

If you have a large kitchen, you can consider making this budget-friendly kitchen island. It has a lot of compartments to store items. It has two shelves, two cabinet drawers, and a large compartment with a small cabinet door.
8. DIY School Desk Kitchen Island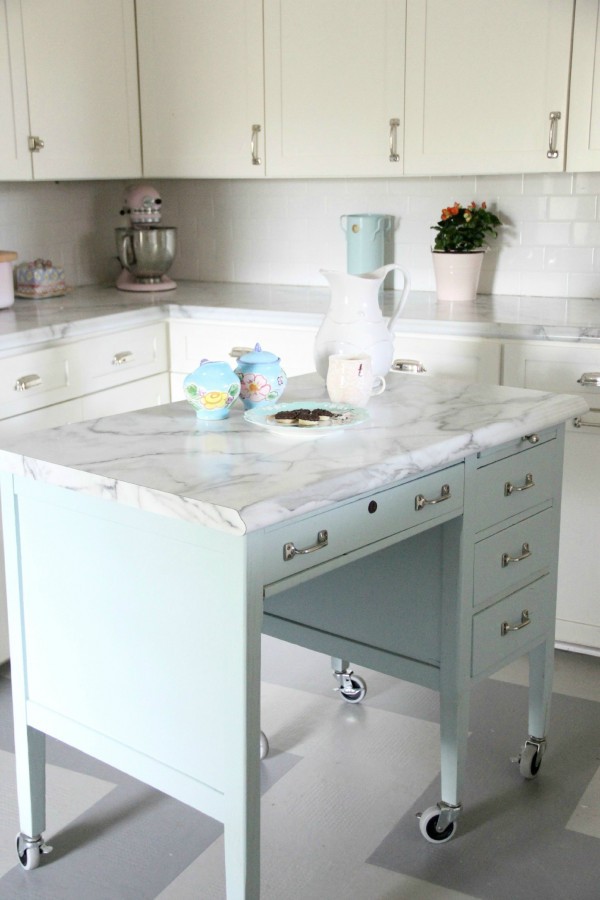 I know you love high-quality things and that's why I highly recommend this kitchen cart. It can be moved easily around the kitchen due to the wheels. It has a total number of four drawers and an extra sliding drawer for the cutting board.
9. Kitchen Island Ikea Hack

For this DIY project Courtney used Ikea Butcher block as the countertop, this kitchen cart has a storage compartment on both sides, you can store kitchen items like nuts and to make it look more appealing, feel free to toss in some of your favorite recipe books.
10. Amazing Coffee Bar Kitchen Cart
With a perfect plan in place, Jen Woodhouse was able to make this attractive coffee house for her home. I love the color used for the shelves and countertop. This is a small kitchen cart that can fit into almost any kitchen and store a whole of kitchen stuff.
11. Kitchen Island With Trash

This is a creative way to hide your trash box. Using a few tools, Rachel was able to create this amazing piece of art. This kitchen cart has an installed towel hanger, and two shelves for storage. Its countertop has a unique and smooth finish.
12. Creative Kitchen Cart With Baskets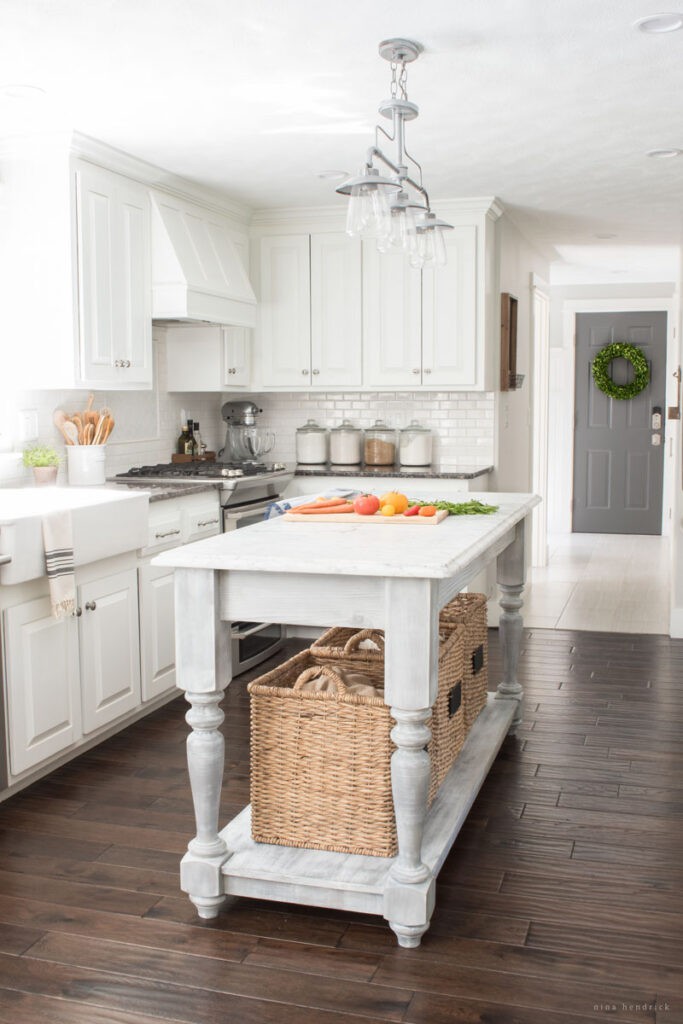 We highly recommend this kitchen island for your next DIY kitchen storage cart project. I love the baskets that were used on the bottom shelf, you can easily purchase these type of baskets for your project. The paint used for this kitchen cart gives it a marble kind-of look.
13. Simple Low Budget Kitchen Cart

Using just plywood and some basic woodworking tools, Adam was able to make this simple low budget kitchen cart. It has a fantastic finish. It also has two shelves and a perfectly finished countertop.
14. Rollable Kitchen Island

The first thing that will catch your eye about this DIY kitchen cart project is that it spins. If you want a fancy kitchen island, this is the one to make. This kitchen island is ideal if you have a large kitchen. The bottom shelf is large enough for the storage of pots.
15. Small Kitchen Cart Low Budget

Ana White was able to use wood and some basic tools to come up with this amazingly outstanding kitchen cart. It is small enough to fit in the smallest kitchens. It also has wheels attached to it which makes moving it around easier.
16. Smallest Size Kitchen Cart

Looking for a very small kitchen cart with killer features? We have got you covered. In the DIY project, David Picciuto was able to make a small size kitchen cart with killer features. One quick feature you would notice about this DIY kitchen cart is the removable tray.
17. DIY Kitchen Island Cart With Concrete Top

This project features a rolling kitchen cart that has a couple of cabinets for storage. It also has a concrete top. I love the bottom shelf, it can be used to store pots, kettles, and whatever you see fit.
18. DIY Mobile Kitchen Island

If you want the best version of a kitchen cart or island, I would suggest you go for one that can be easily moved or wheeled around. This DIY mobile kitchen is easy to make if you have a little bit of woodworking skill.
19. DIY Kitchen Island Cart WIth Cup Holders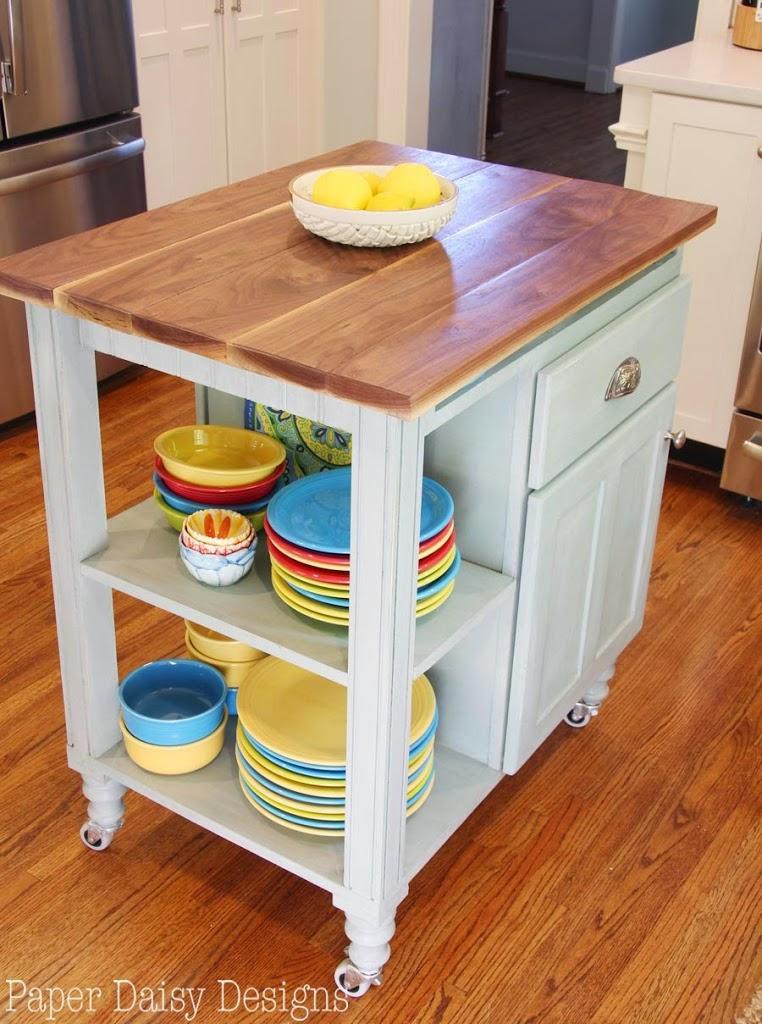 My favorite part about this kitchen cart is the cup holders, it also has shelves large enough to contain a lot of medium and small-sized plates. The wheels make it easy to move the cart around. The countertop is quite small but it would do.
20. Deluxe DIY Kitchen Island

Are you looking at making a more flashy and classy kitchen island? Here's one from Build-basic. Jen was able to create this amazingly gorgeous kitchen island for her kitchen. It has large compartments that can be used to store a lot of kitchen items. Make sure you have a large kitchen before starting this DIY project.
21. DIY Kitchen Island With Slate Top

This amazing kitchen cart is made with some wood and it has a slate top. The bottom shelf has enough room for storing pots. The countertop is large enough to meet your needs. With a bit of woodworking experience, you can make this amazing kitchen island for your kitchen.
22. DIY Mobile Kitchen Cart With Outlet

With this mobile kitchen cart, you can easily store your crockpots, mixers, and more. You don't have to bother about this kitchen cart getting in the way. It is easy to move around. I love the outlet that was attached to the countertop.
23. Kitchen Cart On Wheels DIY

Building a kitchen island on wheels isn't difficult. In this project, you'll get to learn how it is done. It has two shelves and a countertop. The last shelf is actually big enough to contain about 3 medium-sized crockpots.
24. DIY Kitchen Island With Lots Of Compartments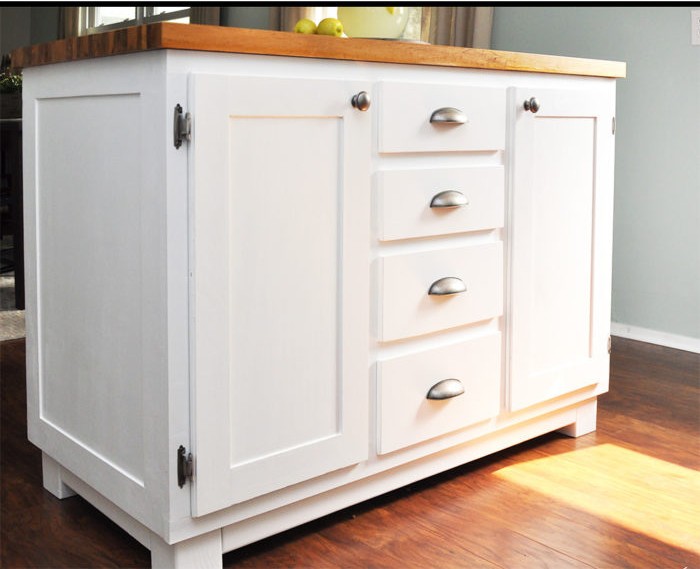 Looking for more storage? This kitchen island has it. It is equipped with four spacious drawers and two large cabinets that can contain a lot of kitchen stuff. It would have been amazing if this kitchen Island had wheels. You can install wheels on yours if you think the same.
25. DIY Kitchen Cart With Butcher Block Countertop

This is one of the most amazing kitchen carts I have seen. With the butcher block countertop, you can chop meat and more without having the fear of ruining your countertop. This kitchen cart also has a bottom shelf that is large enough for storage. It also has an extra middle shelf that can be removed whenever you want.
Our Favorite Kitchen Cart to buy on Amazon
1 – With Wood Top | 2 – Wood/Chrome | 3 – Natural | 4 – Classics 3-Tier | 5 – Microwave Cart | 6 – Brown | 7 – Granite Top
*We are a participant in the Amazon Services LLC Associates Program, an affiliate advertising program designed to provide a means for sites to earn advertising fees by linking to Amazon.com.*