Pocket hole jigs are special tools that help the user to drill a hole at an angle accurate enough to get a good joint. It is a favourite among woodworkers and many DIYers because it is an extremely fast method of drilling and attaching all the joints you would be working within the blink of an eye. It is a highly sought after tool and is very important for woodwork.
If you've been suffering the absence of this tool for your woodwork, we understand why you would want to build yourself one. These tutorials would give you sufficient information on how you can do this easily and quickly.
1.3-Stepped DIY Pocket Hole Jig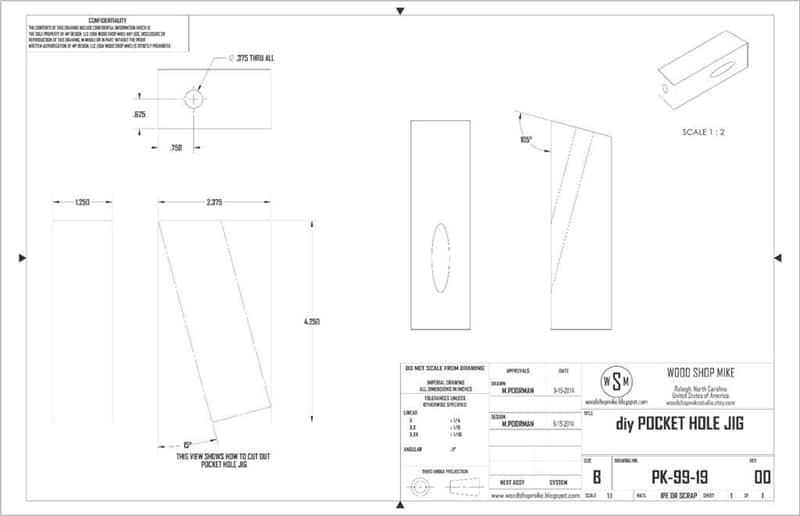 The designer of this short and straightforward plan claims that this plan is quite cheap to make, and with just a few bucks, you can get one up and running. Included in this tutorial is the link to the pdf plan for a closer look at its dimensions and cutting measurements.
In step two of this plan, construction begins. This pocket hole jig was fashioned with IPE because that was what the designer already had in the workshop. However, you would find it a bit difficult to use because it is very hard.
The IPE was used without a steel sleeve inside the pilot hole but urged other DIYers that you can use one if you wish to. You'll need a ⅜" pocket hole drill; this is very important.
The written tutorial thoroughly explains what you need to do within the content of the article; there are also embedded within, a link to the designer's website where he gave a more detailed explanation for the pocket hole jig.
2.Easy-to-Make DIY Pocket Hole Jigs
In this tutorial, you would find two beneficial videos that show you how to make your pocket hole jig. The first one teaches you how to make a simple pocket hole jig using regular countersink wood screws. This jig was made using MDF and a full rod length.
Although this is an excellent jig, one setback of this design is that the drilling will have to be done from the two sides of your workpieces using two bits of different sizes. There is more information about this within the tutorial and also a link to the YouTube video.
The second video tutorial teaches you to make pocket hole jigs in large outdoor decking using any kind of jig you have available. It is a short video and very instructional. In this tutorial, the designer does not use a jig for his pocket holes.
Instead, he uses a drill and a countersink bit. It's a pretty simple technique and can be a great substitute if you already have these tools in the workshop.
3.DIY Pocket Hole Jig under $5
This is an effortless way to make a pocket hole jig. It costs as little as $5 and can be done in a very short time. Within the video tutorial, you would find the dimensions and measurements you would need for making your version of this jig.
Tools and materials needed include a drill, MDF, steel tube, circular saw, metal cutting jigsaw blade, sander, among others. This is a 5-minute video, so you can watch it under a short time frame.
It's not a very instructional video, but it is clear and done in a step by step manner so that you can follow easily. You don't need any serious skill level, only have the right tools and equipment.
4.DIY No-Drill Pocket Hole Jig
Great news! This pocket hole jig costs only $1. It's a lengthy video tutorial, unlike the others. It's about 11 minutes long, but that doesn't mean it is more challenging to make. It is instructional, with the instructions in the form of subtitles, so watch attentively.
He begins with a design plan, and urges you to make yours as well. You would need 5mm plywood, spacers, scrap blocks of MDF, panel saw, drum sander, circular saw, wood glue, clamps, etc.
First, he cuts out the size of wood he needs from a block of MDF and adjusts it to a suitable size and shape, as would be seen in the video. And then, using some wood glue, and epoxy adhesive assemble the different parts together, as in the plan that was designed for the jig.
It's a pretty simple design-build, and you can use preowned scrap items from within the workshop to set it up.
5.DIY Simple Pocket Hole Jig
For a super simple pocket hole jig, here is a quick tutorial to make one. This designer does this by drilling a hole in a 15-degree angle into a piece of hardwood. It is not suitable for long-term use but can be a quick fix if you need one ASAP.
You would need a pocket hole drill bit, long driver bit, table saw, nail gun, track saw, belt sander, spindle sander, mitre saw, mineral oil, a magnet, aluminium tube, among others used. It's a short video, great for if you're in a hurry.
It's not quite instructional, but it is clear, and you can follow it easily. Get the necessary materials and tools you would need beforehand, or watch the video tutorial and take note of the necessaries as you do. It's pretty easy and cheap.
6.Super Short DIY Pocket Hole Drill Tutorial
In this video tutorial, this designer built a pocket hole jig and a step drill bit to go with it. It is very functional and works excellently well. It's a very short video tutorial, and you're done watching in less than 3 minutes.
The design of this jig was patterned after the Kreg pocket hole jig and drill bit, so you can tell that it's quite durable. It's a very instructional video, clear and easy to grasp. He shows his measurements and cutting list as he works, so you may want to take notes as you do.
You need some epoxy resin, steel tubes, MDF, drill, and other materials you would find as you work.
7.Cheap and Easy DIY Pocket Hole Jig
This video tutorial teaches you to make a pocket hole jig without having to buy the expensive versions because they can function just as well! Observe the video for instructions because the instructions come in a written form while he works.
You would need sandpaper, hardwood, jigsaw, ring spanner (optional), clamps, a drill, hack saw, some glue, hammer, and other tools you would find within the tutorial. The video is about 6-minutes long.
8.Scrap Wood DIY Pocket Hole Jig
This is another DIY pocket hole jig that can be made for less than $2. It is about 10 minutes long but instructional and simple to understand. You would need some scrap wood from your workshop and a few other construction tools.
For this design, the builder uses scrap wood and MDF. He starts by cutting and flattening the hardwood to accurate measurements. He then joins both MDF and hardwood using strong glue.
The rest of the video tutorial is clear, all the tools used are found within, and you can follow along easily. This pocket hole jig is suitable for different sizes of screws.
9.12mm DIY POCKET HOLE JIG
This video is a bit lengthy and does not come with any instructions or design plans. However, it is clear and can be understood easily. For this build, you would need any plywood or MDF that you can find that is quite long.
According to the designer, digging a hole of 12mm was a bit irrational, but all the same, he got it done. There are no measurements within the video, so you would need to watch closely to figure it out by yourself.
The tools you would need can also be found within the video tutorial; watch to the end and write out all you will need as you watch.
10.4-Stepped DIY Pocket Hole Jig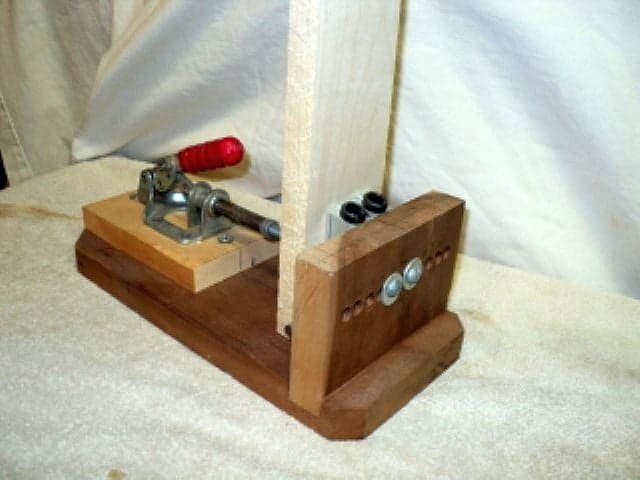 This written tutorial is made up of 4 construction steps to make your jig. The steps are simple, and you can have a pocket hole jig set up in no time. For this build, the designer modified a pre-existing drill guide. You would find more about this within step 1 of the tutorial.
This plan comes with clear pictures and other links for additional guidance and helpful tips. The construction steps are short, workable, and fit for all woodworking experience levels.
Conclusion
Pocket hole jigs are very vital tools for woodworking. They are necessary for making accurate joints that give a smooth and professional finishing to your constructions. The tutorials in this article are accurate, precise, and easy to understand.
Many of them are short with measurements and plans within. Others are clear, and you can build your pocket hole jig in less than an hour if you have all the necessary equipment and tools for building. Materials needed are not costly, and you can use most of the plywood and other resources like wood glue from your pre-existing stash.