Have you been looking for an ideal tutorial for a DIY simple dimple? If you want to learn how to make simple dimple, then you came to the right place. We have a great tutorial on how to do so. You only need basic materials and they're relatively easy to find. It's a very fun and simple process and you can do it all by yourself.
The simple dimple is a great toy that can help relieve stress and kill boredom. It can be used by adults and kids. There are over 10 DIY simple dimple projects listed in this article, check them out, make your preferred pick and start the making process. Are you ready? Let's begin.
1. How To Make A Simple Dimple
What do you think about this simple fidget toy? It's going to be a lot of fun! Get some colored paper, clear tape (small size is fine), scissors, and cardboard. Cut out two circles from the colored paper. After cutting, cover each piece with clear tape and make it into a cone. Follow this guide to know more about the proceeding steps.
2. DIY Simple Dimple
Make a fantastic simple dimple using clear tape, scissors, and cardboard. Cut a strip of clear tape and place it on the work table with the sticky side up, cut another one and place it over the first with the sticky side down.
Ensure that you're using sizable clear tape so that you will have enough surface to cut from. Repeat this process for another set of straightforward takes. Now, cut out two small circles from each group to form a cone. Then will be used on the fidget toy.
3. How To Make A Fidget Toy
One thing about fidget toys is that you can make them into any design you like. And depending on the materials you used, the sound coming from popping the simple dimple is quite refreshing. The first thing to do is choose the materials you want and then the design you want to make. You can follow this guide for different methods of simple dimples.
4. Making A Simple Dimple Toy
How about making this rainbow smiley, simple dimple? It's going to be a good fidgeting toy. All you need is a sheet of paper, different colored pens, and clear tape. Cut out two pieces of small circles from the sheet of paper and make cones with each of them. Before making the cone, ensure to cover the rings with clear tape (you can use a plastic bag instead).
5. Cute Green Simple Dimple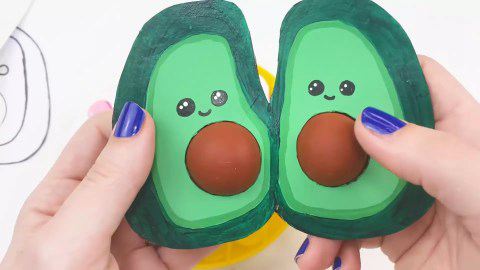 In simple detailed steps, the guide talked about making simple cute green simple dimples. All you need are some basic supplies you might have in your home or those you can easily buy at the store. The materials include paper, colored pens, clear tape, and scissors. artplays
6. Easy Simple Dimple Toy
This is among the simplest ways of making a simple dimple! Get a sheet of paper, clear tape, and colored pencils. Trace two holes on the sheet of paper and paint each circle with a different colored pencil. After coloring, cover the colored face with clear tape and cut a slit through the center. With the slit, make a cone with each circle. Attach the cone to the holes on the sheet of paper, and you're good to go.
7. Quick Simple Dimple Toy
Here is a quick way to make a simple dimple using paper, clear tape, glue, and cardboard. Trace two holes on a cardboard sheet as though you want to carve out a figure "8". Cut out the holes and trace out another line some inches away from the holes.
Cut the line, and you have precisely a shape like 8. Use this shape as a guide to cut two other pieces from a sheet of paper. Now, cut two small circles and turn them into cones. Attach the cones to the holes on the cardboard shape with glue. And tada! You have your dimple. You will now cover it up to look nice with the paper shapes.
8. DIY Pop It And Simple Dimple
Do you know you can make a simple dimple from almost anything you can find around? You will find out in this guide as you watch the tutorial! However, the most fantastic method is to make a simple dimple from a sheet of colored paper on a magazine cover! That sounds nice, right! It means you can keep your hand buddy with the cover anytime you need a distraction.
9. How To Make A Fidget Toy - Simple Dimple
You only need four things to make this simple dimple, and that includes a hair tie, tissue paper, two bottles, and a scissor. Cut through the bottles and until you have only the mouth/cap. Place the two mouths on one side and prepare the tissue paper.
Cut a piece of tissue and place it over the bottle mouths. Now, cut some other chunks of tissue and mash them to get a ball. Put each ball through the bottle mouth, wrap the tissue around it, and hold them tight with the hair tie. After this, you have your dimple ready!.
10. Simple Dimple With Paper Tutorial
See how to make a simple paper fidget toy with, simple dimple design! Before making a simple dimple, you need to follow this guide to understand how to fold a single piece of paper to give you the toy. Folding is very tricky, and if you don't exercise patience and understanding, you might find it challenging to get the design. Follow this guide to understand the concept behind the paper's simple dimple.
11. Simple Dimple Pop It Fidgets Toy
I think this simple double-sided dimple will make an excellent pop-it fidget toy! The idea behind this simple dimple is to have the pop on either side of the simple dimple. Get cardboard and trace out two circles on it. Trace two lines around the circles such that when you cut out everything, you will have a figure "8" shape.
Now, go ahead and use the two holes on the shape to trace out two holes on the bulged side of a bottle just below the mouth. Cut out the bulges and use glue to attach them to the circles on the shape and tada! You have your dimple! After that, trace two figures "8" on a piece of white paper. Cut them out and attach them to the front and back of the simple dimple.
12. DIY Simple Dimple
Do you need a simple fidgeting toy? Have you thought about making a simple dimple to that effect? Well, you should try it out.  All you need is a sheet of glitter paper, colored cardboard, a hair straightener, scissors, and some hollow rings.
Cut two small squares from the glitter paper and use the hair straightener to straighten/heat the piece. Now, put the paper on one of the hollow rings and press it down with the other. Once you remove it, there will be a deep group on the paper. Repeat this for the second square. Get the colored paper and make two holes as big as the size of the groove made on the form. Now, attach the glitter paper to the colored paper with glue.
13. How To Make A Giant Simple Dimple
I know you're wondering where you can find a giant simple dimple! Perhaps, that might be challenging, but the less complicated option is to make the massive simple dimple by yourself. It's going to be perfect. All you need for this giant simple dimple include big bowls to trace the circles, colored cardboards for the dimples, a white poster board for the background, scissors for cutting, and clear tape to give it a radiant look.
14. Homemade Simple Dimple
The materials needed for this simple homemade dimple include colored paper, clear tape, glue sticks, cardboard, plastic sheets, and scissors. Use a bottle cover to cut out two circles from the colored paper, then do the same for the plastic sheet.
Rub the glue stick on each plastic sheet and stick them to the paper. Now, get the clear tape and use it to cover the other face of the paper. After this, you will have pieces of laminated circles. Now, fold the circles to locate the center, then cut one side of it to the center and form a cone from there. Use glue to hold the cone in place. After this, it's time to make the platform for the cone.
15. No Tape Simple Dimple
What do you think about this no tale simple dimple? It's incredible, right! The simple dimple is very easy as all you need is colored paper and white paper. However, the concept of folding the piece might be a little bit tough, but once you watch and follow the techniques used in this guide.
Conclusion
Sometimes it's fidgeting that makes people pop their pimples and do some other things. However, I've brought a list of fiddling toys that will work as a perfect distraction anytime you need them.
A simple dimple is super cheap and straightforward to make. The materials commonly used for the simple dimple include paper (colored or white), cardboard, clear tape, and glue. Once you have all these basic materials, you're good to go.