Are you tired of your life is dependent on the power grid? You obviously aren't from a rural area, because those power outages are inevitable. You need something that can work when the lights go out — and what better thing to install than this DIY Battery Box. It even has an automatic transfer switch!
Obviously, safety is a concern if you're going to be building a battery box. This is no place for the careless, so please don't do anything careless or follow any plans that are dangerous–they shouldn't be here in the first place. That being said, it is possible to build a safe and working battery box at home. For the most part, all you need are the right tools and materials for the job and some basic knowledge about batteries. We have put together 19 DIY battery box projects, if any of the projects seem too complicated, kindly move on to the next one.
1. Simple Battery Box For Camping
Are you into camping? If yes, then you would definitely need a battery box for extra power. This tutorial will show you how to make 3 variations of the battery box. The box itself is an ammo box, you'll have to do some inserts by yourself. Not to worry, the creator gives a good explanation of how to do this yourself. He doesn't show the whole process, but I am sure you will get the hang of it while watching the video tutorial.
2. DIY Custom Battery Box
This is yet another exciting project to make when you are less busy. It costs only $35 in hardware for this custom battery box. The battery box works great, however, it weighs about 58lbs, if this is a challenge for you, I would suggest going for the lithium battery option, the making process is straightforward and easy to go about.
3. How To Make A Custom Battery Box
Here are some of the tools you would need for this build, 90 Degree Upright Snips, Side Grip Clecos, Air Craft Rivets, Power Shears, and a few other tools. Based on what you are using the battery box for, you may need to take measurements so it fits perfectly. Making this custom battery box should be cheap unless you are short on tools.
4. Solar Setup Battery Box
For me, I think a solar setup battery box is perfect for camping, especially if you plan on spending up to a week camping with no available power source to charge the battery box. This tutorial will give you a quick rundown of how to set up a solar-powered battery box. You are going to need a couple of tools and materials for this build.
5. DIY Professional 18650 Battery Pack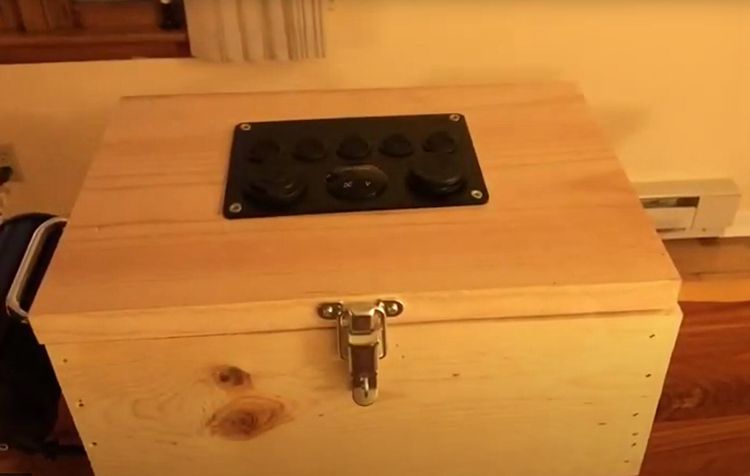 Here's a professional battery pack I found while searching the internet. It is quite portable. You'll need a battery level indicator, DC jack, some screws, rocker switch, 3D printer, multimeter, and a bunch of other tools and materials. The making process starts off with selecting the right batteries and battery strips, you'll then need to do some soldering and then add the BMS. The making process looks like rocket science, but I'm sure you'll get the hang of it. Instructables
6. DIY Portable Power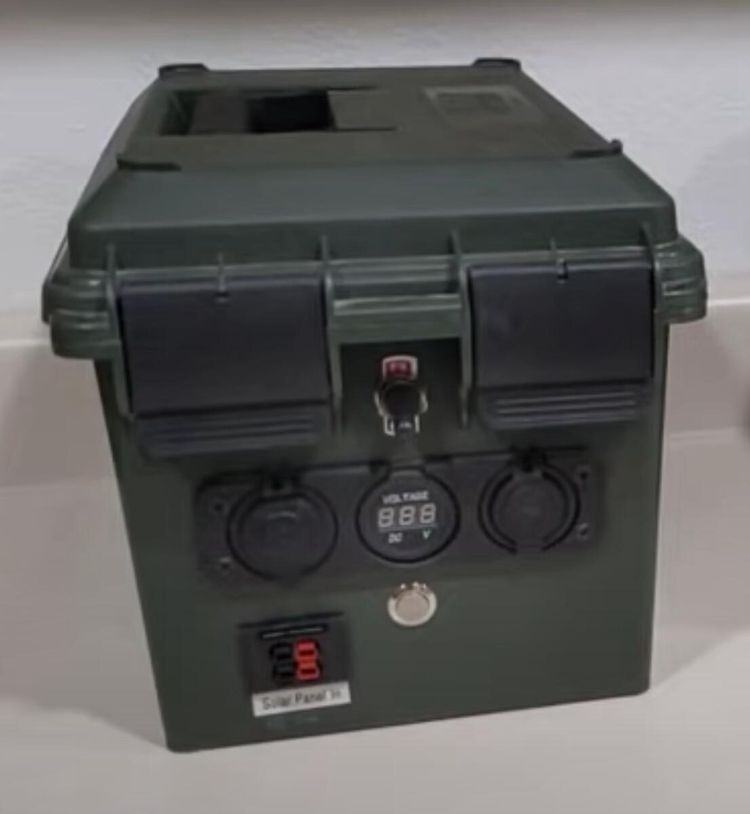 This is a great option for when you have sudden power failure in your home due to a storm and need to charge or power your devices at home. Nope! It might not power the huge washing machine, but you should get enough charge until when the power is restored. The making process begins with gathering necessary materials and then doing some easy connections. Instructables
7. How To Build A Plywood Battery Box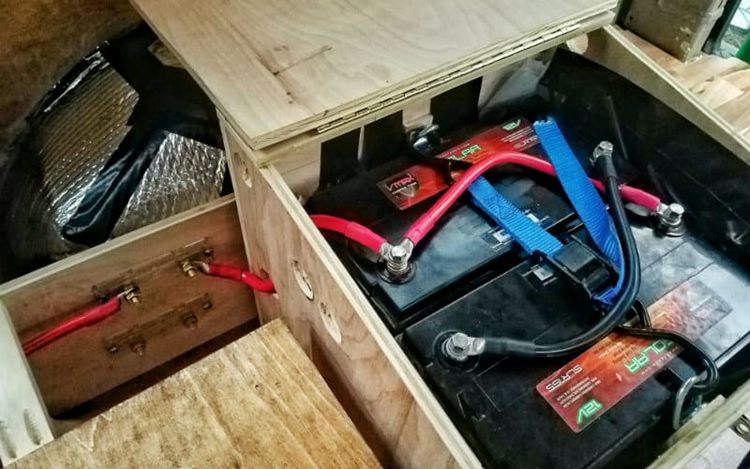 Do you have some left over plywood in your garage? Well, it is time to put it to good use. The creator was able to make a safe compartment for your battery box. This guide won't show you how to build a battery box, you will only learn how to make a beautiful box for your battery. Remember to take measurements of your battery before going ahead to build the plywood box. Gnomadhome
8. DIY 1300Wh Camping Power Station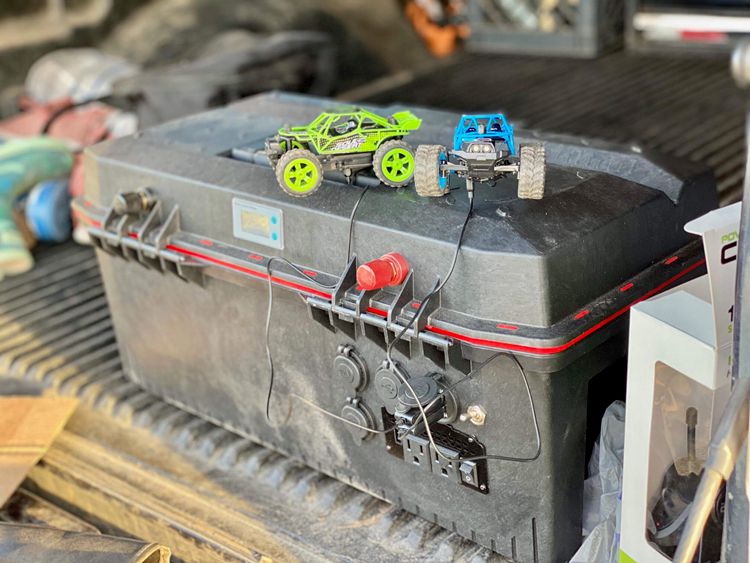 The connection here is pretty much straight forward. You have to gather a couple of items and put them all together in a box. The guide will show you the complete procedure and how to go about it. Be careful not to make any silly mistakes while compiling this battery box, you could create a time bomb waiting to explode. If you follow the instructions you should be good. xplrcreate
9. DIY 80AH Battery Box
This video shows you how I put together my DIY 80AH lithium iron phosphate battery box. It is very affordable to make and works well for small electronics. I would highly recommend this video tutorial for people looking at making a cheap and powerful battery box. This tutorial is a complete guide and walkthrough for beginners and even professional handymen. What are you waiting for?
10. Custom Made Battery Box
This isn't one of those tutorials that give in-depth knowledge of how to make a custom battery box. However, it is a walkthrough video that can inspire you to create your own battery box using the same techniques. This battery box is strong enough to power a few electronics for some hours.
11. DIY Battery Box Build
This is a beginner's guide to building a battery box and 12-volt wiring, in this video the creator explains battery isolators, dc to dc chargers, and smart (variable voltage) alternators. He also shows you how to connect inverters, solar panels, circuit breakers, and other stuff to your battery box with the use of Anderson plugs.
12. Building A Battery Box
Here's a complicated project but it's nothing you can't handle if you put your mind to it. In this tutorial, you will learn how to build an amazing battery box for a DIY lithium battery. The battery box features aluminum, high-impact rubber, and a plexiglass viewing window. The making might not be ideal for beginners, however, experts who have the right environment and tools can jump on this project.
13. Arduino Battery Box
Looking at building a small battery box? Well, here's the right tutorial for you. The project looks easy because the box is small in size, however, you would need to pay rapt attention to the building process. A few materials and tools are needed for the build, you should be done with the project in no time. Instructables
14. Marine Solar Panel Battery Box
This is a box made out of wood that will protect a battery from the sun and other elements, it isn't completely waterproof but it does provide some sort of covering for the batteries. You also have a place to mount solar panels for charging the battery. The complete building process should take less than a day to complete with all the tools handy. Instructables
15. 12V DC Battery Box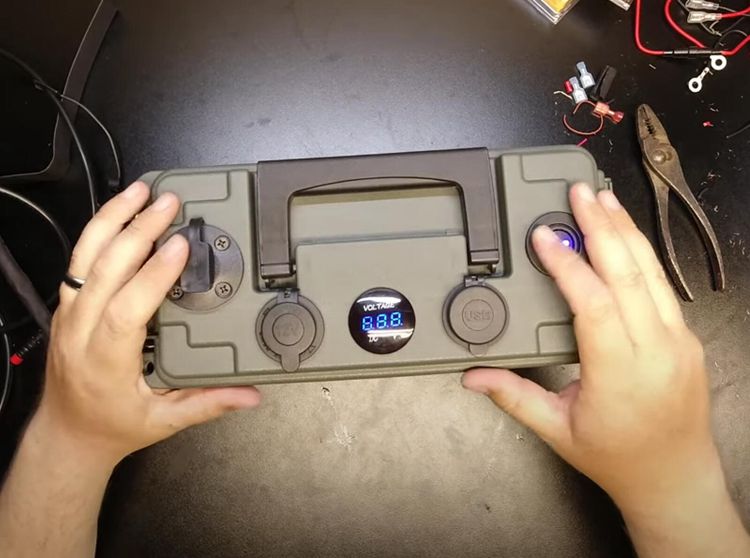 I found yet another unique project for DIY lovers. I don't think beginners would want to make this due to its complexity. Here are some things you will need for this build, 4 X toggle switches, 12V SAE Panel connector, Crimp connectors, Earth bar, Duratool water-resistant case, 12V cig lighter socket, and other materials. The making process begins with figuring out how to connect all the parts and then putting all these materials together. It seems hard but the end product is beautiful. Instructables
16. DIY Kayak Battery Box
The accessories on your kayak would require a battery box! Don't have one? Not to worry, I found this amazing tutorial that will teach you how to build a kayak battery box. This isn't a complete build but a walkthrough of how he built his battery box, you can use his as an inspiration to make yours.
17. How To Build A 12V Portable Power Box
A portable power box is an essential thing to have, the keyword "portable" means that it isn't stressful to carry the box around. This is a 12V portable power box that is perfect for charging mobile phones, laptops, and other small accessories. This video goes in-depth to explain the making process.
18. DIY Battery Box For Camp
If you are a beginner, it would interest you to know that someone like you actually made this DIY battery box. If he can do it, so can you. The first step would be to gather all the materials and tools needed, some of which are; a 12V battery, USB port, some cables, clips, and a few other things. Watch the video and he would show you how to put the whole thing together.
19. DIY Battery Box For Kayak
For this build, you will need a 12 V battery, and a waterproof box. This DIY battery box for a kayak is ideal for powering up your accessories. It is cheap and easy to make. However, you'll need to pay rapt attention to the making process so you do not end up hurting yourself! Check out the video for more details about this project.
Conclusion
Batteries and electricity usually arouse fear in humans. After all, it can cause serious injury. That's why we like to stay away from it as much as possible. However, batteries are a necessity these days! With all the electric devices that we have, keeping the supply of batteries running is an absolute must! Be sure to exercise caution when building a battery box, a silly error or mistake can be risky!