These days, great companies like HP, Dell, and Apple are coming out with new laptops and PCs every year. But, unfortunately, it might be difficult for average joe's like us to keep up with all these new models. With so many different computers available on the market, picking the right one for your needs gets confusing.
If you use your PC for high-intensity workloads like video editing, gaming, or 3D rendering, there is the danger of battery life, hard drives, and cooling systems wearing out.
One of the main benefits of knowing your computer's age is that you can decide whether you're up for an upgrade or just fine with the system you have. Even if you're looking to sell your laptop, knowing the system's age will help you set a reasonable price and find a suitable buyer.
In addition, sometimes newer Windows versions may not be compatible with your older computer – making it even more imperative to remember the age of your machine.
To help you deal with all this confusing technical jargon, we've compiled a list of ways to answer the question; how old is your PC?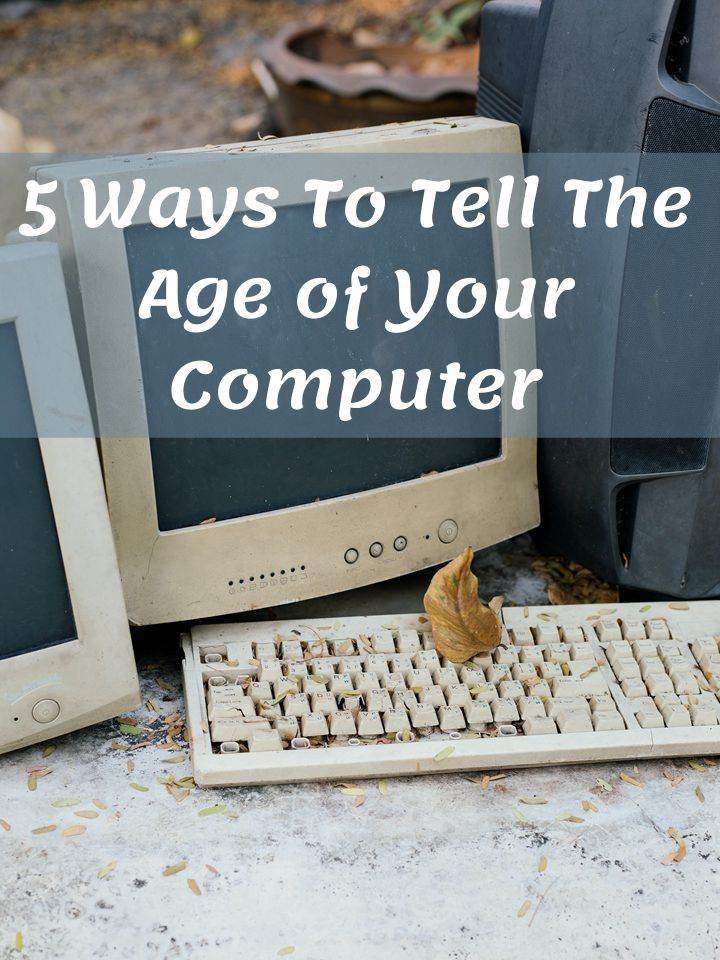 Some of the things you can do include checking the serial number for the device's launch date, looking up your CPU's release date, and using the command prompt. If that doesn't work, you can also contact the manufacturer or check the OS install date.
1. Checking the Serial Number
It's the most direct method for checking how old your PC is and works exceptionally well for laptops and pre-built PCs. A computer's serial number will help identify the launch date of your device.
To do this, you need to note down your machine's model name and number. Most PCs have this number under their casing or on a sticker on the front of the device
If you can't track down the model number on your actual device, or if it has been deleted or erased away, you can utilize System Information on Windows to easily track down your model number. To do this, follow the following steps:
Step 1: Click the Start menu and type "System Info."
Step 2: Click on System Information and open it.
Step 3: Click on "System Summary," and you'll see the system model on the right side of the window. That is your PC's model number.
2. Checking Your CPU's Release Date.
Another technique that can give you a good guess of how old your PC or laptop, is checking your CPU and looking up when it was produced.
This technique isn't an exact science, but it will give you a reasonable estimate of your device's age.
New CPUs are released annually, and a few manufacturers might utilize the more seasoned CPUs in their budget computers, which means that you might have purchased the PC with an older rendition of the processor.
To check your CPU's release date:
Step 1: Click on the start menu and go to settings by clicking on the gear icon.
Step 2: Click on the "About" Tab.
Step 3: Your CPU's model will be shown on the right.
Step 4: Type the CPU model shown in Google, and you'll get some basic information about it, including its release date.
3. Using Command Prompt
If the serial number doesn't contain an assembling date, or the company's site can't give a date from the serial number alone, you have other ways.
If you own a Windows 10 PC or laptop, you can track down all the applicable data utilizing the Windows System Info.
To do this, follow these steps:
Step 1: Locate the windows start button and click on the search button denoted by the magnifying glass.
Step 2: On the search bar, type Command. Find the Command prompt in the results and click it. That should open the DOS Command prompt window.
Step 3: Once opened, type in "systeminfo" and then press enter.
Step 4: Wait for the command to process. That should deliver a rundown of information.
Look through the rundown until you discover the BIOS Version Information. That is the BIOS Version date, which as a rule, gives the best guess of how old your PC might be.
Keep in mind that it isn't the assembling date.
4. Contacting the Manufacturer
On the off chance that your specific manufacturer doesn't give a serial number searcher, it might be wise to call their help hotline.
They track the dates of assembling for their items and will typically have that information in their database. Just look at your device manual or the manufacturer's site for the support line.
Here are some links that can help you find support for your specific computer from big manufacturers like hp, Dell, Lenovo, and Acer.
5. Checking Your OS Install Date.
If your PC is still on the same Windows version that it came with, you can search the installation date.
This date gives a pretty decent gauge of the PC's release date. To discover this data, type "systeminfo" at the command prompt, which will return a lot of data, including the first installation date.
If you want to filter all this information so that only the install date is shown, type "systeminfo|find /i "Original Install   Date."
How Long Will My Old Computer Last?
So now that you've found out when your PC or laptop is and how old it is, you might be considering buying a new one.
Before doing that, you should know if you genuinely need the upgrade. It would also be helpful to estimate how long your current device will last.
There is no proper method for knowing how long a typical PC can work. A great deal of it relies upon what use case the PC has.
If you don't use it for much more than web browsing or power-point presentations, chances are 7 to 8 years old hardware will be just fine for you.
But if your workload consists of 3D rendering or video editing, you might be due for an upgrade every 3 to 4 years.
1. Part Failure
Don't think of your PC as a solid machine. Instead, consider it is an assortment of parts that exclusively have various life expectancies. For instance, actual hard drives are usually the first part of a PC that fizzles.
Hard drives typically just have a life expectancy of 5 years. In any case, saying that a PC only works well for five years since its hard drive only lasts for five years is not valid.
If your computer's hard drive fails on you, replacing it can breathe life back into the computer and keep it running for longer.
Some parts are pretty durable and can last you decades as well. For example, high-quality peripherals like mice and keyboards from Razer, Corsair, and Dell can last years without upgrading.
2. Old Graphics Cards
GPU bottlenecks happen when your GPU limits your CPU, and significantly so. Of course, each PC has tie-ups, yet the bottlenecks become an issue when they're tremendously affecting the performance of your PC and should be dealt with accordingly.
If you've paired an old GPU with a new CPU, it will cause a bottleneck, and your PC will not run as expected.
How Can I Improve My Computer's Lifetime and Performance?
It isn't that difficult or expensive to upgrade parts of your computer if you're not looking to buy an entirely new machine.
However, desktop PCs have an advantage in that area as it's easy to replace most components.
Your options are a bit more limited when upgrading laptop parts, but it's still possible.
1. Changing out your Hard Drive For an SSD
If you're running a machine older than 4 or 5 years, chances are it's running on an old hard drive. Traditionally, hard drives are much slower in running your operating system and other programs.
Changing your old hard drive with a new Solid State Drive [SSD] can make your computer run like new. SSD's speed up boot times by minutes and make your entire OS run smoothly. That can be a worthwhile upgrade considering they're not heavy on your pocket.
A good 500 gigabyte SSD can cost as low as 60 dollars.
2. Adding Additional RAM
RAM (Random Access Memory) holds your data for activity. Applications can speed up your system. The more RAM you have, the more applications you can have open at the same time.
What amount relies upon what you're doing. By and large, on Windows 10, most clients can get by with around 8GB securely. It gives you adequate space for standard OS functions and anything a casual user might need.
Photo and video editors, gamers, live streamers, and VR users should select a 16GB at least.
Here's a guide on how you can upgrade your computer's RAM.
To Summarise
Whatever reason you might have to take a look at the age of your PC, it's a simple process as long as you know what steps to take depending on your PC model or OS.
It can be as simple as going into your computer's setting or as tedious as having to contact your manufacturer via email or phone.
Have you at any point experienced issues discovering how old your PC is? Do you know any other ways to check your device's age? Offer your thoughts in the comments below.