Welcome to this amazing DIY project with 25 guides that show you the easiest ways you can make a water pump for whatever purpose you need one for.
The guides on this list are super informative, and you can learn a lot more than just making a simple water pump. So, without further ado, let's get to the part where we show you our massive list of DIY water pump projects.
1. How To Make A Powerful Water Pump
Here is a powerful water pump, the first on this list, and arguably the most easy-to-build one out of the 25 amazing guides on this DIY list. If you're looking for a pump with high pressure, then this guide has got you covered. The making process is easy to follow.
2. How To Make Water Pump At Home
This is a simple water pump to make with easy-to-find items like a V12 water pump, an impeller, and PVC pipes. This is a time-lapse video that shows the entire making process step-by-step, if you're following from the beginning, you can't miss a thing.
3. DIY Water Pump Without Electricity
Some of the water pumps out there that you can buy from hardware stores or online will require electricity to power it, whereas this DIY project will help you make a simple water pump without electricity. Want to learn more, check the video description for more on the building plan
4. DIY Water Pump For Aquarium
Here is a water pump for those with an aquarium. You can make this work with an aquarium filter. It's a mini pump so don't worry about it taking up much space, and it's also simple to build from scratch.
5. DIY Water Pump
This is a cheap and easy-to-build water pump. The creator used simple homemade supplies like an empty coke can, an empty water bottle, a hose, or any other kind of flexible pipe you have around, a wire, a battery cell, and a few other electrical components. This is an electrically powered water pump.
6. DIY Solar Water Pump
How about this guide, a solar water pump, you can worry less about how you're going to be generating water when you have this pump at home or for your farm. It's super easy to make and can be done with a few solar system supplies. The making process is simple to follow
7. How To Build A Water Pump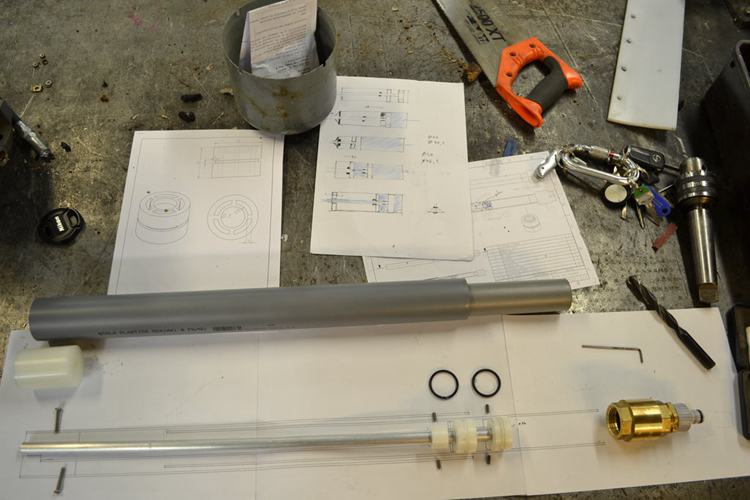 This project is pretty easy to set up, you just need a few supplies like some PVC tubes, Allen screws, PVC clamps, wood screws, and lots more. This water pump also costs about 100€ for the materials, and the making process is super easy to follow.
8. DIY PVC Water Pump
Here is another easy-going water pump, pretty easy to make and it only requires a few materials like PVC pipes, PVC joints, a full butterfly valve, a 5-gallon plastic bucket, and lots more. The setup process is easy to follow.
9. How To Make A Drill Water Pump
With this guide, you can make a simple and efficient small drill water pump with PVC pipes, end caps, and other easy-to-find materials. You can follow the video and watch the creator build this from scratch or you can check the building plan from the links in the description.
10. DIY Mini Water Pump
This mini water pump does not require lots of materials and tools, you just need some water bottle caps, DC 180 motor, a 6V battery, and PVC sheets.
11. DIY Simple Water Pump With Old Compressor
How about making a simple water pump with an old refrigerator compressor you just have laying around, now put it to good use. The making process is simple and easy to follow and set up from scratch.
12. How To Make Free Energy Water Pump
What could be better than a free energy water pump, having high-pressure water run through with ease, it's amazing. With this video guide, you'll learn how to make one with a few supplies like PVC pipe, and pipe connectors. You don't need any motor or electricity for the pump to work.
13. DIY Water Pump
This is another simple water pump that you can make by yourself, and the great thing about 4his guide is that it contains up to 2 methods on how to build a water pump from scratch with cheap and easy-going materials. The first method uses PVC pipes with no electrical components, while the second one is battery-powered.
14. DIY Powerful Water Pump
Take a look at this powerful water pump, it's made up of 2 turbomachinery, a pump, and a turbine. There are other centrifugal parts that you need for the making process, an impeller, a motor, a suction or discharge pipe, and a casing that will house the components.
15. How To Make A Centrifugal Water Pump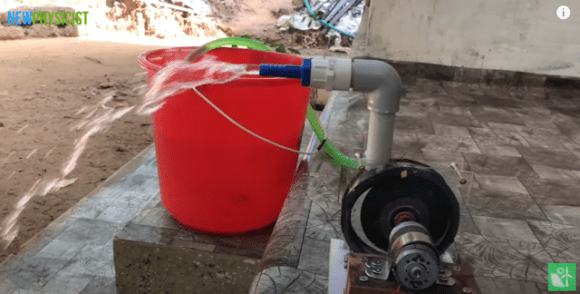 This is another amazing project with 2 methods on how to make a centrifugal water pump. You'll need a volute, an impeller, a discharge and suction pipes in each end, and a motor. The second method uses PVC pipes, some pieces of wood, a motor, and a few other supplies.
16. DIY Water Pump
The guide will teach you how to make a simple 6 inches water pump with the engine for a farmer's machine. This project can only work for you if you have the engine or live near where you have access to one.
17. Cheap Water Pump Setup
Here is a cheap water pump. for those that are not keen on spending a lot on materials for the ing process. This project is also great for beginners to get acquainted with the DOS and don'ts of a water pump.
18. DIY Hand Water Pump
This project is so easy that it can be done by school students as a project work. The making process is simple to follow. The materials you need are easy to find, like PVC pipes, pipe elbows, Tee connectors and lots more.
19. Homemade Water Pump
Here is a homemade water pump that is quite satisfying to make with simple easy-going supplies like a DC motor of 12V to 24V, and a PVC pipe end cap. There is a link in the video description to where you can get those supplies for cheap.
20. Mini Water Pump DIY
So, this mini water pump idea is for those that own a 3D printer. The creator designed and made the water pump parts with his 3D printer, which made the setup process a lot easier. If you decide to buy a 3D machine for this project then, check the guide to learn more about how to set up the machine for use.
21. Efficient Water Pump DIY
Here is a Productive water pump but it looks too bogus and unnecessarily complicated. Although it's a great water pump when you use it, it takes up so much space, makes a lot of noise, and can't be carried from one place to another. This project will be perfect if you want to build a water pump that will be used at a permanent location.
22. Electric Pump Water Pistol
Here is a creative water pump that looks like a pistol. First, you need to 3D print the pistol casing, and if you don't have a 3D printer then this guide won't work for you. For those with a 3D printer, you'll also need silicone tubing. Small pump, Li-ion battery, a hot glue gun, soldering iron, and lots more. The making process is simple to follow.
23. SP Water Pump DIY
To make this SP water pump, you need 3 water valves, PVC pipe outer housing, PVC cement plug, some pressure seals, and a whole lot of other materials that are super important for the making process. This water pump is quite effective and can last for a long time.
Conclusion
That's all for today on making water pumps that are effective, efficient, and durable. The easy-to-make part is always expected, none of the guides on their DIY project is difficult, so you can choose whichever suits your needs and begin building.
Thanks for stopping by, cheers.