During routine PC cleaning, the computer mouse is the most overlooked item. Unfortunately, that is a significant mistake because we constantly touch the mouse when we use our computers.
Furthermore, after prolonged use, a computer mouse becomes more prone to malfunctions. That's why we've come up with step-by-step instructions on how to clean your mouse correctly. These tips will guarantee that your mouse is performing at its best.
Knowing all of this, you might be wondering, "What's the best way to keep my mouse clean?"
A great way to clean your computer mouse is by regularly giving it a good wipe with a dry cloth and using a toothpick to get the grime out of the crevices. You should also consider using disinfectant wipes to remove the bacteria thoroughly.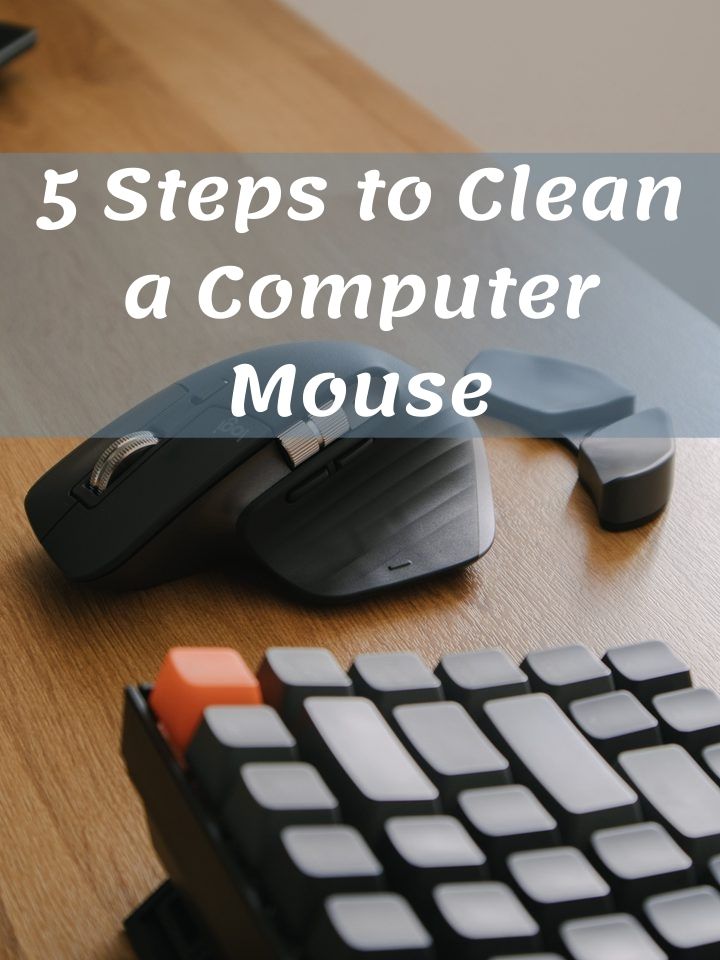 Why You Should Keep Your Mouse Clean
If you haven't looked at your computer mouse in a while, now is the time to do so. The mouse, after the keyboard, is the PC accessory that gets dirty the fastest.
If you're a serious gamer, you must believe that your high-end gaming mouse is an essential part of your setup.
While you browse down this page, you're probably using your mouse.
Every time you're on your computer, you're also using your mouse.
Keeping that in mind, you may be shocked to learn that more bacteria are found on your computer mouse than on any public doorknob or even in public restrooms. According to a recent study, the keyboard and mouse may contain 400 times the amount of germs found in ordinary home objects.
Let's start by talking about the basics of mouse cleaning.
5 Easy Steps to Clean a Computer Mouse
1. Unplug Your Mouse
Remove the mouse plug from the computer. Turn off your wireless mouse if you're using one. Remove any batteries that may be present before cleaning. It is critical to turn off all power sources and disconnect the mouse from your computer.
You'll be protecting yourself and avoiding electrical shorts, significant damage, and accidents by unplugging the mouse.
2. Swabbing and Wiping
Remove the dirt, grime, and loose particles that accumulate on the mouse's sides and bottom surfaces. For an extremely deep clean, use a microfiber cloth that fits easily into tight corners and crevices.
Use compressed air in a can. You can easily buy one from Amazon. Blow compressed air into the mouse's crevices and tight areas slowly. That will aid in removing tiny particles and debris that has become lodged in cracks and corners.
Alternatively, I'd recommend using a toothpick to pick scrape out all the grime and loose particles from crevices that you cannot reach by hand.
Wipe the top of the mouse down with a microfiber towel dampened with water or alcohol. You can also use wet wipes with disinfectants or wipes containing low bleach concentrations.
If you're still using a mouse with a scrolling wheel, clean it by turning it upside down. To loosen anything stuck within the wheel, roll it around. Wipe the inside of the mouse and the wheel with a microfiber cloth to complete the job.
3. Ensure All Parts Are 100% Dry Before Using The Mouse
Make sure all parts and components are dry before connecting the mouse to the CPU. Even a tiny amount of moisture can cause severe damage or permanently ruin electrical components once the power is connected.
4. Maintaining Proper Care
Avoid eating in your workspace because that's truly the simplest way to keep your mouse clean. That prevents crumbs or morsels from getting stuck between the crevices and tight spaces in your mouse.
After eating, make sure to wash and dry your hands before touching the mouse. Do not use your mouse if your hands are greasy or while you're eating. You'd be surprised at how quickly grime forms due to the fat and other components in the food you're eating.
Simply put, when using the mouse, keep your hands and your workspace clean.
Aside from not eating or drinking near your computer, it's also critical to regularly wipe down and sanitize your workstation. That's especially true if you spend a lot of time in front of the computer.
Wipe the computer screen, CPU, and desk with a damp dust cloth at least once a week and dry well before putting the power back on. You'll successfully keep all disease-causing germs at bay if you keep your computer and workstation clean.
5. Cleaning Your Mouse Pad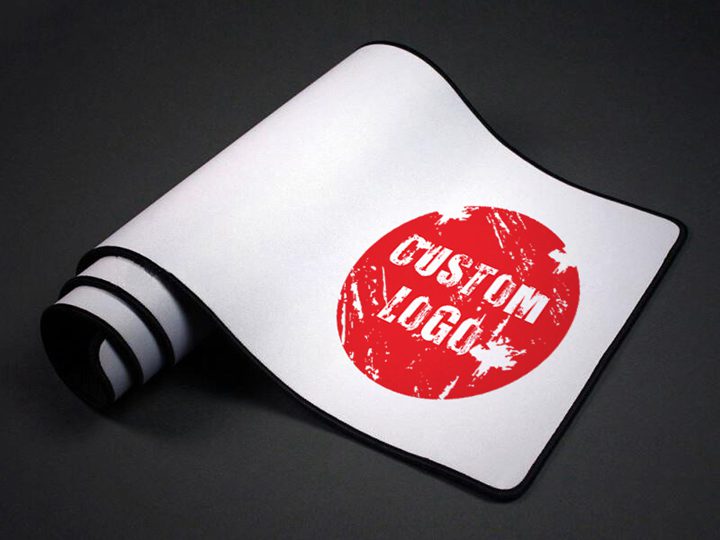 In addition to the mouse, you should clean the mouse pad on which it rests. The mouse pad is also highly prone to collecting dust and debris. Furthermore, it is typical for food, beverages, and perspiration to contaminate the mousepad, making mouse movement inaccurate and shaky.
With this in mind, it's critical to clean the mouse pad regularly to ensure that your mouse performs at its best.
Touchpads are available in a variety of materials, including fiberglass, plastic, and aluminum. As a result, they are much less complicated to clean than mousepads. That's because mousepads are often made of soft materials like foam. You can clean touchpads by simply wiping them down with a soft, damp cloth and allowing them to air dry before using it.
When used and cleaned frequently, soft touchpads or mousepads become discolored and frayed. However, if you don't have the budget to replace them regularly, you can thoroughly wash them using a gentle liquid cleansing agent such as shampoo or conditioner.
Before using it again, make sure it is dry. Then, to remove the stains, use a soft-bristled toothbrush.
The bottom rubber section of the touchpad or mousepad should not come into contact with hot water. Exposure to hot water or a severe impact may cause it to detach from its top half and cause deformation and irreversible damage.
After washing the touchpad, dry it with a soft towel and air dry in the shade. Avoid exposing the rubber section of the pad to bright sunlight or extreme heat, as this may also cause it to detach.
You can also use a hairdryer, but make sure you use a cool air setting so that the surface doesn't peel away from the bottom rubber layer.
Which Mouse Should I Buy?
Now that you know how to take good care of your mouse and PC, you might be thinking of upgrading your old or worn-out mouse. But, unfortunately, when a mouse is not cleaned regularly, dust and crumbs can get into its sensors and damage it permanently.
As you might expect, there is no such thing as the best mouse for every possible use-case. Some mice are large and have a lot of features, while others are small and inexpensive.
A graphic designer will probably require a much different mouse than an accountant, especially if you only need a mouse for productivity and aren't looking for a gaming model.
1.    Logitech MX Master 3
As a general rule, the Logitech MX Master 3 is the right fit for most people. It's easily configurable, extremely ergonomic, and wireless. It also has a long battery life and even features a unique scroll wheel you won't find on any other mouse.
Granted, this computer mouse costs $100, so it's not something you can buy on the spur of the moment.
2. Logitech M325
For a cheaper alternative, the Logitech M325 is about as straightforward as a mouse can get. This tiny wireless accessory costs $30 and is a great laptop companion. It fits in backpacks, handbags, pockets, and just about anywhere else.
Its batteries last just over a year, so you'll have to replace them once in a while. It lacks additional buttons or capabilities, yet it can still make your life easier, especially if you travel frequently.
3. SteelSeries Rival 3
I've always believed that a decent gaming mouse is also an excellent PC mouse in general, and the SteelSeries Rival 3 is no exception.
With two programmable thumb buttons and a lovely LED strip on the bottom, this sleek, medium-sized peripheral has a no-nonsense, semi-ambidextrous design.
The Rival 3 is the only mouse on this list with configurable RGB illumination, which won't increase your productivity but will make your workplace appear a whole lot nicer.
Final thoughts
When selecting the best mouse for your needs, consider three factors: features, size, and pricing. In the end, the choice depends on your needs and how much you're willing to spend on them.
The price of a mouse is proportional to its feature set. However, be wary of exceptionally cheap mice, particularly those from second- or third-tier manufacturers, as they will not last long.
As you can see, cleaning the computer mouse and touchpad is pretty simple. To fully clean and disinfect it from the comfort of your own home, all you need are a few easy cleaning supplies. Both wired and wireless mouse benefit significantly from these steps!