Cleaning your MacBook's display is a simple task, but there are a few things to keep in mind. Although the instructions below are for Apple displays, you can use these tips for most liquid-crystal display (LCD) screens.
So, how do you clean your MacBook screen properly?
Apple recommends cleaning these displays exclusively with distilled water. However, if a persistent spot appears, try a solution of distilled white vinegar and distilled water. You shouldn't use abrasive objects such as rough cloths, towels, or paper towels to clean your MacBook screen.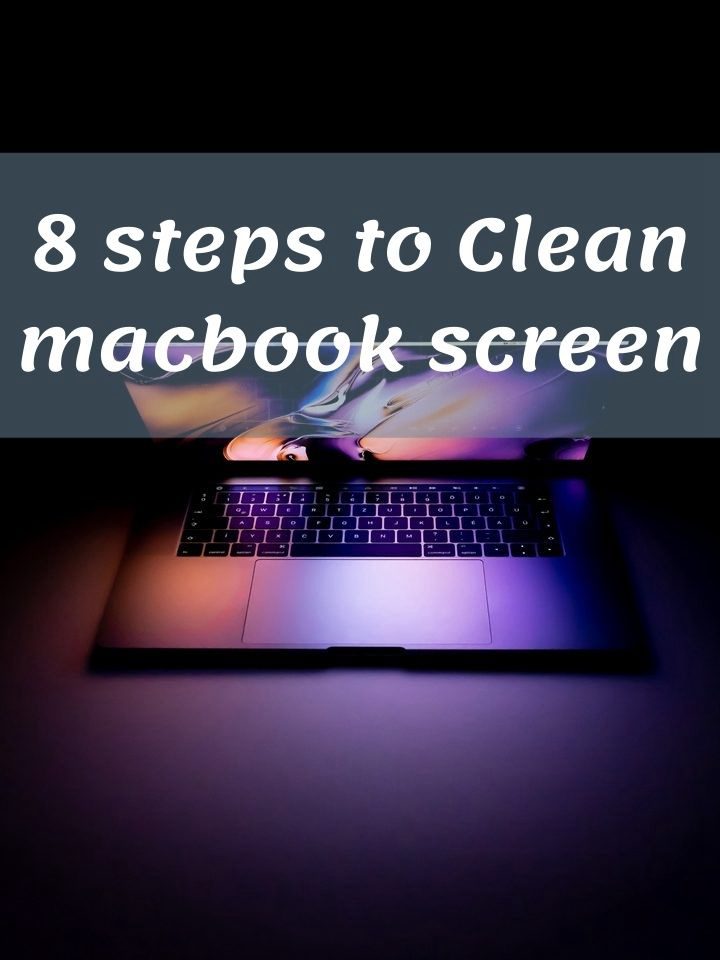 Instead, get the work done with a soft, lint-free cloth. Apple goods, including the MacBooks, are made of sensitive materials that you can damage if you aren't careful with them around liquids and harmful chemicals.
Let's start with the basics.
Understanding Your Computer Screen
There are two types of Mac displays: bare LCD screens and glass LCD screens.
Many earlier portable Macs and most third-party desktop displays have naked LCD screens. Glass LCD panels, such as those found in the latest iMacs, are LCDs that have a glass panel over them.
Because the LCD is covered, you might think it's safe to clean your iMac with a standard glass cleaner. However, distilled water is your best option.
On your computer, avoid using aerosol sprays, bleaches, or abrasives. Additionally, you should never spray cleaners directly onto the equipment.
Instead, wipe hard, non-porous external surfaces like the display or keyboard carefully with a 70% isopropyl alcohol wipe or Clorox Disinfecting Wipes.
1. Cleaning With a Plain Cloth Regularly
Your Mac can quickly become full of fingerprints, streaks, marks, and stains due to daily use. Not only is it unpleasant to the eye, but it's also unsanitary and probably full of bacteria.
Make sure you regularly wipe the MacBook's display and other flat surfaces with a clean cloth. Additionally, remember to brush the top and bottom of the laptop since these regions can also become breeding grounds for bacteria.
2. Disinfecting While Cleaning
It's best to deep clean your MacBook at least once a week. First, use distilled water and a lint-free cloth to clean the MacBook's display and other flat surfaces. When you're done, wipe away any leftover droplets with a microfiber cloth.
You can also use wipes intended to remove bacteria and surface stains safe to use on electronics. COVID-19 has made such products commonplace. Disinfecting with rubbing alcohol or Clorox wipes is ideal.
3. Getting Rid of Stubborn Stains
To remove stubborn stains, add a drop of gentle dish soap to the water. However, don't use too much, and make sure to wring out the sponge before using it.
If you can still see some spots or particles on your screen, chances are it's inside the display's glass.
In that case, you'll need to take it to the Apple Store for repair or find a certified repair shop near you.
4. Things To Avoid
Certain things will ruin your computer screen, like disinfectant wipes containing bleach. You should avoid disinfectant sprays in general for cleaning any part of your laptop.
Try not to use an extremely damp disinfectant wipe. Instead, before going over your screen, squeeze the wipe to remove most of the excess liquid.
Wipe off liquid residue immediately. That's because allowing the liquid from the disinfectant wipe to stay on the surface may damage the screen.
Don't use abrasive towels or cloths to dry the screen.
When cleaning the screen and the area around the keyboard, don't use too much force as it could cause permanent damage.
5. Cleaning The Outside of Your MacBook
Cleaning the screen is only one step of the process. If you want to keep your MacBook running smoothly and avoid permanent damage, you have to maintain it by cleaning the outside regularly.
Fingerprint marks, dust, and germs can accumulate on the outside of your laptop or desktop computer. And if dust collects into your computer's vents, it might cause the fans and other critical components to malfunction.
Use a non-abrasive, lint-free cloth for dusting. You can also buy a thin microfiber cloth that won't scratch the surface. Before you begin cleaning, make sure to shut down and unplug the computer properly.
Start with a light dusting with a moist or dry cloth — a Swiffer cloth works great for this. If you're dealing with stubborn streaks and ground-in filth, a gentle cleanser will suffice.
You should avoid getting moisture into the cracks and openings of your Mac at all costs. Unfortunately, Apple warranties do not cover water damage, even if it is caused by cleaning.
6. Removing Grit From Your Trackpad
The trackpad on your MacBook is exceptionally fragile, and you should clean it with caution. Apple strictly advises against cleaning solutions for the trackpad. That means you can't use window cleaner, alcohol, or similar products.
Instead, dampen a lint-free soft cloth with water and wipe away any extra moisture with a clean, dry cloth of the same type.
If your white MacBook trackpad has become discolored, there is one hack you can try.
Although Apple does not endorse it on its support site, several techies propose gently rubbing away the grit with a Mr. Clean Magic eraser to restore it to its former shine.
7. Disinfecting Your Keyboard
Most people don't wash their hands before using a computer.
And, let's face it, you've undoubtedly eaten a snack or two while drumming away on the keyboard or scrolling through your Facebook feed.
So it probably goes without saying that you should clean your keyboard regularly.
Use a soft, lint-free cloth and a gentle cleaner once more. If you have a wireless external keyboard, make sure you unhook it and remove the batteries.
When cleaning the keyboard, use extra caution because keys can easily pop off if you use too much force or if a ragged cloth with loose threads gets caught on a key. It's preferable to wipe the keyboard's base one bridge at a time while holding the keys down on their sides.
When cleaning a laptop keyboard, it's critical to use as little moisture as possible. That's because the keys sit directly on top of the computer's core components, and any extra moisture could leak down the edges of the keys, causing water damage.
After disinfecting everything, wipe the keyboard down with a dry cloth to remove any leftover cleaner.
8. Cleaning Dust Inside Your MacBook
A common issue people have with MacBooks is overheating. In addition, you could also have other problems like hearing more fan noise, experiencing unexpected shutdowns, or experiencing slow performance.
In that case, you may have too much dust in the fan and battery region.
You'll need to get inside your Mac to remove the dust by using compressed air spray. However, it's important to note that doing so will void your warranty.
That's why preventative measures are preferable. These include keeping your workplace dust-free. Other steps like using a hard surface table for your laptop are also helpful.
How Often Should You Clean Your MacBook?
Knowing how to clean your Mac is a crucial part of a smooth experience. At this point, you may be wondering how often your Mac needs a deep cleaning.
While you should always keep your Mac clean and away from places with a lot of dust, your usage decides how often you should deep clean your Mac. Many people eat and drink while using their laptops or computers.
In such cases, the chances are those food particles can often get on your computer. If it's not cleaned regularly, the particles can get inside the machine and cause permanent damage.
If that sounds like you, a weekly deep cleaning may be essential.
Final Thoughts
Purchasing a Mac is a significant financial commitment. Given how expensive it is to buy a new computer, using and cleaning it the right way makes the experience significantly better.
Now that you know how to maintain your Mac machine, it's time to start cleaning. You should always prefer distilled water (add distilled vinegar for adamant stains) to recap the basics. Make sure you use lint-free or microfiber cloths for cleaning purposes.
Remember that it's not just enough to clean the screen. You need to clean other components of the laptop too.
For example, you need to be extra careful when cleaning the keyboard and avoid using extra moisture during the process.
Additionally, it's also essential to clean the top and base of the laptop to prevent dust and bacteria from accumulating. If your computer keeps overheating, you may have to clean dust out of the vents.
It's important to remember that keeping your tech clean can help prolong its life and keep it from malfunctioning when you need it the most.