So you're planning to move, but you don't have a clear idea of how to move a pool table. You're right to admit this, as it's a tedious task that could take all day if there are no preparations. Even if you consider hiring expert movers to do the job, the price might be too large for your budget. At this point, your best option is to prepare to move your pool table by following our instructions and advice to the letter. So read on as we delve in…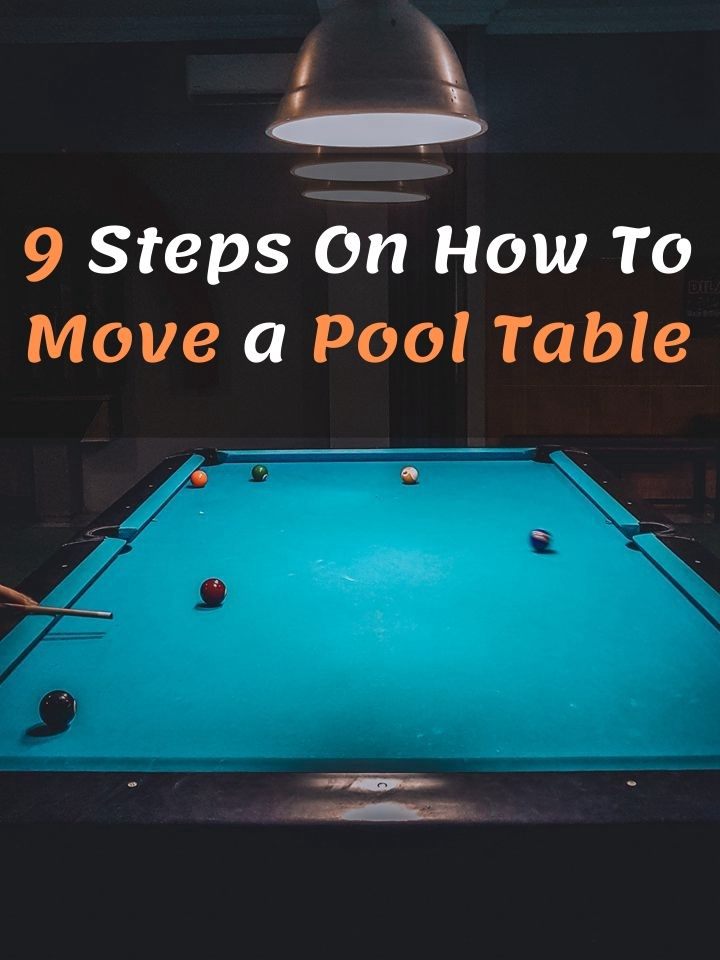 Essentials For Moving Your Pool Table
Moving a pool table can be a time-consuming task even when the processes you've taken are in order. Just imagine how terrible the experience would be if you don't move your pool table in an orderly manner with the appropriate tools, labeled bags, and safety equipment.
Here are the essentials for moving a pool table:
Power Drill
The power drill will help a lot with screwing and unscrewing bolts quickly. It would be great for both the assembly and disassembly processes.
Note: it is best to get a power drill with a reverse setting which would be great for unscrewing bolts as well as screwing them.
Screw Driver
The hand screwdriver can be a good choice of tool in place of the powered one. Especially if you're not able to rent one. But screwing and unscrewing bolts from the pool table could be tedious. But you're less likely to cause severe damage to your pool table as a powered one would if it's rotated in the wrong direction.

Moving Blankets
To prevent or reduce damage, you should acquire long and large moving blankets . They'll help a lot with cushioning impacts of parts of your pool table.
Bubble Wraps
If you don't have moving blankets in place you can consider bubble wraps . Lots and lots of it. It should be able to protect parts of your pool table from severe damage due to impact.
Staple Remover
The Staple Remover would do great for removing your pool table felt m (the blue or green material on which you play pool).
Stapler
This will be used to Staple your pool table back onto your pool table. As well as sealing Labelled boxes or bags if needed.
Socket Wrench
There are some fasteners on a pool table that would require a Socket wrench to remove.
Labeled Bags or Boxes
These would help a lot with the orderly disassembling, moving, and reassembling of your pool table. Which could greatly reduce moving time overall.
Baby Proof Materials
Hauling parts of your pool table could lead to accidents especially when it's just your friends and family members that are doing the hauling instead of professionals. To avoid this problem you should seek to baby-proof your doorway edges with towels or bubble wrap and duct tape.
Measuring Tape
Before hauling your pool table through your house, you need to take measurements. On both your pool table and the doorway through which to plan to haul your pool table. The tool for this is a measuring tape.
9 Steps On How To Move a Pool Table
To ensure this moving process is done as fast as possible, it's best to follow these steps accordingly:
1. Supply Up
Before moving your pool table you need to acquire all the necessary tools and materials. That way, the move can be a lot easier and swift. So what you'll need is a power drill, screwdriver, Stapler, Stapler remover, and Socket wrench to handle fasteners for both disassembling and reassembling your pool table. A moving blanket or bubble wrap to keep the parts safe throughout the hauling process.
And some Labelled boxes and bags to keep detached parts in reach and safe from getting misplaced.
2. Hire A Truck
If you're planning to move your pool table to another location, it's best to contact and schedule a moving date with a moving company. At least a week or handful of days before you begin to collapse your pool table so that the whole process will be swift. Why can't I haul it myself? You may haul the pool table yourself but only if you have a truck wide and long enough to contain your pool table. Given that the least size of a pool table is 7ft .
So if you have a truck that can hold your pool table comfortably. Then you can go for it. If not it's best to leave it to the professionals with the proper vehicle.
3. Hire Lots of People
Moving your pool table is not a one-man job, as it's too big of furniture to be collapsed, moved, and reassembled by you alone. Even though it may be plausible it would take up much of your time and energy. What you need to do is gather at least 4 to 5 people. This would make the move a lot faster, easier, and a lot cheaper if you consider paying the driver by the hour.
4. Prepare Moving Gear
All persons working on the pool table including yourself should have the proper gear to make the mover quicker and safe. Such as sneakers, work gloves, and Goggles (which will be useful during disassembling and assembling the pool table).
5. Take Measurements
Given that you're moving your pool table out of the house it's required that you know the best route for hauling the parts safely. Especially when you have lots of narrow doorways or hallways. So, to find the best possible route out of your home that won't risk any damage to your pool table arts or home architecture, you need to take measurements. Which includes the pool table itself, doorways, hallways, and staircase as well.
6. Prepare and damage-proof The Route
Now you know the safe route out of your house. The next step to take is to prepare for it. By opening up the doorways, hallways, and padding up edges to keep heavy parts of the pool table from chipping off the wall, door, or denting metal surfaces while you haul them away.
How can I damage-proof the edges of my doorway? If your doorways are narrow. It's best to duct tape a towel, bubble wrap, or soft clothing onto the edges.
Disassemble
By now everything and everyone should be set.
Take Out The Ball Pockets
So the first part you should detach is the ball pockets, all six of them to which they're all fastened to the pool table via staples or screws. What you'll need to detect them with is either a Staple Remover or screwdriver. In case the screws are too hard to remove, make use of the power drill with a screwdriver attachment.
Once you've detached them, keep them in a labeled box so you can easily access them. During the Reassemble phase.
Detach The Side Rails
The next part to take out is the side rails. For this part, you are to make use of a Socket wrench to extract the bolts. Once removed, carefully Detach the side rails from the pool table.
Note: don't forget to bag or box the bolts. And it must be labeled.
Remove The Felt
Now that the Rails are off you, as well as your group can proceed to remove the felt. And you should do this by extracting the staples from the felt with a Staple Remover. carefully. So that it doesn't get ripped. After successfully removing the felt l, gold it up and box or bag it.
Slates
The next part to remove is the slates, which are one of the heaviest parts of the pool table. So, to extract them, you need to unscrew them. Because the screws are usually fasteners too tight it's best to make use of a power drill with a reverse feature to remove them easily. Once that is done, a handful of your group should carefully carry the slates out for the table.
Legs
All complex parts of the pool table have now been successfully detached. The next step to take is the legs. You can start to remove them by putting the body for the pool table on its sides or upside down carefully. Then you should commence detaching each leg.
Make The Parts Impact-Proof
It's time to make use of your moving blankets or pile of bubble wraps. As they will protect your parts from braking or denting in impact. Especially the slates which are extremely heavy and breakable.
Load the Truck
Great Job on disassembling your pool table. Now it's time to Load the Truck. So make sure to haul the parts safely onto the truck. After this, ensure all the parts are placed in the truck appropriately to prevent severe damage while they're being transported.
Reassemble
Now that the parts have been transported to a new location successfully, it's time to Reassemble the pool table. And you should start from how you ended during disassembly. Which is from the legs to the slates, felts, side rails, and then ball pockets.
You Can Always Hire Professionals
It may take days or months before you can set up all the essentials you need to transport your pool table. Especially if you're not one to handle/possess tools or have family and friends that have free time. At this point, the best solution is to just hire moving professionals that have all the tools and a full-proof method at hand.