Are you in search of the best DIY yoga mat projects? I have done my research and listed a few for your viewing pleasure.
Exercising has been the new normal for people who want to keep fit, lose weight, work smart, and live healthily. To make it more comfortable and interesting you may need to get mats for it.
These DIY Yoga mats are less expensive to make and will certainly give you a good experience. Let's explore.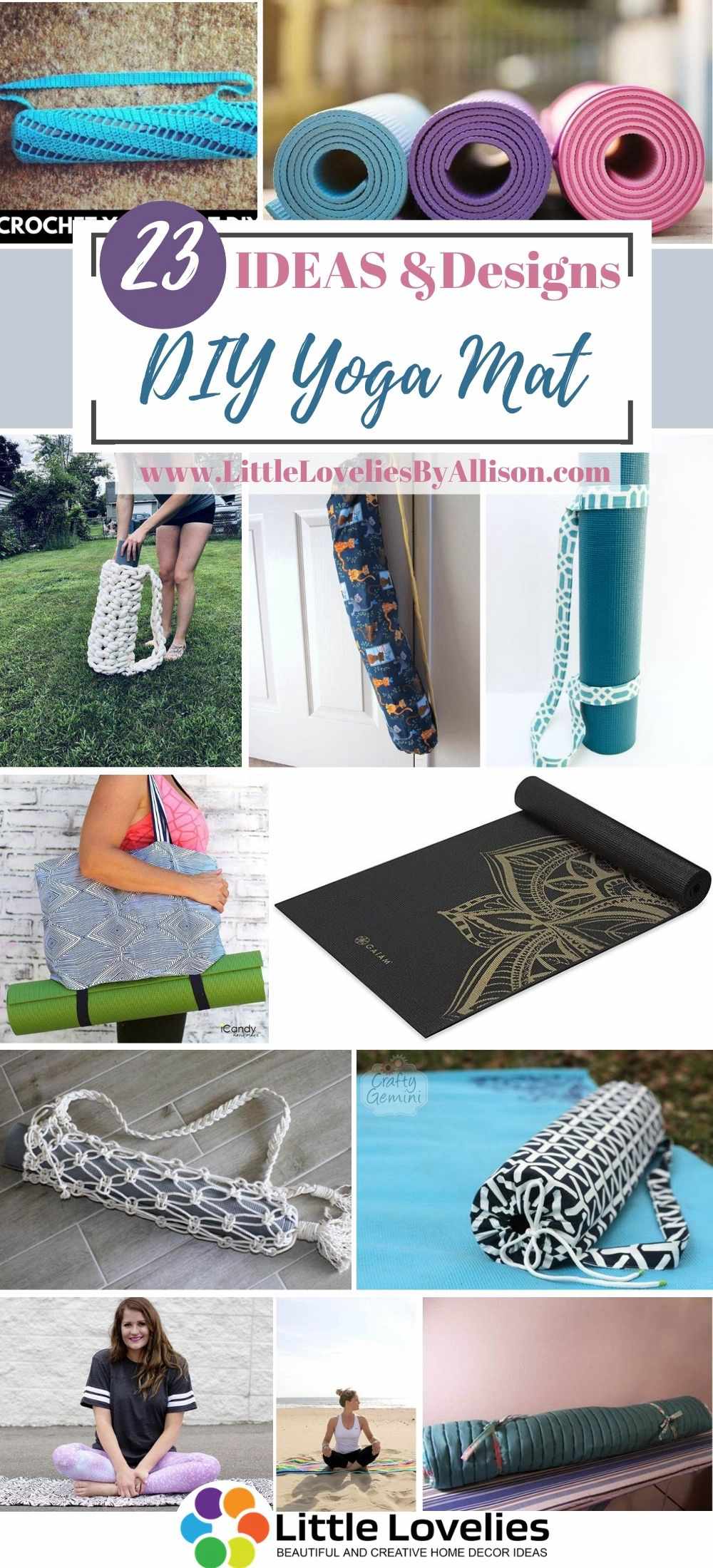 1. DIY Yoga Mat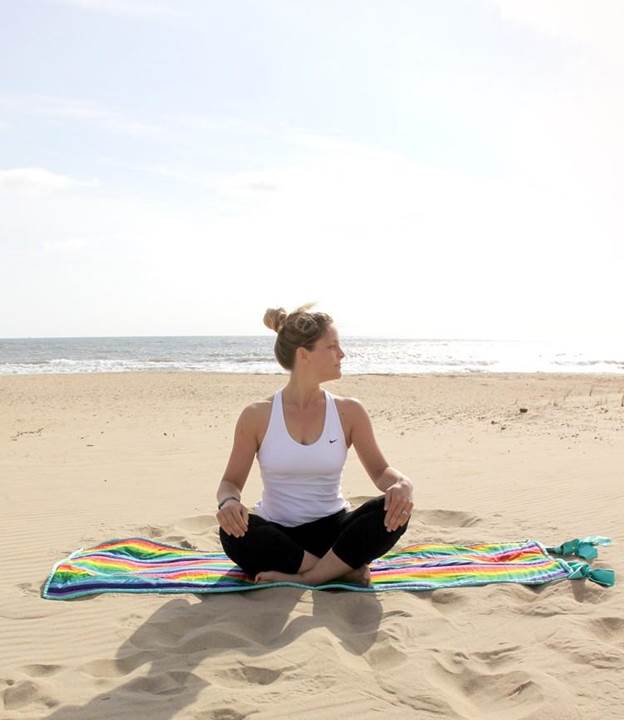 This DIY yoga mat is made of cotton material and it has bright colors to keep you in a healthy mood all day. Would you love to tweak the colors a little to suit your taste? Of course, you can. If you don't want it to slip, try adding some stick to the bottom of the mat then leave to dry.
2. How To Make A Homemade Yoga Mat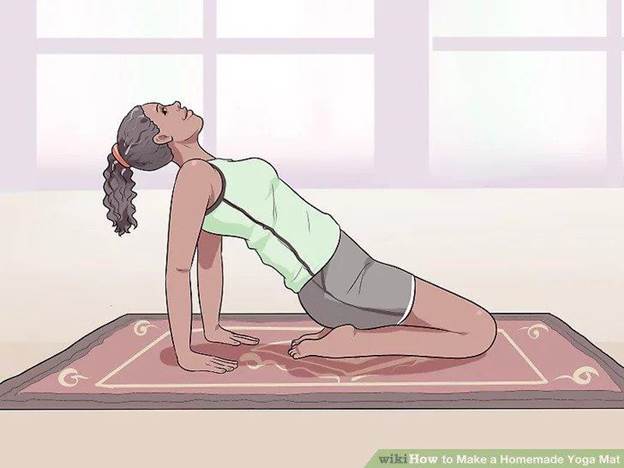 The most amazing part about owning something is when you are able to make it by yourself. This way, you can tweak it to your taste absolutely. You can decide to add a finished edge to your mat or choose to add ruffles so it stays outstanding.
3. DIY Yoga Mat Alternatives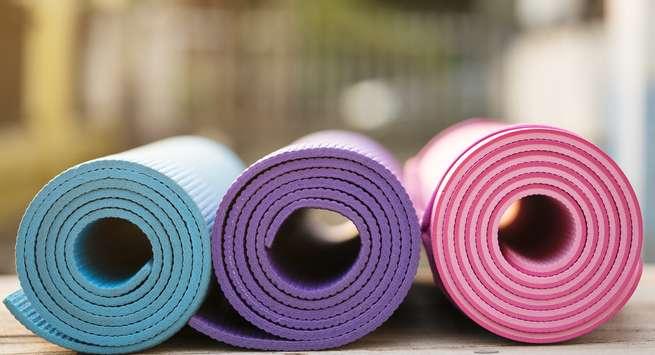 If you have chosen to do your exercises with your own DIY yoga mat options then that's perfect but if you want an alternative then you can decide to use a long throw rug. It is firm and gripping. You can't go wrong with this alternative. There are some others you want to try out too.
4. DIY Yoga Mat With Unique Prints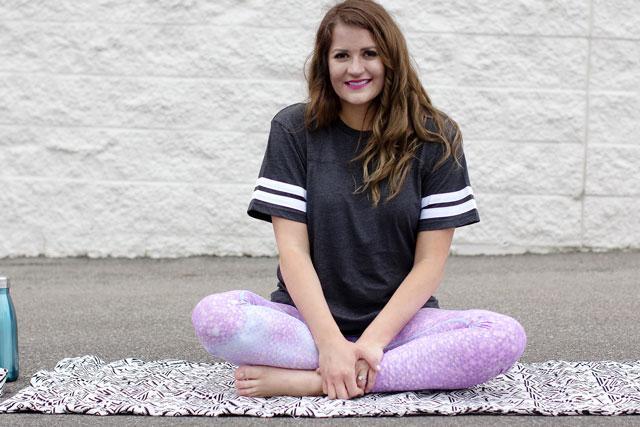 If you love to sew then you have the best energy for your DIY yoga mat. Choosing your choosiest print is one thing and turning it into a yoga mat is another. The first may not be too easy especially if you have an eye for art but the second can always be easy through learning the steps.
5. How To Make A Yoga Mat Holder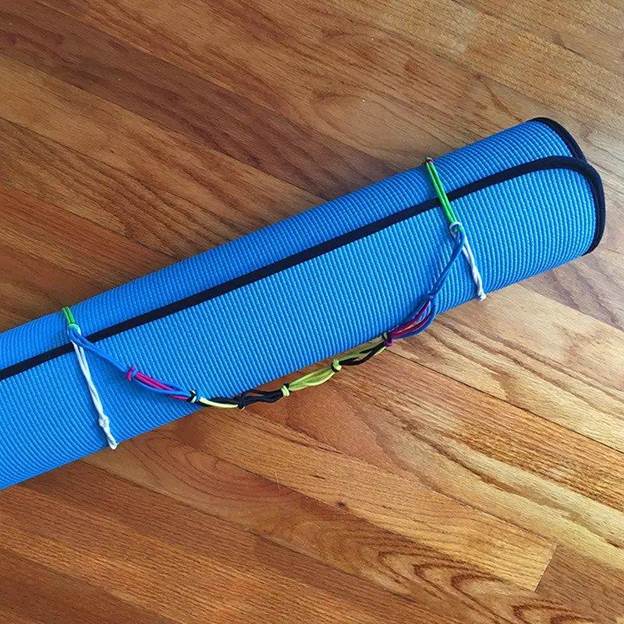 Traveling around with your yoga mat can be a lot easier if you have a yoga mat holder. Guess what? If you can make a yoga mat by yourself then you can also make a yoga mat holder by yourself too. It's more interesting when you have an opportunity to customize it. This strap is easily adjustable and it requires the easiest of materials to use.
6. DIY Yoga Mat With Unique Sewing Pattern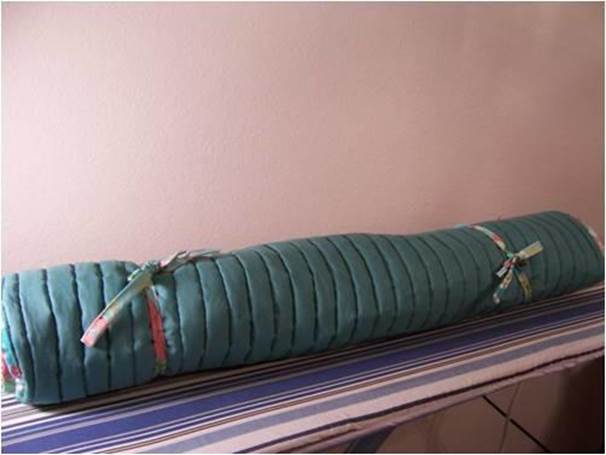 You do not need to be a pro in sewing. If you have an idea of the basics then you are good to go. It can be rolled up easily and of course, you get to wash it when it is dirty. You would surely get good reviews when you walk out with this.
7. How To Make Your Own Yoga Mat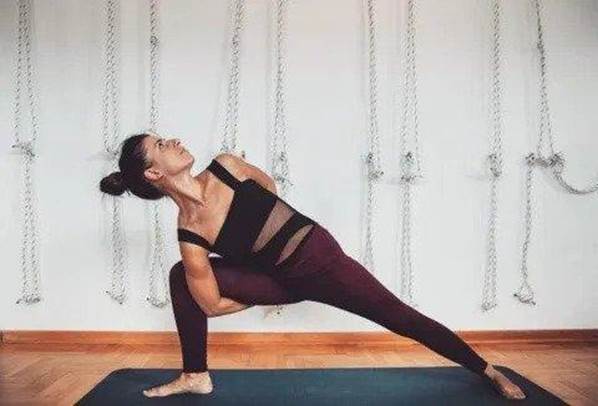 Using rubber mats can sometimes be difficult to preserve but using cotton fabric is great too. You can have an opportunity to wash it when you want to and you can also have an opportunity to fold it to your desired shape. When adding your non slip fabric to the bottom, try to make sure it glues completely
8. DIY Yoga Mat Bag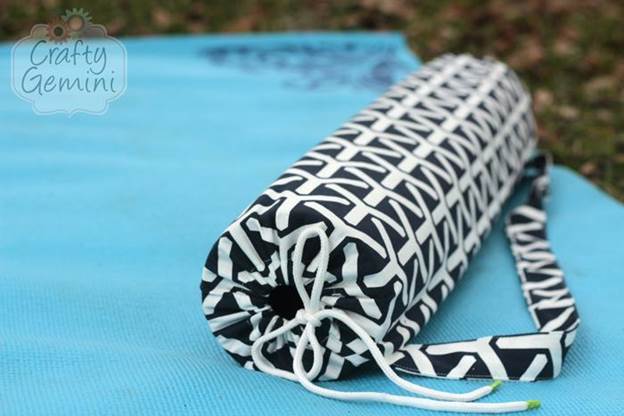 The white and black combination is beautiful. Guess what, you don't have to be able to sew to get this beauty all yours. It doesn't require lining, interfacing, zipper, pockets, or snaps. Just a drawstring closure and a shoulder strap are all you need.
9. DIY Macrame Yoga Mat Bag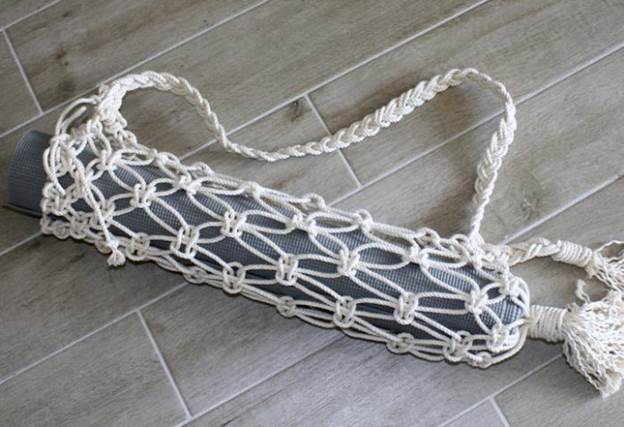 Strings are fabulous when used for art and craft. You can come up with the best designs. For this DIY Yoga Mat bag, 3 things are needed; a cotton rope, tape, and scissors are the only requirements. The wrapped knot from the top to the bottom is what makes this DIY yoga mat casing stand out.
10. How To Clean A Yoga Mat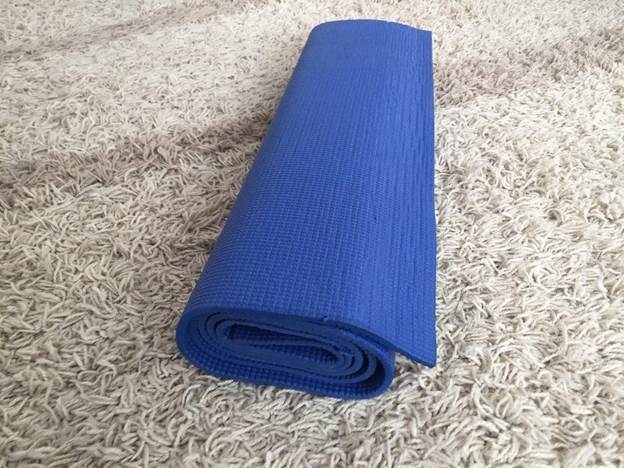 So many times, we get too engrossed in our exercises and keeping fit activities and we forget to clean up our yoga mats. This is not as difficult as we assume it to be. While using a soft cloth to do the cleaning, you will need to pay attention to the areas that your feet and hands get in contact with. Yoga mat special wipes can be of help
11. How To Make A Yoga Mat
There are a lot of easy steps that can make your DIY yoga mats interesting and engaging. One of them is picking a great fabric. When making outdoor mats think about durability and cleanliness.
12. How To Clean And Sanitize A Yoga Mat
Your sweaty hands and feet can leave germs in your yoga mat which can keep growing and living. In the long run, you may end up being affected and your dreams of staying healthy and fit have gone one step lower than expectations. It's not too expensive to keep your DIY yoga mat sanitized.
13. How To Build A Yoga Mat Holder
When you are done with your yoga exercises how you preserve your yoga mat is quite important. If you have children who move around distorting what has been arranged then you will need more than just keeping them leaning by the wall of the room. This wooden yoga mat holder is really helpful and it is not difficult to make.
14. How To Make Yoga Mat Bag For Old Jeans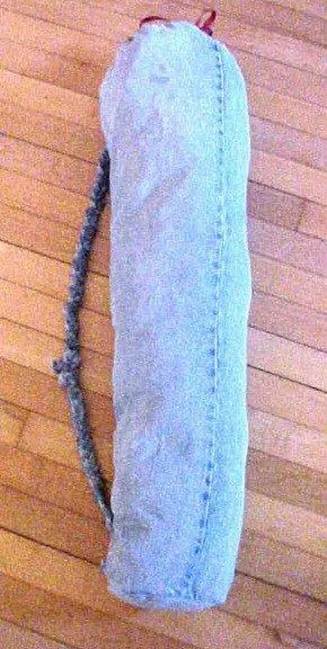 You don't need to discard your old jeans. They can be easily recycled. Instead of breaking the bank to get a very expensive yoga mat bag, you can just pull out an old jean and transform it into what you want.
15. How To Make A Yoga Mat Sling
Apart from using an entire bag to fit your yoga mat into, you can also make a comfortable sling that you can strap on and take around. Make sure the loops are sewn firm. Who else would you love to show this off to? I would love to see the color you were able to come up with
16. DIY Yoga Mat Towel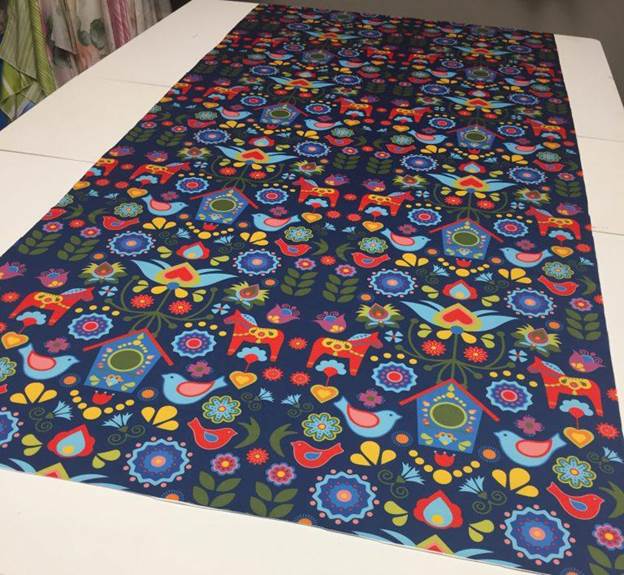 The amazing part of DIY Yoga mats is the fact that you have to pick a fabric for yourself. You can choose to cut a piece from that big fold you have always kept for a special occasion.
17. DIY Crochet Yoga Mat Bag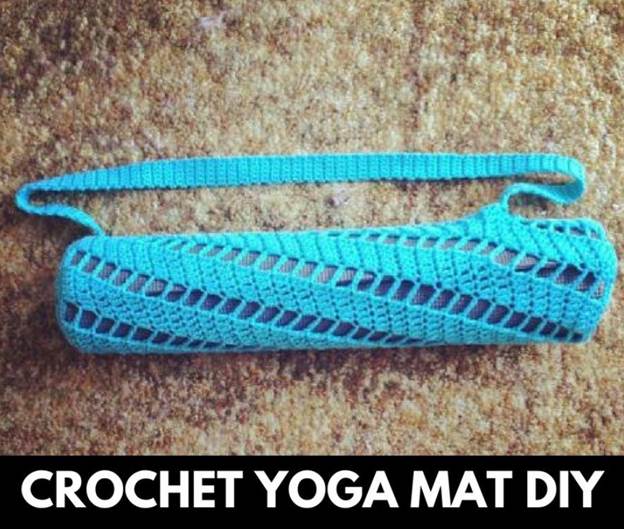 This is the most fascinating thing I have seen in a long while. Sewing with a machine or a needle and a thread is overrated. Using a crochet pin is just too unique. You can easily have your DIY yoga mat customized.
18. DIY Yoga Tote
There are a lot of things you may want to carry for your yoga class and you don't have to carry a very big bag and your yoga bag as well. You can merge the two together for a comfortable carriage.
19. DIY Yoga Mat Bag Tutorial
Doing things yourself saves you a lot of costs and still gives you an expensive taste. Do you know that you can actually make this DIY yoga mat the same fabric as the yoga mat casing? It's really adorable.
20. DIY Yoga Mat Bag Crochet
Here is another fun yoga mat casing that is crocheted. If you are a yogi, you can spare a little of your time to create a wonderful experience for yourself. This beautiful piece takes a lot of time to create but you can risk it if you want something really amazing as this. About 45 minutes can do the trick.
21. DIY No-Sew Yoga Mat Carrier
Are you uncomfortable with sewing? We have made it a lot easier for you. You do not need a needle, you do not need a thread, you do not need scissors or a pin. Let your strap be as long as how you want it to be. Double knot the other end firmly so you don't get to have it fall off easily. Apart from white, you can use your favorite color to pull this off.
22. Non-Slip Yoga Mat
It is important to secure yourself while doing exercises so you don't have to take a bed at the hospital. When you get all sweaty and wet, you have a 98% chance of slipping and falling. With this non-slip mat, you won't have to worry about slipping.
23. Premium Yoga Mat
Do you feel making a DIY yoga mat is too complicated? You can put an end to the whole process by purchasing an already made yoga mat. I found this unique design on Amazon and I think it is great. It is quite affordable too.