Are you looking to build your physique, shed, and increase your triceps and biceps? Here is an amazing DIY that will help you make simple but effective dumbbells that you can use to build your body in no time.
It's super easy to make a DIY dumbbell, all of them listed below are cheap and require materials and tools that you can find almost anywhere. So, have an open mind as we proceed. Here we go!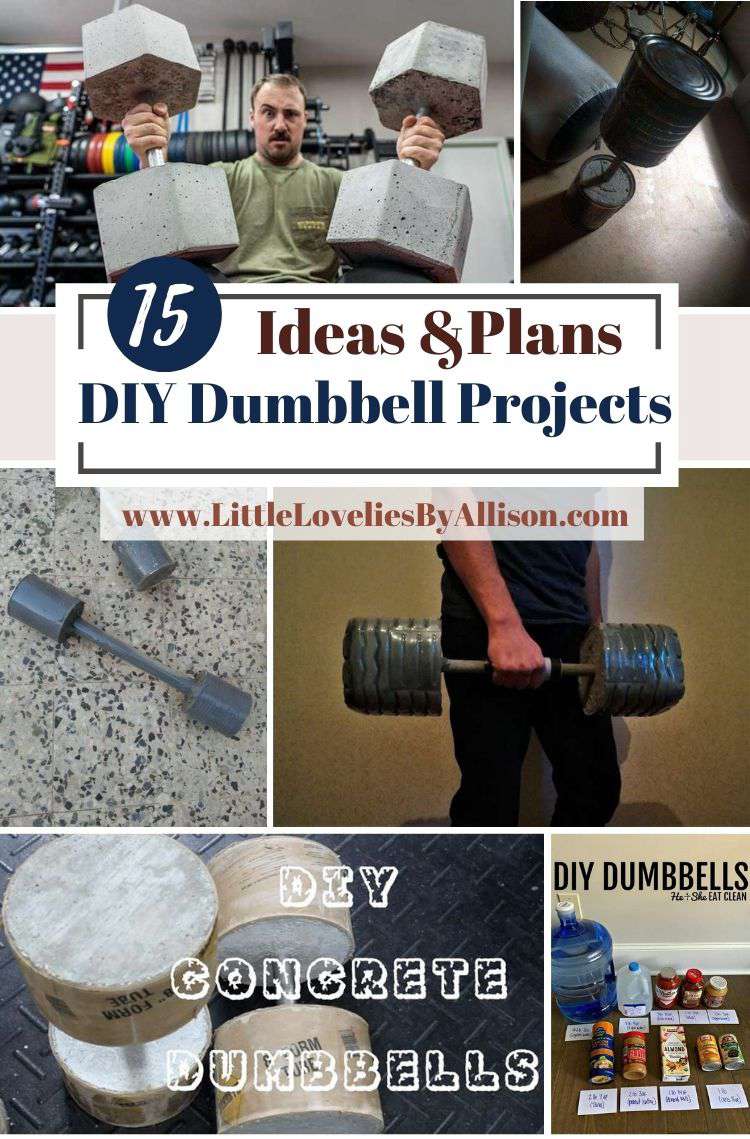 1. Concrete Dumbbells DIY
This dumbbell project is super easy and cheap to build, it will only take a long time to finish because you have to let the concrete dry completely before you continue whichever process is left. This concrete dumbbell is perfect for beginners using concrete for the first time, and it also costs $10.60 for the materials. You'll need an aluminum nail, an 80-pound concrete mix bag, a plastic container, and a 10 foot PVC pipe.
You May Also Like: 21 DIY Dumbbell Rack Projects
2. How To Make Dumbell
For this project, you'll need 4 empty cans, a long PVC pipe, cement, stones, nails, a rubber band, and a few other tools for mixing the cement and stones. This process is simple to follow, you just need to give the cement time to set and harden before you continue. It's also inexpensive because of the materials used.
3. Homemade Dumbbell Tutorial
The creator of this video guide decided to use something different from the conventional method Of making a dumbbell. He used several plastic water bottles, and other kinds of bottles to fill it with cement and water and used it as he's a dumbbell. However, it's not so effective.
4. Homemade Dumbbell Tutorial Without Cement
Here is a video guide that will show you how to make a dumbbell without using cement. You'll need some bolts, PVC pipe, a plastic container with a lid, and sand. You will fill the container with sand and cover it with the lid. The bolts are meant to keep the PVC pipe from falling off while using the dumbbell. It's quick and easy to make.
5. DIY Dumbbells
This guide will show you ways to make a simple dumbbell with homemade supplies, and which techniques to apply when using the dumbbell. It's simple and easy to follow. You'll need some food products like gallons of water and milk, jars of food, cans, alcohol, and other regular food items. Try not to eat or consume them all, when using them.
6. DIY Concrete Dumbbell Guide
In this guide, you'll make a dumbbell that is simple, space-saving, and cheap. Every home that has a gym must have a dumbbell, it's usually expensive and takes up a lot of space. That's why this dumbbell can be the perfect fit for your home gym.
You'll need a dumbbell mold or a painter's bucket, rebar tie wire, screws, steel pipe, silicone lubricant, wooden blocks, high tensile strength concrete, and lots more. This dumbbell can also be used in a standard gym as one of the dumbbells in the set because of the weight and shape.
7. How To Make Concrete Dumbbells
This homemade dumbbell looks pretty sturdy, and effective. You'll need a 50-pound bag of cement, two 6 liter water containers, metal pipe, pipe insulation, and a few more tools. The making process is super easy and doable.
This project took 9 easy steps, so now you can do the same to make this concrete dumbbell. You can also make as many as you want, it's inexpensive and durable. This dumbbell is wide and can take both your hands for a different dumbbell coiling program.
8. DIY Cement Dumbbells
This method is pretty easy, you'll need coffee cans but any other empty can will suffice, screws, metal pieces, a bag of cement, and a few more other tools.
After mixing and pouring the cement mix into the cans, to see if the weight favors you then proceed. You can make as many dumbbells with this method, but you will need more cans because they can not be removed once the cement mix has dried up.
9. How To Make Dumbbells At Home
The creator started this video guide off by cutting two plastic containers to his desired shape, then he mixed cement and sand in a bowl with water and a hand trowel, then placed a small PVC pipe at the center of the plastic container, and filled it with the cement mix. You'll have to leave it for a few days, you can spray it with water daily to increase the strength of the cement until it dries.
10. How To Make Perfect Concrete Dumbbells
This project is simple and easy to perform, you'll need cement, sand, water, metal sheet, PVC pipe, and a few other supplies. The making process is straightforward, first, mix the cement with the sand to get your cement mix, fold the metal sheet round, and fill it with the cement mix, then keep it somewhere safe so it can dry and harden. This dumbbell method is perfect for beginners that are using concrete for the first time, the steps are easy to learn and follow effortlessly.
11. DIY Dumbbells
This is another amazing DIY on how to build a dumbbell with ease. The creator used cement and a few other supplies that you can get with ease. The materials are always quite similar, the creator used some plastic water bottles, cement, water, and a few other tools and supplies for the mixing of the cement.
12. How To Make Homemade Weights
This is a great homemade dumbbell weight that will require the same set of materials in the other previous guide. The upside of this video tutorial guide is that the dumbbell handle is removable. You can easily remove it and set it back with the screw type of PVC pipe. This video guide also features another method of using the same cement mix but with a different and sturdy steel handle. The second handle is also a screw handle, removable and easy to use, it comes with padding that will protect your palms from getting hurt.
13. How To Make A Dumbbell
This is another amazing dumbbell that you can make with a few materials like some cans, plastic water bottles, cement, spray paint for the finish, steel pipe, and a few more supplies. The first step involves mixing the cement with the small stones and water, then pouring that mix into the cans, and putting the steel pipe in the center to create space for the handle.
You can decide to remove the hardened cement form from the cans if you can, or you just leave it in a place like a creator did. Then the final step is to spray paint it for a good-looking finish.
14. DIY Concrete Dumbbells
This guide will teach you how to make a concrete dumbbell for less than $30 for a single set, it's cheap, easy, and simple to build.
You'll just need a few materials and tools to get started, here they are, you'll need a high-strength concrete mix, AC foil tape, mixing bucket, spray paint, a marker, hacksaw, a drill with a mixing bit, a hand trowel, rubber band, and a tape measure. Some of these materials are optional, you can replace them with what you have available. This guide is simple to follow, with images to explain the steps so that you don't get confused.
15. Making Dumbbells At Home
Here is the last video guide on this list that will give you the last direction on how to build dumbbells at home effortlessly. First, you need 4 bowls of sand, 4 bowls of cement, then mix that with water using a hand trowel.
Pour the cement mix into a plastic container, and place your PVC pipes with nails at each end inside the container filled with cement. Leave to harden for a while before you continue with the rest of the steps. This makes the process super easy and simple and easy to follow. With this method, you can make a lot of smaller dumbbells to attach to a free PVC pipe.
Conclusion
There you go, now you know several ways that you can use to make a dumbbell for your home. This dumbbell idea is meant for home use but if you wish to use it for a gym fitness business, you can as well give it a try, just remember to finish the cement mix to make it look good and presentable in a standard gym. Thanks for stopping by and viewing this post, till next time, see ya!