Loaded barbells and weight plates can make a gym look untidy and disorganized at the end of a workout. Keep everything neat and all your plates in one place with this DIY Weight Tree idea, and skip the clutter. Powered by a heavy-duty steel frame or wood, the Do-It-Yourself Weight Tree is designed to handle multiple dumbbells at varied heights. Its sturdy base takes up minimal floor space while accommodating all standard-size bars and hex weights.
A weight tree is the single most important piece of equipment for organizing, storing, and growing your collection of plate-loaded weight plates. We have created a compilation of 15 DIY weight tree projects that you can make for your gym. Most of these projects require that you have wood or metalworking tools. The making process might be complicated for beginners, if you are having issues making a DIY weight tree, feel free to ask a friend or professional to help, but don't forget to show him or her some of the cool plans listed below.
1. How To Build A Weight Storage Tree
We start off this guide with a cheap, doable, and affordable weight tree that costs about $33 for the materials required. This project is also seamlessly easy to perform, you'll be investing 3 hours of your day to make this weight storage tree from scratch. All you need are a couple of 2x4s and dowel rods. Check the video guide to learn more. Here are a few tools you'll need to get started, a miter saw, drill press, palm sander, cordless drill, and lots more.
2. DIY Weight Tree
This project is pretty simple to follow, the only thing you need to put into consideration amongst other things is the measurements of your weights which has to be based on the current diameters of the weights that you have already.  The hope drills you'll make should allow more than enough plates for your weights effortlessly. You'll need wood boards, 2x4s, angle brackets, wood dowels, and more.
3. How To Build A Gym Weight Tree
For those that work out a lot at home, where do your weights plates go after a workout? Well, here in this video tutorial guide you'll learn how to make a study metal weight tree to accommodate all the weight plates you got at home. It's pretty easy to make for those that are used to metalworking projects, nevertheless,  if you can follow the steps of the creator in the video guide, the making process is pretty easy to follow from start to finish.
4. DIY Weight Tree For $10
Looking for a super cheap weight tree for your weight plates? Look no further, this video guide has got you covered. You're going to make the best and most comfortable weight tree at home to store your weights after workout. The making steps are effortlessly easy to follow, and with just $10 you can purchase the materials needed for this project.
5. DIY Weight Plate Tree
You're looking at one of the cheapest and easy-going weight trees on this DIY guide. The total cost for the materials is $20, and you'll need wood, framing studs, wood screws, Elmer's indoor wood glue, dowel, and a few other woodworking tools.  You have 8 simple steps to learn from and follow step-by-step, from start to finish. This is not a video guide, so you can check the link to learn more about the building instructions. garagegymreviews
6. DIY Weight Tree Tutorial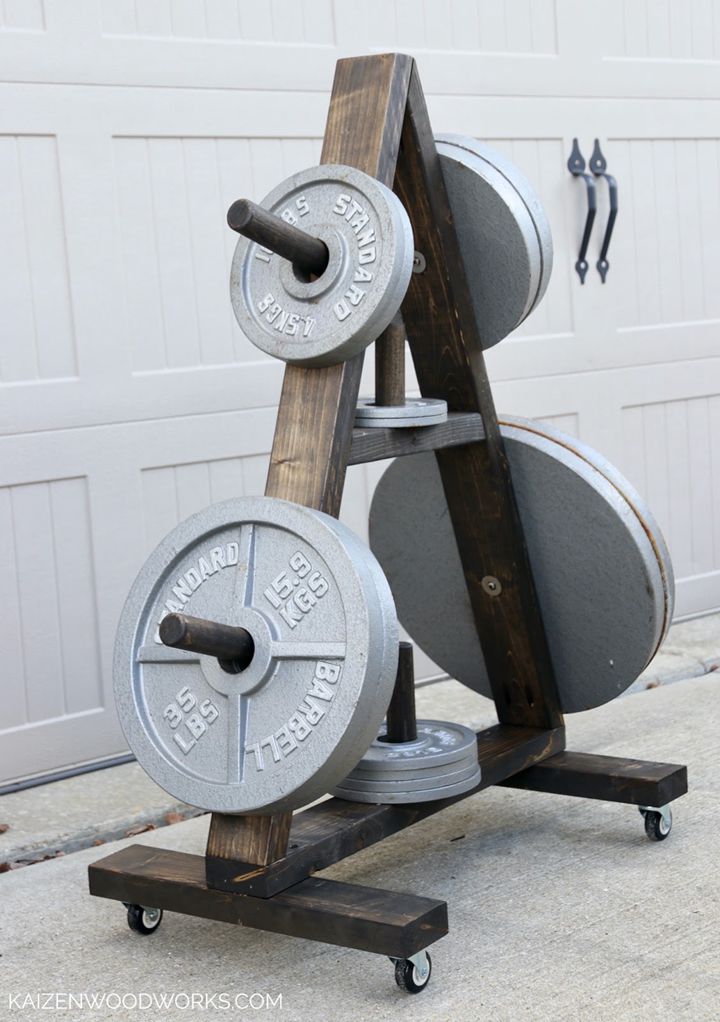 Check out this stylish weight tree, it's sturdy, easy to build, and mobile. This project will cost $33 in 2 hours. For the materials, you'll need poplar dowel rods, caster wheels, wood screws, washers, wood glue, and an ebony wood stain for a perfect finishing. The making process is quick and easy to follow. Check the link to learn more. garagegymexperiment
7. How To Build A DIY Weight Tree
Here is a big-time weight tree available in this guide. You can store up to 1000 lb of weight plates effortlessly.  This is possible when you follow the making process step-by-step.  The cost is about $100 for a weight tree without wheels, for one with wheels, it'll cost you $130 under 2 hours. There are a lot of steps and parts to follow, check the link to learn more. endofthreefitness
8. Easy To Make Weight Tree
Basically, there is no better way for you to store your weight plates than having a weight tree or rack. It saves space rather than leaving your weight plate out in the open, on the bare ground. Now you can organize and store your weight plates with ease. You'll need a few steel sheets to make the rack durable and last forever.  Check the video guide description and watch the video to learn more.
9. How To Build Gym Weight Tree In 5 Minutes
Commercial weight trees or racks are quite expensive and most times what you buy might not fit into the hole of the weight plates that you have at home. So, making a gym weight tree seems to be the better option so far. So with this guide, you can build this weight tree in under 5 minutes, and it's totally inexpensive. It's a wooden weight rack and requires a few wood planks, a wood rod, a drill, and a few other woodworking supplies.
10. Low Budget Weight Rack
Looking to make a low-budget weight rack, I'm in! Are you? Why don't you give this video guide a try, what's stopping you, all that's needed are a few 2x4 lumber, 1 ¼ inch spade bit, tape measure, drill, wood glue, and lots more? Check the link to watch the video and learn more. The making process is effortlessly easy to follow, so you should have no trouble at all.
11. DIY Weight Rack
This weight rack is pretty easy to build, you don't need many woodworking tools to get started. Although, if you want a briefing on the tools required, check the description below the video in the link to learn more. This project is also quick and cheap, and you still have a durable weight rack for good.
12. How To Build A Weight Plate Rack
Wondering how you can build a weight rack for your weight plates lying around everywhere? Here is a simple video tutorial guide that will show you how to build a sturdy weight-plated rack in under 45 minutes, and with $30 to spare. You'll need 2x4s, steel-concrete stakes, screws, a saw, and a drill. Check the link to learn more.
13. Cheap Weight Rack DIY
Check out this cheap weight rack, if you haven't found any that suits your taste. The creator has been using it for 5 years and there is hardly any wear and tear on it so you got one durable enough for you. It's also super cheap to build from scratch, it's quite small to accommodate a few weight plates.
14. How To Make A DIY Weight Plate
This is a strong vertical weight plate rack. It's strong enough to take some heavy-duty weight plates as well. With this guide, you'll simply be assembling the weight rack from start to finish, and not building. The creator used steel pipes and steel angle brackets. This project is also cheap and pretty simple to follow.
15. Weight Tree Build DIY
Here is your final guide and it's a big one. Oh yes, this weight tree is built with steel square pipes, and other steel galvanized pipes. This is a metalworking project, and you'll need to have a fair knowledge about it. This weight rack can carry up to 1900 lb and it also stands on wheels making it mobile and for easy access at any point.
Conclusion
Having a weight tree in your work put space is one of the most important things to look out for in your workout lifestyle.  So this guide is focused on making you understand that and be ready to build a weight rack of your choice effortlessly.  I hope you have a guide in mind, it's time to get racking. Thanks for your time and attention, till next time, bye!