A power rack is one very essential piece of equipment that must be present in the home of any bodybuilder who wants to have a gym at home. After doing some research we were to find some cool DIY ones.
Here are 18 different DIY power rack ideas that you can build from home. We made sure to include projects that are low cost and also sturdy, if made rightly, you would not need to make another power rack in a long time.
You May Also Like:23 DIY Hangboard - How To Make A Hangboard Pull-up Bar
1. How To Make A Power Rack
If you're trying to set up a gym in your house the first piece of equipment you need is a power rack. In this guide, you will learn how to make a power rack from scratch.
The first step is to get some straight lumber and cut off the edges. Then, cut the lumber to length using a circular saw, but a miter saw would work faster. A pocket hole joinery and glue were used to assemble the frame for the rack.
2. How To Build A Home Power Rack
You would be wondering why they use wood for a power rack? Yes, wood can withstand a heavy amount of weight. If that is your concern, now you need not worry. Here are the materials needed for the power rack: 8 foot 4×4 Douglas fir, flat steel ties, flat bit wood screws, chair flanges, pipe, and drill bit for pilot holes.
3. DIY Power Rack
This power rack is made from steel metal. Cut the steel rod to size with a compound miter saw and then make some brackets from a hard pickup plate. Be very careful while drilling holes on the brackets and always wear gloves.
See also: 23 DIY Hangboard Projects
4. Do It Yourself Power Rack
When you're doing it yourself, that means you have to make the whole decision that shapes the outcome of the power rack by yourself. It's always fun but tedious; it's a mind game!
You can get all the materials and necessary tools from the junkyard at a relatively cheap price. Once you get the materials and tools ready, the next point of action is to follow the instructions given in this video and start building.
5. DIY Weightlifting Power Rack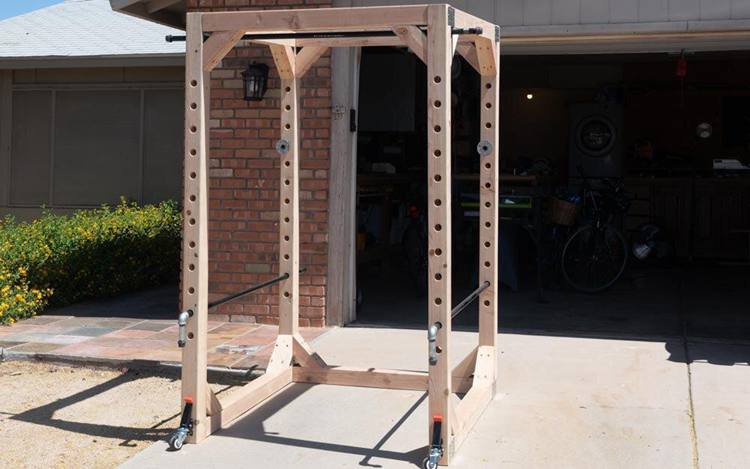 This power rack is built from some 4×4 pieces, wooden connectors, and steel pipes. The best way to start the project is to gather all the materials and tools that are needed and then precut all the wood pieces. This will make the project faster.
6. Homemade Power Rack Gym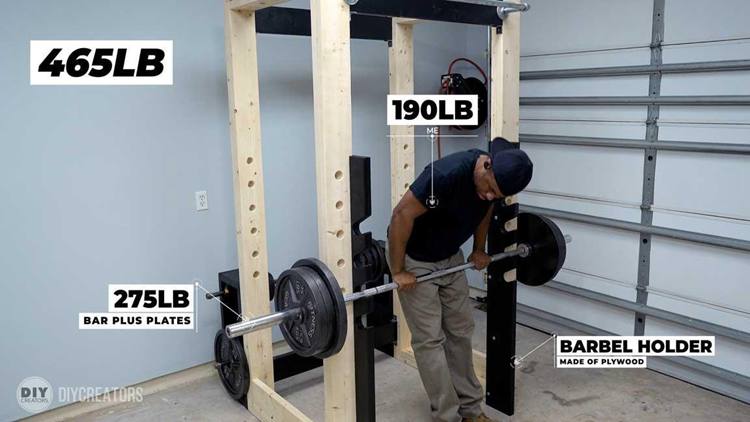 Though power racks take the same design and look, there are some basic steps that make one different from the other. For this power rack, the basic distinct step that makes the difference is the inner and outer frame. The power race was built on two-layered frames.
7. DIY Homemade Power Rack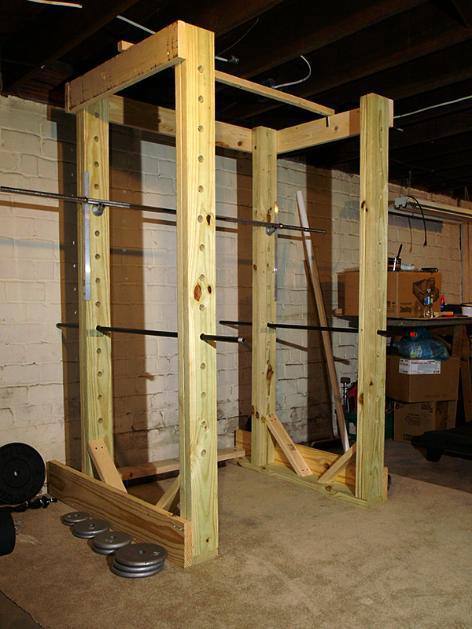 I would prefer to work out inside the house than to go to the gym for exercise. There are a lot of benefits there. Different types of screws are used for each section of this rack; the heavy-duty wood screw was used to join the frame, drywall screws or heavier duty wood screws for the double leg, and lag screws with a washer for the baseboard.
8. DIY Power Rack
This power rack is made from a metal rod and plate. The first step is to cut the metal rod to size and drill holes on it. After this measure and cut the bracket from metal plates.  Once all the cutting is done, the next step is to solder them together. Note that, while working with metal, steel, or any other materials, it is very important to wear your personal protective equipment like gloves and google, to prevent any kind of hazards.
9. How To Build A Cheap Power Rack
If you're a beginner, this is the best tutorial video for you. It gives detailed explanations on each part of the power rack, from the type of food used, racking pins, safety bars, to fixtures and fittings.
All together, everything cost £197.25. I know it's quite expensive but the result is worth more than that. The instructor started by expanding the design of the power rack and identifying each part of the power rack with its use.
10. Homemade Power Rack Built Out Of Steel
The best thing about DIY is that you're making things for yourself. You have every right to decide what it is and what it looks like.
This homemade power rack is made out of steel. The instructor started by cutting the steel to size using a bandsaw, but if you don't have a band saw, you can use an angular grinder(though you need to be very careful).
Then, grind the edges of the steels to make them smooth. Drill holes on the steel and move further to prepare the plates.
After all this, the next step is to assemble the rack and you're good to go.
11. DIY Wooden Fitness Rack
The materials needed for this wooden fitness rack include 4 9×9cm wooden beams with 200cm long, 6 9×9cm wooden beams with 100cm long, 5 scaffolding tubes of different length, 16 connecting plates, 26 corner pieces, drill, drill bits, screws, tape measure, Allen keys, 6 round baseplate, and spade bits.
Once you have all these materials and tools, everything else you need is explained in this video tutorial. Watch above and learn. It is as simple as that.
12. DIY Arduino Controlled Power Rack
This power rack is built on 4 major objectives and all of the things that go in line with whatever your reason might be to build a power rack of your own. The first thing to do is building the frame, this is done with wood, pine specifically. But you need to note that treated wood is not applicable.
13. DIY Ultimate Power Rack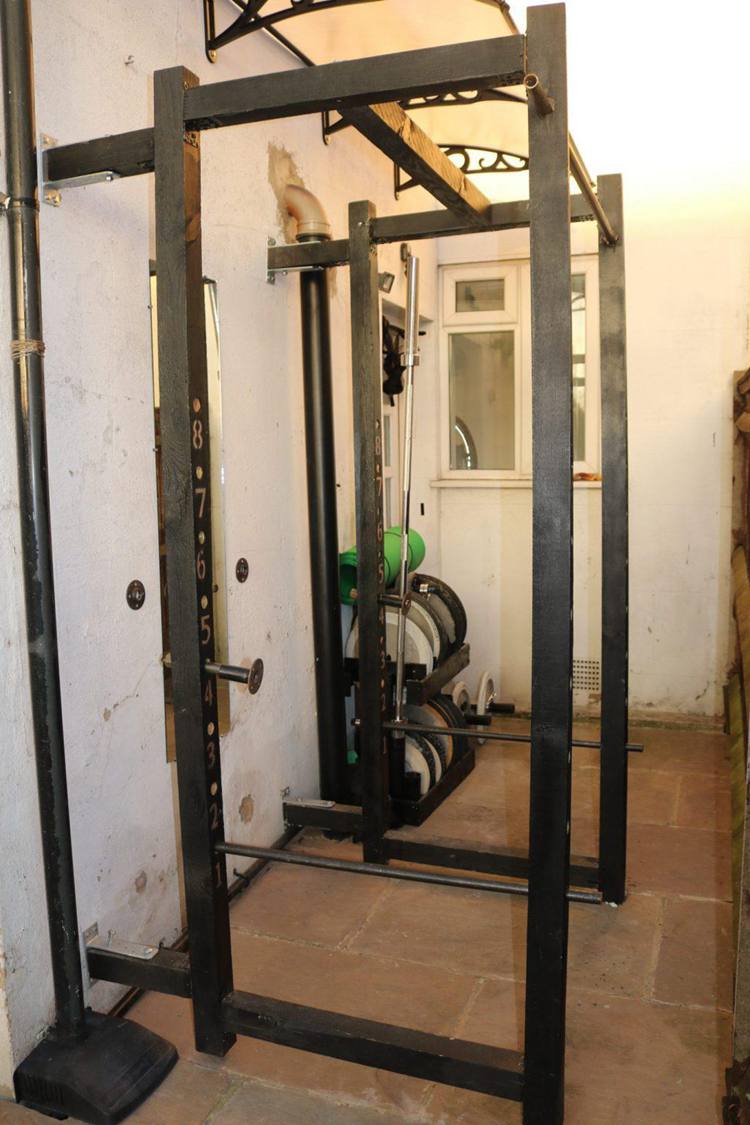 Having a gym inside your house makes exercising easier and enticing. To make this homemade power rack you need a bunch of materials and tools. The materials range from the pull-up rack, fence posts, screws and brackets, and finishing. Each of these sections has different materials set. The overall cost of making this is about £250.
14. DIY Power Rack (Paid)
Here's another amazing DIY power rack that you can build with ease. This rack has a pull-up bar and storage options for your dumbbells and other weight stuff. The rack is made of wood and a little bit of steel for the pull-up bar. The building process is quite easy to follow.
15. Home Built Power Rack
In this video tutorial, you're going to learn how to make a power rack at home from the beginning to the end with little cost.
Homemade power racks are amazing. But, before you can make a power rack at home, you must have all the necessary equipment that is essential for the project. After getting the required equipment you will also need materials which you can buy in stores around you.
16. How To Make A Power Rack At Home
I like the instructor of this video tutorial who made a blueprint for the power rack. It makes the work easier and it will be a great advantage to the beginners watching the video. If you're a beginner like me, this is the best way to go.
The instructor went ahead and gathered the materials and tools needed for the project and started working immediately. Everything you need to know is explained in the video, click the link below to watch. You're going to like what you make after all.
17. How To Build A DIY Power Rack
To make this amazing power rack, you will need an earplug, safety google, ¾" drill bit, power drill, tape measure, carpenter's square, a pencil, wood glue, metal plate, deck screws, clamps, 2×4" and 2×2" pieces.
After the materials, the first thing to do is to start cutting the wood pieces. The instructor prefers a miter saw for the cutting because it provides a flat surface to rest what you're cutting comfortably. A circular saw also can work.
The entire process is explained further in the video.
Conclusion
There you have it! 17 amazing DIY power rack projects you can make with little cost. Check them out and start building. If you have any questions or contributions regarding this article, contact us via the comments section and we will get back to you in a jiffy.