Hey fellas! This Halloween, don't worry about going to the store and buying some cheesy costumes. If you want to look sexy while you're at it, learn how to make your own DIY Playboy bunny costume! In less than an hour, you can be rocking a suit that will impress your significant other!
Who knew a bunny could be so much fun?  That's right ladies and gents, who knew it was so easy to put together your very own Playboy bunny costume? The best thing about making a DIY playboy bunny costume is that you can get it all done from the comfort of your home with materials you might already have. A playboy bunny costume is also very cheap to make, if you'll have to get materials outside, you'll not spend so much. Are you ready to make a stunning and sexy playboy bunny costume? Well, check out the amazing ideas listed below.
1. How To DIY Playboy Bunny Costume With 4 Items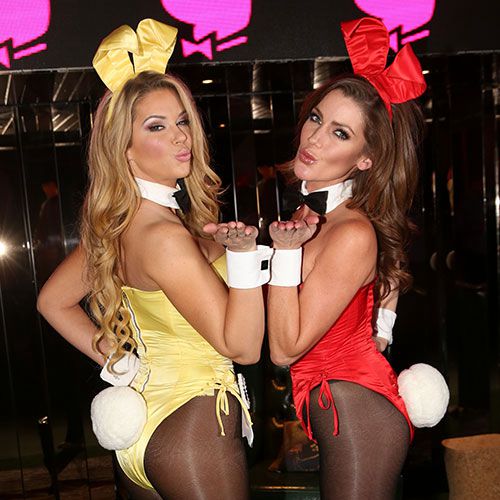 So you want an iconic look this Halloween? Check out this playboy bunny costume, and have a fantastic Halloween! Putting on a playboy bunny makes you look funny, flirty, and gorgeous at the same time, but it would be more fascinating if you get your boyfriend, husband, or friend to be your Hugh.
Your Hugh can dress up in a lovely red robe and friendly captain's hat. For this playboy bunny, you need fiber materials to complete the styling: a corset or bodysuit, stocking/black shorts, a nice heel,  bunny ear/tail, and a bow tie set. However, before getting all of this, you need to determine the design of the bunny you want. She finds
2. DIY Sexy Bunny Costume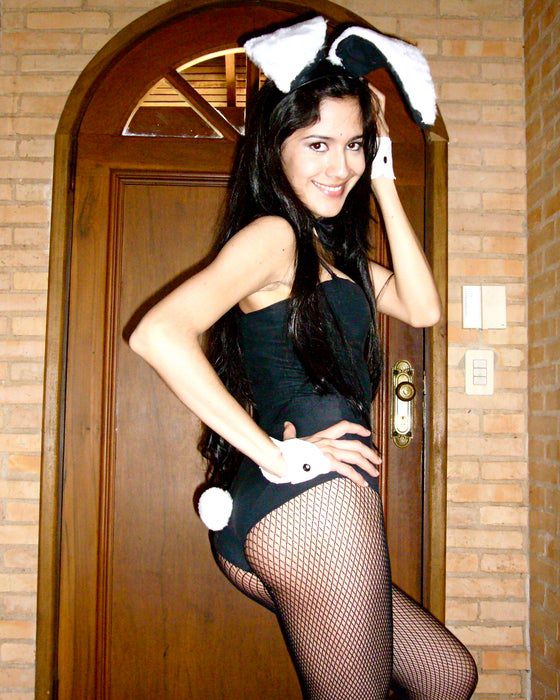 Are you looking for a sexy bunny style you want to make for Halloween? Well, here is a guide that will help you with the sexiest playboy bunny costume ever! What I find fascinating about this bunny costume is the all-black color with touches of white at some strategically sexy places.
The tools required to put the outfit together are listed as follows; glue gun, chalk, a needle, thread, and scissors. Once you have these tools and the materials listed in this guide, you will have your playboy bunny costume ready. Note that the outfit is customizable; you can replace any materials with close alternatives if unavailable. Instructables
3. Playboy Bunny Costume DIY
Red is always a sexy color. Now imagine wearing a red bunny! I know that seems interesting to you! Let your imagination come true by making this DIY sexy costume. All you need is some basic knowledge of sewing and a few materials.
This guide will help you with pattern drafting according to your body measurement and explain each step in turning the pattern into a bunny. On the other hand, you need three kinds of fabrics for each part of the bunny; a white yarn for the wrist band, interfacing for the inner, and red satin fabric for the bunny itself. Makezine
4. DIY Playboy Bunny Outfit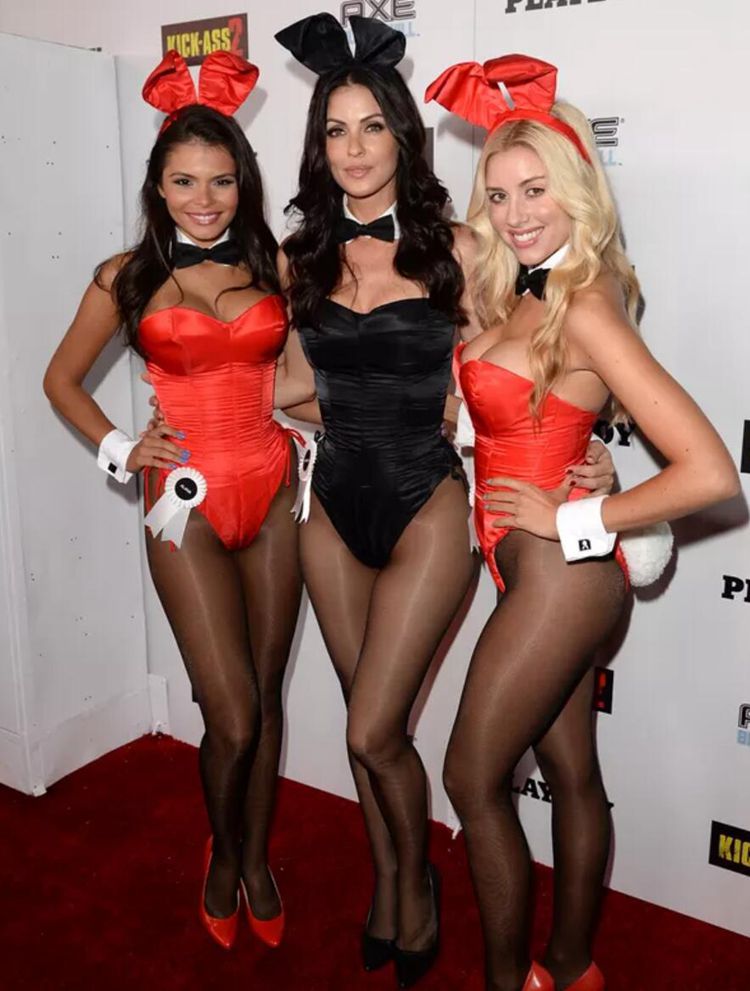 No matter what color of bunny you put on, a white and black bow tie always looks fantastic on it! The highlight of these bunny costumes is the lovely white and black tie and the elegant heels. A pointed heel will always look classy under a bunny! Finding a base. ehow
5. Easy Playboy Bunny Costume DIY
This is among the most simple and cheap DIY bunny costumes. You can find everything you want for it in your house, and there's no need to buy anything. The materials include a one-piece swimsuit, matching heel, black pantyhose, two socks for the bunny tail (one white and the other black), a colored t-shirt, and a bendable ear band. Take the black socks, turn them into a ball, and put it inside the white sock as the bunny tail. Follow this guide for more details.
6. DIY Playboy Bunny Suit
You need four types of fabric materials for this; fusible interfacing, black satin fabric, canvas fabric, and polyester lining. Other materials necessary for this DIY Playboy bunny suit include bra wire, bra cup, black threads, 16 inches metal zipper, plastic boning, bra wire channeling, sewing machine, and cotton twill tape. After getting all these materials, the next thing to do is draft the bunny suit pattern using a cardboard box. Then, you can use cardboard patterns to cut the fabric.
7. How To Make A Playboy Bunny Costume
You will need the basic knowledge of sewing for this playboy bunny costume. You will sew the parts of the leotard together with a sewing machine. Aside from this, get nice heels, a bendable ear bunny, and fuzzy fabric for the tail, and a bow set to tie to decorate your neck. This is very simple to put together.
8. Quick Homemade Playboy Bunny Costume
This can not be categorized under easy DIY, but it is homemade, cheap, and inexpensive! If you want to learn how to make a homemade playboy bunny costume, this guide is for you. Start with the makeup, hairstyles, and leopard suit. Check out more information about this homemade playboy bunny costume.
9. DIY Playboy Bunny Costume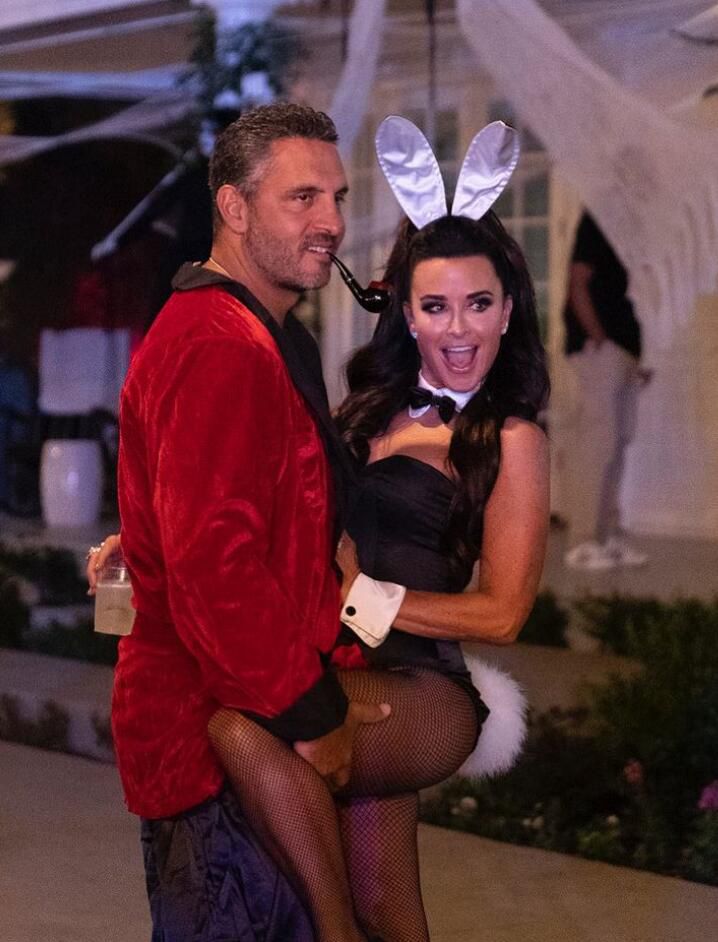 In this guide, a different method of DIY Playboy bunny is explained. The first design is made out of an old hood. For this design, all you need to do is cut and sew the hood into a rabbit onesie costume.
The second design is straightforward as it requires a shirt, shorts, cutting balls, and cardboard-shaped carrots. The last method is a sexy playboy bunny made of white/pink/ black leotard or dress. You make the leotard out of an oversized shirt. Make a cute bunny hair tie by attaching two ears to a black pipe cleaner. wikihow
10. Playboy Bunny Dog Costume Idea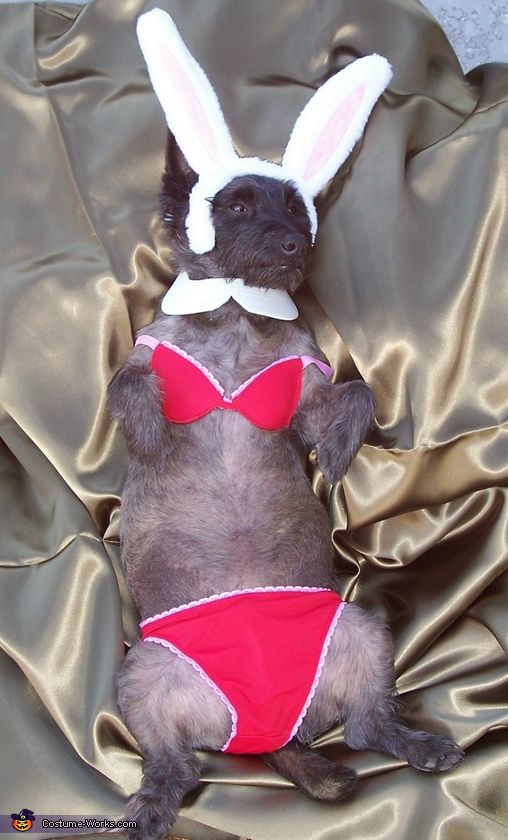 Check out this playboy bunny costume for dogs! Some dogs look super cute in outfits and live to pose for pictures. The bunny costume is straightforward since it does not cover the dog's whole body except the booty and the chest.
The outfit is a red booty short with white trimmings, red bra strap with white trims, white bow tie, and white bunny tail. You need to have the basic knowledge of sewing if you want to make your dog look super cute during Halloween with this superb costume. costume-works
11. DIY Sexy Bunny Costume
Do you know you can complete your sexy bunny costume with just a needle, thread, hot glue gun, fabrics? Well, this is a great tutorial that can help you put these things together. The first thing is to cut a dress into a lovely leotard and stitch it in place.
Get a white fabric/old shirt, cut some of the material and turn it into a ball. Attach the ball to the back of the leotard. Now, kk leave that and work on the sleeve, bunny ties, bunny ears, and makeup.
12. Dollar Store Playboy Bunny Halloween Costume
From the title of this okay boy bunny Halloween costume tutorial, you can figure out that you can get a more significant part of all the materials used in the tutorial from the Dollar store. The materials are plain hairband for the ear base, white felt for the background, white fuzzy mat cover to make a giant fuzzy puff puff for the bunny tail, and safety pins to hold the corsets together. Other materials that you did not get from the Dollar store include short wrist sleeves obtained from a white T-Shirt, scissors, and a pen.
13. Playboy Bunny Complete Tutorial
Sheridan put in a lot of work to make this complete playboy bunny tutorial, starting from the makeup, bunny ears, bunny tails, bow sets, booty shorts, and nice heels. All of this with less than $40, It's incredible. The costume is cheap because it is made from materials you might have had before (i.e., the cost may be higher if you don't have most of the materials). It is straightforward to put together, making it possible for Sheridan to make three different kinds of complete playboy bunny styles.
14. Playboy Bunny Transformation
Watch this super amazing video on playboy bunny transformation! The first thing you need to take care of is the playboy bunny makeover. Get your makeup kit and apply makeup to your eyeshadow and brow. From there, you can move down to your face and then to your lips. The next and most fantastic part of the transformation is the sexy playboy bunny costume with makeup. Check out the link below for more information about the playboy bunny transformation.
15. Lace Playboy Bunny Ears Tutorial
There are different ways you can style your playboy bunny ear, but one made out of lace looks simple, light, and beautiful. The simplicity makes it familiar. All you need to do is get some lace fabrics, needle, thread, and pipe clean (same color as the lace), hot glue gun, large jump ring, and scissors.
After getting all these materials, shape the lace into two ears and stitch them with a needle and thread. Then, attach them to the pipe cleaner. However, if you don't get the same colt of pipe cleaner as the lace, you need to cover the pipe cleaner with something of that color.
Conclusion
The Playboy bunny costume is an iconic piece of dressing that gives you the sexiest, flirty, and fantastic look during Halloween! After going through each guide, I know you will be tempted to have one of the cute costumes listed above.
One fantastic thing about playboy bunnies is that you don't need to spend so much to make one; some basic household materials are enough to complete a costume. However, if you don't have some of these materials or want to make them look more impressive, you can purchase them at the nearest store.